Welcome summer with this refreshing twist on a classic lemonade, made with Meyer lemons, fresh passionfruit juice, and a ruby red strawberry syrup for the perfect amount of sweetness and strawberry flavor.
Sure lemonade is refreshing, but have you ever tried strawberry passionfruit lemonade? The unique combination of fruit results in an extra tart, bright fruity flavor that folks of all ages will adore.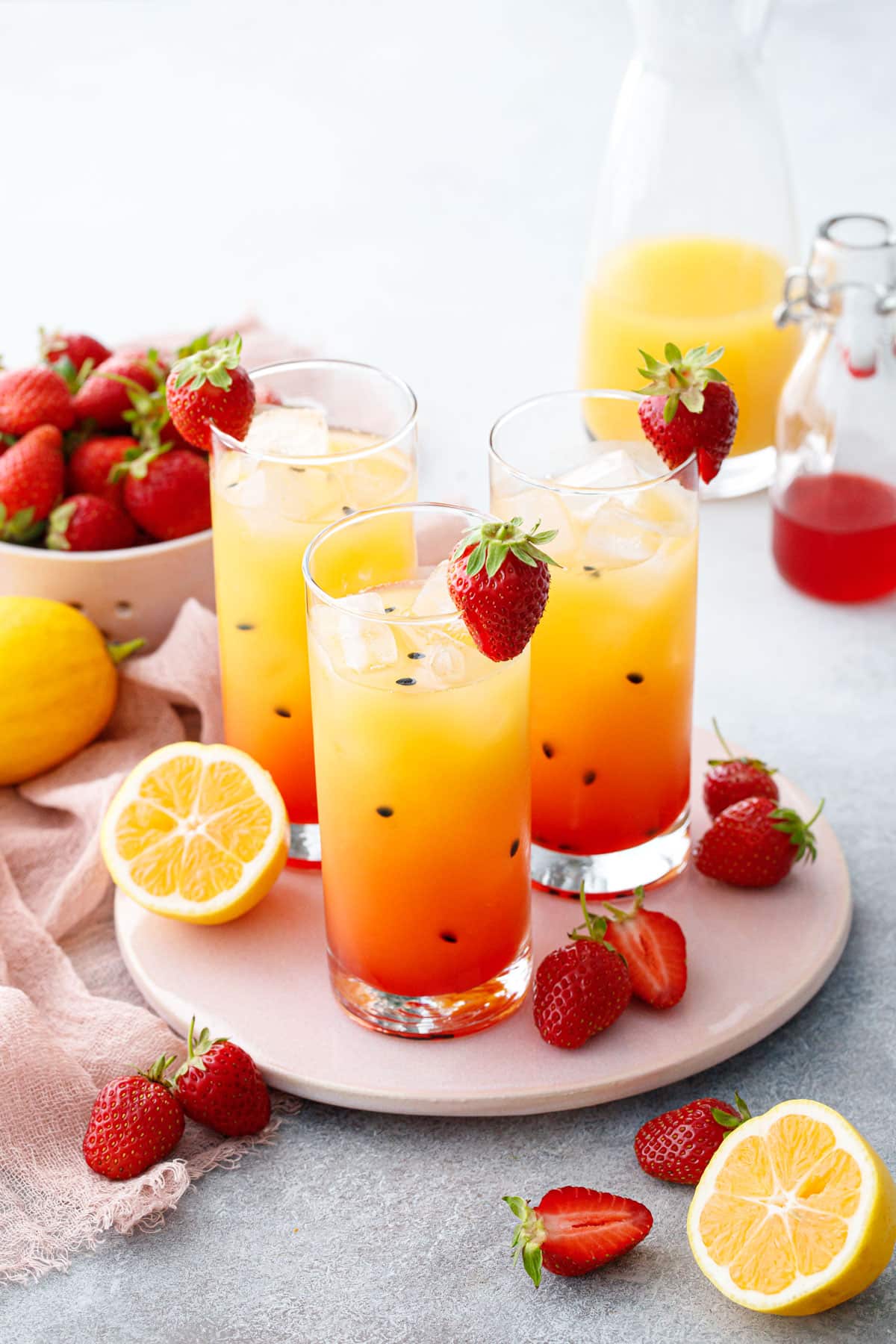 We've had a lovely spring here in Nashville, but the heat and humidity are definitely upon us now. In this kind of weather there are few things more refreshing than an ice-cold glass of homemade lemonade.
If that lemonade is gussied up with strawberry and passionfruit… well, I'm not complaining (really, it's all of my favorite flavors in one dewy glass!)
It's one of those recipes that is ripe for adaptation too (get it? ripe?) whether you use sparkling instead of still water, replace the strawberries with blueberries or blackberries, or even add a splash (or more than a splash) of something boozy for an adults-only variation.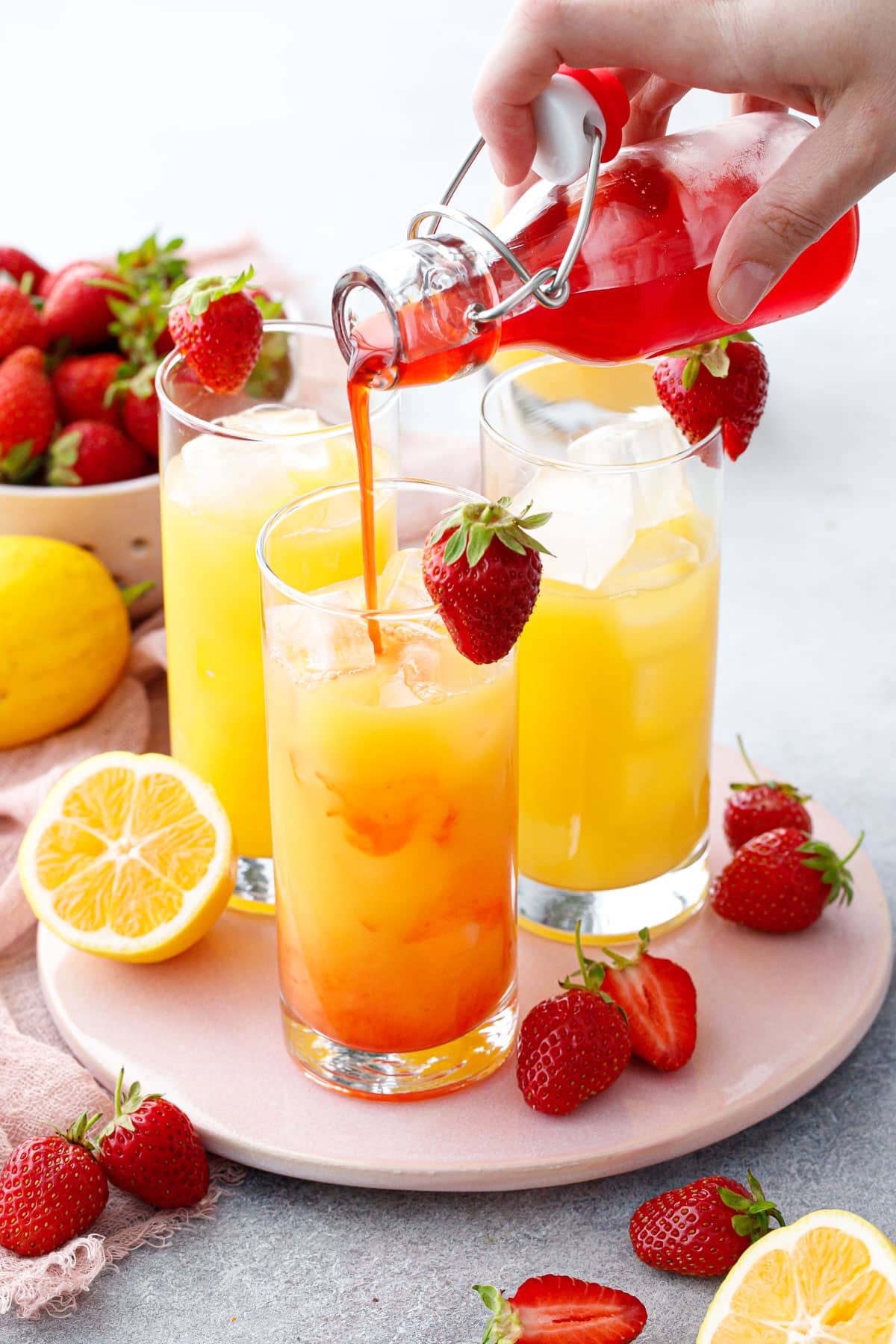 This is an adaptation of my Passion Fruit Meyer Lemonade recipe from a few years back. The main difference being the addition of strawberries, which are cooked down with the sugar syrup. This version also has a bit more lemon juice to passionfruit, mainly because passionfruit is a bit of a rare find these days and I wanted to preserve the precious little I have, but also to give a better balance of flavors and tartness to the final product.
The flavors in this recipe are beautifully balanced; as much as I love strawberry I didn't want that to be the the only thing you tasted. Instead, you should get equal amounts of strawberry as you do the passionfruit and Meyer lemon.
So to achieve that balance, rather than just mashing up a bunch of strawberries and adding it to lemonade (which isn't the best textural experience either), I simmered the berries in the sugar syrup, which results in a bright red syrup that has the perfect amount of strawberry flavor and sweetness.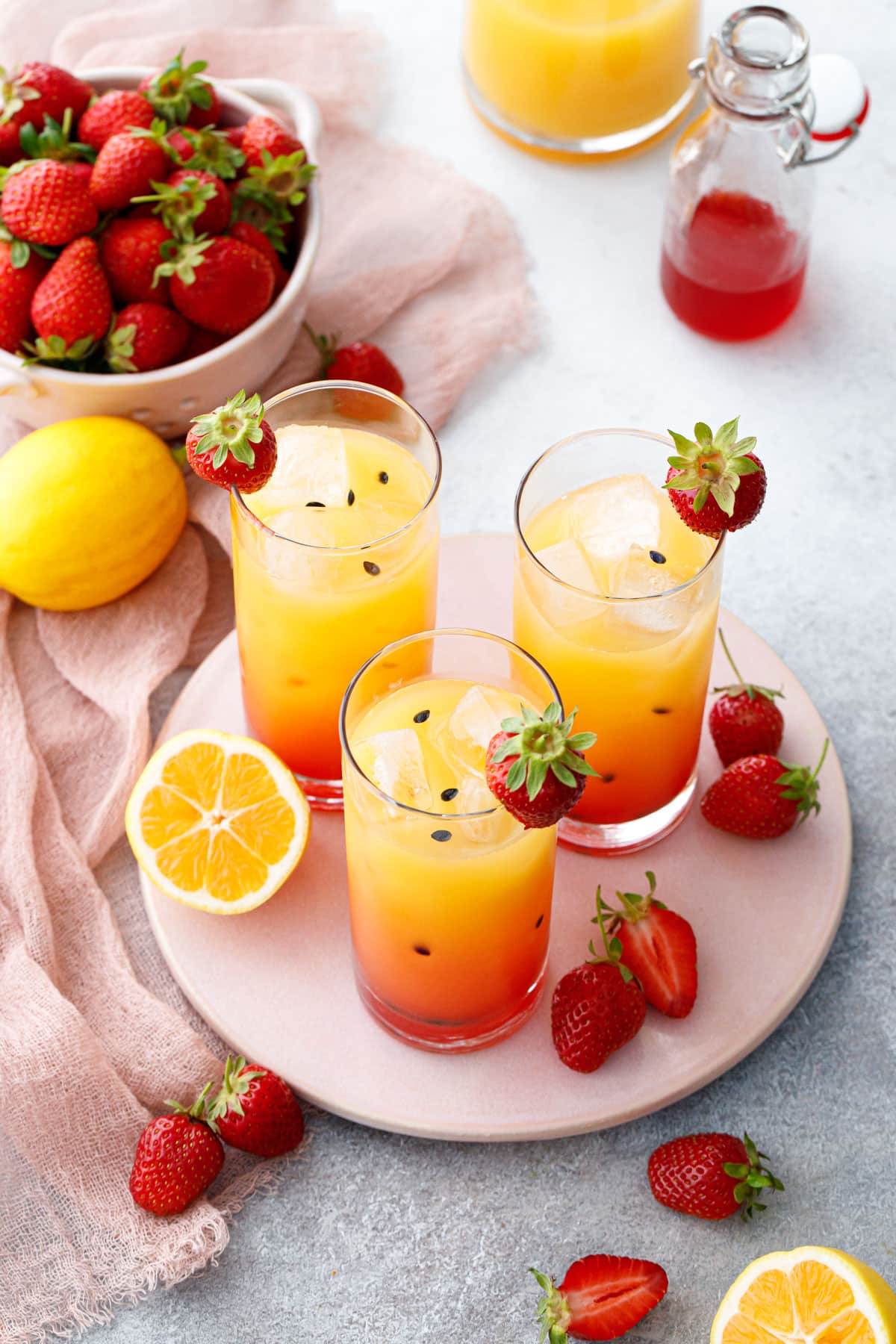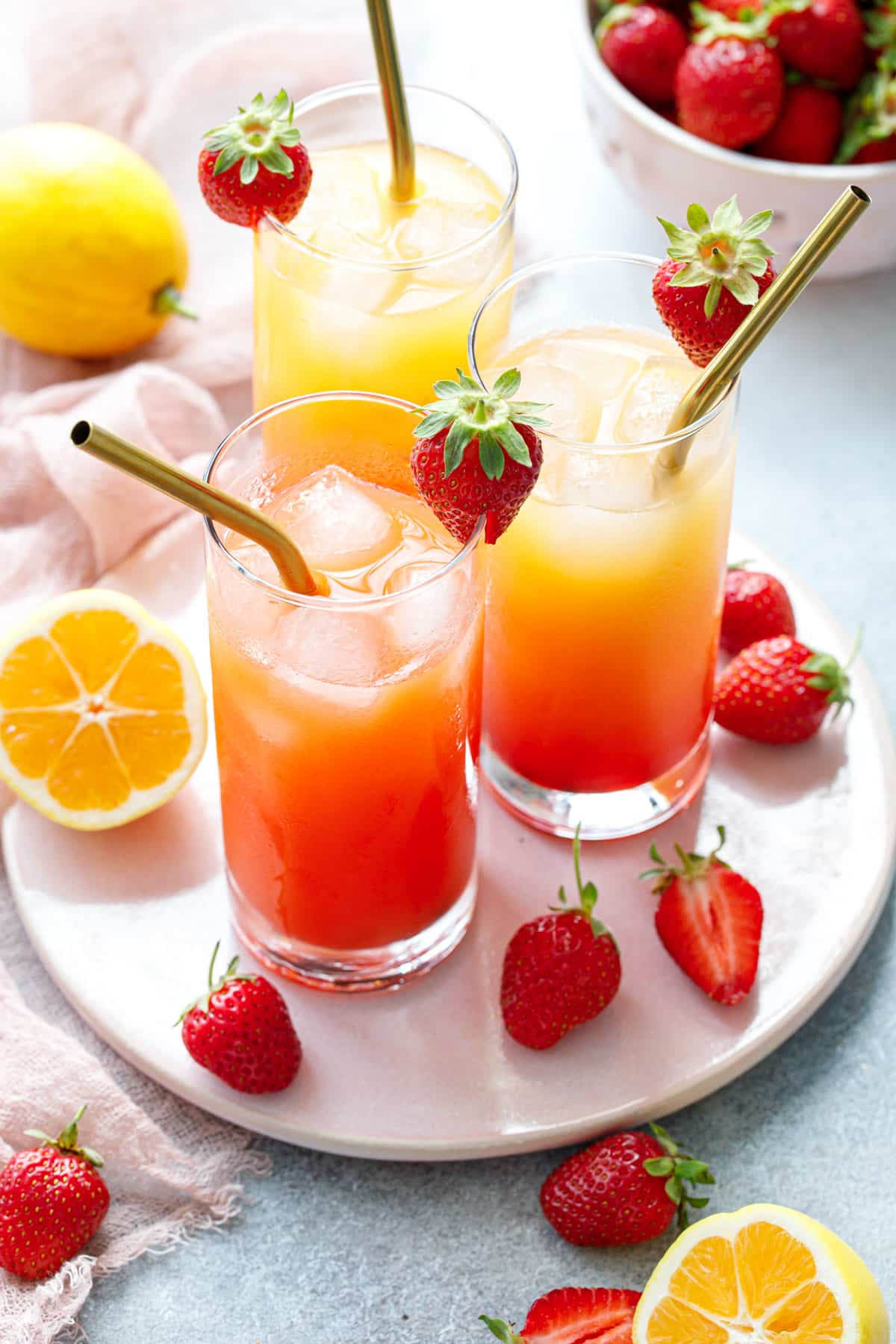 Preparing Passionfruits
You'll need about 6 juicy passion fruits to get 1/2 cup of juice, more if your fruits are on the smaller side or have dried out.
To prepare fresh passionfruit, first scoop out the pulp, then pulse briefly in a blender or food processor (at the lowest speed, you don't want to pulverize the seeds). This helps to separate the seeds from the pulp. Add a splash of water if you need to. Then pass the pulp through a fine mesh sieve to extract as much juice as possible.
If desired, you can reserve a few of the seeds to add back at the end for purely aesthetic reasons (the seeds are edible though they're quite crunchy). This effect works best when you have a glass with densely packed pellet ice otherwise the seeds tend to sink to the bottom.
You can also buy frozen passionfruit pulp (this is what I used for this recipe as well as my passionfruit cheesecake bars). You can also use passionfruit juice or nectar (though these products usually have sugar added so you'll want to reduce the sugar accordingly). A passionfruit syrup (like the kind they add to snow cones) would work as well to add in some passionfruit flavor when you don't have access to fresh passionfruit.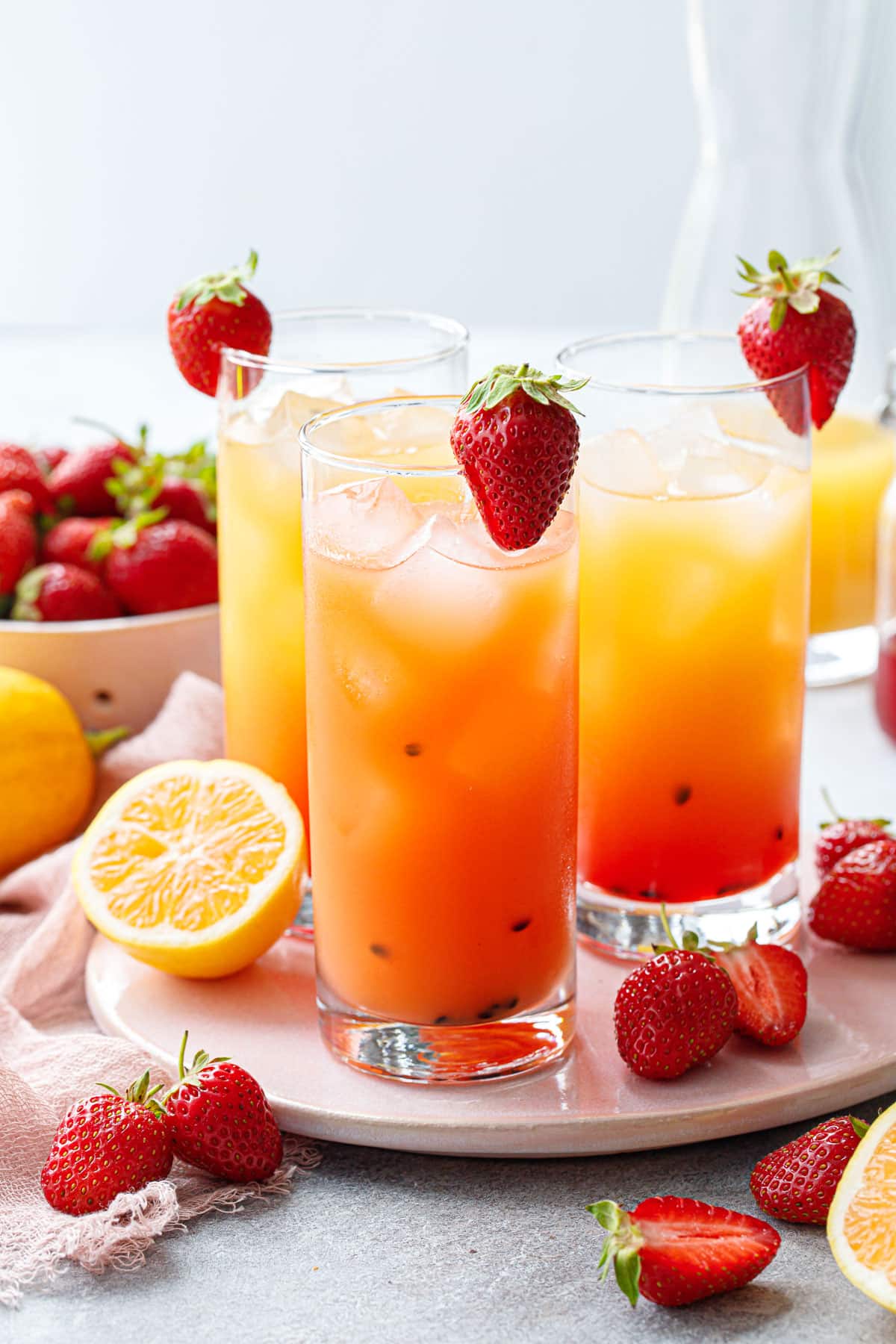 Serves you Right
You could mix up the whole batch (or a double or a triple batch) of lemonade complete with the strawberry syrup and serve it in a big pitcher ready to pour, or you could let your guests add their own syrup. This way lets everyone adjust for their ideal sweetness. You also get the fun ombre effect from pouring the syrup into the glasses, which happens because the denser sugar syrup sinks to the bottom of the glass.
To achieve this ombre effect, fill the glasses first with the lemon/passionfruit/water mixture. Then add strawberry syrup, about 3 tablespoons per glass. I know it seems counter-intuitive, adding the syrup second, but trust me, it'll sink down to the bottom of the glass.
Then give it a good stir just before you add a straw and start sipping!
Mixed up, the lemonade will keep for about a week in the fridge, though it may separate out a bit (passionfruit pulp, especially from fresh fruit, will settle as it sits). But just give it a good stir or shake and you're good to go again!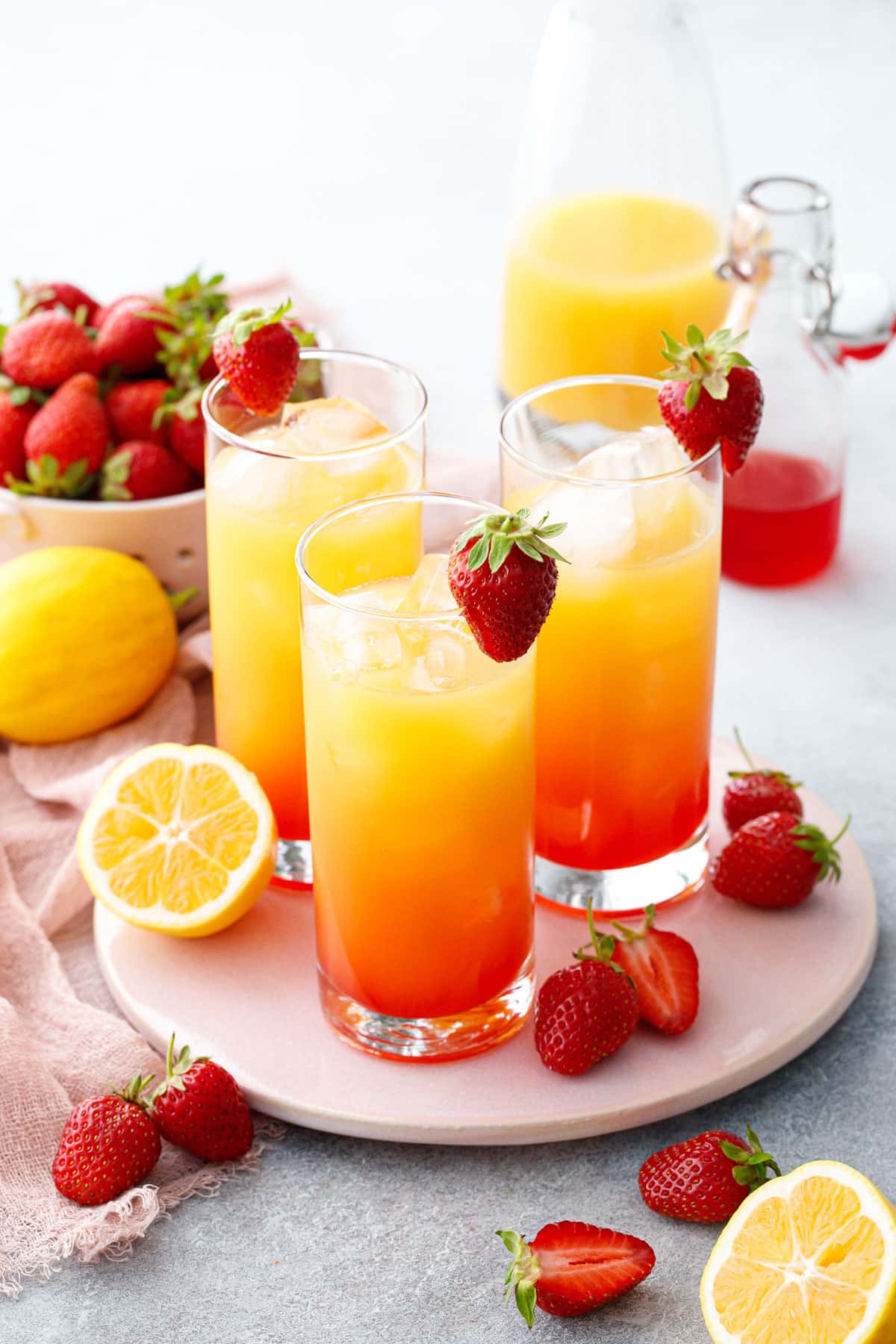 Swaps & Variations
Use regular lemons instead of Meyer lemons, but increase the sugar by about 25% or so (more or less to taste). You might also want a bit of extra water to balance out the tartness. You can also use 3/4 cup regular lemon juice and 1/4 cup orange juice to approximate the flavor of Meyer lemons.
In place of passionfruit juice, you can use all lemon juice (sugar quantities will be about the same). You can also replace the passionfruit juice with orange, pineapple, or even mango juice (though the later two are much sweeter, so adjust the sugar accordingly).
Instead of the strawberries you could also use raspberries, blueberries, or blackberries.
You can also use a pre-made strawberry soda syrup in place of the homemade version (like the kind you use for snow cones or homemade sodas). Grenadine (which is made from pomegranates) can also be used to give you the same ombre effect.
Finish off the lemonade with a some sparkling water or club soda instead of still water for an oh-so-fancy sparkling limonata (the Italian version of lemonade).
Top it off with a splash of sparkling wine for a perfect summer sipper, or add a shot of vodka or gin for a hard lemonade that's as fun as it is flavorful.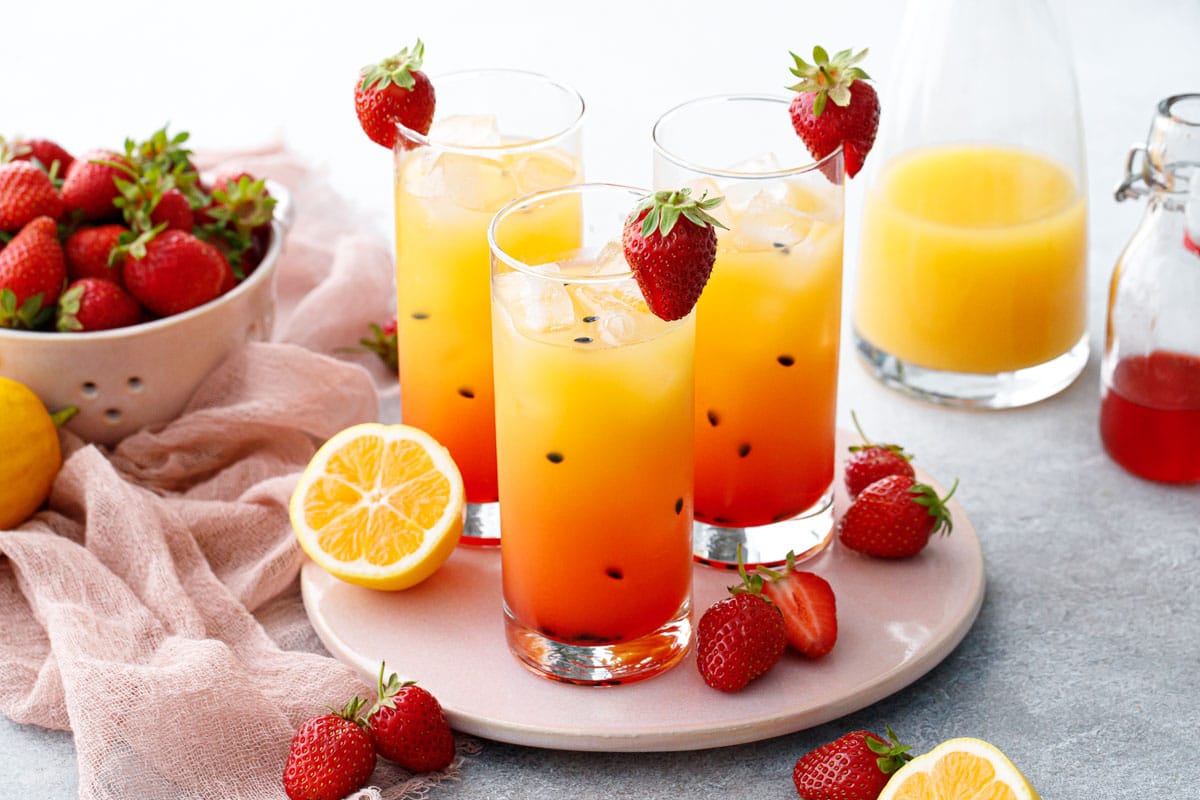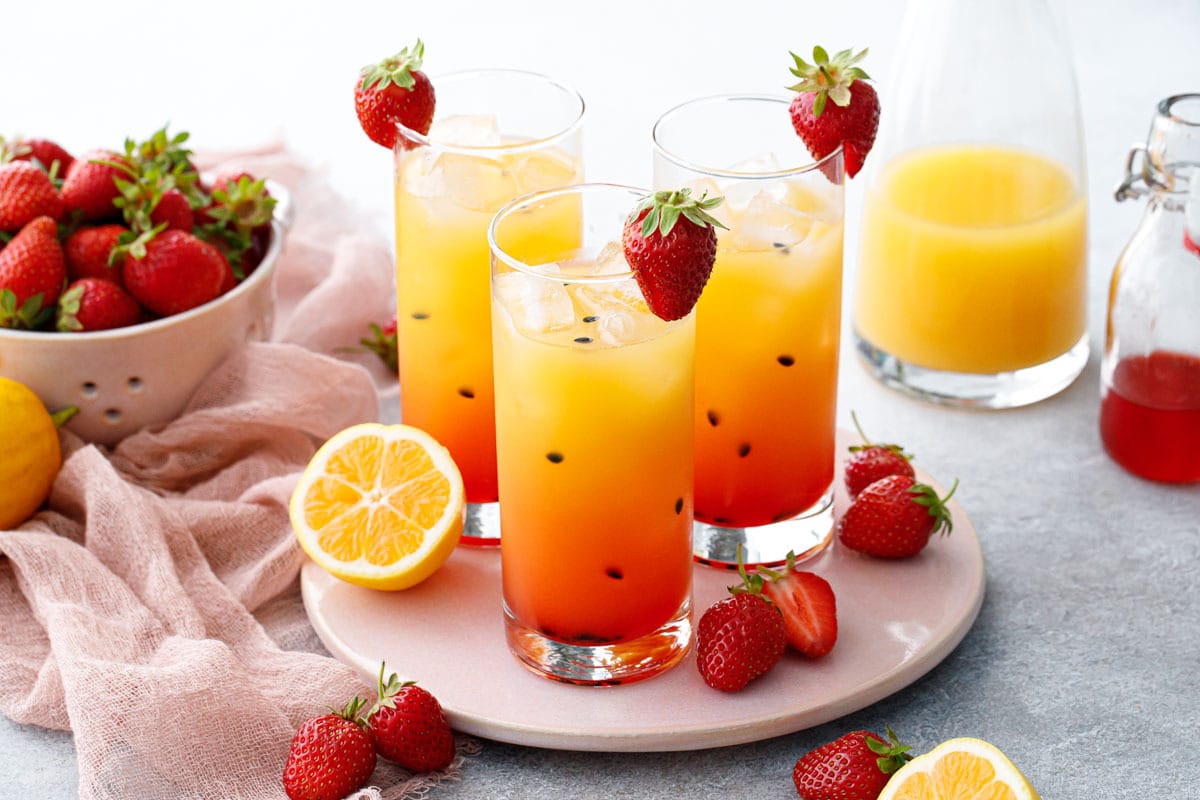 Strawberry Passionfruit Lemonade
This refreshing strawberry passionfruit lemonade is made with Meyer lemons, fresh passionfruit juice, and a bright strawberry syrup for the perfect amount of sweetness and strawberry flavor.
Ingredients
For Strawberry Syrup:
⅔

cup

/

100

g

hulled strawberries

,

coarsely chopped

½

cup

/

120

ml

water

½

cup

/

100

g

sugar
For Lemonade:
1

cup

/

244

g

Meyer lemon juice

,

form 4-5 large lemons

½

cup

/

120

g

fresh passion fruit juice

,

from 5-6 passion fruit

1 ½

cups

/

360

ml

water

,

plus more to taste
Instructions
Combine chopped strawberries with water and sugar in a small saucepan. Bring to a simmer over medium heat, lightly mashing the berries with the back of a spoon, until sugar is dissolved and strawberries are very soft, about 5 minutes. Strain through a fine mesh sieve, pressing out as much liquid from the softened berries as you can. You should have about 3/4 cup of strawberry syrup. Set aside to cool completely. (Syrup can be made ahead of time, refrigerate in a jar or airtight container for up to a week.)

In a pitcher, combine lemon juice, passion fruit juice and water. Stir in strawberry syrup, plus more water to taste if desired (you can also top it off with sparkling water if you'd like). Serve chilled over ice.
All images and text ©
for Love & Olive Oil.
Did you make this recipe?
Let us know what you think! Leave a Review below or share a photo and tag me on Instagram with the hashtag #loveandoliveoil.