Rich and chewy double chocolate sugar cookies spiked with bourbon and rolled in bourbon-infused raw sugar for a satisfying crunchy finish. The result is a brownie-like chocolate cookie with a beautifully crinkly top that'll knock your socks off!
At this point, I've baked bourbon into bundt cakes and brownies, bourbon balls and caramel sauce… it's about time it made its way into some cookies.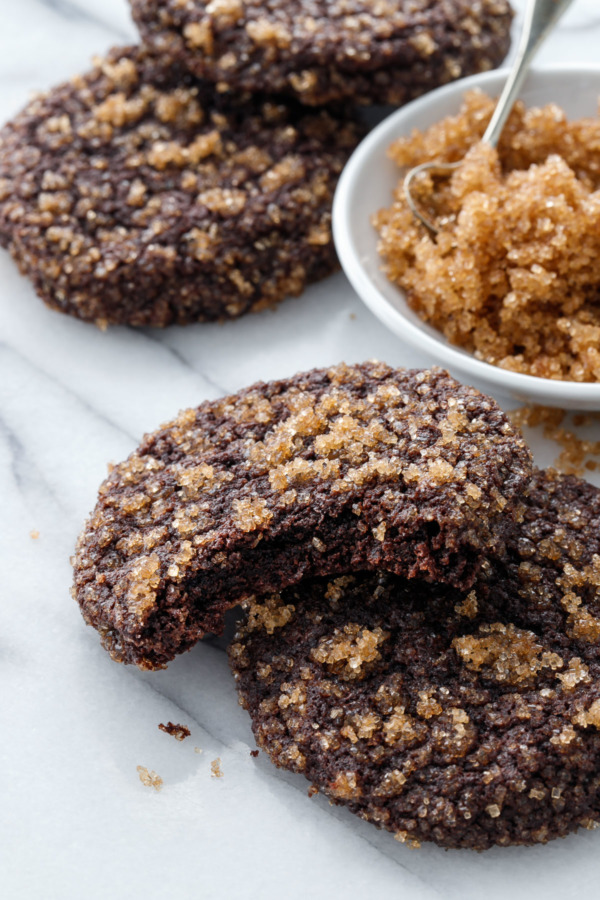 This is one of those recipes that exceeded my expectations on the first try. I wanted a soft, chewy chocolate sugar cookie, and boy did these deliver. And the beautifully crackly top? Well, that was an unexpected bonus.
I incorporated the bourbon in the dough itself as well as in the bourbon-infused sugar in which the cookies are rolled.
To make bourbon-infused sugar, combine raw turbinado sugar with a few teaspoons of bourbon in a mason jar, and then shake the dickens out of it until the sugar is evenly moistened with fragrant Kentucky gold.
Even with such a small amount of bourbon, the sugar is still rather moist and clumpy (a bit like wet sand). I wasn't sure it was going to work at first, but the overall effect is gorgeous, with clumps of glittery sugar crystals clinging to the crackly chocolate top. More geode than cookie, if geodes were edible and tasted like vanilla and chocolate.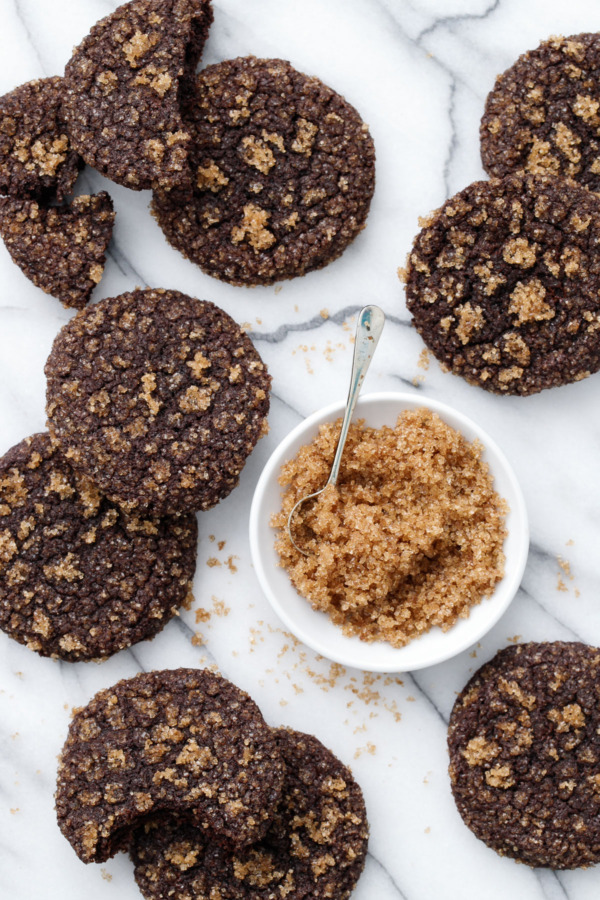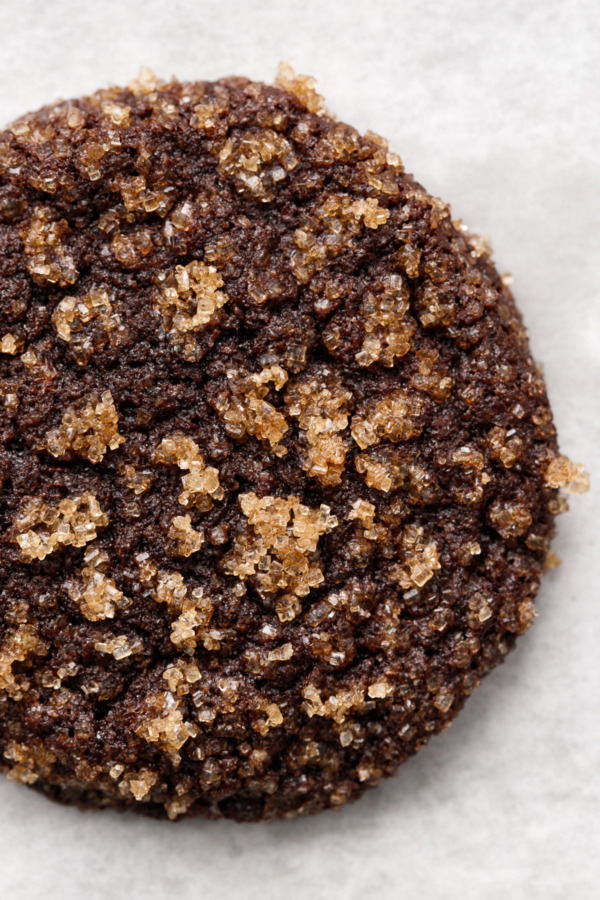 Most of the bourbon flavor bakes off (these are not bourbon balls, so don't expect a strong alcohol taste), but just enough remains to make these cookies something special. The bourbon here acts almost like super vanilla, if you will.
The bourbon can be left out if you choose, simply replace it with 1 tablespoon (yes, tablespoon!) vanilla extract.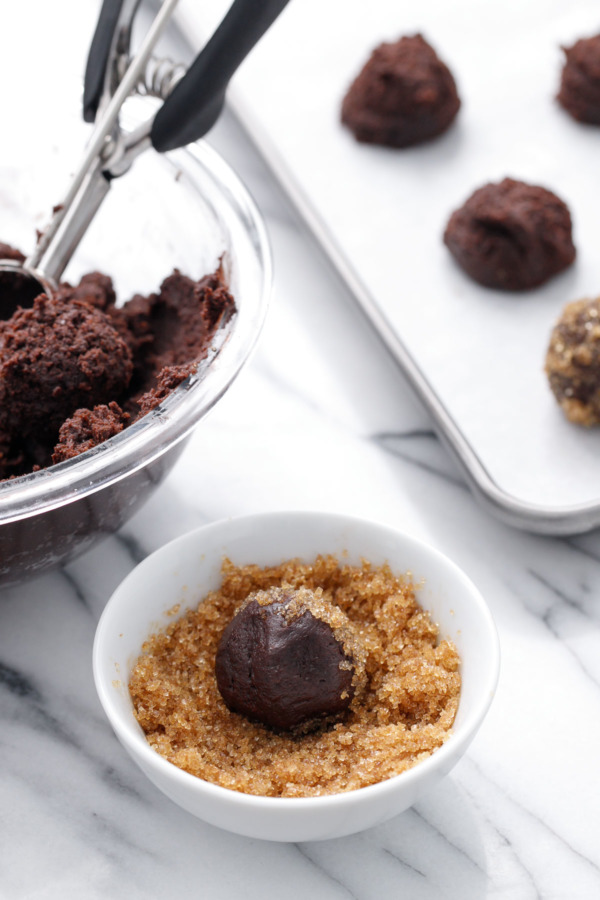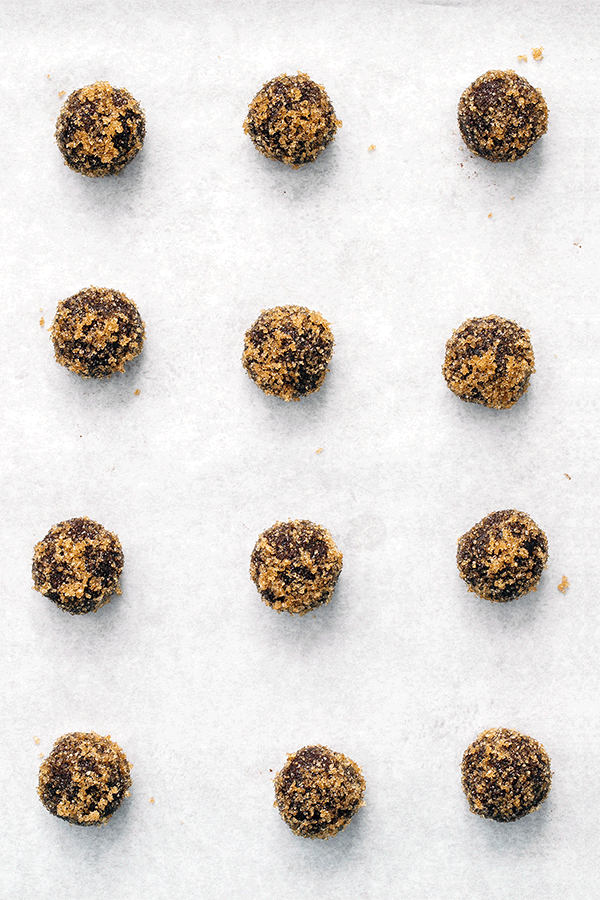 Rather than just use cocoa powder, I borrowed a trick from my Salt & Pepper Sable Cookies and also incorporated some finely grated dark chocolate.
I find the easiest way to 'grate' chocolate is to pulverize it in a food processor (cover your ears, it's loud!) resulting in tiny shards of chocolate no bigger than a grain of rice, along with some practically powdered chocolate that melts into the cookie as it bakes, adding a sultry richness that can't be achieved with cocoa alone.
These cookies are as dark and rich as your favorite chocolate brownie.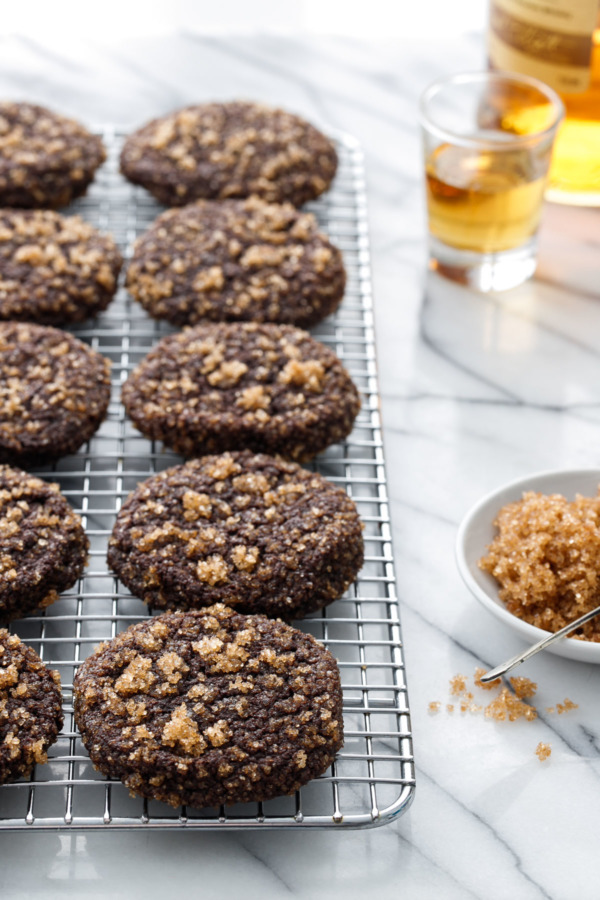 The mix of butter and shortening keeps the cookies soft and chewy for days (while you can use all butter, your cookies will spread more and will end up crispier than if you used a mix).
When storing these cookies, I recommend spreading any leftover bourbon sugar in the bottom of an airtight storage container, then layering the cookies on top. The essence of bourbon will continue to infuse the cookies until it comes time to devour them (not that they'll last that long, but still).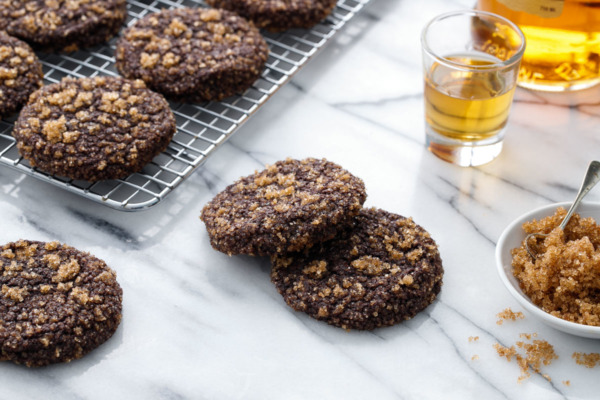 Bourbon Chocolate Sugar Cookies
Rich and chewy chocolate sugar cookies spiked with bourbon and rolled in bourbon-infused raw sugar. The result is a chewy, crinkly, crunchy cookie recipe that'll knock your socks off!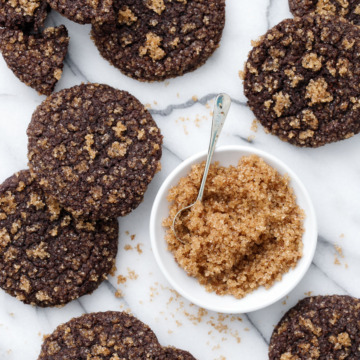 Ingredients:
1 3/4 cup (7.5oz/210g) all-purpose flour
3/4 cup (2.75oz/75g) Dutch process cocoa powder, sifted
1/2 teaspoon baking soda
1/4 teaspoon baking powder
1/2 teaspoon kosher salt
1 stick (1/2 cup) unsalted butter, room temperature
1/2 cup (8 tablespoons) unflavored vegetable shortening, room temperature
1 cup granulated sugar
3/4 cup packed light brown sugar
1 large egg
1 large egg yolk
3 tablespoons bourbon (optional, replace with 1 tablespoon vanilla extract)
3 ounces grated or very finely chopped dark or semisweet chocolate (ideally pulverized in a food processor)
1 cup raw/turbinado sugar
2 teaspoons bourbon
Directions:
Preheat oven to 350 degrees F. Line a baking sheet with parchment paper.
In a bowl, sift together flour, cocoa powder, baking soda, baking powder, and salt. Set aside.
In a large mixing bowl or the bowl of a stand mixer, cream butter until no longer chunky. Add shortening and beat on medium-high speed until smooth and uniformly mixed. Add sugar and brown sugar and beat for 1 to 2 minutes until light and fluffy.
Add egg and egg yolk and mix until incorporated; scrape down the sides of the bowl and the beater as necessary. Slowly mix in bourbon.
Add dry ingredients in two additions, mixing on low speed until just incorporated. Mix in finely chopped chocolate. If your dough is particularly soft you can refrigerate it for 10 to 15 minutes or so to make it easier to roll.
To make bourbon sugar, combine raw sugar and 2 teaspoons bourbon in a pint-sized mason jar. Screw on lid and shake the heck out of it, until sugar is evenly moistened and looks something like wet sand. Pour into a shallow bowl or dish.
Scoop dough into 1 3/4-inch balls (the size of a medium cookie scoop). Roll into a smooth ball, then roll into bourbon sugar until evenly coated (the moist sugar will clump, but that's the effect we're going for!)
Arrange on parchment lined cookie sheets leaving approximately 2 inches of space between cookies.
Bake for 12 to 14 minutes or until cookies have settled into shallow domes. They will be set around the edges but still puffed in the middle (they will flatten when they cool). Let cool on pan for 10 minutes, then transfer cookies to a wire rack to cool completely.
To store, spread any leftover bourbon sugar in the bottom of an airtight storage container; arrange cookies in layers on top and tightly cover. Cookies will keep at room temperature for up to 5 days.
Did you make this recipe?
Let us know what you think!
Leave a Comment below or share a photo and tag me on Instagram with the hashtag #loveandoliveoil.