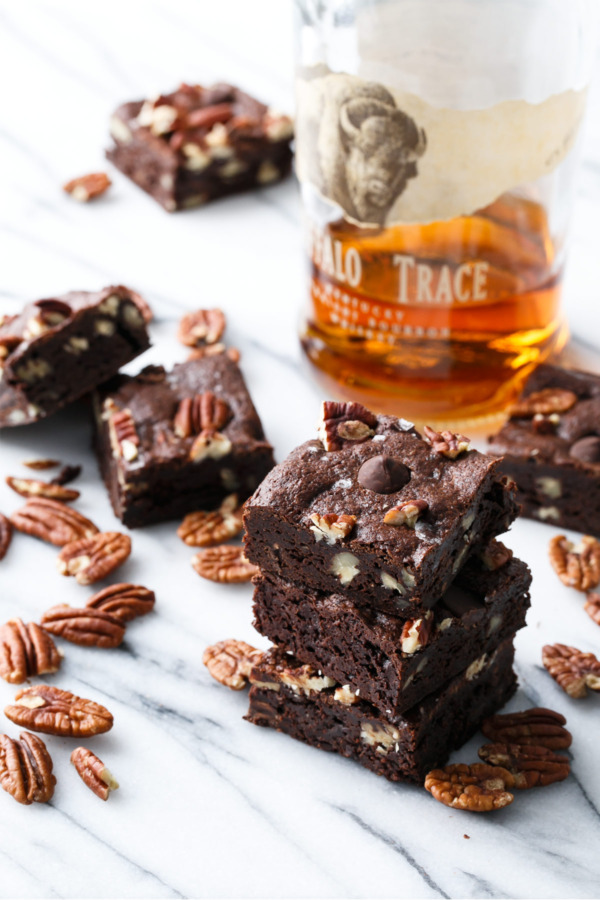 Like a good bourbon, these brownies actually get better with age.
Not that they'll last that long, but still, just know that if you find yourself with a few left in 4 or 5 days, they will be nothing short of awesome.
Baking with bourbon is a lot like baking with an extra-potent vanilla; in fact, I'd argue that any recipe that uses vanilla could benefit from a glug or two of bourbon. It's that underlying sweetness, that vanilla-like richness, that makes bourbon extra suitable for baking where other liquors fall short (you don't see me, or anyone else for that matter, baking with vodka or gin for a reason). Typically 1 teaspoon of vanilla can be replaced with 1 tablespoon of bourbon in most recipes. You can use more if you want the bourbon flavor to be more pronounced, so long as you don't add so much bourbon that it adversely affects the texture of the final product.
These brownies are delightfully boozy… just the right amount of tipsy without crossing the line to sloppy. I'm not sure if it's the bourbon that makes these brownies extra rich and fudgy, though it sure seems that way; all I know is I will be making another batch in the very near future.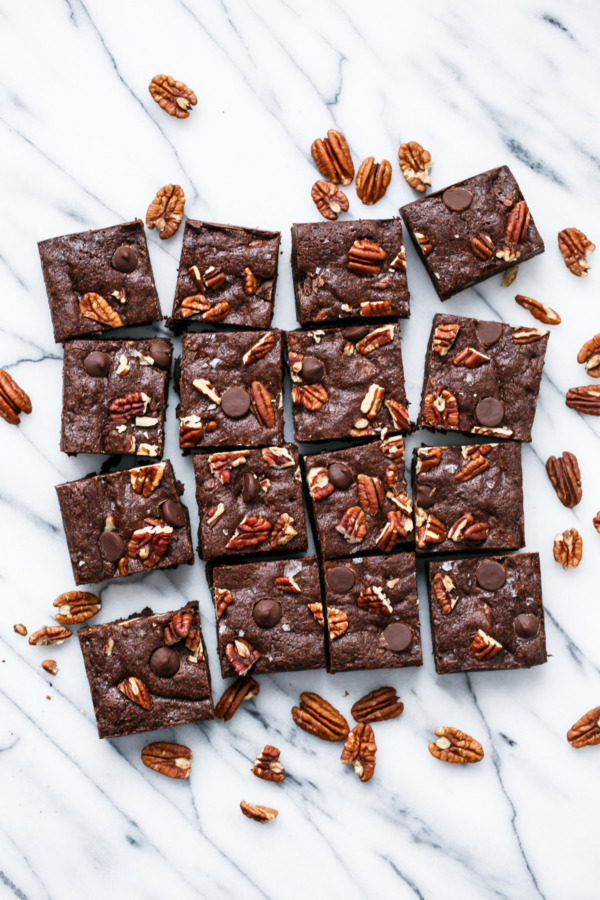 Normally I am vehemently opposed to nuts in my brownies, although I may need to loosen my anti-nut stance just a bit, especially seeing as I've made (and thoroughly enjoyed) both pistachio brownies and almond brownies… I'm starting to realize that I might just be anti-walnut, and not entirely anti-nut.
After these brownies, we can definitely add pecans to the list of Lindsay-approved nuts that are allowed in my baked goods. Of course, the addition of the chocolate chips here doesn't hurt, either.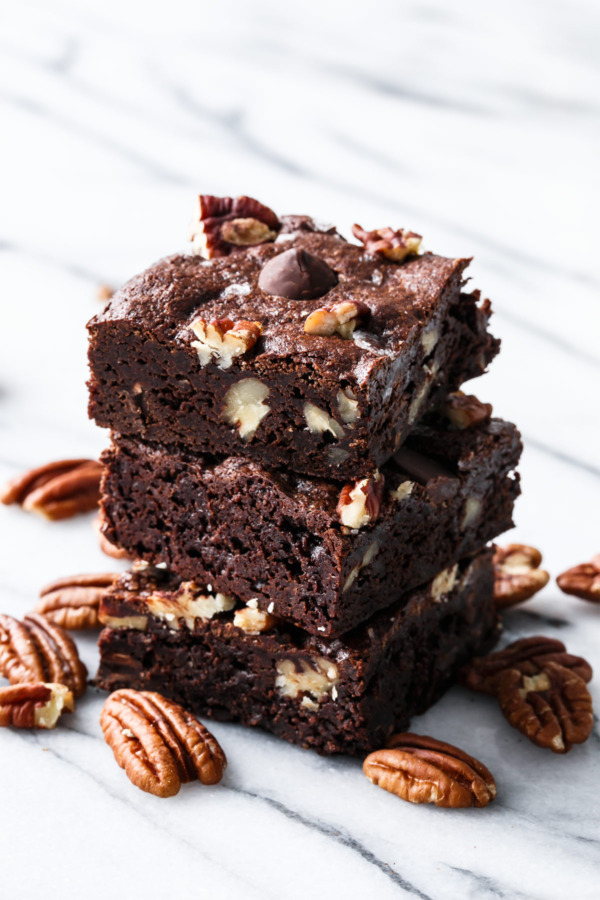 I topped these brownies with more chopped pecans and chocolate chips (because I like my food to give a visual hint about what's inside inside) as well as a generous sprinkle of flake sea salt: my secret weapon, if you will, to making truly killer brownies. It's that little hint of salt right on the edge of your palate that takes these brownies over the top.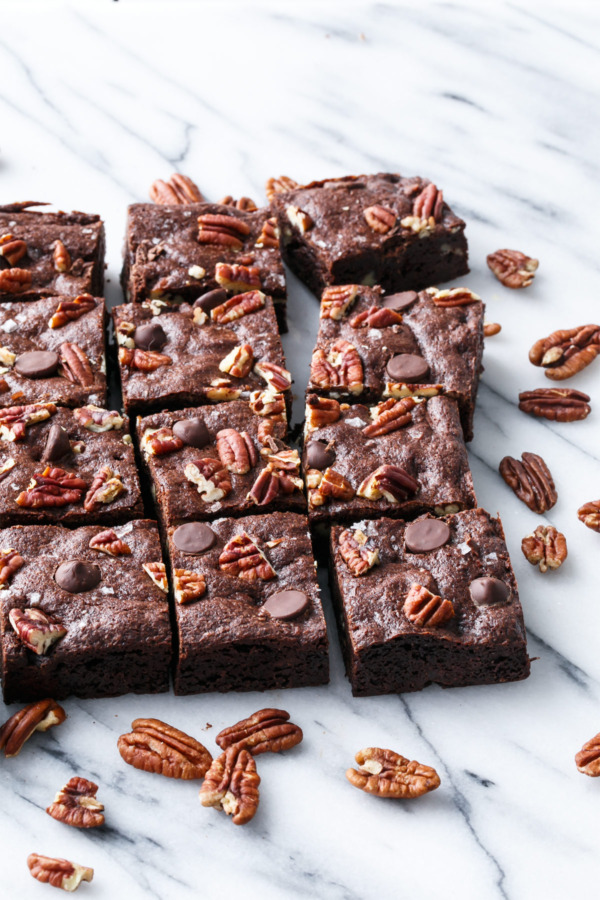 This isn't the first time I've spiked a recipe with bourbon. It's something I tend to do a lot, actually. Hungry for more? Check out these other recipes for more bourbon goodness!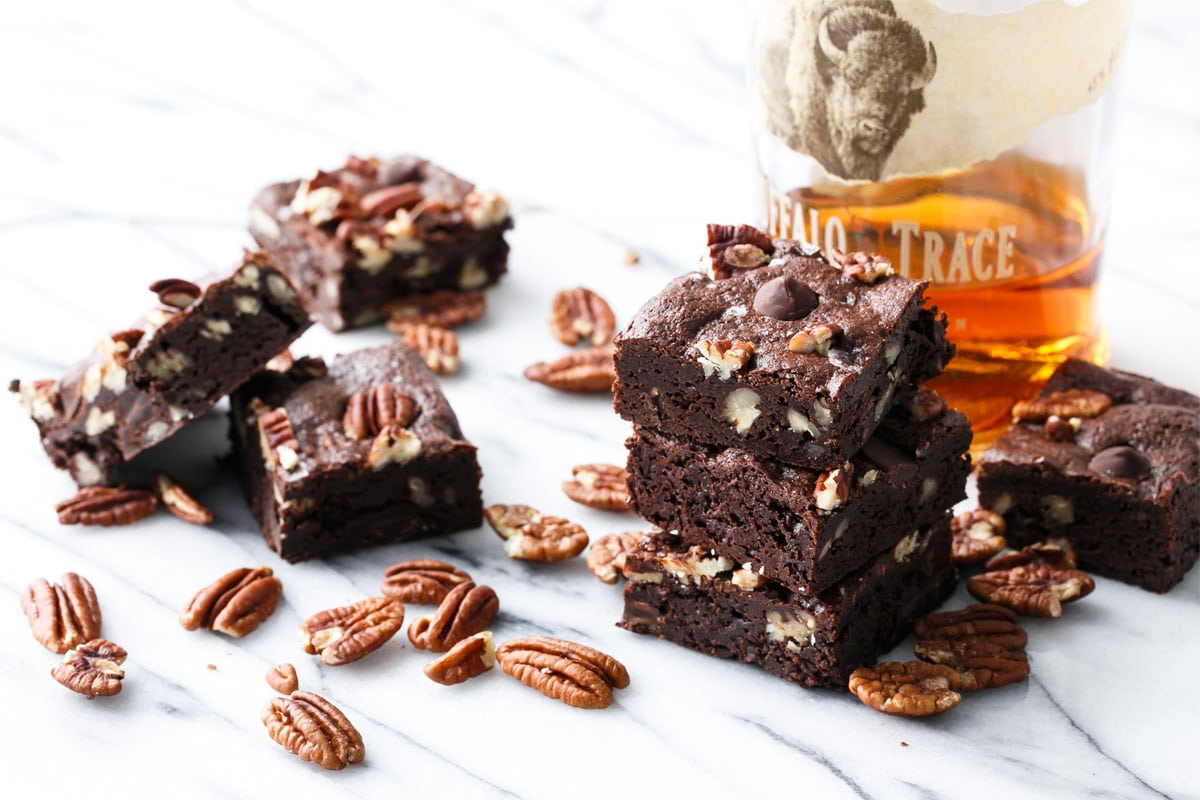 Bourbon Pecan Fudge Brownies
These incredibly rich and decadent fudge brownies are spiked with bourbon and studded with toasted pecans.
Ingredients:
1/4 cup all-purpose flour
1/3 cup dark or Dutch-processed cocoa powder, sifted
1/4 teaspoon baking powder
1/4 teaspoon instant espresso powder
1/4 teaspoon fine sea salt
6 tablespoons unsalted butter, cut into cubes
5 ounces dark or bittersweet chocolate (70-75%), finely chopped
1 cup granulated sugar
2 large eggs, room temperature
3 tablespoons bourbon
1/3 cup semisweet chocolate chips or chunks, plus more for topping
3/4 cup coarsely chopped pecans, divided
flake sea salt, for topping
Directions:
Preheat oven to 350 degrees F. Line an 8-by-8-inch baking pan with parchment paper; lightly butter parchment.
Whisk or sift together flour, cocoa powder, baking powder, espresso powder, and salt. Set aside.
Combine butter and chopped chocolate in a saucepan. Stir over low heat until chocolate is almost melted. Remove from heat and continue to gently stir until smooth; the residual heat from the pan should be enough to melt the last few bits of chocolate.
Whisk in granulated sugar until incorporated; batter will be slightly grainy and paste-like.
Whisk in eggs, one at a time, whisking completely after each one, until batter is smooth and shiny. Whisk in bourbon.
Sprinkle dry ingredients over top of melted chocolate mixture and whisk or stir until just incorporated. Stir in chocolate chips and 1/2 cup of pecans. Spread into prepared pan, using an offsest spatula to smooth batter into corners. Sprinkle with remaining 1/4 cup pecans, chocolate chips, and flake sea salt, as desired.
Bake for 25 to 30 minutes or until top is shiny and crackly and a toothpick inserted near the center comes out mostly clean. Cool on a wire rack for until completely cooled before slicing into squares. Brownies will keep, refrigerated in an airtight container, for up to 5 days.
Did you make this recipe?
Let us know what you think!
Leave a Comment below or share a photo and tag me on Instagram with the hashtag #loveandoliveoil.