What can be said about whole wheat pasta?
Before now, not much. Because I never bought it. Fervently avoided it, in fact. And I'm sure I'm not the only one who couldn't stand the off-putting texture that can only be described as "thick". Sure, I choked it down on the pretense of being healthy, but good lord, most whole wheat pasta out there is, frankly, awful.
But I'll be completely honest here, DeLallo's Organic Whole Wheat pasta line has completely changed my tune. (Full disclosure goes here, but DeLallo is pretty much awesome or I wouldn't have agreed to a partnership to begin with.) In all truthfulness, it really is the best whole wheat pasta I've ever tried and the only whole wheat pasta that necessitates seconds. And that's why I'm sharing it here today. (The sharing doesn't stop here either… stay tuned, as I've got an incredible giveaway tomorrow that will have one winner's pantry OVERFLOWING with whole wheat goodness).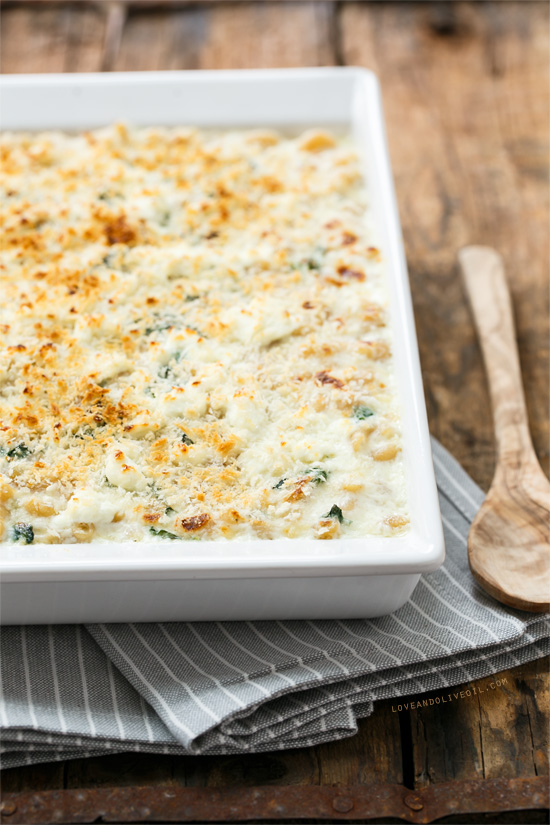 This mac 'n cheese recipe was inspired by my favorite pizza recipe of all time. It's a white pizza, with swiss chard, goat cheese, and a drizzle of garlic and red pepper-infused olive oil. And it is incredible. But it was not exactly easy to incorporate those flavors into a mac and cheese. The goat cheese proved especially problematic, causing a slightly grainy texture and curdled appearance that was none too appetizing and frankly, overpowered and indistinguishable in the final product.
The solution, ultimately, was to leave the goat cheese out of the cheese sauce and sprinkle it on top instead. With a layer of panko breadcrumbs it's the perfect flavorful finish to top off the beautifully creamy pasta.
The mix of cheeses inside is just as important, and we found the perfect flavor-slash-meltiness ratio was with a combination of mild cheddar, Gruyere, Pecorino, and a few slices of (gasp!) white American cheese. Hold your horses, it really is the key to the creamiest mac that won't curdle 3 seconds after you take it out of the pan. The Pecorino is the most stubborn when it comes to melting, but it really adds another dimension of salty flavor that can't be replaced.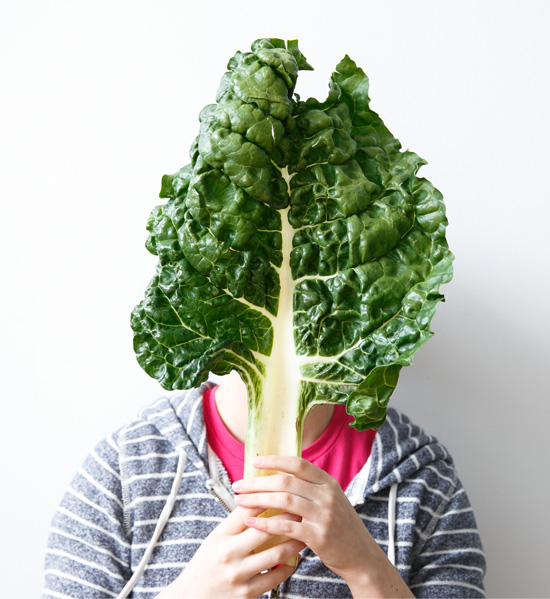 Ignore the fact that my sweatshirt matches my napkin. You'll rarely find me matching anything, let alone my clothing and my linens. Total fluke.
And yes, holy Swiss chard, batman! What are they feeding it, anyway?
(Normally you'd need about 8-10 stalks of swiss chard for this recipe, and I recommend the white variety as the red might might turn your cheese a lovely shade of pepto pink. You can also substitute spinach or kale for the chard if you so desire.)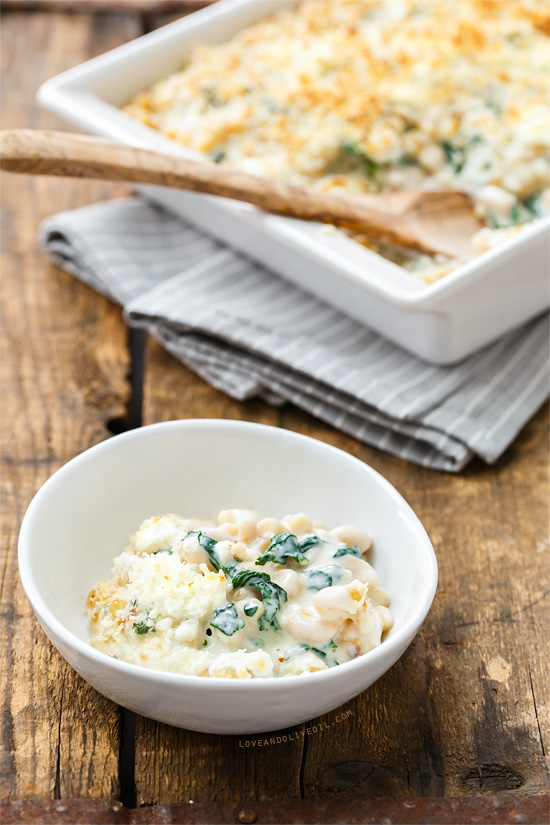 In the end, this recipe will not be winning any low-calorie awards, but I think the whole wheat pasta and nutritious greens put it resoundingly on the 'good' side of the good-for-you spectrum. Not to mention the delicious one.
Whole Wheat Macaroni and Cheese with Spicy Garlic Swiss Chard
Ingredients:
1 pound swiss chard (about 8 medium stalks), large ribs removed
8 ounces Delallo® Organic Whole Wheat Elbows
2 teaspoons extra virgin olive oil
3 large garlic cloves, minced
1/2 teaspoon red pepper flakes
2 1/2 cups whole milk
2 tablespoons unsalted butter
2 tablespoons all-purpose flour
5 ounces mild white cheddar cheese, grated (about 2 cups grated)
2 ounces Gruyere cheese, grated (about 2/3 cup grated)
1 ounce Pecorino cheese, finely grated (about 1/2 cup grated)
2 ounces (4 slices) white American cheese, finely chopped
2 ounces goat cheese, crumbled
1/4 cup Panko bread crumbs
Directions:
Place an oven rack in the top half of the oven. Butter an 11-by-7-inch casserole dish (or equivalent). Bring a large pot of salted water to a rolling boil.
Trim chard leaves and discard any thick ribs. Add leaves to boiling water and blanch for 1 minute or until wilted and bright green in color. Transfer with tongs or a slotted spoon to a large bowl of ice water to halt the cooking process.
Return water to a boil. Add macaroni and cook for 5 minutes or until just barely al dente. Strain and set aside.
Meanwhile, remove chard from ice water. Squeeze to remove as much liquid as possible. Coarsely chop, then spread out on a layer of paper towel and pat dry. You want to remove as much excess water from the chard as possible.
Heat olive oil in a large, high-sided skillet or saucepan set over medium-high heat. Add garlic and red pepper flakes and sauté until fragrant, about 1 minute. Add chopped chard and cook for 3 to 4 minutes or until chard is coated and pan is dry. Transfer to a bowl, then wipe out skillet and return to medium heat.
Add butter to skillet. When butter is melted and foamy, sprinkle over flour, whisking to incorporate into a smooth paste. Continue to whisk until frothy, about 2 to 3 minutes. Slowly drizzle in milk, whisking vigorously. If at any point the mixture clumps, continue to whisk until smooth before adding more milk. Continue whisking until all the milk has been added. Cook, whisking regularly, for 7 to 8 minutes or until sauce has thickened to the consistency of heavy cream and just barely starts to simmer around the edges. Remove from heat.
Slowly add cheddar, Gruyere, Pecornio, and American cheeses to milk mixture, one handful at a time, whisking well until incorporated. If the sauce still has noticeable chunks in it (the Pecorino is often slow to melt), return pan to low heat and continue whisking for no more than 1 to 2 minutes or until smooth.
Fold macaroni into cheese sauce until evenly coated, followed by chard mixture.
Pour into prepared dish. Sprinkle with goat cheese and bread crumbs and broil on high for 5 to 6 minutes or until cheese is bubbly and breadcrumbs are golden brown. Remove from oven and let cool for 5 minutes before serving.
Did you make this recipe?
Let us know what you think!
Leave a Comment below or share a photo and tag me on Instagram with the hashtag #loveandoliveoil.
Disclosure: This post was created as part of an ongoing partnership with DeLallo Foods. As always, all opinions written are purely our own. We're incredibly grateful for opportunities like these that allow us to continue sharing delicious recipes with you, so thank you for supporting us and the brands we love.