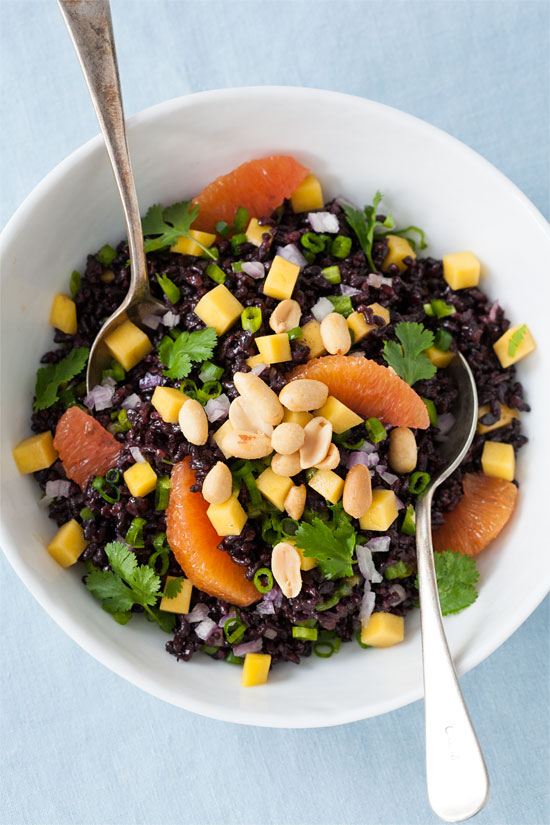 Why, I do declare, this is the prettiest dinner we've made all year.
But unlike other superficial dishes whose beauty is disappointing, this one actually tasted as good as it looked.
Better even.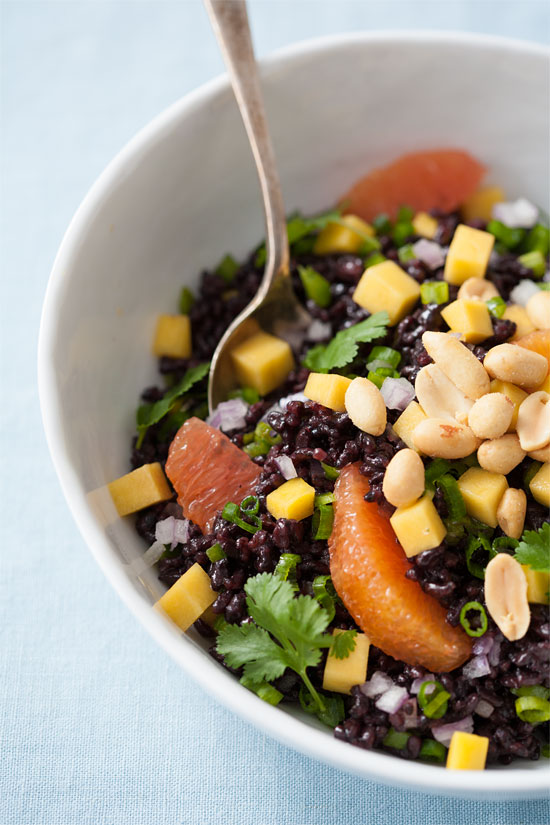 I think I might start using black rice in everything from now on, if only to gaze lovingly at the deep purple grains that contrast so beautifully with their surroundings. It's mild and nutty, not unlike brown rice in terms of flavor, texture, and nutritional value. But ten times as pretty.
Also called forbidden rice or purple rice, you can find black rice at asian markets and specialty food stores. We got ours in the bulk bin section of Whole Foods. You can also get it online.
After being tossed with a tart dressing of orange and lime juice and soy sauce, the rice intermingles with chunks of juicy mango and orange segments (we used pink-fleshed Cara Cara oranges, blood oranges would be stunning as well), along with red onion, green onion, fresh cilantro, and a sprinkling of crunchy peanut. With flavors as bright as the colors, one bite will have you singing its praises and dying to make it again.
Did I mention it's quick and healthy to boot? Seriously, I can't remember the last time a recipe fit all the criteria (quick, healthy, pretty, delicious) for the perfect recipe so well.
Black Rice Salad with Mango and Peanuts
Ingredients:
2 oranges
1/4 cup fresh lime juice
2 tablespoons vegetable oil
1 tablespoon soy sauce
2 cups black forbidden rice
Kosher salt
2 mangoes, peeled, pitted, cut into 1/2″ dice
1 cup fresh cilantro leaves
1 cup finely chopped red onion (about 1/2 large onion)
1/2 cup unsalted, dry-roasted peanuts
6 scallions, thinly sliced
2 jalapeños, seeded, minced
Directions:
Remove peel and white pith from oranges. Working over a medium bowl to catch juices and using a small sharp knife, cut between membranes to release orange segments into bowl. Squeeze membranes over bowl to release any juices. Strain juices through a fine-mesh sieve into a small bowl; reserve orange segments.
Add 1/4 cup lime juice, oil, and soy sauce to bowl with orange juice; whisk to blend. Set dressing aside.
Bring rice and 2 3/4 cups water to a boil in a large saucepan. Season lightly with salt. Cover, reduce heat to low, and simmer until all liquid is absorbed and rice is tender, about 25 minutes. Remove pan from heat and let stand, covered, for 15 minutes. Spread out rice on a rimmed baking sheet, drizzle with dressing, and season lightly with salt; let cool.
Place mangoes and remaining ingredients in a large bowl. Add rice and toss gently to combine. Season lightly with salt and more lime juice, if desired.
Did you make this recipe?
Let us know what you think!
Leave a Comment below or share a photo and tag me on Instagram with the hashtag #loveandoliveoil.