Crispy pan-fried chicken tenders coated with crunchy panko breadcrumbs and sesame seeds; they're perfect dipped in a tangy sriracha mayo or sliced and served atop a crisp romaine salad.
This easy dinner recipe is a sure crowd pleaser for adults and kids alike: with a coating of panko breadcrumbs and both black and white sesame seeds that is then pan-fried to crispy perfection.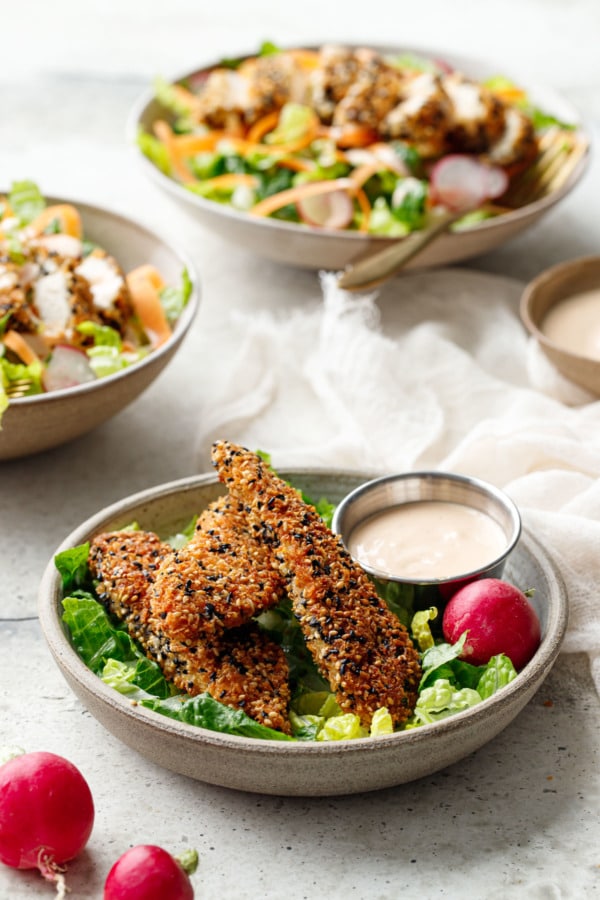 What's for dinner?
Are you sick of that question yet?
Sometimes it feels like life is an endless cycle of figuring out what to cook for dinner, actually cooking it, cleaning up, then starting all over again.
Not to mention when you think a recipe is going to be easy and it turns into a 3-hour ordeal that's mediocre at best (honestly if I'm going to cook for 3 hours straight the results better be phenomenal).
This isn't one of those recipes, I promise. It really is quick. I clocked it at 45 minutes even though it's probably less than that, but if there's anything I hate it's recipes that exclude the prep and cleanup in their staunch claims of "30 minutes or less!"
So, there you have one day's dinner solved. It's a start, right?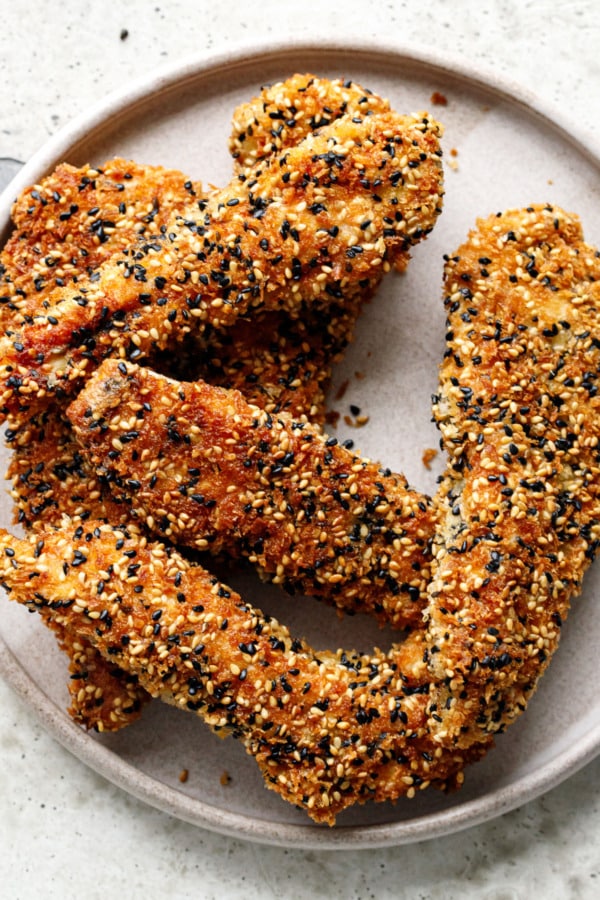 This recipe is based on our sesame-crusted tofu recipe, which is one of our personal favorites (not to mention our all-time favorite way to prepare tofu). For those who cry 'ew texture' when it comes to tofu, giving it a miraculously crispy coating is a surefire way to make it enjoyable for everyone.
We love that tofu recipe so much, I wanted to see if the same idea could be applied to chicken too (spoiler alert: it can).
The original tofu recipe is served with a sweet and salty dipping sauce made from lime juice, sugar and fish sauce. Even though we decided to mix it up a bit this time with a spicy, mayo-based sauce instead, the original would be great with the chicken version too.
This flavorful mayo-based dipping sauce is spicy and tangy, seasoned with a garlic, lime, soy and sriracha. It's creamy and thick and perfect for dunking.
But, if you want to turn this recipe into an ultra-satisfying salad, the same sauce works beautifully as a dressing as well: just whisk in a few teaspoons of water until it's an appropriate salad dressing consistency.
Pan Fried for Maximum Crispness
We pan-fried these chicken tenders to maximize the crunch (I know I'm using crisp/crispy/crunch/crunchy a lot in this post but there simply aren't any other suitable words to describe this delightful texture. I've wracked my brain and scoured the internet thesauruses to no avail, so you'll just have to deal with my repetitiveness in this case).
Use a generous glug or two of oil, I recommend a 1/4-inch thick layer on the bottom of your pan. This will ensure both the bottom AND sides get equal brownage.
That said, I think they'd work reasonably well baked in the oven (I recommend about 15 minutes at 350 degrees F, same general process as outlined in this baked chicken tender recipe from way back in the archives). Oven-fried food is never quite as crisp or golden brown as pan-fried or deep-fried, but it'll do in a pinch!
I also imagine this would also be a perfect recipe for an air-fryer. I say imagine because we don't have one (gasp, I know). So, alas, I cannot advise as to exact cooking times/temperatures, though I'm sure the instruction booklet that comes with the machine probably has some general recipes for cooking chicken tenders, and that's where I'd recommend starting.


Wet Hand, Dry Hand
With recipes like this that require a dip and dredge process (flour, egg, and then breadcrumbs), which can be quite messy, I always designate a wet hand and a dry hand. It's a technique I learned from Alton Brown years ago and it's served me well over the years.
Basically, dip the chicken in the flour with your dry hand, flipping it over as needed until it's fully coated. Shake off any excess flour, then gently lay the tender into the egg mixture without touching your fingers to the egg.
Then, swap hands. Flip it with your wet hand to coat both sides in the egg. Pick it up, again with your wet hand, and gently lay it down in the breadcrumb/sesame mixture (without touching your wet fingers to the dry crumbs).
Switch back to your dry hand now, and splash a bit of the coating onto the topside of the tender (this gives you a dry place to grab it). Flip to coat the other side, pressing more breading to any exposed spots. Then transfer the fully coated piece to a landing pad as you repeat with the remaining chicken.
Using the wet-dry-hand method should prevent your fingers from getting fully coated in breadcrumbs themselves (I like to call this chicken-fried finger syndrome and it is not pleasant).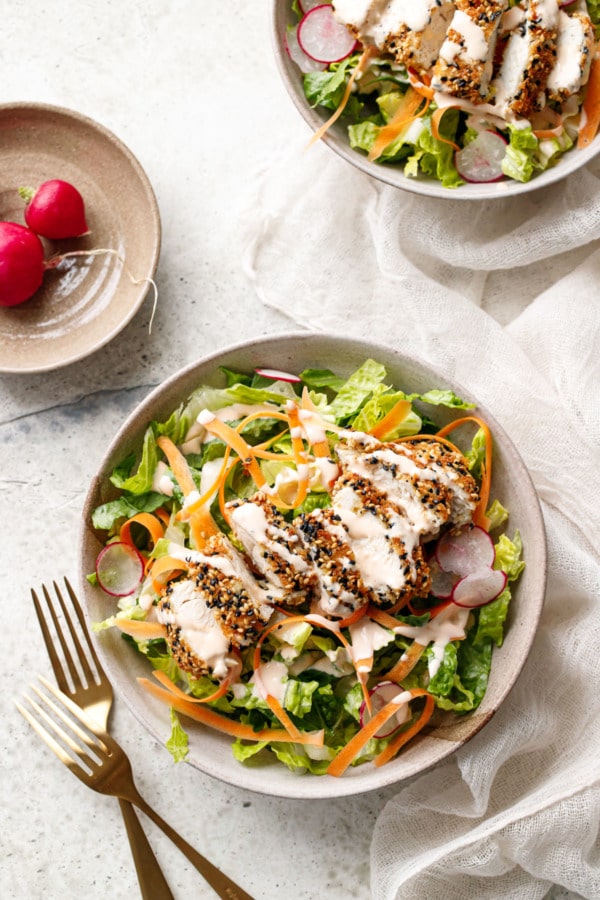 Make it a Big Salad
Sure chicken tenders are plenty satisfying on their own—especially with a thick and creamy dipping sauce—but if you want to make a meal of it, might I suggest serving them atop a big ol' salad? The panko-coated tenders are so delightfully crispy that they almost serve as croutons in addition to the main protein (that's a win-win situation if I ever saw one).
Pile shredded romaine lettuce in a bowl along with thin ribbons of carrot and slivers of raw red radishes, then top with the sliced tenders. I also think a bit of thinly sliced green onion would be a good addition here too!
Whisk a few teaspoons of water into the dipping sauce to thin it to a dressing-like consistency, and drizzle generously over the enter bowl, and voila! Salad gold.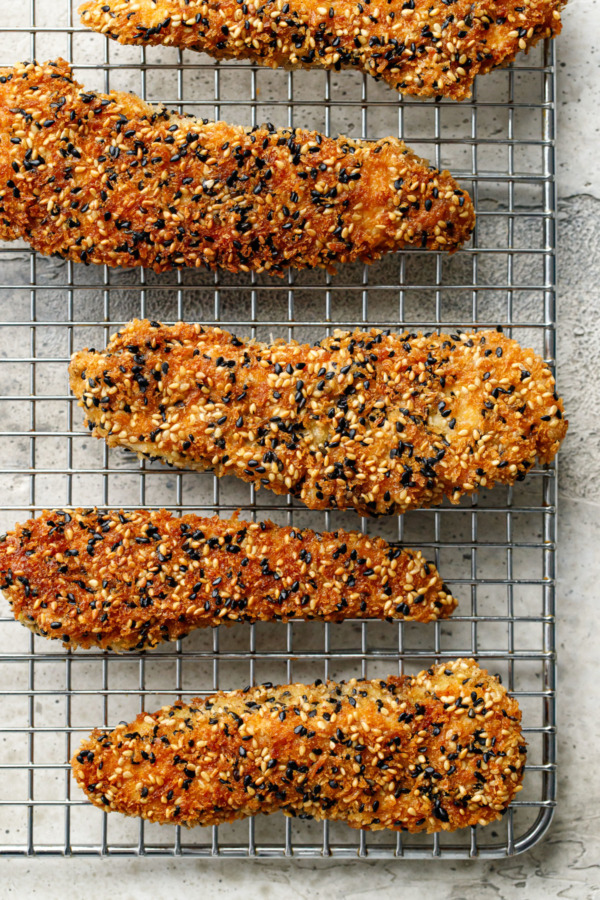 Leftovers & Reheating
This recipe makes enough coating for about 8 large-ish chicken tenders, but can easily be scaled up for a bigger batch.
The tenders re-heat beautifully in the oven, just bake at 350 degrees until heated through. We typically reheat things like this with the oven as it is preheating; just place the tenders on an oven-safe wire rack set inside a baking sheet (this allows for better air circulation to keep all sides cripsy), then turn your oven on and let the chicken warm up with the oven. Usually by the time the oven is preheated the tenders are perfectly hot and crispy (but do keep an eye on them as ovens vary quite a bit).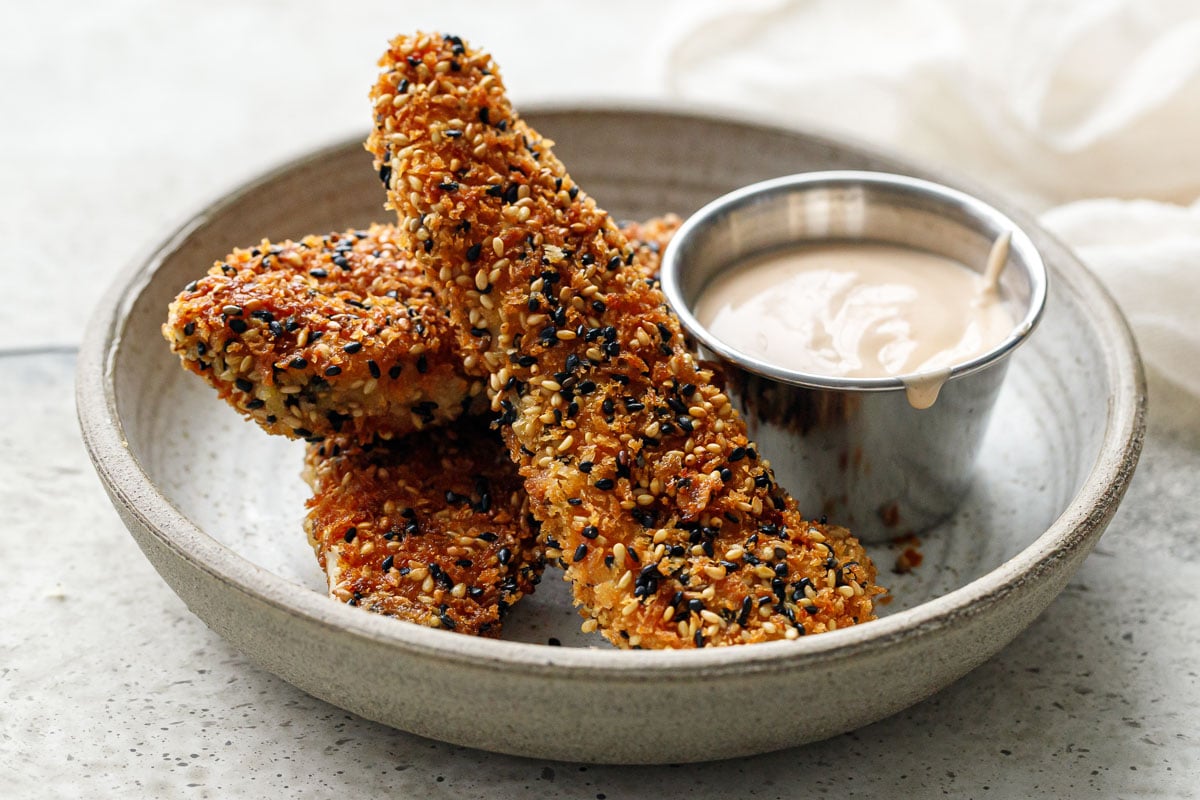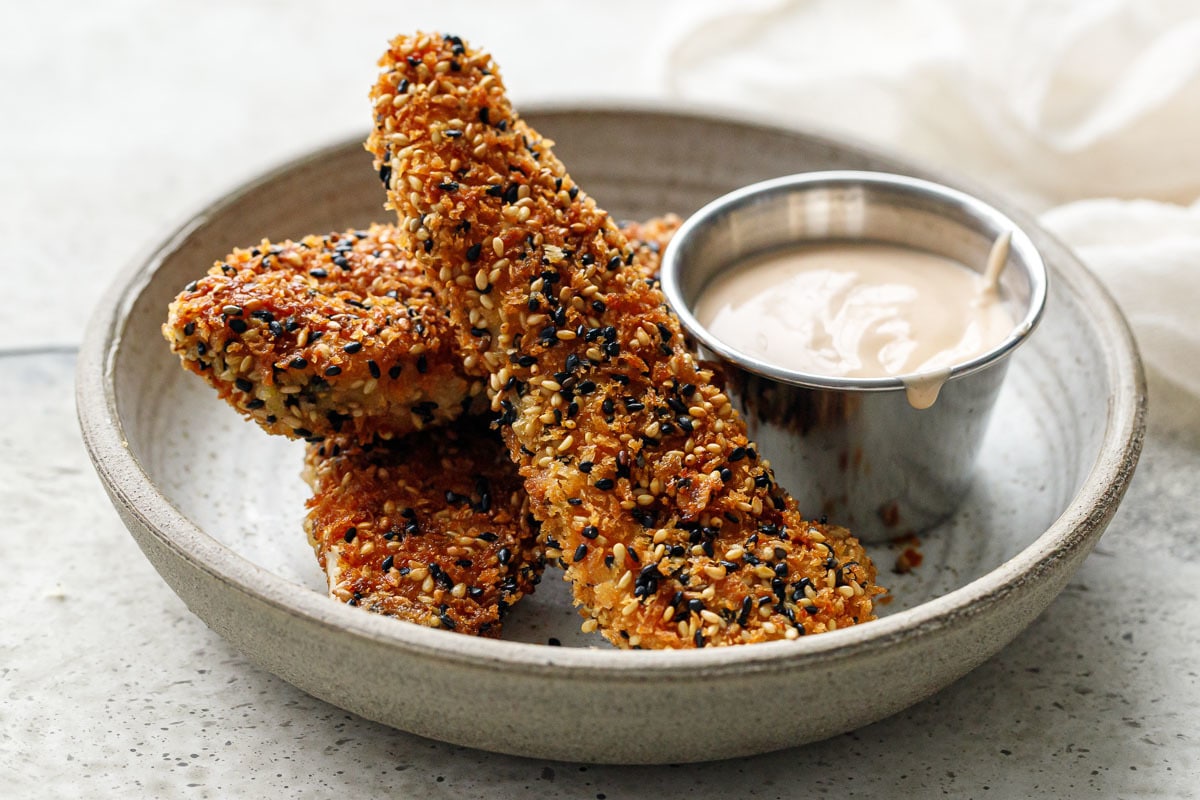 Panko Sesame Chicken Tenders
Crispy pan-fried chicken tenders coated with panko breadcrumbs and black and white sesame seeds for an ultra-crunchy finish that's perfect dipped in a tangy sriracha mayo or sliced and served atop a crisp romaine salad.
Ingredients
1½

pounds

/

680

g

chicken tenders

,

about 8-10 large-ish tenders, or an equally sized chicken breast, cut diagonally into ¾-inch thick strips.

¼

cup

/

30

g

all-purpose flour

salt and freshly ground black pepper

1

egg

½

cup

/

30

g

panko breadcrumbs

¼

cup

/

38

g

white sesame seeds

2

tablespoons

/

16

g

black sesame seeds

vegetable oil

,

for cooking
For dipping sauce/dressing:
½

cup

/

112

g

mayonnaise

1

garlic clove

,

very finely minced or grated

3

tablespoons

/

45

g

lime juice

,

from 1-2 limes

2

teaspoons

sriracha

,

more or less to taste

1

teaspoon

soy sauce

1

teaspoon

sesame oil

water

,

as needed
Instructions
In a bowl or shallow dish (big enough to fit a full length tender), season flour with a generous pinch of salt and pepper.

In another bowl, whisk egg with a tablespoon of water.

In a third bowl or shallow dish, combine panko with white and black sesame seeds until evenly distributed.

Dredge tenders in the flour to coat, shaking off any excess flour. Dip into the egg, flipping to coat both sides, and then transfer info dish with breadcrumbs. Toss some crumbs over top, then flip and press until entire strip is evenly coated. Transfer to a plate or cutting board and repeat with remaining tenders.

Preheat a large non-stick skillet over medium-high heat. Fill pan with approximately oil to a 1/4-inch depth, and let heat until it starts to shimmer.

Working in batches, gently lay coated tenders into hot oil, arranging them so they do not touch in the pan (you'll probably need to cook two batches). Let cook for 3 to 4 minutes or until golden brown, then carefully flip and cook another 3 to 4 minutes more. The tender should be more than cooked through at this point, but if you want to double check, an instant-read thermometer inserted in the thickest point should read 165 degrees F or more.

Transfer chicken to a wire cooling rack set inside a cookie sheet. To keep them warm while you cook the rest of the tenders, place cookie sheet in a 175 degree oven. Add additional oil to the pan if necessary, the cook remaining tenders in the same manner.

Meanwhile, to make dipping sauce, whisk together mayo, garlic, lime juice, sriracha, soy sauce, and sesame oil. If using as a dip, stop here. If using as a dressing for a salad, add a teaspoon or two of water as needed to thin it out to a more drizzle-able consistency.
All images and text ©
for Love & Olive Oil.
Did you make this recipe?
Let us know what you think! Leave a Review below or share a photo and tag me on Instagram with the hashtag #loveandoliveoil.