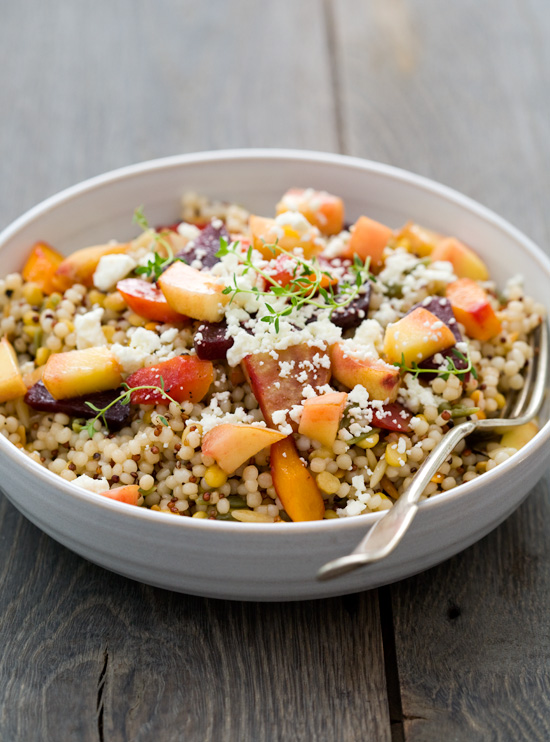 This salad kind of looks like fall… but it's all summer, baby.
It's not terribly different from our other roasted vegetable salads, if you just replaced the lettuce with hearty grains (we used Trader Joe's harvest grain mix, which is pretty but not my favorite. I know my mom will disagree, but I feel that the mix of grains cook at different rates, leaving you with overdone cous cous and extra al-dente split peas). But I digress. Any grain or mix of grains, be it quinoa, israeli cous cous, bulgar or barley, would do just fine in this delightful dish.
The peaches were a last minute addition. Taylor gave me one of "those" looks when I started chopping them up, but they proved to be the perfect sweet respite, bringing a bright flavor to the earthyness of the roasted veggies and grains.
Top with feta and thyme, and dinner is served.
Peach and Roasted Vegetable Salad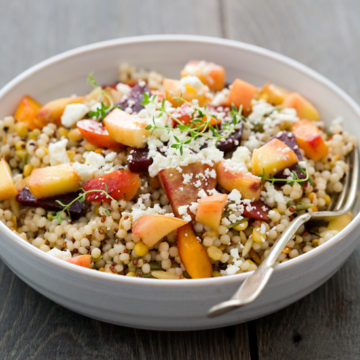 Ingredients:
3 medium beets
2 large carrots
1 tablespoon olive oil
salt and pepper, to taste
2 servings grain of your choice, such as israeli cous cous, quinoa, or farro, prepared according to package directions
1 tablespoon olive oil
1 tablespoon balsamic vinegar
2 sprigs fresh thyme, finely chopped
3 peaches, diced
1/2 cup crumbled feta cheese
Directions:
Preheat oven to 400 degrees F.
Peel and cut beets into 1-inch pieces. Chop carrots into similarly sized pieces and place in a large bowl. Drizzle with 1 tablespoon olive oil and salt and pepper to taste; toss to coat. Dump veggies onto a large piece of aluminum foil and fold up edges to form a packet. Place packet on cookie sheet and bake for 25 to 30 minutes or until veggies are tender.
Toss cooked grain with olive oil, balsamic vinegar, thyme, and salt and pepper to taste. Divide among serving bowls. Top with roasted vegetables, peaches, and feta cheese. Serve warm or at room temperature.
Did you make this recipe?
Let us know what you think!
Leave a Comment below or share a photo and tag me on Instagram with the hashtag #loveandoliveoil.