A classic key lime pie with a mango twist, tart and tangy and velvety smooth, nestled in a sweet and salty graham cracker crust (with a surprise kick of spice). Topped with a squiggle of fresh whipped cream and gorgeous edible mango flowers, it makes for a truly stunning presentation.
Talk about gorgeous: this mango lime tart is dressed to impress, but you'll be surprised how easy it is to prepare. Make it a day ahead of time to be sure it has plenty of time to set before slicing and serving.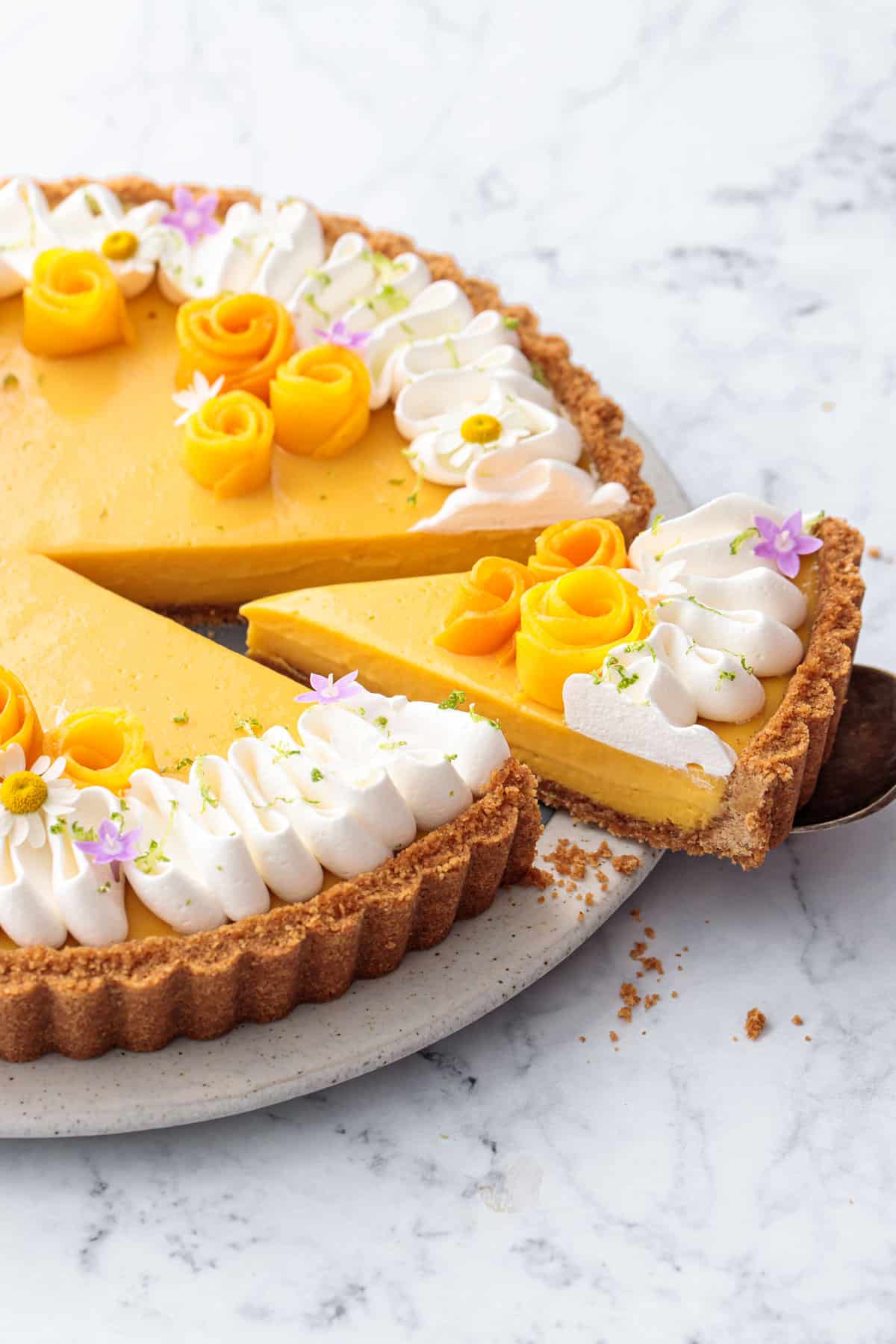 This recipe was created in partnership with Amoretti (use coupon code LOVEANDOLIVEOILFREESHIP for free shipping on your order!) All opinions expressed here are my own.
Imagine, if you will a key lime tart… bright and tangy and perfectly sweet, rich and creamy and melt-in-your-mouth smooth. Now add mango and prepare to swoon.
This tart and tangy mango lime tart (you could say it's a… tart tart.) features an ultra creamy mango lime custard filling nestled in a sweet and salty graham cracker crust with a pinch of cayenne that makes for a spicy surprise. Top that with a touch of freshly whipped cream and you have yourself one tasty tropical treat your tastebuds (not to mention your eyes) will treasure.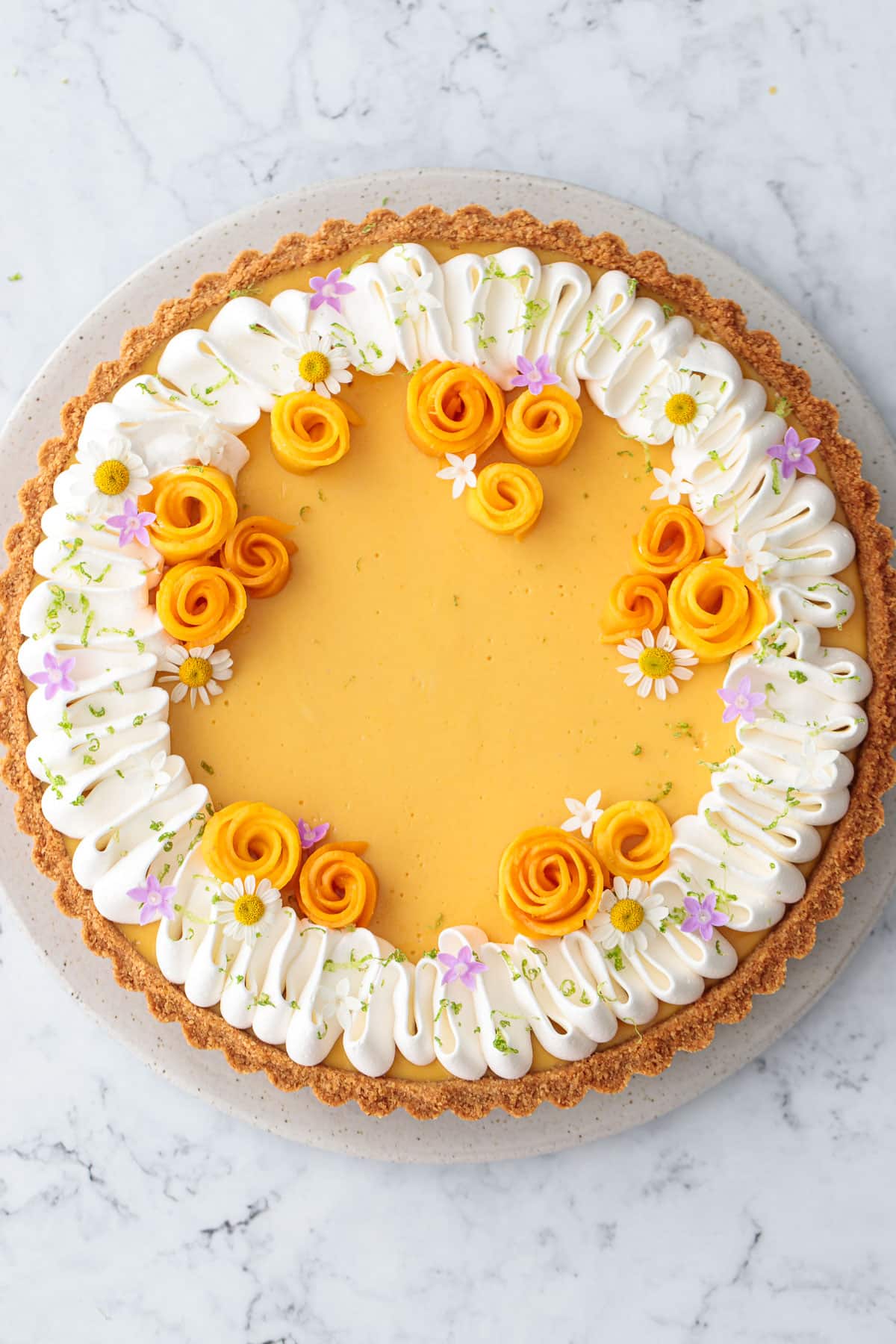 Mango and lime are a perfect combination, and this tart is proof.
I've never been a big fan of key lime pie (although seeing as how I've come to love lemon desserts more and more as I get older, maybe lime is next on the list). But lime combined with mango? Simply perfection. The lime plays off the natural sour sweetness of the mango, enhancing and emphasizing the fruity tropical flavor.
The sweet, tangy filling contrasts beautifully with the salty graham cracker crust. And you know how they often serve mangoes sprinkled with a bit of chili? I added a bit of ground cayenne pepper to the crust and it makes for a wonderful spicy surprise with each and every bite.
Sweet. Sour. Salty. Spicy. This tart seriously has everything.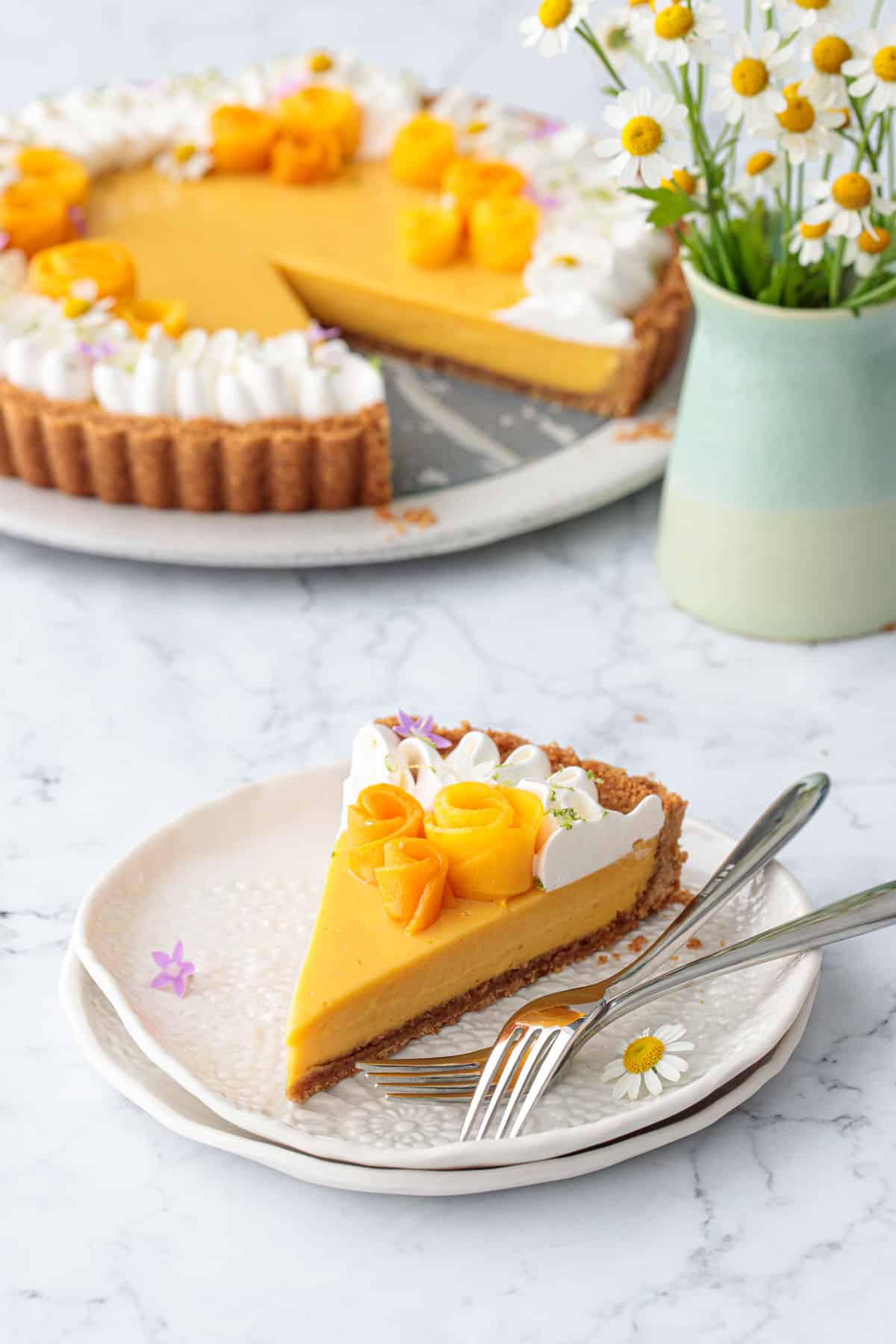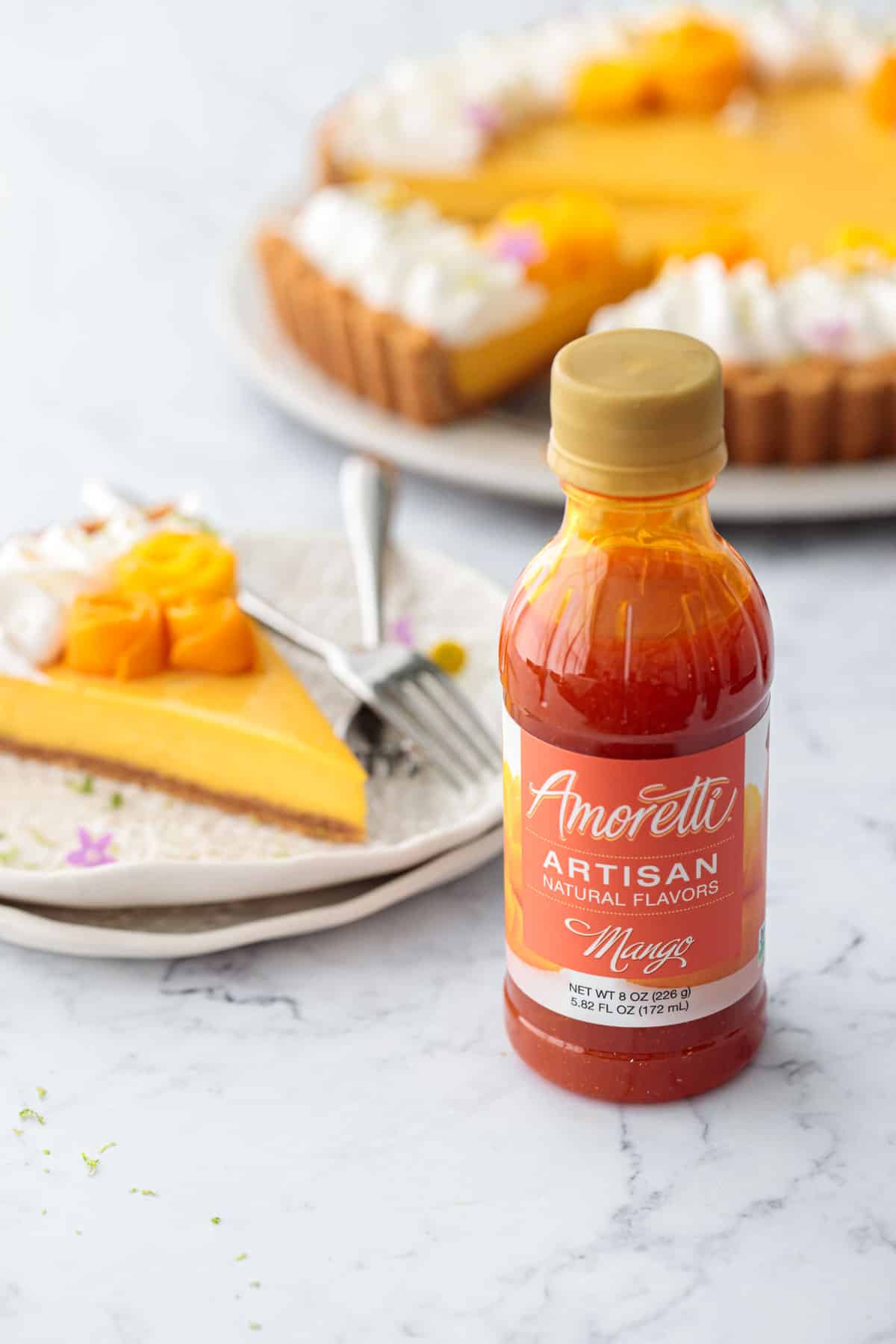 The mango flavor is further enhanced with Amoretti's Natural Mango Artisan Flavor. It intensifies the natural flavor of the mango beautifully, making it taste like a fresh picked mango straight from the tree.
I've shared a few recipes recently featuring Amoretti's products, and I'm really quite pleased with their selection and quality. Sometimes extracts are too harsh or chemically tasting for me, but Amoretti's flavorings are far superior in almost every way.
The Artisan flavoring line isn't a typical extract. It's not as concentrated, so in general you'll need more of it. For example this tart uses about 2 tablespoons worth of the flavoring, that's equivalent to about 1-2 teaspoons of regular extract (although I've never seen or tried a mango extract so I really can't say what the exact conversion would be). The Artisan Mango flavor is alcohol free and made from real fruit, which I love. It has a balanced sweetness and natural color to enhance the final product.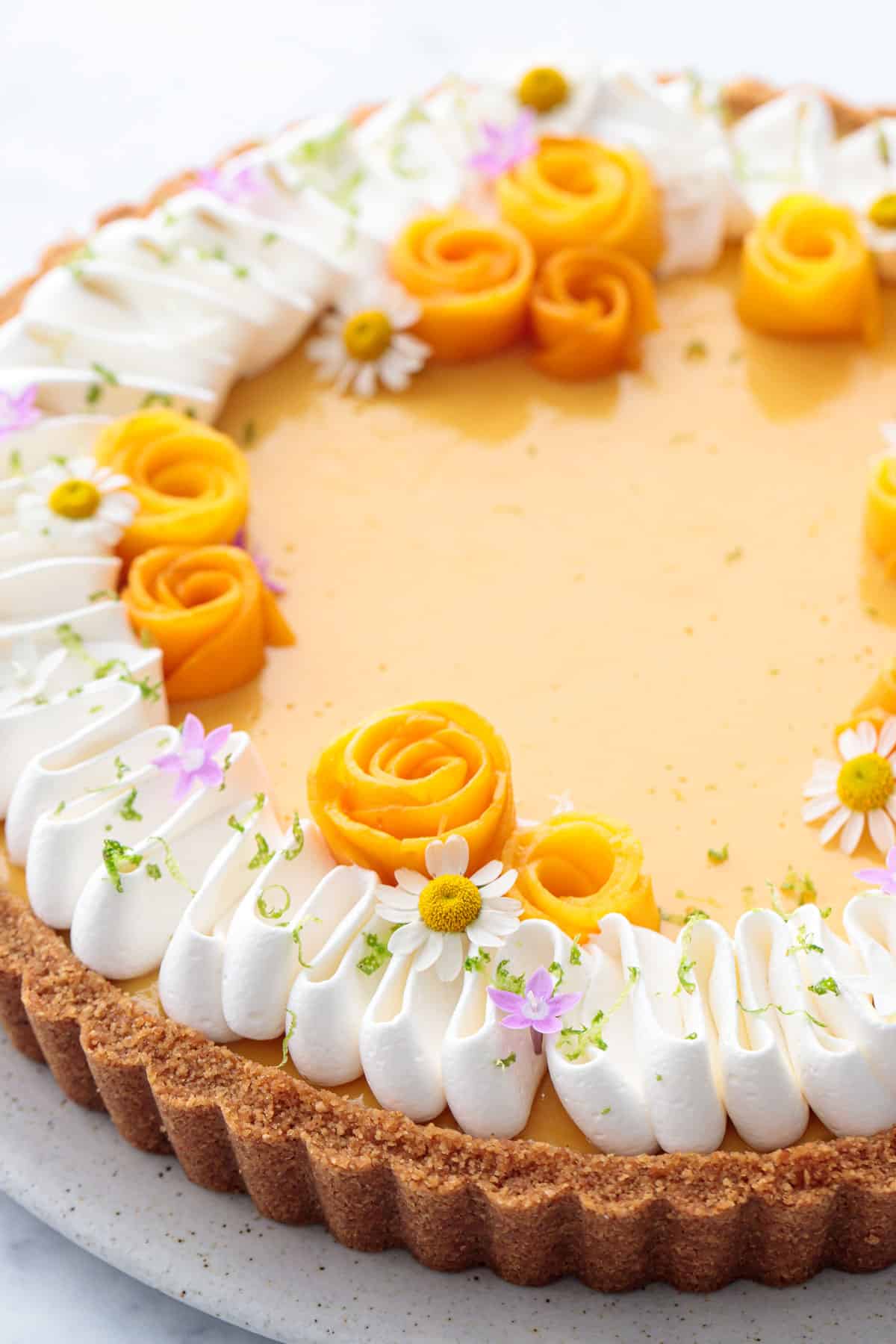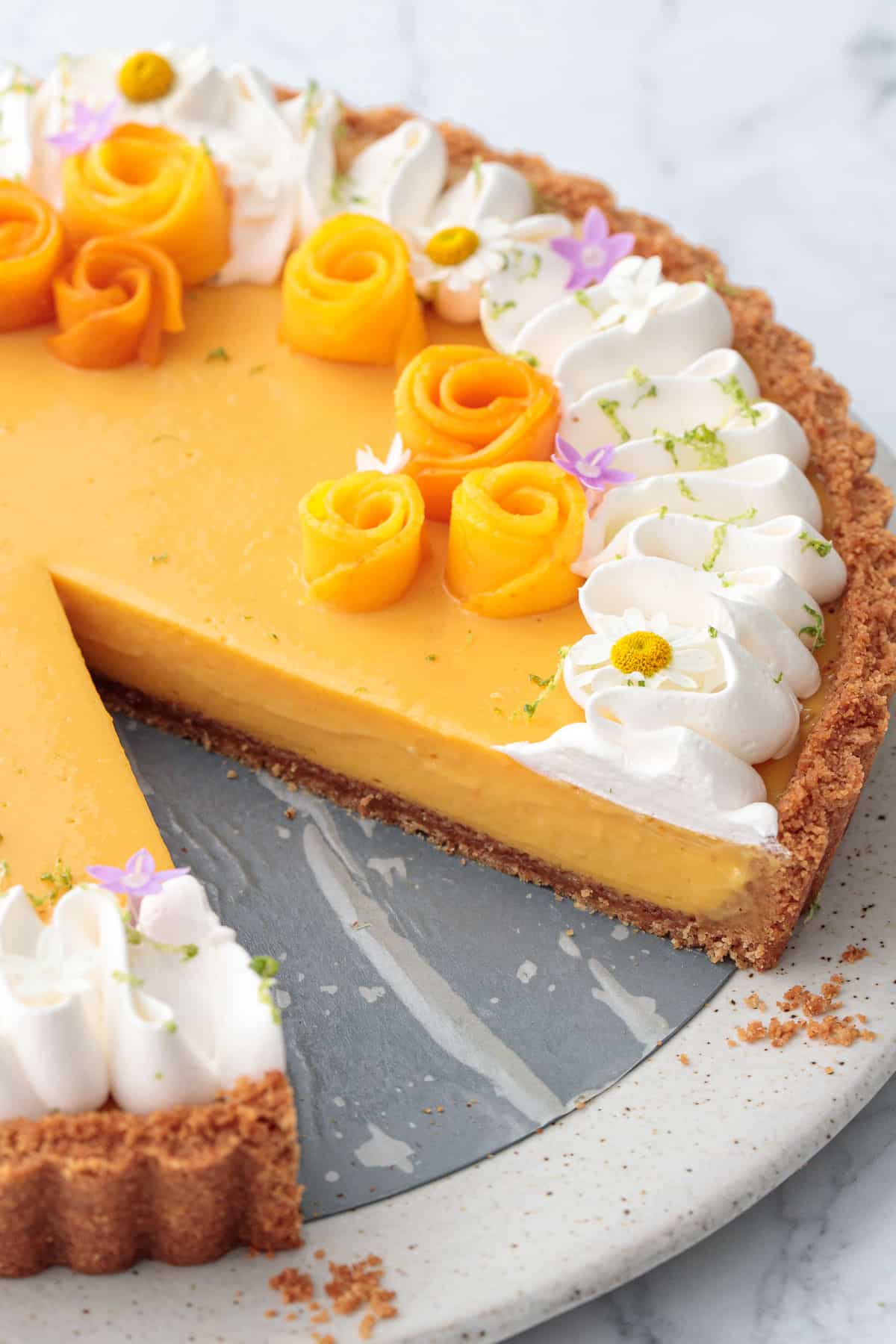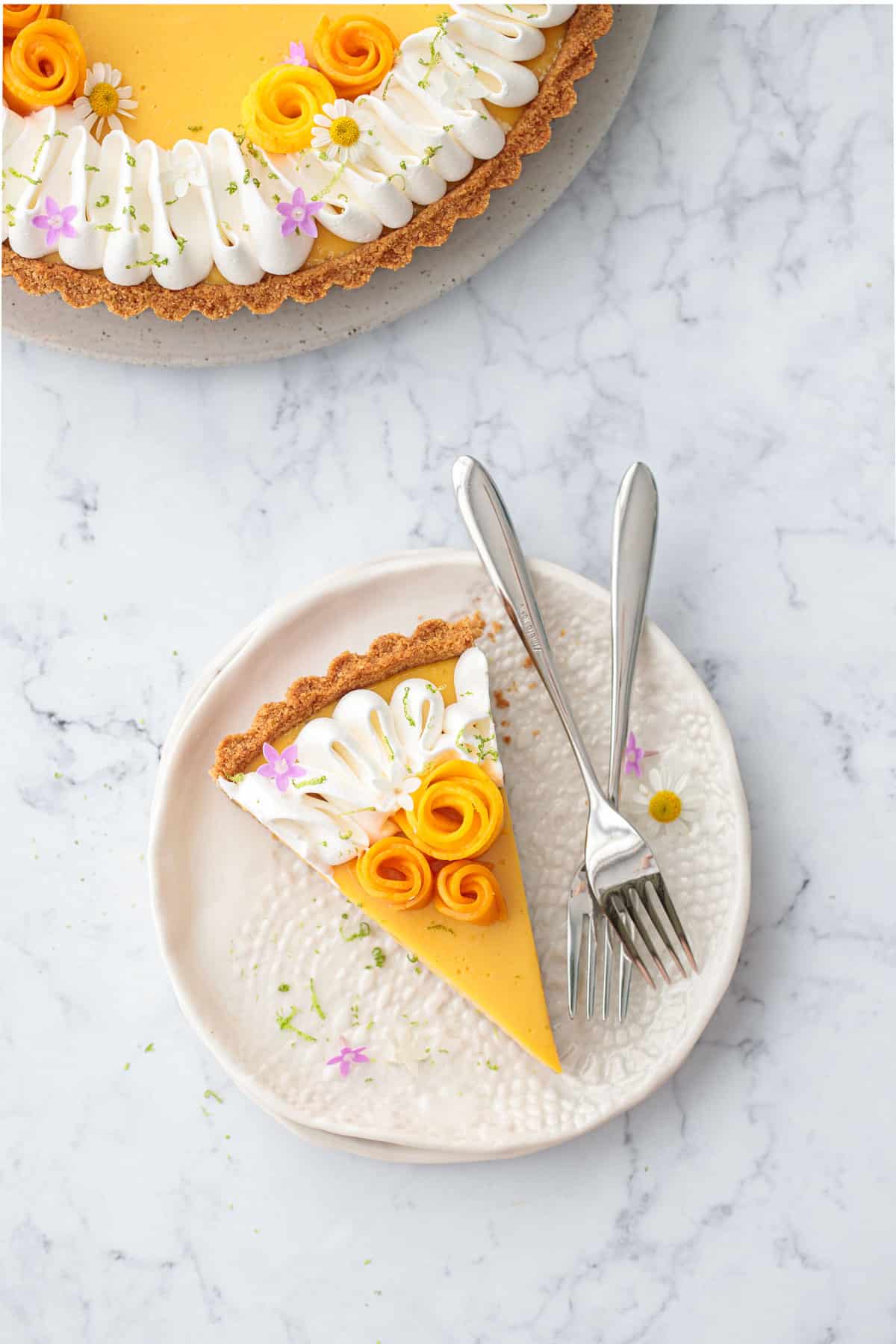 Is it a tart, or a pie, or some blend of the two (would that make it a part? Or a tie?) I think the critical difference between pies and tarts is the pan, whether it is baked in a shallower tart pan versus a pie pan, and key lime pie is one of those versatile varieties that can go both ways.
Tart pans are typically shallower, with straighter sides and removable bottoms, pie pans are deeper with angled sides. Honestly, I wish pie pans had removable bottoms, since it makes for much easier slicing and presentation.
While the recipe is written for a standard 9-inch-wide by 1-inch deep tart pan, this recipe can be made without adjustments in a standard 9-inch pie pan, though the filling will only come up about half way (fill the remainder up with whipped cream, maybe?) It's based on a pretty standard key lime pie recipe, so the quantities are generally about the same or even a bit more than usual with the added mango.
Honestly, I can't figure out why most key lime pie recipes seem to be only partially filled, it seems weird to me. One reason the tart seems far more appropriate in this case. That said, if you want a deeper pie, just multiply the filling recipe by 1.5 (and increase the bake time accordingly).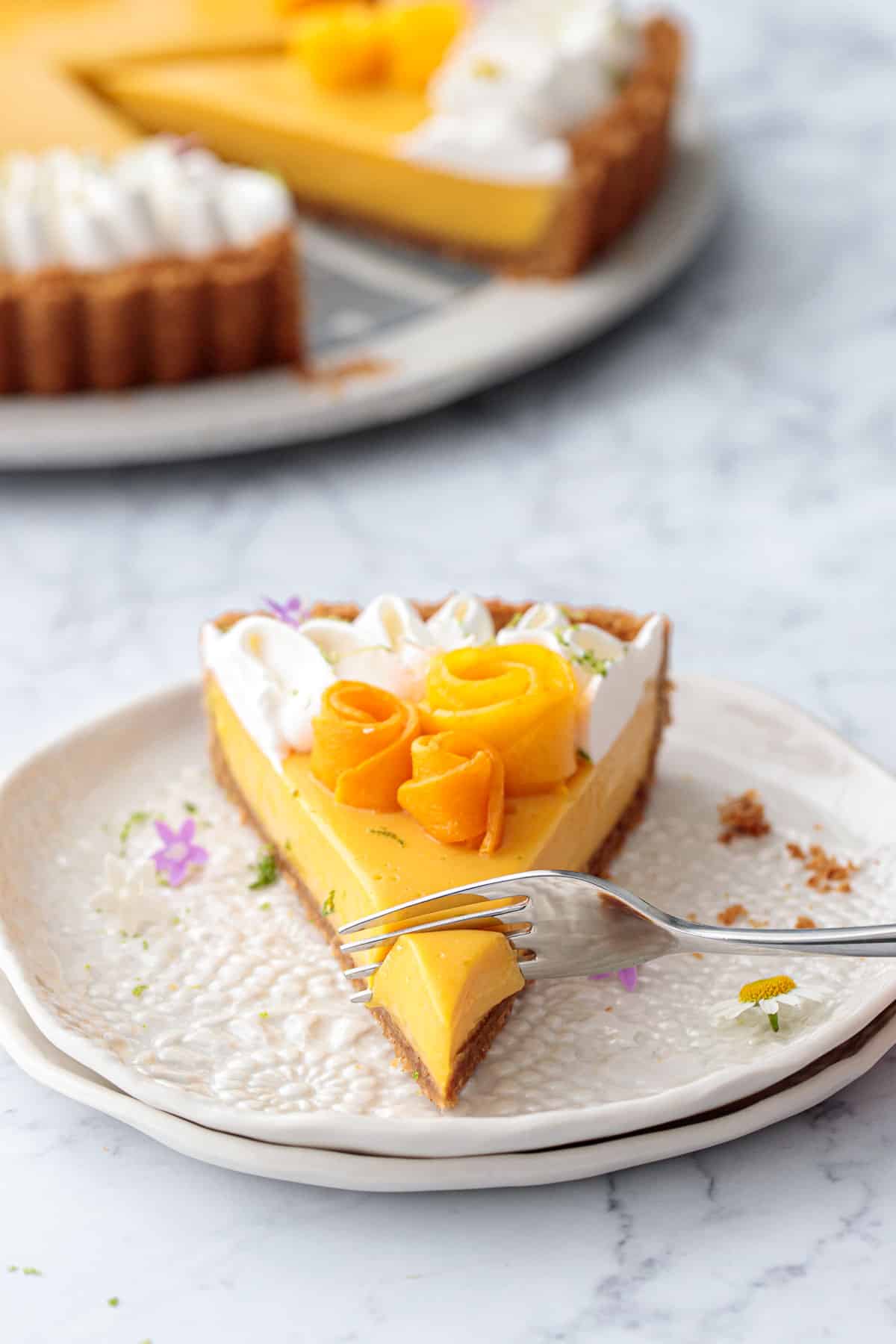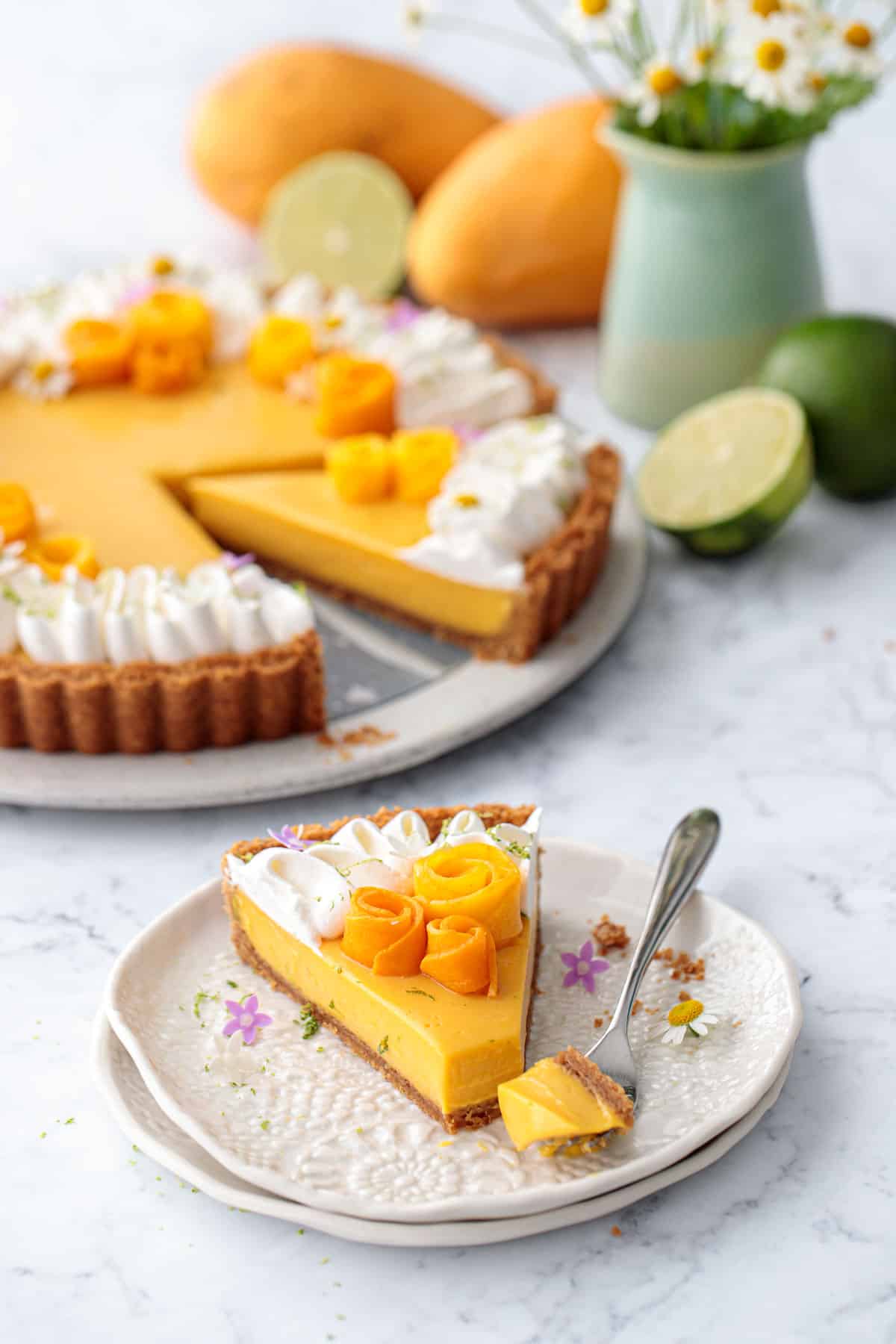 I used regular lime juice, not key lime juice, so I can't technically call this a key lime pie, though the base recipe is nearly identical to most popular key lime pie recipes floating around (of which there are dozens out there, and they are all basically the same; I referenced America's Test Kitchen recipe as my starting point for this one).
I used regular limes, and found the tart-sweet balance to be absolute perfection. That said, you can use key lime juice here if you'd like, which is a bit sweeter than regular limes.
Either way, the sharp acidity of the lime brings out the natural sweetness and tropical flavor of the mango (one of my favorite tricks when making fruit jams, for example, is to add extra acid to brighten and enhance the natural flavor of the fruit; that same principle applies here.) I don't think a plain mango tart would be half as good without the added lime juice (or the Amoretti flavor, for that matter).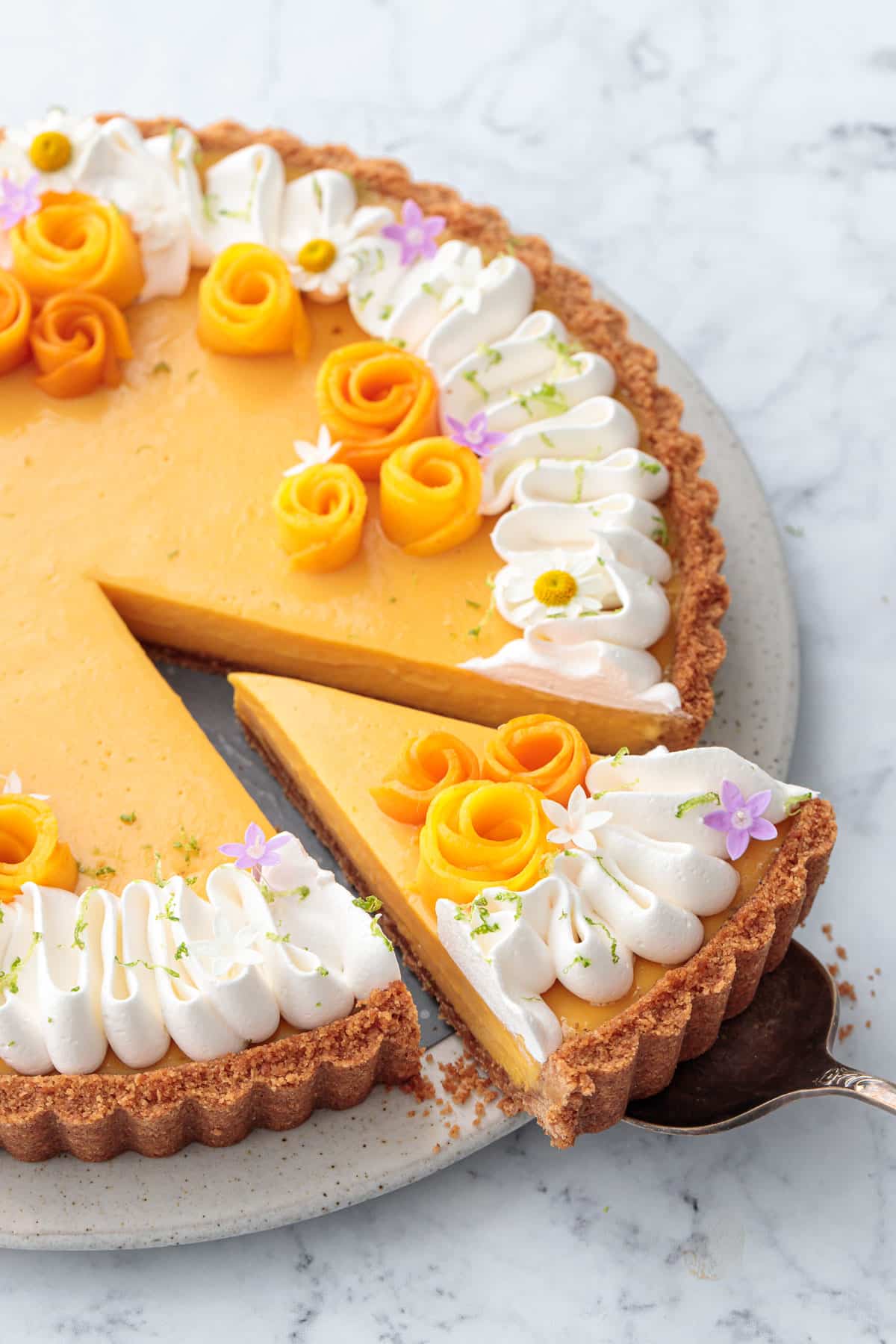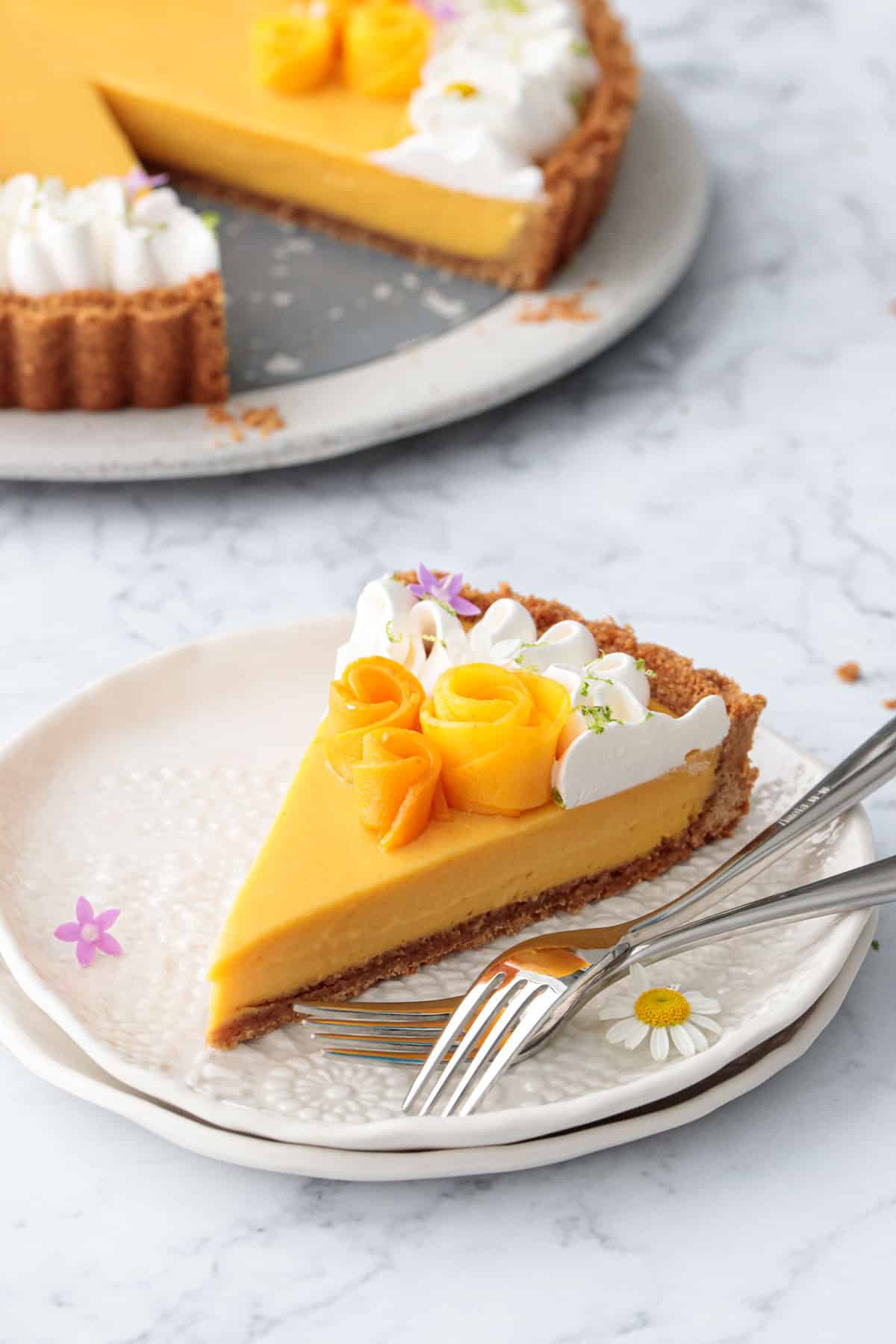 The crust is made from finely ground graham crackers (vanilla wafers would work here too), with a pinch of salt and a touch of ground cayenne. Press the crust mixture into your pan using a flat-bottomed glass or measuring cup, compressing it firmly so it doesn't totally fall apart when you try to slice it.
The filling itself is quite straightforward, containing simply egg yolks, lime juice, sweetened condensed milk, and mango puree, mixed together and then baked just until set. No finicky tempering or cooking on the stovetop required! Just whisk it together, pour it into the crust, and pop it in the oven.
Be sure to see my notes below about substitutions, particularly for the sweetened condensed milk (I can tell you from experience that sweetened condensed coconut milk will NOT work here. For whatever reason it just doesn't set up the same as regular dairy S.C.M. Trust me on this one.)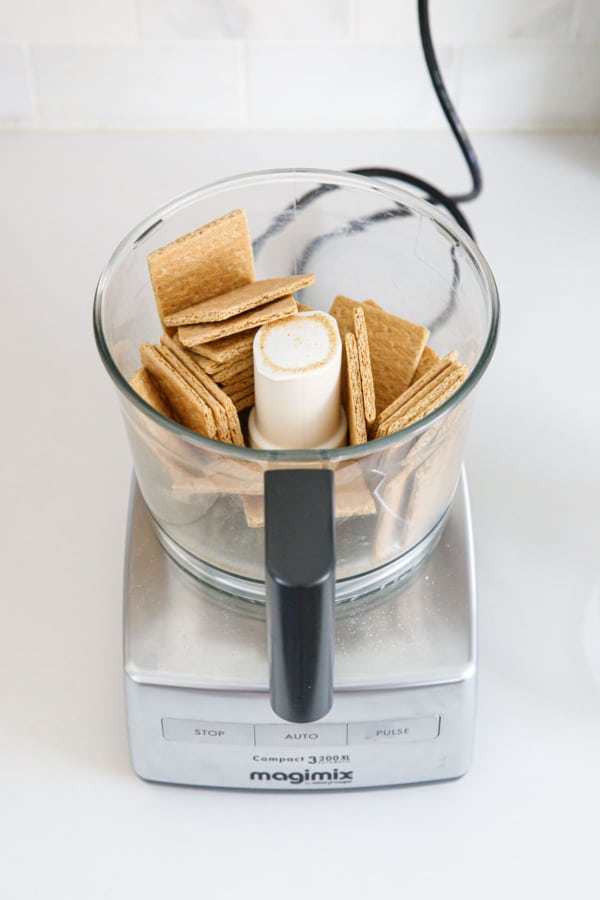 This kind of tart doesn't need much time in the oven at all: 15 to 20 minutes max. You'll know it's done when the edges are set and the center is is still jiggly (but not liquidy, if that makes sense. Think jello.) It should not bake long enough to brown or bubble at all.
The tart will set up fully once it has fully cooled and chilled, so give yourself at least 3 hours or so to let it thoroughly chill (lest you cut into it and it oozes out).
If for some reason your tart is still loose and liquidy after 20 minutes in the oven, if it starts to brown and/or bubble around the edges but the center is still not set, that probably means there's an issue with the filling. Unless your oven is running extra cool (you've got a thermometer in there right?) baking it longer is probably not going to fix it. This happened to me when I tried to use coconut sweetened condensed milk instead of regular; the two are not interchangeable and, even after a 35 minute bake, the filling was still very loose when I tried to slice it.
If this happens, and you're not able to cleanly slice your tart, know that it is still fully baked (no raw egg), so just serve it in bowls with spoons and dollops of whipped cream and call it a mango lime trifle or pudding (it'll still be delicious, I promise!)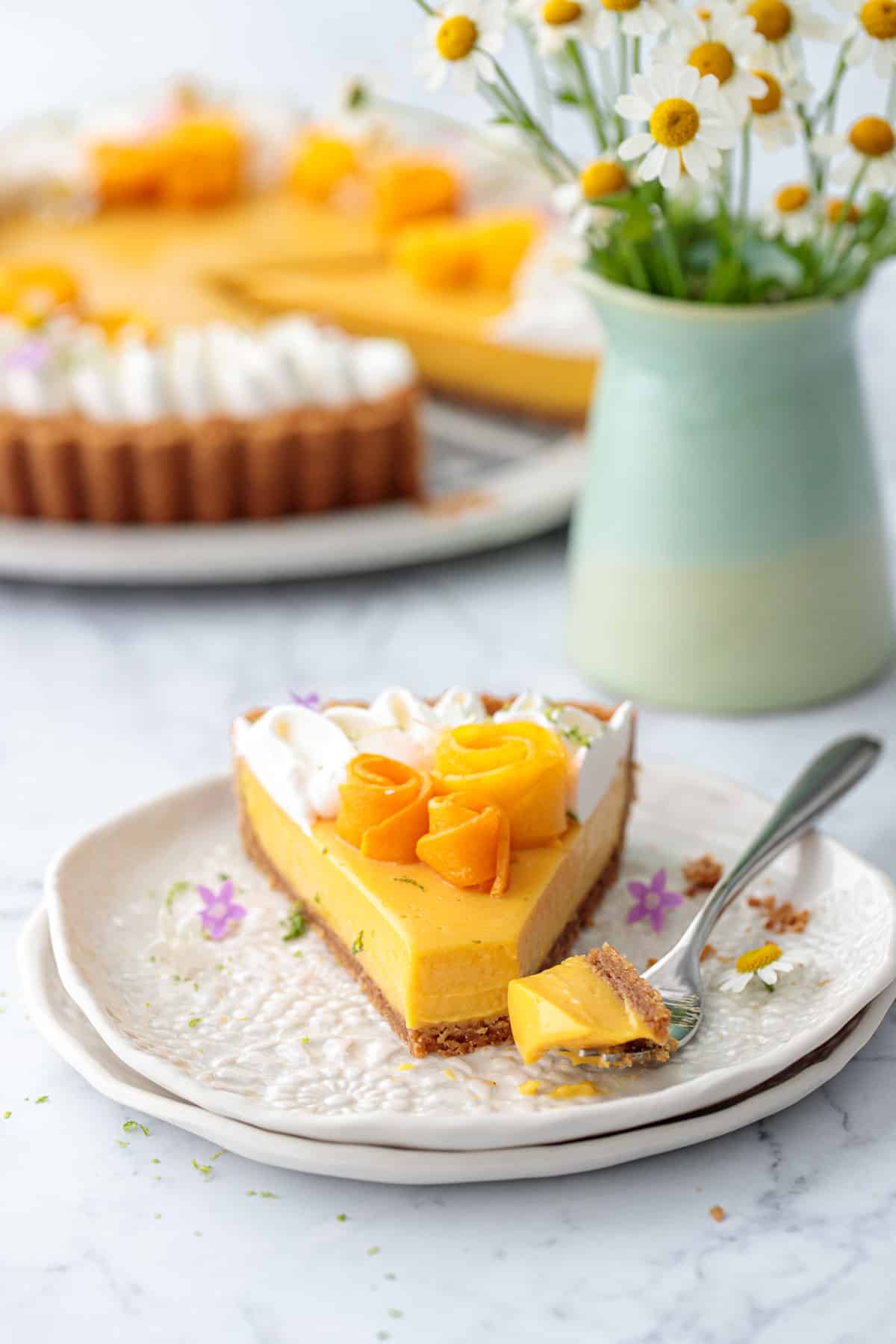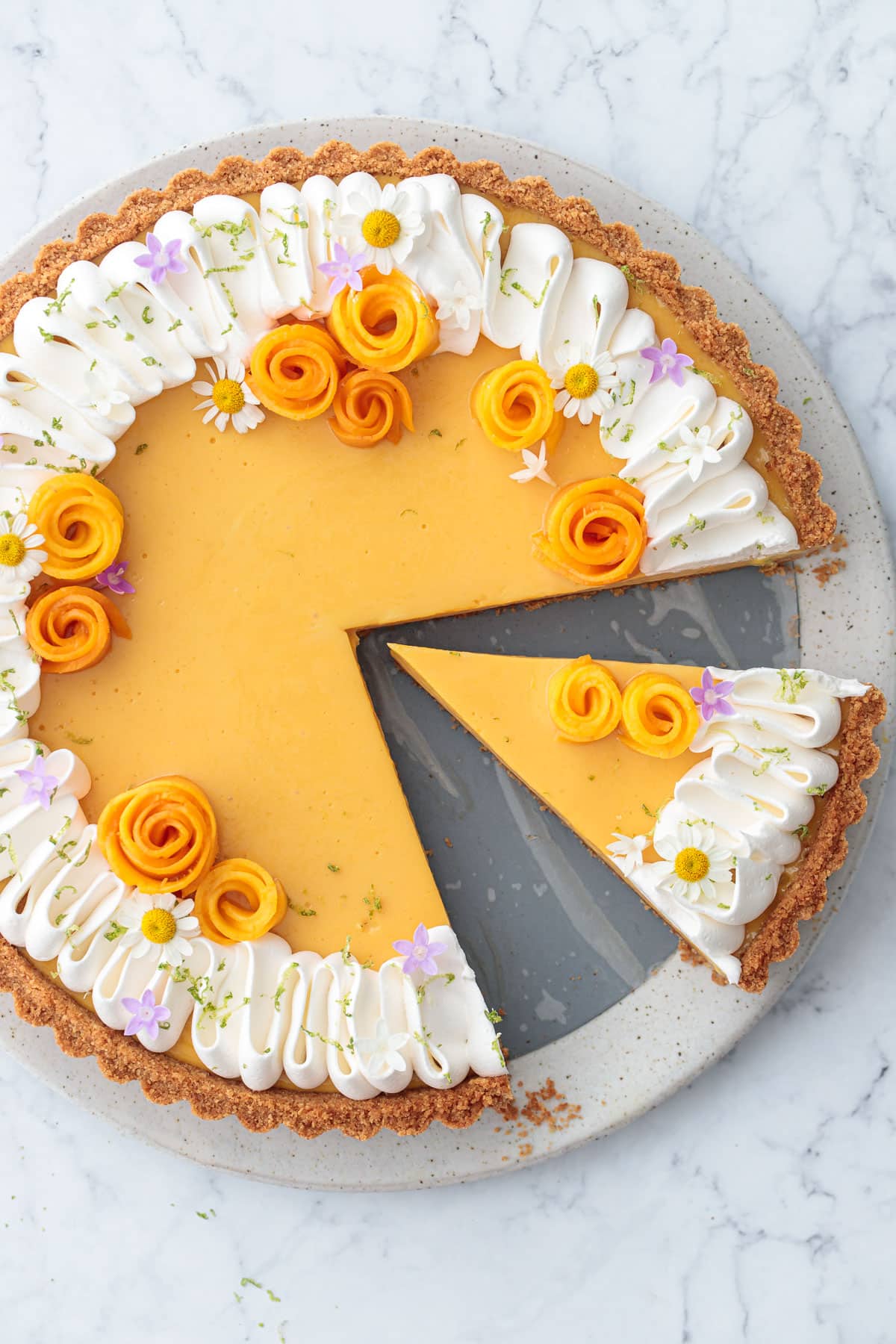 Decorating Ideas
I piped a squiggle of whipped cream around the edge of my tart using a #124 rose petal piping tip, but you can certainly do florets or dollops or any other pattern you'd like.
Alternatively, pile a whole mound of whipped cream in the center of the tart, and give it some dramatic rustic swoops and swirls with the back of a spoon.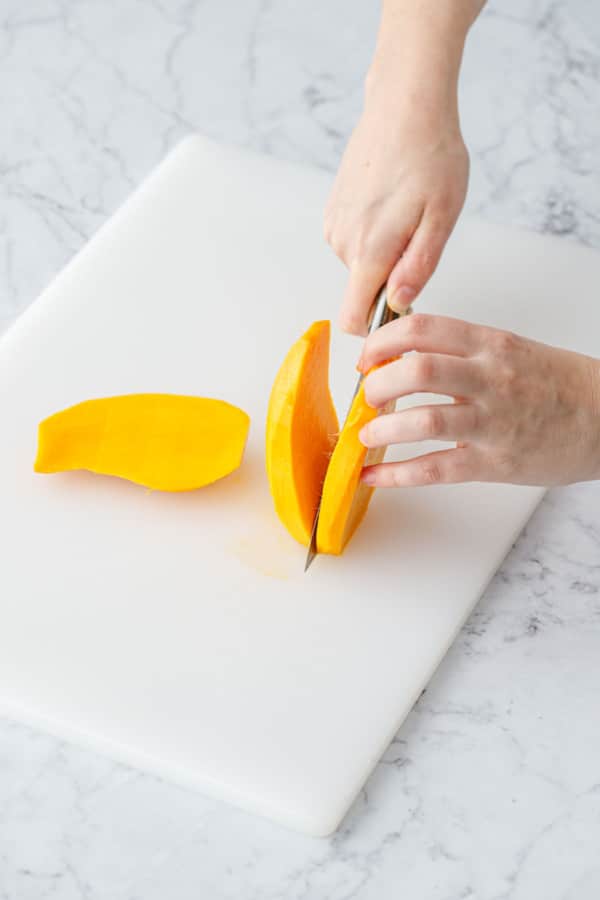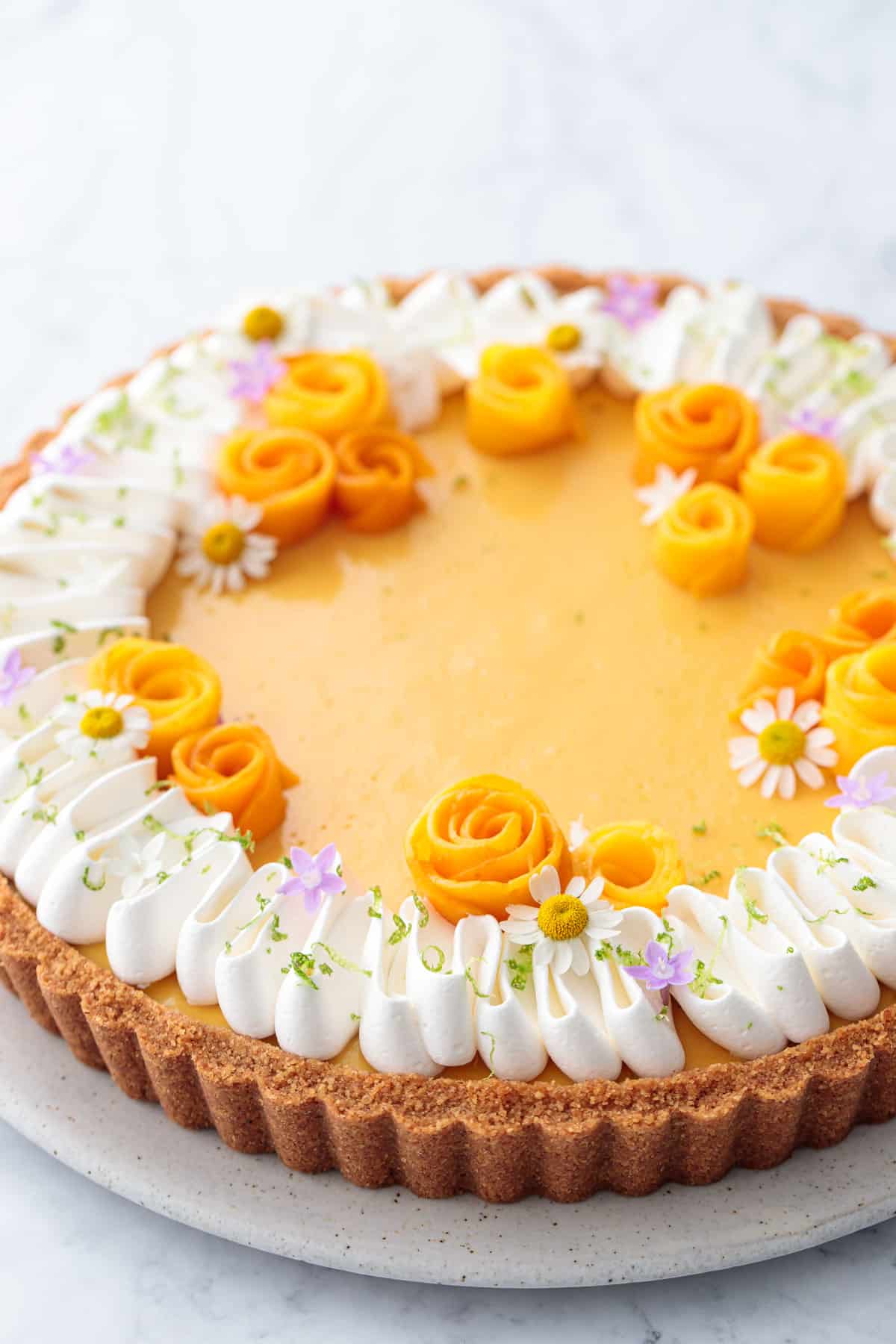 The mango flowers are made similarly to the flowers from my caramel apple tart (although the mango does not need to be blanched first). It helps to use a soft mango, and slice it as thinly as possible. Squeeze some lime juice or citric acid water to keep the mango from browning.
The edible flowers are optional, of course. I used some chamomile flowers and pentas (which I found at a nursery earlier this year when I scoured the aisles for all the edible flowers I could find).
If you're the type who likes a true meringue on your key lime pie instead of whipped cream, you've got 4 leftover egg whites to work with so go crazy! Either a soft meringue, lightly torched, or you could even pipe some meringue kisses and bake them until they're crunchy then arrange them on top of your tart, sort of I like I did with my strawberry matcha tart.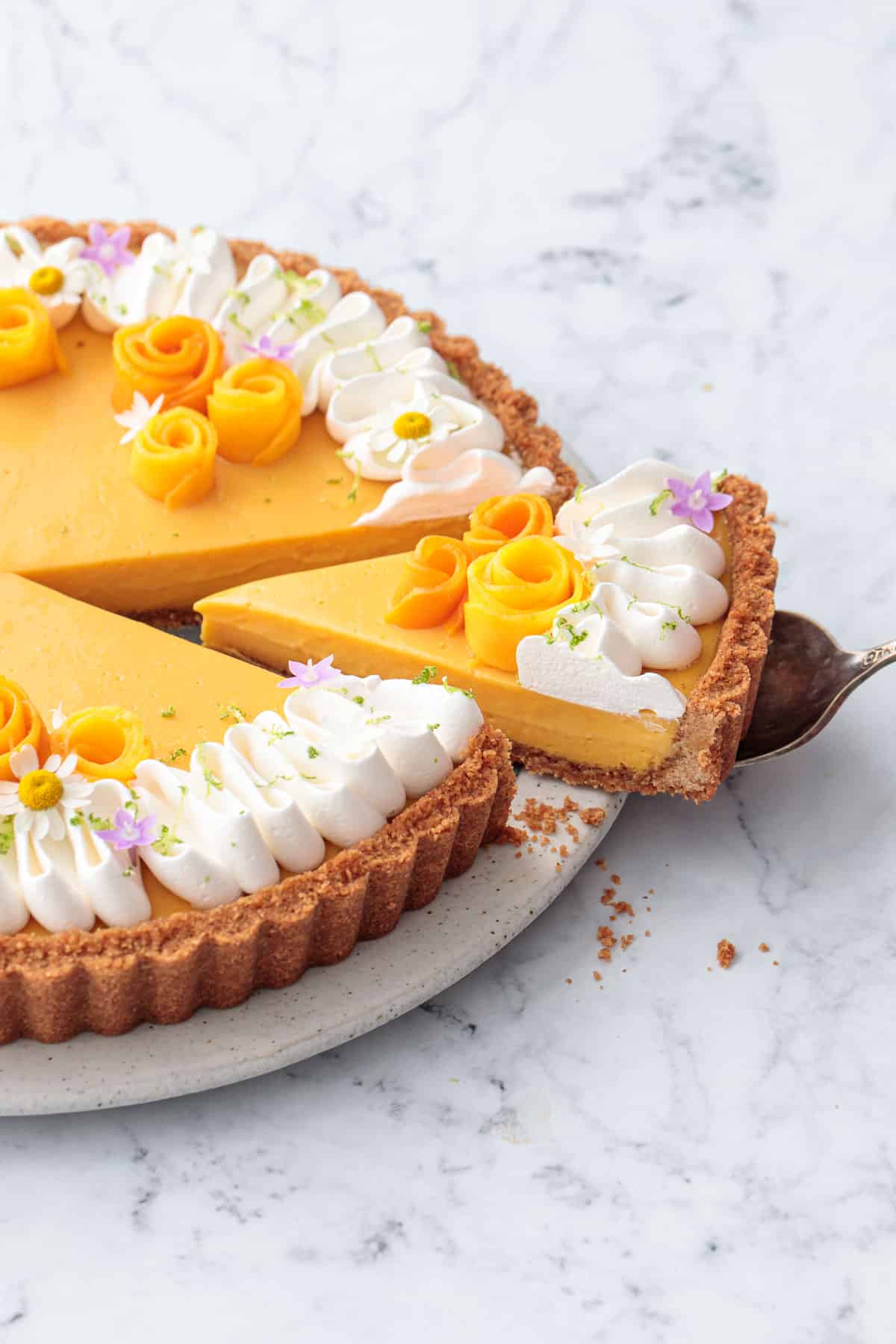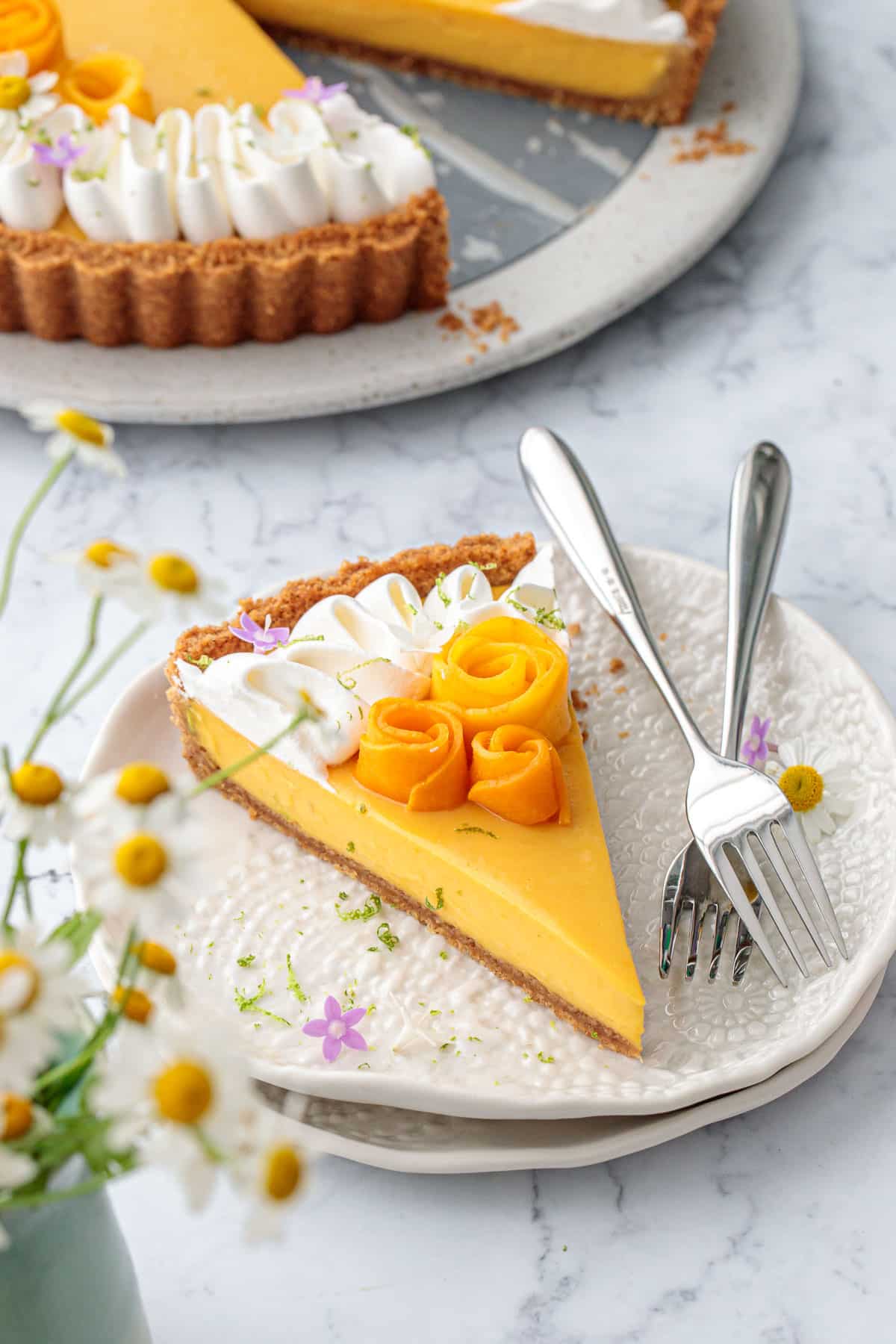 Ingredient Notes & Substitutions
Sweetened Condensed Milk: Please listen as this is important: do not use coconut sweetened condensed milk in this recipe or your tart will not set. Trust me, I tried it, thinking the two things were interchangeable. And while it was admittedly delicious (I loved the coconut flavor paired with the mango and lime), the texture was more like a loose pudding than a sliceable tart. But when I made it again with regular sweetened condensed milk, no other changes to the recipe, it set up perfectly. If you want a bit of coconut flavor you could add some shredded coconut into the crust or add a bit of coconut extract into the filling.
Natural Mango Artisan Flavor: this recipe was developed specifically for this product from Amoretti, so I obviously highly recommend that you use it. The flavoring enhances the natural mango beautifully, making the mango taste even more like mango. That said, leaving it out will not adversely affect the recipe, the mango flavor just won't be quite as intense.
Use coupon code LOVEANDOLIVEOILFREESHIP at Amoretti.com for free shipping on your order!
Mango: I used champagne (ataulfo) mangos for this recipe, which are sweeter and less fibrous than the reddish-green ones, but any kind of mango will work here. Use the ripest, sweetest fruit you can find.
Graham crackers: Graham crackers are the most popular crust 'material' for key lime pie, however any crunchy cookie will do (vanilla wafers or shortbread would work just fine here).
Ground cayenne: This just gives the crust a surprise kick. It's very subtle, you'll notice a subtle burn at the very end, particularly when you eat the last piece of crust. I love the unexpected kick, but you can totally leave this out. Alternatively, use 1/2 teaspoon for an extra kick if you dare. :)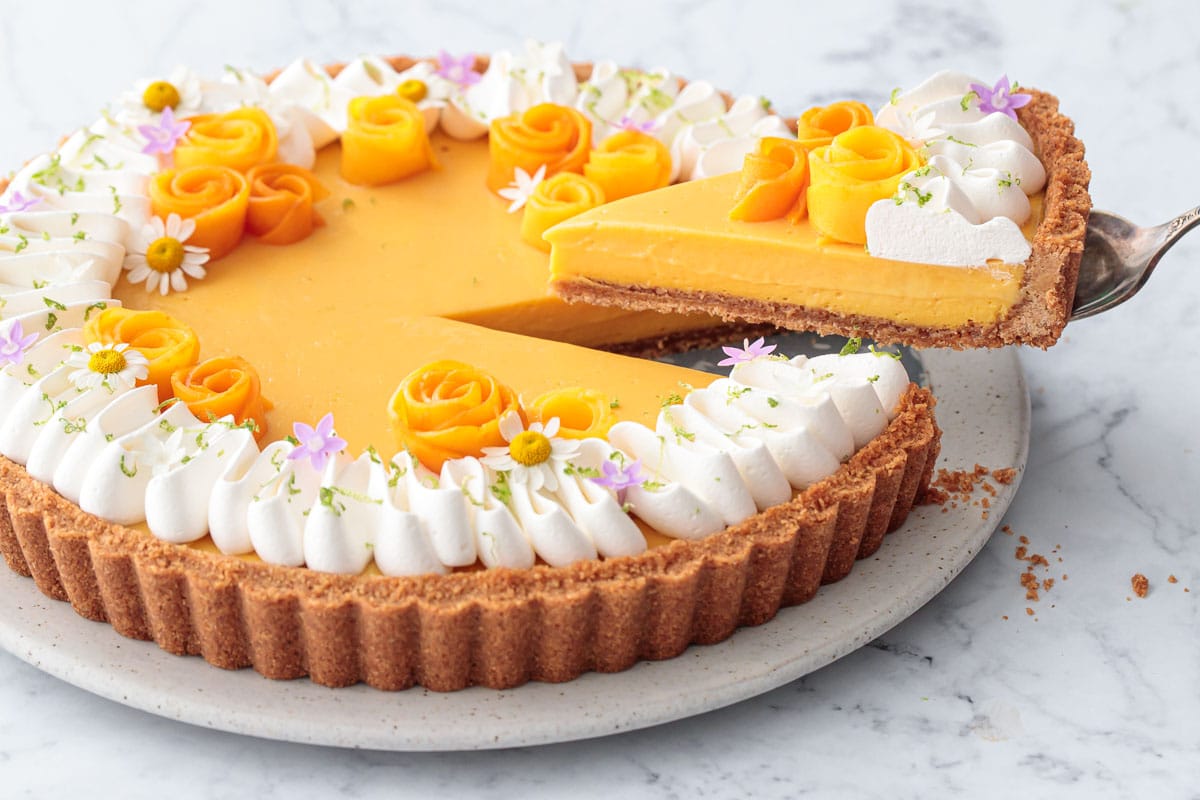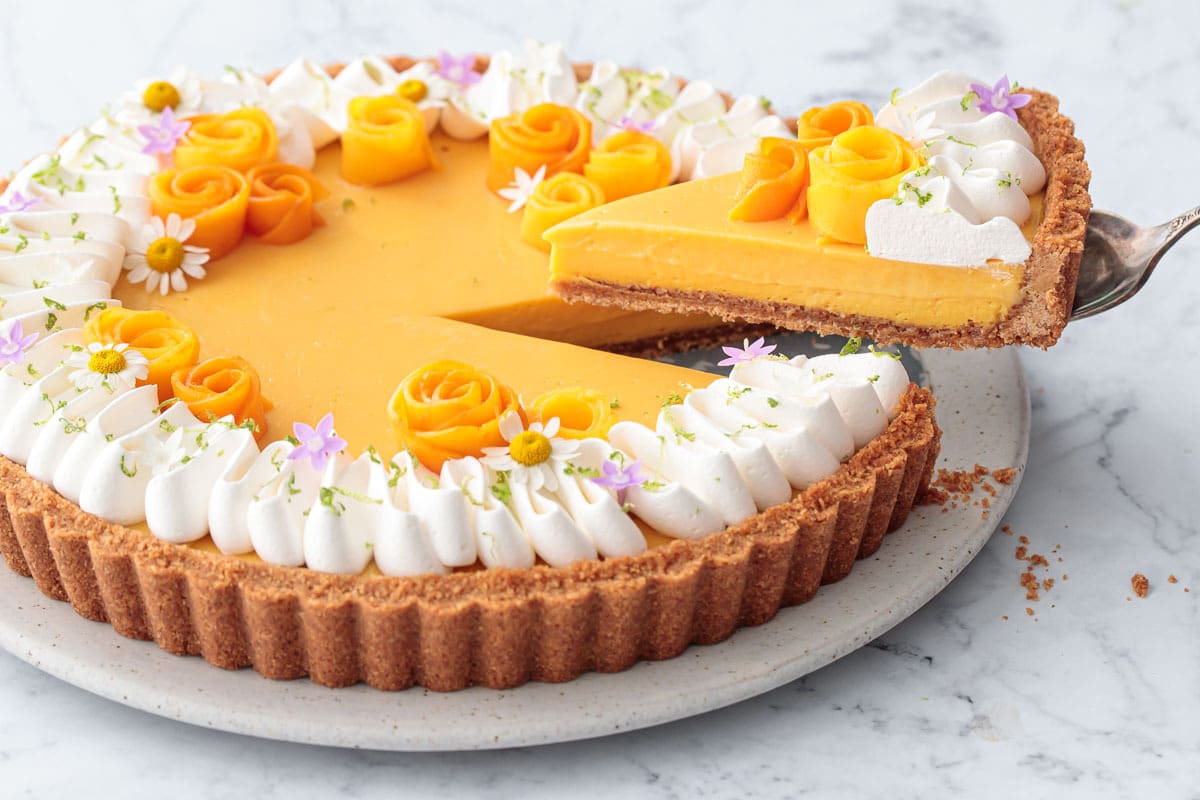 Mango Lime Tart
This tart and tangy mango lime tart features an ultra creamy mango lime custard filling nestled in a sweet and salty graham cracker crust with a pinch of cayenne.
Ingredients
For Crust:
7

oz

graham crackers

,

about 13 full size crackers

pinch

fine sea salt

¼

teaspoon

ground cayenne pepper

,

optional

5

tablespoons

unsalted butter

,

melted
For Mango Lime Filling:
1

pound

mango (about 3 medium)

,

peeled and cored

6

tablespoons

freshly squeezed lime juice

4

egg yolks

,

at room temperature

1

14oz can

sweetened condensed milk

½

teaspoon

fine sea salt

2

tablespoons

Amoretti Natural Mango Artisan Flavor
For Topping:
1

cup

heavy whipping cream

2

tablespoons

powdered sugar

½

teaspoon

vanilla extract

lime zest

,

for garnish

mango or other edible flowers flowers

,

optional, for decoration
Instructions
Preheat oven to 350 degrees F.

In a food processor, pulse graham crackers until very finely ground. Add salt and cayenne and pulse to combine. Drizzle in melted butter, then pulse a few times until crumbs are evenly moistened.

Dump crumb mixture into a 9-inch tart pan with removable bottom (you can also use a standard 9-inch pie pan). Use a flat bottomed glass or measuring cup to firmly press the crumb mixture evenly over the bottom and up the sides of the pan.

Bake for 8 to 10 minutes or until lightly browned. Remove from oven and set aside to cool slightly.

To make filling, peel and core mango, slicing off as much of the flesh from the fibrous core as you can.

Place mango in the bowl of a food processor or blender and process until very smooth. Press puree through a fine mesh sieve to remove any chunks or fibrous bits. You should have 1 cup (about 240g) of puree.

In a mixing bowl, whisk egg yolks with lime juice. Whisk in sweetened condensed milk, followed by strained mango puree. Finally, whisk in mango flavoring (if using). Pour filling into baked crust.

Bake for 15 to 18 minutes or until edges are set and center is still pretty jiggly, but not liquidy (think jello). It will set up further as it cools.

Set on a wire rack and let cool completely to room temperature, then transfer to the refrigerator and chill for at least 3 hours or overnight (lightly cover if you're storing it longer).

For whipped cream topping, beat cream with an electric mixer fitted with the whisk attachment until it starts to thicken. Sift in powdered sugar and continue to whip until it forms medium-soft peaks. Fold in vanilla. You can either dollop the whipped cream onto the tart, swirling it rustically with a spoon, or transfer to a piping bag and pipe a decorative design around the circumference of the tart. Garnish with a bit of lime zest and mango and/or edible flowers as desired.
All images and text ©
for Love & Olive Oil.
Did you make this recipe?
Let us know what you think! Leave a Review below or share a photo and tag me on Instagram with the hashtag #loveandoliveoil.
Disclosure: This post was created in partnership with Amoretti. As always, all opinions written are purely our own. We're incredibly grateful for opportunities like these that allow us to continue sharing delicious recipes with you, so thank you for supporting us and the brands we love.