The unexpected combo of mango and raspberry results in a jam with a candy-like fruit flavor, like one of those mystery dum-dums that's impossible to pinpoint exactly which fruit you're tasting other than it is delicious.
This ultra-flavorful jam comes together surprisingly quickly and with less sugar than traditional jams, and can be water-bath canned for long-term storage or stored in the refrigerator or freezer if you don't want to deal with the hassle of canning.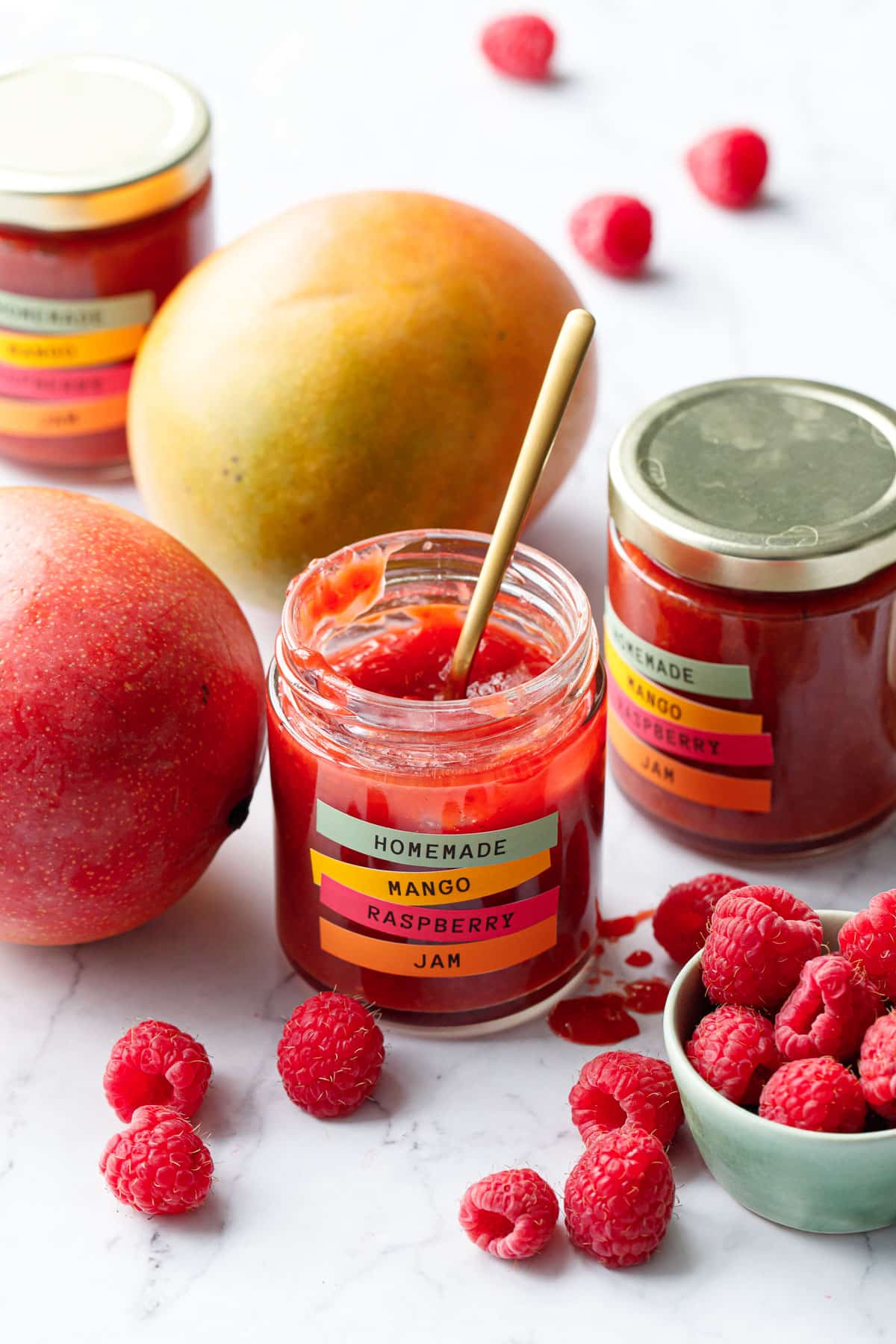 I recently found myself staring down a surfeit of mangoes and raspberries in the fridge after multiple rounds of recipe testing mango lime tarts and raspberry mousse cakes (the recipe for that one is coming very very soon – you don't want to miss it).
Needless to say I had a lot of leftover fruit, and wasted fruit is something I simply cannot abide.
This recipe didn't quite make it into That's My Jam, but not because it's not delicious (spoiler: it is quite scrumptious, actually, and one of my new favorites). Rather, the only reason it wasn't included is because the idea came to me literally two days after I'd submitted the final book files to the printer.
But if you're looking for more fun and unique jam recipes, definitely get yourself a copy of That's My Jam, now available in a gorgeous hardcover edition as well as pdf/ebook format; I've also got a few limited bundles left which include a box of Pomona's pectin which you'll need to make the majority of the recipes in the book (as well as this one).
As always, you know the rules around here: no naked jars. Be sure to scroll through to the bottom of this post for the free printable labels and the option to buy an editable version (now available in multiple formats!)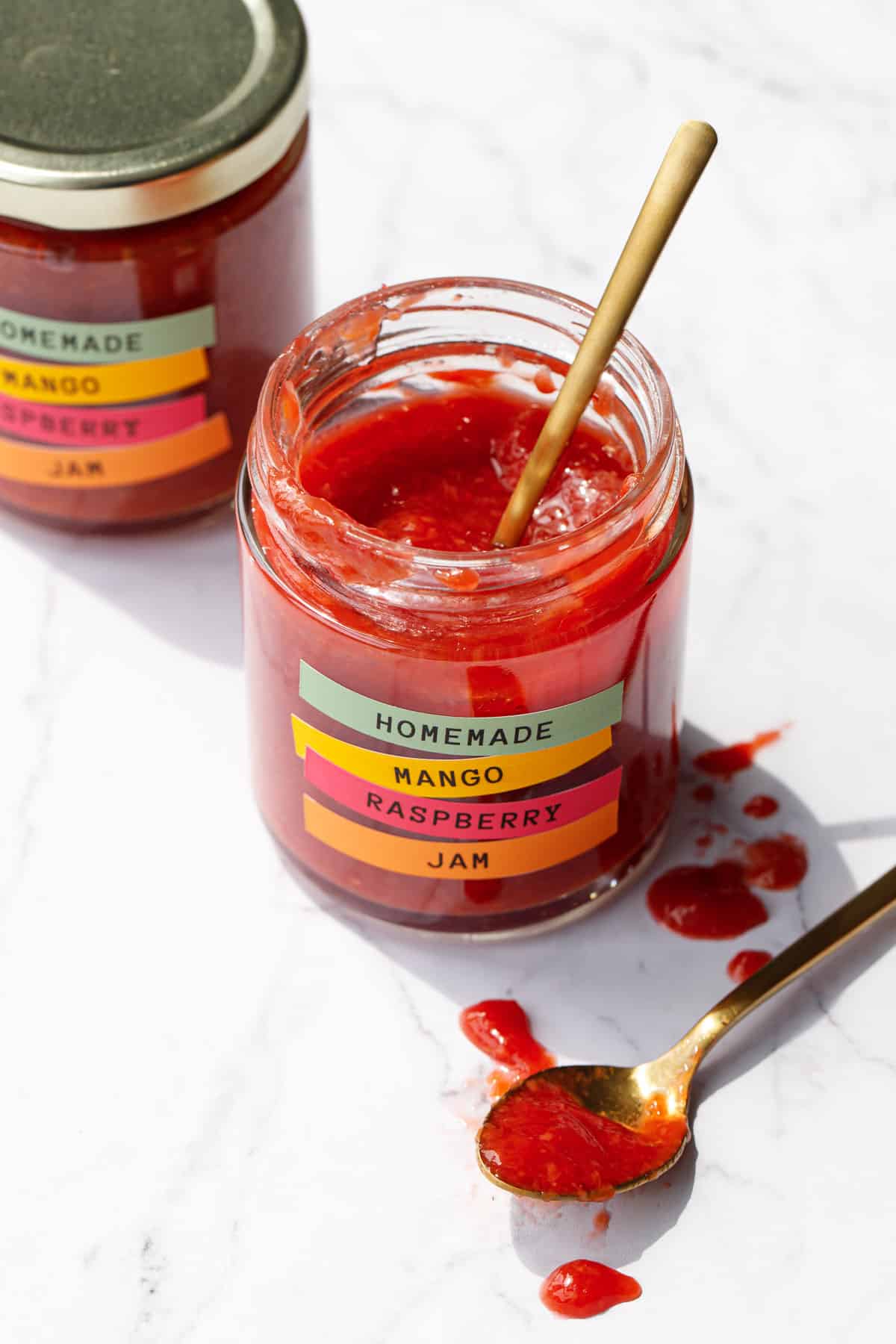 My favorite jams are the ones that can be used in a variety of situations, both sweet and savory.
This jam in particular is an excellent example of just that.
The candy-like sweetness makes this jam perfectly suited for dessert, dolloped on jam thumbprint cookies or layered in the bottom of a lemon tart.
For breakfast, swirl it into yogurt or spread it on a toasted english muffin or sweet cream scone.
But it's also sufficiently savory to fit perfectly on a gourmet charcuterie plate; the sweetness of the mango and tart raspberry playing off the salty meats and cheeses. I also think this fruit-forward jam would make a great glaze or marinade ingredient for fish or chicken.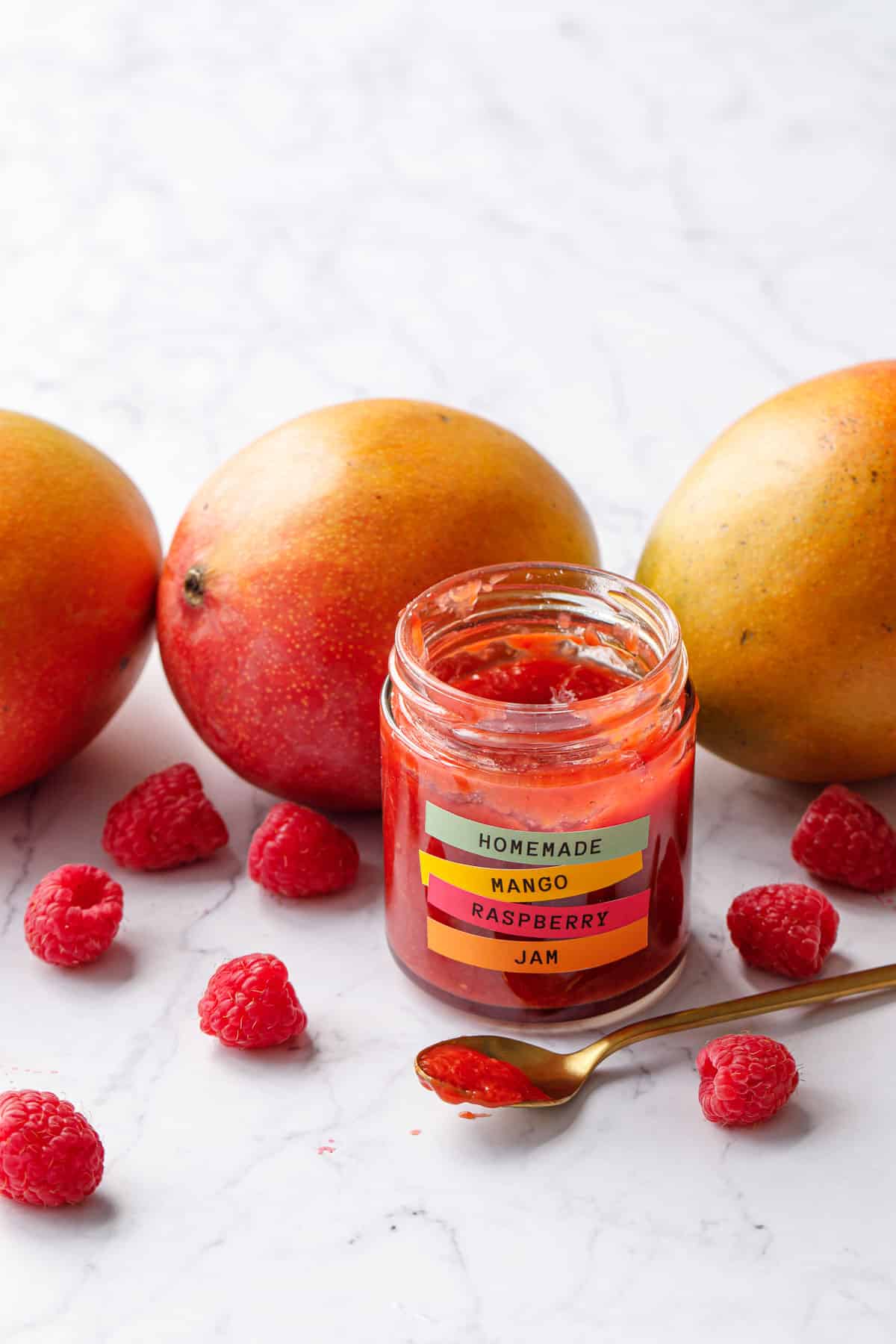 Hey Mango
There are a number of different varieties of mangoes out there, and any of them will work in this recipe.
Ataulfo or champagne/honey mangoes are my favorites, they're smaller and yellower and have a super sweet flavor and less fibrous flesh.
The Tommy Atkins variety (pictured) are large, smooth-skinned fruits with a gorgeous gradient of colors, from green to yellow to red (and red doesn't always mean the ripest fruit; softness is a better indicator of ripeness rather than color). This is the type of mango most commonly found in grocery stores in the US and UK.
I made batches of this jam with both varieties. I personally prefer ataulfo mangoes when I can find them, though they have a shorter season and are usually only available in the summer; other varieties are available year round.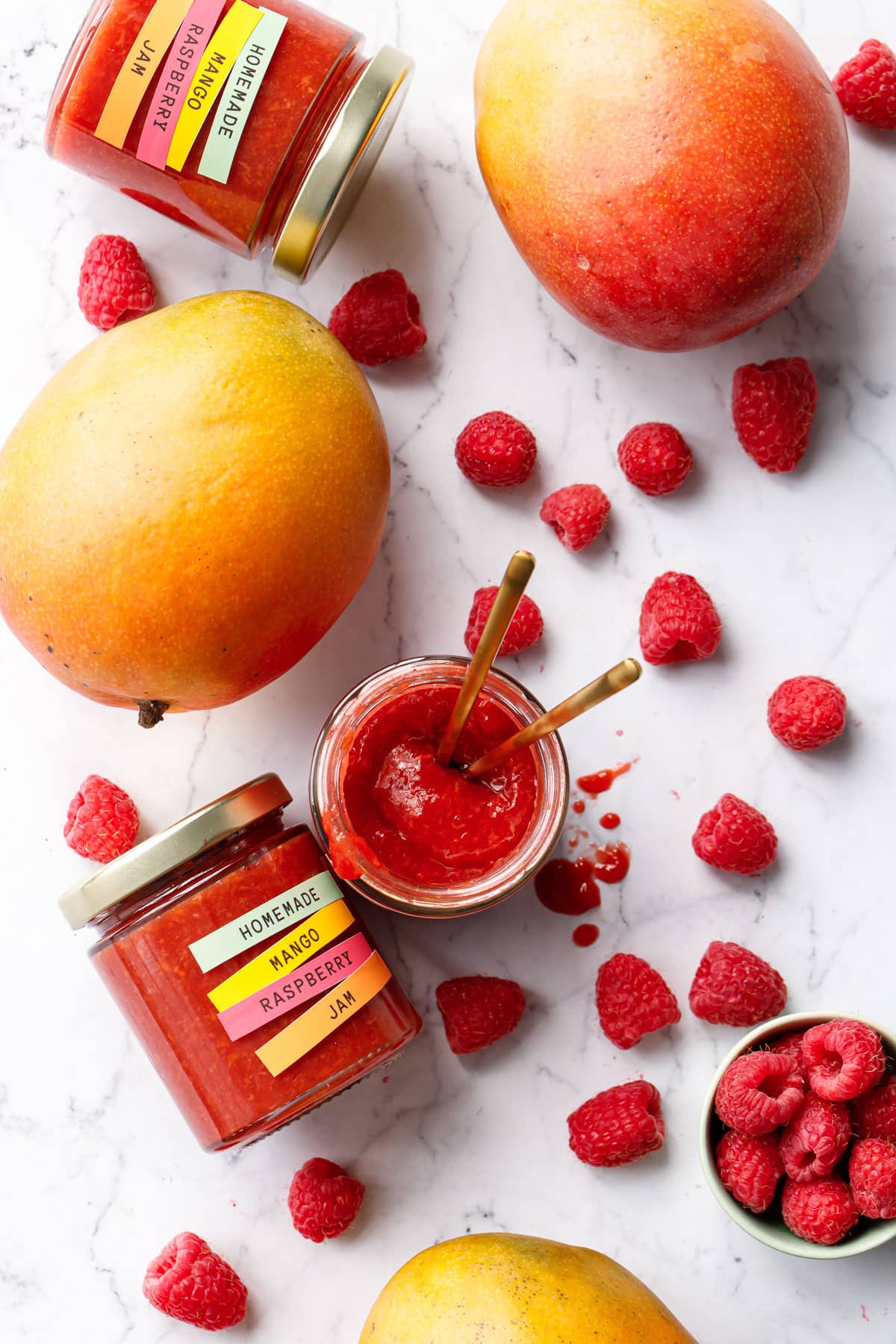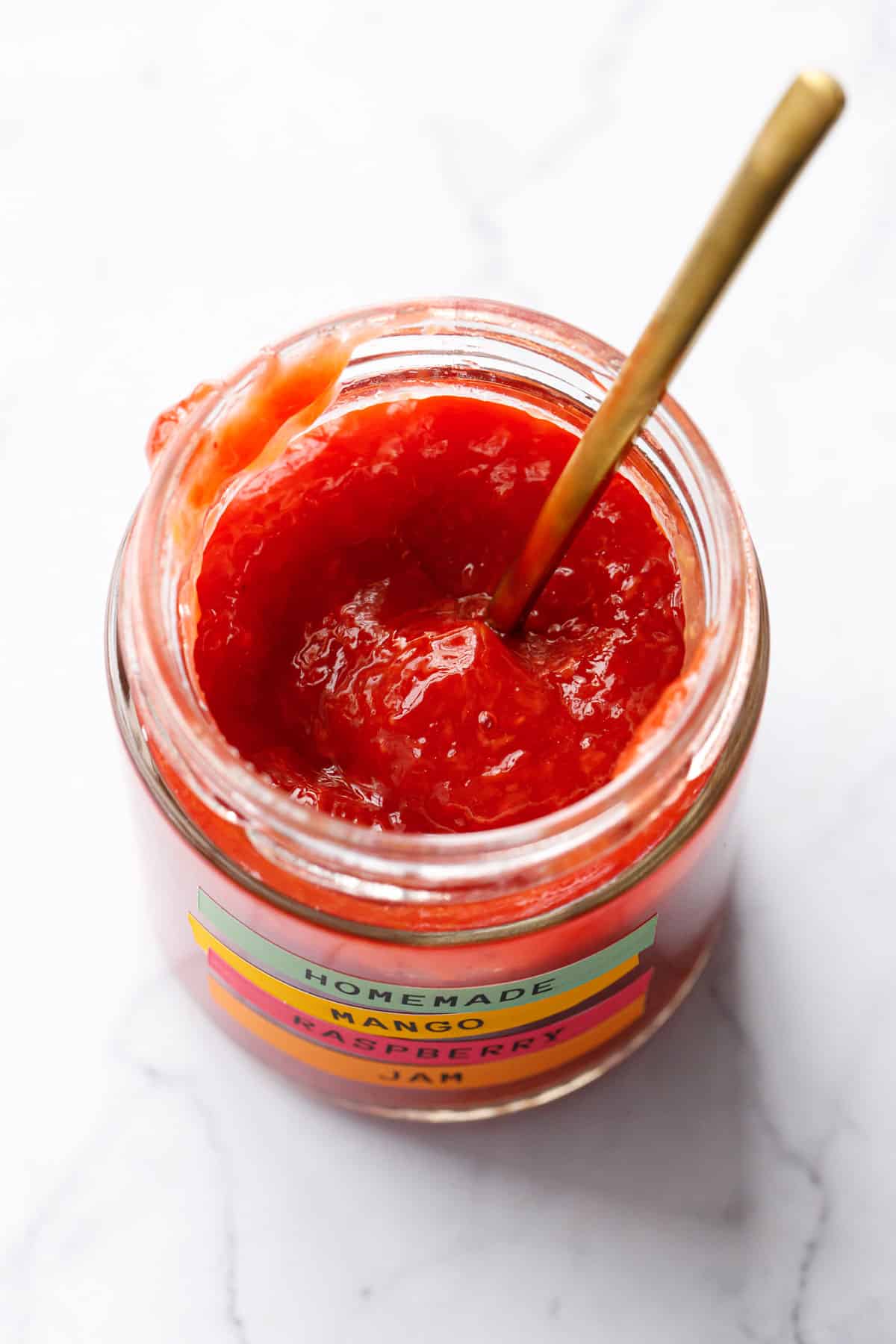 I ran both the mangoes and the raspberries through a food mill before cooking the fruit, to remove the raspberry seeds and more fibrous bits of the mango. This step is optional, however; if you prefer a chunkier, seedier jam you can skip it (your yield will be slightly higher).
I prefer a food mill for this kind of processing, as opposed to a blender/food processor and a sieve. Whereas the later will liquify the fruit, a food mill only removes the larger bits and seeds while preserving a thicker, saucier texture that is perfect for jam.
Pro Tip: A food mill is also my favorite tool for making the fluffiest mashed potatoes ever. Far from a uni-tasker.
If you opt to use a food mill, coarsely chop and/or lightly mash your fruit first, and then dump it in to your food mill and crank away. It'll take a little bit of time and elbow grease, but once you're done you'll be rewarded with a lovely, seedless jam with a smooth and saucy texture.
Pick a Pectin
This recipe is written for Pomona's Universal Pectin, which is my favorite pectin for making fool-proof jams with much less sugar, and much less time, than the old fashioned kind.
Because of the specific properties of Pomona's (it's set with calcium rather than sugar), you can make this jam with less sugar or even use a sugar substitute without affecting the final set of the jam.
You can also halve, double, or even triple the recipe (something you can't usually do with traditional jam recipes).
Don't want to deal with a water bath? This recipe can be made and stored in the fridge for up to a month or the freezer for up to 6, no water bath processing necessary!
If you want to use a different kind of pectin, you'll have to do some converting as other brands/kinds of pectin behave much differently than Pomona's.
What I generally recommend is starting with the base recipe that comes with your pectin package insert, which will probably have a list of fruits and the standard quantities of fruit, sugar, and pectin needed. Raspberries have more pectin than mangoes, so they'll likely call for different more pectin than a plain mango jam, so start with something in between and go from there.
Reduced or low-sugar pectin will be the most similar to Pomona's in terms of quantity of fruit and sugar, but will not have the calcium water component as that is unique to Pomona's. Most low sugar pectins can be adjusted in terms of the quantity or type of sweetener you use.
Regular pectin or liquid pectin will call for a very specific amount of sugar, and this cannot be decreased unless you want to make fruit sauce instead of jam. Traditional pectin needs a very specific ratio of fruit to sugar in order to properly set, and you don't want to mess with that. Another reason I like Pomona's so much is it is so much more adaptable.
One Piece, Two Piece
I often get questions about the jars I use, which are not the typical mason jars with two-piece lids you commonly see in home canning. For this recipe i used these 6-oz straight-sided glass jars (6oz is the perfect size for me as I find 8oz jars of jam much too big and 4 is too small) with gold plastisol-lined lug lids.
If you're new to canning, I definitely recommend starting with the basic mason jars, as the two-piece lids make it very easy to tell if you jar has properly sealed or not.
Once you're familiar with the canning process, you can move on to one-piece lids which opens up a lot of unique possibilities for jar styles and shapes. The one piece lids are the same used in commercial canning have a plastisol lining, which softens in the boiling water and allows for the jar to seal.
You can find one-piece plastisol-lined lids with buttons, which will give you that same audible 'pop' as the jar cools to let you know it's sealed (I find this typically takes a bit longer than the two-piece lids, sometimes up to an hour or more until you hear the pop).
But even lids like mine without buttons will work and seal when properly processed in a water bath. There's not an obvious or audible check for the seal, but you'll definitely know when you open the jar if it pops that means it sealed. I've found these kinds of jars and lids to have a very high success rate compared to two-piece lids.
This particular jam is on the softer side (for whatever reason, I've been liking softer, looser jams of late). If you want a firmer jam increase the pectin and calcium to 2 teaspoons each.
You can use fresh or frozen fruit for this recipe; if using frozen fruit, let it thaw (don't drain) and then mash and process as instructed. I regularly freeze extra fruit I have on hand for canning at a later date.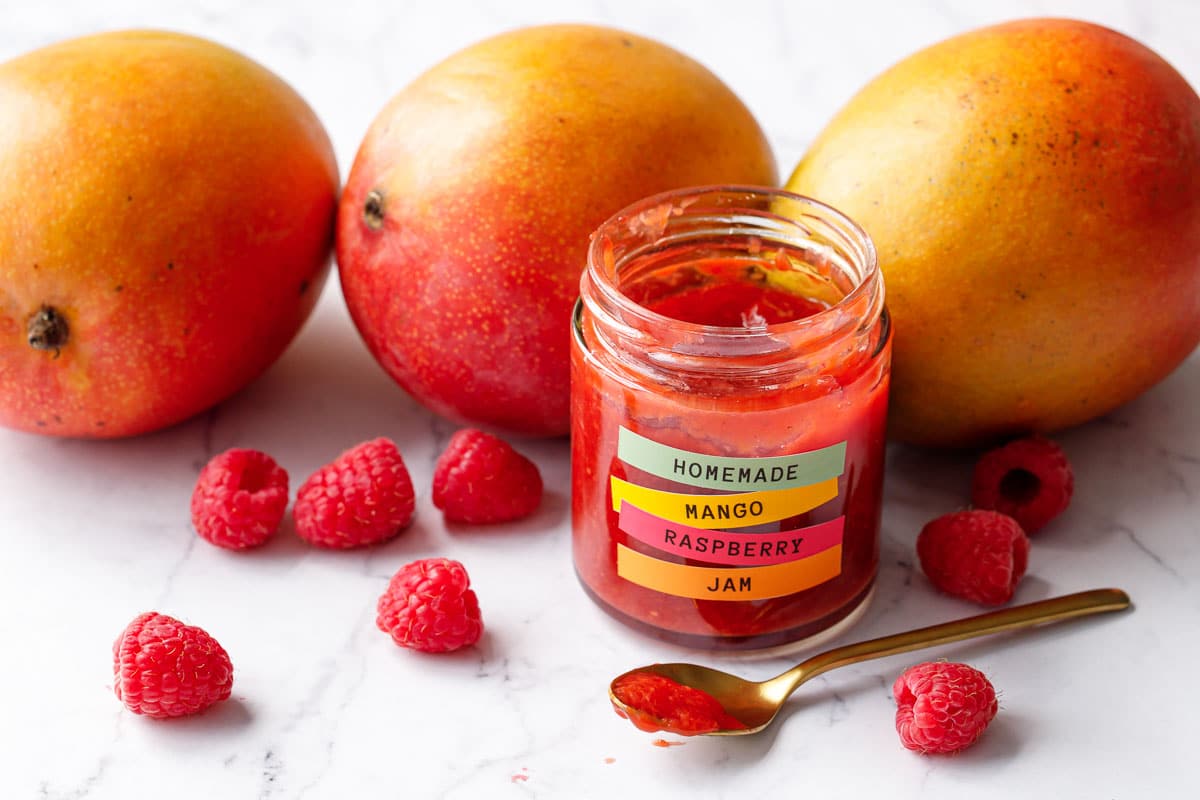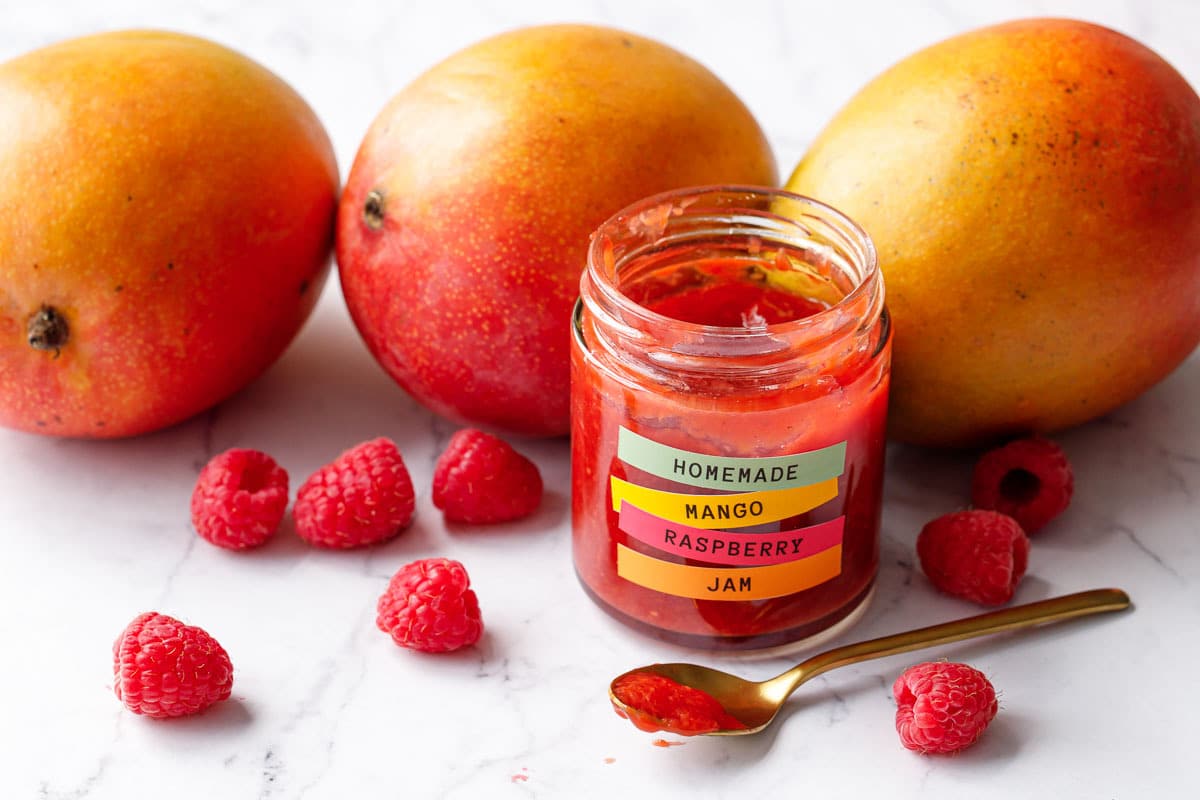 Mango Raspberry Jam
The unexpected combo of mango and raspberry results in an almost candy-like fruit flavor that can sway sweet or savory. This recipe can be water-bath canned for long-term storage or stored in the refrigerator or freezer if you don't want to deal with canning.
Ingredients
2

pounds

/

1

kg

mango (about 2-3 large or 3-4 small)

,

peeled, cored, and chopped

2

cups

/

280

g

raspberries

,

fresh or frozen

2

tablespoons

lemon juice

1 ½

cups

/

300

g

granulated sugar

1 ½

teaspoons

Pomona's Universal pectin

1 ½

teaspoons

calcium water*
Instructions
Fill a large stock pot or canning pot 2/3 full with water; place a rack of some sort in the bottom and place over medium-high heat. Wash/sterilize your jars and submerge in water bath as it heats. The pot should be just about boiling by the time the jam is ready to go. Keep jars in hot (not boiling) water until ready to use. This recipe can also be stored in the fridge or freezer if you don't want to deal with canning it.

Peel mangoes. Slice flesh off of core, scraping off as much of the flesh and juice as you can before you hit the fibrous parts. Coarsely chop (you should have about 3 cups of chopped mango).

Lightly mash raspberries with a potato masher or the back of a spoon. You should have about 1 cup of mashed berries.

Optionally, run both mangoes and raspberries through a food mill to remove seeds and produce a smoother texture (you should have about 3 1/3 cups of processed fruit). If you aren't using a food mill, mash the mango and raspberry using a potato masher to break up larger chunks; you will have a higher yield if you go this route.

In a bowl, whisk together sugar and pectin until evenly incorporated.

Pour prepared fruit into a large, heavy saucepan, along with lemon juice and calcium water. Bring to a full rolling boil, stirring occasionally.

Whisk in sugar/pectin mixture, stirring continuously until mixture returns to a full rolling boil, then remove from heat. Ladle jam into hot jars, leaving 1/4-inch of head space. Wipe jar rims and screw on lids. Process in boiling water for 10 minutes, then transfer to a wire rack to cool completely. Check seals. Any unsealed jars should be refrigerated and used within 3 weeks.
Notes
* Calcium powder to make calcium water is included with the Pomona's brand pectin.
** This recipe requires a low sugar pectin. If using a brand other than Pomona's, please follow the basic mango jam recipe and instructions inside your pectin package (replacing some of the fruit with raspberry as outlined here), paying attention to the order in which the ingredients are added and the proportion of fruit to sweetener recommended.
All images and text ©
for Love & Olive Oil.
Did you make this recipe?
Let us know what you think! Leave a Review below or share a photo and tag me on Instagram with the hashtag #loveandoliveoil.
***
Free Printable Labels
These fun mix-and-match style labels are based on an old label I designed for some flavor variations of blueberry jam a few years back, and I love the colorful and customizable nature of them.
The free PDF includes 4 color bands and two bonus pieces for made and opened dates (these could go on the bottom or back of the jar).
Or you can buy the customizable version and change the text, colors, and more! I've made additional format options for this label for the first time ever, you can choose Canva (works with the Free account!) or Photoshop or Illustrator if you have and use those programs. I hope to convert some of my other label templates into these other formats as well, feel free to email me if you have a specific request I'll bump it to the top of my list. ;)
Free PDF Download
Enter your email address below to instantly download a convenient PDF file, ready for printing!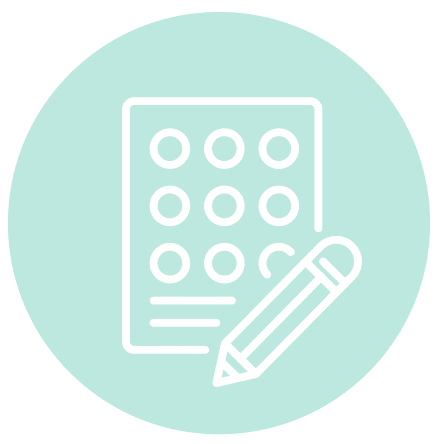 Editable Template
Want to customize these labels to suit your exact needs? Buy the editable label template and you can personalize text, change colors, and more! Choose from Photoshop, Illustrator, or Canva formats.