These summery fresh fruit freeze pops are made with pectin for a less icy, more pleasing mouthfeel; they're essentially a quick freezer jam in popsicle form!
The beauty of this recipe is its unique consistency, but also its versatility—I've used strawberries, blueberries, and peaches here, but you can use pretty much any fruit you want (the sky is the limit!)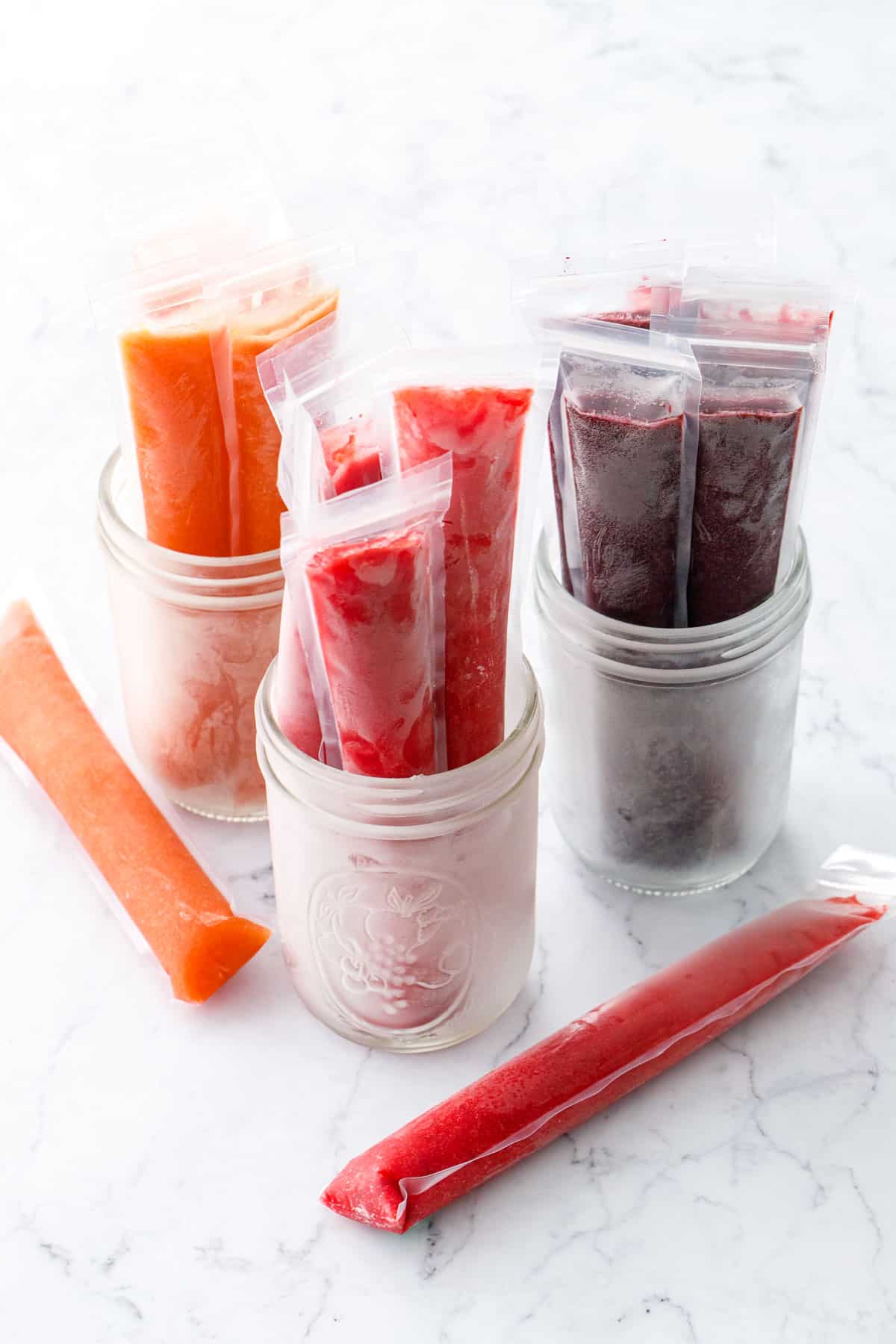 The freezer provides ample opportunities to preserve seasonal fruit for later, and these freezer jam pops do exactly that in a way that's both fun to eat and as tasty as (or tastier than!) biting into a juicy ripe peach or strawberry or blueberry or any fruit, really.
Whether you call them freeze pops, otter pops, flavor ice, icy poles, freezies (hiya, Canada pals!) or Zooper Doopers (hello Aussie mates!) one thing is for sure: these refreshing summer treats are sure to beat the heat.
While fresh fruit popsicle recipes abound, this recipe has a uniquely pleasing texture that comes from a (not so) secret ingredient: pectin. The pectin makes the pops smoother, less icy, and softer to bite. With just a little bit of sugar plus a lemon juice and citric acid to make the flavors even brighter, you have yourself one perfect summer treat.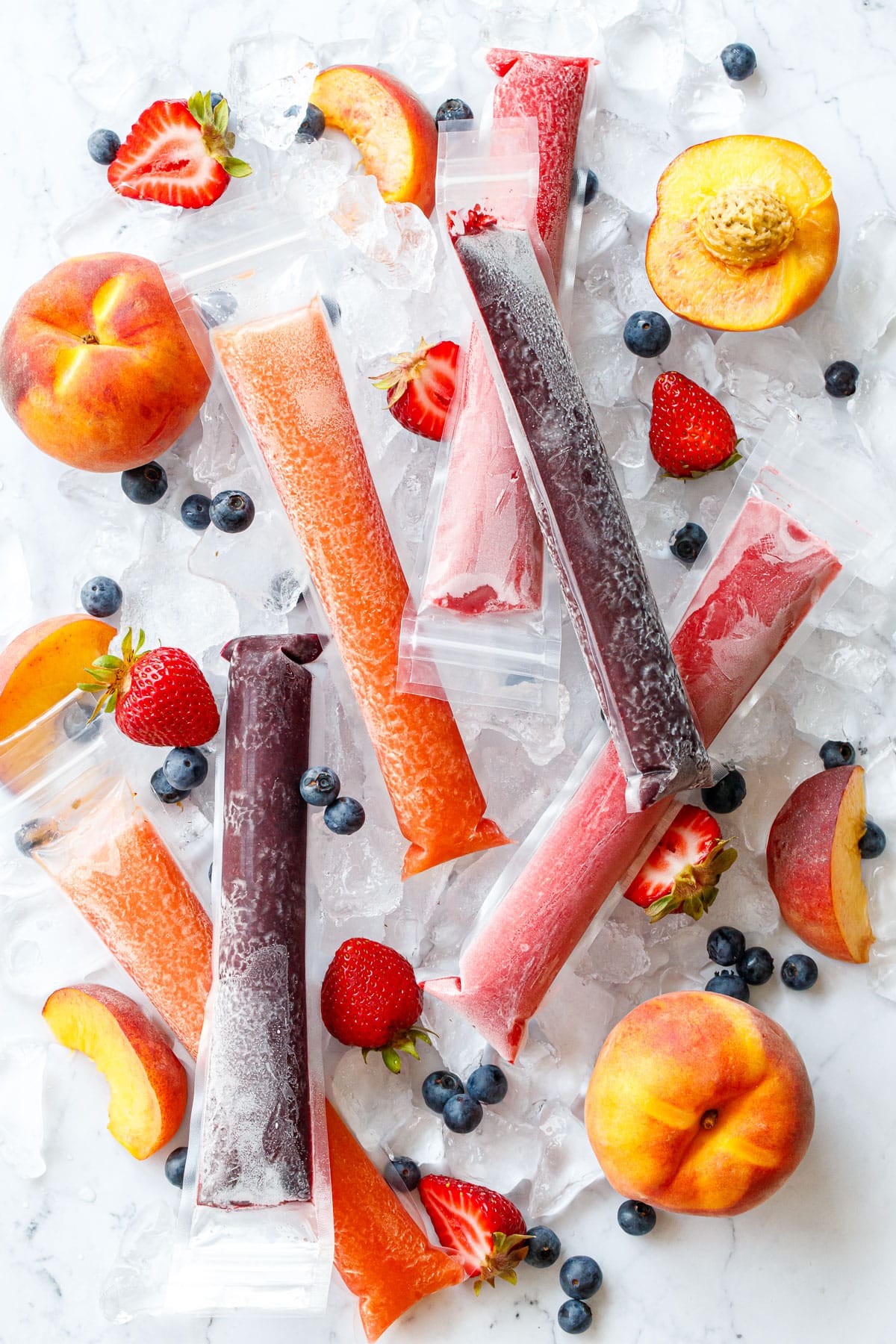 This is a 'choose-your-own-adventure' type of recipe, if you will. I initially intended to share a recipe for strawberry freeze pops, but quickly realized that the same process and proportions could be applied to nearly any summer fruit; so I decided to test and share a few more flavor options.
Whether you go with classic strawberry, brilliant blueberry, pleasing peach, or something else entirely, you're in for a refreshing summer treat that requires just a few ingredients and less than 30 minutes of active time (of course, it's not instant gratification, since the pops still need to freeze, but it's darn close!)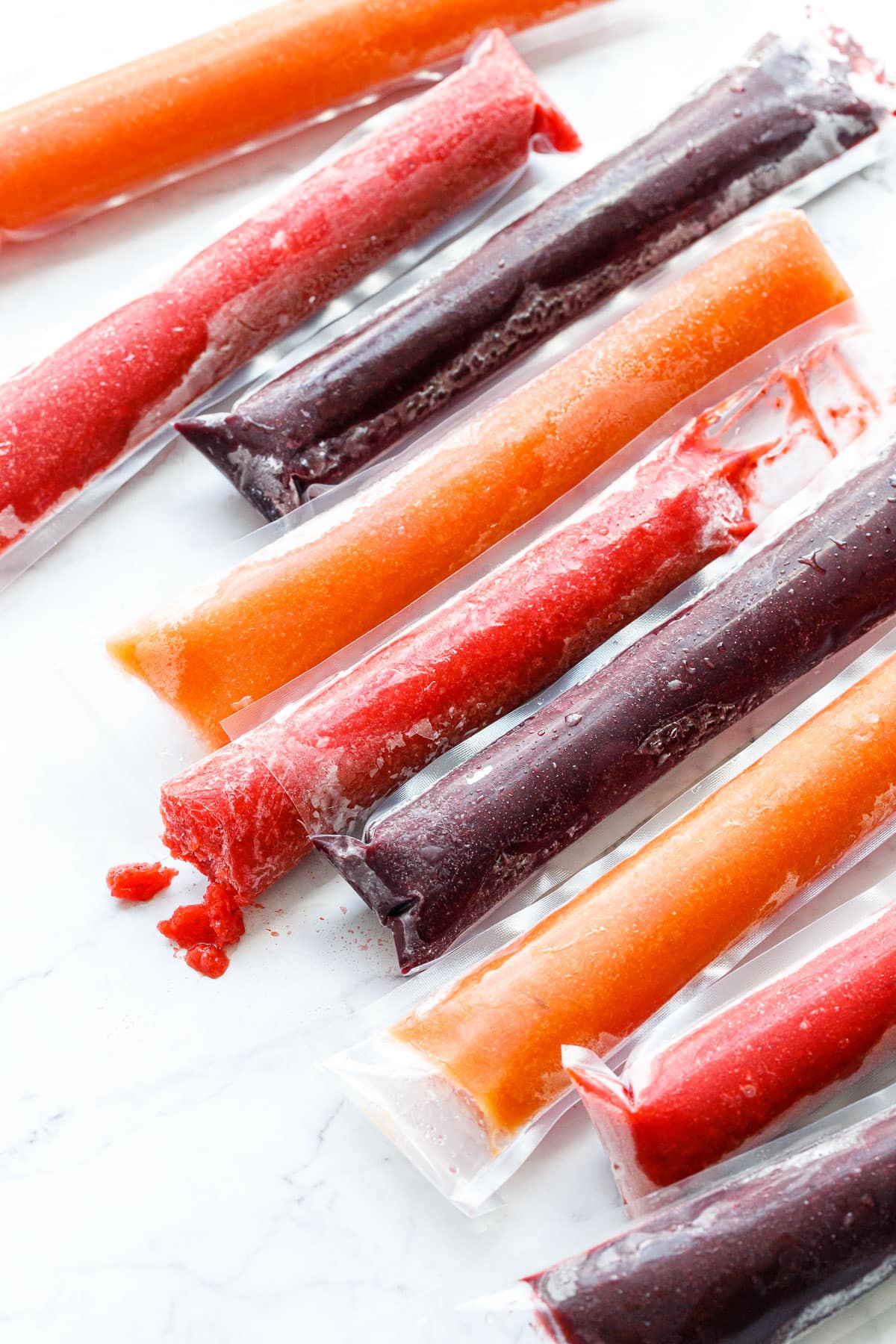 For Non-Icy Popsicles, use Pectin!
I've discovered that the trick to keep fresh fruit popsicles from getting overly icy and hard is an ingredient I use quite regularly in canning and jam recipes, but had yet to explore in freezer situations: pectin.
Pectin, like other common popsicle 'secret ingredients' like gelatin, cornstarch, alcohol, or the various gums/stabilizers used in commercial popsicles, is often used in popsicles to keep the ice crystals small. Like with ice cream, smaller ice crystals means a smoother mouthfeel and a less icy consistency.
While some recipes actually call for adding a few spoonfuls of pre-made jam to a fruit base (the idea is the same, the pectin in the jam will keep the popsicle from getting too icy), I decided to skip the middle man (or should I say, middle can?) and use pectin directly for an entirely made-from-scratch popsicle recipe.
You're essentially just making freezer jam here. The only real difference between freezer jam and regular jam is that freezer jam is not water-bath canned, instead relying on freezing temperatures for preservation. Technically, any jam recipe will work as a freezer jam, which means any jam recipe can, in turn, be made into a popsicle.
I used my favorite brand of Pomona's Pectin, which requires less sugar to set than typical pectins. A few tablespoons is all you need here to really enhance the flavor of your fruit.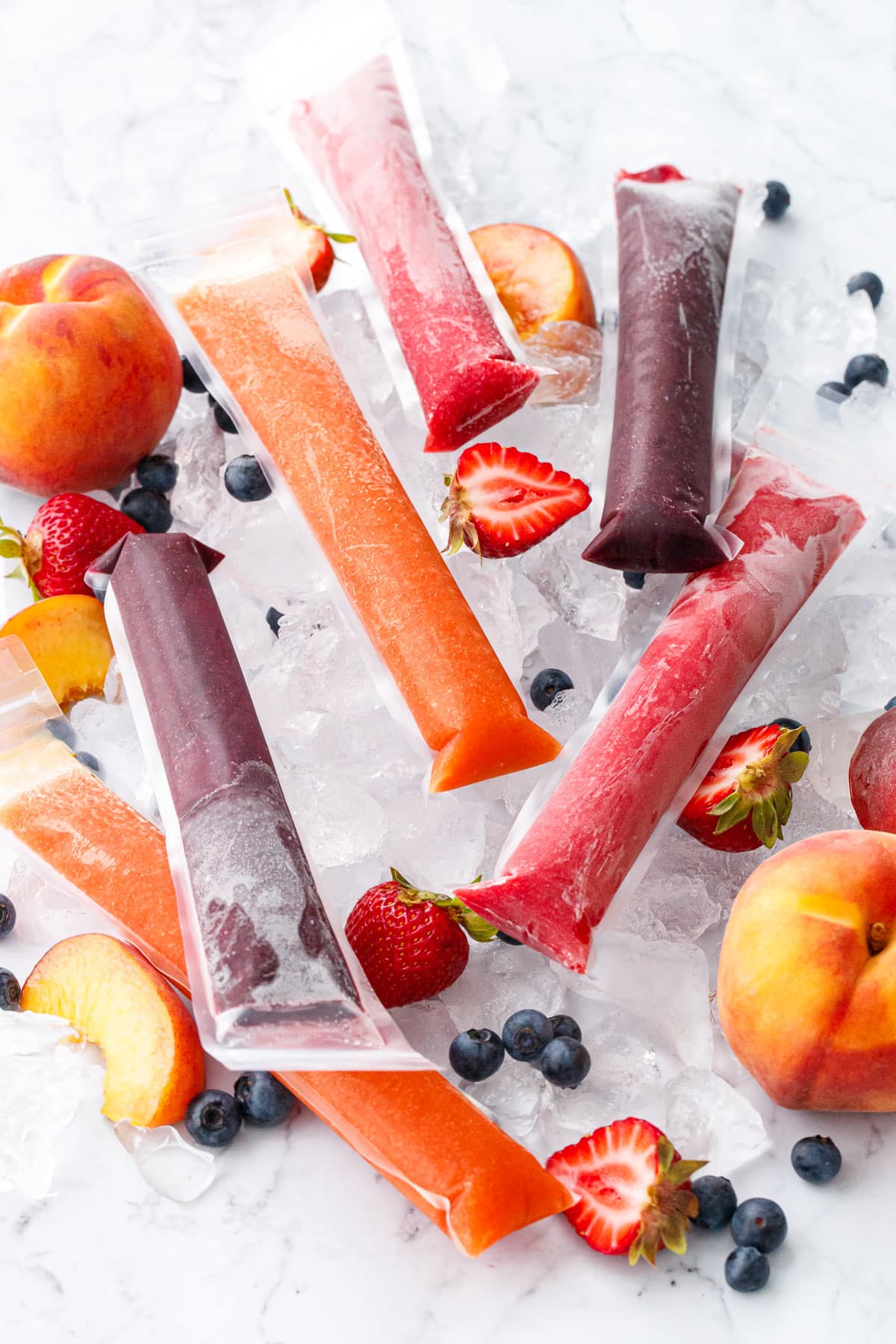 I experimented with both raw and cooked variations of this recipe, and while the strawberries worked well either way, I much preferred the cooked blueberry and peach version, which had a much more vibrant flavor and color.
I also thought the raw version was actually harder to clean up, since you have to blend the pectin with hot water to get it to dissolve, and the hydrated pectin sticks to the sides of the blender like superglue, making for a frustrating clean up.
So while I would have loved to share a no-cook recipe with you, ultimately the 5 extra minutes it takes to bring the fruit to a simmer actually results in an easier process and a more delicious product in the end. Don't think this is a long, complicated recipe: the freezer jam comes together very quickly, and even with cooking the fruit it's still what I'd consider a quick and easy recipe!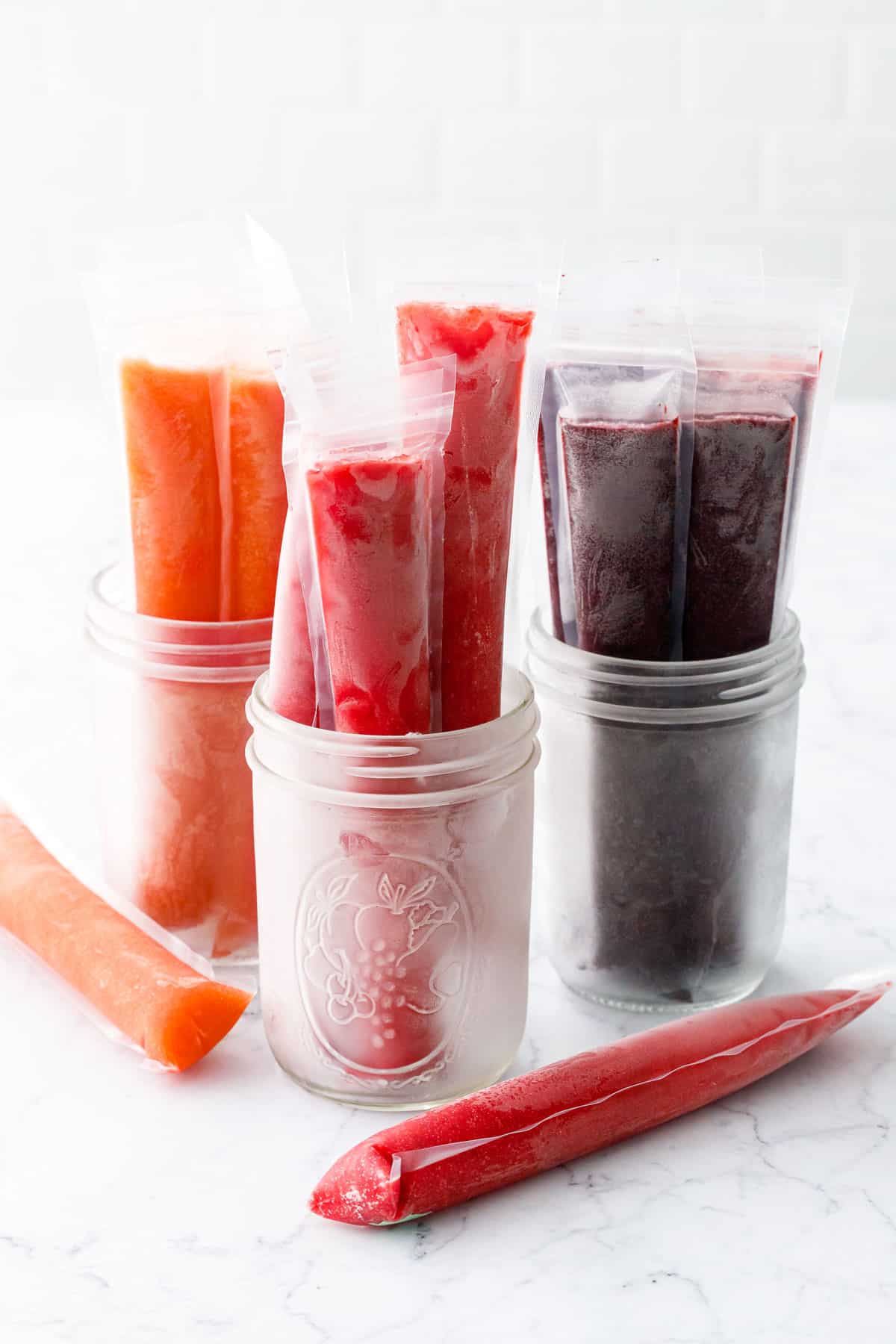 This recipe calls for Pomona's Universal Pectin, which works a bit differently than other low-sugar pectins. It's known as a Low Methoxyl (or LM) pectin, and relies on calcium rather than sugar to set, which is why it can used for low and even no-sugar jam recipes.
You'll notice calcium water listed as an ingredient here, and it's one I often get questions about. With every box of Pomona's pectin you'll get a small pouch of calcium powder. Mix this up with water according to the package instructions (typically 1/2 cup of water to 1/2 teaspoon of powder) to make calcium water, then measure that out as called for in the recipe. Leftover calcium water can be stored in a jar in the fridge for a few months; just stir it up the next time you need it.
To substitute another brand like Ball or SureJell Low or No Sugar pectin, simply omit the calcium water (that's only for Pomona's), but otherwise follow the recipe as instructed. Most other low-sugar pectins also contain dextrose (a sweetener), so you may also want to reduce the sugar by a tablespoon or so as a result.
Regular fruit pectins (that don't specifically say low sugar) won't work in this recipe, since these need to be cooked to a specific temperature with a certain percentage of sugar to properly set up as jam.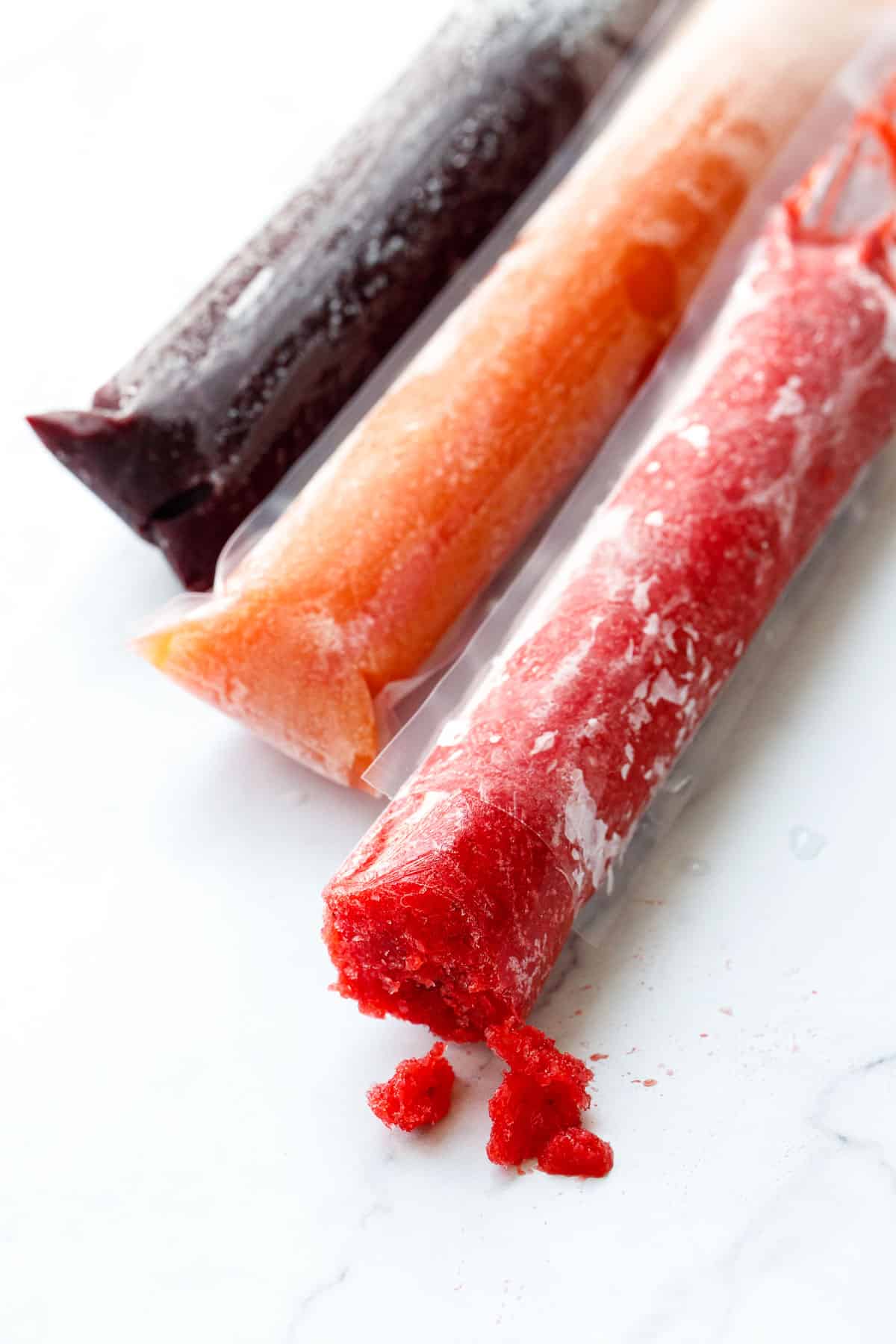 Sugar, sugar
The recipe calls for 1/4 cup of sugar, which I found to be the ideal amount to make the blueberry and peach flavor pop, but not be overly sweet. My strawberries were particularly sweet this year, so those were fine with only 3 tablespoons.
You can use as little as 2 tablespoons of sugar in this recipe (just enough to dissolve the pectin), or increase it up to about 6 tablespoons as you like.
If you want to use an alternative sweetener, you can do that too (that's the beauty of Pomona's pectin: it is so versatile!) Any granulated cup-for-cup sugar substitute should work here, just stir the pectin into the sweetener as instructed in the recipe.
You can also use honey or another liquid sweetener, but since honey is sweeter than sugar, you'll need less of it, 2-3 tablespoons or so to taste. Mix the pectin into the honey or other liquid sweetener the same as you would for regular sugar, then add it to your cooked fruit mixture.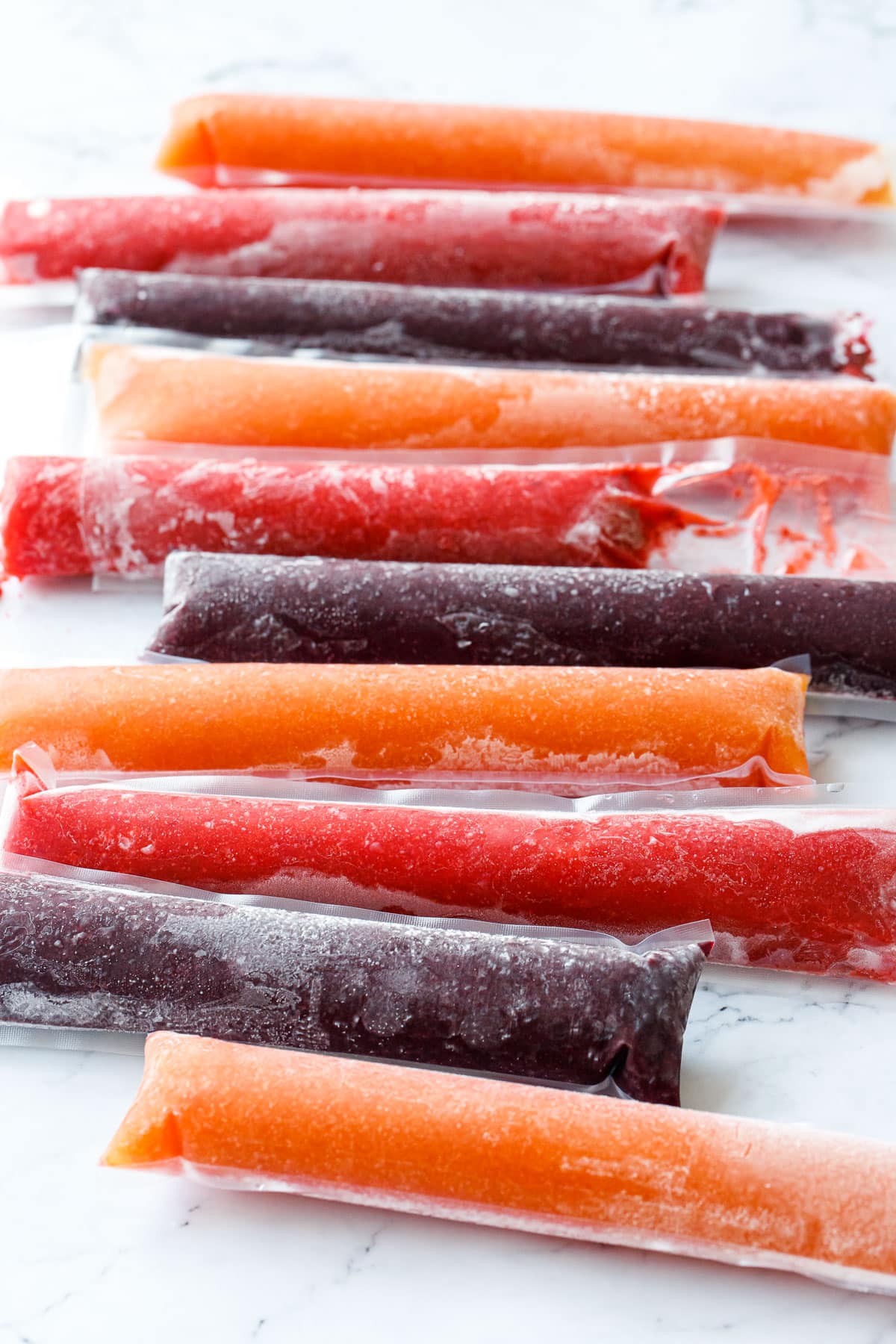 To make your flavors pop: use Citric Acid!
You'll notice citric acid listed in the ingredients for this recipe and may be wondering why. The short of it is, citric acid makes the flavors pop.
Citric acid is a mild, naturally occurring acid present in citrus fruit; it's what gives them their tart, sour taste. It is sometimes called sour salt. You can buy it in powdered form from most grocery or health food stores (check in the canning section since it's also used as a canning preservative and pH balancer) as well as online (just make sure whatever you buy is culinary or food grade).
Because flavors are often less-intense in frozen foods (it's a known fact that taste perception increases with warm foods, as our tastebuds are just more active and sensitive to warm foods than cold ones), which means fruit will taste less fruity (less tart, less bright, less sweet… less everything really) when frozen.
And that, my friends, is where the citric acid comes in! That extra bit of acid amps up the natural flavors in the fruit so it tastes just as good frozen.
Why not just use plain lemon juice? I've actually got some of that in there too for extra acid and flavor. But pure citric acid is much more concentrated, and also more neutral in flavor (adding more lemon juice would make the lemon flavor more prominent, where citric acid doesn't bring any specific flavor profile in and of itself). That said, 1/4 teaspoon of citric acid is equivalent to approximately 1 tablespoon of lemon juice, so you can replace it with more lemon juice if you choose.
Technically, the citric acid is entirely optional and you can leave it out entirely. The popsicle itself will work just fine without it. But trust me when I say it makes a huge difference in the final flavor; I tested it both ways and it was like night and day!
Feel free to adjust the citric acid to taste. I'd recommend starting with 1/4 teaspoon, then taste the warm fruit mixture after adding in the sugar. Add more citric acid to taste, keeping in mind that the flavors will be less intense once the popsicles are frozen.
I found that 1/4 teaspoon of citric acid was the perfect amount for the strawberries (though this will depend on your berries, mine were particularly good this year), but the blueberries and especially the peaches needed more like 1/2 teaspoon. Generally, riper, more flavorful, more acidic fruit will need slightly less sugar/acid, while less ripe, lower quality or low acid fruit will need more.
Use the best-tasting, perfectly ripe fruit that you can find, as no amount of sugar or citric acid can make flavorless, underripe fruit taste good.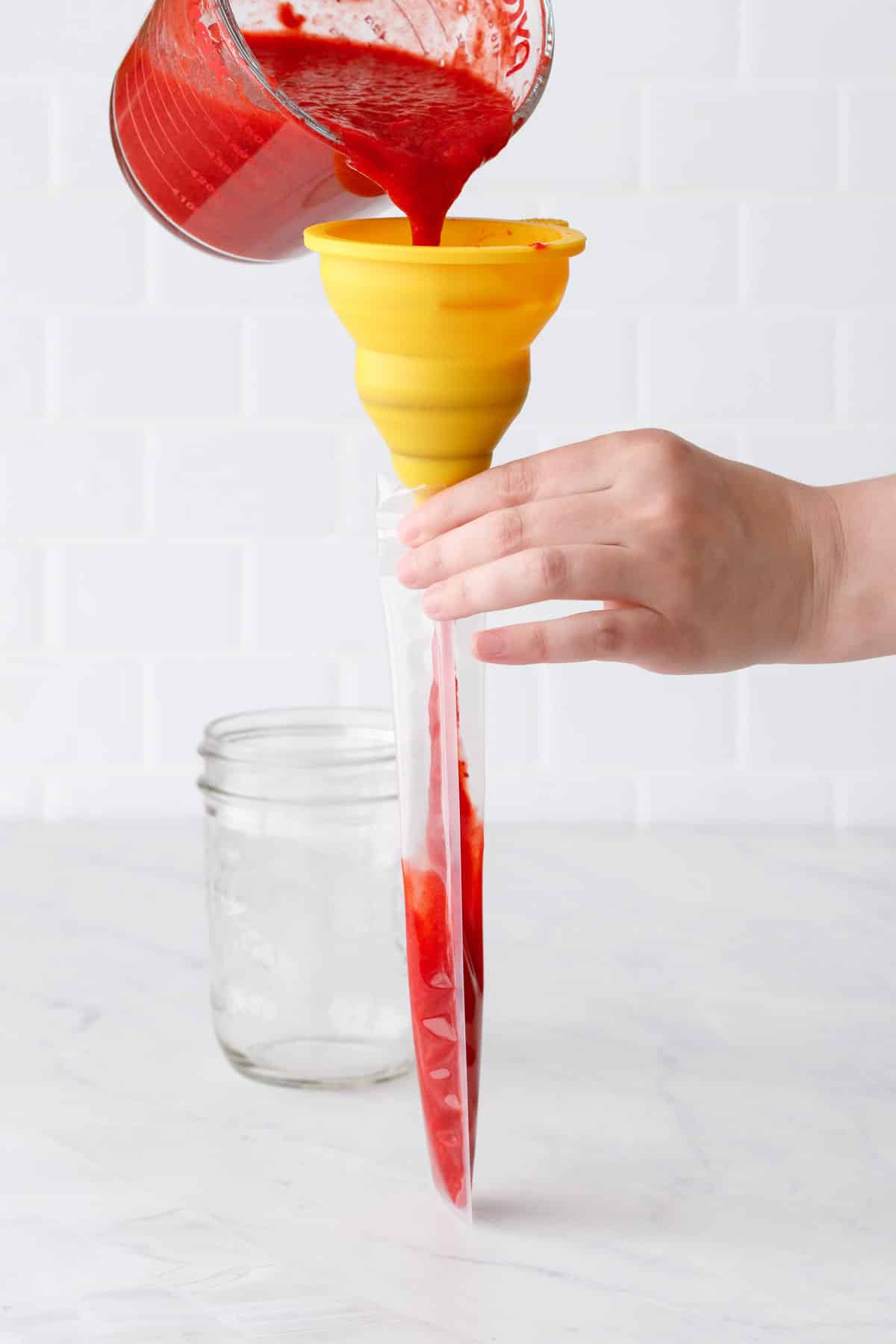 Pops of all shapes and sizes
I used plastic ice pop sleeves since I still had a bunch leftover from last summer's delightfully tipsy Mai Tai Slushy Pops, but regular popsicle molds will work here too.
The sleeves hold about 100mL or 3.5 fluid ounces of liquid each, which is identical to what my regular popsicle mold holds, so the yield should be identical either way.
Freeze your filled ice pop sleeves standing up in a jar for the best shape (versus laying down which will give them a flat side).
You can easily make half-size pops by filling the bags slightly less full, then bending them in half and draping them over the edges of a jar (instead of freezing them standing straight up). Then to serve, just cut the sleeve in half and voila! Two mini pops perfect for snacking.
No molds? No problem. You can also use paper dixie cups, ice cube trays, or small yogurt containers as molds for your homemade popsicles.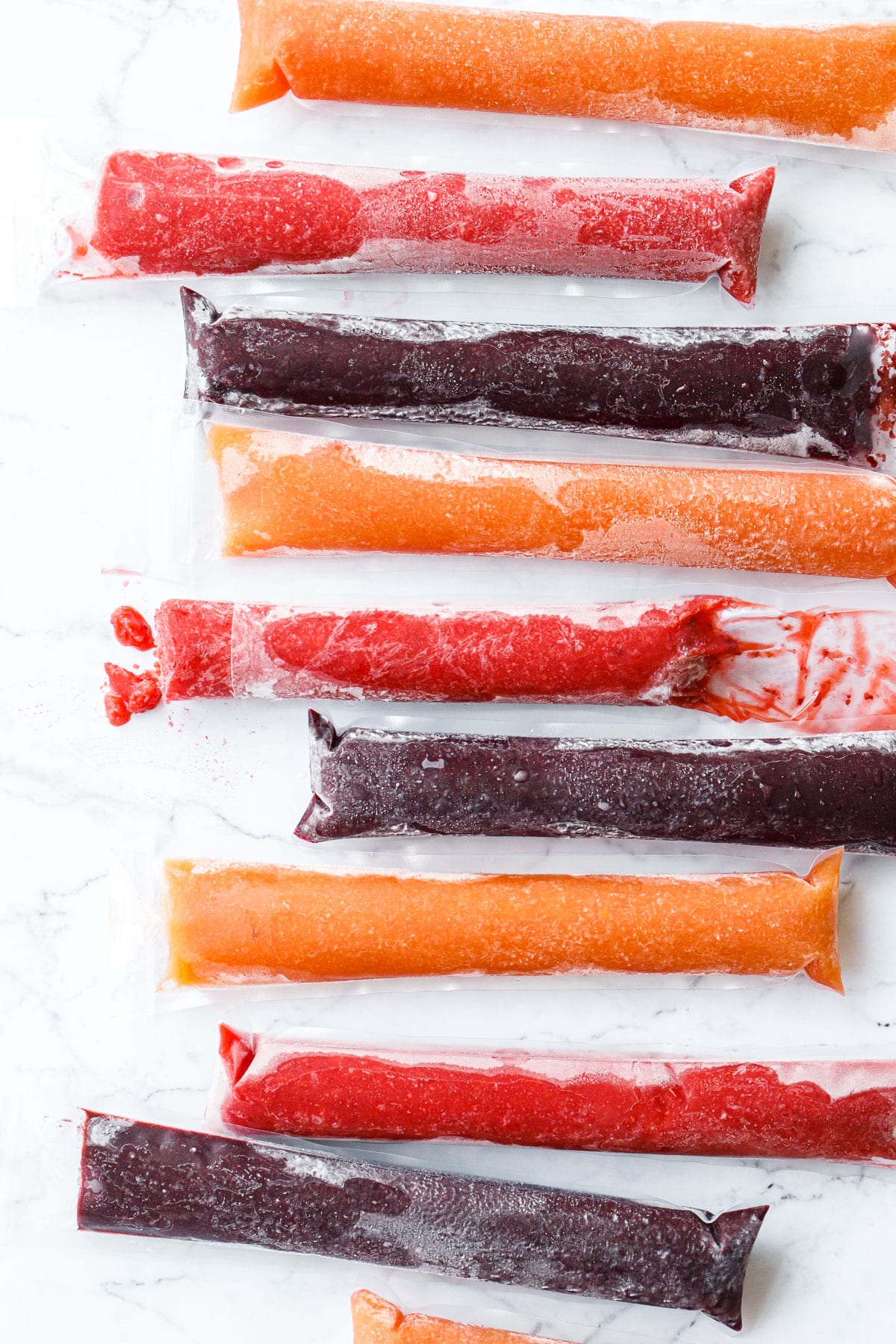 Choose your own fruity adventure!
While I tested this recipe for strawberries, blueberries, and peaches, the possibilities are endless when it comes to choosing which fruits to use for your popsicles. For example, blackberries, cherries, raspberries, or even tropical pineapple or mango would work beautifully here.
Don't be afraid to mix and match! I'm imagining strawberry mango, blackberry pineapple, or blueberry peach. Just make sure you start with the same overall quantity of fruit (12 ounces, or about 2 cups of coarsely chopped fruit) and you're good to go!
The recipe calls for 12 ounces of chopped fresh fruit, that's the measurement after prepping. For peaches you'll need to start with about 1 pound or 3 large peaches. Other stone fruits with pits will need a little bit more whole fruit to begin with to make up for the weight of the pit.
Yes, you can use frozen fruit too! I recommend thawing it first (don't discard the juices), and then blending as instructed in the recipe. Alternatively, you can heat the frozen fruit in a saucepan along with the water and lemon juice until thawed, then transfer to the blender to puree, and pour it back into the saucepan to finish.
Peaches, nectarines, and mangoes are the only fruits that need a slightly higher amount of pectin, since they have less natural pectin present in the fruit itself.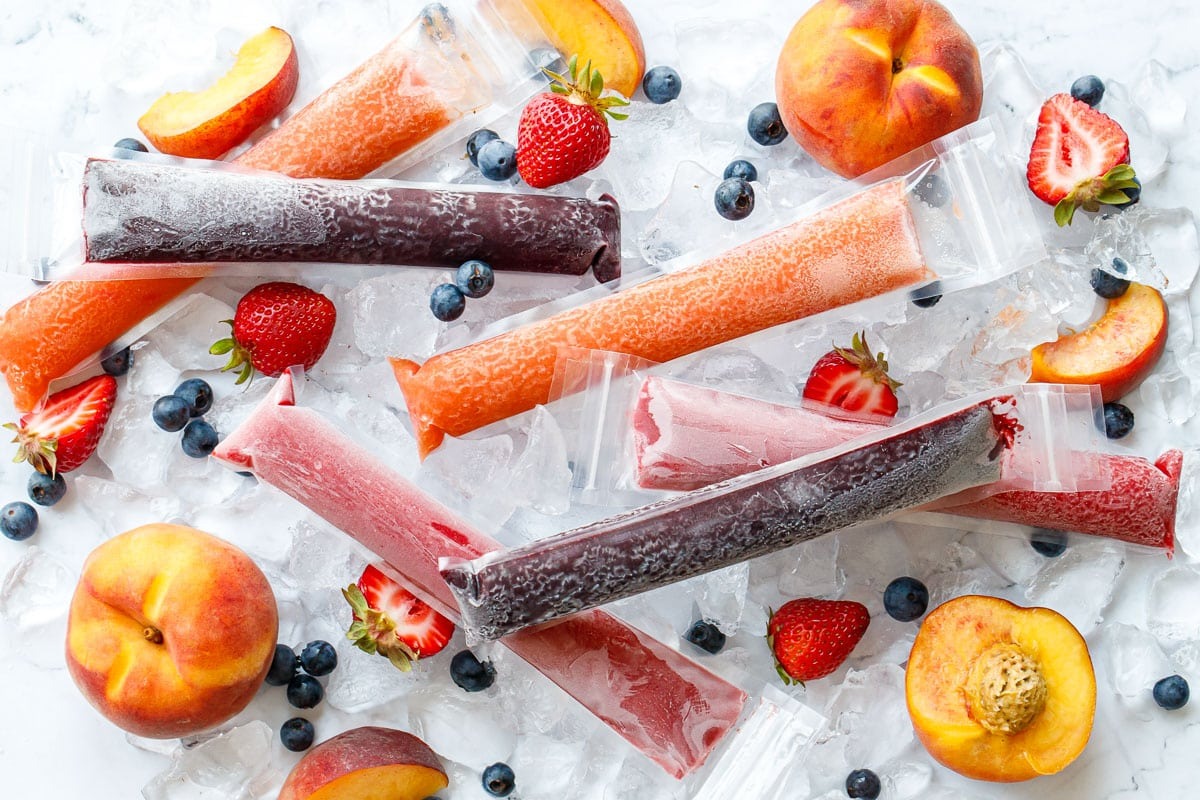 Homemade Fresh Fruit Freeze Pops
These summery fresh fruit freeze pops are made with pectin for a less icy, more pleasing mouthfeel; they're essentially a quick freezer jam in popsicle form!
Ingredients
12

oz

/

340

g

fresh fruit

,

such as strawberries (hulled and chopped), blueberries (whole), or peaches (pitted and chopped)

½

cup

/

120

g

filtered water

2

tablespoons

freshly squeezed lemon juice

½

teaspoon

powdered citric acid

,

more or less to taste (I found the strawberries only needed 1/4 teaspoon, but the peaches and blueberries were better with 1/2).

1 ½

teaspoons

calcium water*

,

increase to 2 teaspoons for peaches

¼

cup

/

50

g

granulated sugar

,

more or less to taste (you can use as little as 2 tablespoons or as much as 6, or replace with any liquid or granulated sugar substitute)

1

teaspoon

Pomona's Universal Pectin*,

increase to 1½ teaspoons for peaches
Instructions
Prepare your fruit. For strawberries, remove hulls and coarsely chop. For peaches, remove pits and coarsely chop. You can peel them if you want (I did not for mine). Blueberries are fine whole. You should have about 2 cups of coarsely chopped fruit.

Place fruit in the blender or food processor along with water, lemon juice, and citric acid. Blend until smooth.

Transfer to a medium saucepan and set over medium-high heat. Add calcium water (if using Pomona's pectin).

Whisk sugar together with pectin until evenly distributed.

When fruit comes to a boil, add sugar/pectin mixture and stir vigorously until sugar is completely dissolved and mixture returns to a boil.

Transfer to a heat-proof glass measuring cup with a spout. You should have about 2 cups (475mL) of liquid. Let cool for 10 to 15 minutes before pouring into ice pop bags or popsicle molds.

Transfer to the freezer until frozen solid, at least 12 hours or overnight. Pops will keep in the freezer for up to 6 months.
Notes
*This recipe is written for Pomona's Universal Pectin, which works a bit differently than other low-sugar pectins. To substitute another brand like Ball or SureJell Low or No Sugar pectin, omit the calcium water, but otherwise follow the recipe as instructed. These two brands of pectin contain dextrose (a sweetener), so you may also want to reduce the sugar by a tablespoon.

*Calcium water comes with the Pomona's pectin pack (if using another brand of low sugar pectin you won't need it).
All images and text ©
for Love & Olive Oil.
Did you make this recipe?
Let us know what you think! Leave a Review below or share a photo and tag me on Instagram with the hashtag #loveandoliveoil.