I am obsessed with all things pistachio lately, and these ice cream sandwiches are everything I've been craving: creamy no-churn pistachio ice cream sandwiched in between two layers of tender white chocolate blondies and sprinkled with crunchy chopped pistachios.
If you loved last summer's malted fudge brownie ice cream sandwiches, featuring a no-churn pistachio ice cream (flavored with pistachio butter and pistachio extract) that's as easy as it is delicious.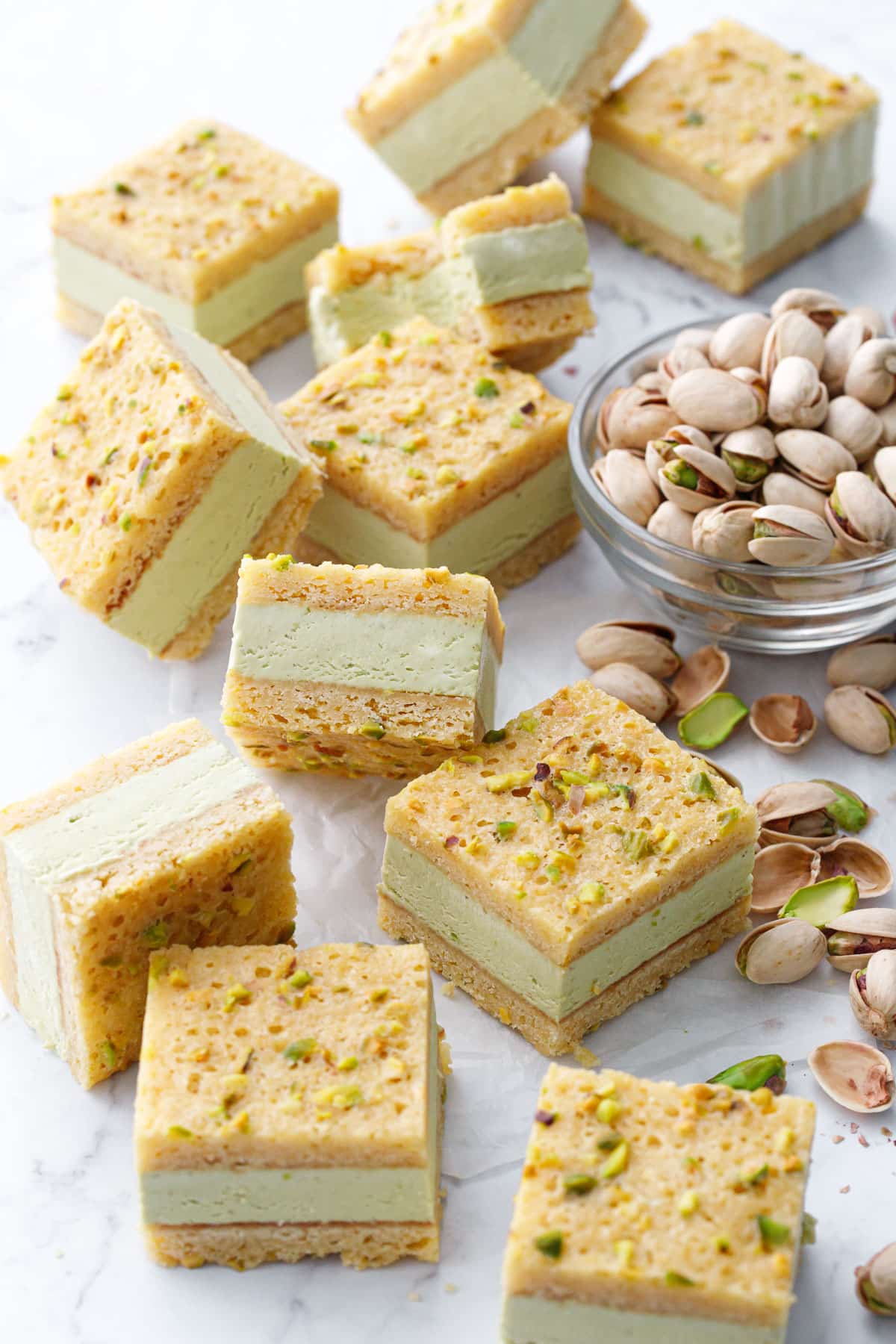 I love ice cream sandwiches… all the goodness of ice cream without the mess.
They satisfy the ice cream craving without dirtying an ice cream scoop or even a bowl or spoon (all you really need is a napkin because yes, they can get drippy if you don't eat them quickly enough).
Still, it's so satisfying to reach into the freezer and grab a pre-cut square and dig in.
These pistachio ice cream sandwiches are particularly satisfying, featuring a layer of creamy, no-churn pistachio ice cream sandwiched between two thin layers of white chocolate pistachio blondies.
The pistachio ice cream center is perfectly sweet and pistachio-forward, made with both pistachio butter and a bit of pistachio extract for added flavor, while the blondie is topped with crunchy topped pistachios for a perfect textural experience. Pistachio three-ways, if you will.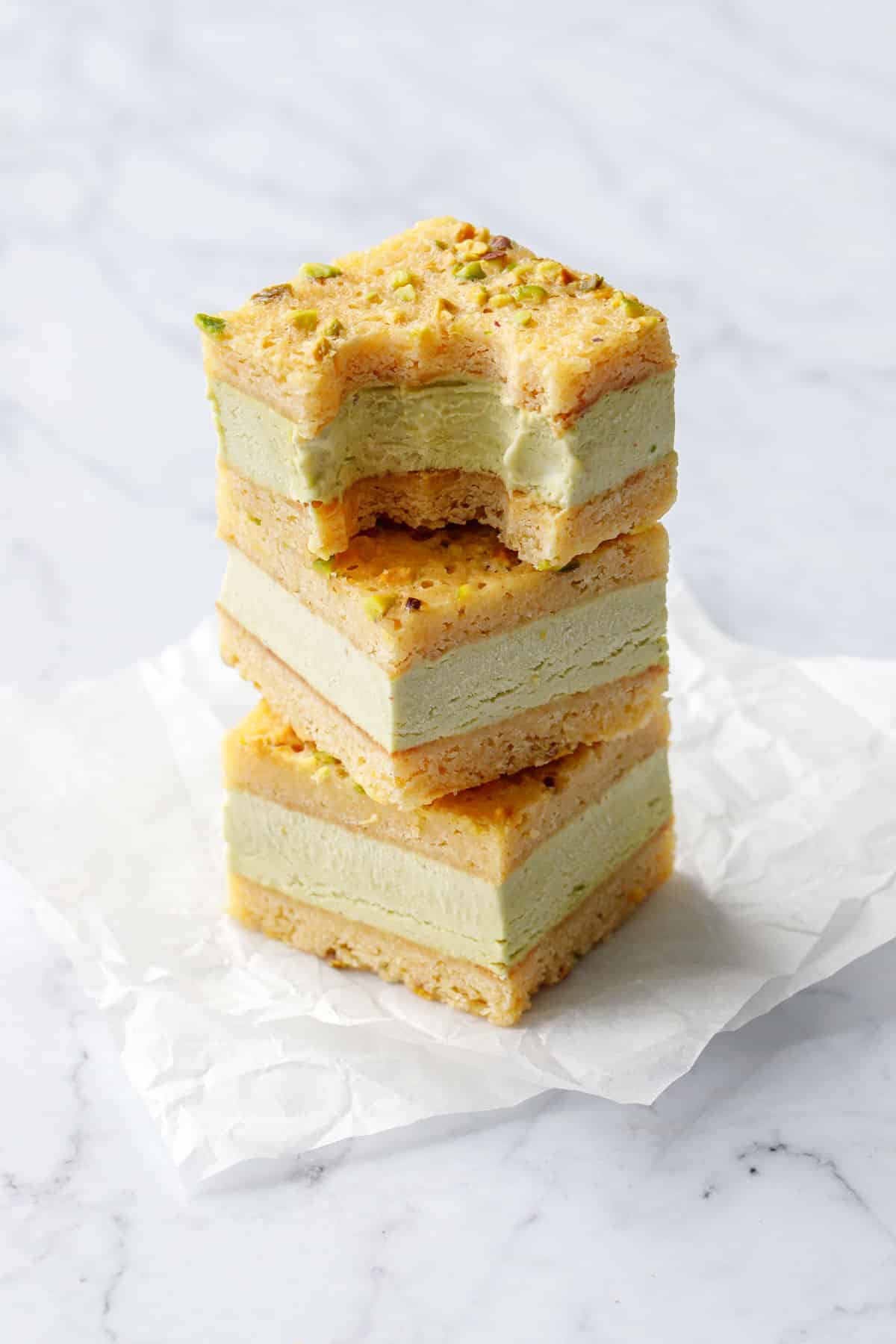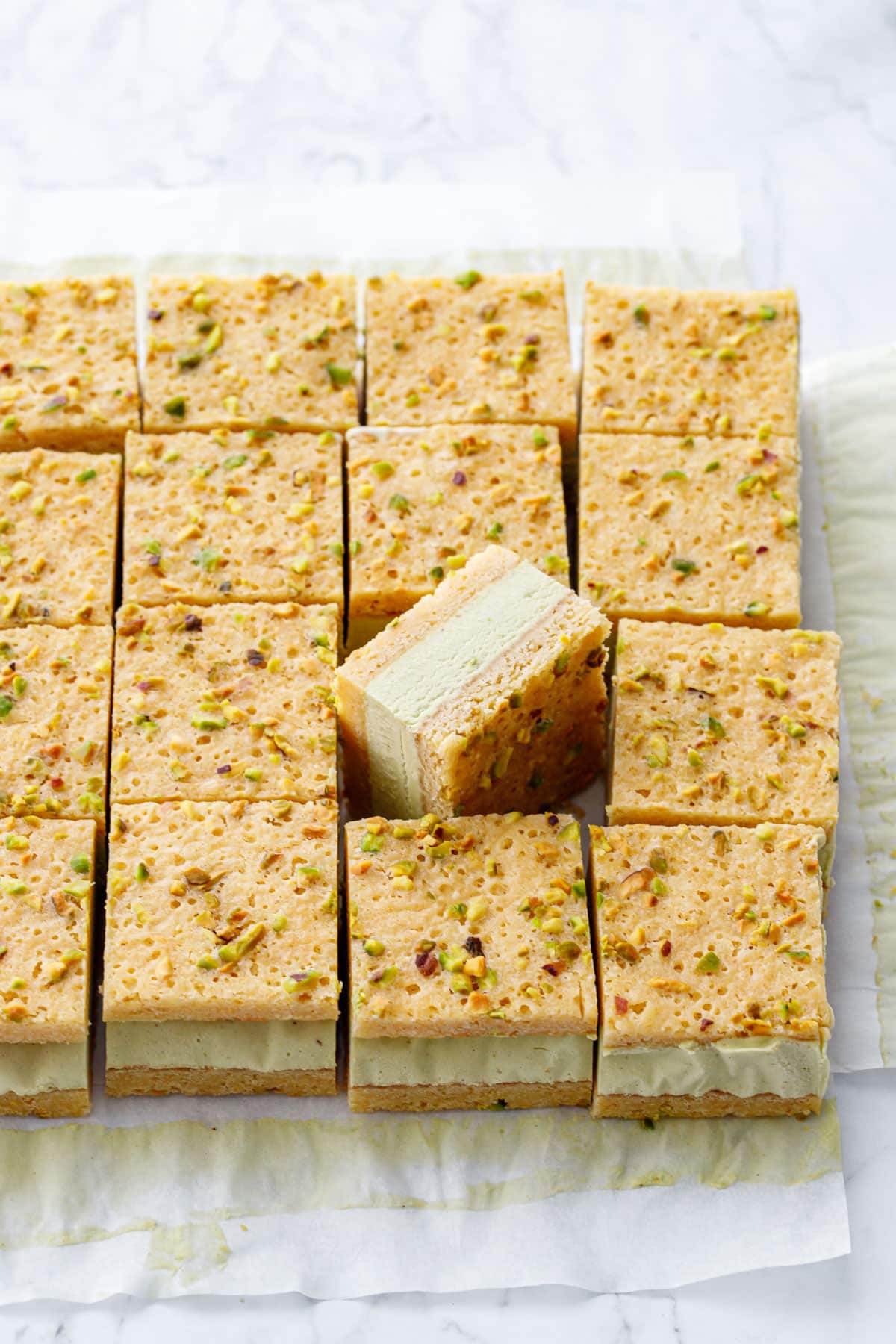 Something that people don't always consider is the texture of the 'bread' part of the ice cream sandwich. Because nothing is worse than biting into an ice cream sandwich only to hit a really hard cookie and have your softer ice cream squeeze out the sides.
For this reason I always pay careful attention to the softness and texture of the 'bread' layer. In this case, that's the white chocolate blondie. It's softer and cakier than I usually like in my blondies, but once frozen, it provides the perfect soft and delicious foundation for an easy-to-eat ice cream sandwich.
Because the blondie is so soft and delicate, you definitely want to refrigerate or even freeze it before you try to assemble your sandwiches, at room temperature it is so soft it'll bend and break far too easily.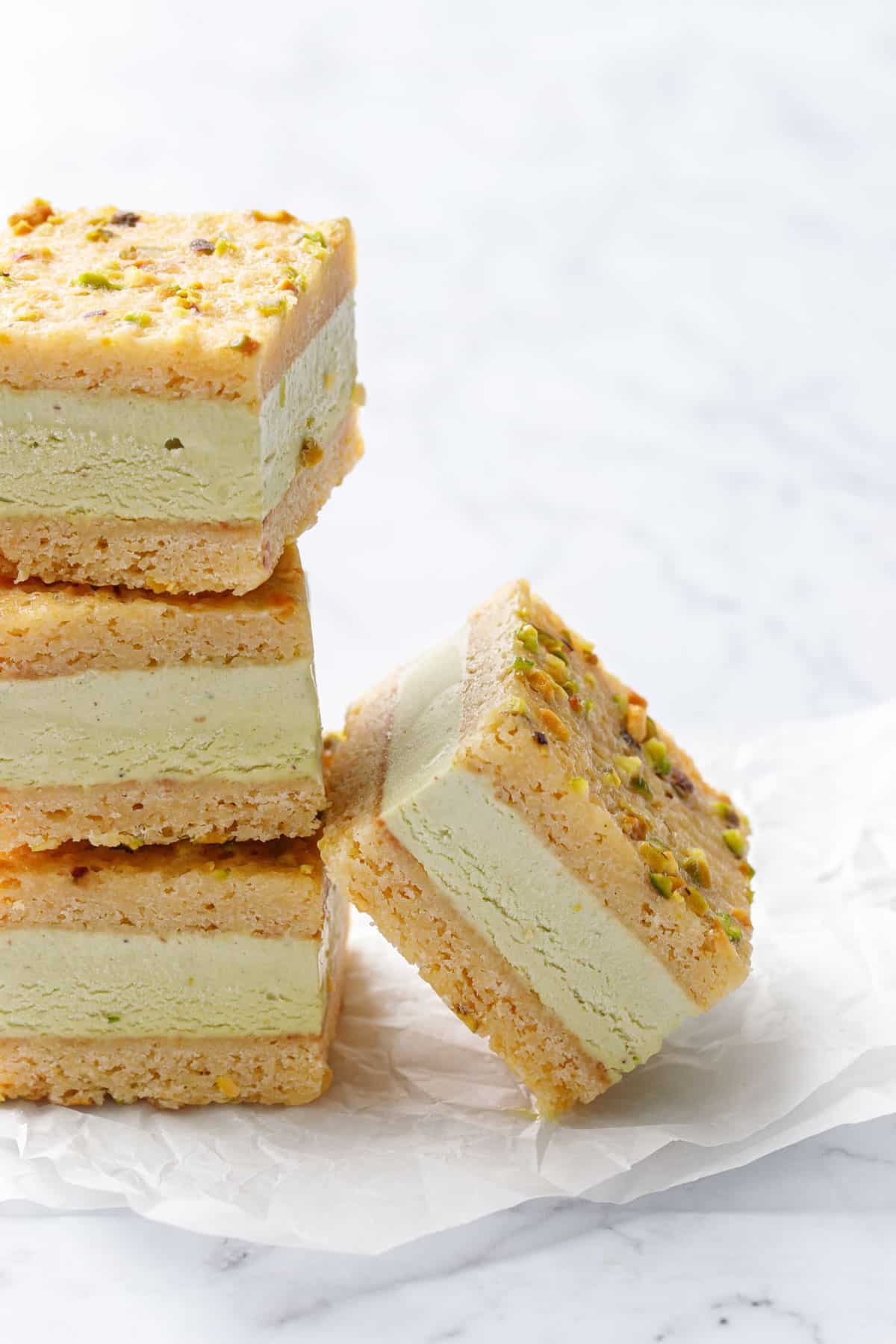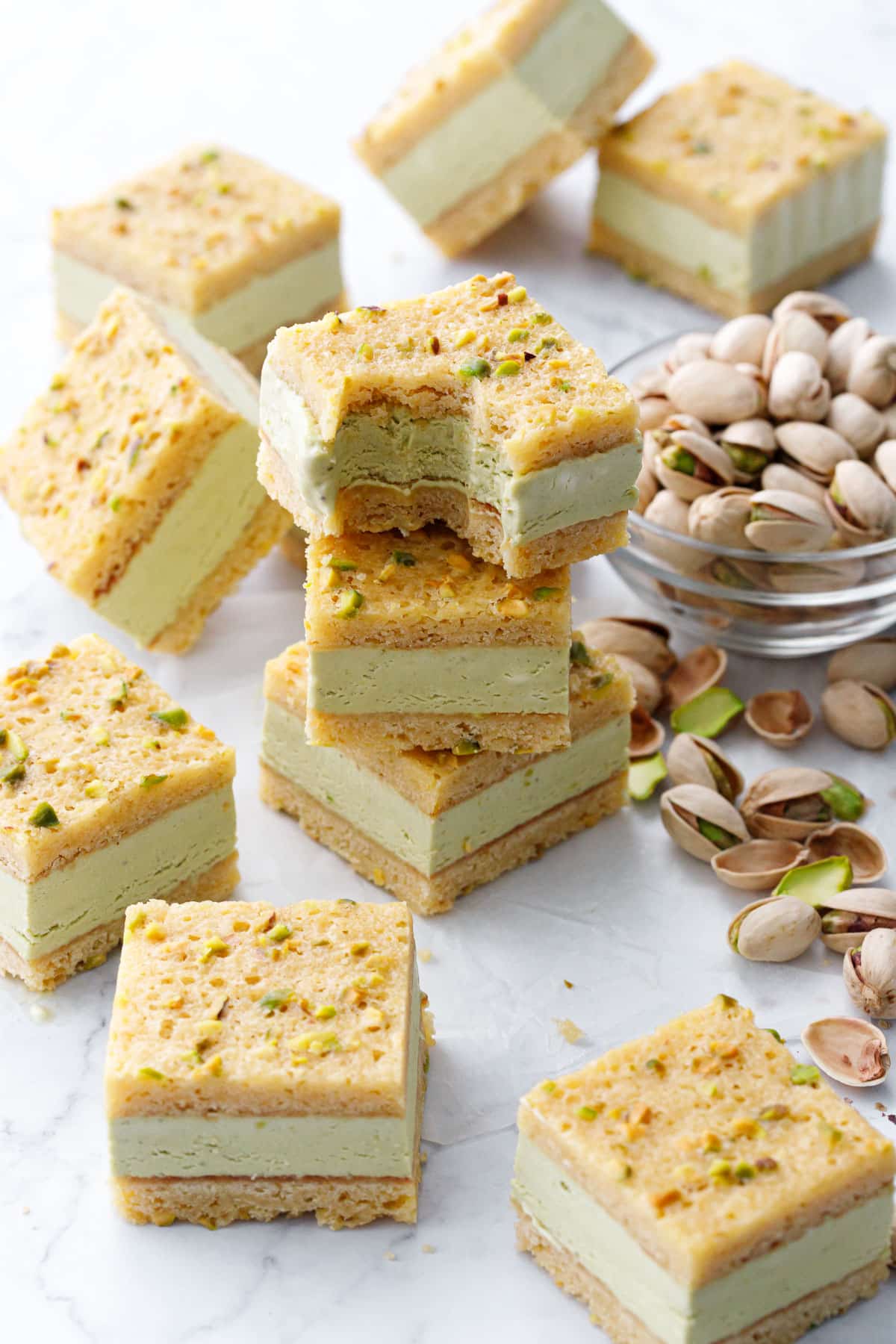 The center is a no-churn pistachio ice cream flavored with pistachio butter and pistachio extract.
For a delightfully green pistachio ice cream, add a few drops of green food coloring as pistachio butter alone isn't enough to give it that signature green hue.
While I'm not usually a fan of no-churn ice creams, ice cream sandwiches like this one are the one exception. The lighter, airier texture that comes from the whipped cream makes the sandwiches much easier to eat (you can bite through them without killing your teeth).
Not to mention the sheer simplicity of it—no ice cream maker, no tempering eggs, no overnight chill… just sweetened condensed milk, freshly whipped cream, and 15 minutes and you've got your ice cream layer ready to go.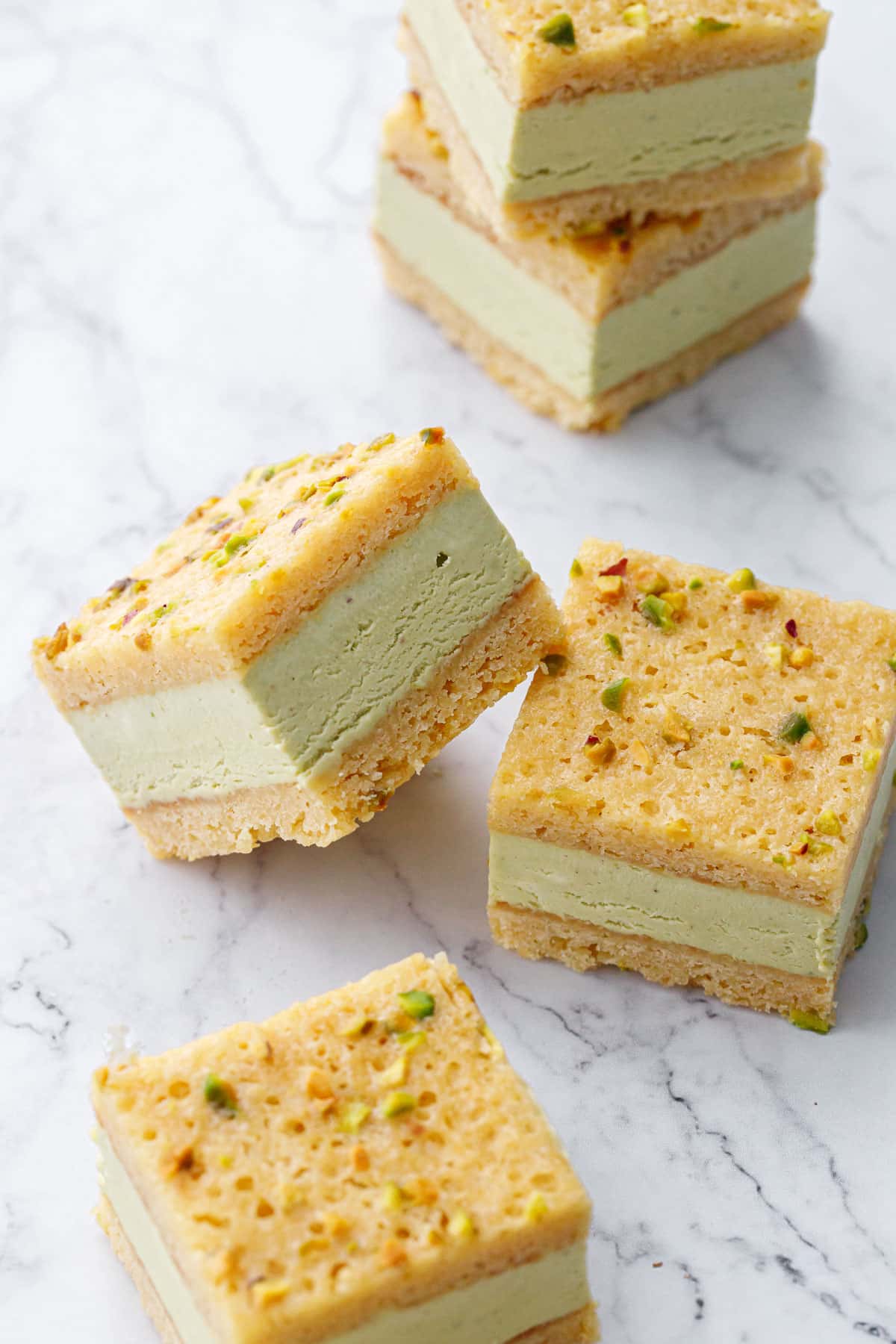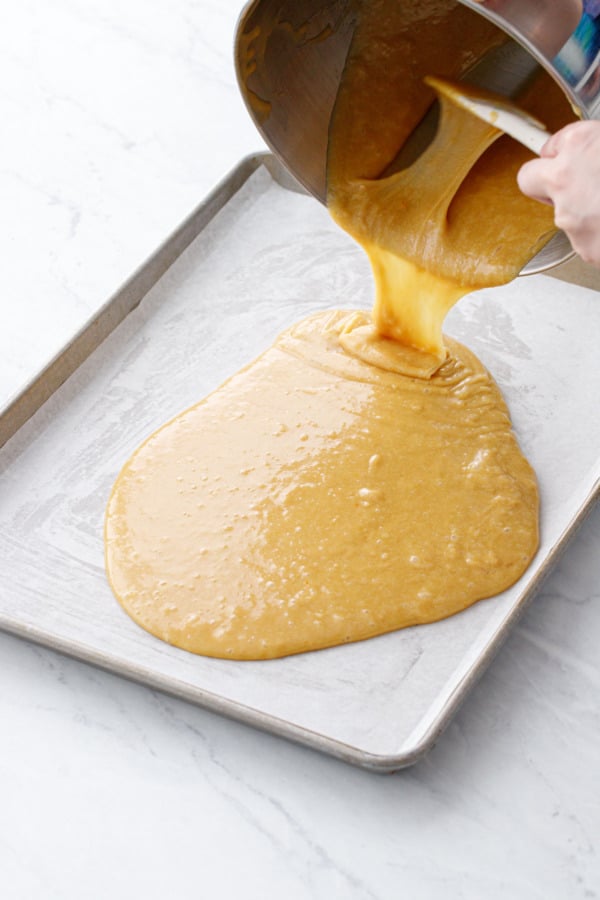 The assembly method is virtually identical to the brownie ice cream sandwiches, minus the extra layer of ganache (I did consider adding a layer of pistachio creme but decided to keep in simple… for once lol… but feel free to add that in if you so desire).
Basically, you bake the blondie in a very thin layer in a large sheet pan, then cut out two squares from that larger sheet. Layer those with the no-churn ice cream in a smaller 8-by-8-inch square baking pan.
Once frozen solid, you'll be able to lift out the entire block of ice cream sandwiches and then cut them into individual servings.
Assembling ice cream sandwiches this way is far easier than trying to smoosh scoops of ice cream between two cookies, at least I think so. Assembling it altogether in one big block and then cutting it apart makes for much cleaner results.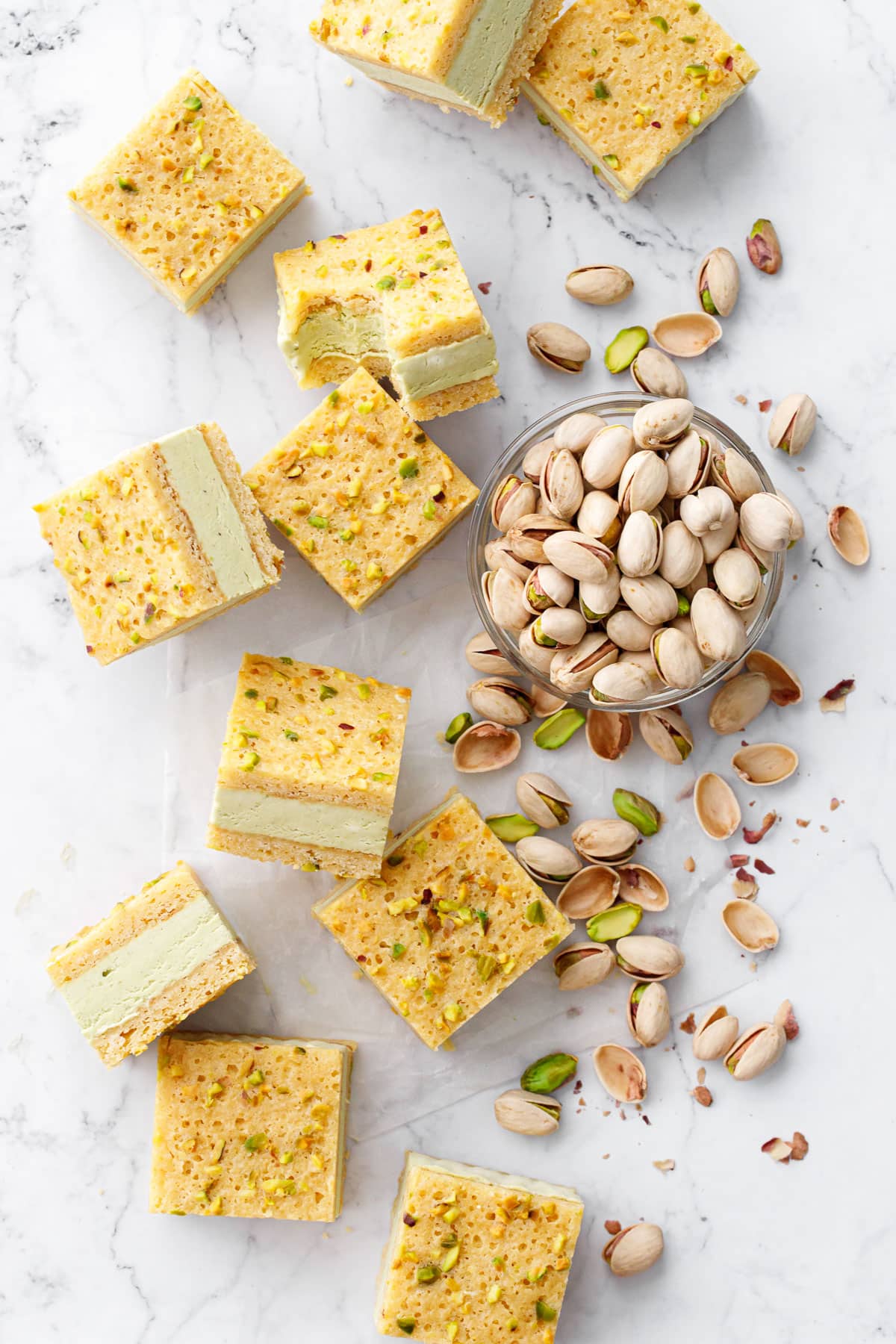 This recipe can easily be doubled to assemble in a 13×9 pan. You'll need to double the blondie recipe and bake it in two half-sheet pans, then cut out two 13-by-9-inch rectangles.
I don't recommend actually baking the blondie in a 13-by-9-inch pan as it would be far too thick (and we're all about the appropriate ratio of blondie to ice cream here!) Also, the edges of the blondie are usually fairly uneven and overly crispy, so it's nice to be able to cut those off to give you more even sandwiches.
There will be quite a bit leftover after you trim it, but it makes for a delightful treat for the chef (*wink wink*).
You can technically halve the recipe and assemble in a 6-by-6-inch square pan or a 9-by-5-inch loaf pan (bake your blondie in a quarter sheet pan), however trust me when I say you may regret not making the full batch. The sandwiches keep beautifully in the freezer for up to 3 months (wrap them individually in waxed paper or cling wrap and store in an airtight container), and your future self will definitely appreciate your foresight when the next craving hits.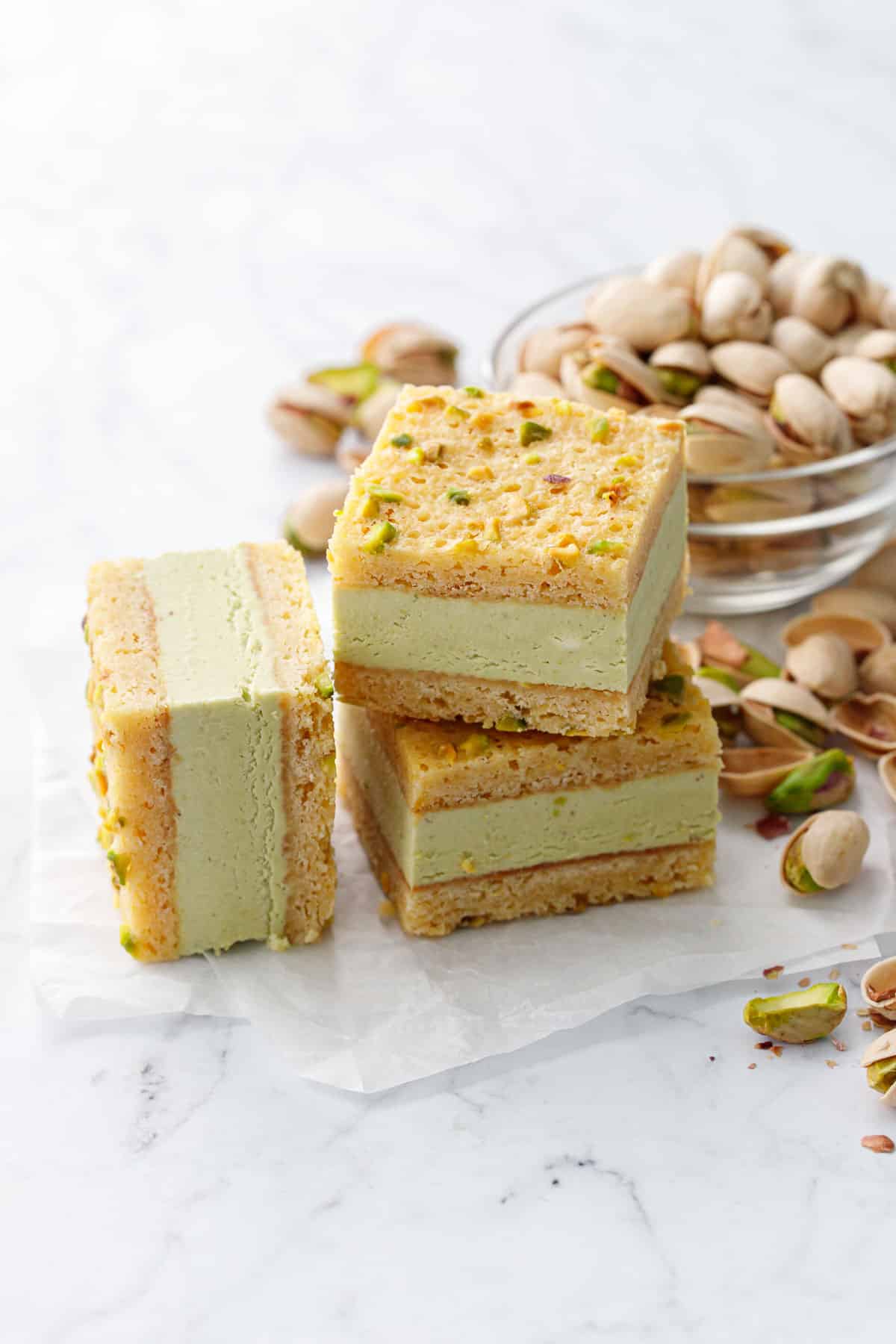 Flavor Variations
Mix and match the pistachio ice cream from this recipe with the brownie and ganache layers from my malted fudge brownie ice cream sandwiches. Because pistachio and chocolate are a seriously delicious combination as you very well know.
You can use any other nut/nut butter in this recipe instead of pistachio. Peanut, cashew, almond, hazelnut… you get the picture. Swap equal parts of the nut butter of your choice in the ice cream layer (and the extract to match, or just use plain vanilla), and sprinkle chopped up bits of the same kind of nut on top of the blondie layer.
In lieu of the pistachio butter, you can also mix in just about anything to flavor the sweetened condensed milk and whipped cream base, such as cocoa powder, nutella, pureed strawberries, caramel sauce, espresso powder, or mashed bananas. Stir in sprinkles, chopped chocolate, cookie dough chunks, or crushed up oreos. I mean, really, the possibilities are endless!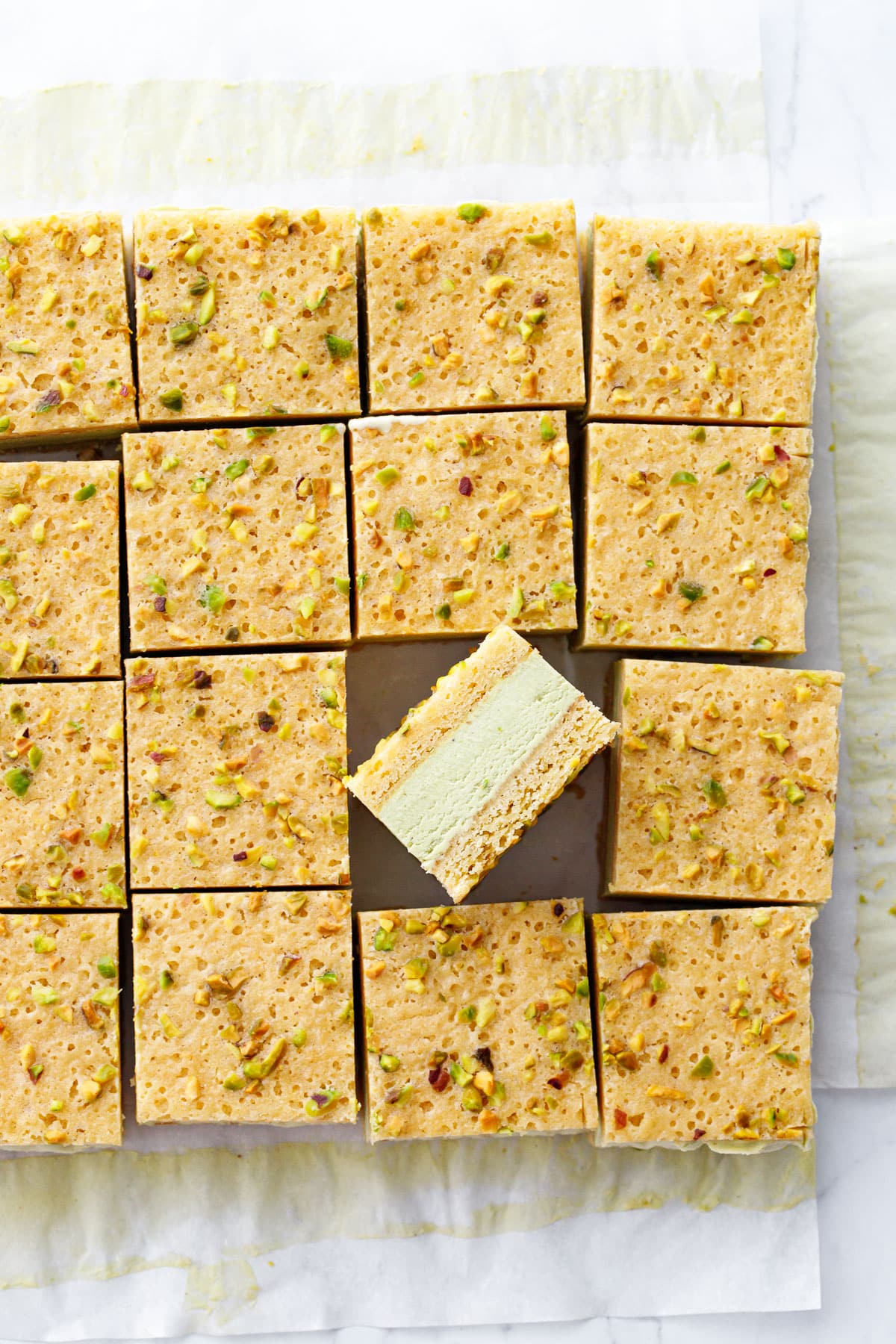 Ingredient Swaps & Substitutions
While the pistachio extract is optional, I find it helps enhance the natural pistachio flavor and make the ice cream taste more like the pistachio-gelato flavor we expect when we think of pistachio sweets.
You can also use 1 teaspoon vanilla and 1/4 teaspoon almond to sort of approximate the flavor of the pistachio extract (which is quite a variable flavor depending on the brand you buy… I've got a post coming here very soon where I compare nine different brands of pistachio extracts and the results were extremely varied).
Pistachio butter can be store bought or homemade, just know that homemade pistachio butter will have a coarser texture. I used unsalted, unsweetened pistachio butter for this recipe (I've used Pistachio Factory and Peppertux farms brands and they're both great). You can also use pistachio cream (sometimes called pistachio spread), which is a sweetened spread sort of like a pistachio and white chocolate version of nutella. It'll work, but the pistachio flavor won't be quite as pronounced and the ice cream will be much sweeter. If your pistachio butter is salted omit the salt in the ice cream portion.
Malted milk powder adds a bit of depth and toastiness to the blondie layer. You can use regular whole milk powder (it just makes the blondie layer a bit richer tasting), or leave it out altogether.
Pistachio Blondie Ice Cream Sandwiches
Creamy, no-churn pistachio ice cream sandwiched between two layers of soft white chocolate blondies sprinkled with chopped pistachios.
Ingredients
For Blondie:
1 ¼

cup

/

156

g

all-purpose flour

1

tablespoon

/

6

g

malted milk powder

,

optional (can also use whole milk powder)

½

teaspoon

baking powder

½

teaspoon

fine sea salt

1

cup

/

226

g

unsalted butter

½

cup

/

100

g

sugar

5

oz

/

140

g

white chocolate

,

finely chopped

3

large eggs

,

at room temperature

½

cup

/

105

g

lightly packed brown sugar

1

teaspoon

vanilla extract

½

cup

/

60

g

chopped pistachios
For Pistachio Cream:
⅔

cup

/

200

g

sweetened condensed milk

¼

cup

/

64

g

pistachio butter

½

teaspoon

pistachio extract

pinch

fine sea salt

green food coloring

,

optional

1 ¼

cup

/

300

g

heavy whipping cream

1

tablespoon

/

8

g

powdered sugar
Instructions
Preheat oven to 350ºF. Lightly butter the bottom and sides of a half sheet pan (18-by-13-inches); line with parchment paper, leaving at least an inch of overhang on the two long sides.

In bowl, whisk together flour, milk powder, baking powder, and salt and set aside.

In saucepan set over low heat, melt butter until it starts to foam and bubble. Add granulated sugar and stir until sugar is somewhat dissolved. Remove from heat and add white chocolate; let sit for 30 seconds then stir until fully melted. Continue mixing vigorously until mixture is homogenous and no longer has a slick of butter floating on top (it will look sort of like sweetened condensed milk).

Meanwhile, in the bowl of a stand mixer fitted with the whisk attachment, beat eggs, brown sugar, and vanilla on medium-high speed for 2 to 3 minutes or until thickened and lightened to the color of peanut butter.

With the mixer running on low, drizzle in melted white chocolate mixture and mix until just incorporated, scraping down the sides of the bowl with a spatula as needed. Sprinkle dry ingredients over top and mix on low speed or fold in with a spatula until just incorporated.

Pour batter onto prepared baking sheet, and spread into an even layer using an offset spatula. Sprinkle evenly with chopped pistachios.

Bake for 13 to 15 minutes or until top is crackly and edges are golden brown. Place sheet pan on a wire rack to cool completely, then refrigerate or freeze for at least 30 minutes (or more) to make it easier to work with (you can make it ahead of time and refrigerate/freeze overnight too).

While the blondie is chilling, prepare an 8-by-8-inch square baking pan (ideally one with crisp, sharp corners and straight rather than angled sides). Line the bottom and sides with two 8-inch-wide by at least 14-inch long strips of parchment paper placed perpendicular in the baking pan, creasing the corners and top edges. You should have a good inch or two of overhang; you will need this later to lift the sandwiches out of the pan.

Carefully lift and slide the chilled blondie onto a large cutting board, leaving the parchment on the bottom. Use a ruler to measure and cut two 8-inch squares (should be exactly the same size as the inside of your baking pan). Use a large knife or a sharp rotary cutter to cut through the blondie and the parchment lining the bottom.

Gently lower one of the squares into the bottom of the parchment-lined baking pan, pistachio side down, then peel off parchment backing. Put the pan and the other square back in the fridge or freezer until the ice cream is ready.

To make the ice cream: combine sweetened condensed milk, pistachio butter, pistachio extract, and salt in a large mixing bowl. Add a few drops of green food coloring if desired.

Pour the cream into a clean (and preferrably chilled) metal mixing bowl or the bowl of a stand mixer fitted with the whisk attachment. Sift powdered sugar over top, then turn mixer to medium-high speed and whip until cream forms medium peaks (try not to overmix or it will be harder to incorporate).

Spoon in about 1/3 of the whipped cream into bowl with pistachio mixture, folding and gently stirring to lighten up the mixture. Add remaining whipped cream and fold with a large rubber spatula until evenly incorporated and no streaks of bright white cream are visible.

Pour ice cream base into square pan, spreading into an even layer. Gently peel off the parchment and place the second blondie square, chopped pistachio side up, on top of ice cream, pressing lightly to adhere (don't press too hard or the ice cream may squeeze out the sides; you can also freeze the ice cream for 30 to 45 minutes to let it set up a bit before adding the top layer of blondie).

Lay one of the leftover parchment squares on top of the pan to keep out any undesirable freezer flavors; place pan somewhere level in your freezer and freeze until completely set, at least 4 hours or overnight.

Before serving, use the parchment paper overhang to lift the entire block out of the baking pan and onto a cutting board. Use a large knife (running it briefly under hot water to make it easier) to cut sandwiches into 16 even squares. Wipe or rinse off the knife between each slice for the cleanest looking cuts. Serve immediately, or return cut squares to the freezer to enjoy later (if storing longer than a day, put them in an airtight container or wrap individually with plastic wrap). Sandwiches will keep for up to 2 months.
All images and text ©
for Love & Olive Oil.
Did you make this recipe?
Let us know what you think! Leave a Review below or share a photo and tag me on Instagram with the hashtag #loveandoliveoil.