Winner winner chicken dinner: this creamy chicken pasta is sure to become a weeknight dinner staple: quick and easy and packed with glorious garlicky flavor (garlic lovers, rejoice!)
With a delightfully creamy sauce made with a surprisingly small amount of cream, this fast, filling, and flavorful pasta recipe is the kind of recipe you'll want to make again and again.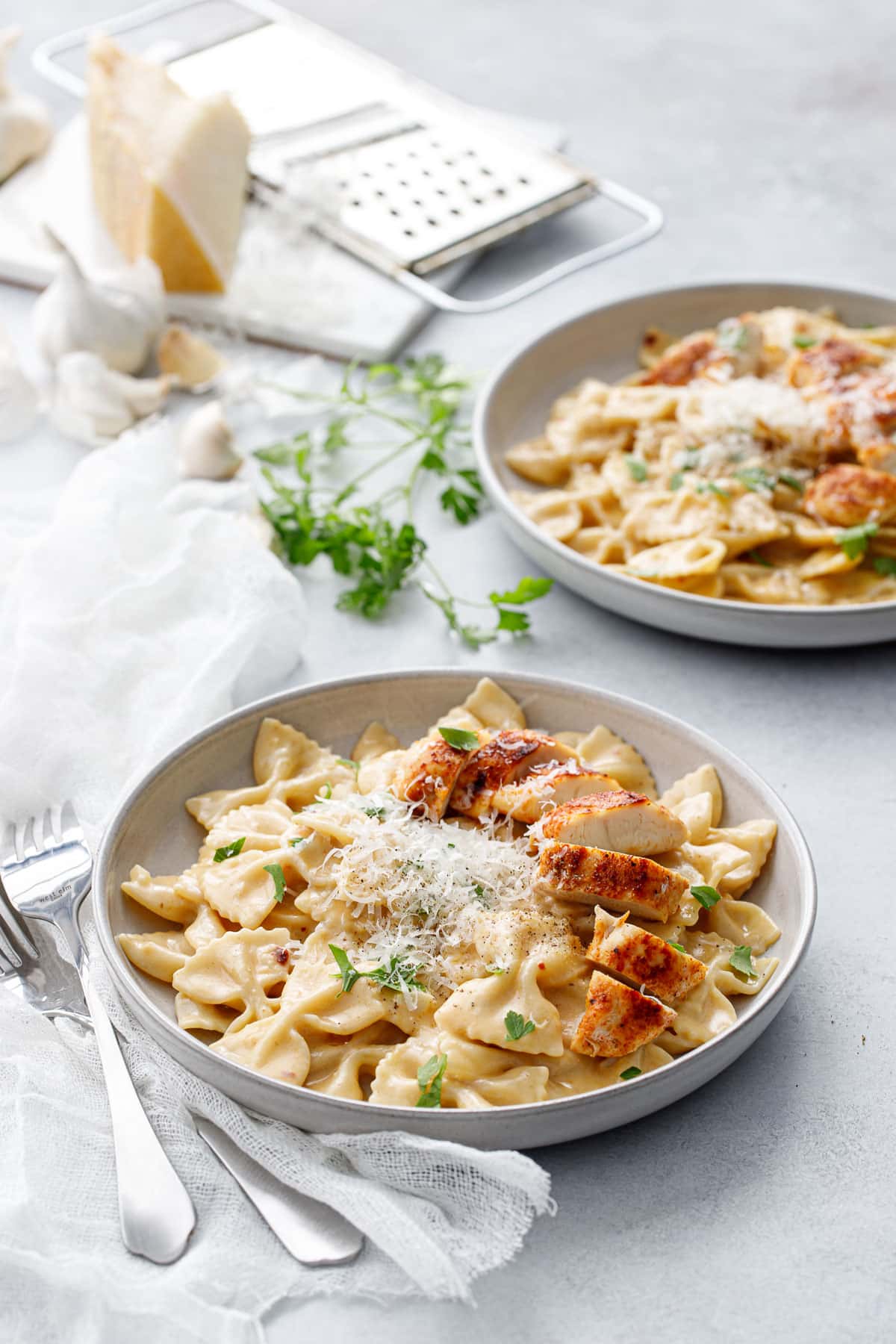 If you're the kind of person who sees 2 garlic cloves called for in a recipe and instead throws in no fewer than 5, this recipe is for you. It's got garlic galore, both fresh and powder, for a double dose of garlicky flavor.
Let's just say Dracula wouldn't dare come anywhere near your house after serving this dish.
That's not to say this dish is one-note, no, you'll find an incredible depth of flavor beyond the garlic too. With garlic powder and smoked paprika seasoning the chicken, and a creamy, buttery pan sauce made with white wine and chicken broth, this recipe is extremely well rounded and perfectly seasoned. Topped with a bit of fresh parsley and a pile of freshly shredded parmesan, it's the kind of recipe you'll want to make again and again.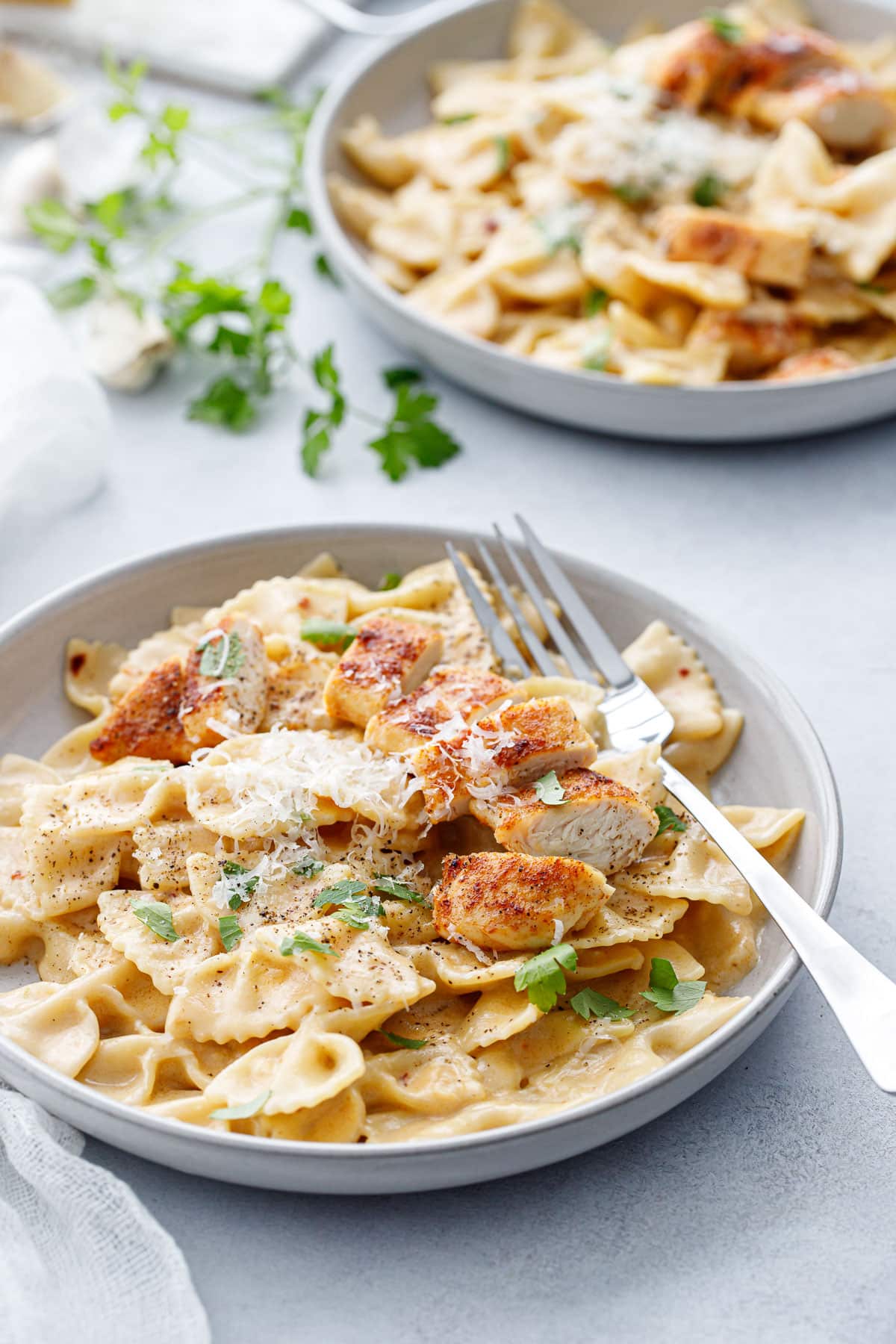 The chicken packs a flavorful punch in the form of garlic powder and smoked paprika, generously seasoned and then pan-seared in sizzling butter and olive oil until golden brown.
But the chicken isn't the only source of flavor here: don't discount the sauce, either. It's much more than just garlic and cream.
Unlike an alfredo sauce, which is mainly milk and parmesan cheese, the base of this sauce is actually white wine and chicken stock, thickened with flour and with just a splash of cream to finish it off. As someone who finds alfredo sauce too rich and heavy, I much prefer a lighter stock-based sauce like this one. The sauce is surprisingly creamy considering there's only 1/3 cup of cream.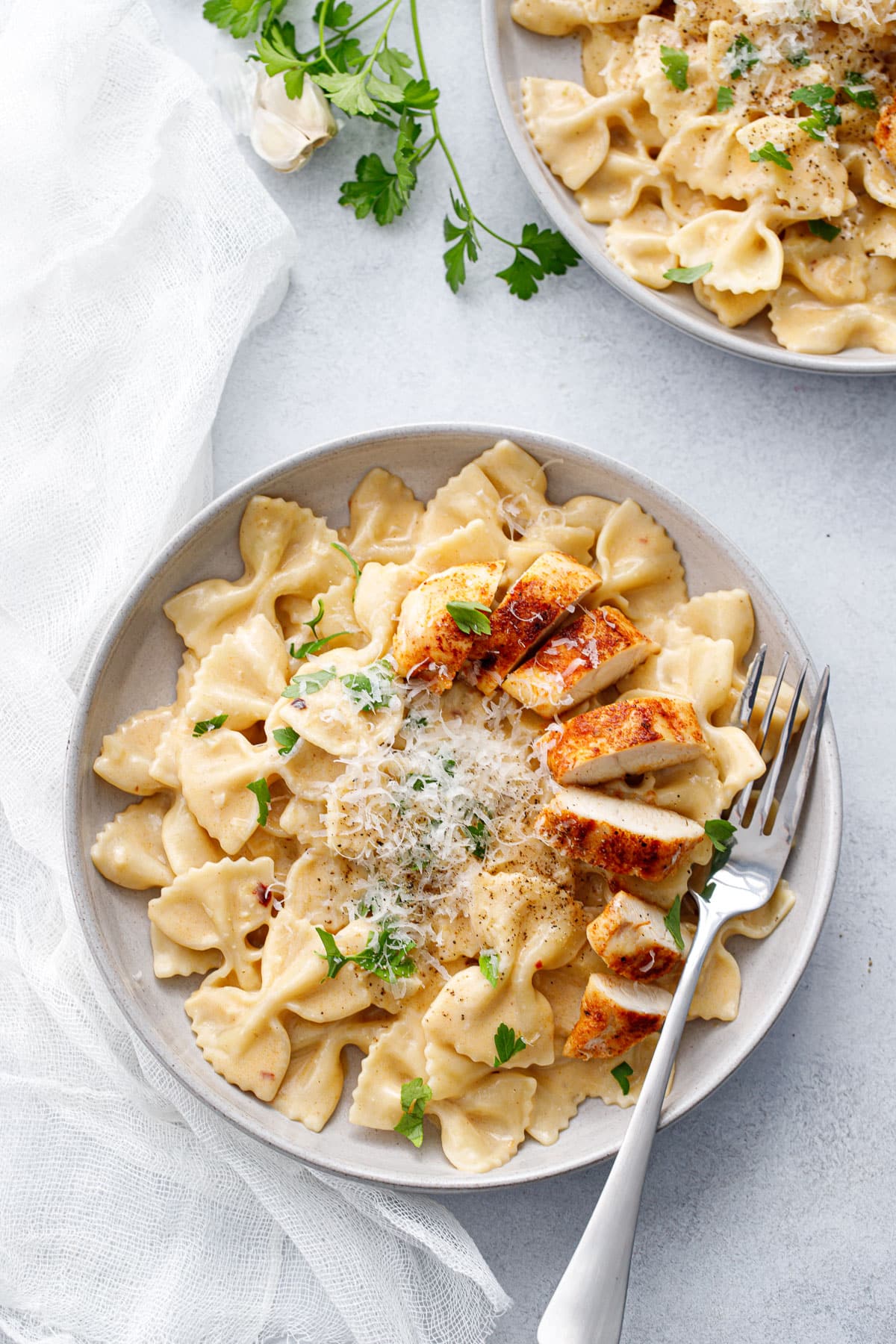 This recipe was very loosely based on this paprika chicken pasta, which used a combination of flour, white wine, chicken stock and just a little bit of cream to produce a surprisingly creamy sauce. We used the same sauce method but shifted the focus of the flavors from paprika to garlic (with ample amounts of both fresh garlic and garlic powder), as well as using smoked paprika instead of sweet for a deep, sultry flavor to the chicken. We also pan-seared the chicken instead of baking it, amping up the flavor, and utilizing the leftover flavor bits in the pan as the foundation of the pan sauce (which, bonus, means less dishes to wash too).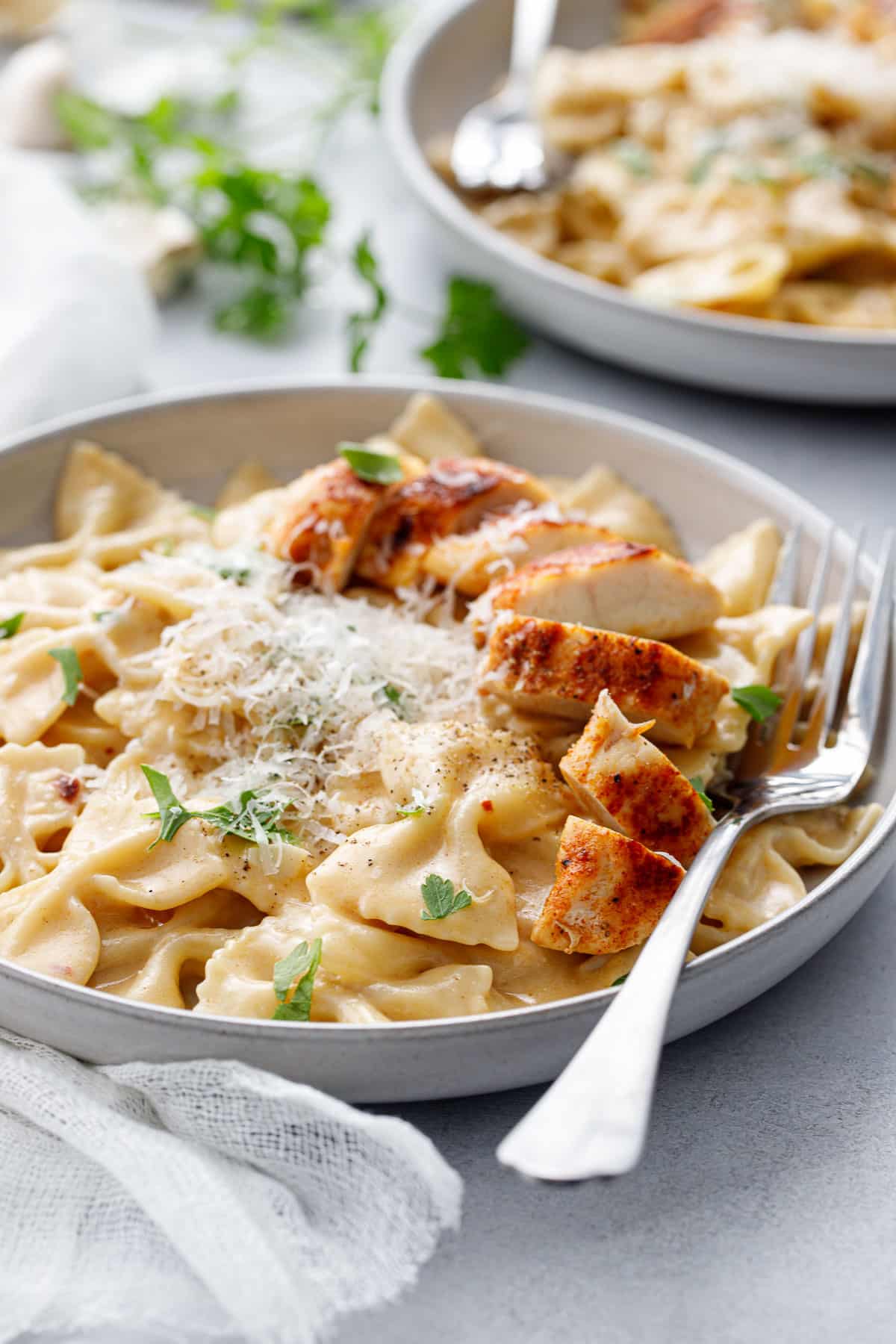 Good Timing
Cook the farfalle (or other shape) pasta for about a minute less than the package instructs. So if you package says 10 minutes, cook it for 9. The pasta should be just barely al dente, not quite cooked through and still with a slight bite to it. It will finish cooking completely once it gets added to the sauce.
If you can swing it, the pasta should be ready at the same time as the sauce. I recommend adding the pasta to the boiling water as soon as the chicken is finished and you start on the sauce. The sauce and pasta should both be done in about 8 or 9 minutes, at which point you can drain the pasta and toss it right into the sauce to finish. Or if you have a large slotted spoon, go straight from the pasta pot to the saucepan (and skip the colander entirely!)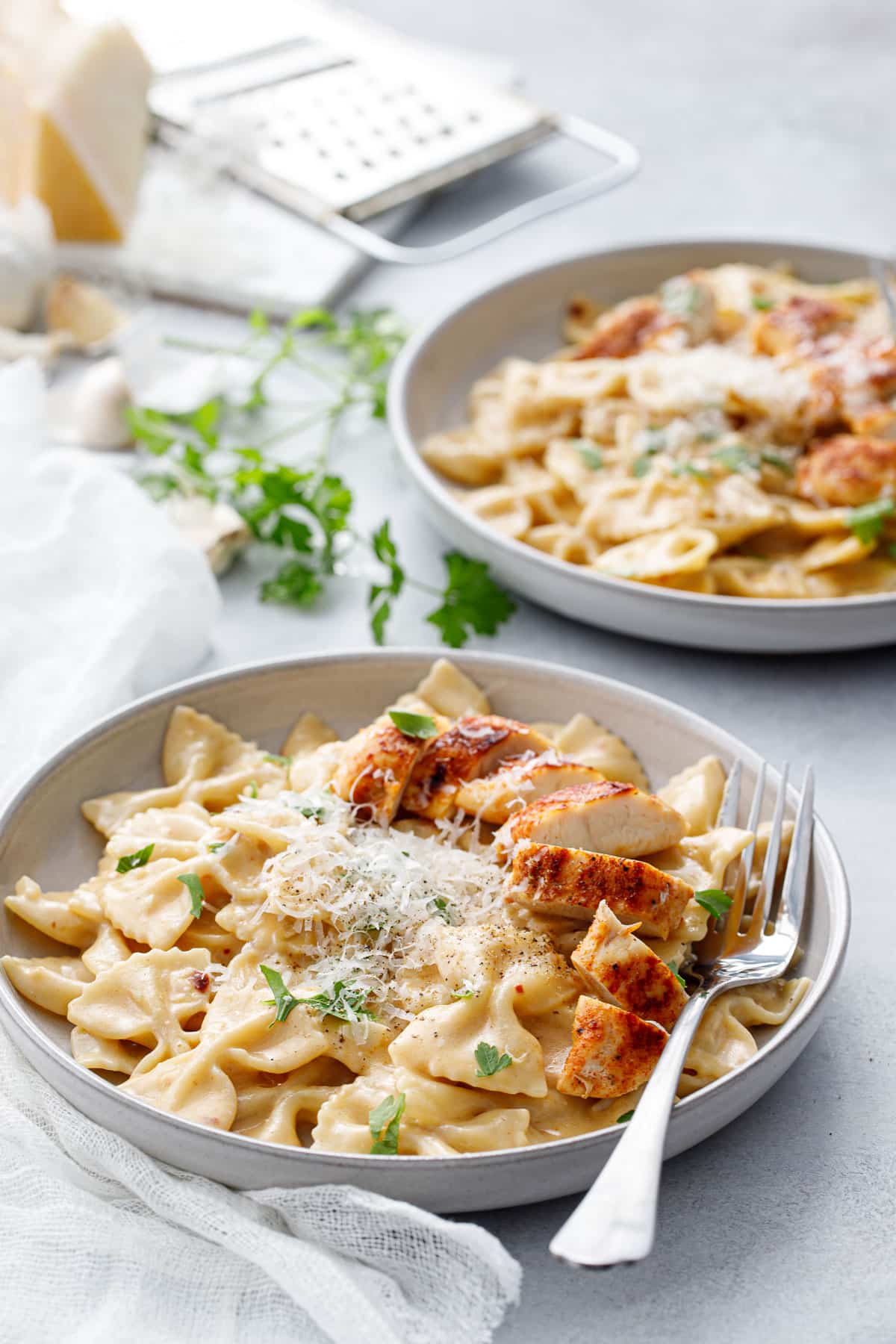 Ingredient Notes & Substitutions
The main flavor in this recipe comes from fresh garlic, nearly an entire head (6-8 cloves, which is a generous 3 tablespoons or so of minced garlic).
Not all garlic powder is created equal. I personally use what's called garlic granules, which is more the texture of sand rather than flour. Just a personal preference, either will work in this recipe. Do not, however, substitute garlic salt, as that's actually garlic granules mixed with salt, and will result in an overly salty dish (save it for garlic bread instead).
Smoked paprika has a significantly different flavor profile than its sweet cousin; while both are made from dried chili peppers, the smoked version has an earthy, robust smoke flavor that enhances any dish. Smoked paprika comes in varying degrees of spiciness, usually labeled as 'smoked sweet' or 'smoked picante'. There's not really enough in this recipe for it to come across as spicy, but feel free to adjust the quantity to your liking. You can also use plain un-smoked sweet paprika, though the flavor will be much milder.
We used chicken tenders here, which are the easiest to manage as they require no additional cutting or preparation before cooking. Chicken breast strips will work too, they're just cut up strips of chicken breast. You can also start with a whole boneless skinless chicken breast (1 large or 2 smaller ones), and cut them into strips yourself, approximately 1-inch wide. Do note that breast strips may cook more quickly than tenders, more like 6-8 minutes in total compared to 8-10 for tenders.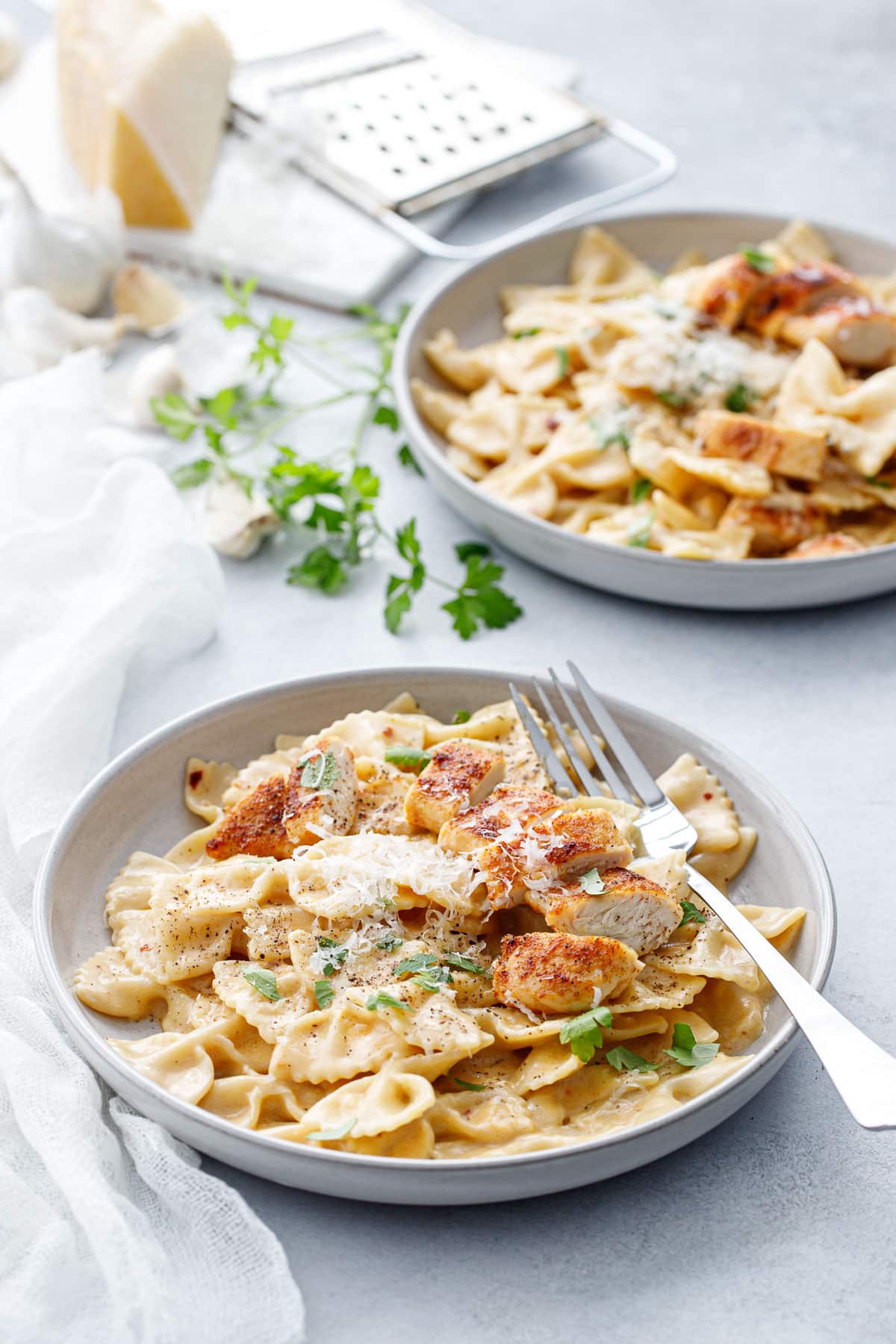 Serving & Leftovers
This is one of those recipes that's best served immediately, as the sauce, like most roux-based sauces, tends to set up and lose its creamy consistency the longer it sits. Luckily, it's so quick and easy to throw together that you really won't feel the need to prepare it ahead of time.
While the chicken and pasta can be reheated for leftovers, the sauce won't be nearly as creamy when reheated. That's just the nature of roux-based sauces like this one unfortunately, though it'll be no less deliciuos.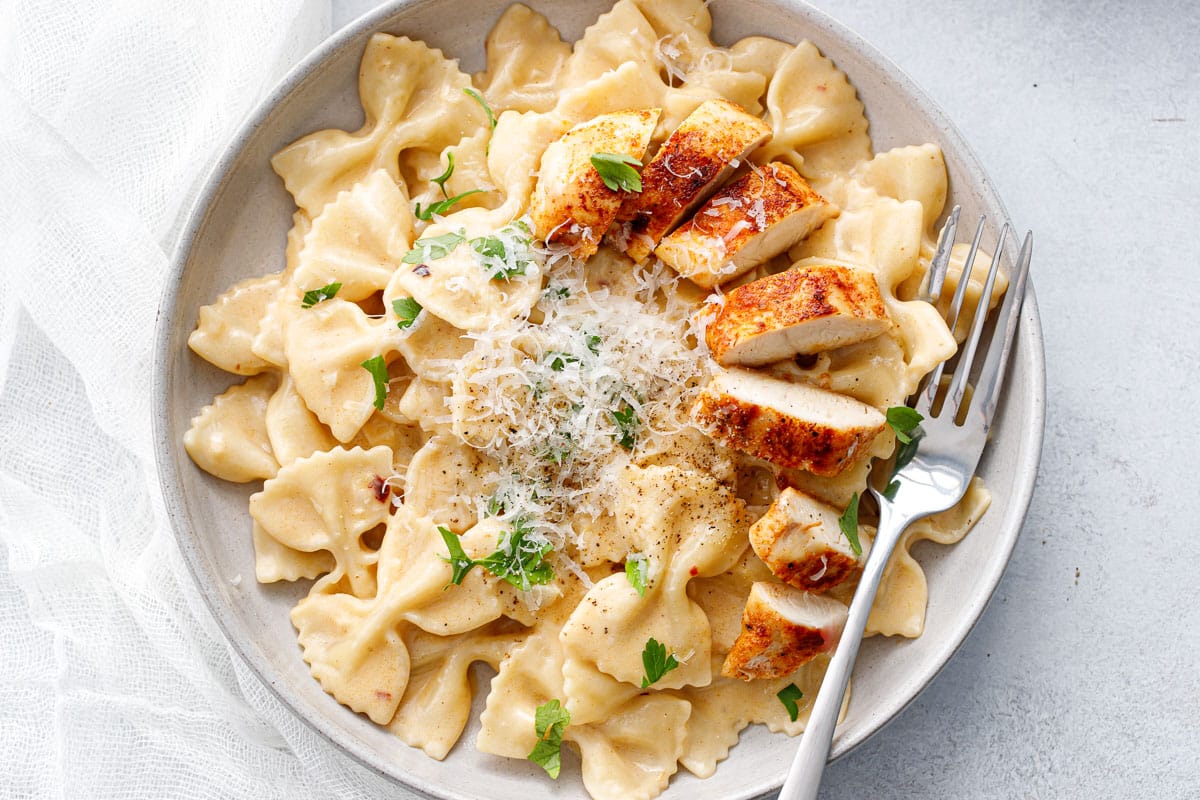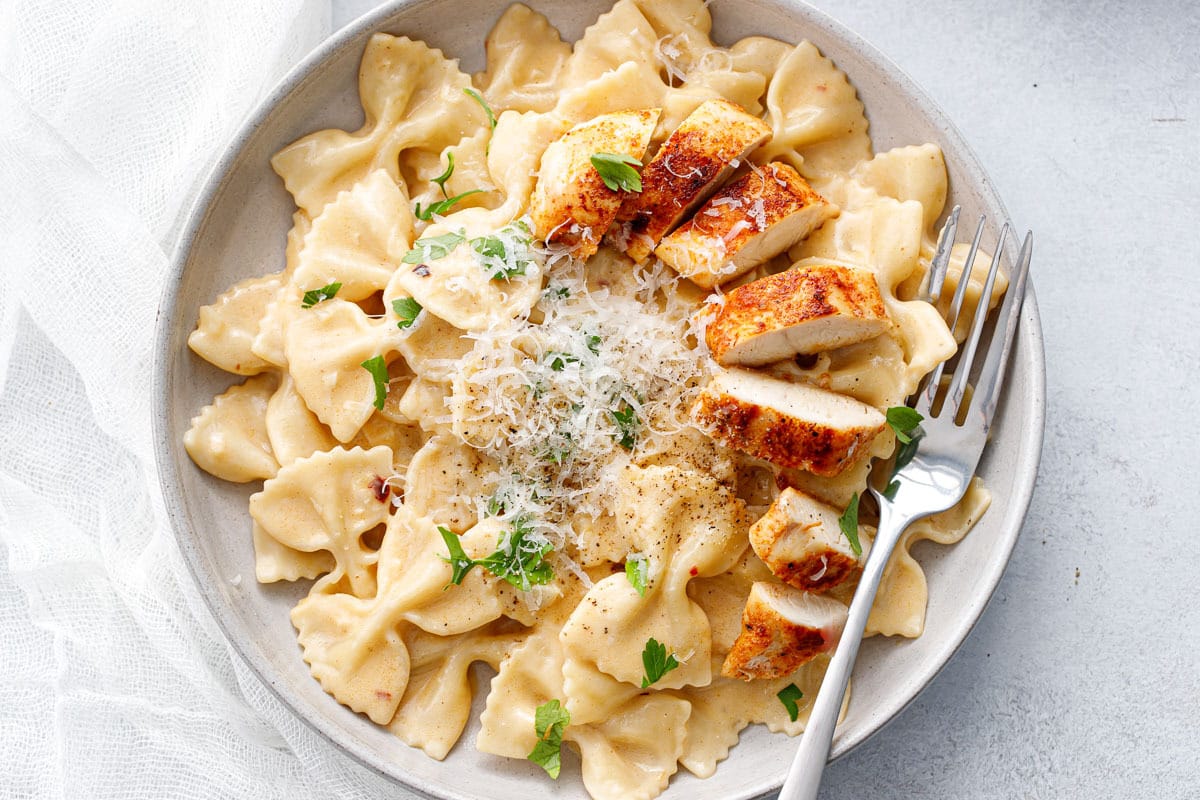 Creamy Garlic Chicken Pasta
With a delightfully creamy sauce made with a surprisingly small amount of cream, this fast, filling, and flavorful pasta recipe is the kind of recipe you'll want to make again and again.
Ingredients
For Chicken:
1

pound

/

453

g

chicken tenders

,

or chicken breasts cut into 1-inch strips

1

teaspoon

garlic powder

½

teaspoon

smoked paprika

½

teaspoon

kosher salt

½

teaspoon

freshly ground black pepper

2

tablespoons

olive oil

1

tablespoon

butter
For Sauce:
8

oz

/

 227

g

farfalle pasta

2

tablespoons

butter

1

tablespoon

olive oil

6 to 8

large garlic cloves

,

finely chopped (about 3 tablespoons)

½

teaspoon

red pepper flakes

,

more or less to taste

½

teaspoon

garlic powder

2

tablespoons

all-purpose flour

¼

cup

white wine

1¼

cups

/

300g

g

chicken broth

⅓

cup

/

75

g

heavy cream

1

teaspoon

lemon juice

,

more or less to taste

salt and freshly ground black pepper

,

to taste

2

tablespoons

chopped fresh parsley

,

for topping

parmesan cheese

,

for topping
Instructions
Bring a large pot of lightly salted water to a boil.

Lay chicken tenders out on a plate and pat dry. In a small bowl, mix together garlic powder, paprika, salt and pepper. Sprinkle half of spice mixture evenly over chicken tenders, flip and season with remaining half of spice mixture.

Heat a large skillet over medium-high heat. Add oil and butter; when butter is completely melted and sizzling, arrange chicken tenders in a single layer. Cook for 4 to 5 minutes or until bottom is nicely browned, then flip and cook for another 3 to 4 minutes or until cooked through (internal temperature in the thickest part of the largest tender should read 160 degrees F). If you are using chicken breast strips they'll likely be done a few minutes sooner. Transfer chicken to a clean plate, lightly cover to keep warm and set aside.

Add farfalle pasta to pot of boiling water and set the timer for about 1 minute less than the package instructs (the pasta will finish in the sauce). For example our pasta package specified 9 to 10 minutes, we cooked ours for 8, until it was just barely al dente.

Return the skillet in which you cooked the chicken to the stove (no need to clean it), over medium heat. Add butter and olive oil until melted, then add garlic, garlic powder, and red pepper flakes and stir for 30 seconds until fragrant. Add flour and stir until no dry bits of flour remain. Add white wine and whisk until mostly evaporated. Add chicken broth, a splash or two at a time, whisking constantly until smooth and all of the broth has been incorporated.

Continue to whisk sauce mixture over medium heat until it starts to bubble gently and thicken, about 5 to 8 minutes.  Once it is noticeably thickened, whisk in cream. Add a splash of lemon juice and salt and pepper to taste (if you used unsalted or low sodium chicken broth, you'll probably need 1/2 teaspoon of salt or more; if your broth was on the salty side already use less). Your pasta should be just about done at this point, if not, reduce the heat on the sauce to keep it warm until the pasta is just barely al dente.

Use a large slotted spoon or colander to drain pasta and dump it straight into the saucepan with the sauce. Gently fold to coat the pasta completely with sauce, and let it finish cooking for a minute or two until the sauce is nice and thick and coats the pasta completely.

Cut chicken into bite sized pieces. Spoon pasta into serving bowls, top with chicken, chopped fresh parsley, and an ample amount of shaved parmesan cheese; serve immediately.
All images and text ©
for Love & Olive Oil.
Did you make this recipe?
Let us know what you think! Leave a Review below or share a photo and tag me on Instagram with the hashtag #loveandoliveoil.