This cake is overloaded with good stuff.
Or, more accurately, simply loaded.
I took a few liberties with Jocelyn's recipe for Mississippi Mudslide Cake from her new Grandbaby Cakes cookbook, swapping the Kahlua for bourbon, so I figured calling it a Kentucky Mudslide Cake was more appropriate.
You could also use whiskey and you'd have yourself a Tennessee Mudslide Cake.
Or some sultry spiced rum for a Jamaican Mudslide Cake.
Or…
Well, you get the point.
Basically, any booze'll do.
I may have been a little heavy handed with the bourbon, adding an entire 3 tablespoons to a half-batch of the whipped cream (sometimes my math skills get a little tipsy… totally unrelated to the recipe). Upon sharing it with our neighbor-down-the-hall, he declared that it reminded him of his Grandmother's bourbon balls.
My grandmother never made bourbon balls, but I assume that's a good thing.
There's no denying it tastes like bourbon, I'll tell you that much.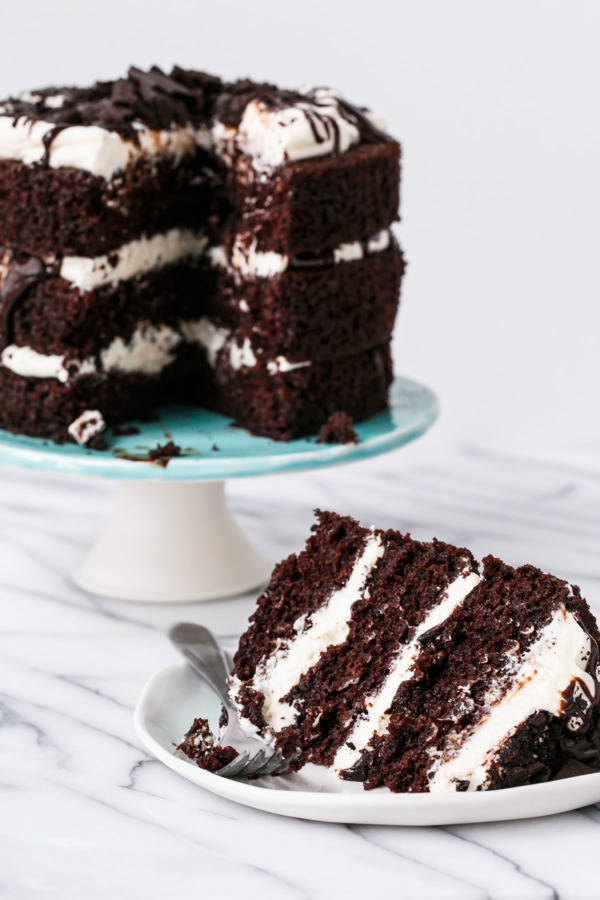 I love how easy this cake comes together. No finicky buttercream or fancy frosting skills required (as is typically the case when I bake a cake, which is probably why I don't bake them more often). But in the case of this cake, the messier the better in my opinion (oh look at that delicious, oozing ganache!)
I've printed the original full-scale recipe below, which would make a 9″ layer cake, perfect for a party. I halved the recipe and used my favorite little 6″ cake pans, since a 9″ cake for two of us is overkill.
I also made a stabilized whipped cream, thinking it would hold up a bit better to the weight of the cakes themselves. A stabilized whipped cream is basically regular whipped cream with a bit of gelatin added in. As it sets it'll firm up and hold its shape better than normal whipped cream, which makes it perfect when you need to transport the cake or it needs to hold up in warmer weather.
The only other change I made was to use chocolate wafer cookies in place of chocolate sandwich cookies, since it just happened to be what I had on hand (and I always get the side-eye from Taylor when I ever-so-sweetly ask him to run to the grocery store for a last minute ingredient).
Also, don't miss out on the great giveaway Jocelyn is hosting as well, and you could win one of 5 signed copies of her book along with a KitchenAid mixer!
Kentucky Mudslide Cake
Halve this recipe for a 6-inch round layer cake.
Ingredients:
For Cake:
2 cups granulated sugar
2 large eggs, room temperature
1 cup hot water
1/2 cup unsweetened cocoa powder
1 teaspoon instant coffee
1 teaspoon salt
2 1/2 cups sifted all-purpose flour
2 teaspoons baking soda
1 teaspoon baking powder
1 cup vegetable oil
1 cup buttermilk, room temperature
1 tablespoon vanilla extract
For Filling:
1/2 teaspoon gelatin
2 cups heavy cream, cold
1/2 cup confectioners sugar
4-5 tablespoons bourbon, to taste
For Ganache:
6 ounces chopped semisweet chocolate
1/2 cup heavy cream, room temperature
For Garnish:
1 cup chopped or crumbled chocolate wafer or sandwich cookies
Directions:
Preheat oven to 350 degrees F. Line the bottoms of 3 9-inch round cake pans with parchment paper; butter parchment and sides of pan.
In a large mixing bowl or the bowl of a stand mixer fitted with a whisk attachment, beat sugar and eggs on high speed for 2 to 3 minutes until lightened in color.
Combine the hot water, cocoa powder, instant coffee, and salt; stir to combine. With mixer on low speed, slowly pour into mixer bowl. Continue to mix on low speed until incorporated.
Add flour, baking soda, and baking powder and mix on low speed until just incorporated. Mix in oil, buttermilk, and vanilla, scraping down the sides of the bowl as necessary. Do not overmix. The batter will be quite thin.
Divide batter among prepared pans. Bake for 22 to 25 minutes or until a toothpick inserted near the center comes out clean.
Let cool on wire racks. If necessary, run a thin metal knife around the edges of the pans to loosen, then invert onto wire racks. Cakes should come out cleanly. Let cool completely. At this point you can wrap cakes in plastic wrap and seal inside zip-top bags, store in the freezer overnight or until ready to use (frozen cakes will be easier to assemble).
To prepare whipped cream, fill a small dish with 2 tablespoons cold water. Sprinkle over gelatin and let sit for 5 minutes to soften. Microwave for 5 seconds to melt, stirring gently to smooth out any chunks, then set aside to cool.
In a cold metal mixing bowl, whip cream on high speed until frothy. Add sugar and cooled gelatin and continue to whisk until cream holds soft peaks. Add bourbon to taste and whisk until cream holds stiff peaks. Refrigerate until ready to use.
To prepare ganache, combine chopped chocolate and cream in a microwave-safe bowl. Microwave on half power for 15 seconds at a time, stirring well after each interval. Continue to microwave until chocolate is just melted; the residual heat of the mixture should be enough to melt it completely. Let cool until slightly thickened but still pourable. If your ganache is on the thick side, whisk in a tablespoon or two of butter, cut into small cubes, to thin out the ganache as desired.
To assemble, place one layer on a cake stand or serving plate. Top with 1/3 of whipped cream, spreading to within 3/4″ of the edge (it will squeeze out when you add the other layers). Drizzle with 1/3 of ganache, and sprinkle with crumbled cookies. Repeat with second and third layers, finishing with the remaining whipped cream, ganache, and crushed cookies. Refrigerate until ready to serve. Cake is best enjoyed the same day it is assembled, but will keep, covered in the refrigerator, for up to 3 days.
Did you make this recipe?
Let us know what you think!
Leave a Comment below or share a photo and tag me on Instagram with the hashtag #loveandoliveoil.