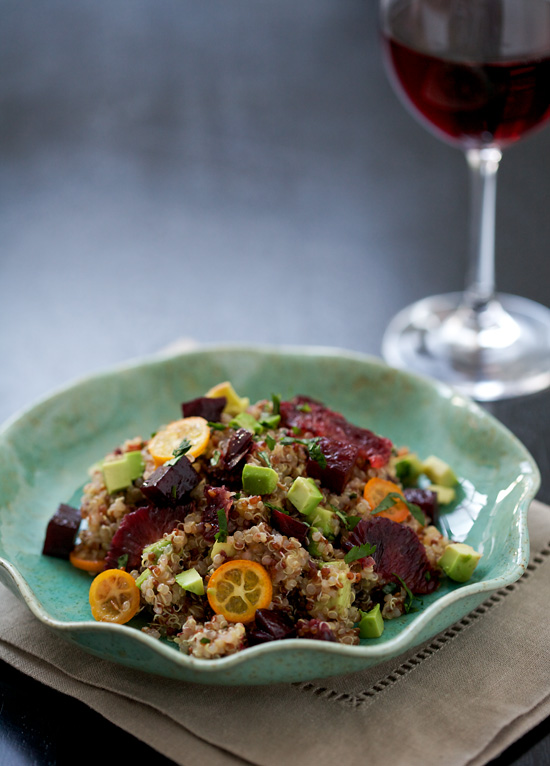 So here I sit, gazing at this pretty picture, remembering all the shiny happy flavors of this dish, and can't think of a darned thing to say about it.
Kumquats.
I can say that.
It sounds dirty. But it's not. So I can say it.
I've never had kumquats before. Sure, I've seen them. Wondered about them. And have, until now, been too cheap to buy them.
But when this recipe popped up, and I just so happened to have a bowl of beautiful blood oranges (thanks, BJ!) waiting to be turned into something fabulous, I did my best to ignore the $4.99 per tiny box pricetag and bought them anyway.
Kumquats.
Sour little suckers is all I have to say. These bitter little buggers would give sour patch kids a run for their money, without the assistance of palette puckering chemicals and whatever else they throw in the mix.
But paired with the sweet beets and blood oranges, the creamy avocado, and the delicate quinoa, they come together in a medley of flavors that play off of each other so perfectly, balance so beautifully, you will find your lips smiling instead of puckering.
It's a beautiful thing.
Beet, Blood Orange, Kumquat, and Quinoa Salad
Ingredients:
Dressing:
1/4 cup finely chopped green onions
2 teaspoons grated blood orange rind
1 teaspoon grated lemon or lime rind
2 tablespoons blood orange juice
1 tablespoon fresh lemon or lime juice
2 teaspoons finely chopped cilantro
1/4 teaspoon salt
1/4 teaspoon ground coriander
1/4 teaspoon ground cumin
1/4 teaspoon paprika
3 tablespoons extra-virgin olive oil
Salad:
1 cup uncooked quinoa
1 3/4 cups water
1/2 teaspoon salt, divided
1 cup blood orange sections, chopped (about 4 medium)
1 cup diced peeled avocado
6 whole kumquats, seeded and sliced
2 medium beets, cooked and cut into wedges
Directions:
To prepare dressing, combine first 10 ingredients in a medium bowl, stirring with a whisk. Gradually add oil, stirring constantly with a whisk. Set aside.
To prepare salad, place quinoa in a fine sieve, and place sieve in a large bowl. Cover quinoa with water. Using your hands, rub grains together for 30 seconds; rinse and drain. Repeat procedure twice. Drain well.
Combine 1 3/4 cups water, quinoa, and 1/4 teaspoon salt in a medium saucepan; bring to a boil. Cover, reduce heat, and simmer for 10 minutes or until liquid is absorbed. Remove from heat; fluff with a fork. Combine quinoa, remaining 1/4 teaspoon salt, blood orange sections, avocado, and kumquats in a large bowl, tossing gently to combine. Add dressing; toss gently to coat salad. Spoon 1 cup salad onto each of 4 plates; top each serving with about 1/2 cup beets.
Did you make this recipe?
Let us know what you think!
Leave a Comment below or share a photo and tag me on Instagram with the hashtag #loveandoliveoil.