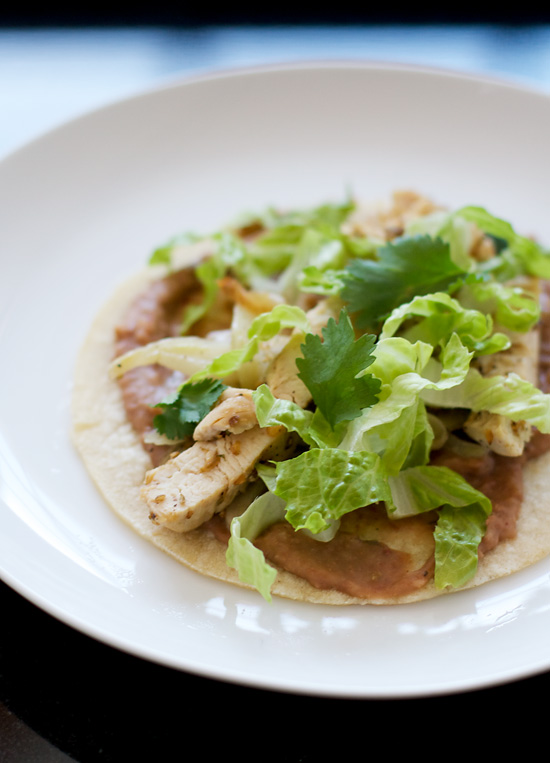 Am I the only one that thinks coriander tastes like fruit loops? Or, more likely, the fruitiness of coriander is used as a primary flavoring in the cereal of my youth (in combination with a number of other, not so natural flavorings I'm sure). I swear, every time I'm grinding up a batch of the spice it's like déjà vu, which is probably why coriander is one of my all-time favorite spices.
Take this recipe for example: you might as well be eating fruit loop crusted chicken, without all the sugar. And dyes. And preservatives. And probably a heck of a lot healthier too.
The combination of the fruity and fragrantly spiced chicken, rich caramelized fennel, and the hearty white bean mixture makes for a unique meal. It's an unexpected pairing of flavors and textures that just works. We left off the radishes because, well, after that episode last summer with the contaminated daikon, we just haven't had any taste for them. No loss there.
Something else I've learned about myself and life in general: tostadas are silly. They are impossible to eat. You end up breaking the flat shell into pieces and eating the dish like it was a plate of nachos. So not cool. So while chicken tostadas might sound exotic, I may suggest using tortillas or taco shells instead. That's what we did the 2nd time we made this. Much more practical. And I'm all about practical.
Coriander Chicken Tostadas with Refried Beans and Grilled Fennel
Ingredients:
2 15-ounce cans pinto beans (preferably organic), liquid drained and reserved
1/2 cup chopped white onion
2 tablespoons dried oregano
2 garlic cloves, peeled
2 teaspoons minced canned chipotle chiles in adobo
1 teaspoon ground cumin
1 tablespoon extra-virgin olive oil
Coarse kosher salt
1 large fresh fennel bulb, trimmed, cut through core into 1/3-inch-thick slices (some slices will separate)
6 tablespoons safflower oil, divided
4 skinless boneless chicken breast halves
1/3 cup coriander seeds (about 1 ounce), coarsely crushed in plastic bag
6 purchased corn tostada shells (or soft corn tortillas lightly pan fried in oil)
3 cups thinly sliced romaine lettuce
6 radishes, trimmed, thinly sliced (optional)
6 fresh cilantro sprigs
Lime wedges
Directions:
To prepare beans:
Place beans, onion, oregano, garlic, chiles, and cumin in processor; blend to chunky puree.
Heat oil in heavy large saucepan over medium heat. Add bean mixture and 1/2 cup reserved bean liquid. Stir over medium-low heat until warmed through, adding more bean liquid if dry, about 5 minutes. Season with coarse salt and freshly ground black pepper. (Can be made 1 day ahead. Cover; chill. Rewarm before using.)
To prepare topping:
Brush fennel slices with 11/2 tablespoons oil; sprinkle with salt and pepper. Heat heavy large skillet over medium-high heat. Add fennel slices. Sear until lightly browned and crisp-tender, 2 to 3 minutes per side. Transfer to plate. Cut into strips. Reserve skillet.
Using rolling pin or a meat mallet, flatten chicken between sheets of plastic wrap to 1/4- to 1/3-inch-thick cutlets. Spread out coriander seeds on sheet of foil. Sprinkle chicken with salt and pepper; coat with coriander seeds.
Heat 4 1/2 tablespoons oil in reserved skillet over medium-high heat. Working in batches, if necessary, add chicken to skillet. Sauté until cooked through, about 3 minutes per side. Transfer to work surface. Cool 5 minutes. Cut chicken in half lengthwise, then crosswise into 1/3-inch-wide strips.
To assemble: top each tostada shell with beans, lettuce, radishes, fennel, chicken, and cilantro sprig. Serve with lime wedges.
Did you make this recipe?
Let us know what you think!
Leave a Comment below or share a photo and tag me on Instagram with the hashtag #loveandoliveoil.