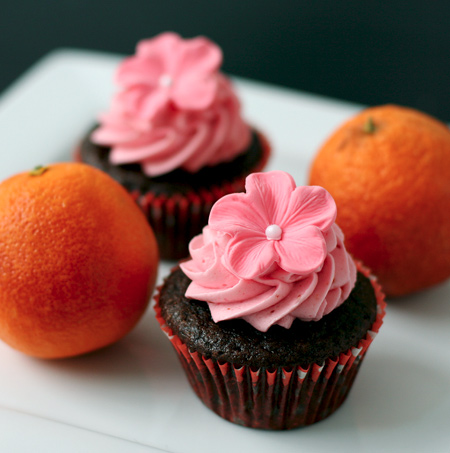 The Cupcake Hero theme for February is olive oil. After I heard it, I figured it would be absolutely ridiculous if I did NOT enter. You know, seeing as this blog's name and header is practically and ode to the stuff.
I was slightly worried, replacing the typical canola oil with olive oil in this chocolate cupcake recipe. I wanted to buy light olive oil (as I've heard it makes a good substitute for canola), but alas, Trader Joe's doesn't carry it, and I didn't want to make another stop for one measly thing. So pure it is. In the hierarchy of olive oils, there is extra virgin, which has the strongest flavor, followed by pure, and then light. I have a feeling there are probably some olive oil experts among us who could enlighten us as to the reason for these differences, and I'm not going to try to bs my way through an explanation.
All things considered I probably should have done a second batch of these with canola oil to compare. The chocolate is a strong flavor, and the orange is a very strong flavor, and as a result I couldn't really taste if the swapping out of the oil made any difference whatsoever. So if the challenge was to create a cupcake that highlighted the flavor of olive oil, I clearly failed; however, if it was merely to use olive oil in a divine cupcake concoction, well, then I have done my job.
I am a big fan of blood oranges. Not regular oranges, I'll never sit down and just eat one. But blood oranges… they are different. When they appear for a few short weeks in the middle of winter, I'll jump at the opportunity to make just about everything I possibly can with them. But I had yet to make them into cupcakes. I figured it was about damn time.
And because I've found that nothing is quite as satisfying as a chocolate cupcake (sorry vanilla), the chocolate blood orange cupcake was born. The sunset hued buttercream and the chocolate cake spiked with orange zest were a perfect match. Like they were made for each other.
Olive oil or not, these cupcakes are delicious. Unique and delicious. And you should totally vote for them in the Cupcake Hero battle for February. Voting ends February 21st so snap to it! :)
Chocolate Olive Oil and Blood Orange Cupcakes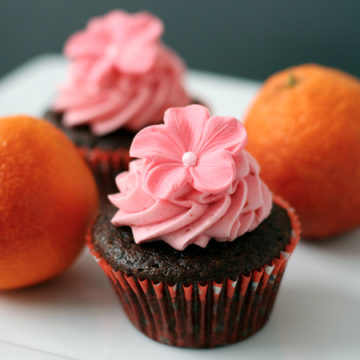 Ingredients:
1 cup coconut milk
1/3 cup pure olive oil
1 teaspoon vanilla extract
1 teaspoon blood orange zest, finely grated
3/4 cup sugar
1 cup all-purpose flour
1 tablespoon almond meal
1/3 cup cocoa powder
3/4 teaspoon baking soda
1/2 teaspoon baking powder
1/4 teaspoon salt
For Frosting:
1/2 cup butter or margarine, room temperature
2-3 cups confectioners' sugar
1/2 teaspoon vanilla extract
3 tablespoons blood orange juice
1 teaspoon blood orange zest, finely grated
1-2 tablespoons soy creamer or heavy cream (as needed)
Directions:
Preheat oven to 350 degrees F. Line muffin pan with paper liners.
Whisk together the coconut milk, sugar, oil, vanilla extract, and zest until incorporated. In a separate bowl, sift together the flour, almond meal, cocoa powder, baking soda, baking powder, and salt. Make a well in the center of dry ingredients and pour in coconut milk mixture. Stir until just smooth (do not overmix).
Pour into liners, filling each with 3 tablespoons of batter (cups should be no more than 2/3 full). Bake 18-20 minutes (or 10-12 for minis), or until a toothpick inserted into the center comes out clean. Transfer to a cooling rack and let cool completely.
For frosting, cream butter until smooth and fluffy, 2-3 minutes. Add 1 cup powdered sugar and beat until combined. Mix in orange juice, zest, and vanilla. Continue adding sugar, 1/2 cup at a time, mixing well after each addition (depending on the temperature of your butter, you may need more or less sugar or added cream to achieve the proper consistency). Continue beating until light and fluffy, about 3-5 minutes. Spread or pipe onto cooled cupcakes.
Did you make this recipe?
Let us know what you think!
Leave a Comment below or share a photo and tag me on Instagram with the hashtag #loveandoliveoil.