Coconut lovers, this one's for you: these toasted coconut sugar cookies are soft, chewy, and coconutty to the max, packed with a triple dose of coconut flavor (in the form of coconut oil, coconut extract, and shredded coconut to finish it off).
These superbly soft coconut sugar cookies come together in a jiffy, with near-instant satisfaction, no chilling required (and you don't even need an electric mixer, either!)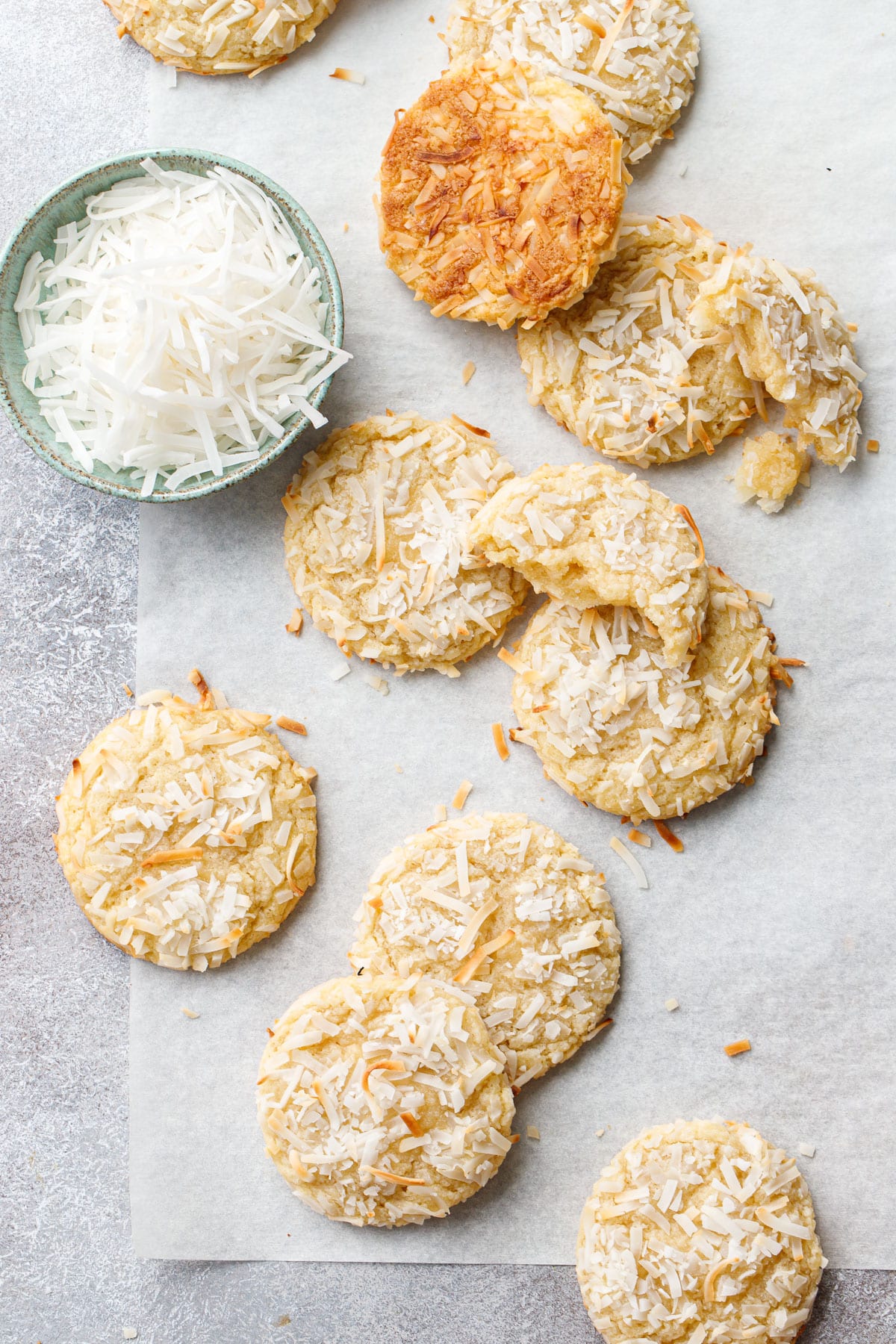 This recipe was created in partnership with Amoretti (use coupon code LOVEANDOLIVEOILFREESHIP for free shipping on your order!) All opinions expressed here are my own.
I'll admit that when I first heard that Amoretti's July flavor of the month was coconut, I was a bit stumped.
Coconut desserts have never been my favorite (the fact I accidentally just typed 'coconot' instead of 'coconut' just then is proof of that fact). I love coconut in savory applications (like coconut shrimp and red curry), but in sweet ones? Normally I'd say no thank you and move on to something chocolate.
But these cookies, y'all. These cookies seriously surprised me, with a sweet and satisfying coconut flavor that was more than enjoyable even for a coconut-skeptic like myself. They're soft and chewy on the inside with a delicate crunch on the outside.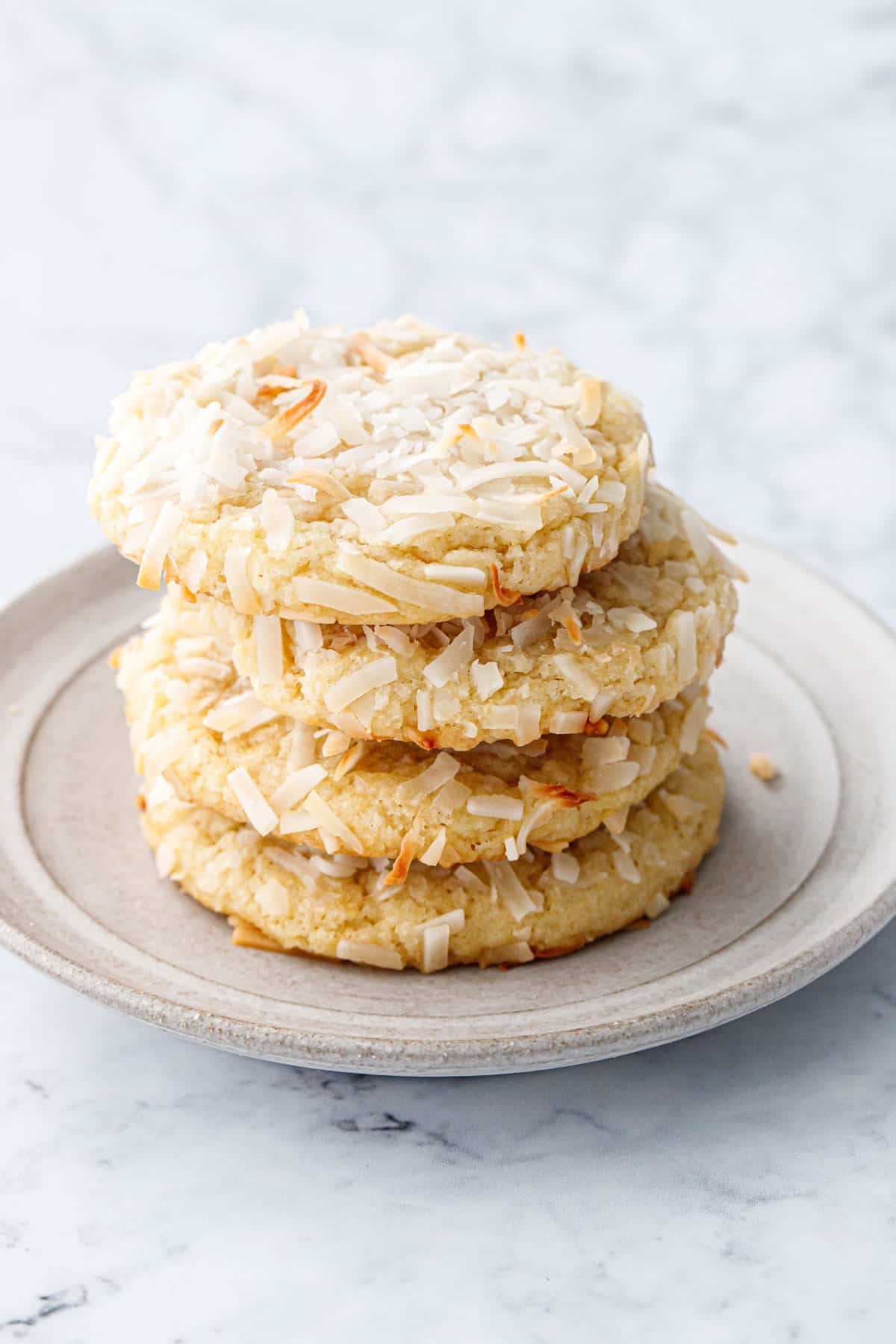 This wouldn't be a cookie I'd have willingly chosen in the past; I'd rather have chocolate or caramel or peanut butter over coconut any day. So the fact that I devoured 3 of them before they had even cooled… should tell you a lot about just how good they are.
Could it be that coconut is a lot like lemon in that I'm coming to appreciate it more and more as I get older? I'll have to continue to explore the wide world of coconut desserts to know for sure.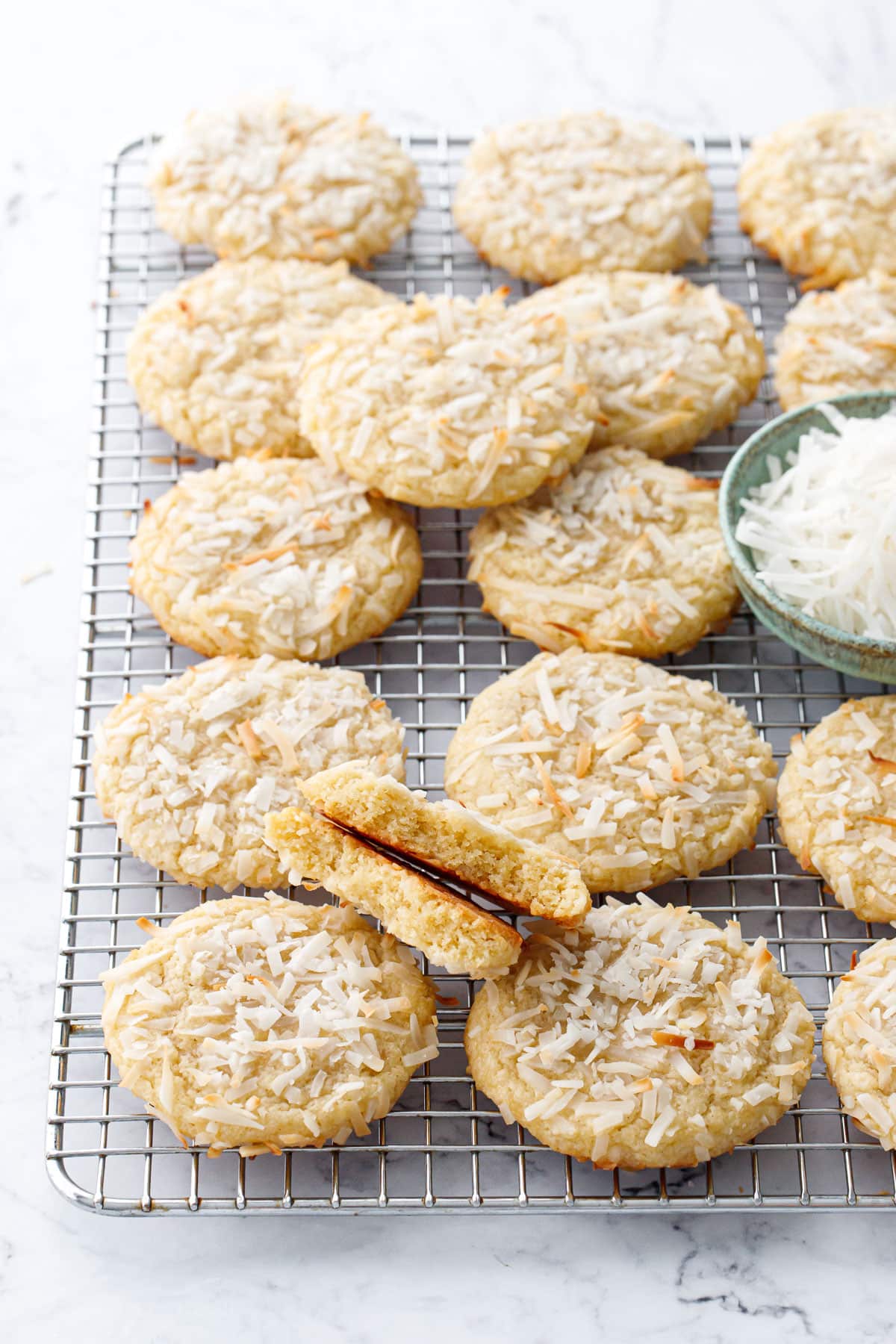 The coconut flavor in these cookies robust yet nuanced, incorporated into the cookies in 3 ways: coconut oil (which also makes the cookies even softer), toasted coconut extract (a surprising new favorite of ours from Amoretti), and then rolled in shredded coconut for the perfect finish. A triple threat of coconut goodness, if you will.
In a cookie recipe like this, coconut oil and shredded coconut alone aren't enough to give you a prominent coconut flavor in the final baked cookie. And it's not like you can add a whole bunch of coconut milk to amp up the flavor (we're not making pancakes here!)
Instead, coconut extract is the key to maximizing the coconut flavor without adversely affecting the texture of the cookie (and let's be honest, texture is just as important as flavor when it comes to the best cookie recipes).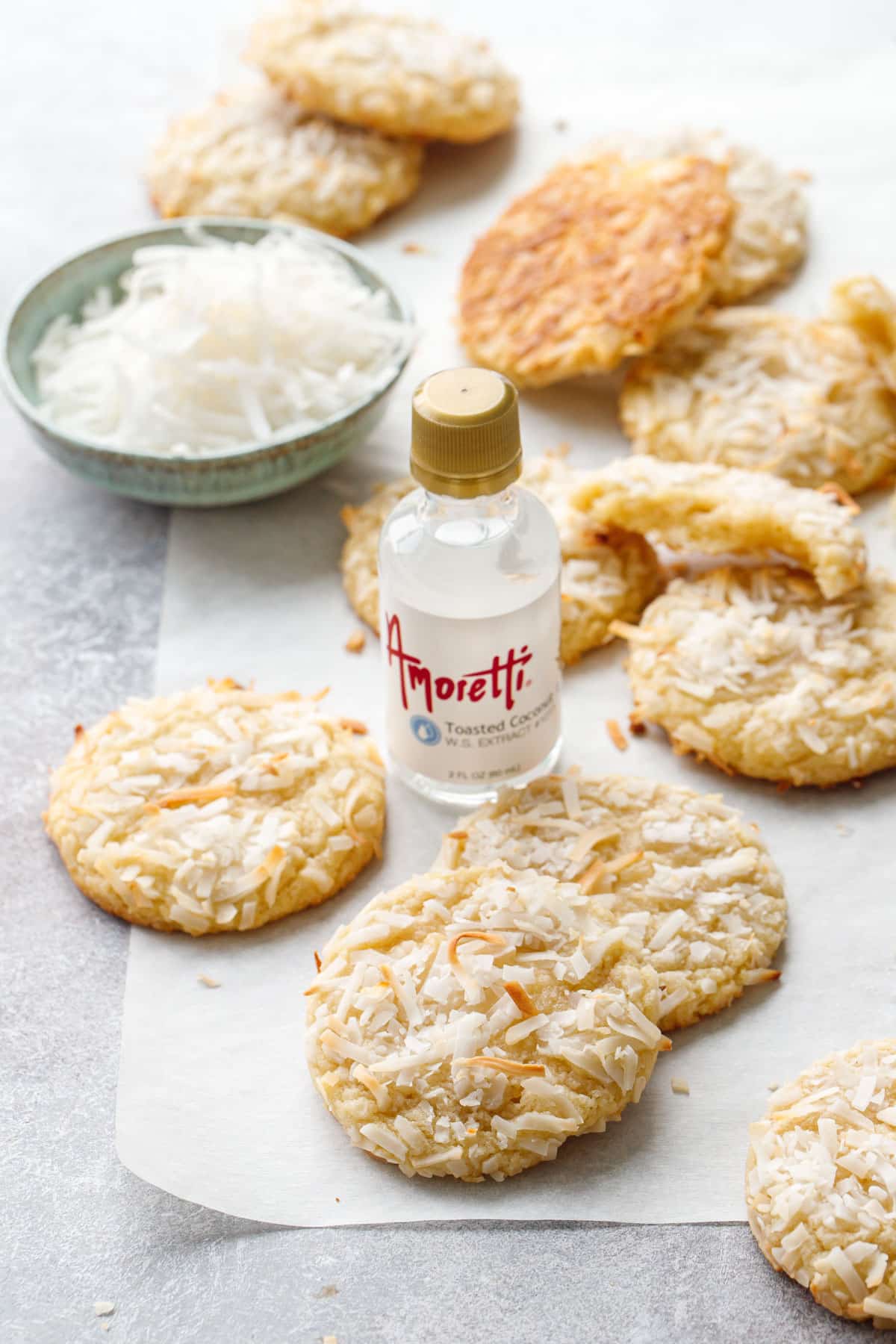 Amoretti's toasted coconut extract is part of what makes these coconut cookies so sumptuous, they wouldn't be nearly as good without it.
Made from real coconut, this extract has a lovely buttery and nutty coconut flavor. It's not harsh, bitter, or soapy (I know some people think cilantro tastes like soap, but for me coconut often does).
I think the fact that it's toasted coconut extract (keyword being toasted) makes it that much better—the toasty, nutty flavors are much more pleasing than fresh coconut. It's like the difference between a slice of pale, floppy white bread and a perfectly crisp, golden brown piece of toast slathered with butter. In my mind there's no contest.
This unique sugar cookie preparation method is loosely based on an America's Test Kitchen's recipe, which uses cream cheese plus melted butter and oil to achieve a particularly soft and succulent cookie.
I've made riffs on this base recipe numerous times now, and found the butter doesn't need to be fully melted, softened butter works just as well. We also swapped the neutral vegetable oil for coconut oil, because it's a coconut cookie so, why not? The more coconut the better, I say!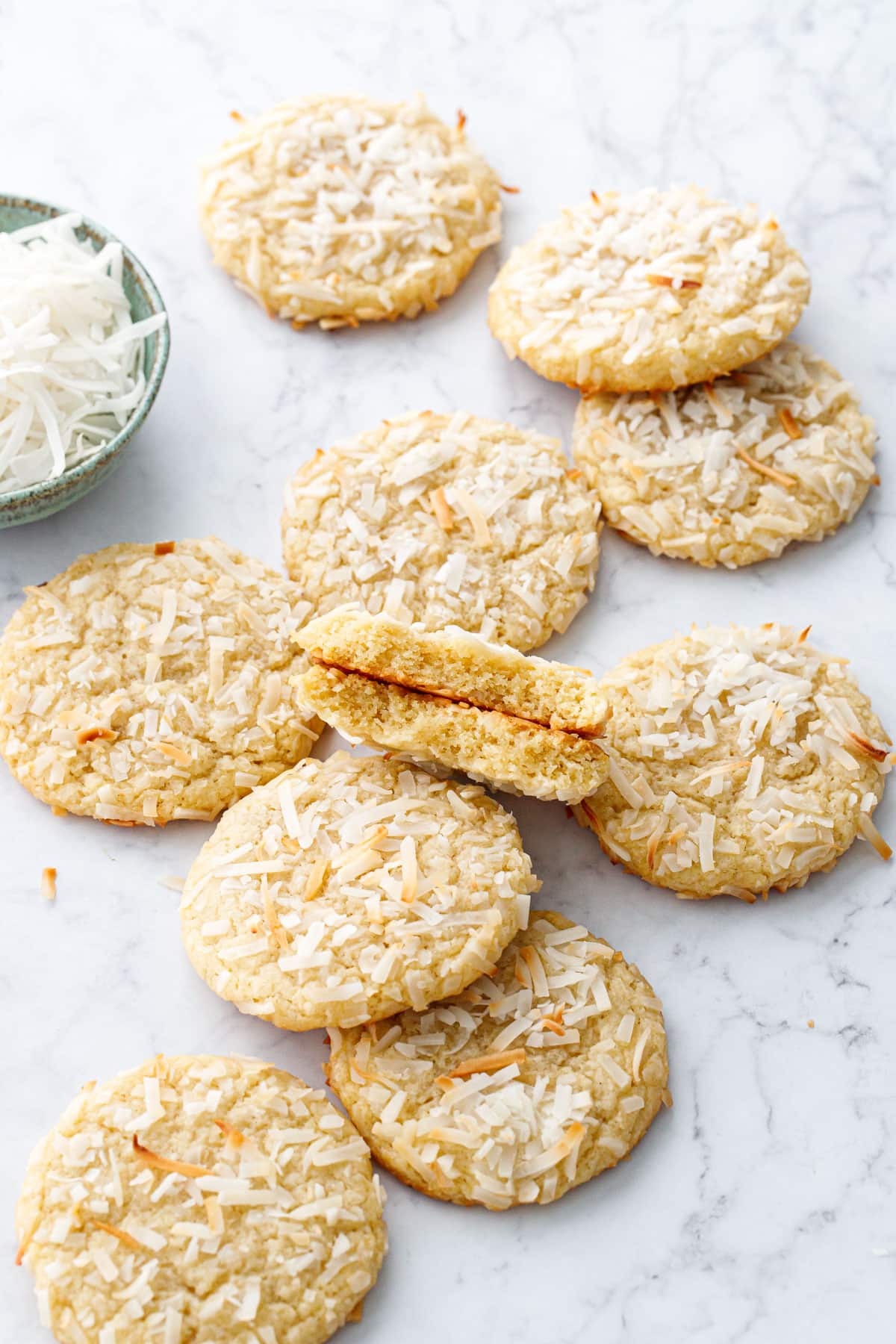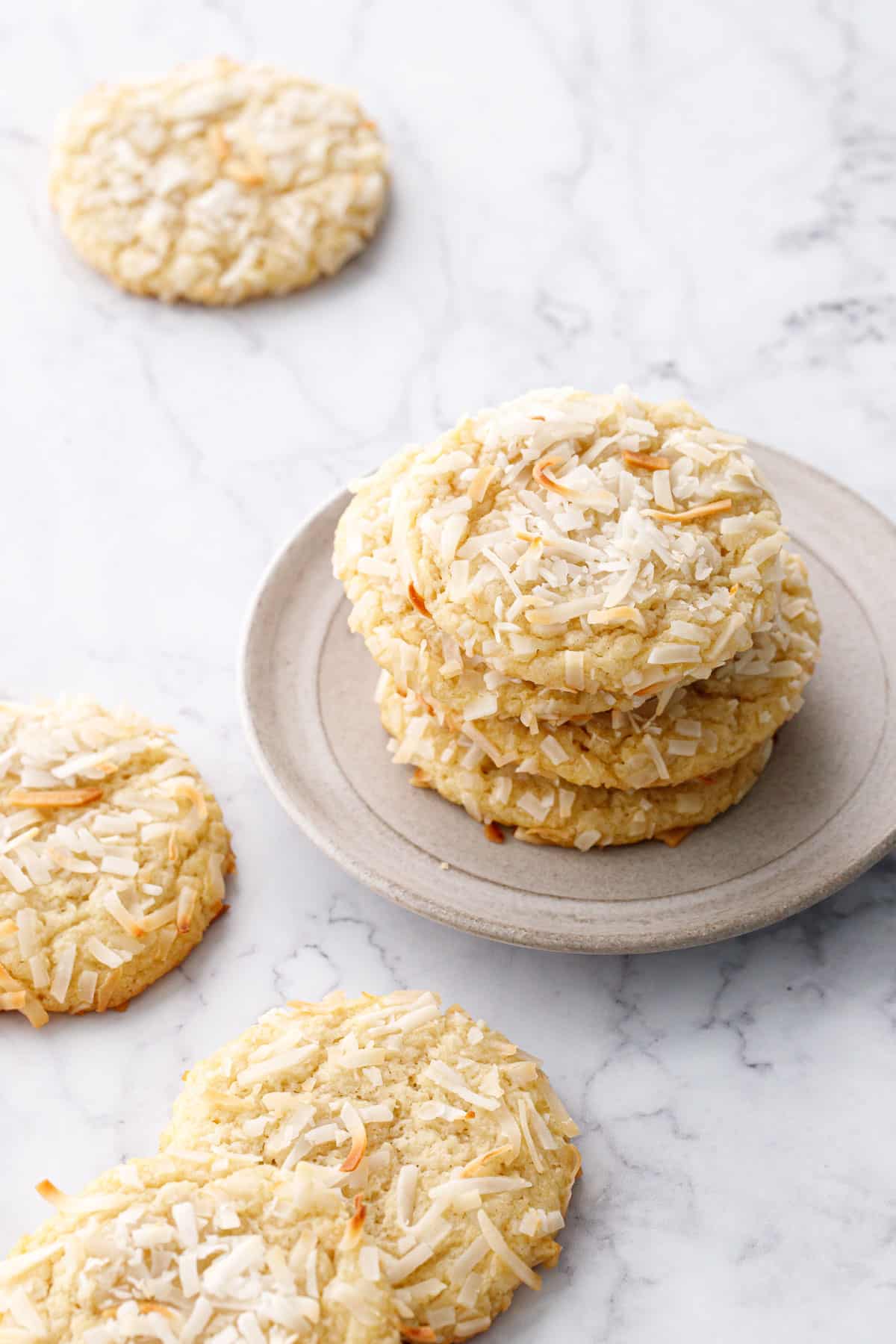 Read the Room (Temperature)
Room temperature butter and softened butter are not the same thing, believe it or not.
If a recipe calls for room temperature butter, that actually means cool room temperature, 65-68 degrees or so; it should still feel cool to the touch and only indent slightly when pressed with your finger.
Softened butter, however, is more like 75-80 degrees (so room temperature in summer), and should be very soft to the touch, your finger should easily sink into it. And yes, you can stick a probe thermometer in your butter if you're unsure!
In the warmer months, I let my butter sit out for no more than 30 minutes for room temperature butter, slightly longer in the winter. For softened butter, it's more like an hour. You can also soften the butter in short, 10 second increments in the microwave at 50% power (it's almost impossible to get soft butter in the wintertime without some assistance).
The coconut oil should also be at warm room temperature (I store my coconut oil in the cabinet so it's usually ready to go). The oil should be warm enough to pour out of the jar (rather than scoop). This is easy to achieve in the height of summer, but in the winter you may need to nuke it for a few seconds.
Same for the cream cheese: it must be very soft in order to incorporate smoothly into the dough without any lumps.
Save yourself some hassle and get the cream cheese, coconut oil, butter and eggs out at least an hour before you start baking and you should be good to go!
No Mixer Required!
With sufficiently soft butter, oil, and cream cheese, you don't even need an electric mixer to make these cookies! Simply use a rubber spatula or wooden spoon to smoosh the fats with the sugars to form a smooth paste with no visible lumps; then mix in in the egg and extracts, and fold in the dry ingredients.
That said, you can still use a mixer if you'd like, just keep it low and slow until the ingredients are blended. No need to fully cream this cookie dough like many other recipes.
Once the dough is fully mixed, let it sit for about 15 minutes. It does not need to be chilled, but letting it sit just a little bit will make the dough easier to work with.
The dough itself is very soft, and slightly oily so it shouldn't stick to your hands even being as soft as it is. Shape the dough into round balls, then slightly flatten between the palms of your hands to make a puck-like shape. These cookies don't spread out quite as much as other kinds, so the slightly flattened ball helps it spread into a more even shape.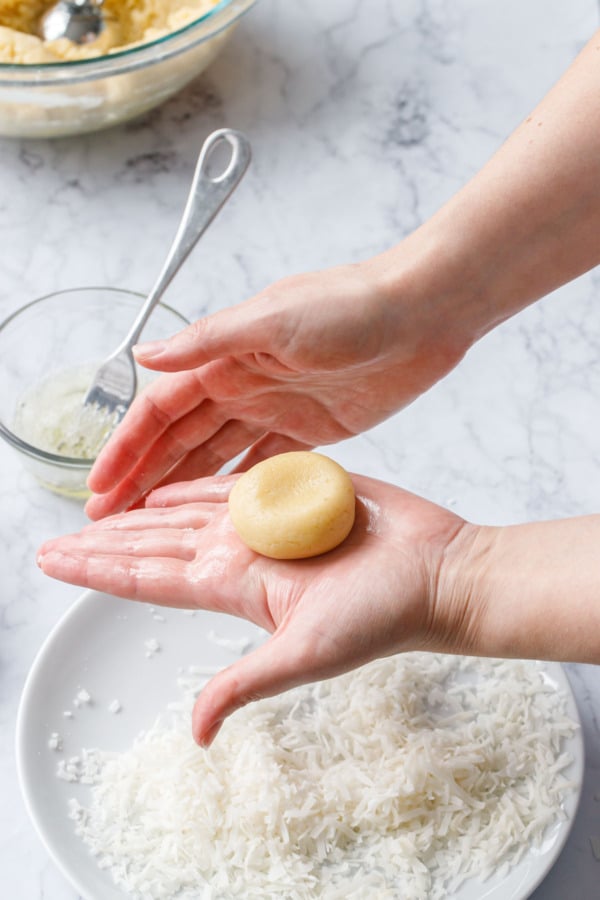 A Sticky Situation
The first time I made these, I found the shredded coconut didn't stick to the dough very well, since the dough is definitely on the oily side. While it baked up nicely, the coconut fell off easily and made a huge mess when you tried to eat them.
To remedy this issue, I dipped the dough balls in lightly beaten egg white before coating in coconut. The egg white serves as glue, keeping the coconut stuck to the cookie dough ball and the final baked cookie.
Bonus: the extra egg yolk in the dough (didn't want to waste it, after all!) makes these cookies extra rich and chewy.
As far as what kind of coconut works best, I tested both shredded and desiccated (both unsweetened) coconut. Either works here. I loved the unobtrusive texture of the desiccated coconut (shredded coconut can be somewhat tough and chewy), however appearance-wise it looked a bit like it was rolled in panko breadcrumbs (lol), which is why I went with shreds for the final photos.
If you do use shredded coconut, smaller shreds are better. I recommend giving it a quick pulse or two in a food processor to break up the bigger shreds into smaller pieces that will make for a more even coating on the outside of the cookies.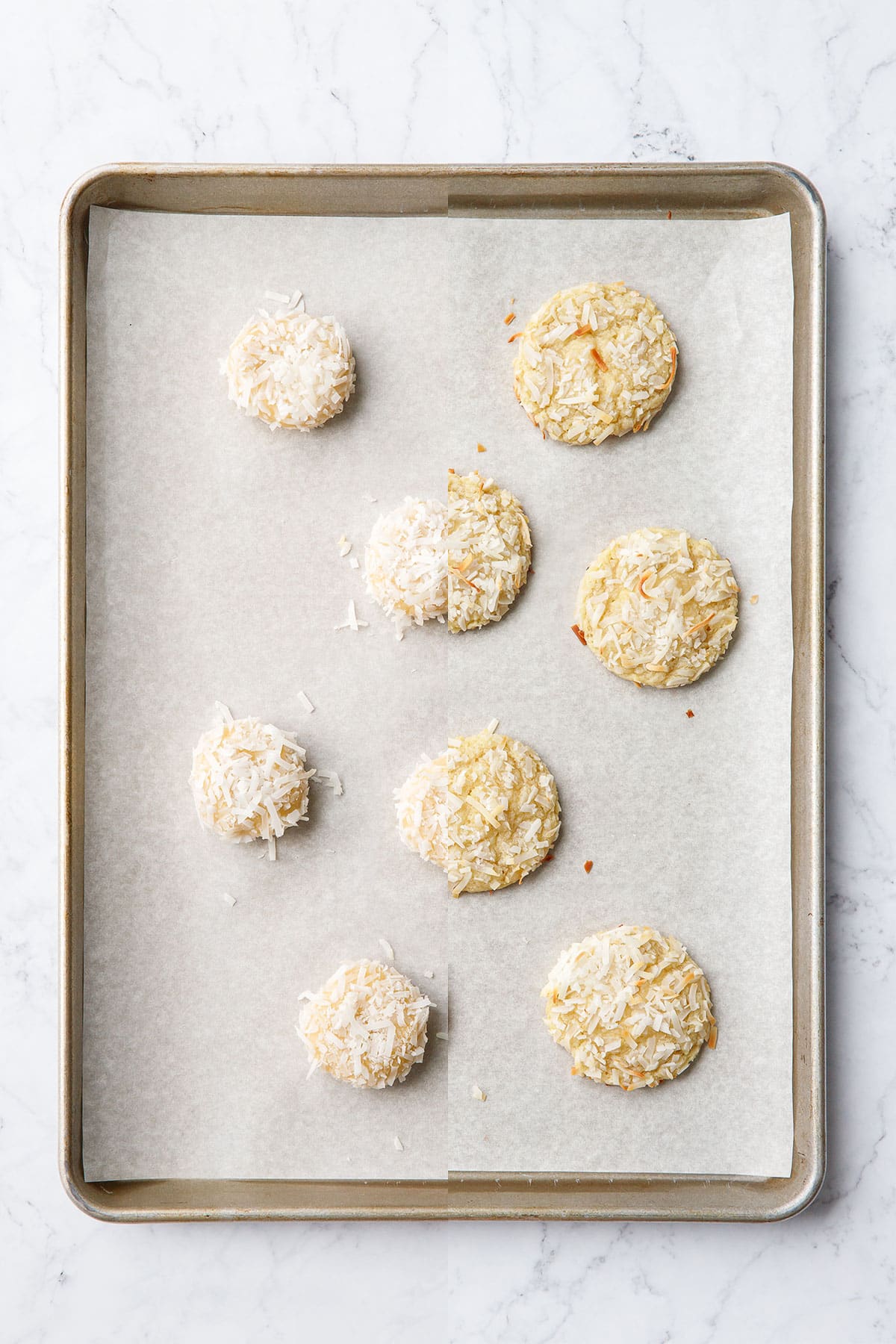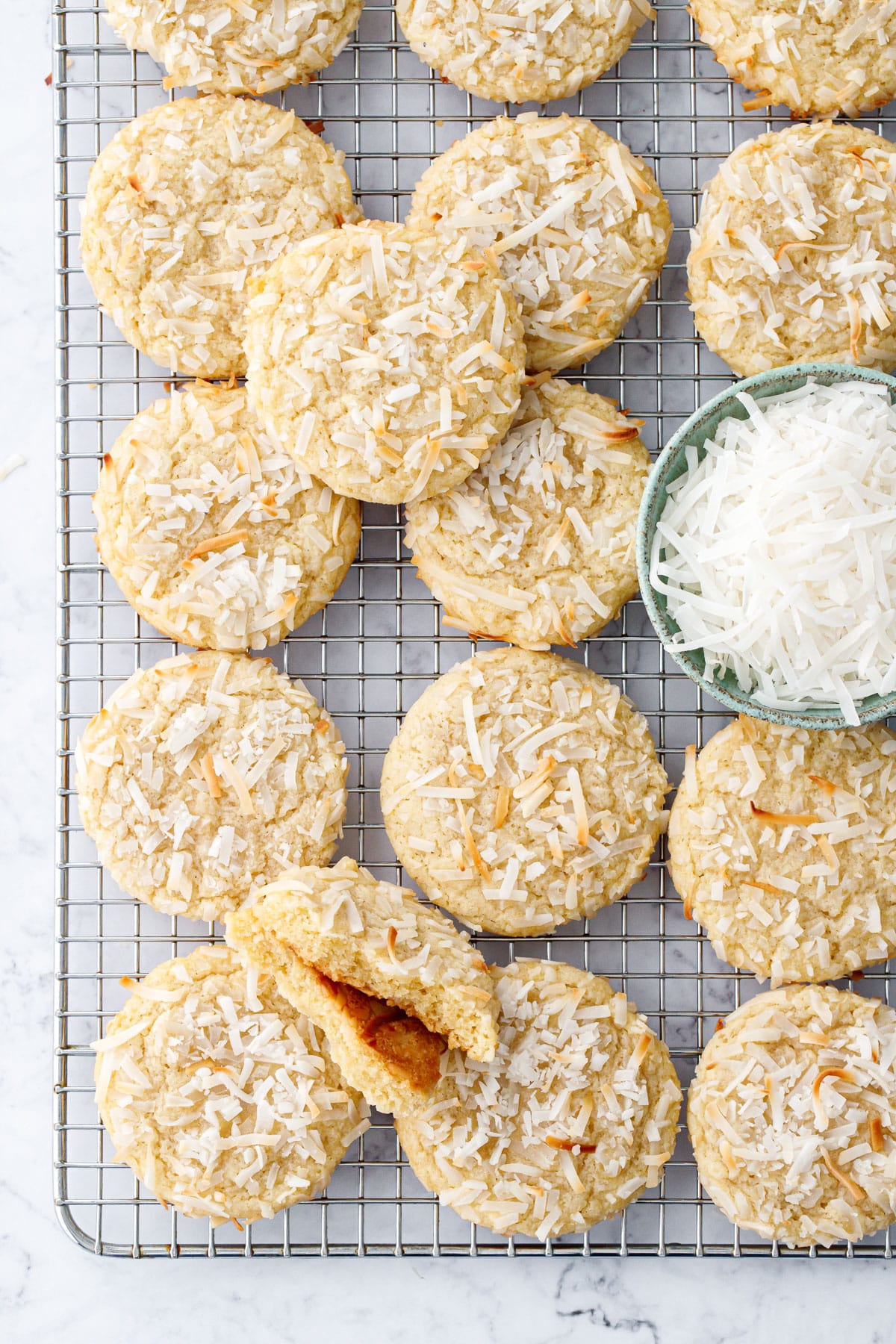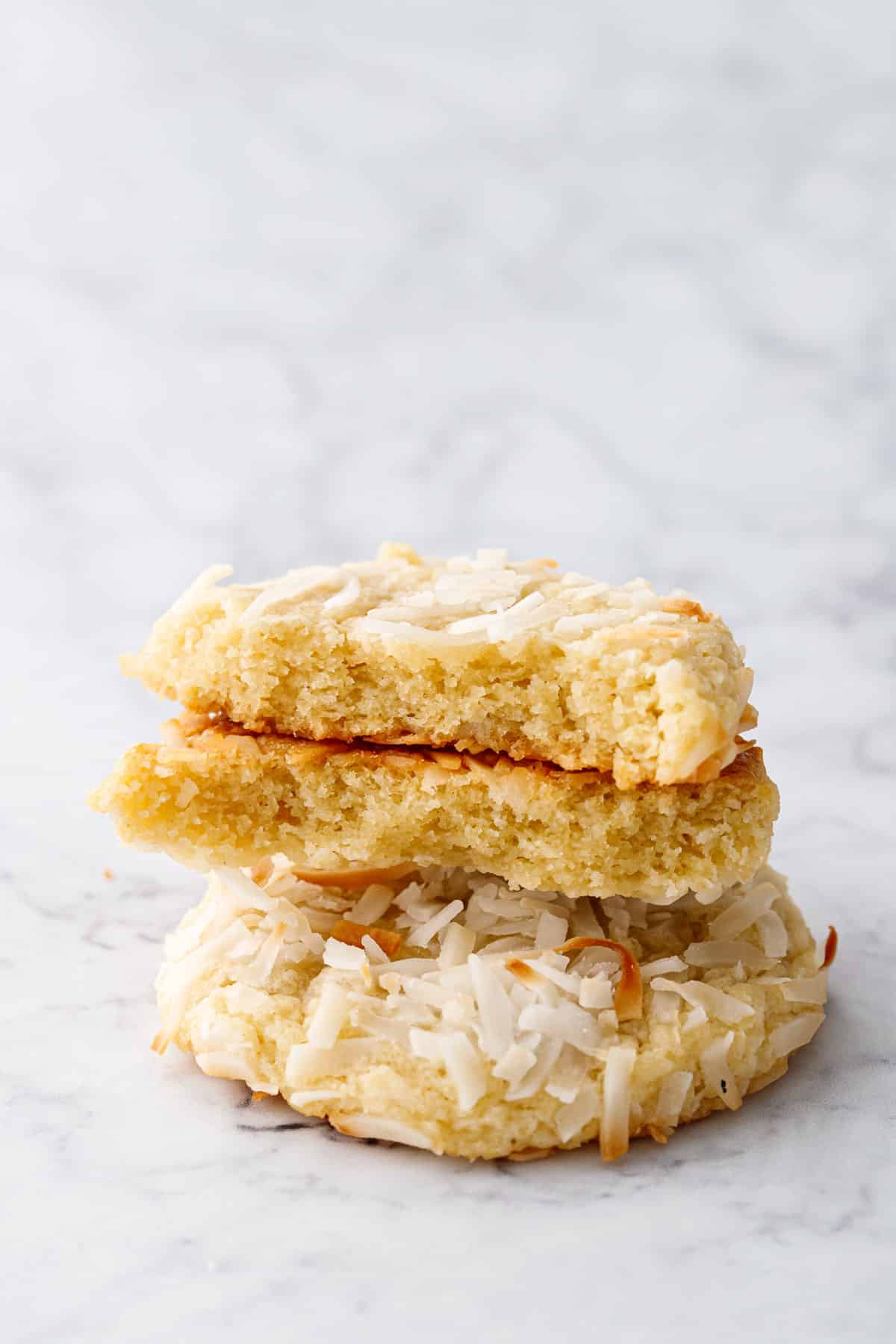 Ingredient Notes & Substitutions
Coconut Oil: You can use vegetable oil or light olive oil in place of the coconut oil in this recipe. I do not recommend using all oil (it needs the mix of butter and oil otherwise the cookies will be far too oily), but you can use a non-dairy butter substitute as well as a non dairy cream cheese for dairy free cookies.
Shredded coconut: the cookies are coated in shredded coconut, but desiccated coconut works well too. If your shreds are particularly large, I recommend pulsing it once or twice in the food processor to break them up a bit.
I used unsweetened coconut, but sweetened will work in a pinch (sugar cookies are normally rolled in an extra layer of sugar anyway so the extra sweetness will be just fine).
You can skip the coconut coating entirely if you want, just roll the cookies in a bit of granulated sugar instead (no need for the egg white in this case, the sugar will stick just fine to the oily dough).
Coconut extract: This recipe was written specifically for Amoretti's Toasted Coconut Extract. Other brands may have different strengths, so the amount you need may vary. Leaving out the coconut extract won't affect the consistency or appearance of the final cookie, but will result in a much more mild coconut flavor.
Cream cheese: the stabilizers in cream cheese produces a particularly soft and chewy cookie that stays softer longer (like magic!) You can also use mascarpone or goat cheese (I've made goat cheese sugar cookies before and they are actually surprisingly good), or a cream cheese replacement if you're looking to make it dairy free.
Sugar: this recipe calls for both white and brown sugar (the brown sugar helps the cookies stay softer longer), but you can use all white sugar if you want (equal amounts by weight). I do not recommend reducing the sugar in this recipe, which will result in drier cookies that don't spread as much (they'll be more ball-shaped and puffier).
Flour: A few tablespoons of flour makes a huge difference in this the appearance of the cookies, so I highly recommend weighing your flour to ensure you don't overmeasure. If your cookies are spreading too much, you can chill the dough for 15 minutes, or add a tablespoon or two of flour. (Note I have not tested this recipe with gluten-free flour substitutes so I cannot say whether they'll work or not).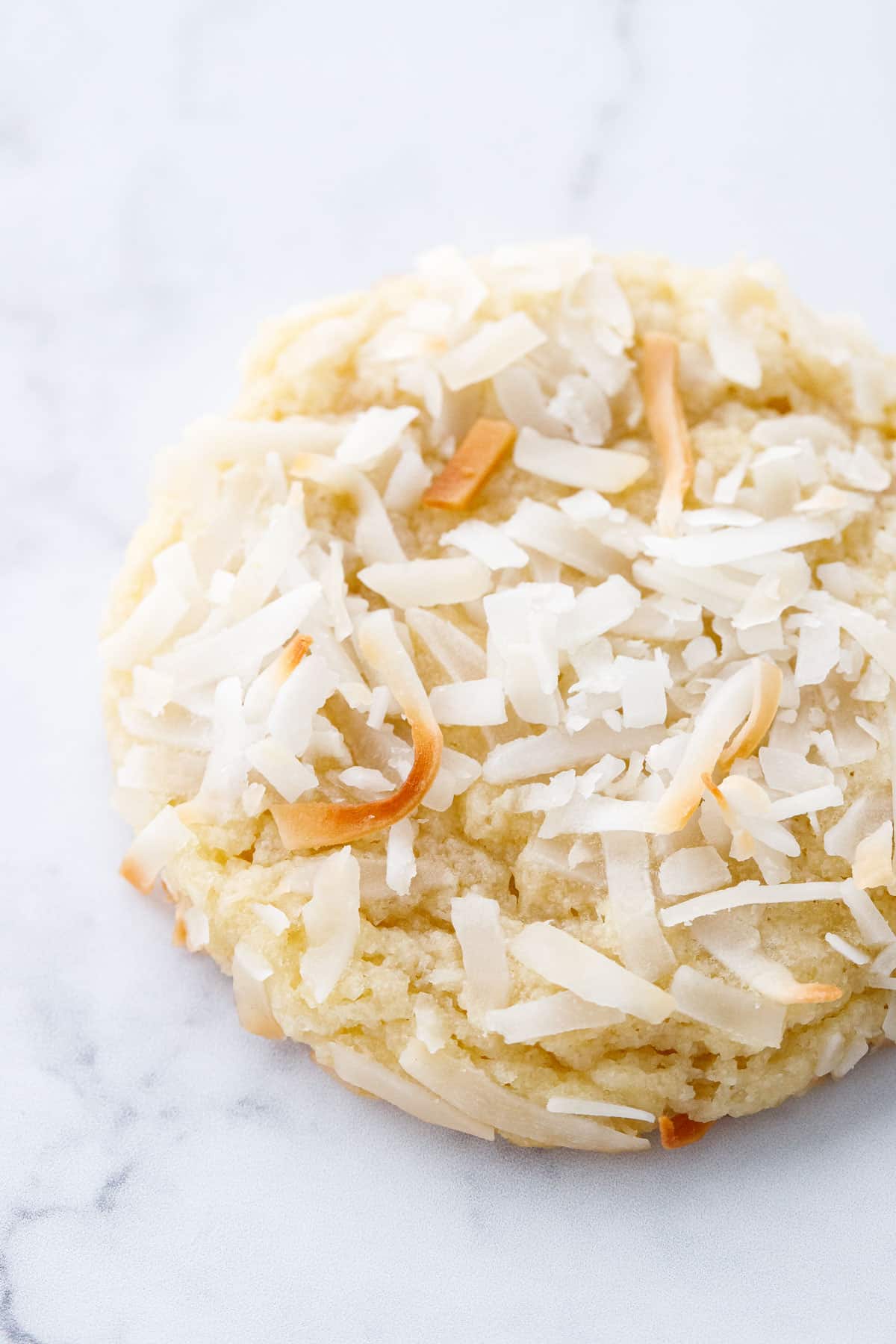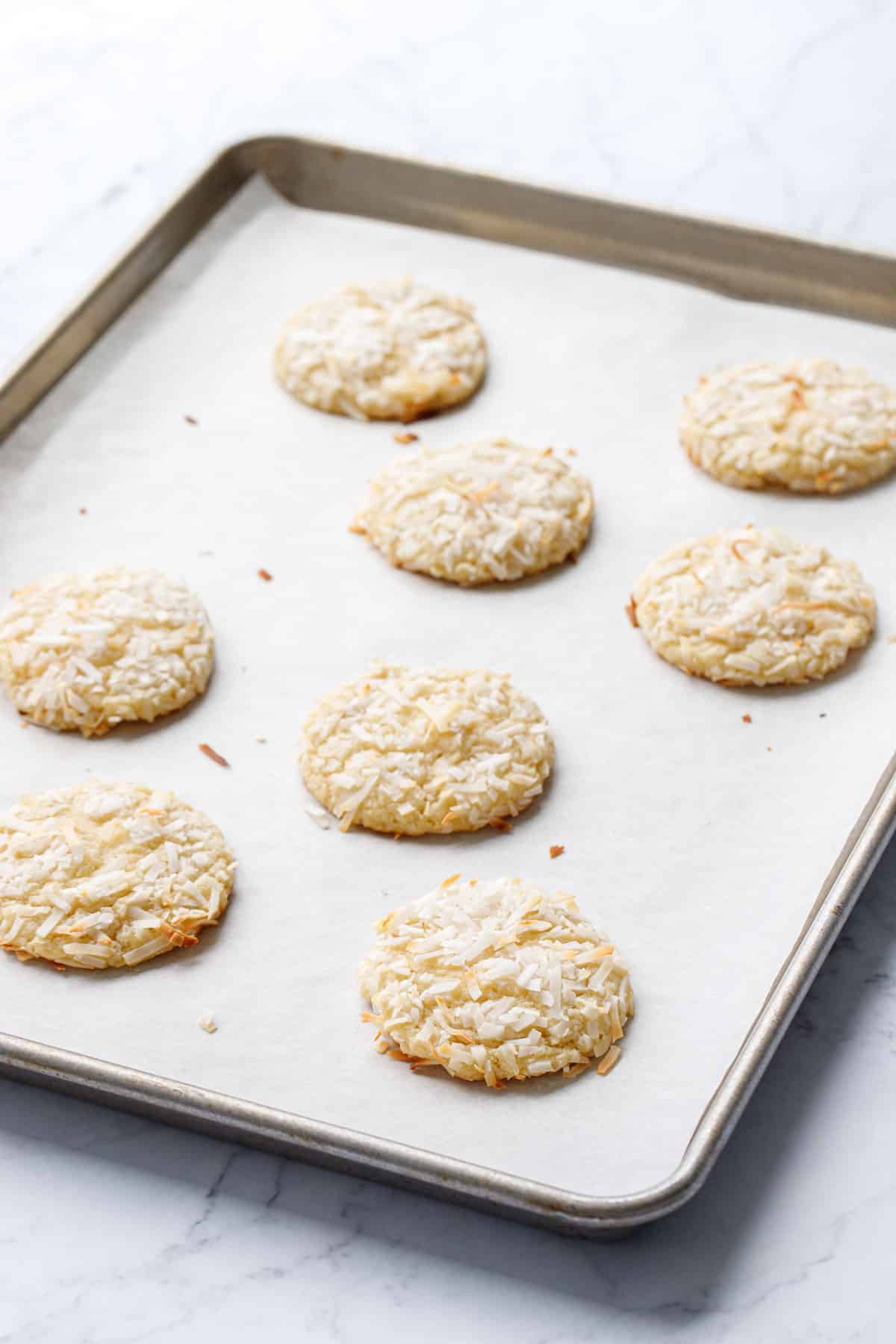 Freezing & Storage
As with many other sugar cookie recipes, the cookies do tend to dry out more quickly than, say, a brown-sugar heavy recipe like a chocolate chip cookie. To keep them fresher longer, store in an airtight container in the fridge for up to 5 days. I find they retain their chewiness much better when stored in the fridge instead of at room temperature (even in an airtight container).
If you're wanting to freeze these cookies, I prefer to bake them first and then freeze the baked cookies in a zip top bag. They'll keep their wonderful chewy texture (let them come to room temperature for 20 minutes or so before eating).
You can freeze unbaked balls of dough (shape and roll them in coconut and then freeze), however cookies baked from frozen will look quite a bit different in the end. I also recommend baking frozen cookie dough for longer at a lower temperature for a more evenly baked cookie. Try 325 degrees For 15-18 minutes or so.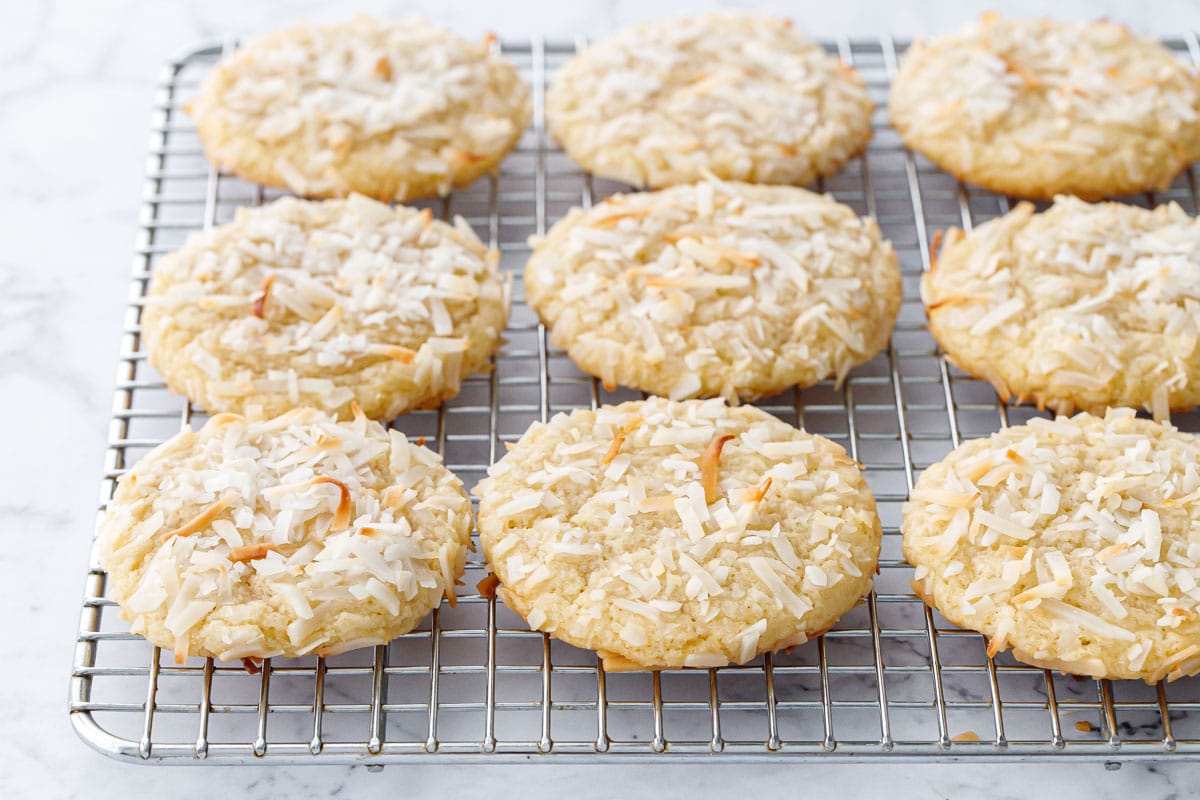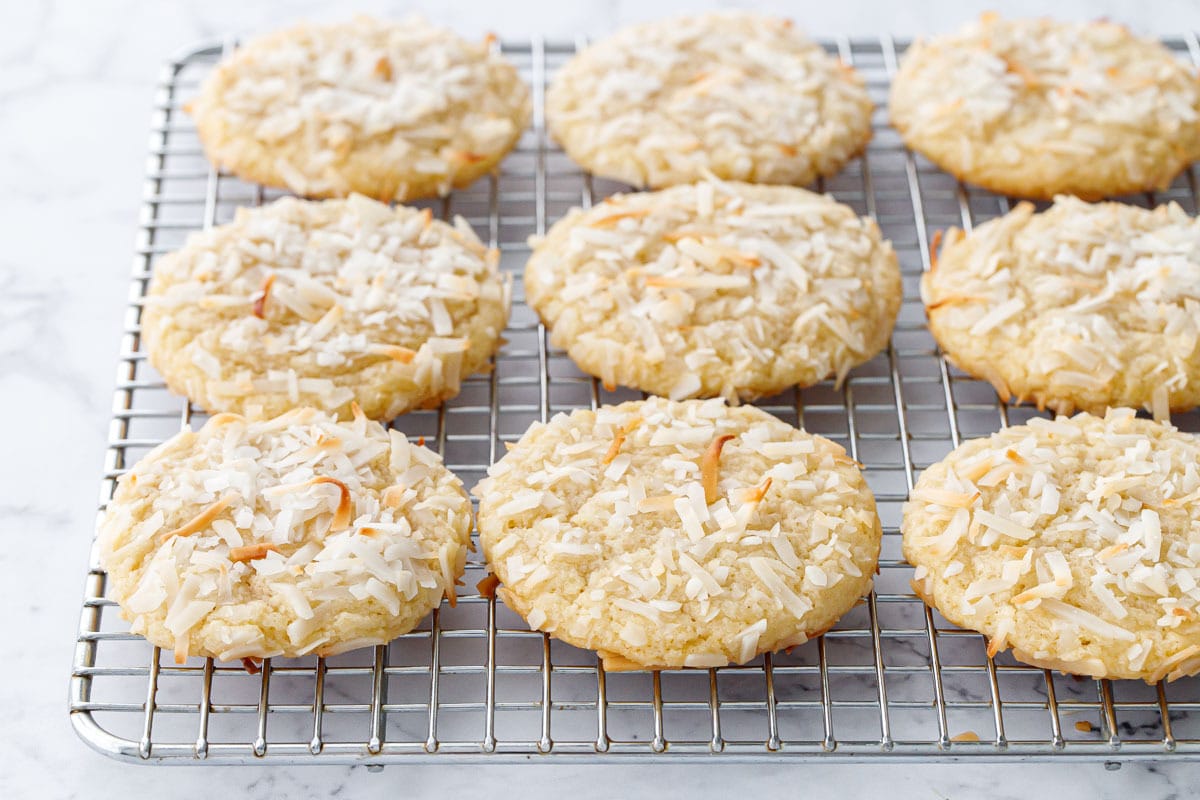 Toasted Coconut Sugar Cookies
These toasted coconut sugar cookies are soft, chewy, and coconutty to the max, packed a triple dose of coconut flavor.
Ingredients
2 ½

cups

/

310

g

all-purpose flour

1

teaspoon

baking powder

½

teaspoon

baking soda

½

teaspoon

fine sea salt

6

tablespoons

/

85

g

unsalted butter

,

softened

⅓

cup

/

80

g

coconut oil

,

at room temperature (it should be almost pourable)

¼

cup

/

56

g

cream cheese

,

softened

1 ⅓

cups

/

266

g

granulated sugar

3

tablespoons

/

40

g

light brown sugar

2

large eggs

,

at room temperature

1

teaspoon

Amoretti Toasted Coconut extract

½

teaspoon

vanilla extract

1

cup

/

120

g

unsweetened shredded or desiccated coconut
Instructions
Preheat oven to 350 degrees F. Line two baking sheets with parchment paper.

In a bowl, whisk together flour, baking powder, baking soda and salt and set aside.

In a another bowl, combine softened cream cheese, softened butter, coconut oil, sugar and brown sugar. Stir with a spatula until it forms a smooth paste.

Add one egg and one egg yolk (save the egg white in a small bowl and set aside). Add coconut and vanilla extracts and stir until smooth and completely incorporated.

Add dry ingredients and fold until just incorporated and no streaks of flour remain. The dough will be soft and slightly oily feeling (but it shouldn't stick to your hands). Let the dough sit for 15 minutes to firm up slightly.

In a bowl, whisk reserved egg white with a teaspoon of water until lightly frothy.

Place shredded coconut in a bowl or shallow dish. If your shredded coconut is particularly coarse with big shreds, I recommend pulsing it once or twice in a food processor to make smaller pieces.

Use a medium cookie scoop to scoop dough into 1 1/4-inch balls (approximately 34g of dough each), then press each piece to form a slightly flattened ball.

Gently dip in egg white, using a fork or spoon to flip and coat both sides. Remove, letting any excess egg white drip off, then place in dish with coconut. Mound coconut over dough ball, coating both sides and edges.

Transfer to prepared cookie sheet. Repeat with remaining dough, leaving about 2 inches of space between cookies on the cookie sheet.

Bake for 11-13 minutes or until tops are puffed and bottoms are golden brown. Give the sheet a good rap on the oven rack before you take it out of the oven to knock out any air (this produces more evenly flat cookies). You can also swirl a round cookie cutter around the outer edges of the warm cookies to tighten up the shapes.

Let cool on baking sheet for 10 minutes, then transfer to a wire rack to cool completely. Cookies are best enjoyed within a day or two, but will keep in an airtight container in the refrigerator for up to 5 days, or sealed in a bag in the freezer for up to 2 months.
All images and text ©
for Love & Olive Oil.
Did you make this recipe?
Let us know what you think! Leave a Review below or share a photo and tag me on Instagram with the hashtag #loveandoliveoil.
Disclosure: This post was created in partnership with Amoretti. As always, all opinions written are purely our own. We're incredibly grateful for opportunities like these that allow us to continue sharing delicious recipes with you, so thank you for supporting us and the brands we love.