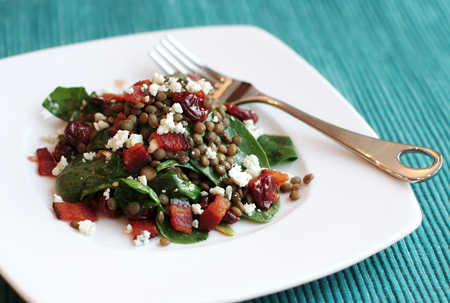 What a wonderful dish. You may think a lentil salad is nothing to get excited about. But you haven't tried this lentil salad. Paired with the pungent blue cheese, crispy bacon, and slightly sweet dressing, this salad would satisfy even those manly men who feel a salad isn't a complete meal unless it's topped with a 12oz steak. There's no arguing that lentils are protein filled, with even MORE protein per serving than beef (tell that to your manly man), not to mention much kinder to your arteries. They are also much more nutritious, with plenty of calcium, iron, magnesium, and fiber. Dare you to get those kind of statistics out of a slab of beef.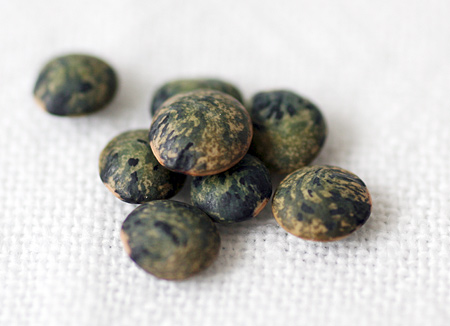 If you can, it's well worth the extra time spent to seek out the elusive French Green (Puy) Lentil. Up until now, we've usually just taken the easy way out and bought the basic brown lentils available at the regular grocery. And they are fine. But once you've had the French Green Lentil (which we found in the bulk section of whole foods), you may never go back.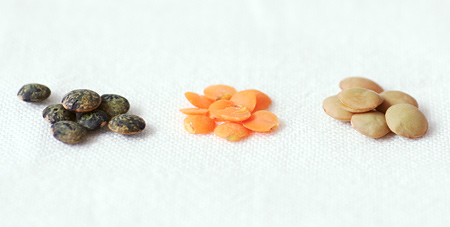 The green lentils, unlike the brown ones (right), hold their shape and firmness even after cooking, making for a much more enjoyable, and less mushy texture. If you can't find green lentils, brown ones will do. You'll still get all the same flavors in this salad, just with a slightly different texture. Just don't substitute red lentils (center) which are much quicker to cook. Save these gems for a delicious and hearty lentil soup.
Spinach and Lentil Salad with Blue Cheese and Tart Cherry Vinaigrette
Makes 6 first-course servings. Recipe from Epicurious.
Ingredients:
3/4 cup green lentils
7 tablespoons red-wine vinegar
8 bacon slices (about 6 ounces)
1/4 cup olive oil
1/3 cup finely chopped shallot
1/4 cup water
1/2 cup dried unsweetened tart cherries (about 3 ounces)
2 tablespoons sugar
3 1/2 cups baby or regular spinach leaves
1/3 cup blue cheese (about 2 ounces)
Directions:
In a heavy saucepan cover lentils with water by 2 inches and simmer until just tender but not falling apart, about 15 minutes. Drain lentils well in a sieve. Rinse lentils under cold running water to stop cooking and drain well. In a bowl toss lentils with 2 tablespoons vinegar and salt and pepper to taste. (Lentils may be made 2 days ahead and chilled, covered. Bring lentils to room temperature before proceeding.)
In a skillet cook bacon over moderate heat until crisp and with tongs transfer to paper towels to drain. Crumble bacon.
In cleaned saucepan heat 2 tablespoons oil over moderate heat until hot but not smoking and cook shallot, stirring, until golden brown. Stir in water, cherries, sugar, and remaining 5 tablespoons vinegar and simmer, stirring occasionally, until liquid is reduced by about half, about 10 minutes. Reduce heat to low and whisk in remaining 2 tablespoons oil in a slow stream until emulsified. Season vinaigrette with salt and pepper.
Add half of vinaigrette to lentils and toss well. In another bowl toss spinach with half of lentil mixture, half of bacon, half of cheese, remaining vinaigrette, and salt and pepper to taste.
Divide remaining lentil mixture among 6 plates and top with spinach mixture. Sprinkle salads with remaining bacon and cheese.
Did you make this recipe?
Let us know what you think!
Leave a Comment below or share a photo and tag me on Instagram with the hashtag #loveandoliveoil.