This simple and summery cucumber salad features a bold herb vinaigrette, briny feta cheese, spicy red onions, and pretty edible flowers to top it all off.
In case you're sick of pickles but your garden keeps churning out the cukes like there's no tomorrow… this quick and easy lettuce-less salad is a great way to use up at least a few of them.
I may or may not have harbored a slight fixation with edible flowers this past spring, which lead me to fill my patio container garden with edible blooms in addition to my typical herbs. I meandered up and down the aisles of the nursery, phone in hand, googling various flora and fauna to see if they were in fact edible. While they didn't have the chamomile flowers I was so hoping to find, I did end up with marigolds, borage (which I've grown and used before), and these gorgeous purple and white dianthus.
Needless to say, I was looking for an excuse to use some of my home-grown flowers in a recipe before the blooms withered in the summer heat, and this recipe is the result. Does it matter where the inspiration came from if the outcome is this delicious? I say not.
While I love that the purple and white of the dianthus matches the colors of the salad, I think marigold petals, with their peppery bite, would work equally well in this dish, as would arugula or radish flowers, or even herb flowers like chives or oregano (while I typically try to keep my herbs from flowering, when they do bolt I always try to put the flowers to good use).
Regardless of its origins, this recipe is perfect in its simplicity. While the recipe itself isn't all that different from our always-popular tomato cucumber salad, we made the dressing a little bit different by adding an assortment of fresh herbs in addition to the olive oil and red wine vinegar.
We blended the herbs with the dressing in a food processor for a nicely uniform texture, however if you don't have (or don't want to dirty) a food processor you could always just toss some finely chopped herbs in with the cucumbers and other ingredients.
Feel free to mix up the herbs used, as long as you have about 1/2 cup or so in total you can use whatever fresh herbs you happen to have on hand. I used mostly basil and parsley, with a bit of fresh oregano and one or two lemon verbena leaves thrown in for good measure.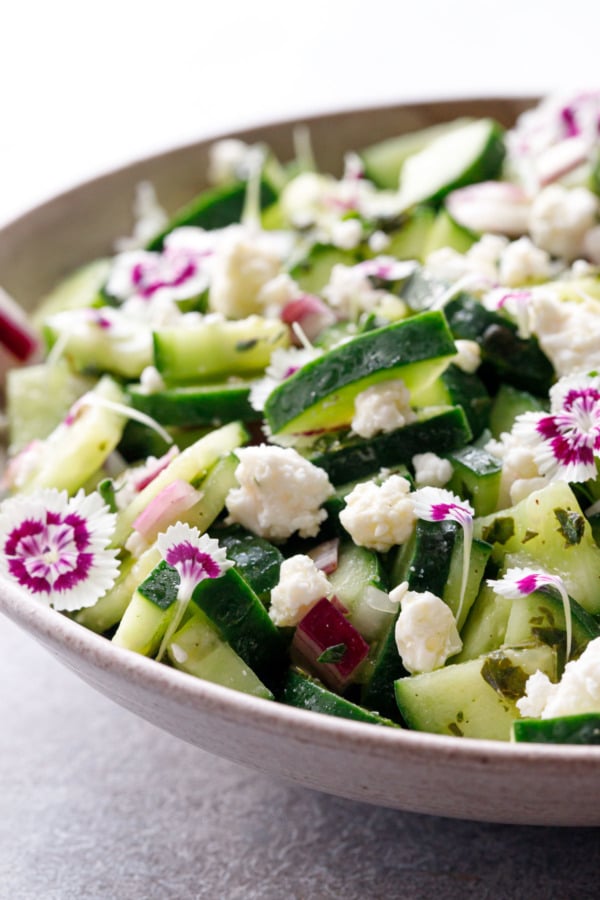 Let's talk cucumbers, because while you don't usually think of many different varieties of cucumber, the fact of the matter is there are more than you might realize.
The typical seedless or English cucumber that you find plastic-wrapped in the grocery would work best here, with its thin skin and seedless flesh. As would the petite Persian cucumbers.
If you have more of the pickling type cucumbers, which have thicker skins and seeds, it's up to you whether you want that extra texture in your salad (I find it lovely, actually), otherwise you can opt to peel the cucumber and scoop out the seedy core before slicing.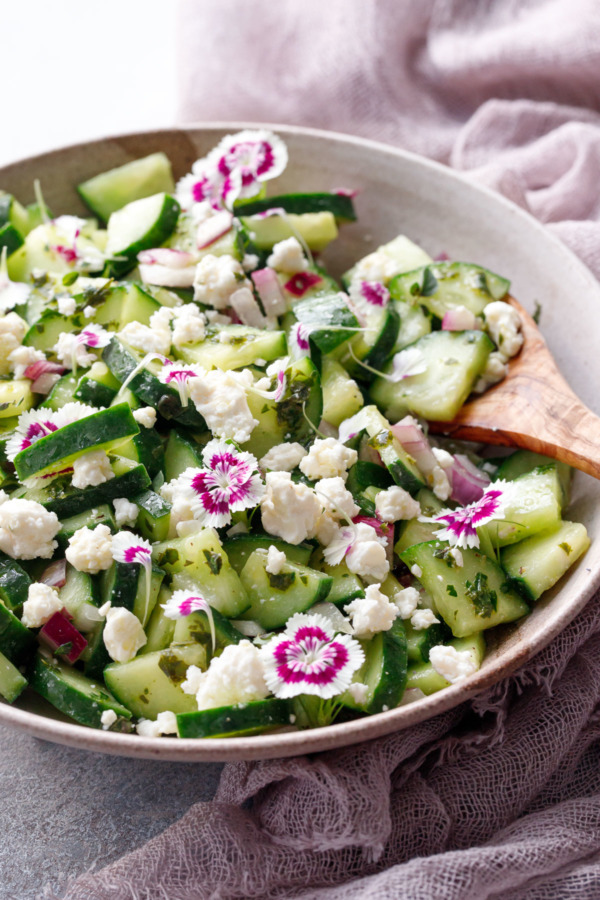 The recipe calls for about 4 medium (6 to 7 inch) cucumbers, which makes a generous 6-8 side servings.
While I don't recommend halving the dressing (smaller quantities are almost impossible to puree in a standard-size food processor), the dressing itself will keep for a week or so in the fridge. It will brown slightly the longer it sits, but it's still perfectly good to eat.
The salad itself, too, can easily be made a day or two ahead of time, and in fact, the longer it sits the more flavors the cucumbers absorb. I recommend waiting on the feta though, and adding that part just before serving.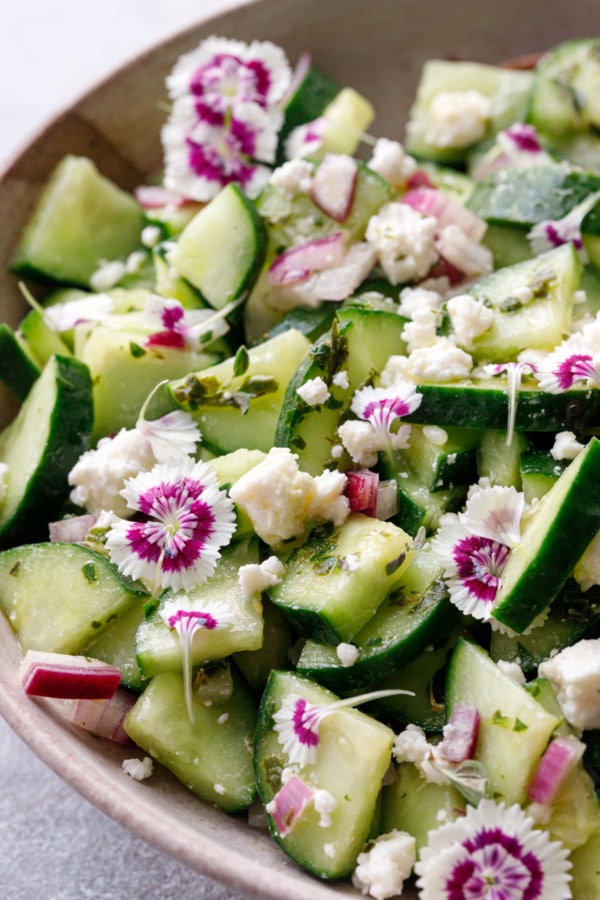 To make this recipe more substantial, add a can of white beans or a pound of fresh lady peas (one of our favorite parts of summer in the south, lady peas are delicate and buttery and a real treat).
You could also add chopped tomatoes or even cubed watermelon for a bit more color and flavor variety.
Cucumber & Feta Salad with Herb Vinaigrette
This simple and summery cucumber salad features a bold herb vinaigrette, briny feta cheese, spicy red onions, and pretty edible flowers to top it all off.
Ingredients:
4 medium cucumbers, cut into 1/4-inch thick slices and then cut into quarters
1 teaspoon kosher salt
1/4 cup packed fresh basil leaves
1/4 cup packed fresh parsley leaves
1 tablespoon packed fresh oregano
1 or 2 lemon verbena leaves (optional)
1/4 cup extra virgin olive oil
2 tablespoons red wine vinegar
1/2 medium red onion, finely chopped
4 oz crumbled feta cheese
edible flowers, for garnish
freshly ground black pepper, to taste
Directions:
Place quartered cucumber slices in a large metal sieve set over top of another bowl to catch drainage. Sprinkle with salt and toss to coat. Let sit for 20 to 30 minutes, tossing once or twice. It should drain off a tablespoon or two of liquid during this time, which you can discard.
Meanwhile, to prepare dressing, combine herbs, olive oil, and vinegar in a food processor or blender and pulse until finely chopped. Alternatively, in lieu of using a food processor, you can also just whisk together vinegar and olive oil for dressing portion, and toss finely chopped herbs into the salad.
To assemble, place drained cucumber in a large bowl along with red onion and feta cheese. Drizzle over about half of the dressing, then toss to coat. Add more dressing to taste (any leftover dressing can be stored in a jar or airtight container for up to a week). Finish with a sprinkle of black pepper and edible flowers, if desired.
Did you make this recipe?
Let us know what you think!
Leave a Comment below or share a photo and tag me on Instagram with the hashtag #loveandoliveoil.