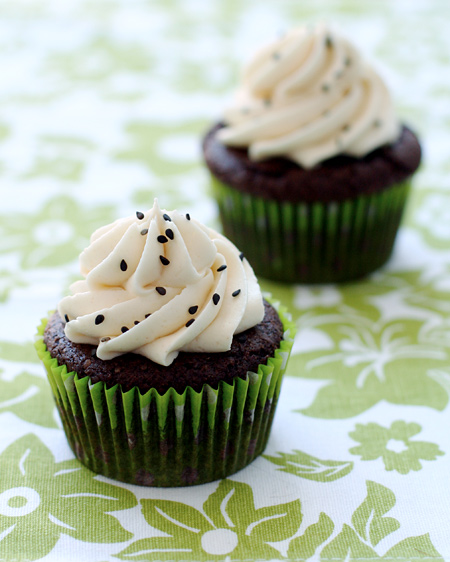 So I had this idea. Inspired by a cake recipe that used one of the most interesting combination of flavors I've seen. Called the "Black Pearl," this particular cake featured chocolate laced with wasabi and ginger, and sprinkled with black sesame seeds. I couldn't get it out of my head. And you know what happens when I get something in my head… it has to be made.
I was scared to death of these cupcakes, the first time that's ever really happened. Taylor was scared too. I told him about my evil wasabi-chocolate scheme and I could see the fear in his eyes (and I don't blame him, he knew he would have to eat at least one regardless of how disgusting they might be). See, I've had cupcake disasters before. Exploding and sinking and bubbling over cupcakes, even some that were just plain inedible. But none of these cupcakes had ever involved *gulp* wasabi. And that scared the crap out of me. I knew that these could go one of two ways, either I'd be too timid with the wasabi and you wouldn't even be able to taste it, or we'd have smoke coming out of our ears and eyeballs after just one bite. And honestly, I'd prefer the former (obviously), so I was cautious with the wasabi to say the least. And sure enough, you really can't even taste the stuff. There may have been the faintest tinge of heat in the aftermath of eating one of these dark beauties, but even 1 tablespoon of wasabi can't compare to a measly 1/8 teaspoon of cayenne in the Mexican Hot Chocolate cupcakes. Sizzle? No. Delicious? Yes.
My advice? Be brave, but be cautious. Start with 1 tablespoon of wasabi powder, mix it up, taste a bit. Add some more, taste it again. Continue adding at your own discretion. Who's to say that our wasabi powder wasn't old and faded (which it very well could have been), thus skewing our results towards the mild side… I just don't want to be responsible for setting anyone's mouth on fire.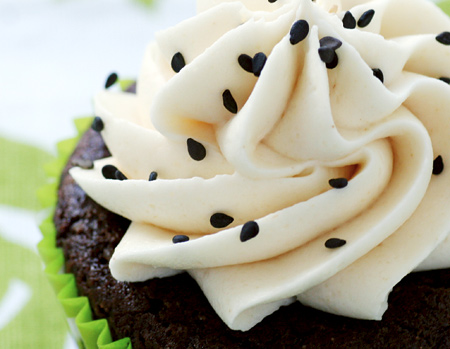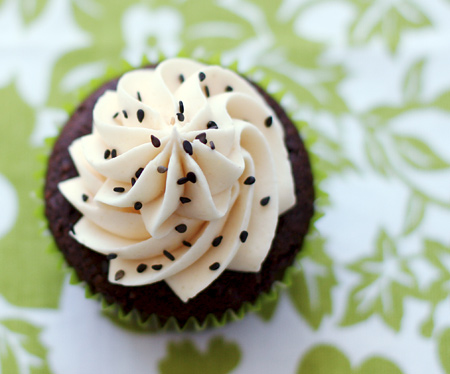 (And psst!! Remember those super cute, pumpkin "mummy" cupcakes from last weekend? You should really go vote for them in October's Cupcake Hero! My banana cupcakes came in 5th place in last month's contest, and I'd really love love love for these to win! Thank you in advance for your vote!)
Black Pearl Cupcakes
Ingredients:
1 cup coconut milk
1/3 cup canola oil
1 teaspoon vanilla extract
3/4 cup sugar
1 cup all-purpose flour
1/3 cup cocoa powder
3/4 teaspoon baking soda
1/2 teaspoon baking powder
1/4 teaspoon salt
1/4 teaspoon ground ginger
1-2 tablespoons wasabi powder (to taste)
For Frosting:
1/2 cup butter or margarine, room temperature
2-3 cups confectioners' sugar
2 tablespoons soy creamer or heavy cream
1 teaspoon vanilla extract
1 teaspoon ground ginger, or to taste
Black sesame seeds, for topping
Directions:
Preheat oven to 350 degrees F. Line muffin pan with paper liners.
Whisk together the coconut milk, sugar, oil, and vanilla extract until incorporated. In a separate bowl, sift together the flour, cocoa powder, baking soda, baking powder, salt, ginger, and wasabi. Make a well in the center of dry ingredients and pour in coconut milk mixture. Stir until just smooth (do not overmix). Take a quick taste of the batter, and add more wasabi if you feel it is needed.
Pour into liners, filling each with 3 tablespoons of batter (cups should be no more than 2/3 full). Bake 18-20 minutes, or until a toothpick inserted into the center comes out clean. Transfer to a cooling rack and let cool completely.
For frosting, cream butter until smooth and fluffy, 2-3 minutes. Add 1 cup powdered sugar and beat until combined. Mix in vanilla, ginger, and cream. Continue adding sugar, 1/2 cup at a time, mixing well after each addition (depending on the temperature of your butter, you may need more or less sugar/cream to achieve the proper consistency). Continue beating until light and fluffy, about 3-5 minutes. Spread or pipe onto cooled cupcakes. Sprinkle with black sesame seeds and enjoy!
Did you make this recipe?
Let us know what you think!
Leave a Comment below or share a photo and tag me on Instagram with the hashtag #loveandoliveoil.