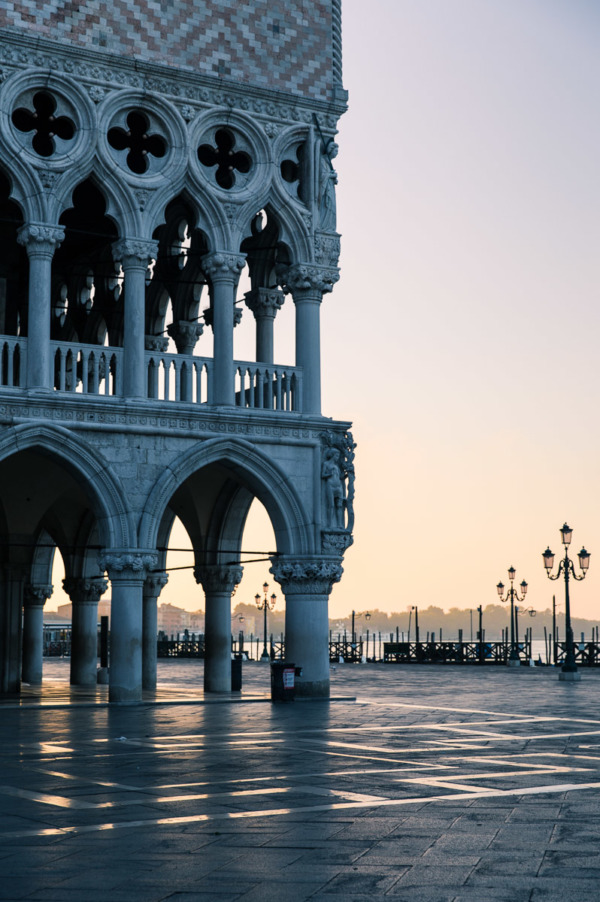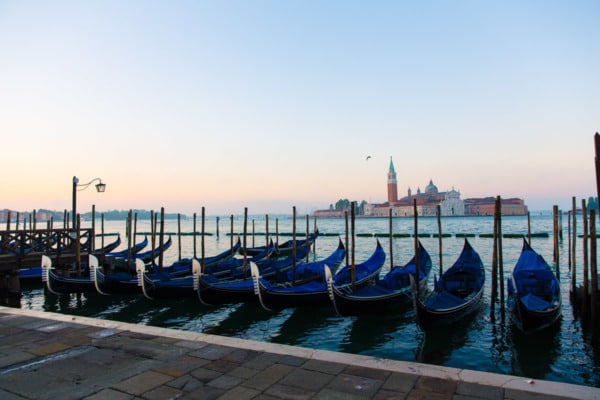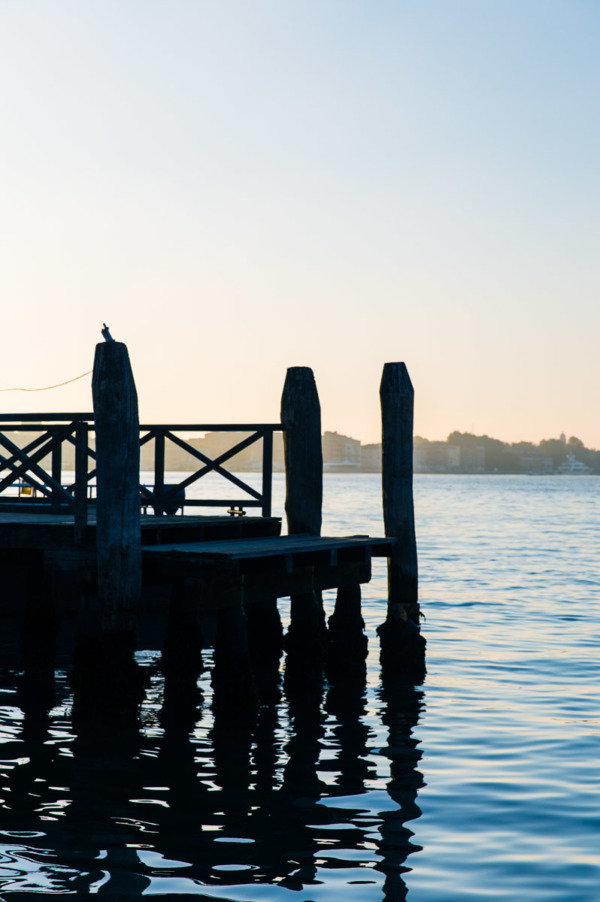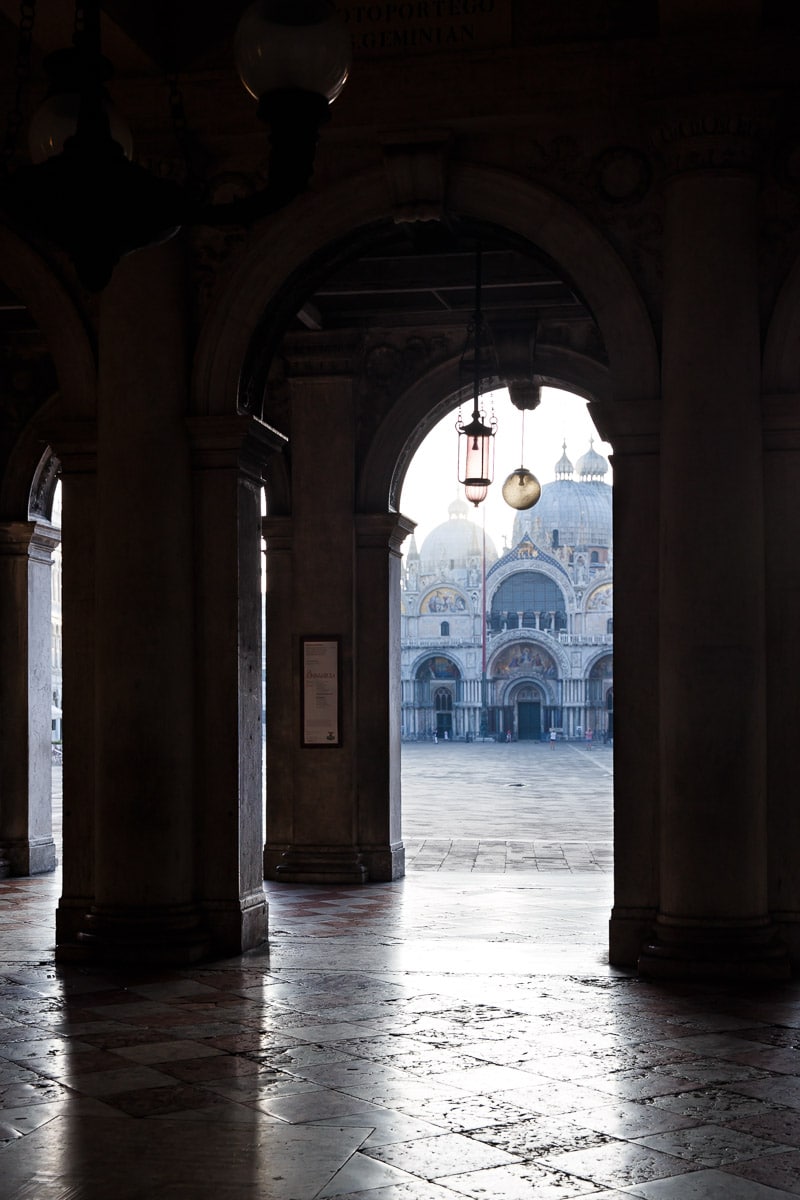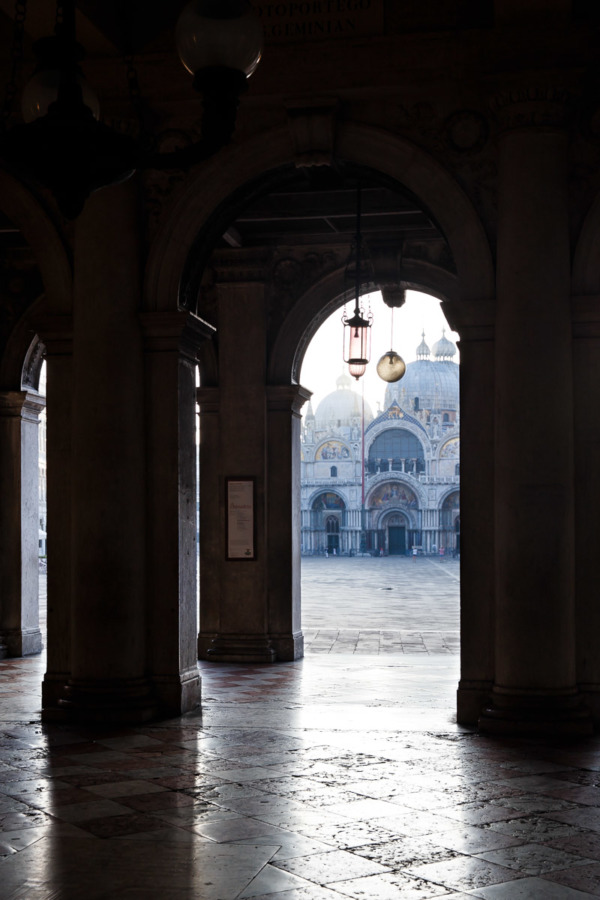 There's a reason Venice is one of the most popular tourist destinations in the world.
I mean, yes, you do feel like you're at Disney, I had to keep repeating to myself this was a real place, not make believe. Because that's exactly what it feels like.
I know some people hate it simply because there are so many tourists there, and I'm not denying that there are (Saint Mark's around 11am on a Monday in June gave me serious anxiety) but, if you seek them out, there are such things as quiet streets canals in Venice, where the only sounds are the lapping of the water against the walls of the canals.
No, seriously.
All you have to do is walk a few blocks from the popular piazza San Marco (St. Mark's Square) or the Rialto bridge and you'll find yourselves in peaceful serenity. Walk even further out into Dorsudoro or Cannaregio and you'll forget the anxiety-inducing hoards waiting to see the famed gilded basilica (we opted not to waste our precious time waiting in said line, but if that's important to you, get there well before it opens).
Or better yet, wake up at 5 am and you only have to share the piazza with a few pigeons and a dude with a drone (ugh, don't get me started). When returned a few hours later the piazza was already packed with crowds, I couldn't believe the difference. Indeed, waking up with the sun is one of our favorite travel tricks (not to mention it makes for some pretty awesome photos – click through to see the rest of them!)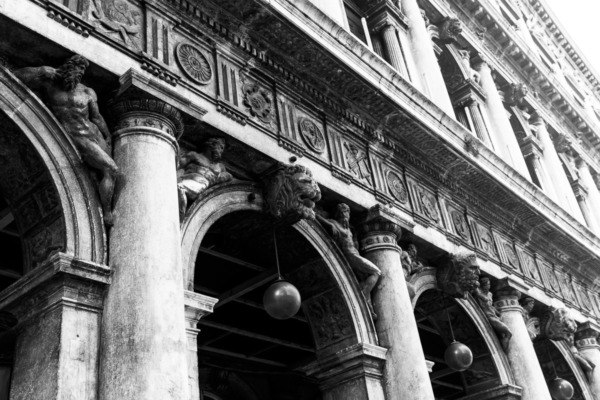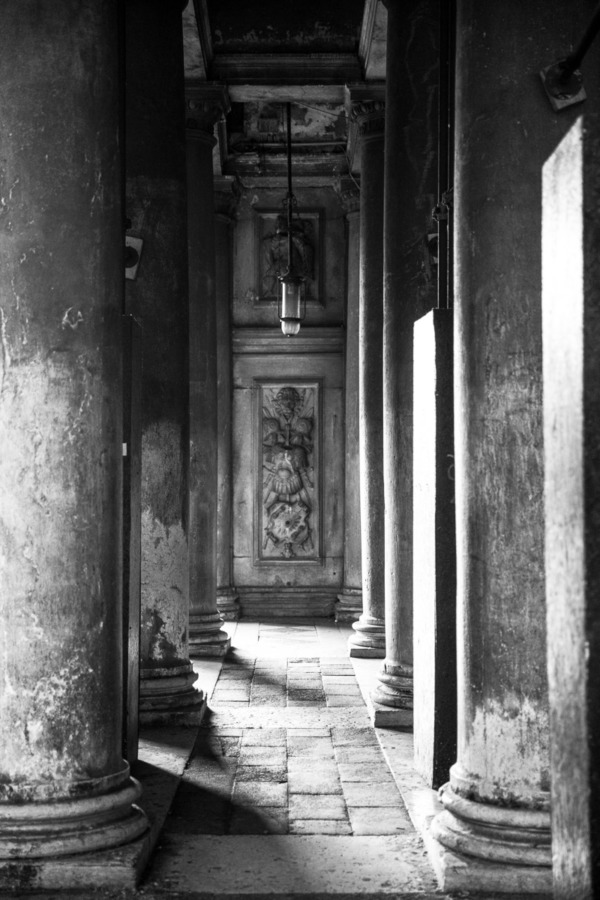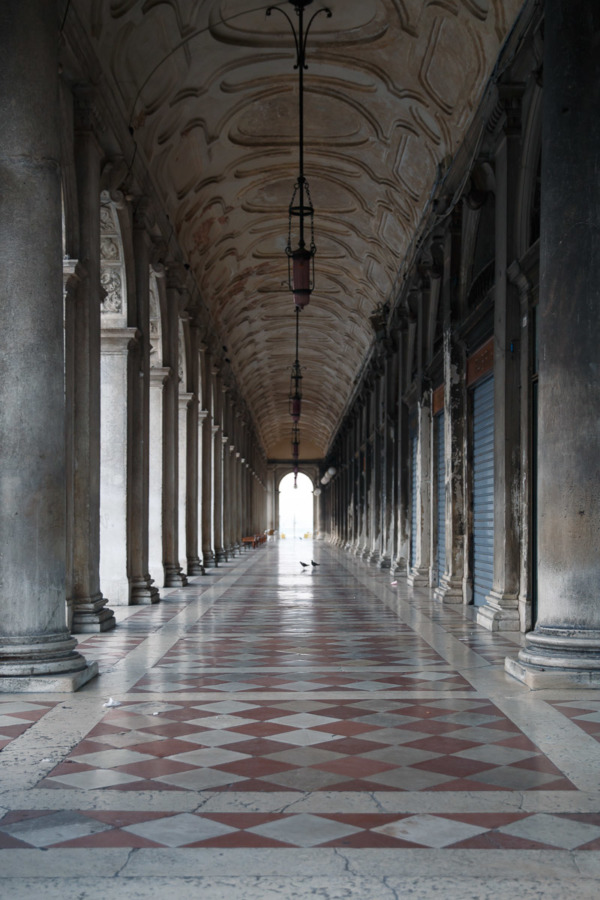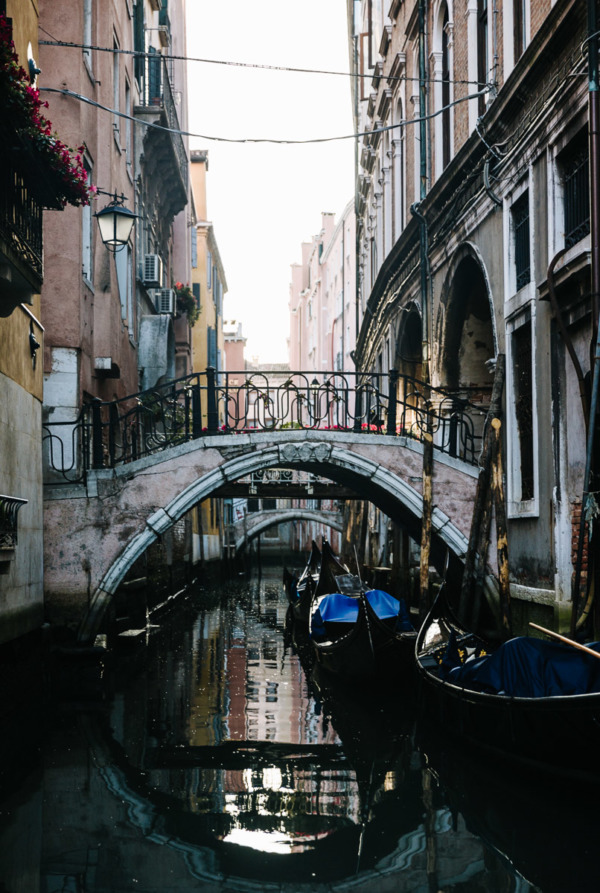 You may recall that we were invited to Verona back in June on behalf of Giovanna Rana pasta (and I still plan to do a post on Verona at some point – these travel posts just take me so darn long I have to sufficiently space them out.) Anway, since Verona was less than 2 hours from Venice, we figured why not? and had them push our departure 2 days later to give us time to explore this fairy tale city that we had missed on previous trips to Italy.
Since we only had 36 hours and the trip was more last minute than usual (meaning we didn't have months to plan every minute of our time like we normally do), we enlisted the help of Journy to plan our itinerary, with the goal to see and eat as much as possible during our short time there. Journy so kindly provided a complementary 2 day itinerary for our trip, but after seeing the wonderful itinerary Laura got from Journy on our trip to Japan, I was totally sold and would have easily dropped the $25/day cost without a second thought. The relief I felt knowing I didn't have to plan… that alone is worth every penny.
Between Journy's comprehensive itinerary and the wonderful list of recommendations (organized by neighborhood, so helpful!) that our B&B hostess provided us, we really made the most of our time. And for a city rife with tourist traps, I can't tell you how valuable it was to have a list of recommendations we trusted so that, no matter where we ended up, we had somewhere to eat and didn't have to make a decision (and we all know making such decisions when hangry is a recipe for disaster). Especially for such a short trip, we don't want to waste a single meal. And you can't always tell the tourist traps by looking at them. That's where a service like Journy is so wonderful.
Granted, we did stray from the itinerary a bit on the second day (3 hours at the Doge's Palace had us a bit museum'ed out) but the food recommendations were spot on and I appreciated some of the more out-of-the-way spots it unexpectedly lead us to.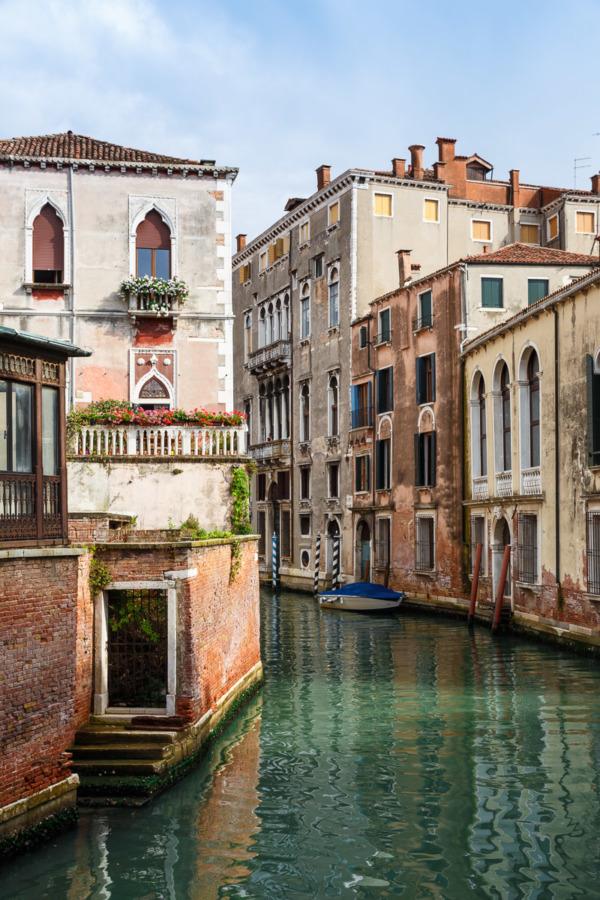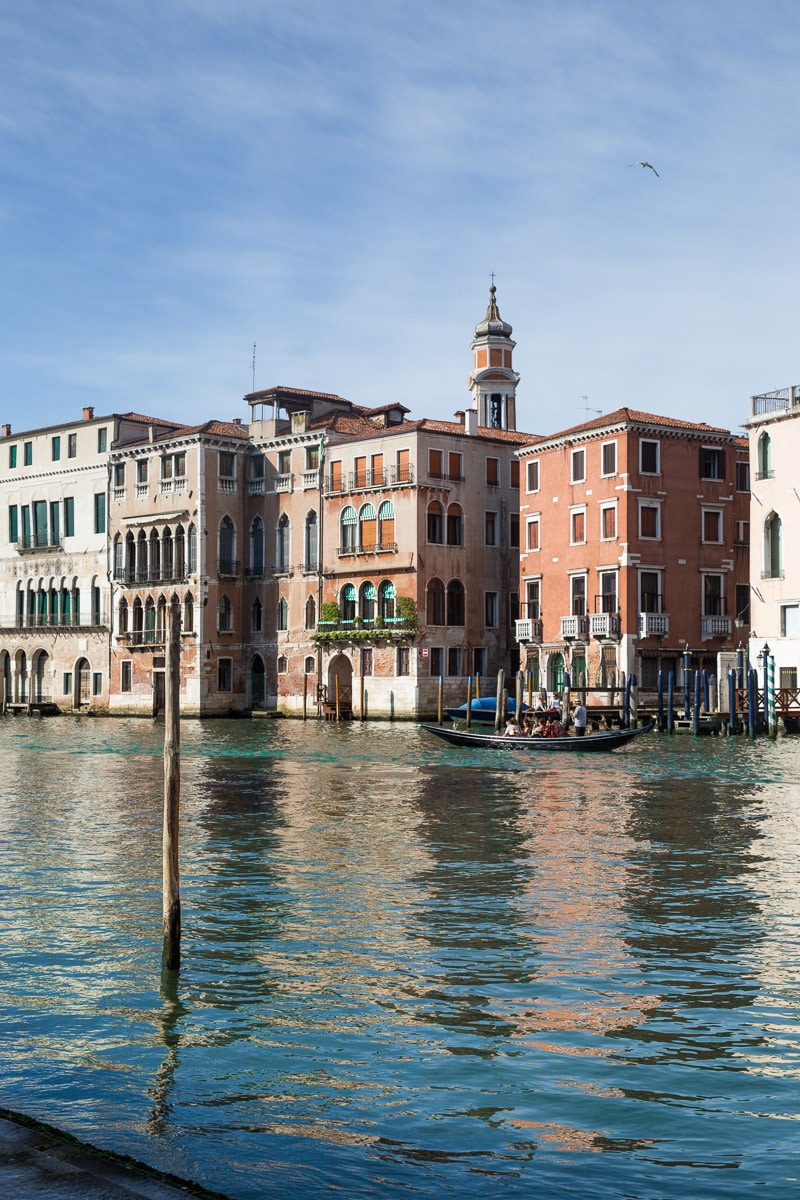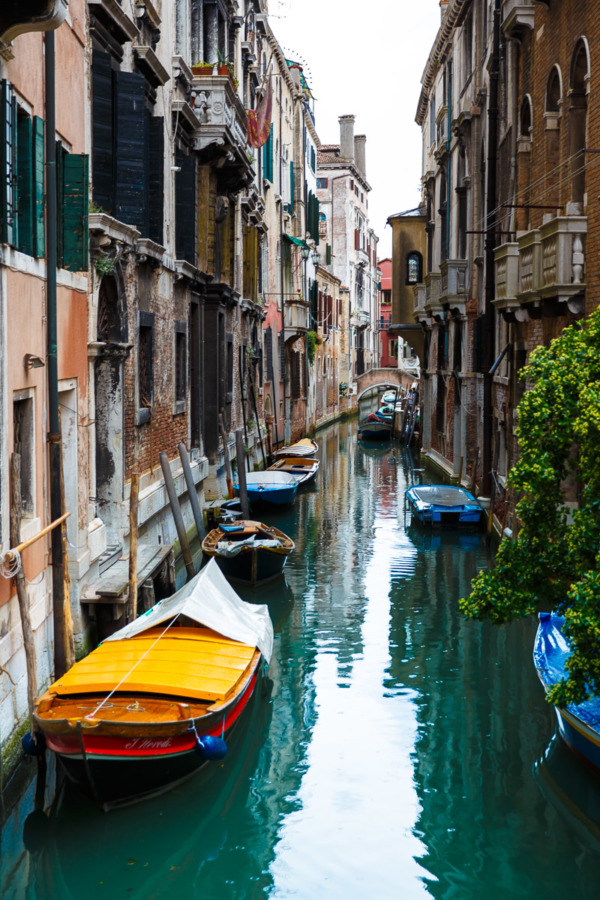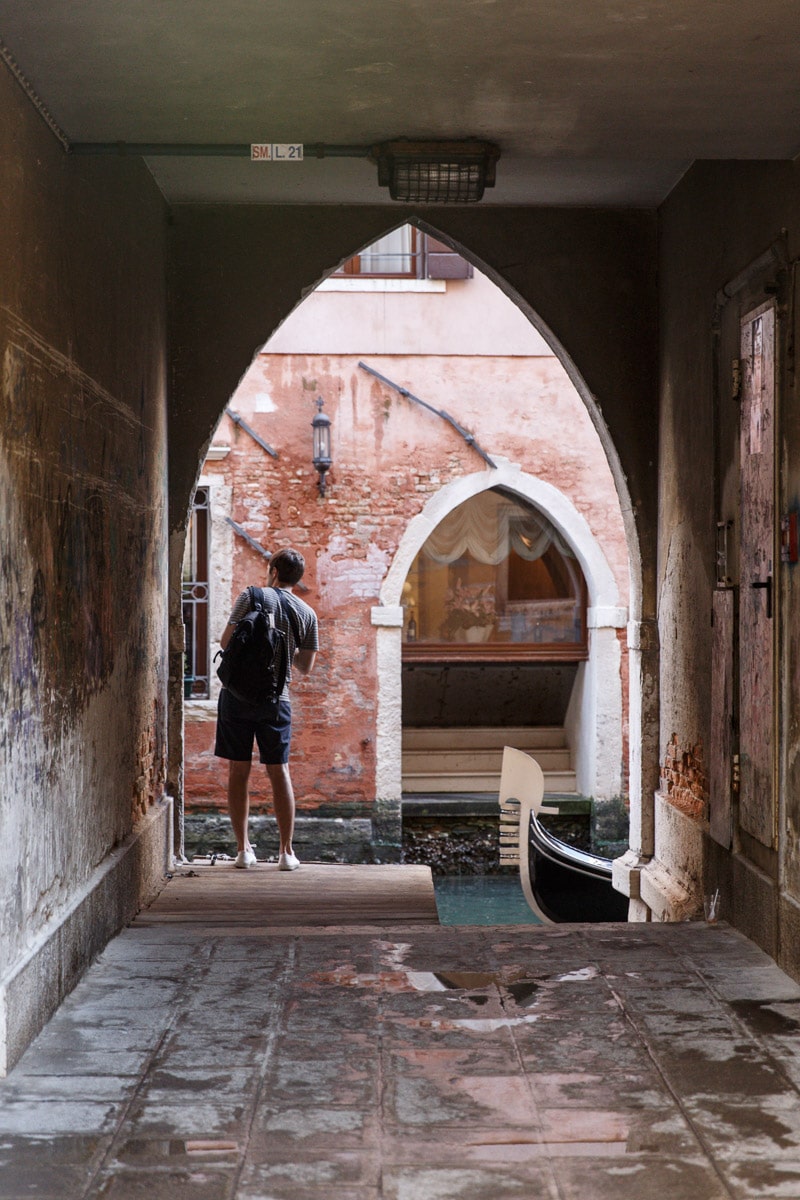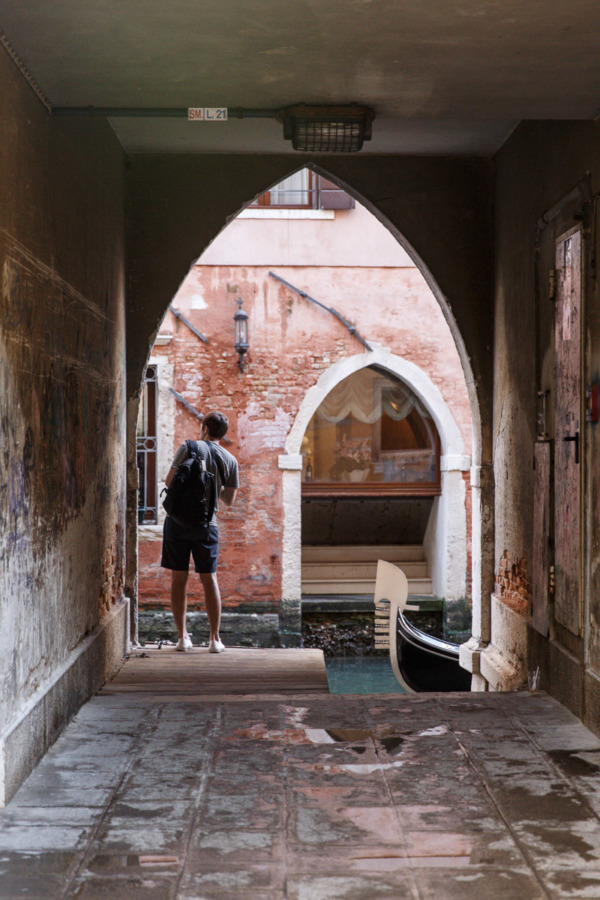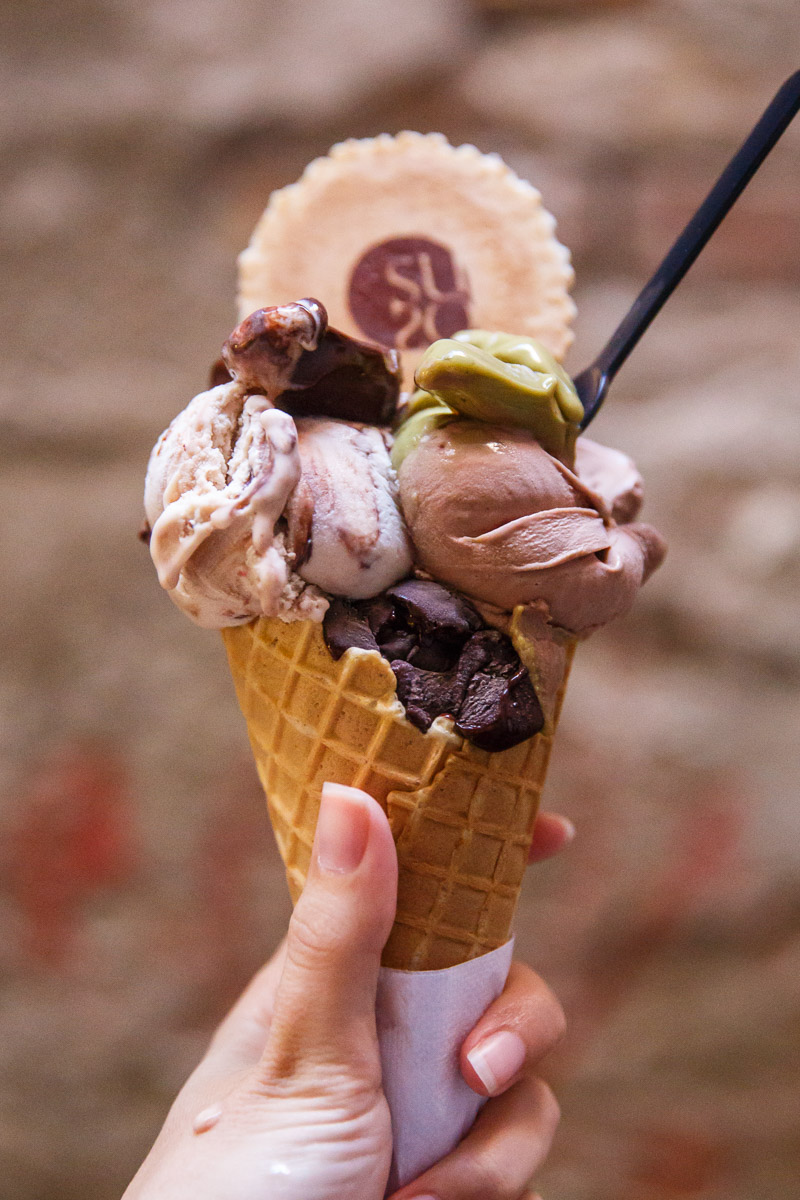 Is the world's best gelato in Venice? Perhaps, or at least the best gelato of my world (edging out La Sorbetteria in Bologna only because that was 8 years ago and this one is fresh in my mind).
I got the dark chocolate, Manet (salted pistachio and hazelnut), and Opera (hazelnut and chocolate-hazelnut gianduja). It was hot hot hot when we were there, so I didn't quite make it to the canal for a picture… the brick wall in the alley will have to do (food blogger problems). Seriously though. this stuff was amazing.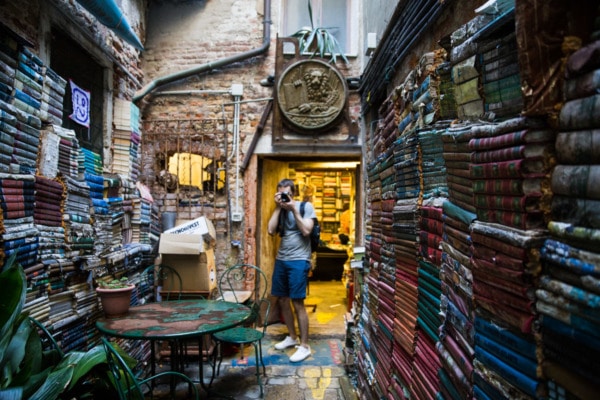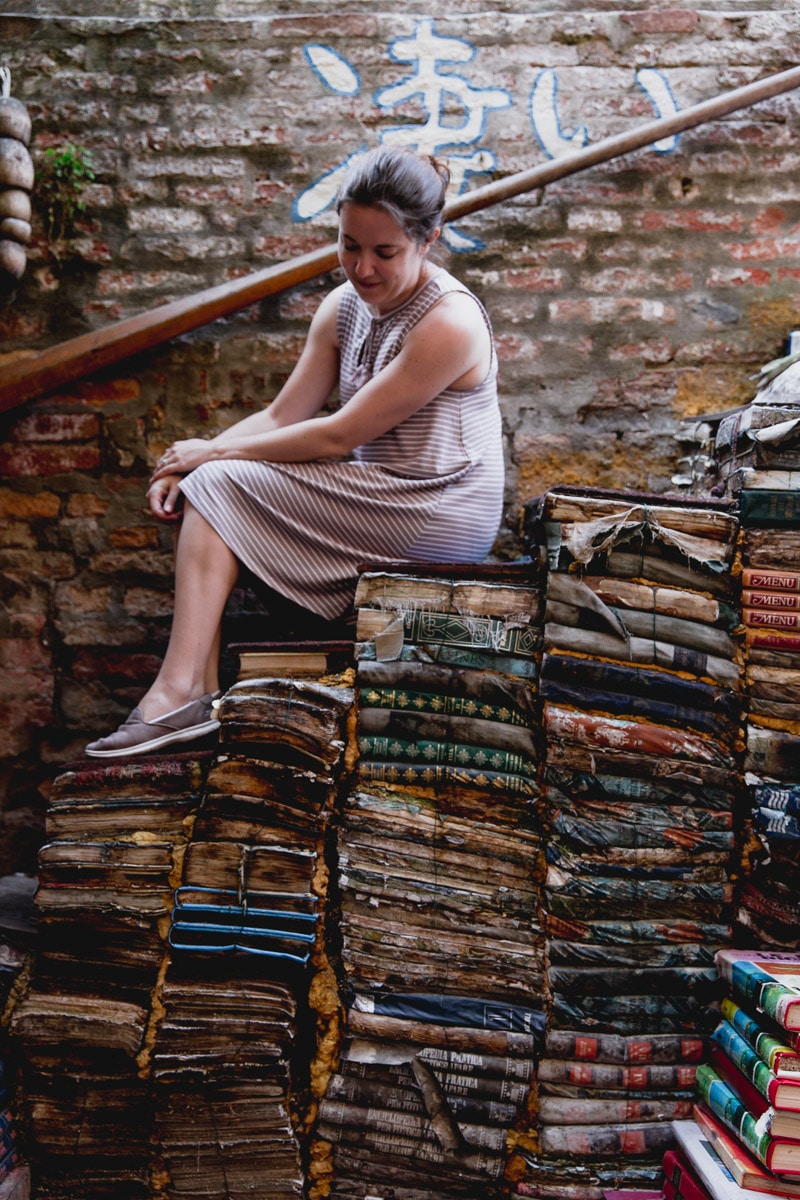 So, I have a thing for libraries. Or books, really. I had heard about the Biblioteca Nazionale Marciana, though I couldn't find a ton of info about it other than entry was part of the "Museum Pass" that included the library as well as the Doge's Palace and Correr and Archeological Museums. Still, I assumed any library in Italy would be a sight to see, so we bought the €20 ticket that included entrance to the library. Or so we thought. As it turns out, that ticket only got you into the "Monumental Rooms" of the library, which are nice rooms, but seriously lacking in books (rather, they host a rotating array of special exhibits in the space).
The actual library is located around the corner from the Correr museum entrance, and is "for readers only" requiring a library card for entrance.
Needless to say, I was pretty bummed about this development, especially since the library was the only reason we bought the dang museum pass to begin with (though the Doge's Palace was pretty cool and I'd recommend any first-timer definitely check it out).
Luckily… this story has a happy ending.
Our B&B hostess, upon finding out we loved books, immediately told us to check out Libreria Acqua Alta, a bookstore in the Castello neighborhood northeast of San Marco. "A must for any book lover," she said. Since I am, by all definitions, a book lover, we added it to our itinerary.
Let me just say, this bookstore more than made up for the library incident earlier in the day. My only regret is not getting there until 7pm (the shop closed at 8) as I could have spent HOURS in there. Seriously. It was filled to the brim with gondolas full of books (literally), with little alcoves and alleys piled high with books and more books and even a staircase made from books leading to a lovely view of the canal behind the shop.
I mean, it was basically heaven.
And they have a shop cat. So yeah, it's pretty much the best bookstore in the world (although one could argue that the best bookstore in the world is the one in which you are currently, amiright?)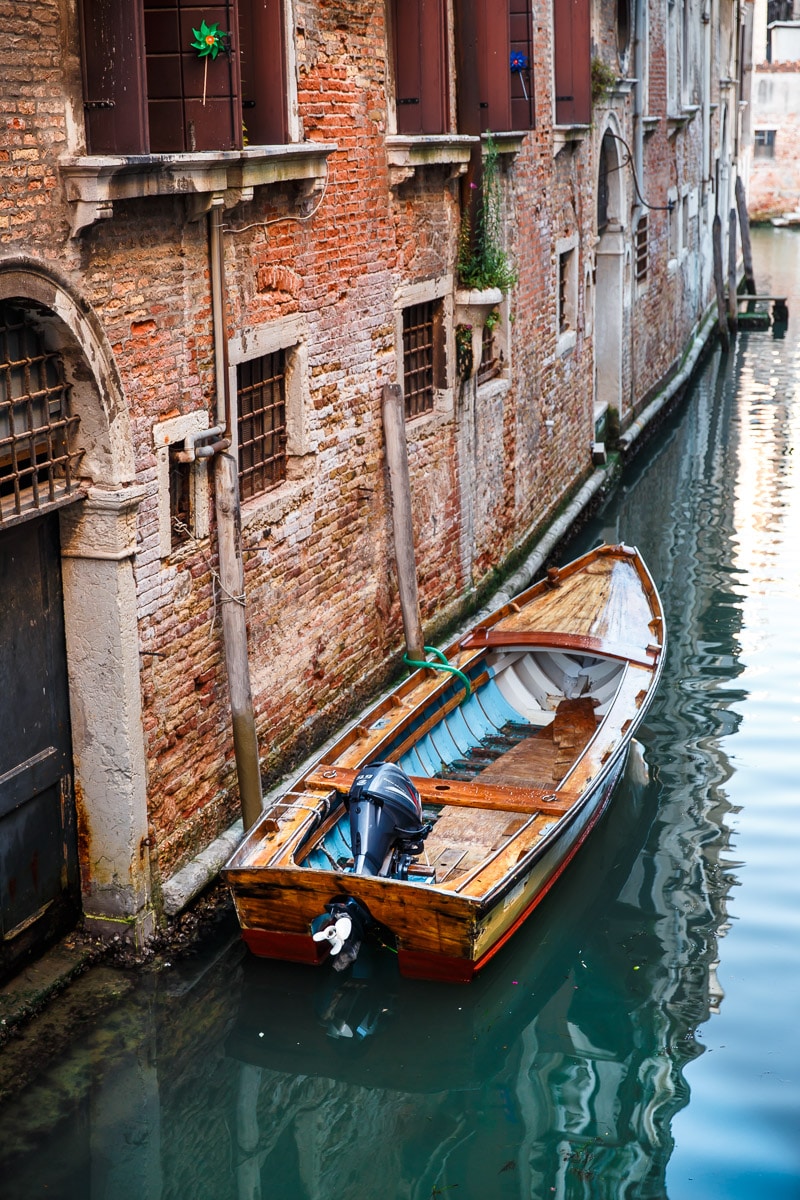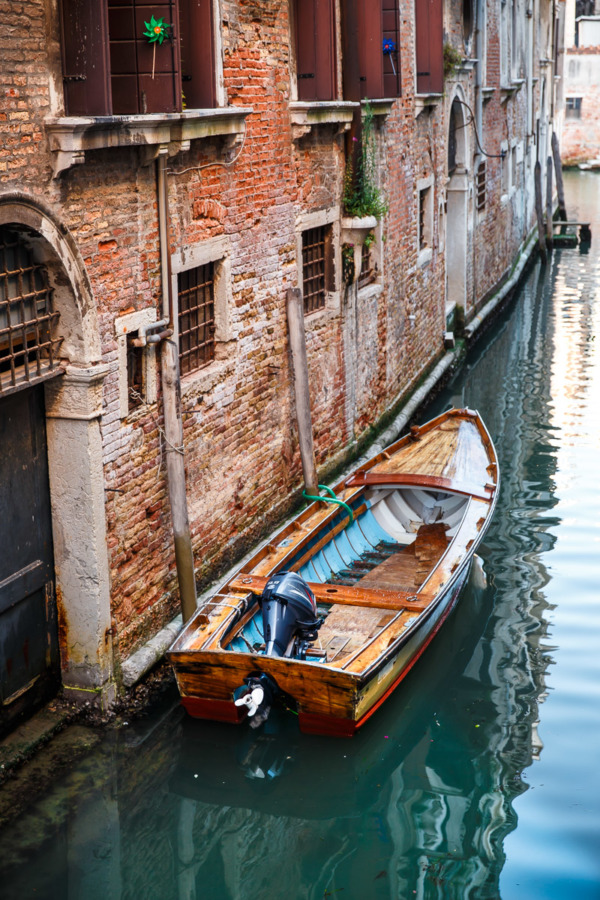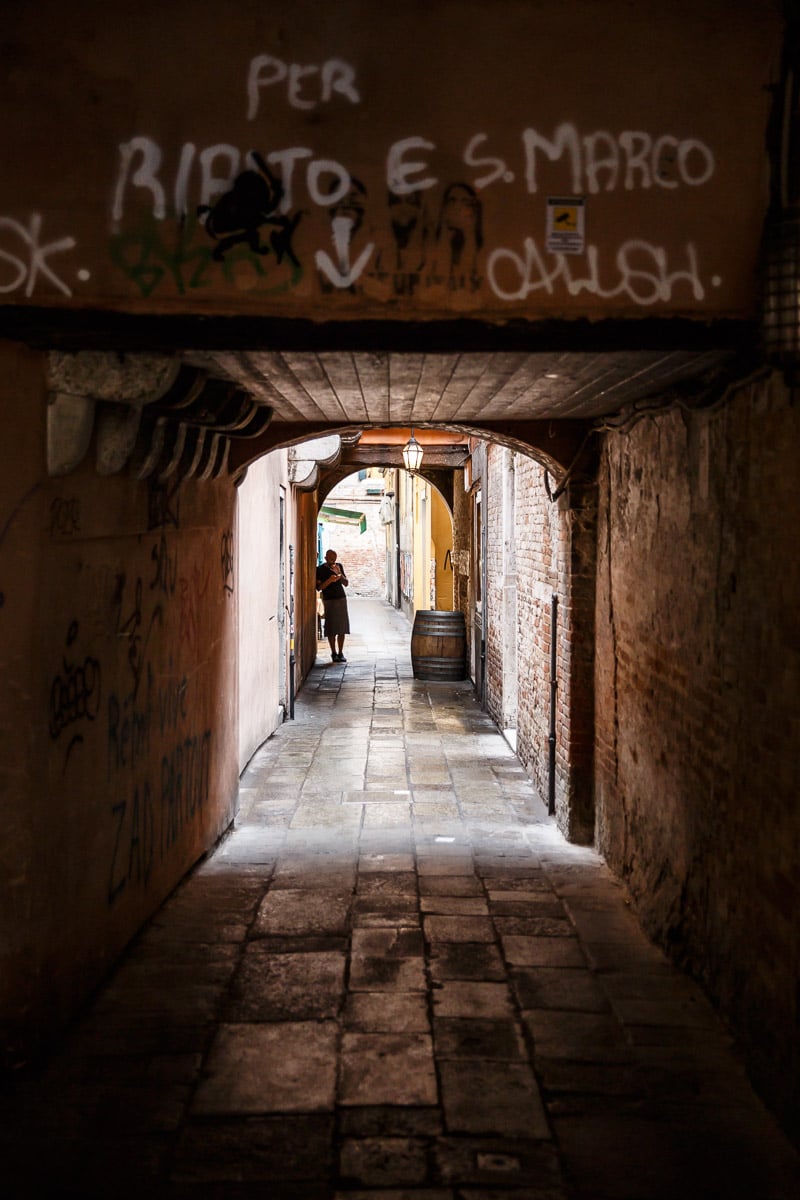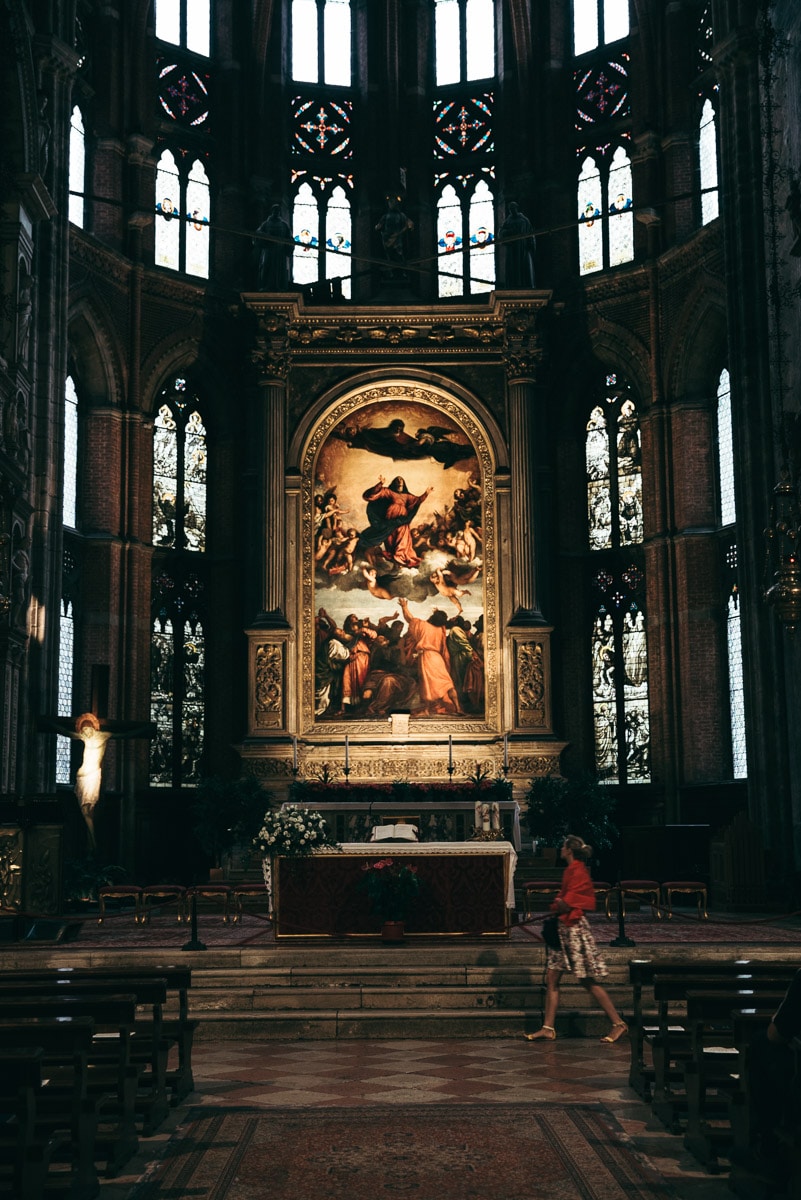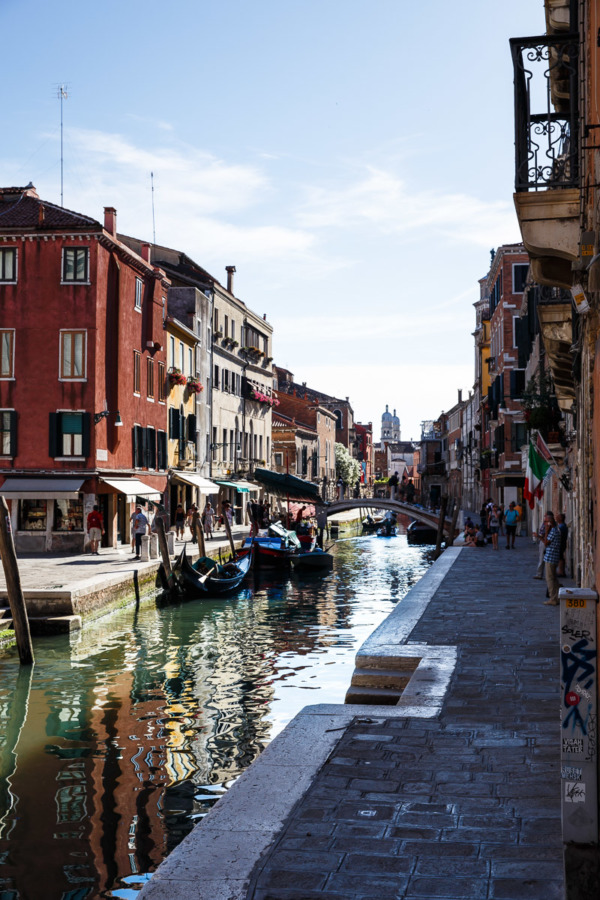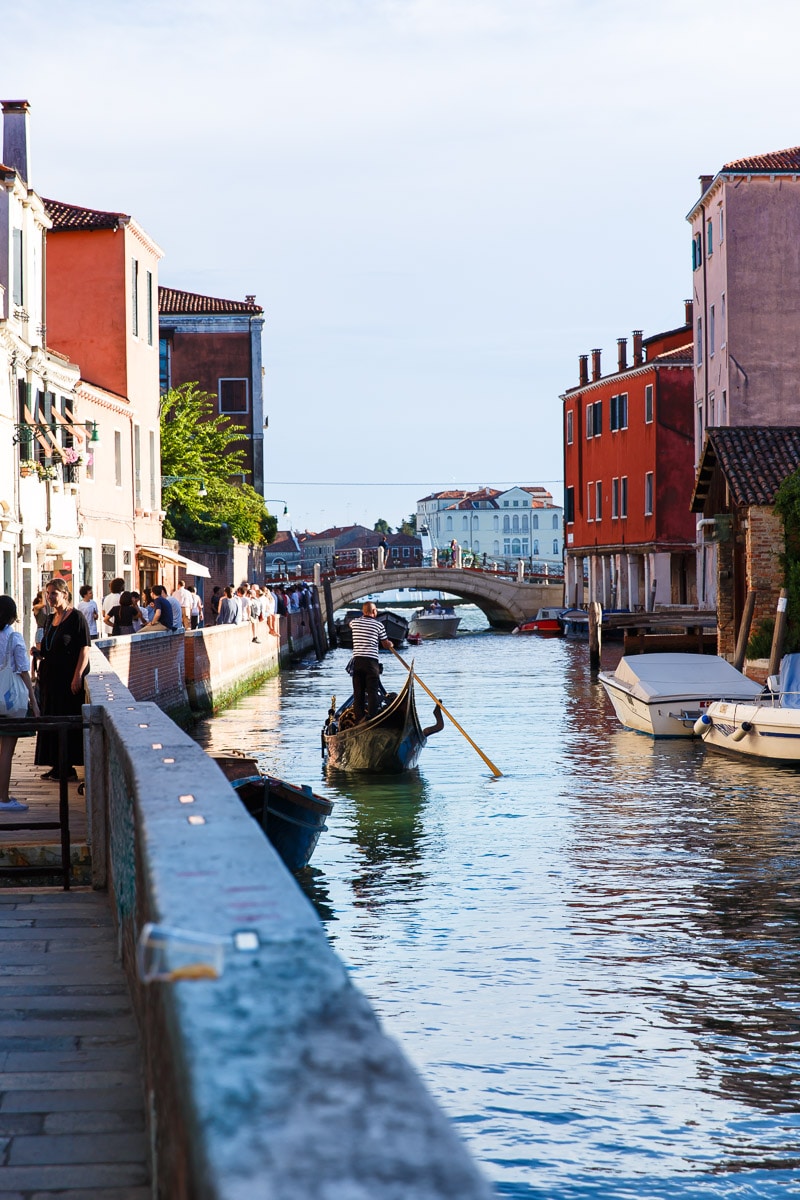 When in Venice… cicchetti! The venetian equivalent of tapas, essentially, cicchetti are little bites, often seafood-focused toppings on bread. Most bars and restaurants will have an assortment of them, and they're dirt cheap (like €1-2 a piece). We pretty much ate them for lunch and dinner every day, and our stomachs were none the wiser (our wallets however, were significantly happier).
One of our favorite spots was Cantinone già Schiavi along a colorful canal in Dorsoduro. Filled with locals, pop in the bar/wine shop and grab a paper plate of cicchetti and a spritz in a plastic cup, and take it outside to eat alongside the canal.
I have to say, this moment… if I had to pinpoint the most memorable moment during the whole trip, this would be it. With the sounds of laughter and conversation and the water lapping the sides of the canal. I felt a profound sense of peace that I wish I could recreate on a daily basis. That's the sign of a good trip, don't you think?




The other gelato we had in Venice was at Gelateria Ca' d'Oro, where the ricotta gelato with honey and sesame is a unique treat. Not quite as over the top decadent as SuSo, but in Italy in June (or any time of year for that matter) there is no such thing as too much gelato.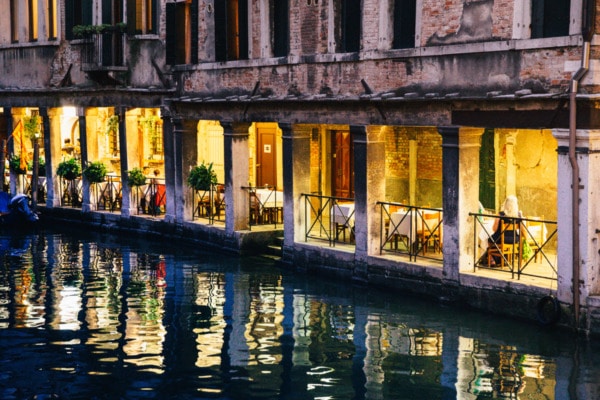 And with that, the sun sets on our 36-hour adventure in Venice (although it won't come as a surprise we're already thinking about going back someday to explore more in depth). I learned I could probably survive on cicchetti and gelato alone.
Below are some of our favorite eats and sights in Venice from our short time there. Hopefully it is helpful to you in planning your own travels!
Food & Gelato Recommendations
Gelatoteca SuSo – This place ties with La Sorbetteria in Bologna for the best gelato OF MY LIFE. Seriously good. It can get crowded (especially in the evenings) so if you can go at an off time, even better. Still, it's one of the few things I'd say is worth the wait!
Gelateria Ca' d'Oro – Try the ricotta gelato with sesame and honey for a unique, slightly savory treat. Just North of the Rialto bridge (though technically in the Cannargeio neighborhood), a few blocks from Osteria Ai Promessi Sposi.
Cantina do Spade – One of the oldest restaurants in Venice (568 years!!), this great little spot was right around the corner from our B&B. We stopped in for lunch on our first day there. Don't miss the cuttlefish pasta (OMG) and amazing fried calamari (you do like squid, I hope?)
Osteria Da Carla – (Pictured above) If you're near Piazza San Marco around lunchtime, this little hidden gem is perfect for a quick lunch (or a longer lunch if you want to be fancy) and isolated from the hoards crowding the square. Sidle up to the bar and order a few gorgeous cicchetti and a spritz to go with. Reservations recommended if you want the full sit-down lunch. Look for the Pietro Panizzolo sign.
Osteria Ai Promessi Sposi – If you want to sit down for dinner here you'll need reservations, but we went early and the bar was wide open and they serve a lovely selection of small plates and cicchetti. A few bites and a drink or two later, and we were more than satisfied.
Cantinone già Schiavi – A perfect spot to grab a spritz and a bite to eat outside along the canal in Dorsoduro. Very reasonable price and unique offerings (the tuna with cocoa was particularly memorable). One of our favorite spots of our trip, for sure. (There's a picture about 15 pictures up – the paper plate of loaded bruschetta-like things on the wall of the canal).
Accommodations
La Villeggiatura – Located in the San Palo neighborhood (across the Rialto bridge from San Marco), this lovely little B&B is walkable to the tourist spots but just enough out of the way that you don't feel suffocated. The host was immensely friendly and helpful (she's the one that pointed us to the magical bookstore and provided a list of restaurants organized by neighborhood, which was unexpectedly helpful). Breakfast was simple and a perfect way to start the day, and the rooms were spacious and unique (and not gaudily-decorated, as seems to be the theme with most Venetian lodgings). We stayed in the Casanova room (pictured above). It was surprisingly affordable too. I'd recommend this place in a heartbeat!
Sights & Activities
Journy – After seeing what they did for our friend in Japan, we couldn't sing Journy's praises enough. They so kindly provided us with a complementary itinerary, but I'd spend the $25/day in a heartbeat. They'll personalize your itinerary to your specific requirements and interests, and provide you with a step by step itinerary for each day of your trip, including activities and meals. Granted, we did stray from the itinerary a bit on the second day (3 hours at the Doge's Palace had us a bit museum'ed out) but the food recommendations were spot on and I appreciated some of the more out-of-the-way spots it unexpectedly lead us to.
Libreria Acqua Alta – "the world's most photogenic bookstore" isn't just a marketing ploy. This store is filled with gondolas full of used books (literally). Check out back for a book-stairway and a lovely view of the canals. And they have a shop cat!
Doge's Palace – While the Doge's apartments were closed when we were there, this building is pretty spectacular, and I appreciated learning a bit more about Venice's history with the accompanying audio tour. I definitely recommend getting advanced tickets or getting there right when it opens to avoid lines. The Museum Square ticket also gives you entry to the Museo Correr, Museo Archeologico Nazionale and Monumental Rooms of the Biblioteca Nazionale Marciana (which, remember, is NOT an actual library but a series of (admittedly gorgeous) rooms housing special exhibits.
Squero di San Trovaso – The hidden boatyard where gondolas are repaired. If you're down in Dorsudoro for cicchetti along the canal it's worth walking by.
Scuola Grande di San Rocco – Here you can see some of Tintoretto's most famous works, if you're into that kind of thing. :) It so happened to be pouring rain here so we enjoyed a good hour here before it closed for the evening.
Rialto Bridge – Chances are you won't have to seek out Venice's most famous bridge. If you do any amount of walking you have no choice but to cross it several times a day. Despite the crowds, it does offer a pretty great view of the Grand Canal at any time of day.
T Fondaco Dei Tedeschi rooftop – this department store near the Rialto bridge has an amazing rooftop, but you have to plan ahead and make a reservation (which we didn't know to do beforehand). You can make a reservation at one of the kiosk's in the store or online. Might I recommend a sunset viewing? It'd make for some amazing shots.