Pistachio lovers… this one's for you: with a green and nutty pistachio flavored filling, creamy sour cream topping, and a sweet and salty pistachio cookie crust, it's sure to be your new favorite cheesecake!
Gorgeous and green and oh-so-delicious, this pistachio cheesecake is made with sour cream in the filling for a silky smooth texture, plus a sour cream topping for a perfectly creamy finish (no water bath necessary!)
My pistachio obsession continues.
Now that you've got a batch of homemade pistachio butter in your fridge (assuming, of course, that you haven't completely devoured it yet), this pistachio cheesecake is the perfect use for it.
The cheesecake filling is incredibly simple, made from cream cheese, sugar, sour cream, whole eggs, and pistachio butter for flavor and color. Each bite is super creamy (dare I say, the creamiest) and with a nutty, buttery pistachio flavor that contrasts perfectly with the tangy cream cheese.
For even more pistachio flavor (because if some is good, more is better) I added chopped nuts to the crust, and sprinkled even more chopped pistachios on top for garnish, so every bite is chock full of pistachio flavor.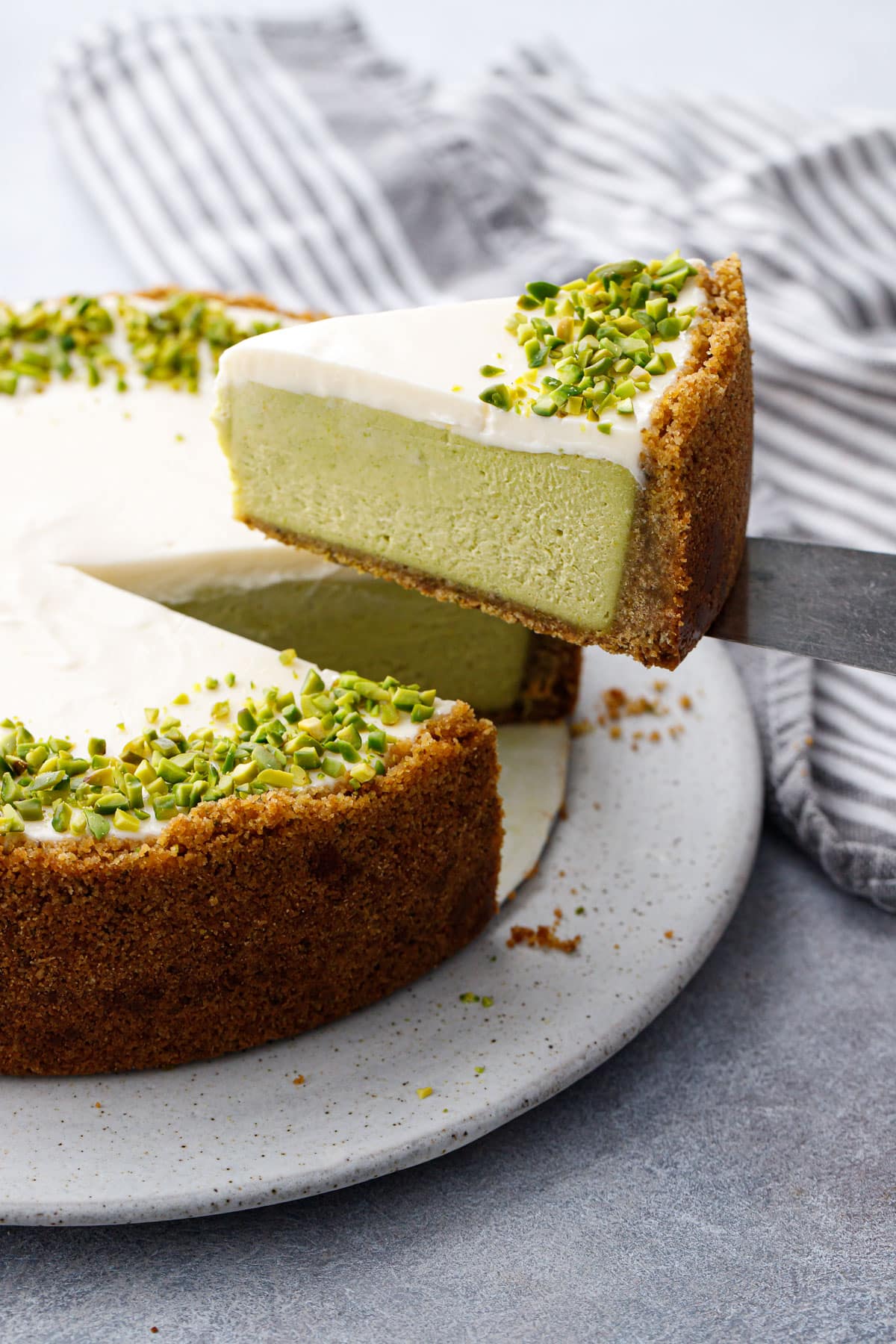 The recipe is based off my popular blueberry crème fraîche cheesecake, with sour cream instead of crème fraîche (though you could use either), and pistachio butter in place of the blueberry puree. I also increased the crust proportions and took it up the sides of the pan, which prevents the sour cream topping from flowing off the top if it's too soft.
I find this to be one of the smoothest, creamiest cheesecakes I've ever had, thanks to the sour cream in the filling. Cheesecake can easily become dense and pasty, but the sour cream really ups the creaminess factor without weighing it down (so the result is surprisingly light).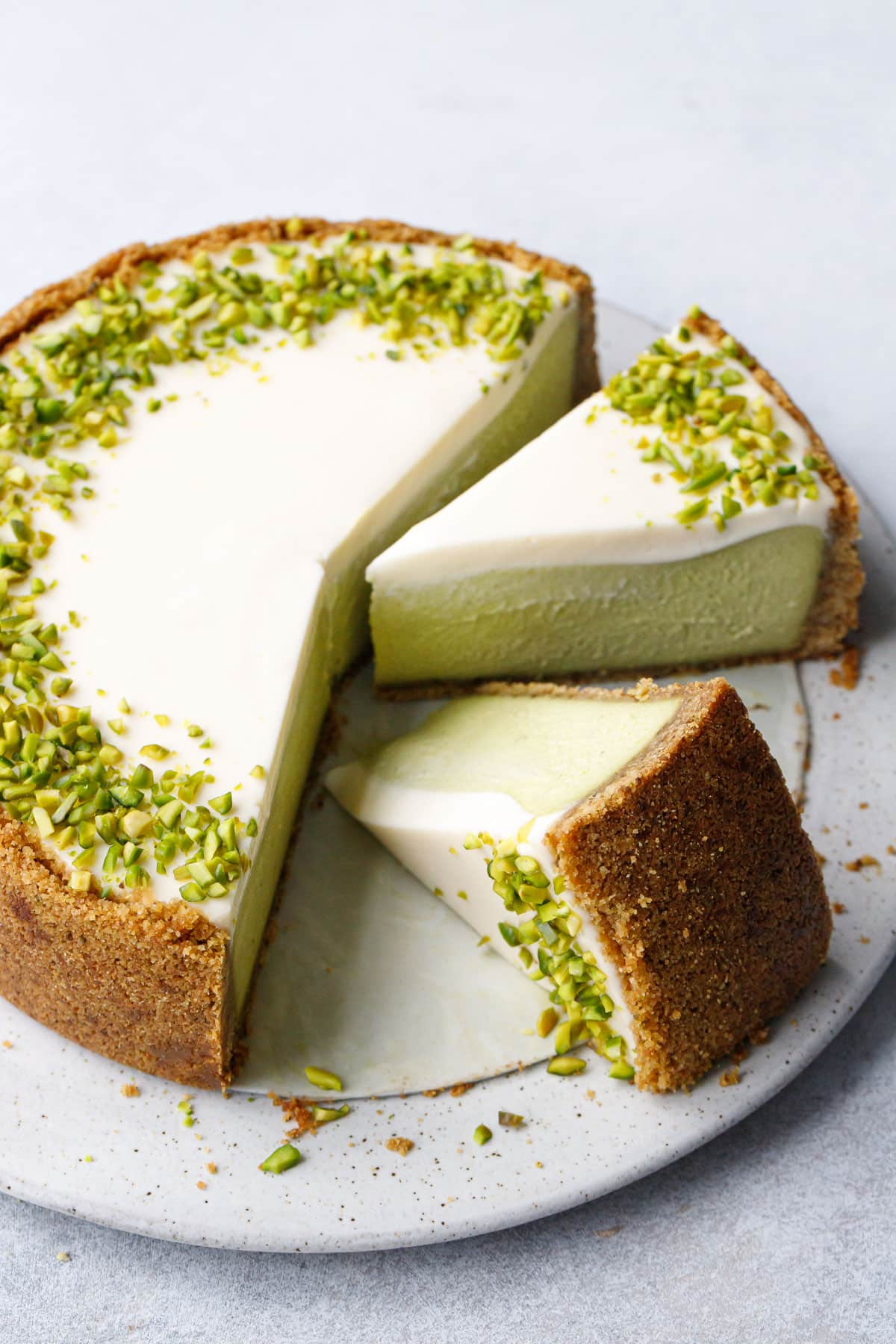 I made this recipe a few times, playing with methods to get the most pistachio flavor while preserving the creamy texture.
The third time I made this I increased the pistachio butter to 2/3 cup, however if you're running low you can totally get away with using 1/2 cup (I know it's a pricey ingredient… like green liquid gold). The pistachio flavor won't be quite as strong with less pistachio butter but the cheesecake will still be delicious.
You'll notice I also call for pistachio extract here. While I've yet to find an extract that tastes exactly like fresh pistachios, I do find that most of the extracts do a great job to enhance the natural pistachio flavor already present. (I've actually got a new post coming up where I taste tested 9 different pistachio extracts to find the best one… so keep your eyes peeled for that!)
That said, you can replace the pistachio extract with 1 teaspoon vanilla and 1/2 teaspoon almond if you like.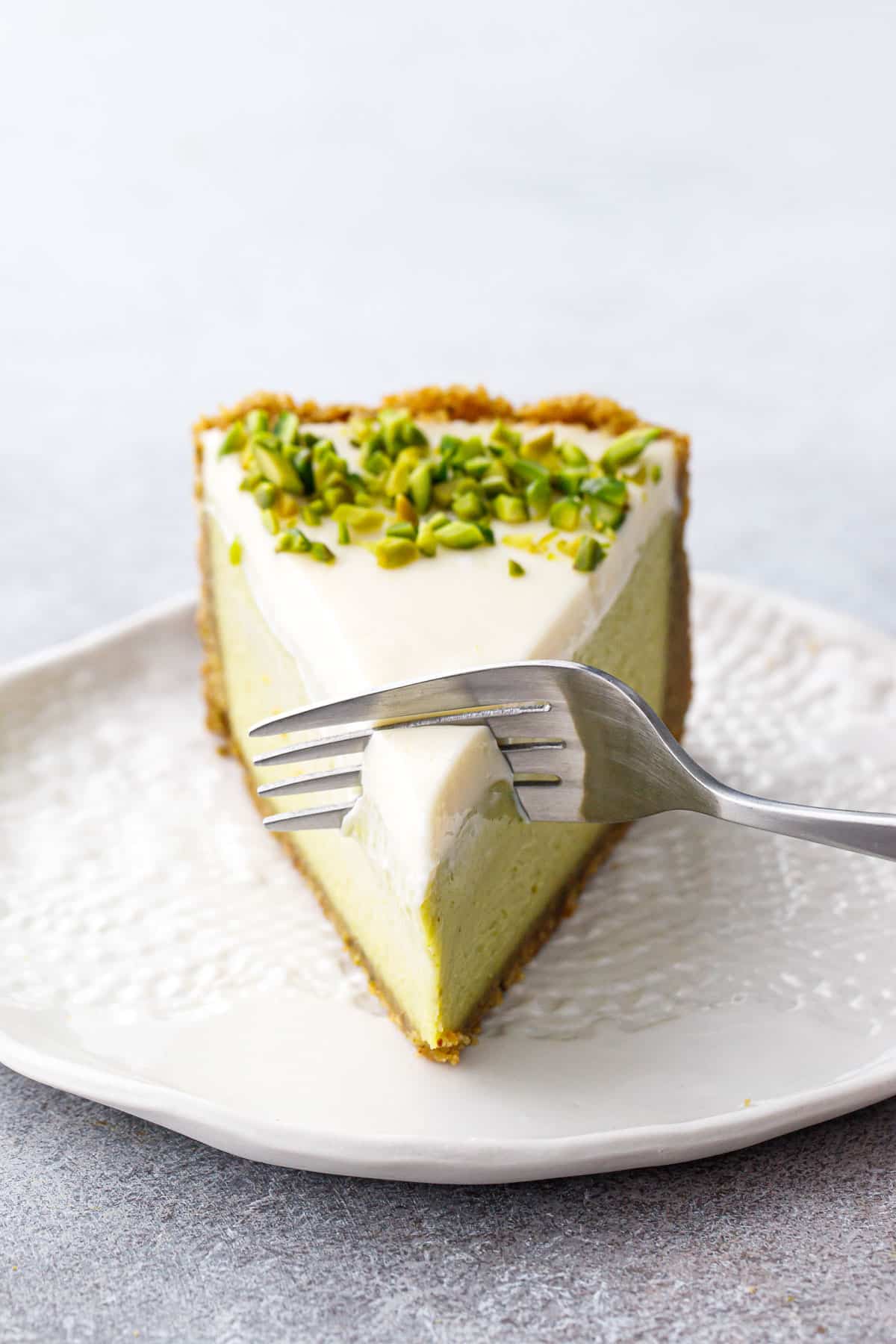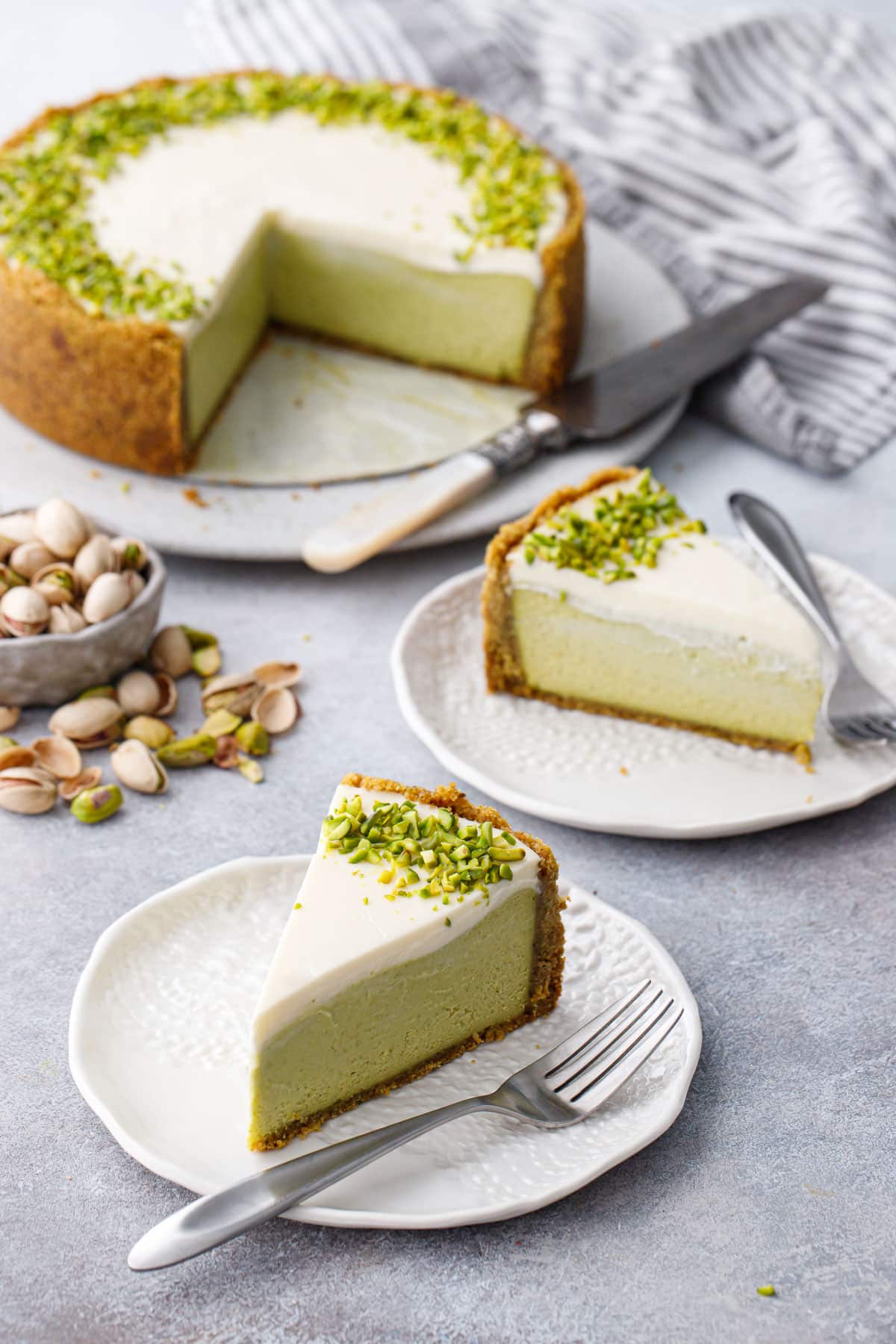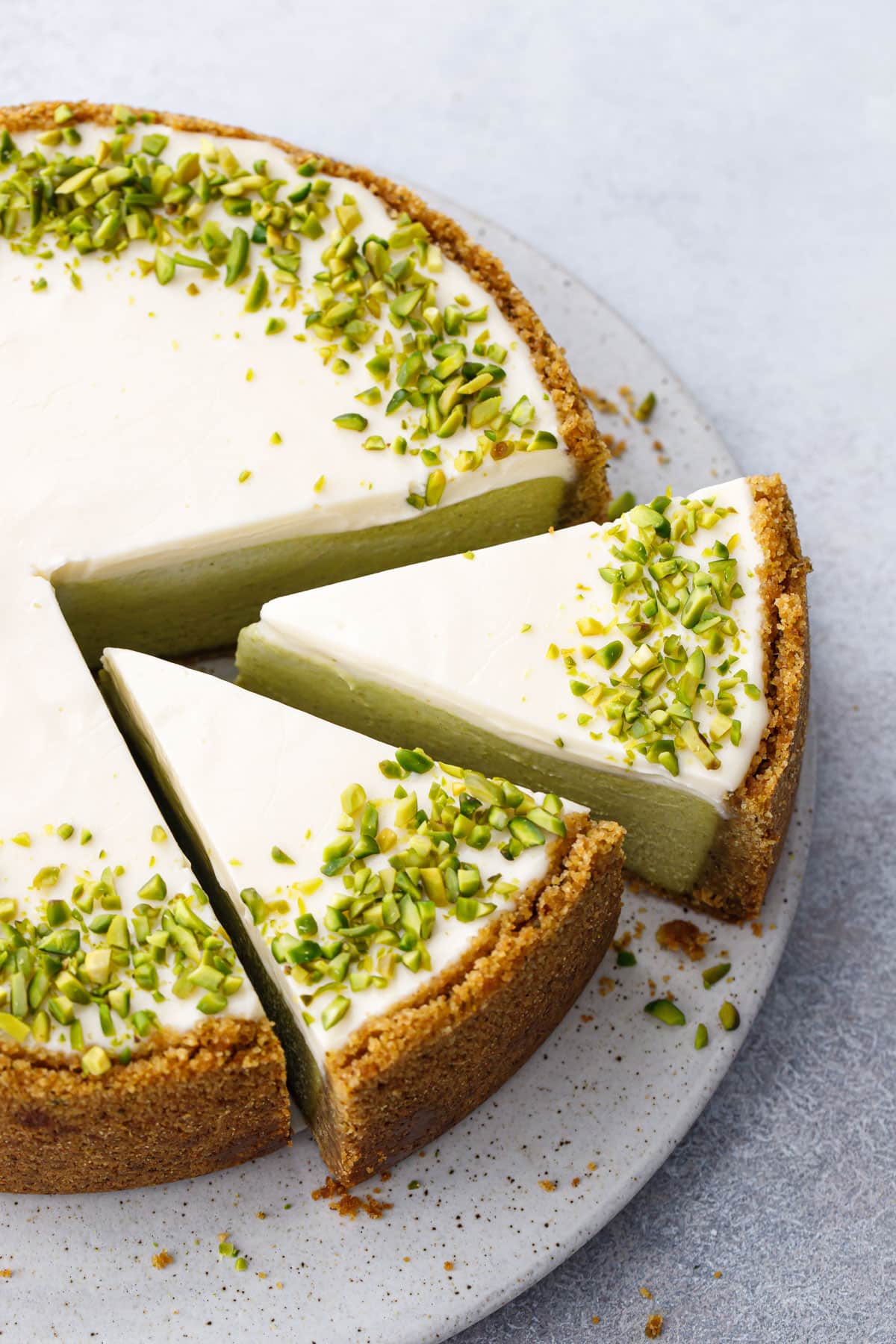 Green with Envy
Pistachios and pistachio butters vary quite a bit in terms of color, so your cheesecake may turn out a different color from mine. I've found the greenest pistachios are these slivered Iranian pistachios, which I then ground into my own homemade pistachio butter.
You can also buy pistachio butter (Pistachio Factory and Peppertux are two brands I recommend), but it won't be quite as bright green as mine.
Depending on the color of your pistachio butter you can add a drop or two of green food coloring to the cheesecake batter to enhance the color and make it instantly recognizable as pistachio. My pistachio butter was quite green, so I didn't need it this time, but that's totally up to you.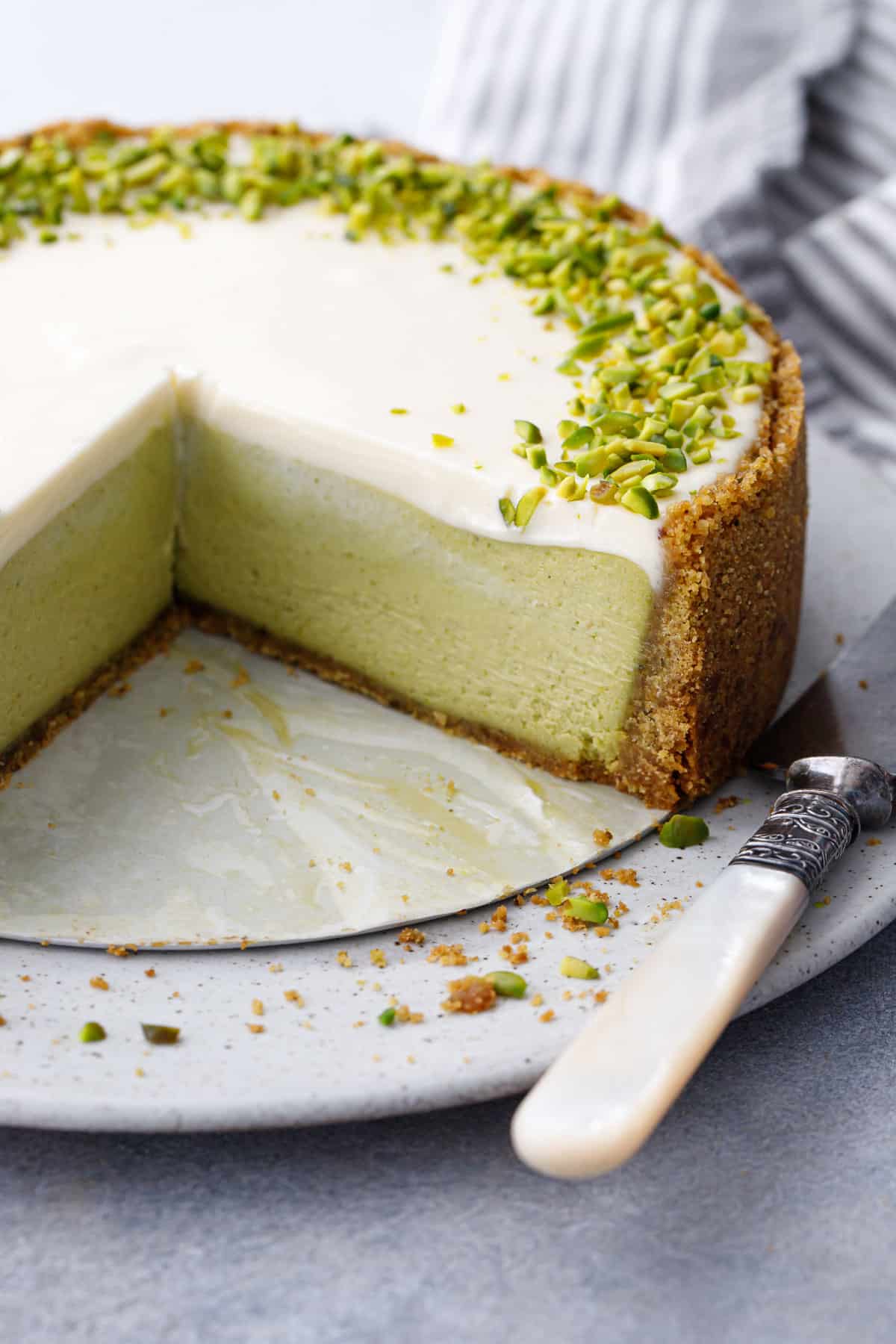 The topping is simply sour cream and sugar, which magically sets up into a sliceable layer of creamy goodness on top of the cheesecake.
I briefly toyed with the idea of a ganache topping, but pistachio is such a delicate flavor that's easily overpowered by bitter dark chocolate. In this case I really wanted the pistachio to be front and center.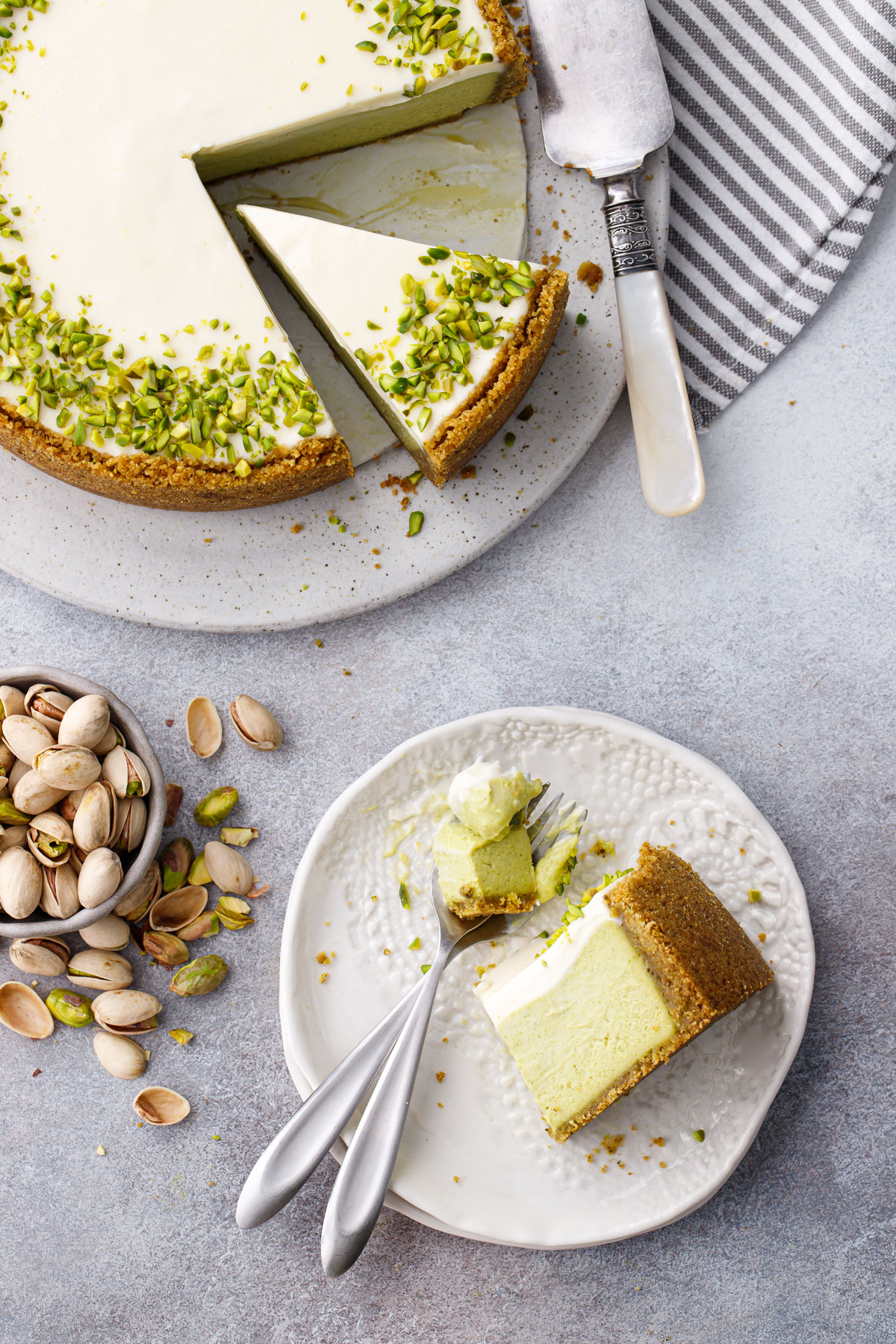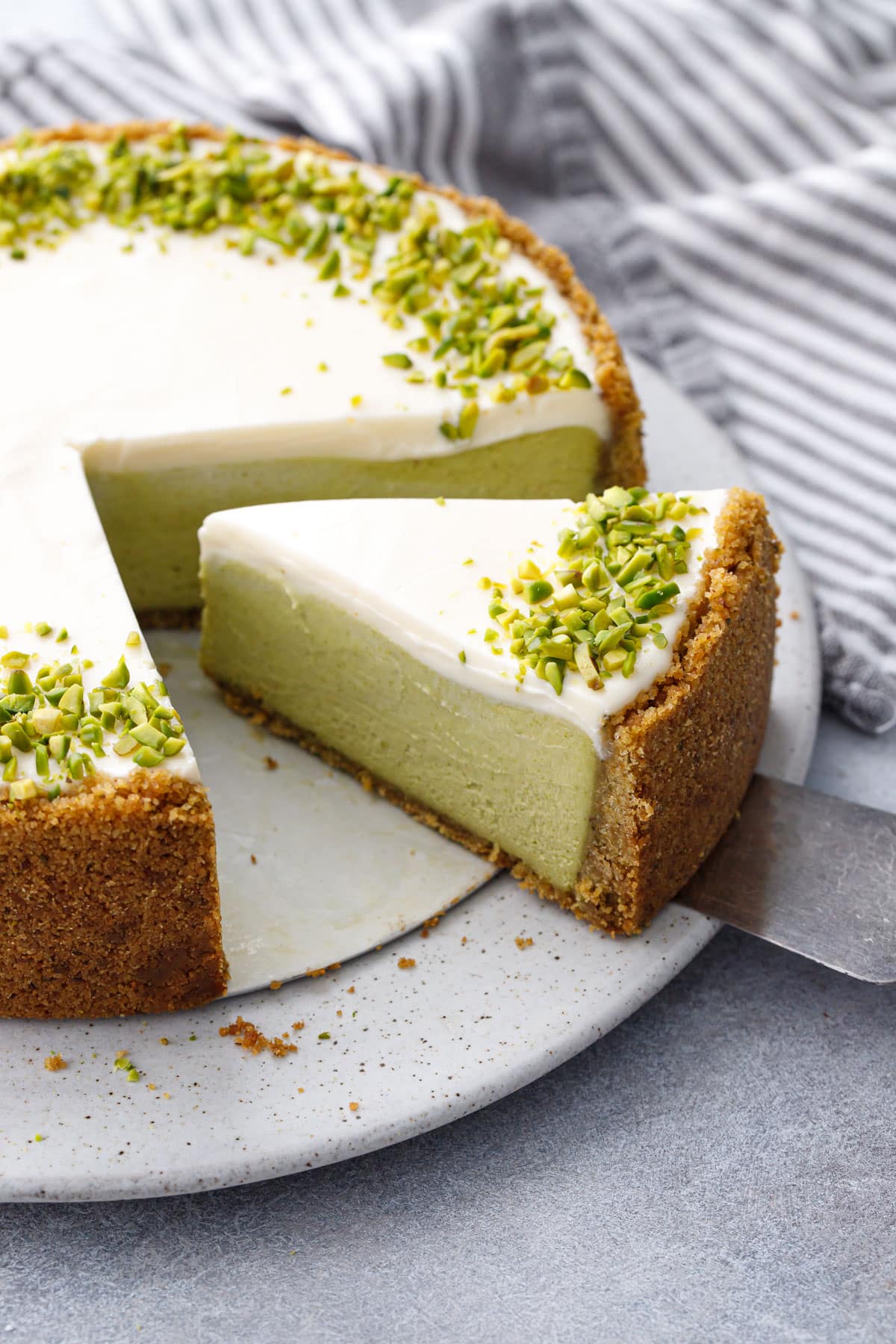 Cheesecake Tips & Tricks
Having room temperature ingredients is extremely important if you want a smooth and creamy cheesecake. For the cream cheese particularly, but also eggs and sour cream, be sure you take them out of the fridge at least 1 hour before baking.
I find a food processor to be the best tool for mixing cheesecake batter. Stand/electric mixers tend to mix in too much air (so your cheesecake will puff and is more likely to crack). A food processor is the best for achieving a perfectly smooth, creamy texture without mixing in as much air.
Ditch your springform pan and buy one of these deep cake pans with removable bottoms. I have one of these in 6, 8 and 9 inch sizes. They're deeper than standard cake pans (3″ instead of 2), and the thick aluminum sides conduct heat evenly, baking the cheesecake perfectly — no water bath needed (really, that's reason enough for me).
You can use an 8 or 9 inch cheesecake pan for this recipe. I used an 8″ since I wanted dramatic, deep slices, but a 9″ works too with the same quantities, the cheesecake will just be a little shallower (bake a 9″ for about 10 minutes less to account for the shallower depth).
The crust goes up the sides, about 2.5″ up the sides of and 8″ pan, or just over 2″ for a 9″ pan. You want the crust to be tall enough to hold all of the cheesecake filling and the topping (if it's too short, the topping may flow off the sides a bit).
Use a flat bottomed, straight-sided glass to compress the crust mixture neatly into the bottom, corners, and up the sides of the pan. Using a glass to press in the crust will make it neater in appearance and less crumbly one you slice into it (your hands simply can't compress it as firmly).
The cheesecake is done when the edges are set and slightly puffed, but the center is still a little bit jiggly. Think jello. If it's still liquidy looking, give it a few more minutes.
With Sour Cream on Top
The cheesecake is topped with a beautiful bright white sour cream topping. The topping is added after the cheesecake is mostly baked, returning to the oven for just a few more minutes to help set the topping.
When you first take the cheesecake out of the oven, the edges will be slightly raised and puffed. Let it cool for about 10 to 15 minutes or until the puffed edges settle down a little bit, and then spread on the sour cream topping. The topping will melt onto the still-warm cheesecake, almost smoothing itself into an even layer.
If you're using crème fraîche for the topping, keep it chilled until right before you need it. Sour cream can be at cool room temperature (let it sit out for no more than 20 or 30 minutes). Ideally the topping will be soft and spreadable, smoothing into an even layer on top, but should not be super liquidy (otherwise it may flow too much over the sides). Crème fraîche in particular can be quite thin when mixed with the sugar, which is why I recommend keeping it cold.
Also, while I love the creamy finish that the sour cream topping provides, you can certainly skip it entirely and just focus on the gorgeously green pistachio layer. (Give it 5 or 10 minutes longer in the oven in this case). You could also serve it with fresh whipped cream, a fruity raspberry sauce, or even a drizzle of chocolate ganache.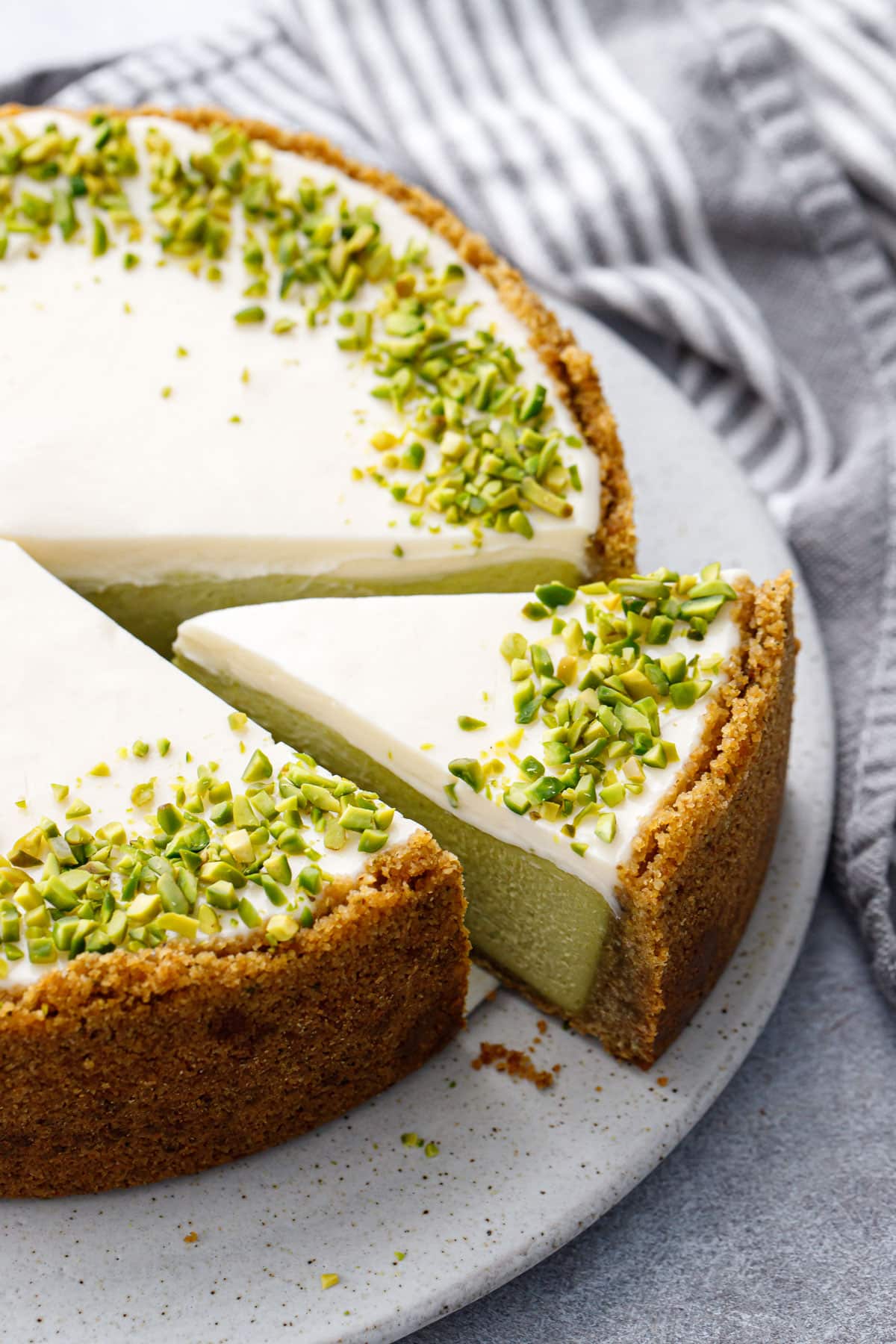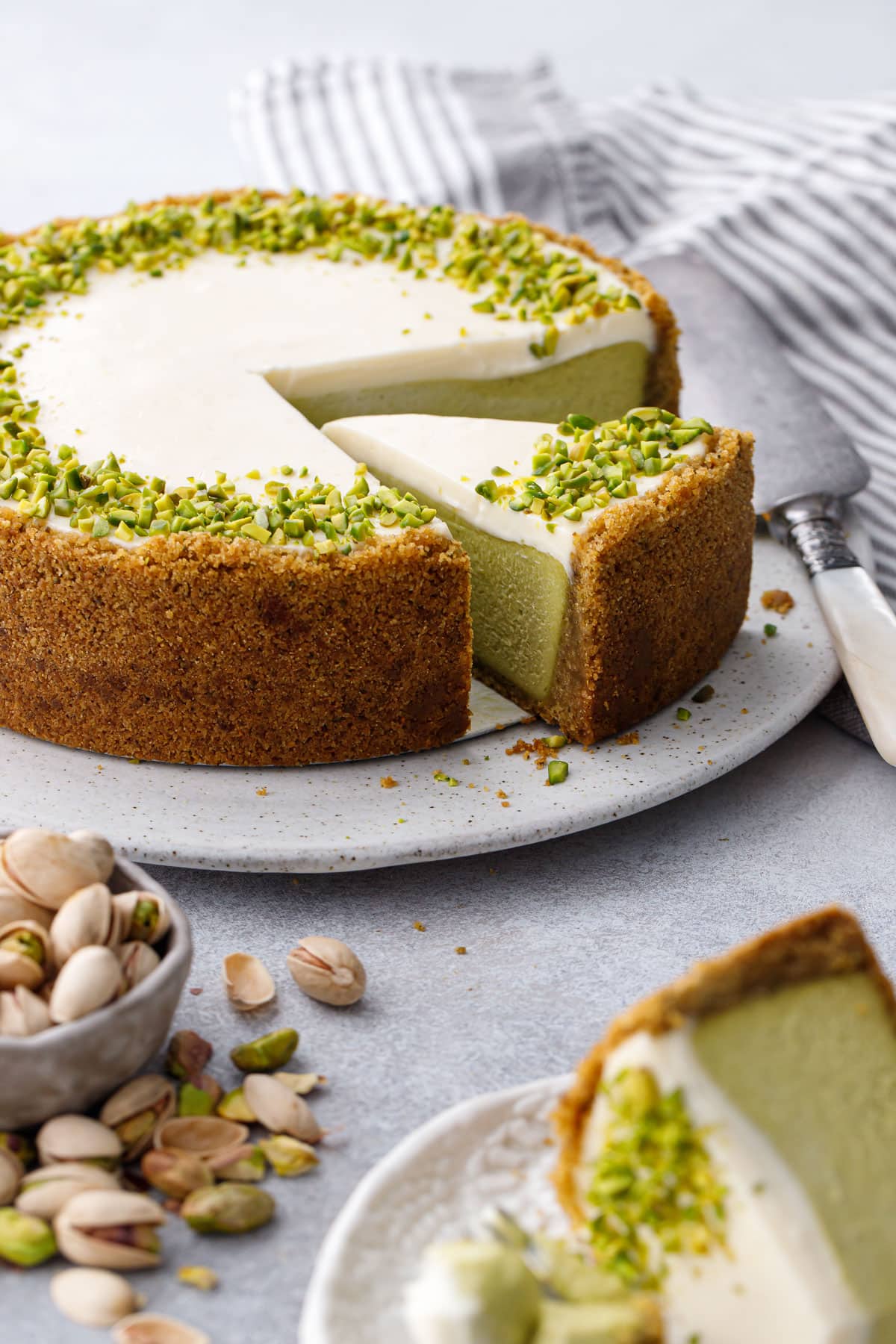 Keep Calm and Chill.
Once you take the cheesecake out of the oven for the second time, let it cool completely (1 to 2 hours), and then refrigerate. Cover lightly with plastic wrap over the top of the pan but not touching the surface of the cheesecake, the underside of the plastic should collect the condensation instead of the surface of the cheesecake.
Wait to add the chopped pistachios to the top until just before serving, as they will absorb some of the moisture if left to sit for too long (not a huge deal, but the pistachios just won't be quite as crunchy).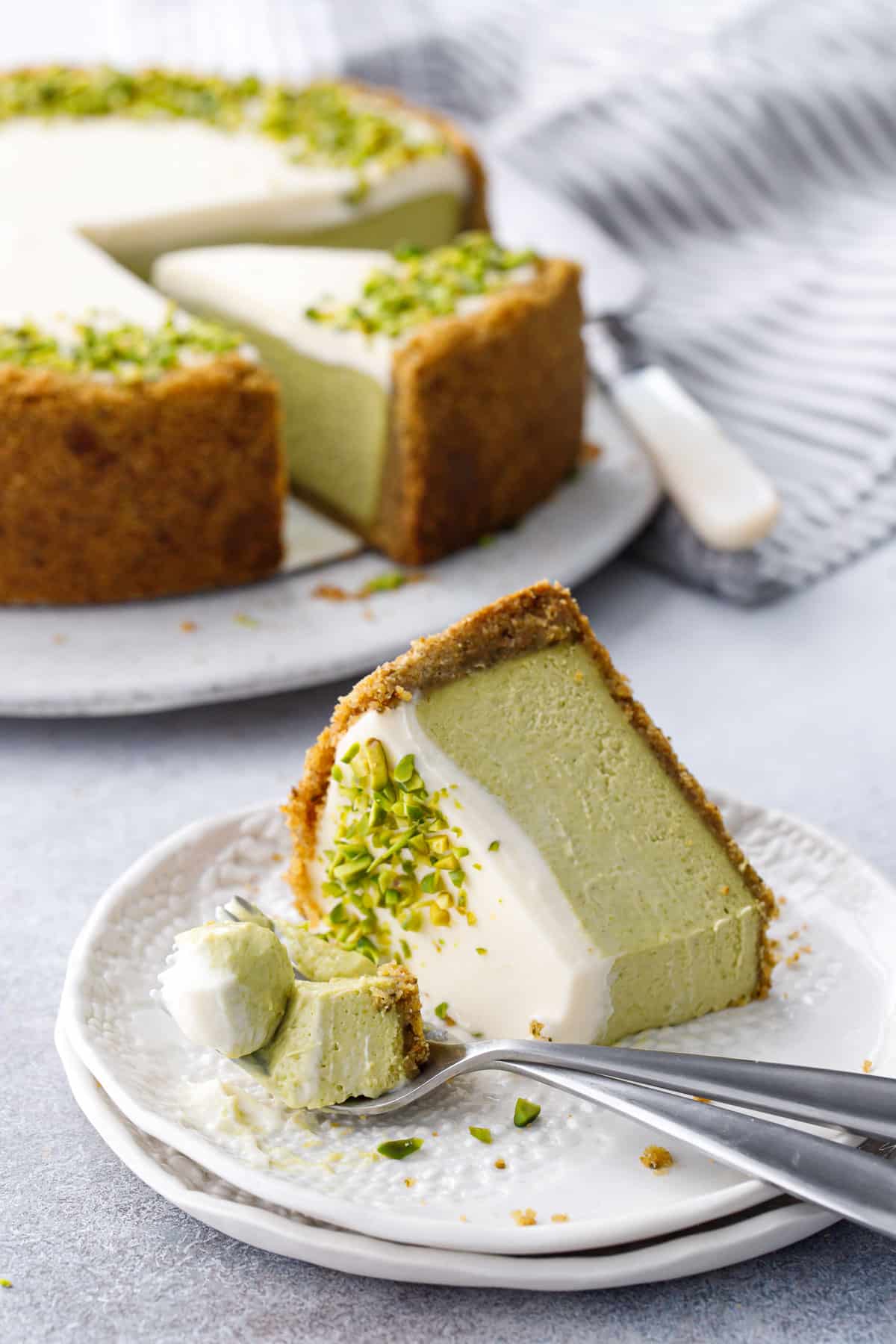 Ingredient Notes & Substitutions
Vanilla Wafers: The subtle vanilla notes work perfectly with the pistachio, but graham crackers or any other crunchy cookie will work just fine for the crust.
For a gluten-free cheesecake, simply use gluten-free cookies in the crust, and omit the flour in the filling (the flour helps the cheesecake bake more evenly without cracks, but it'll be just fine without it).
Pistachio butter: You can use store bought or homemade pistachio butter here, though the smoother the better. Alternatively, if you want a different flavor cheesecake, you can easily use any other nut butter here instead.
Sour cream: Use full fat sour cream; do not substitute low-fat sour cream or yogurt in this recipe (for the topping specifically, it will not work). You can use crème fraîche in place of the sour cream (when making the topping, keep it cool as room temp crème fraîche will become very thin when mixed with sugar and you want it a little bit thicker).
Pistachio extract: this is optional, but I find it helps enhance the natural pistachio flavor. You can also use 1 teaspoon vanilla and 1/2 teaspoon almond extract instead, which will give it a similar flavor profile though a bit more almond-forward.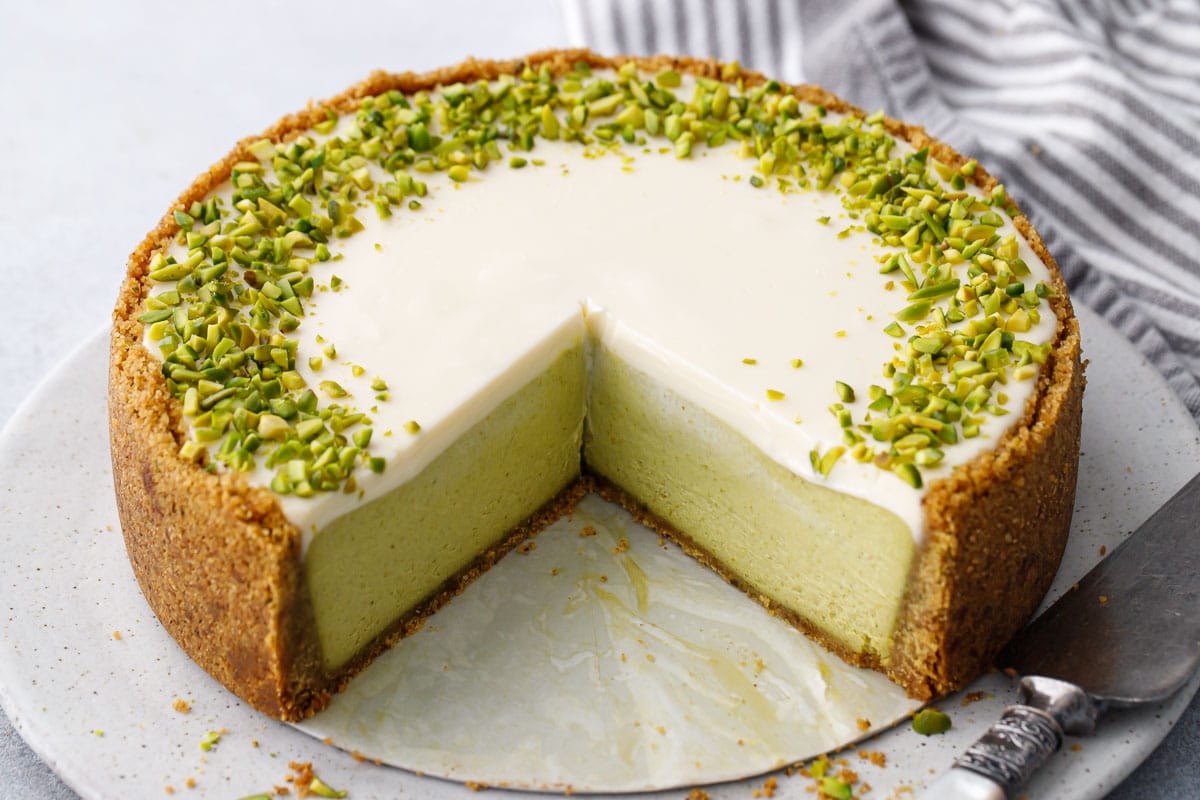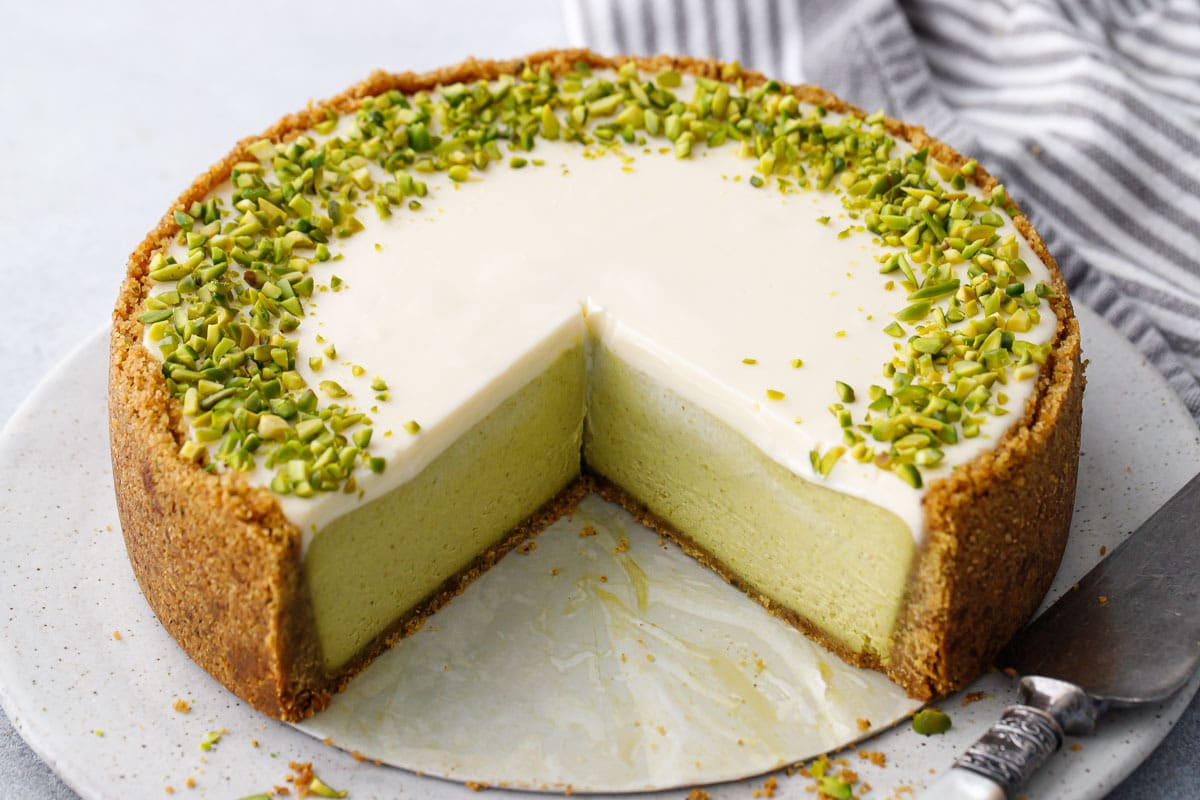 Pistachio Sour Cream Cheesecake
Gorgeous and green and oh-so-delicious, this pistachio cheesecake is made with sour cream in the filling for a silky smooth texture, plus a sour cream topping for a perfectly creamy finish.
Ingredients
For Crust:
8

ounces

/

200

g

vanilla wafer cookies

5

tablespoons

/

50

g

pistachio flour or very finely ground pistachios

2

tablespoons

/

24

g

brown sugar

pinch

salt

5

tablespoons

/

70

g

butter

,

melted
For Filling:
16

ounces

/

454

g

full-fat cream cheese

,

at room temperature

⅔

cup

/

133

g

granulated sugar

1

teaspoon

fine sea salt

,

reduce to 1/2 teaspoon if using salted pistachio butter

3

tablespoons

/

22

g

all-purpose flour

4

large eggs

,

at room temperature

⅔

cup

/

160

g

sour cream

,

at room temperature

⅔

cup

/

170

g

pistachio butter

1 ½

teaspoons

pistachio extract

green food coloring

,

optional
For Topping:
1

cup

/

240

g

sour cream

¼

cup

/

50

g

granulated sugar

pinch

fine sea salt

chopped pistachios

,

for garnish
Instructions
Preheat oven to 350 degrees F. Butter an 8-inch deep cheesecake pan with removable bottom or an 8-inch springform pan; line bottom with a round of parchment paper if desired.

If using whole pistachios, pulse in a food processor until very finely ground. Add cookies, sugar, and salt and pulse until you have very fine crumbs. Add melted butter and pulse until evenly moistened. Press into bottom and 2.5" up the sides of prepared cheesecake pan. Bake crust for 10 minutes or until set, then remove from oven and let cool.

Reduce oven temperature to 325 degrees F.

In the bowl of a food processor or a stand mixer, pulse room temperature cream cheese with sugar until smooth. Add salt and flour and pulse again. Add eggs, two at a time, mixing well after each addition and scraping down the sides of the bowl as necessary to be sure all ingredients are evenly incorporated. Add sour cream, pistachio butter, and pistachio extract and pulse until even in color and no white streaks remain (remember to scrape the bowl again!) Add a drop of two of green food coloring if you'd like.

Pour batter into cooled crust; it should come within about 1/2" of the top edge of the crust. Place pan on a baking sheet and place in preheated oven.

While cheesecake is baking, whisk together sour cream and sugar until smooth. Ideally this mixture should be smooth and pourable but not liquidy; if it gets too warm and runny, pop it in the fridge until you need it (particularly if you're using creme friache, it needs to be chilled or it gets way too thin).

After about 50 to 60 minutes, when edges are puffed and the center of cheesecake is set but still a little bit jiggly, remove from oven. Let cool for 10 minutes until the puffed edges settle a bit, then pour sour cream mixture on top of cheesecake, spreading into an even layer. The crust should be tall enough to keep it from overflowing the sides.

Return to oven to bake for another 5 to 8 minutes until topping is set, then remove to a wire rack and let cool completely to room temperature. Lightly cover and refrigerate at least 3 hours or ideally overnight.

Before serving, sprinkle edges with chopped pistachios. Slice into wedges (wipe your knife between each slice for the cleanest cuts) and serve chilled or at room temperature. Cheesecake will keep in the refrigerator for up to 5 days.
Notes
*It is VERY important that all your refrigerated ingredients be at room temperature, this means your cream cheese, eggs, and sour cream. Doing so will ensure a silky smooth filling. I recommend taking your ingredients out of the fridge at least 2 hours before you bake, longer in cooler temperatures.
All images and text ©
for Love & Olive Oil.
Did you make this recipe?
Let us know what you think! Leave a Review below or share a photo and tag me on Instagram with the hashtag #loveandoliveoil.