This light and silky cheesecake gets its vibrant purple color from roasted blueberries; with a vanilla cookie crust and a delicate crème fraîche glaze, it might be your new favorite cheesecake!
I have finally reached cheesecake nirvana: silky smooth, luxuriously creamy, with a stunningly purple color and a robust roasted blueberry flavor (roasting the berries first makes all the difference!) It's the perfect balance of tart and sweet.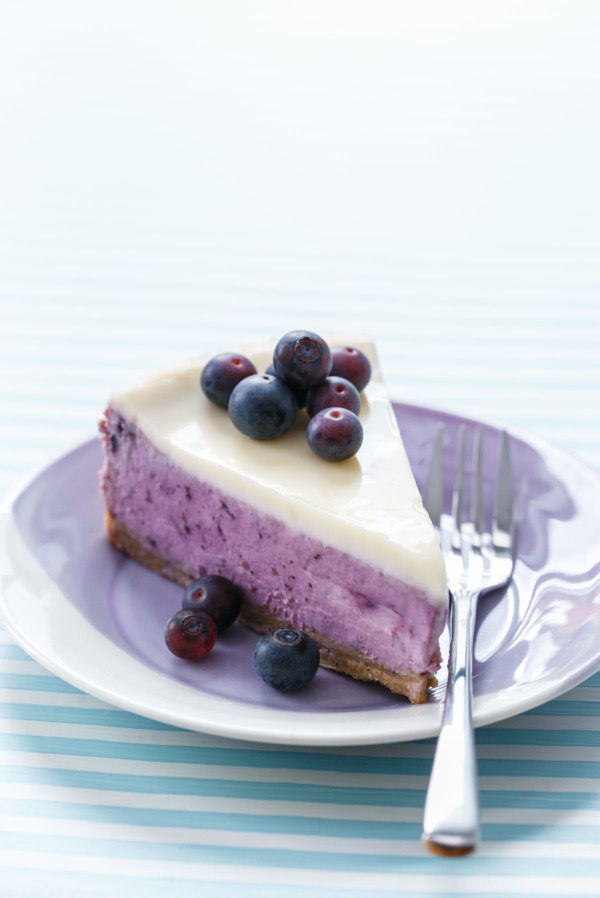 Taylor is not cheesecake's biggest fan. He says that even the best cheesecake is only a C+ dessert (whereas even a bad chocolate cake is more enjoyable in his mind). And I'll admit that I will always turn to the chocolate desserts on restaurant menus over the cheesecake.
But when I got an inkling to make a purple cheesecake, one bursting with blueberry flavor, I wasn't expecting it to be quite this good.
To say this cheesecake was a labor of love would be an understatement. It took me 3 tries before I finally got it right (and even then I was on the verge of failure). Copious amounts of love, stress, and blueberries went into this recipe.
But, boy, was it worth it in the end, when I finally reached cheesecake nirvana: that moment when your fork slices through the silky smooth cake like butter, each bite stunningly purple, luxuriously creamy, with an underlying rich blueberry flavor; the perfect balance of tartness and sweet.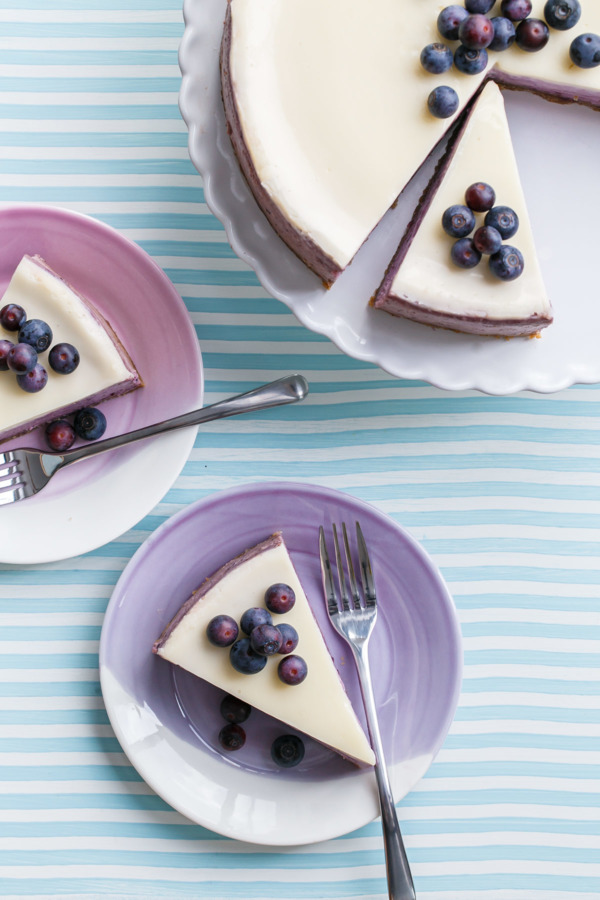 My first attempt incorporated fresh pureed berries, but they turned the cake itself a sad shade of bluish gray that was less than appetizing. Even with a hearty dose of food coloring, the color (nor the [lack-of] flavor) wasn't quite what I envisioned.
But as I learned with this roasted blueberry ice cream, the act of roasting the berries greatly intensifies both the color and flavor. It's the secret to coaxing out the best of this perplexing little berry. So I doubled the amount of berries and roasted them down with a bit of maple syrup until they were bubbling with flavorful juices. The pureed roasted berries are what give this cheesecake its vibrant color: no food coloring necessary.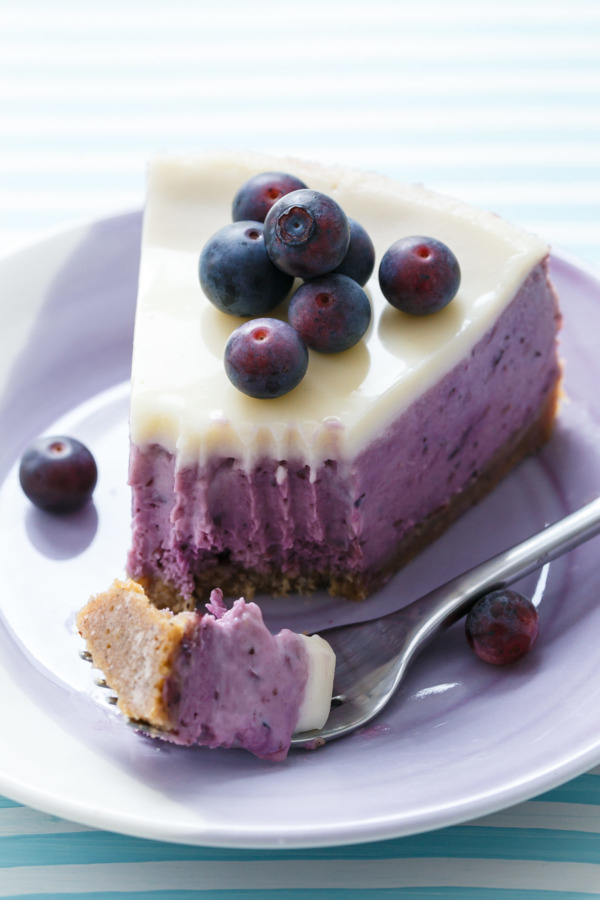 My second cheesecake was perfect in that respect, the base at least, but I decided it needed a glaze. So I topped my perfectly purple cheesecake with a simple powdered sugar glaze (the kind you'd drizzle on cinnamon rolls or spread on sugar cookies), even going so far as to swirl in a bit of blueberry for color, and waited for it to set.
Except it didn't set. On the surface, maybe, the glaze deceivingly crusting over, but underneath lay a molten mass that no amount of time or patience or hasty refrigeration could fix.
I finally got impatient and sliced into it, hoping for the best. I barely got the slice to the table before it started oozing. And it continued to ooze like the wicked witch of the west, dropping dollops of viscous glaze onto every surface within reach.
I almost gave up, right then and there, but I could still see the potential this cake had, even under all that gooey glaze.
For my third attempt (the reason we had to go back and pick more berries in the first palce, because I refused to give up on this recipe), I made a simple glaze with crème fraîche, sugar, and almond extract, that gets poured onto the almost-done cheesecake and then baked for a final 5 minutes, allowing the glaze to set up and slice cleanly, just as I had envisioned.
It would have been perfect, except I had baked the cheesecake in a regular cake pan instead of a springform. Which is a technique that, granted, produces perfect, crack-free cheesecakes, but also requires you invert the cake to get it out of the darn thing.
Inversion + glaze = potential mess.
Taylor was bracing himself for a third round of failures and a very cranky wife. Luckily the cake came out surprisingly clean with a bit of coaxing, only minor blemishes on top (easily camouflaged by some plump fresh berries).
Needless to say I'd recommend using a high quality cake pan with a removable bottom to keep its pristine layers in tact. I prefer this kind of pan over a springform pan, which are often thin and don't bake as evenly (and may cause the top to crack).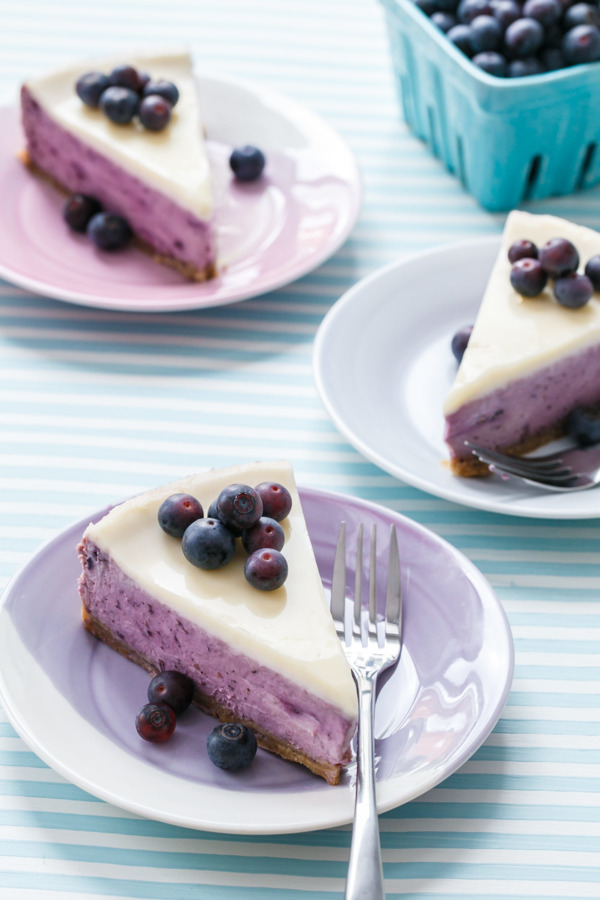 The crème fraîche, both in the cheesecake itself and the glaze on top, contributes to its perfectly silky texture and subtle sour sweetness. Crème fraîche being a French cultured cream, I'd call this cheesecake very cultured, indeed.
You can use sour cream if you like, but the crème fraîche has a more milder, refined flavor that perfectly balances the richness of the cream cheese, and it's worth the cost if you can find it (or, hey, make it yourself!)
You can top the cake with more fresh berries or even drizzle some extra roasted blueberry goodness on top for an extra dose of blueberry flavor.
And then go back for another slice.
Update August 2020: After making this cheesecake a number of times I've realized that not all brands of crème fraîche behave the same way—sometimes, when mixed with the sugar, it gets so thin and fluid that the glaze seems to disappear off the top of the cheesecake. The original was made with Trader Joe's brand, which seems to be thicker and more stable than other brands I've tried. Sour cream, on the other hand, contains additional stabilizers so it is much more reliable in general.
I've adjusted the original recipe slightly to account for this variance, including reducing the sugar in the glaze and advising that, if using crème fraîche, the glaze topping should be chilled rather than at room temp (but all ingredients for the filling, crème fraîche included, should still be at room temperature).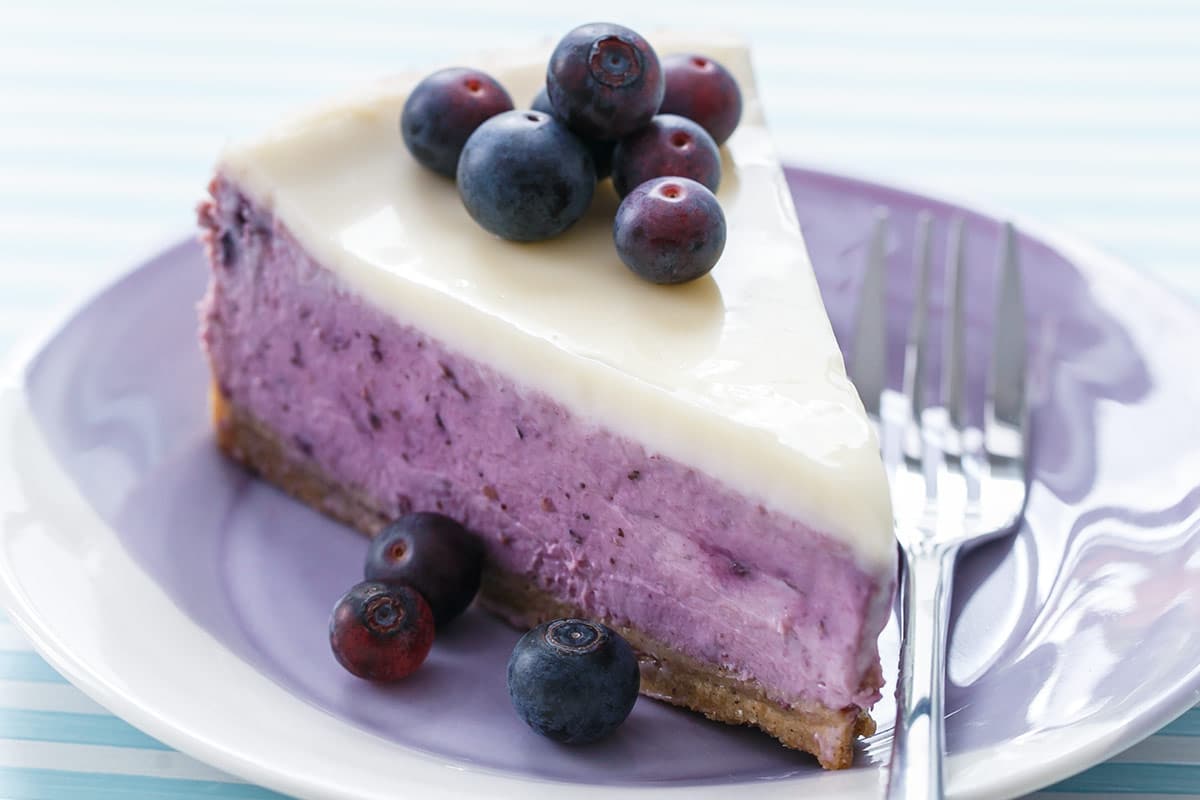 Blueberry Crème Fraîche Cheesecake
This light and silky cheesecake gets its vibrant purple color from roasted blueberries; with a vanilla cookie crust and a delicate crème fraîche glaze, it might be your new favorite cheesecake!
Ingredients
15

ounces

/

425

g

(about 3 cups) fresh blueberries

3

tablespoons

/

36

g

brown sugar

1

teaspoon

pure maple syrup
For Crust:
7

ounces

/

200

g

vanilla wafer cookies

,

about 1 1/2 cups crumbs

¼

cup

/

30

g

almond meal or finely ground almonds

2

tablespoons

/

24

g

brown sugar

pinch

salt

5

tablespoons

/

70

g

butter

,

melted
For Filling:
16

ounces

/

454

g

full-fat cream cheese

,

room temperature*

⅔

cup

/

133

g

granulated sugar

1

teaspoon

fine sea salt

3

tablespoons

/

22

g

all-purpose flour

4

large eggs

,

room temperature

⅔

cup

/

150

g

crème fraîche** or sour cream

,

room temperature

2

tablespoons

freshly squeezed lemon juice

1 ½

teaspoons

vanilla extract

¾

teaspoon

almond extract
For Glaze:
1

cup

/

240

g

crème fraîche

,

chilled or sour cream (room temperature)***

¼

cup

/

50

g

granulated sugar

½

teaspoon

almond extract
Instructions
Preheat oven to 400 degrees F. Toss blueberries with brown sugar and maple syrup. Spread onto a rimmed baking sheet (lined with foil for easy cleanup) and roast for 15 minutes or until juicy and bubbly. Remove from oven and let cool for 10 to 15 minutes, then pour, scraping all berries and their juices, into the bowl of a food processor or blender; puree until smooth and set aside. You should have about 1 cup of puree (if you have more than that, feel free to set some aside to drizzle on the top of the cheesecake later).

Crush cookies in a food processor until fine crumbs; pulse to mix in almond meal, sugar, and salt until blended. Add butter and pulse until evenly moistened. Press into bottom of prepared pan. Bake crust for 10 minutes or until set, then remove from oven and let cool completely.

Reduce oven temperature to 325 degrees F.

In the bowl of a food processor or a stand mixer, pulse room temperature cream cheese with sugar until smooth. Add salt and flour and pulse again. Add eggs, two at a time, mixing well after each addition and scraping down the sides of the bowl as necessary to be sure all ingredients are evenly incorporated. Add crème fraîche, lemon juice, vanilla and almond extracts, and pureed blueberries and pulse until even in color and no white streaks remain (remember to scrape the bowl again!)

Pour batter into cooled crust. Place on a baking sheet and place in preheated oven. While cheesecake is baking, whisk together crème fraîche, sugar, and almond extract until smooth. If using crème fraîche, put this mixture back in the fridge until you're ready to glaze.

After about 45 to 50 minutes, when center of cheesecake is set but still barely jiggly, remove from oven and let cool for about 10 minutes, then pour glaze on top of cheesecake, spreading into an even layer.

Return to oven to bake for another 5 minutes, then remove to a wire rack and let cool to room temperature. Refrigerate at least 3 hours or ideally overnight.

Before serving, remove edges of springform pan and slice into 16 wedges; serve chilled or at room temperature, topped with fresh blueberries or leftover roasted blueberry puree if desired. Cheesecake will keep in the refrigerator for up to 5 days.
Notes
*It is VERY important that all your refrigerated ingredients be at room temperature, this means your cream cheese, eggs, and crème fraîche. Doing so will ensure a silky smooth filling. I recommend taking your ingredients out of the fridge at least 2 hours before you bake, longer in cooler temperatures.
**Crème fraîche is a french cultured cream similar to sour cream, though the flavor is slightly more mild and delicate. You can make your own quite easily, or substitute sour cream if you're unable to find it.
***For the glaze, I've found it helpful to keep crème fraîche cool. Sour cream should be more room temperature. This ensures the glaze stays thick enough to pour and spread (crème fraîche has a habit of getting too liquidy when mixed with the sugar and will 'flow' off the top of the cheesecake).
All images and text ©
for Love & Olive Oil.
Did you make this recipe?
Let us know what you think! Leave a Review below or share a photo and tag me on Instagram with the hashtag #loveandoliveoil.