This deliciously stunning pie features an ube and coconut cream filling in a chocolate cookie crust, and is topped with fresh whipped cream and Halloween sprinkles for a fun and festive presentation!
Have you ever seen a purple pie? The unusual color and mesmerizing flavor of this ube & coconut cream pie will please your palate and tantalize your tastebuds, while your eyes devour the beautiful violet hue.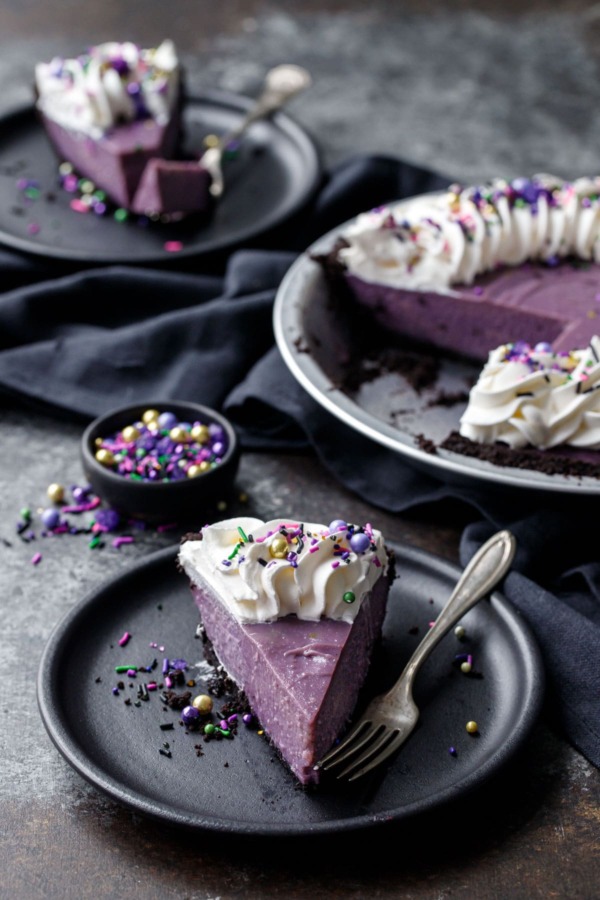 If you know me at all, you know that I love playing with unexpected colors in food. So it should come as no surprise that I've been suffering from a mild case of obsession with purple sweet potatoes, ever since I found some in the store last fall. I simply adore their vibrant natural color, and proceeded to try and make purple versions of traditional orange sweet potato recipes.
As it turns out, the two aren't exactly interchangeable. It took me about 3 batches of gnocchi and about 4 pies before I finally realized that. The purple sweet potatoes I was using, called Stokes sweet potatoes and developed in the USA, have a much drier, starchier texture than orange sweet potatoes. This extra starchiness was problematic, especially when it came to the pie: I simply couldn't achieve that silky smooth custard filling I was going for (rather, it felt like I'd just eaten a spoonful of wallpaper paste). Same for the gnocchi, the extra starch just resulted in a gummy, pasty texture that was less than ideal.
They were very pretty, no argument there, but they just weren't very good (looks aren't everything, you know).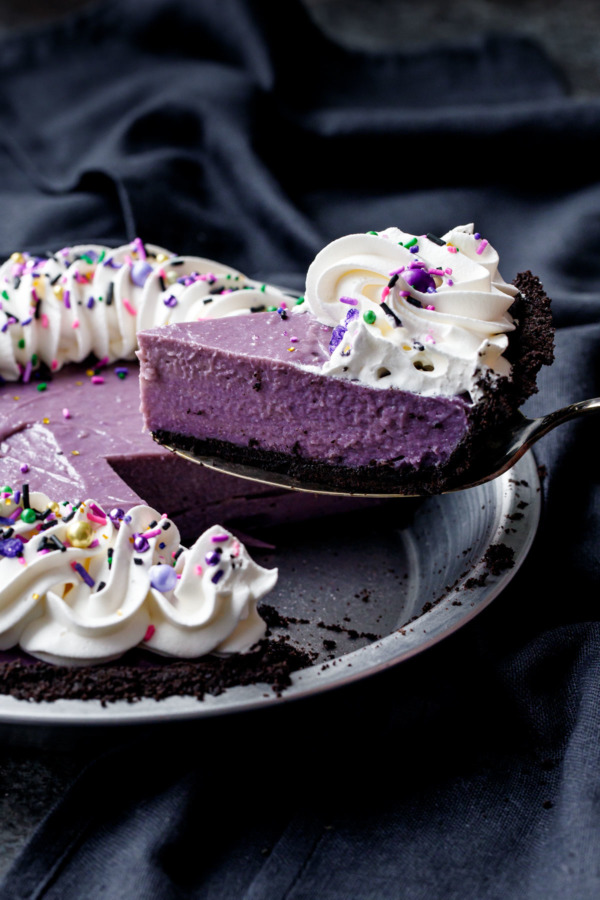 Thanksgiving came and went and I ultimately gave up my pursuit of a purple pie, tabling the idea for the next year (I decided that a purple pie would be more suitable for Halloween, anyway – bring one of these to Thanksgiving dinner and you'll probably get a few questioning looks).
Now a year has come and gone and I'm still thinking about this purple pie. Clearly I had to try a different approach. After further research I realized that not all purple sweet potatoes are the same (as I had mistakenly assumed); rather, there are three distinct kinds of violet tubers throughout the world: Stokes purple sweet potatoes from the US, Okinawan purple sweet potatoes from Japan, and ube. All three are quite different in taste and texture and really aren't interchangeable.
But the more I researched it, the more ube stood out to me as the best candidate for my purple pie. This purple yam from Southeast Asia is a bit sweeter and less starchy than the Stokes potatoes, and often used for flavoring dessert pastries and ice cream. Sounds perfect, right? Now I just needed to find some.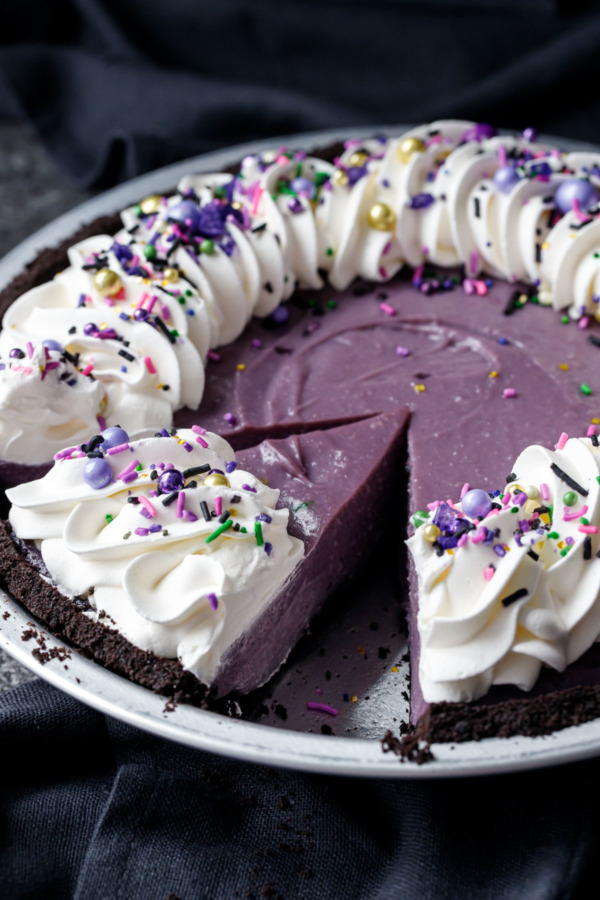 Fresh ube isn't something I could track down; even frozen eluded me. However jarred ube jam, called ube halaya (pictured above left), is easy enough to find online and proved to be the perfect combination of texture and flavor that I needed for this pie. (I ultimately bought this set which included a jar of ube halaya, ube extract, as well as dried ube powder which can be rehydrated and made into ube halaya).
If you have a Filipino market near you, you should have no problem finding ube halaya (lucky you!) Even better, if you can find fresh or frozen ube you can make your own from scratch, allowing you to control the flavor and sweetness completely.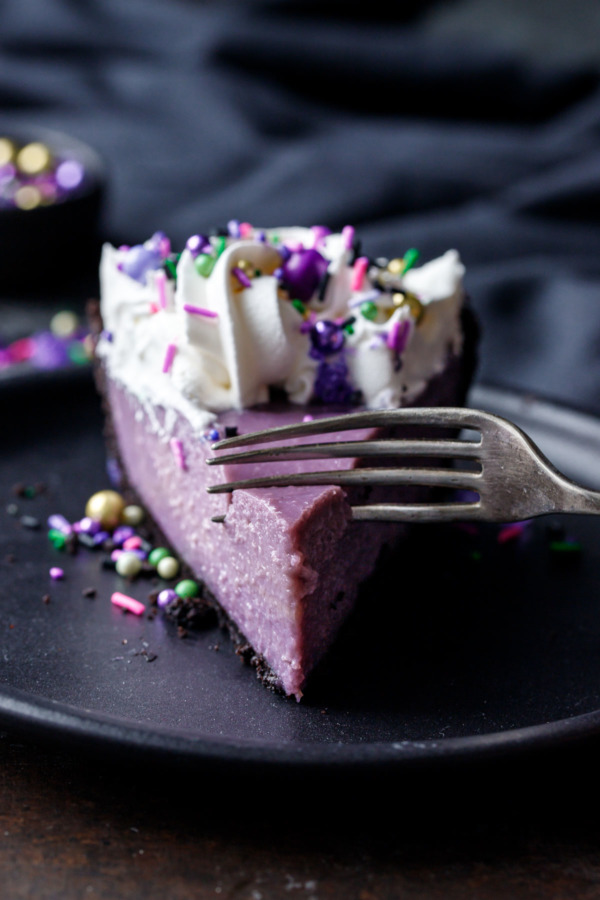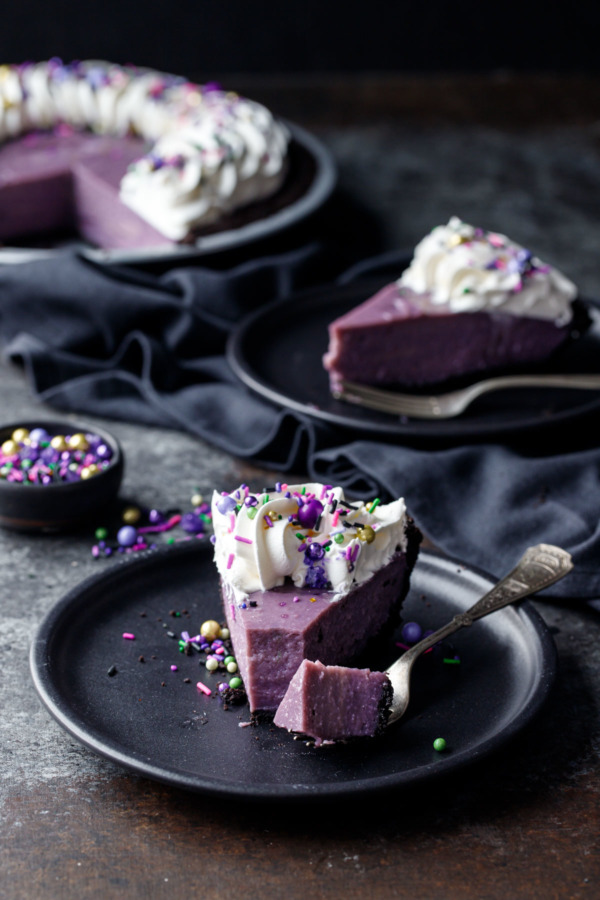 Ultimately I went for more of a cream pie with a pudding-like filling as opposed to a baked custard like a traditional pumpkin or sweet potato pie. Mainly because I wanted to preserve the fantastic color of the ube (although I will note most of the color here does come from the ube extract which contains added color – the ube halaya on its own, when mixed with the milks and egg yolk, is not strong enough to tint the pie anything more than a muddled mauve).
If you like coconut cream pie, you'll love this ube variation. The custard base is essentially the same as a classic coconut cream pie, with the addition of the ube halaya and ube extract for a unique color and flavor.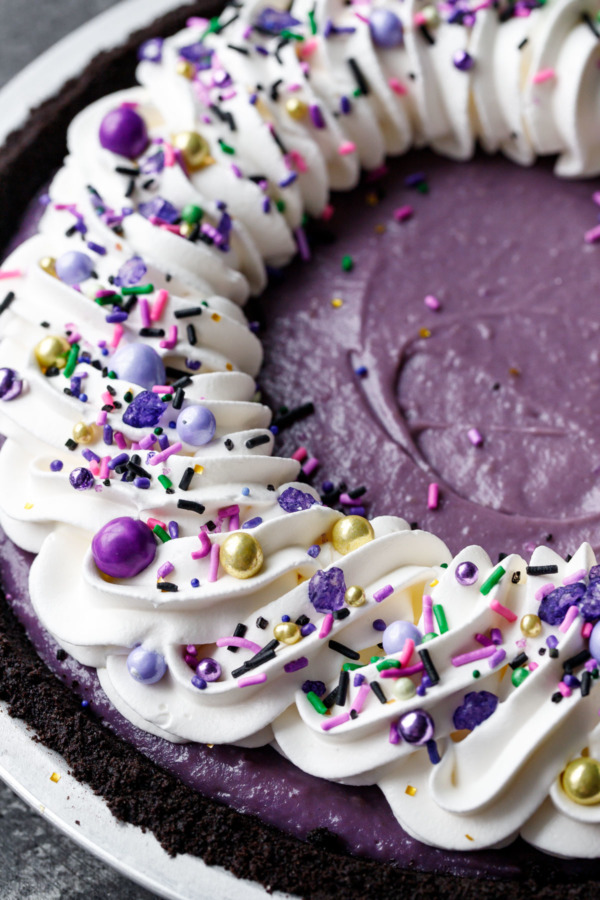 I put the whole thing in chocolate cookie crust to enhance the halloweeny-ness of it all (with some halloween-themed sprinkles to boot), but you could certainly use a classic pie crust here instead of you preferred.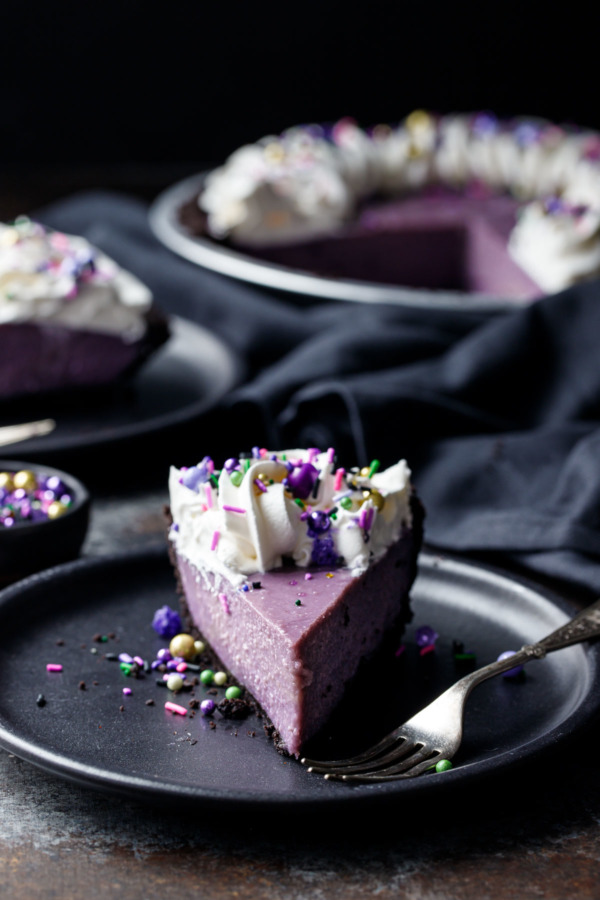 For those curious, sprinkles used are the If You've Got it, Haunt It medley from Sweetapolita. (Use code LOVEANDOLIVEOIL15 and get 15% off your order!)
I used Tropics brand ube halaya jam for this recipe (purchased as part of this set which also includes the ube extract you'll need), however any other brand should work fine here (I'm sure they vary a bit in terms of flavor and sweetness, so pick your favorite and go for it!) Homemade will work as well if you've got the time and the access to the proper ingredients.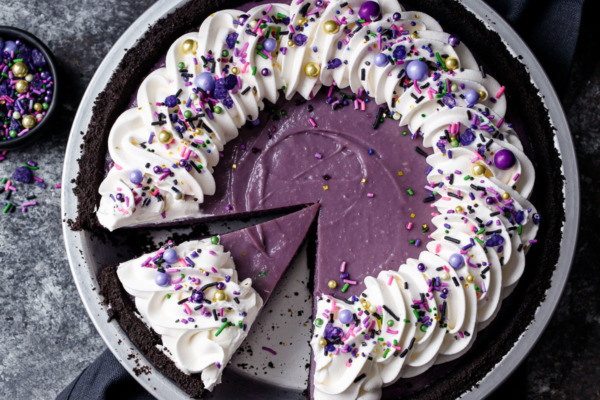 Ube & Coconut Cream Pie
This deliciously stunning pie features an ube and coconut cream filling in a chocolate cookie crust, and is topped with fresh whipped cream and Halloween sprinkles for a fun and festive presentation!
Ingredients:
For Crust:
7 ounces chocolate wafer cookie crumbs, finely ground (about 1 2/3 cup ground)
4 tablespoons unsalted butter, melted
For Filling:
1 (13.5oz) can (1 2/3 cup) full fat coconut milk
1 1/2 cups whole milk, divided
12 ounces (1 1/4 cup) ube halaya (jarred or homemade)
1/3 cup granulated sugar
1/2 teaspoon kosher salt
1/8 teaspoon ground cinnamon
5 egg yolks
1/3 cup (40g) cornstarch
1 teaspoon vanilla extract
1 teaspoon ube extract
whipped cream, for topping
Directions:
Preheat oven to 350 degrees F.
Finely grind wafter cookies in a food processor. Drizzle in melted butter and pulse until evenly moistened. Dump into a lightly buttered 9-inch pie pan. Press firmly onto the sides and bottom (use a flat-bottomed glass or measuring cup to help compact the crust into an even layer).
Bake for 8 minutes just to set. Let cool completely.
To make filling, combine coconut milk, 1 1/4 cups whole milk, ube halaya, sugar, salt and cinnamon in a heavy saucepan set over medium heat. Bring to a simmer, stirring occasionally until sugar is dissolved.
Whisk remaining 1/4 cup milk with egg yolks in a medium bowl. Whisk in cornstarch until smooth and no lumps remain.
Slowly drizzle in a 1/4 cup or so of hot milk mixture, whisking vigorously. Continue to whisk in hot milk, 1/4 cup at a time, until about 1/3 of milk mixture has been incorporated and yolk mixture is warm to the touch.
Pour into saucepan with remaining milk mixture, and return to medium heat.
Bring to a boil, whisking frequently so the bottom of the custard doesn't burn, and once it starts to bubble continue to cook for 2 minutes.
Remove from heat, and whisk in vanilla and ube extracts (optionally, if your mixture seems unusually chunky and you want a smoother custard, you can strain it through a fine mesh sieve to remove any large chunks.
Pour custard into cooled crust, spreading into an even layer. Let cool to room temperature, then cover and refrigerate at least 3 hours or overnight until completely set.
Just before serving, top with fresh whipped cream. Decorate with seasonal sprinkles, as desired.
Did you make this recipe?
Let us know what you think!
Leave a Comment below or share a photo and tag me on Instagram with the hashtag #loveandoliveoil.