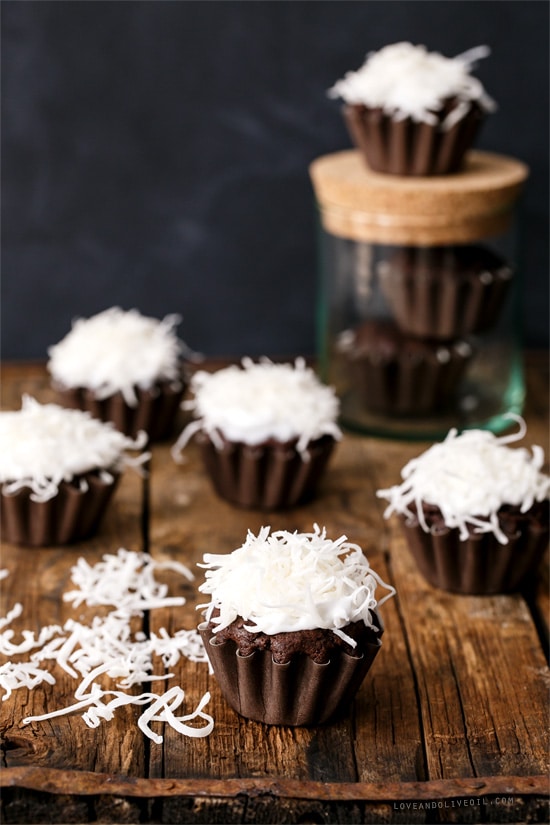 Wait, wait, don't go!
I'll admit, I'm guilty of it too: seeing the words VEGAN or DAIRY FREE or GLUTEN FREE and immediately skipping ahead to the next post.
Because, ew, that stuff is gross and dry and flavorless and gosh darn it I love my butter and my eggs and my glorious gluten.
But these cupcakes are different. While not gluten-free (I haven't crossed that line yet), they are naturally dairy free and vegan. But if I didn't tell you that you'd probably never know. (And in fact I was tempted to not call them vegan cupcakes so you wouldn't pull a duck-and-run on me). Trust me on this one.
I honestly believe that vegan cupcakes are a wonder. That they could be so incredibly light and delicate and full of flavor without any of the structural proteins of egg is a miracle. In fact, the eggs probably get in the way more than anything. Why not at least give them a try?
Set your cupcakes free.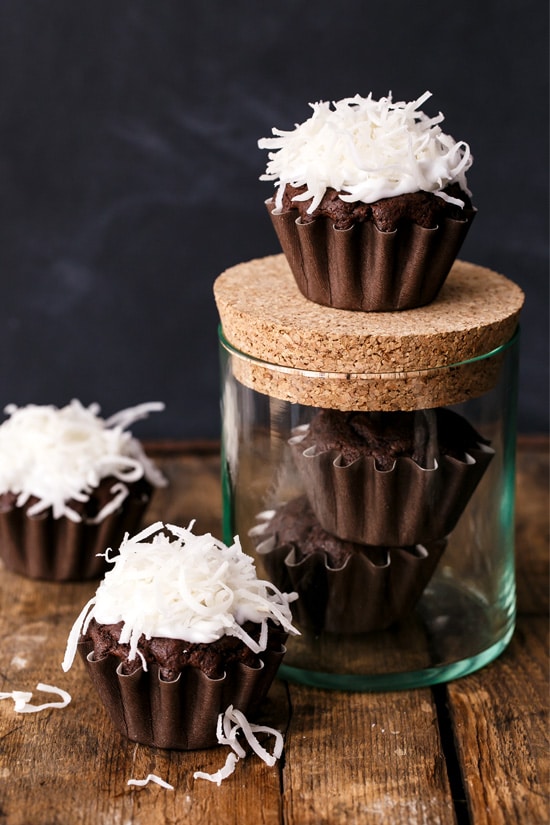 The whipped coconut frosting is like a sweet coconut cloud. It's not the most practical frosting for a cupcake, as it's fairly loose (so you can't pile on nearly as much as you want to) but it was too good not to use. I also wouldn't recommend it for cupcakes that need to travel or sit outside in the warm air; in those cases you'd be better off going with a coconut-flavored buttercream.
You could also call these triple coconut cupcakes, since they use three different kinds of coconut: milk, cream, and shredded (four if you swapped in coconut sugar which you could most certainly do).
For someone who doesn't really like coconut, I've sure been using a lot of it lately.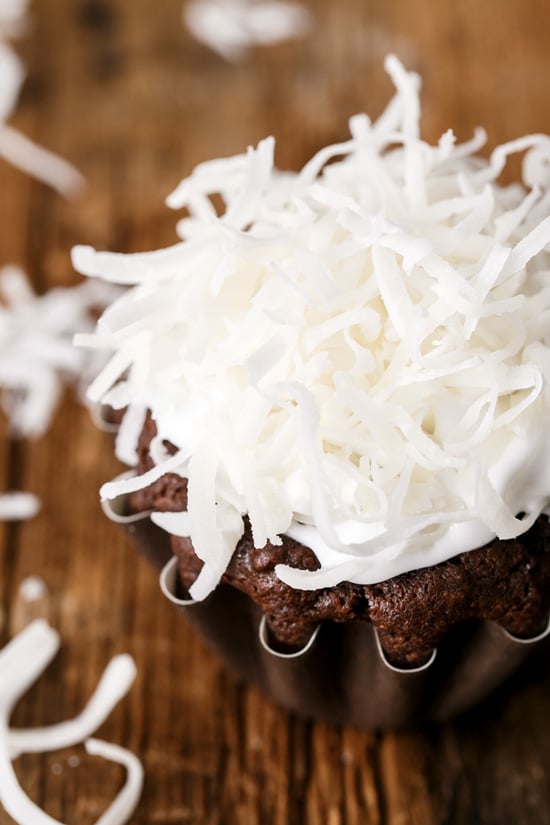 These particular cupcakes are definitely best the day they are made, when they are light and delicate and freshly frosted. After a night in the fridge they do firm up to a denser, more muffin-like texture. But that sure didn't stop Taylor from devouring the rest of them.
Vegan Chocolate Coconut Cupcakes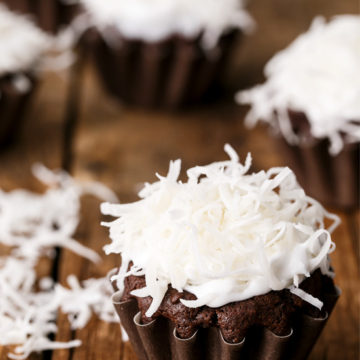 Ingredients:
For Cupcakes:
1 cup full-fat coconut milk
3/4 cup granulated sugar
1/3 cup coconut oil (softened)
1 teaspoon vanilla extract
1 1/4 cup all-purpose flour
1/3 cup cocoa powder, sifted
3/4 teaspoon baking soda
1/2 teaspoon baking powder
1/4 teaspoon salt
For Frosting:
12 ounces coconut cream, chilled overnight*
1/2 cup powdered sugar
1/2 cup shredded coconut
Directions:
Preheat oven to 350 degrees F. Line cupcake pan with paper liners.
Whisk together the coconut milk, sugar, and coconut oil until incorporated. If necessary, microwave in short 10-15 second bursts to warm coconut oil enough to melt it so that no chunks remain. Stir in vanilla.
In a separate bowl, sift together the flour, cocoa powder, baking soda, baking powder, and salt. Make a well in the center of dry ingredients and pour in the coconut milk mixture. Stir until dry ingredients are just incorporated (do not overmix).
Spoon into liners, filling each with a scant 1/4 cup of batter (cups should be no more than 2/3 full). Bake for 20 minutes or until a toothpick inserted into the center comes out clean. Transfer to a cooling rack and let cool completely.
For whipped coconut cream, spoon solid coconut out of can, discarding any remaining liquid in the bottom (or reserve for another use). Place in a chilled mixing bowl (keeping it cold is key here!) and beat on high speed until smooth. Add powdered sugar and mix until smooth and holds soft peaks. It won't firm up quite like whipped cream. Return to refrigerator for 15 to 20 minutes to firm up slightly.
Frost cupcakes with a thin layer of coconut cream. It's pretty lose, so it won't hold huge swirls like buttercream. Dollop a bit of frosting on top of the cupcake, then dip top in a bowl of shredded coconut. The coconut will help hold the frosting in place.
Cupcakes are best enjoyed the day they are made, but can be refrigerated in an airtight container for 1 to 2 days.
*You can also use full fat coconut milk but will need twice as much. Refrigerate at least 24 hours until thoroughly chilled. When you open the can, spoon off the solid layer of coconut at the top; this is what you will use to make the frosting. Any liquid at the bottom of the can can be discarded or reserved for another use. Note that if you use full-fat coconut milk instead of coconut cream, you may need 2 cans to get enough cream for the frosting.
Did you make this recipe?
Let us know what you think!
Leave a Comment below or share a photo and tag me on Instagram with the hashtag #loveandoliveoil.