I may as well just put it out there: I'm totally and entirely infatuated with persimmons. An affair of the tastebuds, if you will. We've been buying them every chance we get, using them in everything from our Thanksgiving green beans to this amazing winter caprese salad. But I know their abundance is short-lived, so excuse me while I go stuff my face while I still can.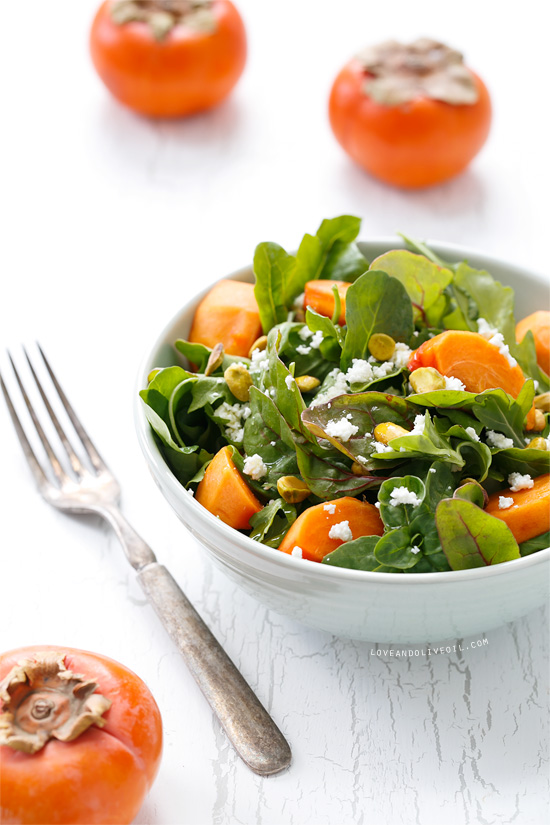 This salad features an incredible blood orange-infused olive oil from Capay Valley Ranches (disclaimer: CVR sent me some oil to try, but wouldn't be writing this if it didn't blow me away). I love that it is grown entirely in California and not imported (Italy's great and all but… go USA!) Normally I'm not one for flavored or infused olive oils, but this stuff is incredible. It has a candy-like sweetness that tastes almost like orange jelly beans. It's really perfect for this salad. Or any salad, really.
Sure, you could make substitutions to this salad as the seasons change: blood orange segments would be an obvious choice, or peaches in the summer, or figs in the fall; just something to add that note of freshness and sweetness to the salad. And if you don't have or can't find the blood orange olive oil, use a good extra virgin with a splash of fresh-squeezed blood orange juice instead.
Persimmon Salad with Blood Orange Vinaigrette
Ingredients:
2 tablespoons blood orange-infused olive oil
4 teaspoons balsamic vinegar
salt and pepper, to taste
1 (4-5oz) bag mixed greens
3 fuyu persimmons, peeled, cored, and sliced
1/4 cup crumbled goat cheese
2 tablespoons roasted and shelled pistachios
Directions:
An a small bowl, whisk together olive oil and vinegar. Season to taste with salt and pepper. Toss dressing with salad greens until evenly coated, and divide among salad bowls. Top with sliced persimmons, crumbled goat cheese, and pistachios.
Did you make this recipe?
Let us know what you think!
Leave a Comment below or share a photo and tag me on Instagram with the hashtag #loveandoliveoil.