No more boring beans: crisp-tender sautéed green beans pair beautifully with soft, creamy persimmons, bringing a perfect element of sweetness to an otherwise lackluster side dish.
This quick and easy side dish would be a colorful addition to your holiday table, adding some much needed freshness and color to your Thanksgiving or Christmas dinner menu.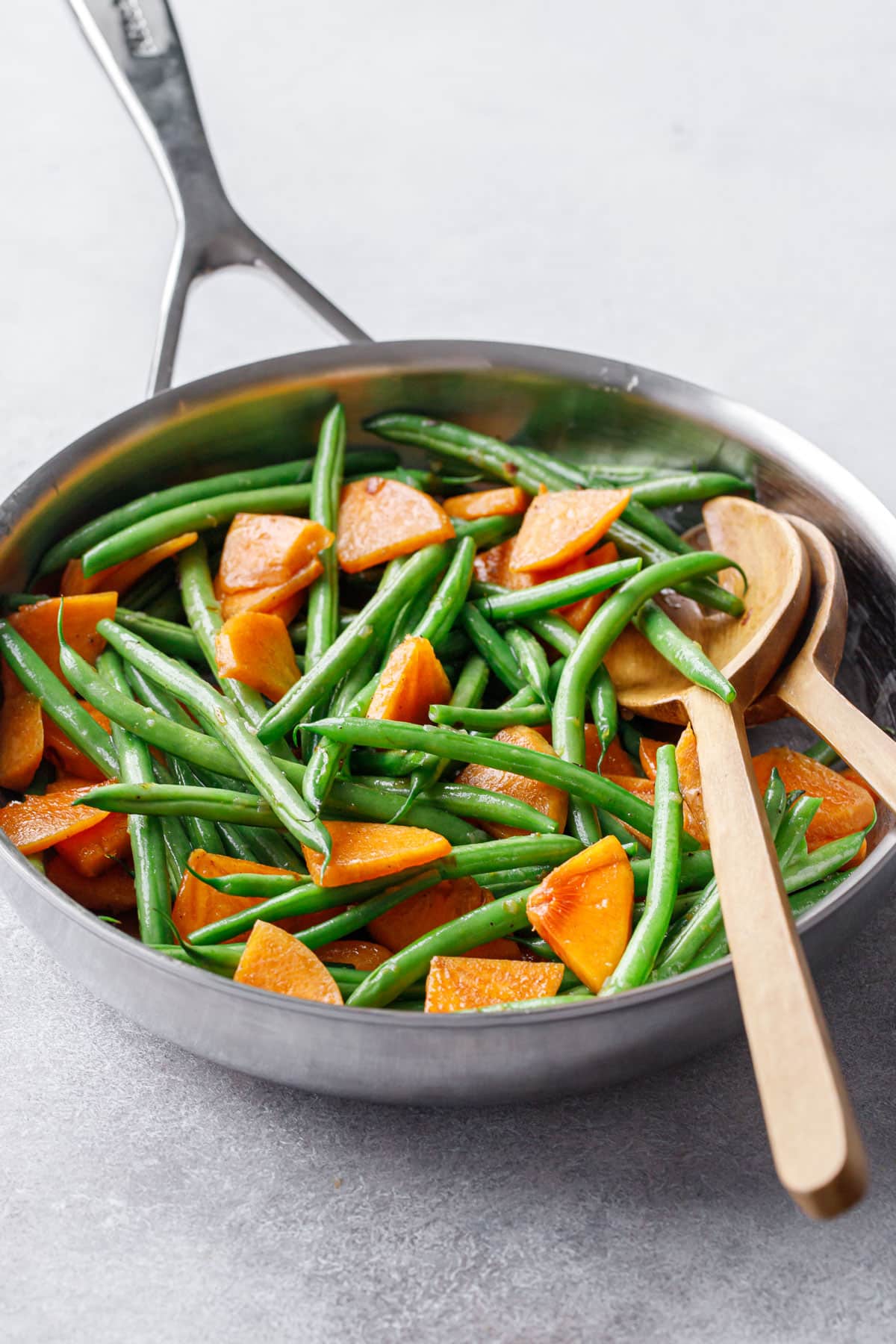 Persimmons are totally underrated fruit.
I remember going through a persimmon phase when we lived in California, and it was there that we first created this dish for Thanksgiving, years ago during our BB (before blog) era (related: if Thanksgiving falls and it is not blogged, did it ever really happen?) I kid, of course, but I am sure there were many recipes lost and forgotten because we didn't have a blog on which to record it.
So when I saw a pile of (somewhat sad-looking) persimmons at the market, I realized that it had been years since I'd had the fruit and I had missed it dearly. I quickly crawled out of my nostalgia, threw a half-dozen of the least-bruised fruits into a bag, and decided to recreate that original dish for this year's feast.
Let me just say that the contrast of the crunchy green beans and soft, creamy persimmon was ideal, bringing a perfect element of sweetness to an otherwise boring bowl of sautéed beans. Not to mention the color and brightness they brought to a primarily beige plate… dare I say they stole the show?
Bean there, done that.
We used haricot verts (or French green beans) for this recipe. They are thinner than your typical green bean, and thus cook more quickly. I find them much more tender and delicate and less stringy than other types of green beans.
If you use regular old snap/string beans, be sure to snap off the tips and remove stringy bits before cooking. You'll also want to increase the cook time by a few minutes before you add the persimmons. If you want, you can add a few tablespoons of water to the skillet and then cover; the extra moisture will help to 'steam' the beans.
You're looking for beans that are tender but still crisp, not mushy, or what I like to call al dente (which I know is a term typically applied to pasta but works in this case too). When the beans are cooked they'll change color, from a dull, flat green to a more vibrant green.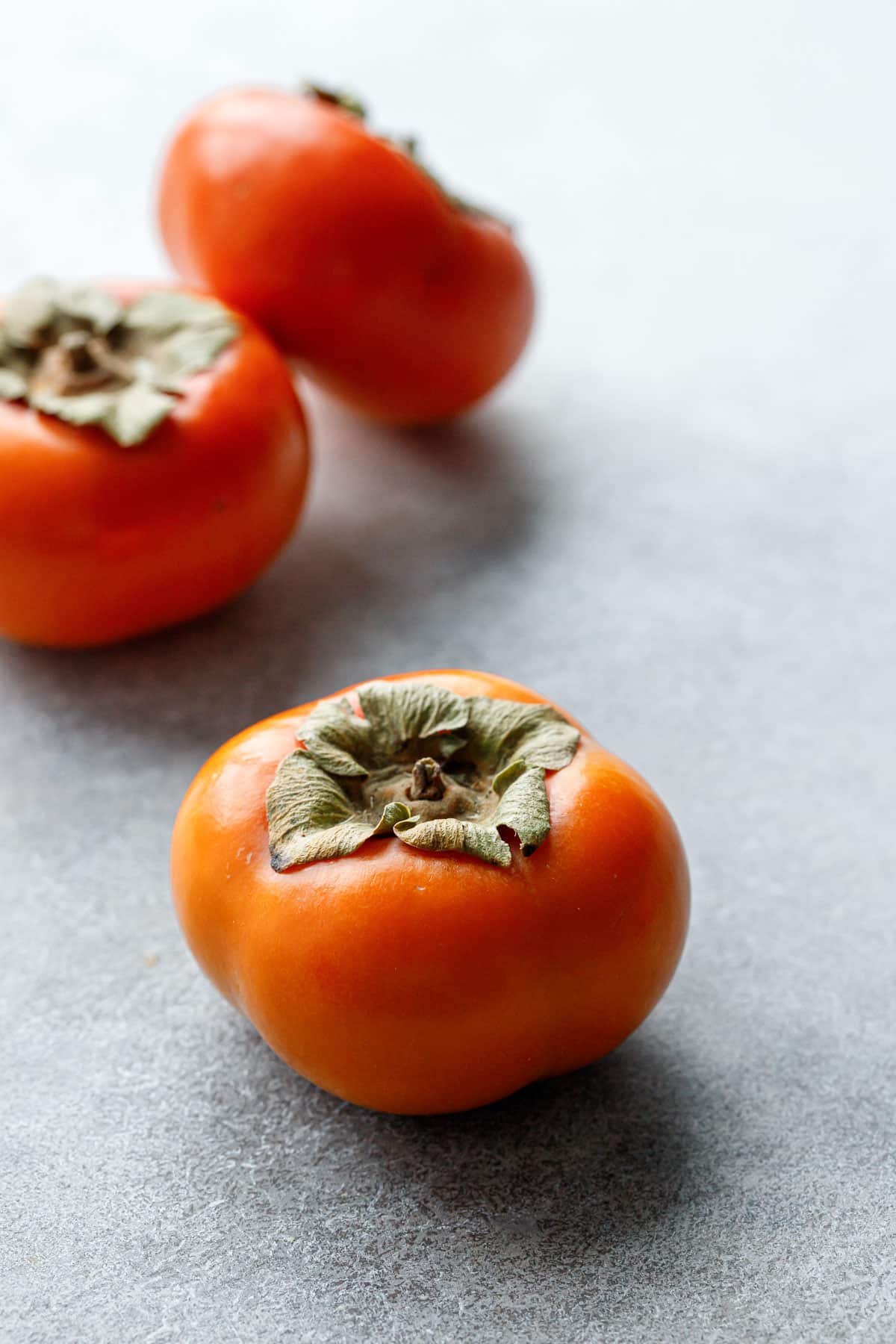 Persimmon of interest.
If you've never had a persimmon before… it's a bit hard to describe. Sweet and mild in flavor, somewhere in between a pumpkin and a mango or peach, with the smooth, almost custardy texture of a ripe apricot, in the guise of an orange tomato.
Persimmons come in two main varieties: fuyu (pictured) are more suitable for slicing and sautéing, and hachiya, which are softer and more tart and most often used for baking. You'll want Fuyu persimmons for this recipe.
Persimmons are very much a winter fruit, oftentimes not fully ripening until after the first hard frost of the season. I usually see them appear in stores in November into December, and will grab a few pounds as soon as I do. The ones in the grocery store are typically very underripe, the fruits can sit out on the counter for a few weeks or in a brown paper bag with an apple to speed up the ripening.
Luckily, unlike Hachiyas which must be fully ripe before consuming, Fuyu persimmons are great even when they're underripe and still a bit crunchy (they almost have the texture of an apple in that case. For this recipe I like my persimmons somewhere in between crisp and soft.
If you're looking for more persimmon recipes… this persimmon pie is absolutely lovely and a unique alternative to the traditional pumpkin pie. Fuyu persimmons also go great on salad with goat cheese and blood orange vinaigrette.
Apparently (after consulting the all-powerful Google) persimmons DO grow in Tennessee, quite readily actually, and oh how I'd love to find a local source.
Um, anyone have a tree I can come raid? I'll pay in baked goods and jam.
We've made this dish with both peeled and unpeeled persimmons, and whether you do is completely up to you, but I will say that I find the fruit more enjoyable without the tough skin. Cooking the skin longer would probably help, but the soft flesh would be long gone at that point (so maybe best for crunchier, less ripe fruits). As such I highly recommend making the extra effort to peel them beforehand.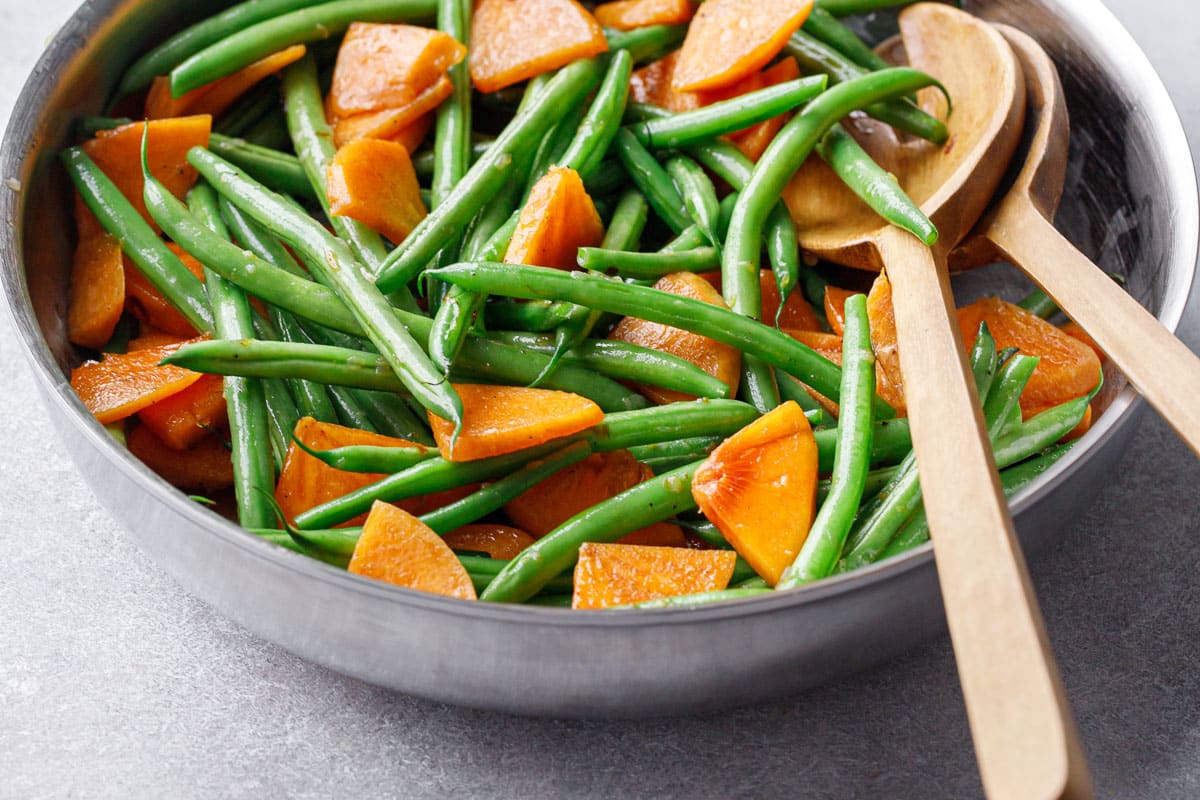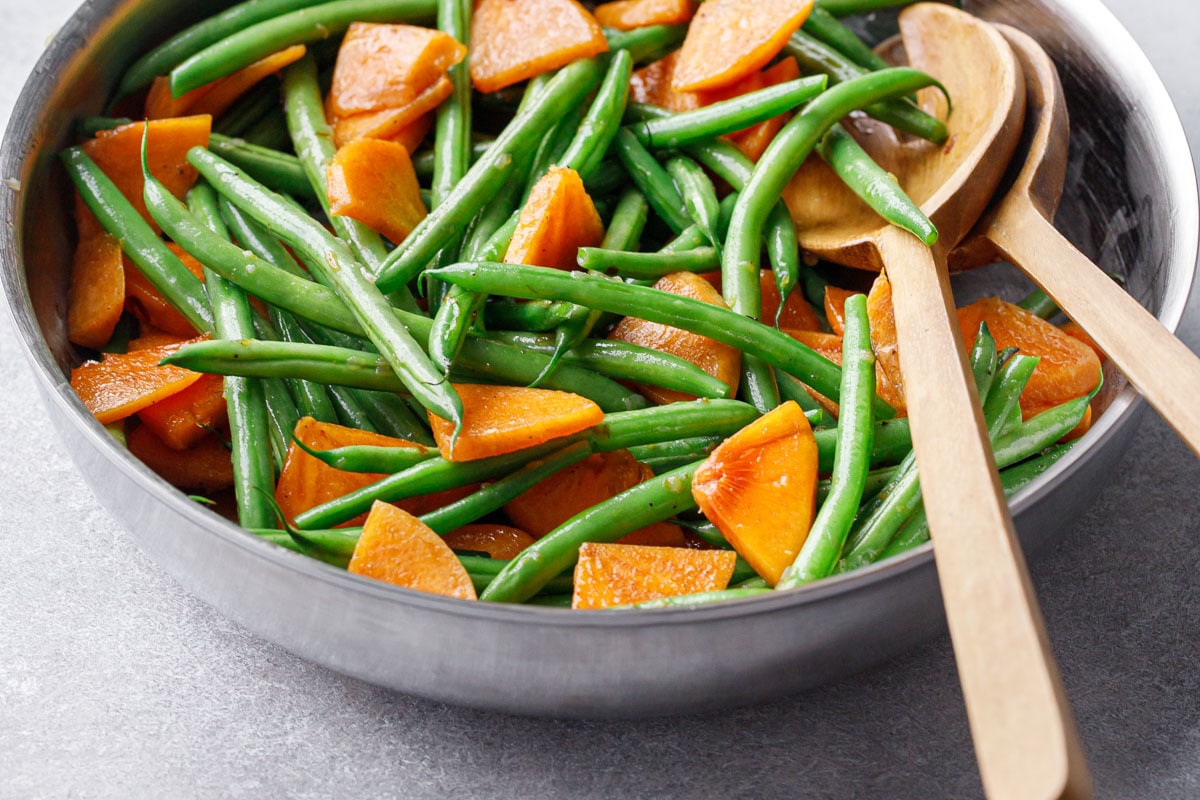 Sauteed Green Beans with Persimmons
Crisp-tender sautéed green beans pair beautifully with soft, creamy persimmons, bringing a perfect element of sweetness to an otherwise lackluster side dish.
Ingredients
2

tablespoons

/

28

g

olive oil

1

/

28

g

large shallot

,

minced

1

pound

/

452

g

thin green beans or haricot verts

,

trimmed

5

/

840

g

fuyu persimmons

,

hulled, peeled (optional), and sliced

salt and pepper

,

to taste
Instructions
Heat oil in a large skillet over medium-high heat.

Add shallot and cook until fragrant, about 1 minute.

Add green beans and toss to coat in oil. Cover and cook for about 3 to 5 minutes or until beans are bright green but still al dente, stirring occasionally.

Add persimmon slices and stir to combine. Continue to cook for 2 to 3 minutes or until beans are tender and persimmons are softened (time will vary depending on the size of your beans). Season to taste with salt and pepper. Serve warm.
All images and text ©
for Love & Olive Oil.
Did you make this recipe?
Let us know what you think! Leave a Review below or share a photo and tag me on Instagram with the hashtag #loveandoliveoil.