This spiced pumpkin banana bread is incredibly moist and flavorful, infused with seasonal spices and topped with pumpkin seeds for extra texture and crunch.
Pumpkin and banana aren't necessarily an obvious combination, but together they make for a stunning seasonal twist on a classic banana bread that's perfect with your morning coffee (or with your afternoon tea).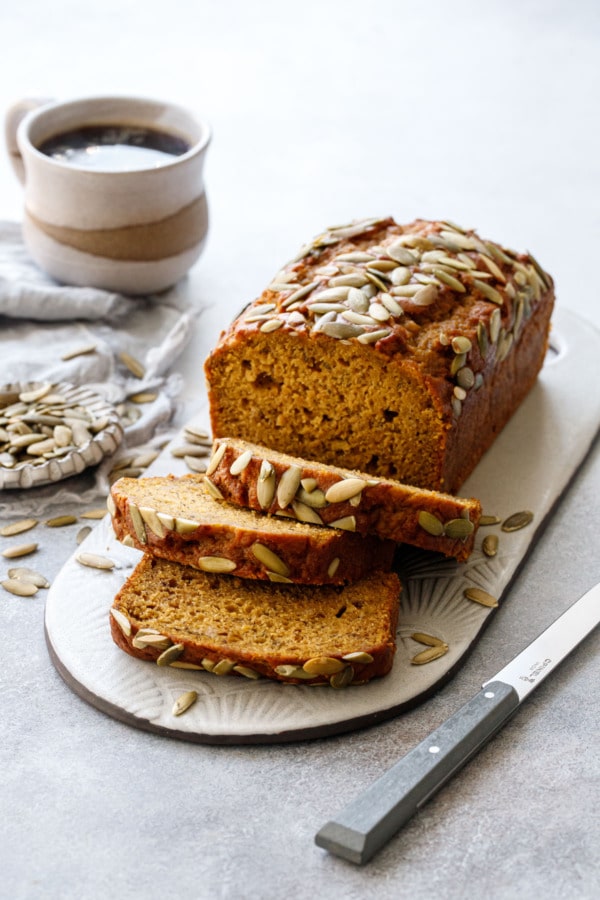 When you can't decide between banana bread and pumpkin bread, why not make both?
But really though, I love both banana bread and pumpkin bread, and who says the two have to be mutually exclusive, anyway? Certainly not me. In fact, putting them together is something I should have done years ago.
Both pumpkin and banana bring moisture to baked goods, so it's no surprise this is quite possibly the moistest banana bread you've ever had. The flavors of both fruits (yes, pumpkin is, in fact, a fruit!) shine through equally, somehow complementing rather than overpowering each other. With the addition of fragrant fall spices it's a little slice of autumnal heaven in every bite.
There's a reason they call recipes like this quick breads, and that's that they are quick in the truest sense of the word: the batter comes together in mere minutes with a mixing bowl and spoon or whisk. You don't need an electric mixer, or even much elbow grease for this one.
From there just pout it into your prepared loaf pan, pop it in the oven, then go watch an episode of Great British Bake off while you wait (because, as Tom Petty so wisely said, the waiting is the hardest part… and distractions certainly help).
If you're super impatient and MUST HAVE PUMPKIN BANANA BREAD NOW OR ELSE, might I suggest making this in a muffin tin instead? They'll take under 20 minutes and you don't even have to wait for them to cool before digging in.
Use Up that Leftover Pumpkin!
This recipe only calls for 3/4 cup of canned pumpkin puree, making it a great way to use up a partial can of pumpkin puree left from your seasonal pie-making adventures.
Have even more leftover pumpkin? I've got lots of pumpkin recipes, many using only 1/2 cup of puree like this tart or that chili). So there's really no reason to let that precious stuff go to waste!
That said, this recipe is good enough on its own to warrant opening up a brand new can of pumpkin, so don't let that stop you. Make a double batch and freeze the second one for later, you know, like the day after Thanksgiving when the kitchen is the last place you want to be).
To freeze this pumpkin banana bread, or any banana bread for that matter, let the loaf cool completely. Remove it from the loaf pan, then wrap tightly in plastic wrap. Put that inside a zip-top bag or wrap it again in foil. Double layers here are your friend, and they'll keep the bread from getting freezer burn.
To thaw, let it sit in the fridge overnight or on the counter for about two hours and you should be good to go!
Spice Up Your Life
While I used pre-packaged pumpkin pie spice, you can also use your own blend of spices (the combination of cinnamon, ginger, cloves and nutmeg from my chocolate pumpkin swirl bread is a great place to start).
The one problem with using pumpkin pie spice is that it varies so much from brand to brand, so you may want to adjust the amount used here accordingly. The particular blend I used contains some unusual additions like cardamom, anise, lemon peel, and black pepper so the result is particularly aromatic. It's not my favorite, if we're being honest (but it's what I had, so…)
Next time I make this (because there definitely will be a next time) I'd either try a different brand of pie spice or I'd make my own blend with primarily cinnamon and ginger with a touch of nutmeg and cloves. Maybe a pinch of cardamom, but cardamom is such an overpowering flavor it's really easy to overdo it.


Toppings & Mix-ins
The pepitas on top give the bread a bit of texture and crunch, and also serve as a visual indication of exactly what you're biting in to.
I also think a simple cinnamon sugar topping would be delightful here too, and would give it more of a crackly crunch than the larger crunchy bits of the pumpkin seeds.
If you like your banana bread with plenty of texture, you could also fold in some chopped nuts or even chocolate chips if you want to give the bread itself a bit more chew (and you know I'm always a proponent of adding chocolate whenever and wherever possible).
When all is said and done
This recipe is written for an 8.5-by-4.5-inch loaf pan, which is the smaller of the two standard sizes. If you are using a 9-by-5-inch loaf pan, your bread will be a bit wider and shorter (also keep an eye on the bake time as it'll likely be done a bit sooner. I'd recommend checking after 45 mins or so and then go from there).
To check for doneness, stick a long, thin skewer or cake tester in the center of the loaf; it should come out mostly clean with a few moist crumbs attached; if you see gooey batter, give it a few more minutes and check again.
Alternatively, if you have an instant read digital thermometer, the thin metal probe makes a perfect makeshift cake tester, not to mention the internal temperature will also tell you if it's done or not (you're looking for about 200 degrees F in the middle).
Spiced Pumpkin Banana Bread
This spiced pumpkin banana bread is incredibly moist and flavorful, infused with seasonal spices and topped with pumpkin seeds for extra texture and crunch.
Ingredients
6

tablespoons

/

85

g

unsalted butter

,

melted and cooled slightly

1¾

cups

/

218

g

all-purpose flour

½

cup

/

105

g

packed light brown sugar

½

cup

/

100

g

granulated sugar

1½

teaspoons

pumpkin pie spice

1

teaspoon

baking powder

½

teaspoon

baking soda

½

teaspoon

fine sea salt

2

ripe bananas

,

about 2/3 cup smashed

¾

cup

/

195

g

pumpkin puree

2

large

eggs

,

at room temperature

2

tablespoons

vegetable oil

2

teaspoons

vanilla extract

¼

cup

pepitas or pumpkin seeds

,

for topping
Instructions
Preheat oven to 350 degrees F. Lightly butter an 8½-by-4½-inch loaf pan; press and 8½-inch wide strip of parchment paper into bottom of pan so it lines the bottom and long edges, leaving two overhangs on either side.

Melt butter in the microwave or a small saucepan over low heat; set aside to cool to lukewarm.

In a bowl, whisk together flour, sugar, brown sugar, baking powder, baking soda, spices, and salt.

In another bowl, mash bananas until smooth. Whisk in pumpkin, eggs, oil, and vanilla until evenly incorporated.

Add banana mixture and melted butter to dry ingredients, and mix until just incorporated and no dry ingredients remain. Pour into prepared loaf pan.

Bake for 60 to 70 minutes or until a toothpick inserted in the deepest part of the bread comes out with moist crumbs attached (but no gooey batter). If using a 9-by-5-inch pan, the cook time will be slightly less.

Place pan on a wire rack to allow bread to cool completely, at least 1 hour. Use the parchment overhang as handles to gently lift the loaf out of the pan. If it is still warm, let it cool completely on a wire rack before slicing and serving. Store in an airtight container for up to 1 week.
All images and text ©
for Love & Olive Oil.
Did you make this recipe?
Let us know what you think! Leave a Review below or share a photo and tag me on Instagram with the hashtag #loveandoliveoil.