Almond lovers, this recipe is for you! A perfectly chewy and gooey chocolate chip cookie infused with a double dose of almond flavor, with puddles of melted dark chocolate and a sprinkle of flake sea salt to finish it off right.
As if a classic chocolate chip cookie wasn't good enough, we take it up a notch with almond paste and a healthy glug of amretto liqueur for a wonderfully unique flavor. These aren't your average chocolate chip cookies, that's for sure!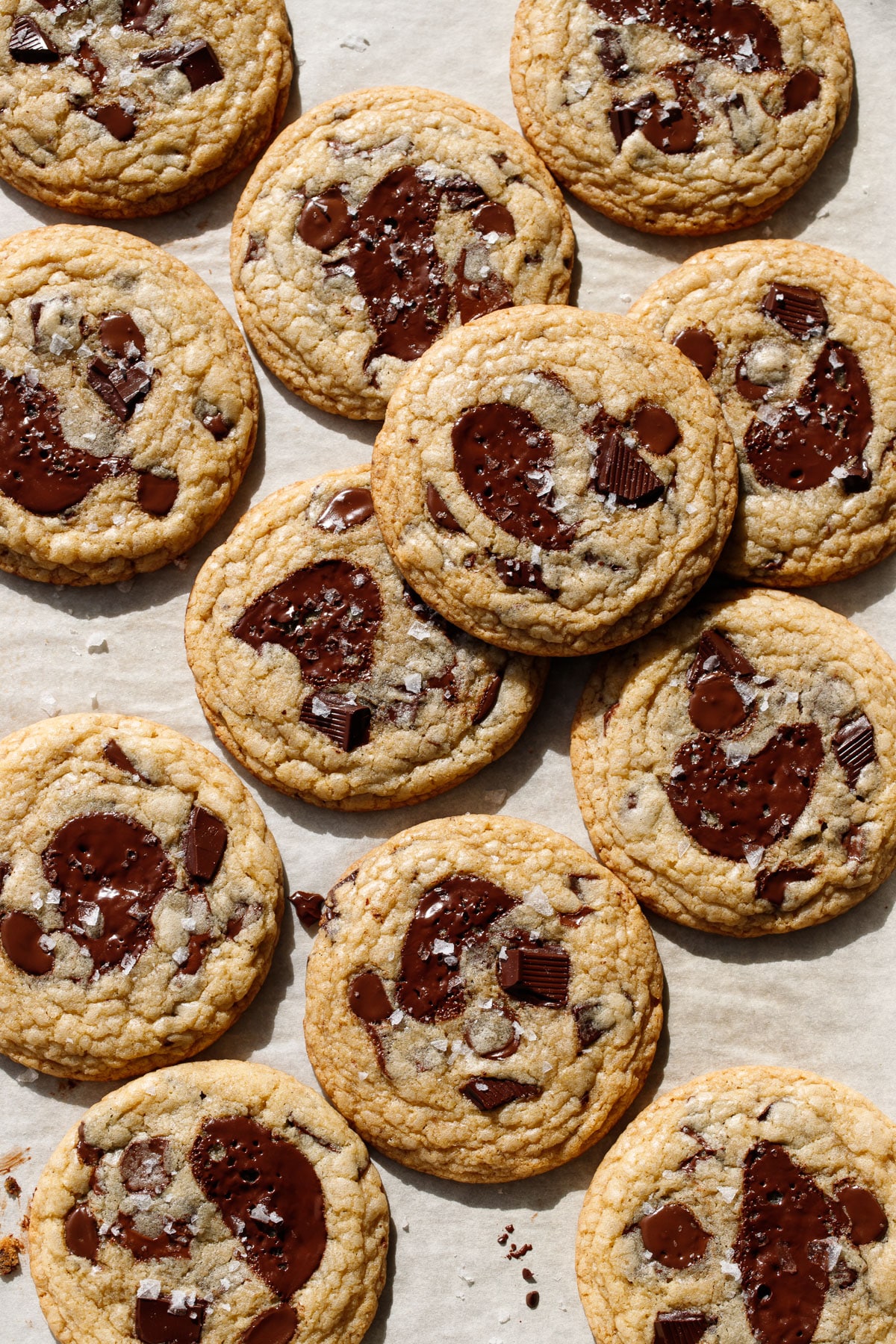 In this episode of boozy baking… we'll infuse a classic chocolate chip cookie with almond paste and a generous glug of amaretto.
What's not to love?
These are larger and thicker than my pistachio dark chocolate chunk cookies, though they might seem similar. I used a large cookie scoop for these babies, a whopping 60g of dough per cookie, which results in a palm-sized treat of epic proportions.
The base of the cookies includes 4 ounces of almond paste (which is not the same thing as marzipan; here in the US at least, marzipan has a much higher percentage of sugar). Almond paste is also softer and stickier.
I used Solo brand almond paste for these cookies. If you have access to good quality marzipan, it should work ok here, though if it's very dry and hard I'd recommend getting a fresh package.
Additional almond flavor comes in the form of amaretto, an Italian liqueur made from bitter almonds. Most of the alcohol cooks off in the oven, but the flavor it leaves behind is quite extraordinary.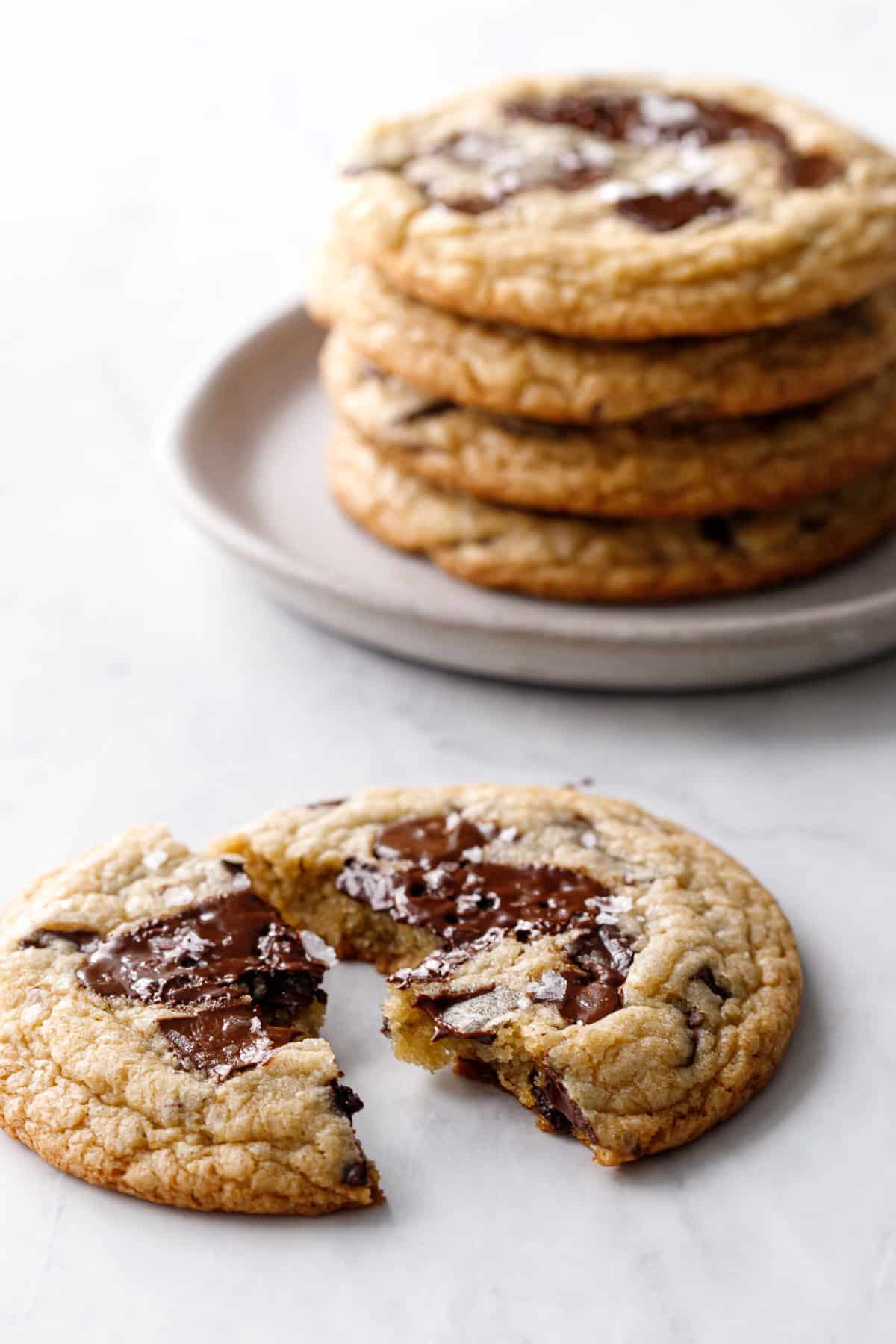 To chill or not to chill?
I'm rather particular about my cookies, both in terms of texture as well as appearance. I want them to spread a little bit but not too much, and have nice chewy centers but a bit of crunch around the edges. Which is not always easy to acheive!
For this particular recipe, I tested chilling the balls of dough for 0 minutes (baked straight from the bowl), 15 minutes, 30 minutes, and overnight.
The 30 minute cookies were my favorite of the lot. The short chill time melds the flavors and smooths out the tops of the baked cookies, so they are both more aesthetically pleasing as well as flavorfully so. That said you'd think the overnight batch would be even better, but I don't think that's the case here.
Keep in mind this 30-minute-chill calls for you to scoop out the balls of dough onto a baking sheet (while the dough is still soft they are much easier to scoop), then chill.
Scooping the dough before chilling makes for easier scoops, and also more evenly chills the dough in smaller pieces versus one big mass in a mixing bowl.
After 30 minutes you then roll the cookie between your palms to smooth out the balls, then arrange on your cookie sheet to bake. You can also press a few pieces of chocolate on top of each dough ball, which will give you the gorgeous puddles of molten chocolate.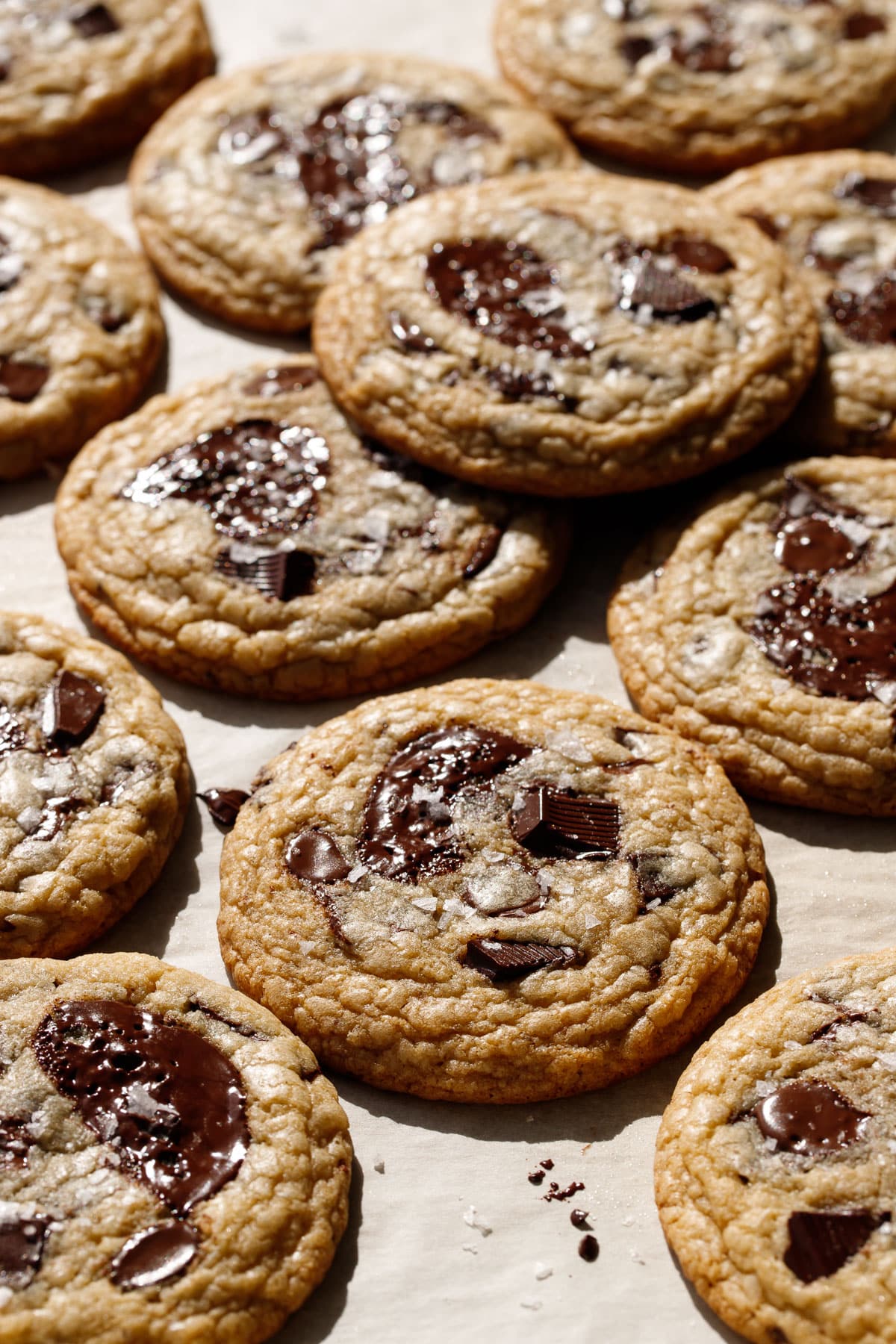 Want gorgeous, melty puddles? It's all about the chocolate.
For the meltiest puddles, use a good quality dark chocolate coverture or a chopped up chocolate bar, NOT chocolate chips. Chocolate chips contain emulsifiers and stabilizers that are meant to prevent the chocolate from melting and puddling. Bar chocolate that's meant for eating (look in the candy aisle rather than the baking aisle) or chocolate specifically labeled chocolate coverture will melt beautifully on top of and inside the cookies.
Using chocolate chips in this recipe will result in less spread and a taller, puffier cookie, since the melty chocolate also contributes to the spread of the cookie.
I used a mix of chocolates here, including some Callebaut 54% chocolate callets, Valrhona 60-70% feves cut into halves/quarters (these melt the best on top of the cookie), and a random bar of Trader Joe's 72% Swiss dark chocolate that I chopped into dime-sized pieces (these are the stripey square pieces that didn't melt as much… the 89% Dark Chocolate Lover's bar melts much nicer).
If you find your cookies are not spreading as much as mine, and you are not using chocolate chips, it's likely you over-measured your flour. Even 2 tablespoons (a measly 15 grams) of flour makes a huge difference, which is why I strongly recommend weighing your flour for this recipe.
On the opposite end, if you find your cookies spread too much, chill them a bit longer, or mix in an extra tablespoon or two of flour. Also don't forget the cookie cutter trick (swirling a large round cookie cutter around the cookies immediately after they come out of the oven), which does wonders to fix the appearance of pancakey cookies (ie cookies that spread too much).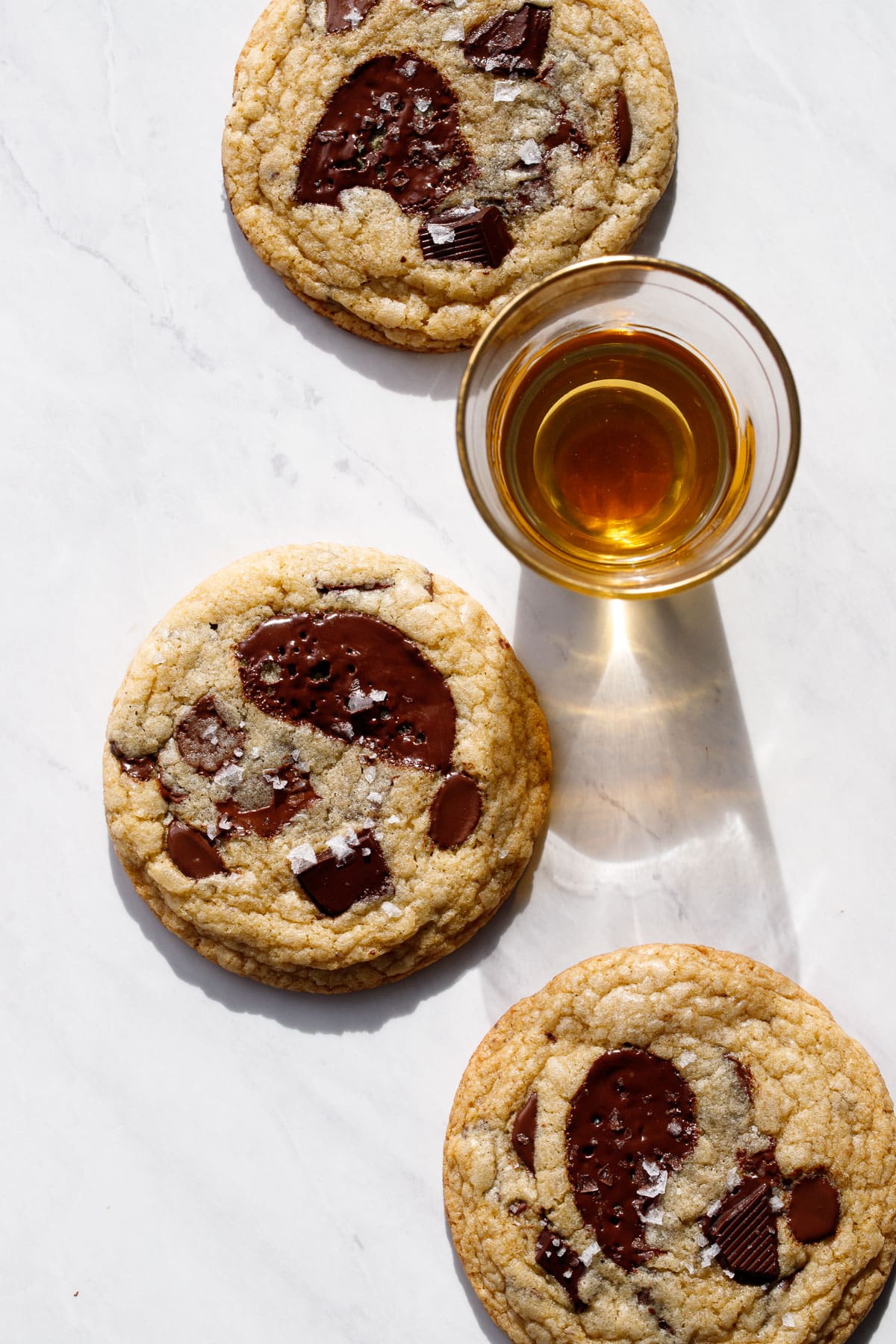 Two tricks for picture-perfect cookies
Want picture-perfect cookies? Do two things:
1. Add chunks of chocolate on top of your cookie before baking. Just press the pieces right into the top of the rolled dough ball. These chunks will stay on top as the cookie spreads, leaving you with beautiful puddles of melted chocolate.
2. Use the cookie cutter trick. The second your cookies come out of the oven, swirl a large round cookie cutter around them on the cookie sheet (like an old-school spirograph). This will tuck in any uneven edges and give your cookies a perfectly round shape.
If your cookies are bigger than your largest cookie cutter, you can also use two large spoons, hold one in each hand with the concave side facing in, and pat the edges of the cookie towards the center (I always think of those little cymbal-banging monkey toys, if that helps you visualize it!)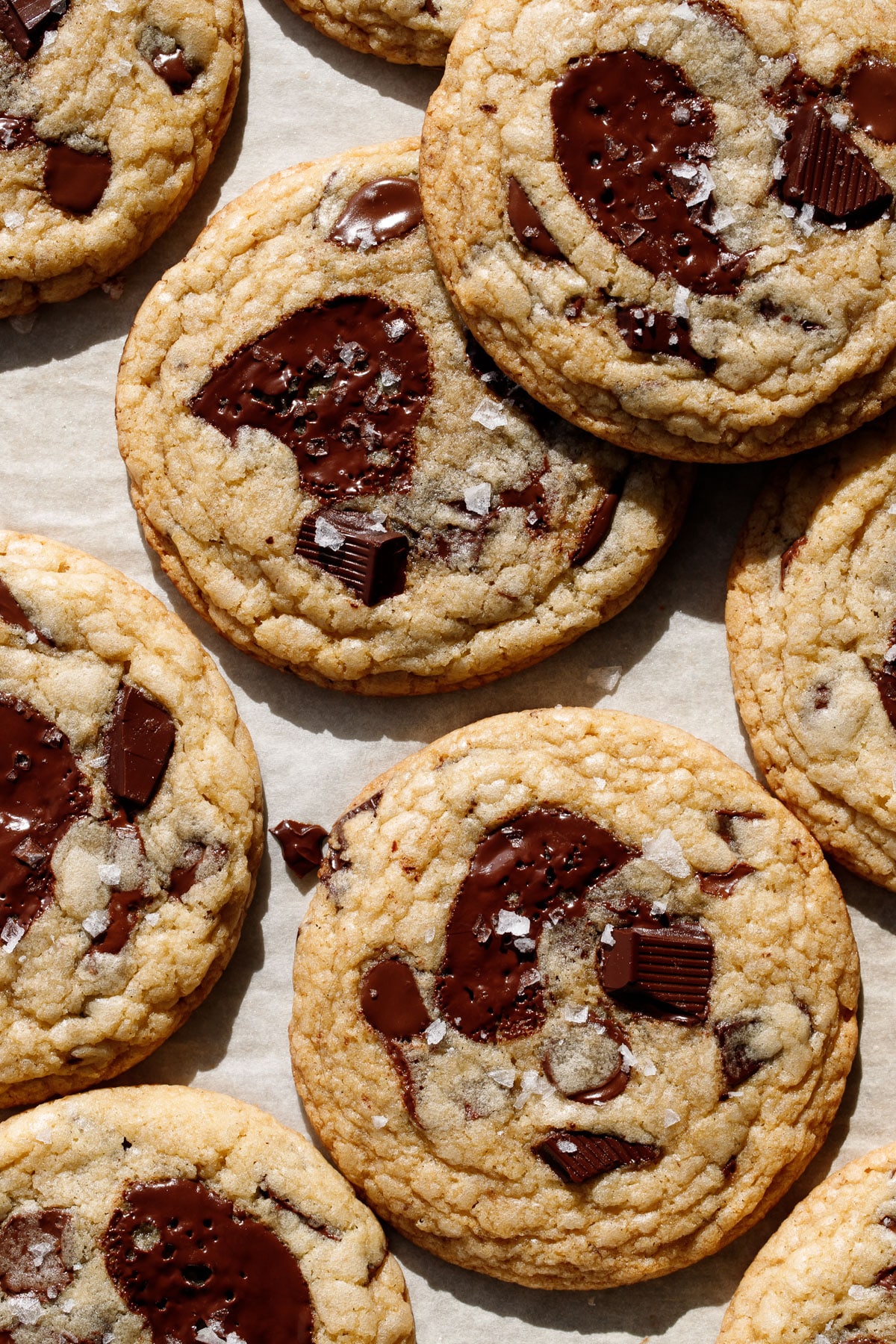 Freezing & Storage
This cookies freeze beautifully, retaining their lovely chewy texture even after thawing. The only caveat is the chocolate puddles on top, which can bloom a bit in the freezer (the chocolate will have a slight white film on top). Perfectly edible, just not quite as pretty.
If you opt to freeze the raw balls of dough instead, I recommend doing so after the initial chill and shaping (since it's almost impossible to roll the dough smoothly when it's soft). Press any chocolate you want on top too, then freeze on a cookie sheet until solid, and transfer to a zip-top bag.
To bake cookies from frozen, I recommend a decreased oven temperature of 325 degrees F, and an increased bake time of 15 to 20 minutes.
Leftover almond paste? This recipe uses half an 8oz box. You can double the recipe, or make a batch of these mini marzipan cheesecakes with the remainder!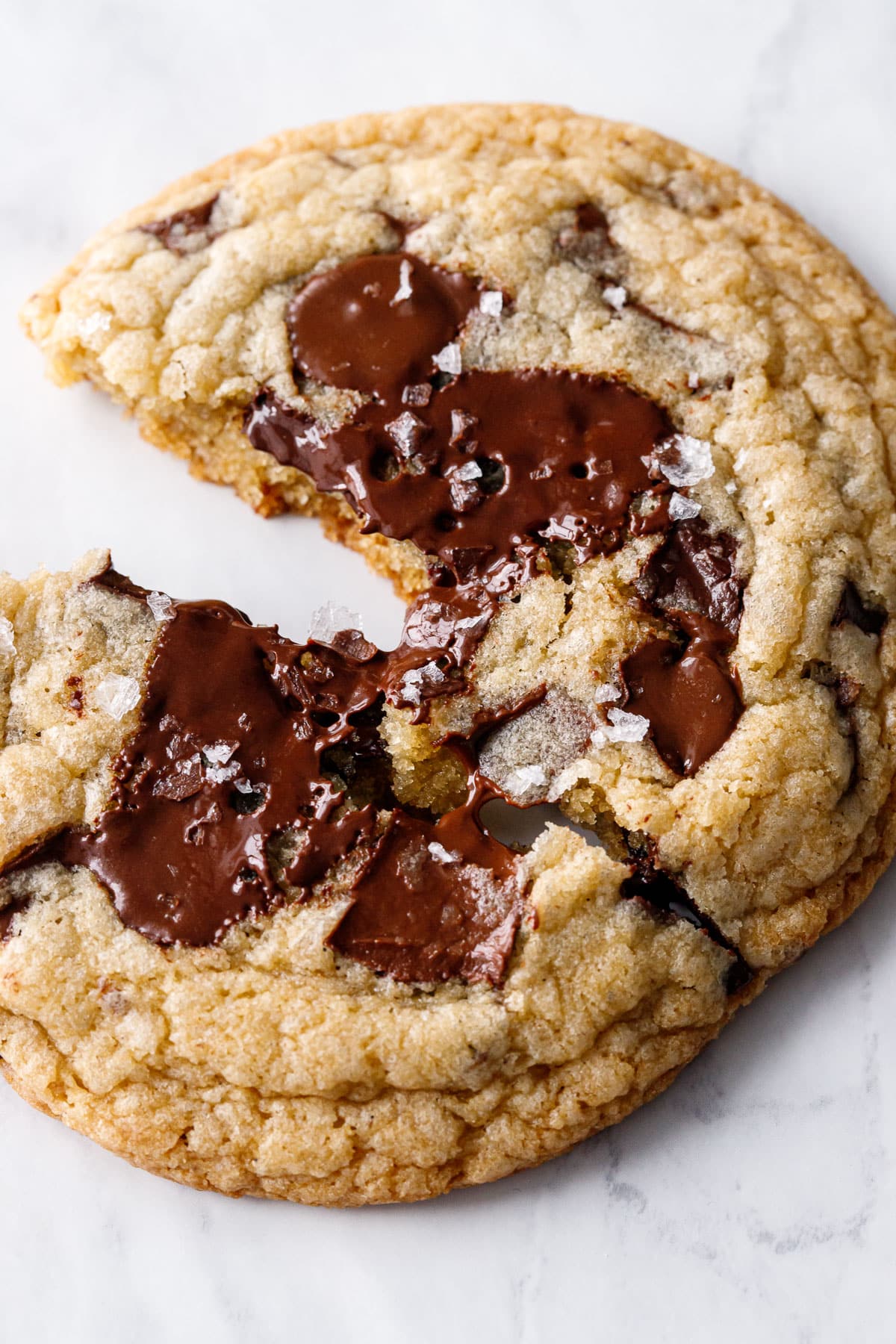 Swaps & Substitutions
Almond paste: Almond paste has a higher % of sugar and is softer/stickier than marzipan. Solo brand is the one I use (look in the baking aisle of your grocery store). Odense is another commonly available in the US, although they also sell a marzipan that's much sweeter and drier. While you can make marzipan from almond paste, the reverse is not true.
Amaretto: An Italian almond liqueur. Most of the alcohol bakes out in the oven, but if you'd rather not bake with alcohol, you can replace the amaretto with 1 tablespoon vanilla extract and 1/2 teaspoon almond extract.
Dark chocolate: as mentioned above, this recipe works best with chopped chunks of good quality dark chocolate, rather than chocolate chips. I used a mix of Callebaut 54% chocolate callets, Valrhona 60-70% feves, and a 72% chocolate bar from Trader Joe's. If you use chocolate chips your cookies will be puffier and won't spread as much, and you won't get the molten puddles of melted chocolate on top.
Sea salt: this recipe calls for fine sea salt in the dough, which is my go-to salt for baking (kosher salt, Diamond Crystal preferably, works as well), and flake sea salt sprinkled on top (Maldon is my favorite). I do not recommend iodized table salt for use in baking as it can impart an off flavor.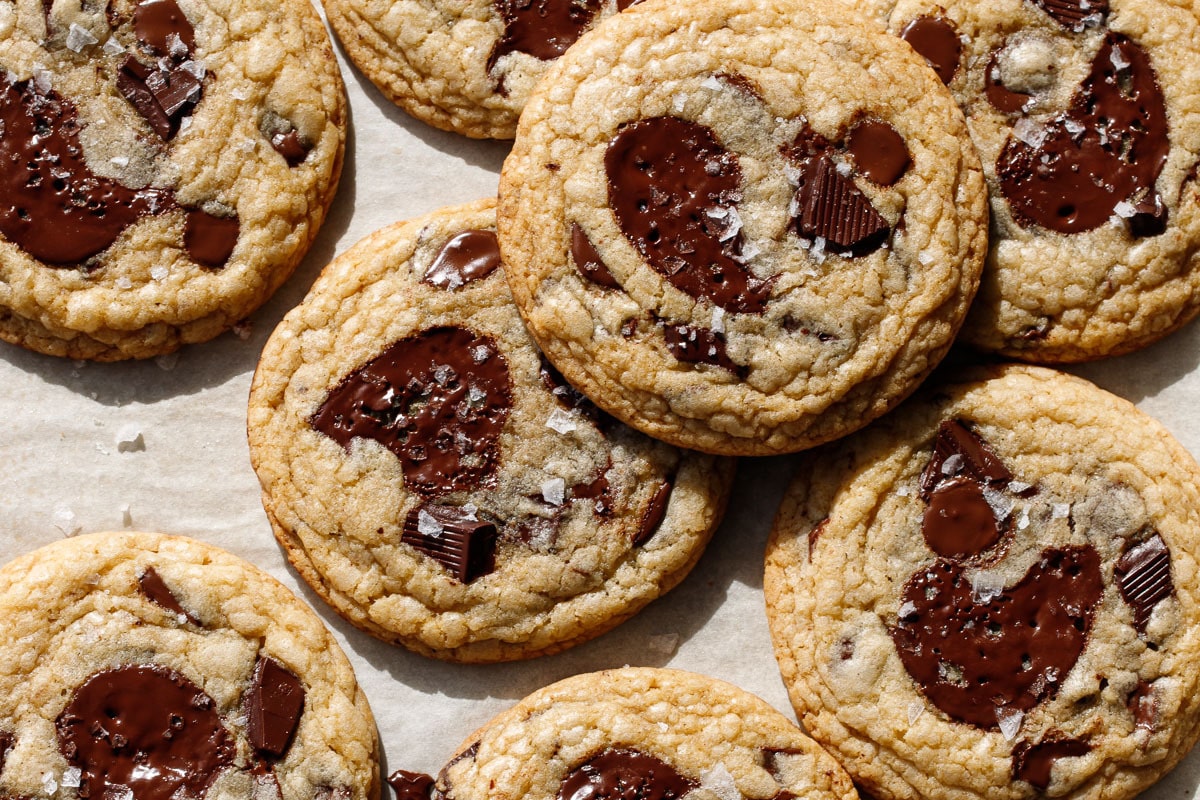 Amaretto Chocolate Chip Cookies
A perfectly chewy and gooey chocolate chip cookie infused with a double dose of almond flavor, with puddles of melted dark chocolate and a sprinkle of flake sea salt to finish it off right.
Ingredients
1½

cups

/

188

g

all-purpose flour

½

teaspoon

baking soda

½

teaspoon

fine sea salt

4

oz

/

113

g

almond paste

,

crumbled

⅔

cup

/

140

g

packed light or dark brown sugar

½

cup

/

113

g

unsalted butter

,

at room temperature

1

large

egg

,

at room temperature

2

tablespoons

/

30

g

amaretto liqueur*

1

cup

/

130

g

dark chocolate chunks

,

a mix of chocolates between 50 and 70% works best, plus more for topping

flake sea salt

,

for topping
Instructions
Line a heavyweight baking sheet with parchment paper and set aside. In a bowl, whisk together flour, baking soda, and salt and set aside.

In a mixing bowl or the bowl of a stand mixer fitted with the paddle attachment, mix crumbled almond paste with brown sugar until no large pieces remain (break them up with your hands if necessary). Add butter, then increase speed to medium high and beat until light and fluffy, 2 to 3 minutes. Add egg and beat on high speed for 30-60 seconds until smooth.

Add half of dry ingredients and mix on low speed, then add amaretto, followed by remaining dry ingredients until almost fully incorporated. Add chopped chocolate (reserve some for topping, if desired), and fold until evenly distributed and no streaks of dry flour remain.

Scoop out large 2-inch balls of dough (I use a

large #20 cookie scoop

which is just under 3 tablespoons of dough, or 60g by weight) and place on prepared cookie sheet (it's ok if they're close together for the initial chill). Chill for 20 to 30 minutes; the colder the dough, the less it will spread, so chill according to your personal preferences. If your kitchen is on the cool side, you may be able to bake it straight away without chilling. I recommend baking a test cookie or two and see how they look, then chill more if/as necessary.

Preheat oven to 350 degrees F.

Roll chilled cookies between your palms to smooth out the balls, then arrange on baking sheets with 2 to 3 inches of space between cookies to allow for spreading (I bake 6 per tray). If desired, press a few chunks of chocolate into the top of each dough ball for a prettier baked cookie.

Bake for 12 to 14 minutes or until tops are puffed and edges are golden brown (if baking from room temperature dough or if you are making smaller cookies you'll only need 9 to 11 minutes or so). Immediately after removing from the oven, swirl a large round cookie cutter around the warm cookies, tucking in the uneven edges to create perfectly circular cookies. Sprinkle with flake sea salt, if desired, while cookies are still warm and melty.

Let cool on cookie sheets for 15 minutes, then transfer to a wire rack to cool completely. Enjoy warm, or store in the refrigerator in an airtight container for up to 5 days, or frozen (wrapped in plastic wrap and sealed in a zip-top bag) for up to 1 month. Let come to room temperature for 30 minutes before eating.
Notes
*If you'd rather not bake with alcohol, you can replace the amaretto with 1 tablespoon vanilla extract and 1/2 teaspoon almond extract.
All images and text ©
for Love & Olive Oil.
Did you make this recipe?
Let us know what you think! Leave a Review below or share a photo and tag me on Instagram with the hashtag #loveandoliveoil.