This robustly flavored vegetarian chili features three kinds of beans and pumpkin puree for a luxurious texture and fabulous fall flavor. So good you won't miss the meat!
Here's a hearty fall recipe for you, full of ingredients you probably already have in your pantry! Just because it's vegetarian doesn't mean it's bland, as this chili proves.
It's that time of year.
The temperatures are dropping. The markets are heaped with pumpkins. Your pantry is stocked with stacks of canned beans and tomatoes that you probably bought back in April and have since forgotten about (or maybe that's just me?)
Needless to say, this hearty and healthy vegetarian chili is just what you've been craving this fall.
Our first batch was simply a vegetarian three-bean chili, sans pumpkin. And while the flavor was spot on, the texture was a bit watery, which, for something like chili, isn't ideal. At least in my mind I always imagine a thick and hearty stew, so we made our notes and shelved the recipe for another day.
The next time around, inspired by a windfall of three giant cans of canned pumpkin from Costco (and a little push from our devoted facebook group), we decided to add pumpkin puree to give the soup some added body and richness; it makes for a luxurious texture, with just a hint of sweetness and subtle pumpkin flavor (don't worry, this is by no means pumpkin spice chili… because that would be taking things entirely too far.)
Spiced with chipotle chiles, chili powder, paprika and a hint of cinnamon to play off the pumpkin, plus a splash of soy sauce and a teaspoon of black garlic powder (my new secret ingredient for adding depth and umami to meatless dishes).
Black garlic is aged over months at very low heat, until the cloves turn black with a sticky, date-like consistency. It actually tastes less like garlic and more like an aged balsamic vinegar with mellow garlicky undertones. We used a powdered form in this recipe, and, while you can leave it out if you must, don't simply substitute regular garlic powder: the flavors are not comparable.
If you want to get your hands on some black garlic powder for your own kitchen (which you definitely should), the brand we used appears to be sold out, but there are a number of other options on the market now.
Needless to say this dish is not lacking in the flavor department.
Also, one small note about chili powder, since I've recently realized that what we call chili powder here in the US is very different from chili powders in other countries (namely, our chili powder is actually a blend of ground chilis and other herbs and spices, whereas elsewhere chili powder is straight up ground chili). If you do not live in the US I'd recommend finding a recipe to make your own chili powder blend. Don't use straight ground chilis or you'll set your mouth on fire.
We recommend trying to find a chili powder blend you like that's salt free (then you can control the salt level yourself). We like the blends from World Spice or Spice Hunter.
Use gluten-free soy sauce or tamari to make this recipe gluten-free. Skip the cheese and sour cream and it's vegan!
Conversely, you could go the other way and brown 1/2 pound of ground beef or chorizo to make it meatier (although it'd be delicious, the chili is by no means lacking without it).


You'll notice this recipe does not call for draining or rinsing the beans. No siree, we just dump them into the chili pot, bean liquid and all. This liquid is actually quite flavorful, it's also full of useful starches that help thicken the chili. That said, if you want to reduce the sodium in this dish you may opt to rinse the beans first. If you do, you'll want to up the vegetable broth by 1-2 cups to make up for the loss of liquid.
If you want to use dried beans here, use approximately 1 ½ cups of dried beans to equal the 3 cans called for (you can use all one kind of bean or a mix of similarly-sized beans if you prefer). You'll want to soak them overnight, and get them cooking at least an hour or two ahead of time (I feel like dried beans always take much longer than I think they will). Also, hold on to that bean cooking liquid, it's a great source of flavor and a perfect thickener for soups like this!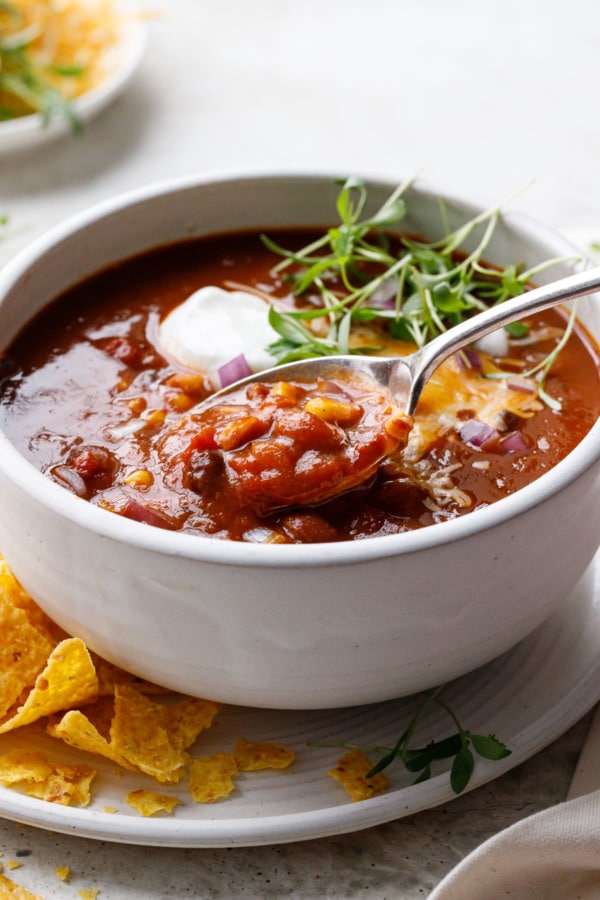 This chili makes a rather large batch by our standards, a whopping 8 servings (but that's just the nature of the ingredients used, it'd be silly to only use partial cans of beans or tomatoes). You definitely want to use at least a 5.5 quart pot here, it's easy to underestimate your pot size and this recipe definitely needs the space.
That said, it's incredibly freezer friendly. We usually freeze half the batch for later, using these quart-sized deli containers to divide the leftovers into 2-serving portions.
Vegetarian Pumpkin & Three-Bean Chili
This robustly flavored vegetarian chili features three kinds of beans and pumpkin puree for a luxurious texture and fabulous fall flavor. So good you won't miss the meat!
Ingredients:
2 tablespoons olive oil
1 medium red onion, diced, plus more for garnish if desired
1 sweet bell pepper, diced
3 garlic cloves, minced
2 canned chipotle peppers, chopped, plus 1 tablespoon of their sauce
1 tablespoon chili powder*
2 teaspoons smoked paprika
1 teaspoon dried oregano
1 teaspoon ground cumin
1 teaspoon black garlic powder (optional)
½ teaspoon ground cinnamon
½ teaspoon kosher salt
1 28oz can fire-roasted diced tomatoes
1 15oz can black beans, with liquid
1 15oz can pinto beans, with liquid
1 15oz can red kidney beans, with liquid
1 cup canned pumpkin puree
2 cups vegetable broth, or more to taste
1 tablespoon soy sauce, or more to taste
1 cup frozen corn kernels
sour cream, shredded cheese, and fresh cilantro, for topping
Directions:
Heat oil in a large stockpot or Dutch oven over medium heat.
Add onion, pepper and garlic and sautée until softened and fragrant, about 10 minutes. Add chipotle and spices and stir until fragrant, about 1 minute.
Add tomatoes, all three beans and their liquid, pumpkin puree, vegetable broth, soy sauce, and corn. Bring to a gentle boil, reduce heat and let simmer for about 20 to 25 minutes. Cook it slightly longer for a thicker chili, or add a bit more broth to thin it out. Taste, and add more salt or soy sauce as desired.
Ladle into serving bowls, and top with shredded cheese, a dollop of sour cream, fresh cilantro and some diced red onion. Serve with corn chips or corn muffins.
*Chili powder in the US is a spice blend made from multiple varieties of ground chiles plus other herbs and spices like paprika, cumin and garlic. Do not substitute pure ground chilis or your chili will be crazy hot. We recommend trying to find a blend you like that's salt free (then you can control the salt level yourself).
Did you make this recipe?
Let us know what you think!
Leave a Comment below or share a photo and tag me on Instagram with the hashtag #loveandoliveoil.