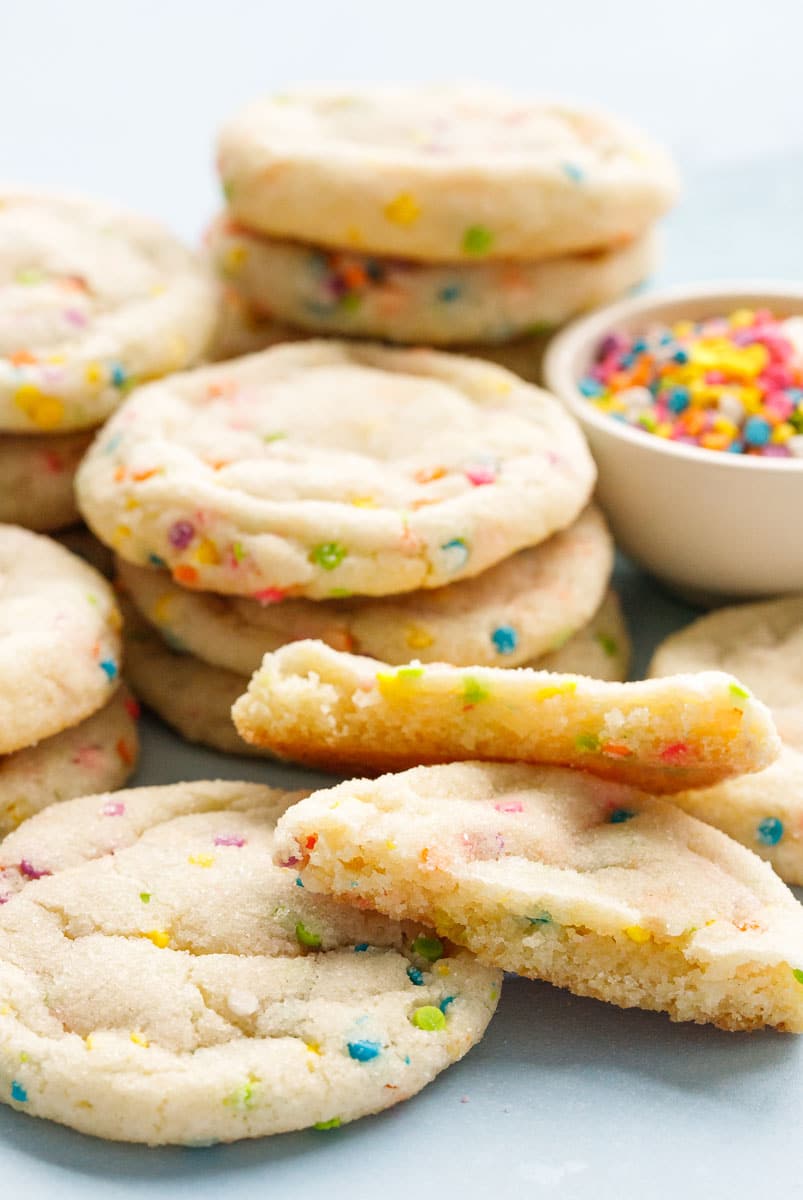 There are few things as satisfying as a soft, chewy sugar cookie: perfectly buttery and sweet with a hint of vanilla and almond, and a slight crunch in the form of sugar granules coating the outside. A truly perfect sugar cookie (if there is such a thing, this is it) made even better with the addition of funfetti sprinkles.
And not a cake mix in sight.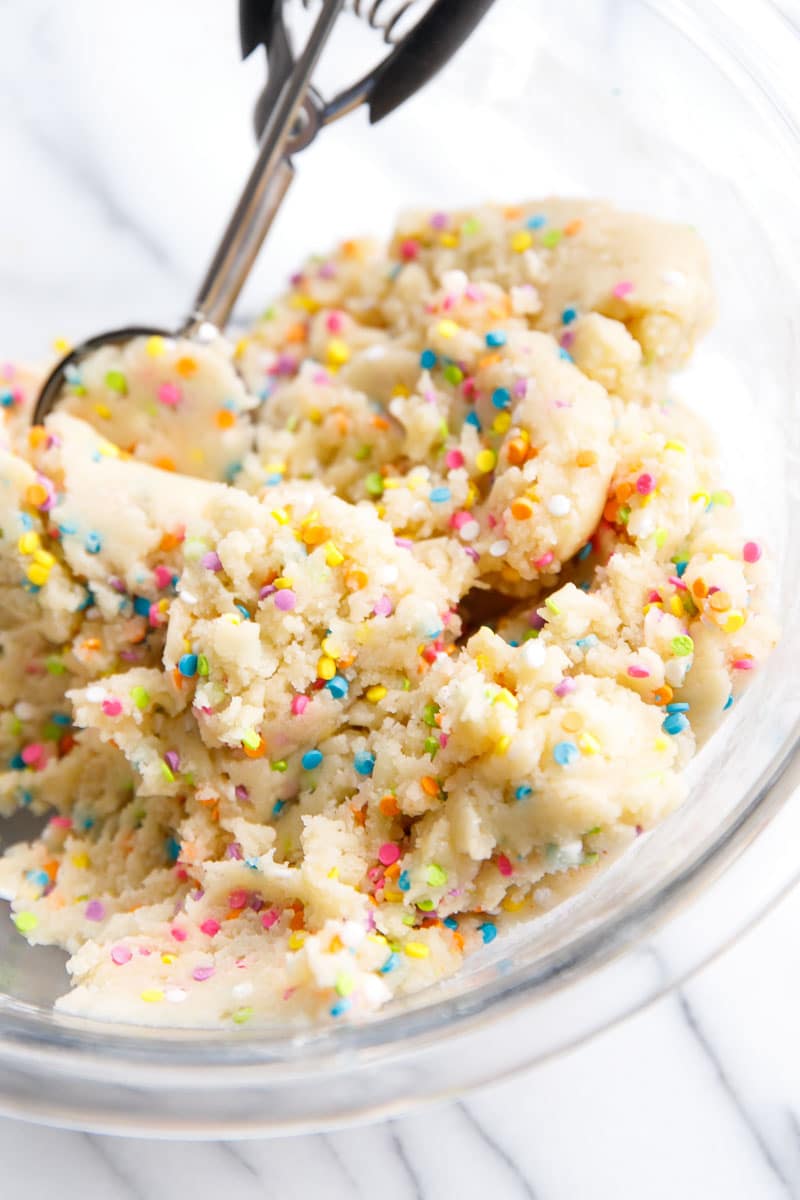 I've used a similar sugar cookie base recipe before (adapted from the geniuses at America's Test Kitchen/Cooks Illustrated), that uses melted butter, cream cheese, and vegetable oil instead of the classic butter-creamed-with-sugar. The mixture of liquid fats and stabilizers in the cream cheese results in a perfectly chewy texture that stays soft for days (not that these will last that long, but still…)
Plus, you can mix up the dough with just a spoon and a whisk, no electric mixer necessary. How's that for convenient?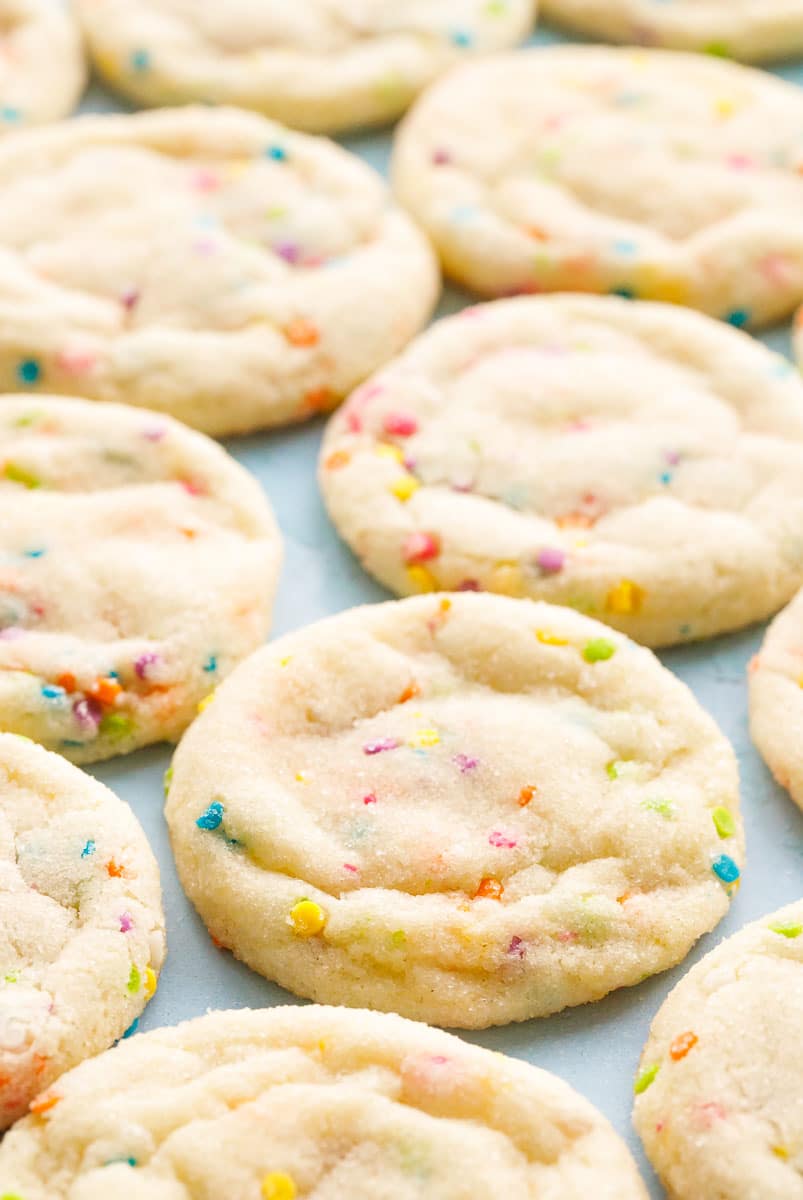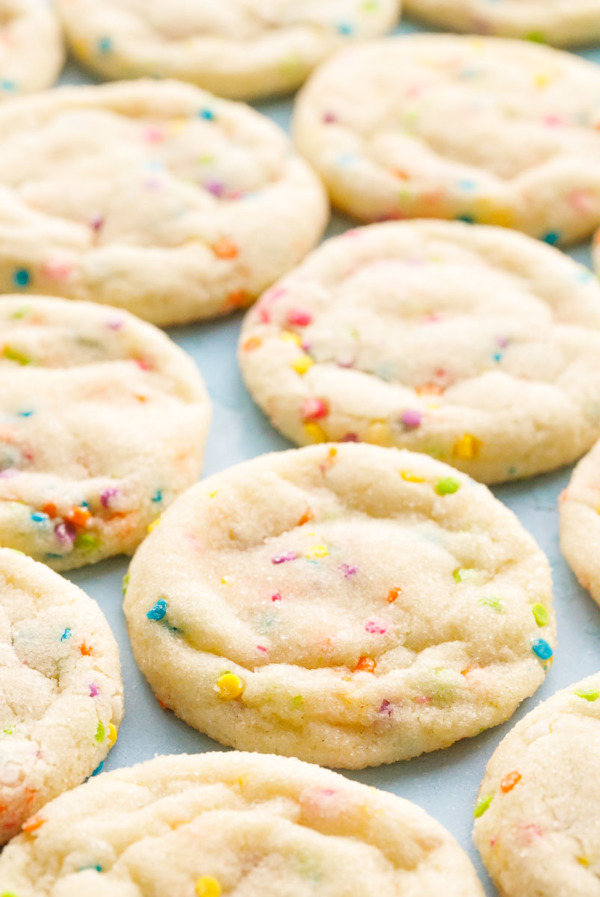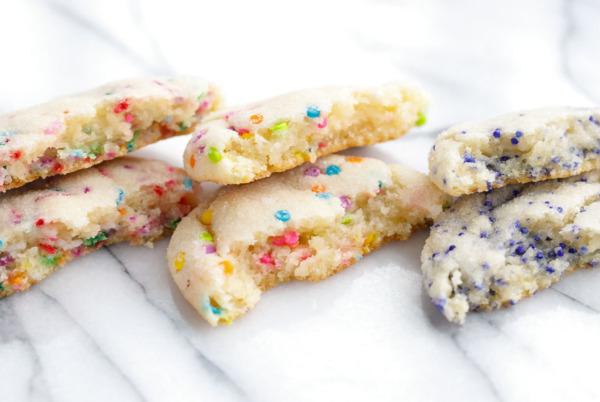 In the name of science, I tested this recipe out with three different kinds of sprinkles, from left to right: jimmies, quins, and nonpareils. Like my funfetti layer cake, I prefer the quins, which hold their shape and don't bleed. In this case, however, pretty much any sprinkle will work. The jimmies seemed to 'sink' a bit and congregated towards the bottom of the cookie, and the nonpareils (I only had purple ones, weird?) bled slightly within the batter, albeit not nearly as much as it did when I tried them in a cake batter (add these very last and stir the dough as little as possible to incorporate them to reduce bleeding).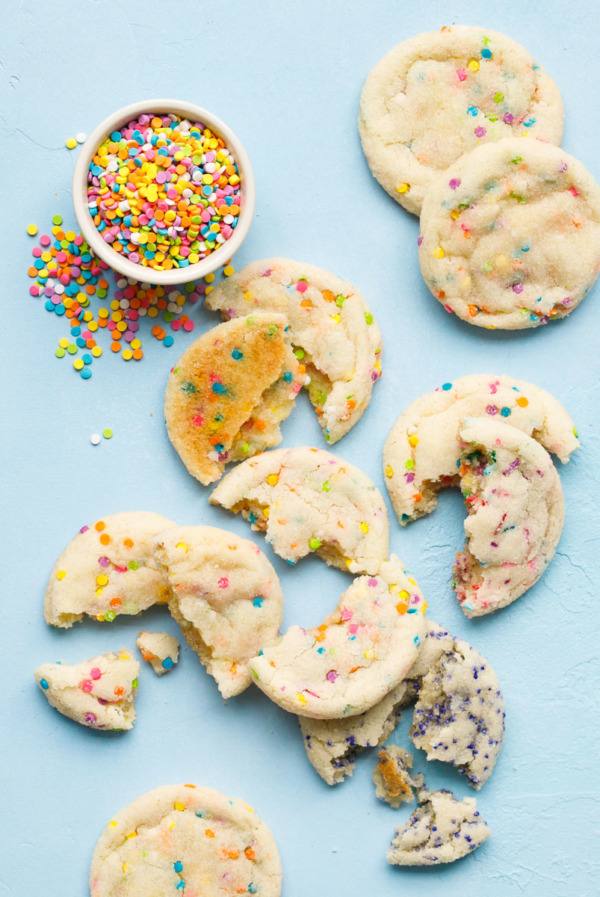 Now, don't skimp on the sprinkles! You'll need an entire 4oz bottle for one batch (that's about 1/2 cup of sprinkles, although they were more like 3 ounces by weight).
I used the these pastel sequin sprinkles, which are slightly smaller/thicker than the confetti quins I used previously in my funfetti recipes. You could also grab some Christmas quins to make funfetti cookies fit for Santa (another perk to quins is they keep their shape during baking, so the christmas trees and holly leaves would stay recognizable even after baking!)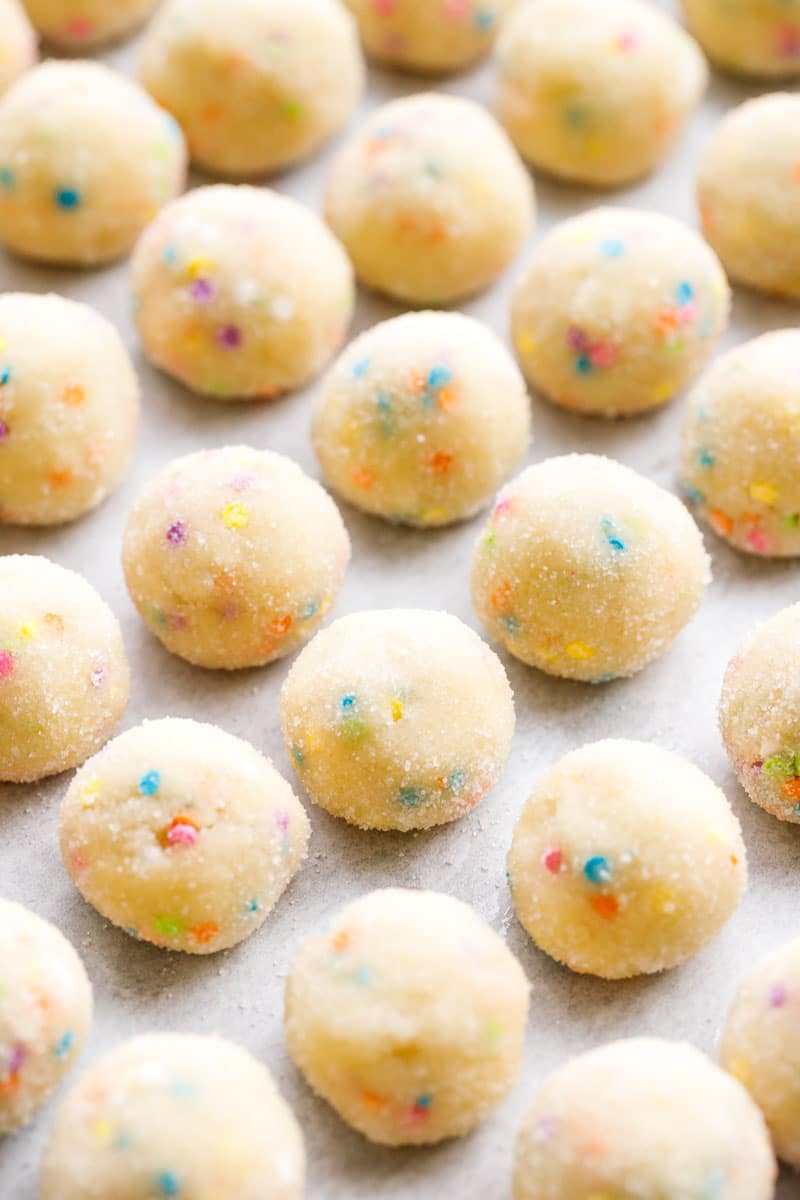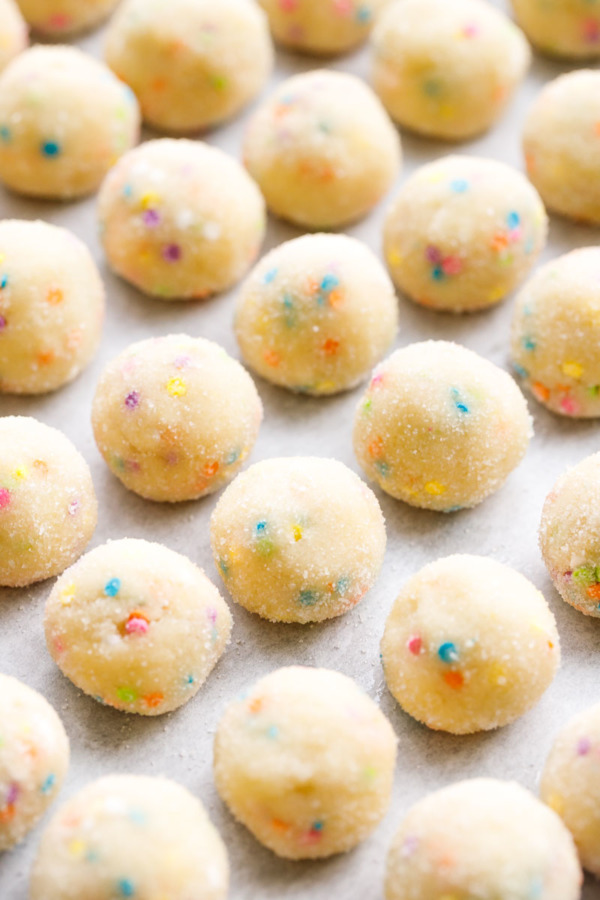 The balls of sugar-rolled dough can also be frozen: simply arrange on a parchment-lined baking sheet, freeze overnight until solid, then transfer to a zip-top bag (labeled with the cook temperature and time) until you are ready to bake them. You can bake them straight from frozen, simply add 1-2 minutes of cook time.
(Note: the picture above shows balls of dough ready to freeze. When baking, you want to leave a generous 2 inches or so of space between cookies [I fit about 11 on a half sheet pan] to account for spreading).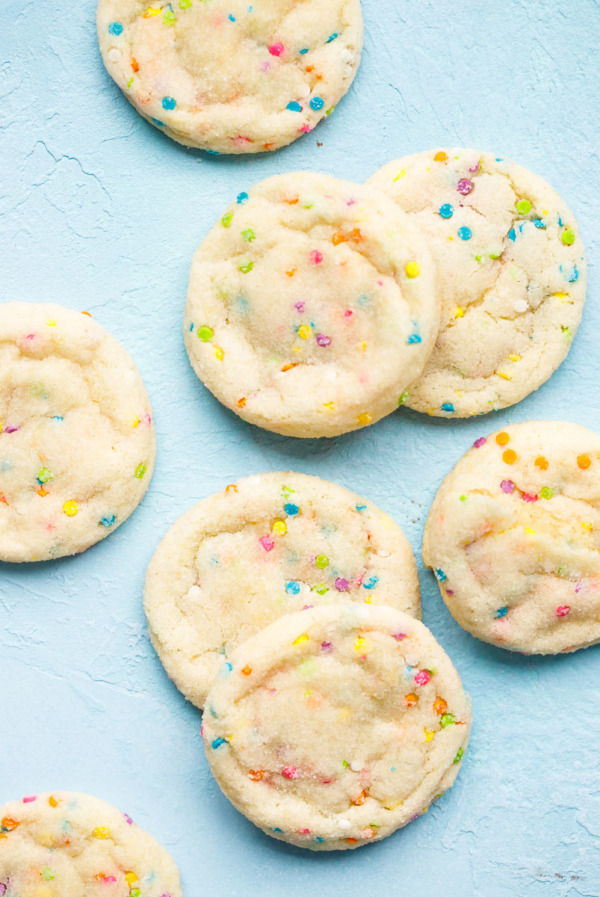 This recipe will make just over 2 dozen 3-inch cookies, or, if you switched to a smaller cookie scoop, you could get almost twice that many (adjust cooking time accordingly). This smaller size would be sturdier for shipping, if you have any cookie-care packages to send out this holiday season.
Funfetti Sugar Cookies
Soft and chewy sugar cookies speckled with rainbow sprinkles, made from scratch without any box mix. The cream cheese and oil in the dough helps keep these cookies soft long after they are baked.
Ingredients:
2 1/4 cups (10.75 ounces) all-purpose flour
1 teaspoon baking powder
1/2 teaspoon baking soda
1/2 teaspoon kosher salt
1 1/2 cups granulated sugar, plus more for rolling
6 tablespoons unsalted butter, melted and slightly cooled
2 ounces (1/4 cup) full fat cream cheese, at room temperature
1/4 cup vegetable oil or light olive oil
1 large egg, at room temperature
2 teaspoons vanilla extract
1/4 teaspoon almond extract (optional)
1/2 cup (1 4 ounce bottle) confetti quin sprinkles
Directions:
Preheat oven to 350 degrees F. Line a baking sheet with parchment paper or a silicone baking mat.
In a bowl, whisk together flour, baking powder, baking soda and salt until evenly incorporated. Set aside.
In a large mixing bowl, mix together sugar, melted butter and cream cheese until smooth and paste-like (if you see chunks of cream cheese, it means your cream cheese was too cold). Whisk in vegetable oil, followed by egg and extracts.
Add dry ingredients and stir until mostly incorporated, then add sprinkles and fold until evenly distributed and no dry ingredients remain.
Scoop dough into 1 1/2-inch balls using a medium cookie scoop. Shape into a smooth ball, then roll in a small dish of granulated sugar until evenly coated.
Arrange on baking sheet, leaving a generous 2 inches of space between cookies.
Bake for 10 to 12 minutes or until tops are set and edges are just barely golden. Remove from oven and let cool for 10 minutes on baking sheet, then transfer to a wire rack to cool completely. Repeat with remaining dough.
Cookies will keep in an airtight container for up to 5 days.
Adapted from Cooks Illustrated.
All images and text © Lindsay Landis /
Love & Olive Oil
Did you make this recipe?
Let us know what you think!
Leave a Comment below or share a photo and tag me on Instagram with the hashtag #loveandoliveoil.