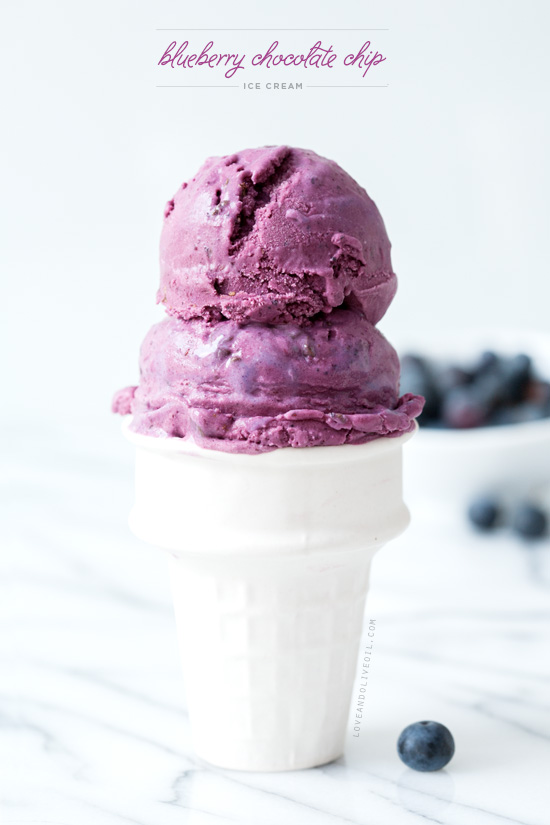 Blueberries are a miracle of color. When first picked, their skins are mottled blue with a hazy white film (also called the bloom, a natural sunscreen that protects the berry and keeps them from spoiling). All the pigment (and beneficial nutrients) resides in the skin, much of the tang and tannin too. The flesh inside is sweet but colorless, and without the tell-tale blue skin you might as well be eating a grape. When cooked, pureed, or smashed, they stain whatever they touch a vibrant fuschia, including but not limited to dairy products, clothing, teeth and skin.
Don't be surprised if your lips turn faintly purple after eating this ice cream (meaning, you probably won't be able to sneak a bowl of this without the other members of your household catching you red-handed purple-lipped).
So make double. Since you'll obviously be forced to share.
While I am usually a proponent of egg-based ice cream (I find they freeze more smoothly in household ice cream makers, resulting in a creamier texture overall), in this case I didn't want extra fat from the egg yolks side-lining the bright berry flavor. The texture is light and refreshing, and not at all icy like sorbet.
The upside? Super easy. No waiting for the custard to thicken or straining out bits of cooked egg or tedious ice-bath cooling. Not that those things are hard, per say, but it's nice to be able to shave an extra 20 minutes off the process, especially when you're exhausted from all that picking and just want to park your bottom on the couch for an impromptu Dr. Who marathon. Even better when your lips match the Tardis.
The chocolate chips are just a bonus I decided to throw in, because blueberry and chocolate go so well together. But you can certainly leave them out if you prefer.
Blueberry Chocolate Chip Ice Cream
Ingredients:
2 cups picked-over blueberries
3/4 cup sugar
1/8 teaspoon salt
1 cup whole milk
1 1/2 cups heavy cream
3/4 cup mini semisweet chocolate chips or chopped dark chocolate
Directions:
In a saucepan bring blueberries, sugar, and salt to a simmer over moderate heat, mashing berries with the back of a wooden spoon or a potato masher. Simmer, stirring frequently, about 5 minutes or until sugar is completely dissolved. Cool slightly, then transfer to a blender and purée with milk until smooth. Stir in cream. (If you'd like a smoother, seedless ice cream, strain mixture through a fine mesh sieve, pressing on solids with back of a spoon.) Cover and chill for at least 2 hours or until thoroughly chilled.
Freeze mixture in an ice-cream maker according to manufacturer's instructions. At the very last minute, stir in chocolate chips, then transfer to an freezer-safe container and put in freezer to harden completely.
Did you make this recipe?
Let us know what you think!
Leave a Comment below or share a photo and tag me on Instagram with the hashtag #loveandoliveoil.