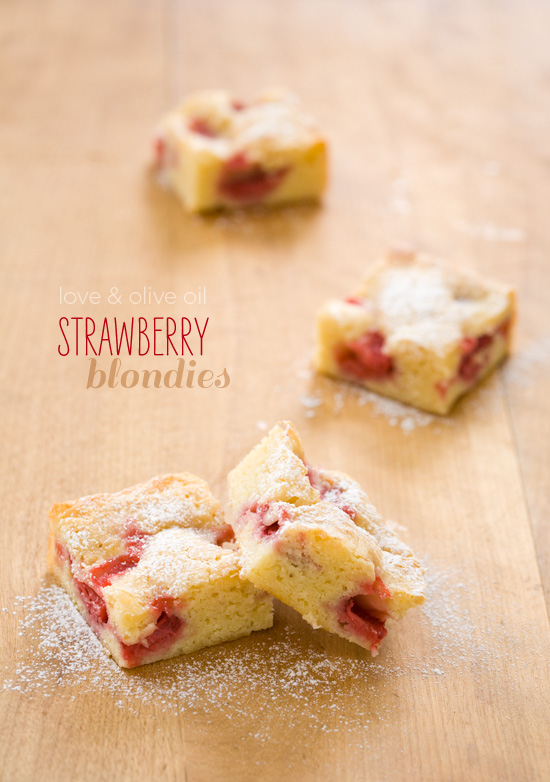 Oh fair berries of straw… how I love thee, with thine ruby skins and flesh so sweet.
If only thou didn't upseteth my stomach so.
Indeed, I think I may be allergic to strawberries. Granted, it's not bad enough to get me to stop eating them entirely, but maybe I won't go quite as straw-crazy in years to come. Sad.
These strawberry blondies (har de har har) contain the last of our second batch of berries. While I still see them at the local markets and expect them to stick around for a little while longer at least, once you've paid $2 a pound it's hard to go back to $4 a pint. I'll gladly drive 40 minutes and spend an hour hunched over in the heat to save a few bucks. Call me cheap, but there's no beating the sweet taste of a berry that's still warm from the sun's rays.
I personally love the combination of fruit and white chocolate. But don't worry, it's a subtle addition; even for folks who don't love white chocolate, these blondies come across as only subtly sweet and fabulously buttery, studded with chunks of juicy roasted berries.
As a born-and-raised brunette, I take issue with the statement that "blondes have more fun," but I may make an exception in this case. Because these blondies are so much fun that even the red heads will take notice.
White Chocolate Strawberry Blondies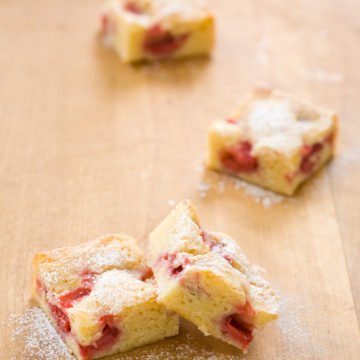 Ingredients:
5 ounces white chocolate, chopped
1/3 cup unsalted butter, cut into pieces
2/3 cup granulated sugar
2 eggs
1 teaspoon vanilla extract
1 cup all-purpose flour
1/4 teaspoon baking powder
1/4 teaspoon salt
1 cup strawberries, hulled and halved
Directions:
Preheat oven to 350ºF. Line the bottom and sides of an 8×8 baking pan with parchment paper, leaving a slight overhang (this will help the blondies come out of the pan later). Butter parchment.
In a double boiler or a bowl set over (but not touching) a pot of gently simmering water, melt chocolate and butter, stirring constantly, until smooth. Remove from heat and stir in sugar. At this point your batter should have cooled slightly to just above room temperature; it may appear to separate, that's ok, it'll get better.
Whisk in eggs and vanilla until smooth. Add flour, baking powder, and salt and stir until just incorporated and no dry flour remains. Fold in strawberries. Pour into prepared pan.
Bake for 25 to 30 minutes or until top is lightly golden and a toothpick inserted near the center comes out clean. Place pan on a wire rack and cool completely.
Use the parchment paper to lift the bars out of the pan, then cut into 2-inch squares. Blondies can be stored in an airtight container in the refrigerator for up to three days.
Did you make this recipe?
Let us know what you think!
Leave a Comment below or share a photo and tag me on Instagram with the hashtag #loveandoliveoil.