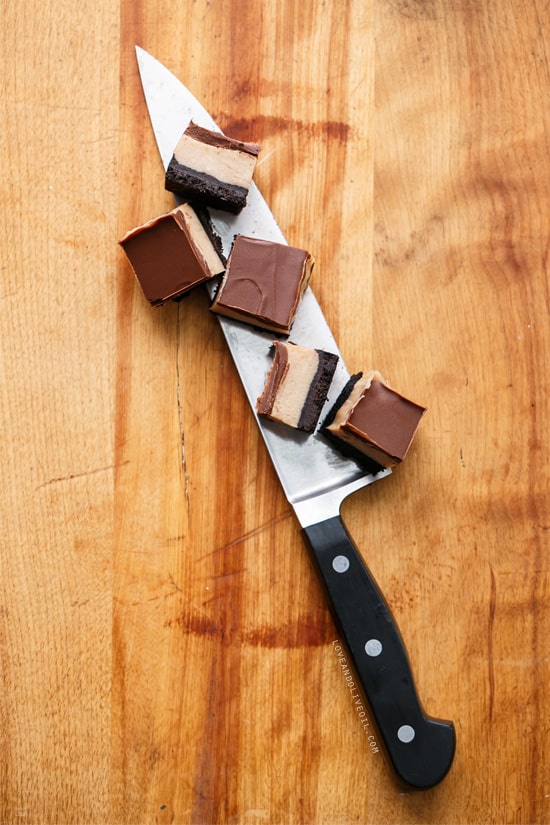 If Dexter was a food blogger…
I promise, I'm not a psychopath… though I kind of felt like one when I was cutting these bars apart, seething with frustration as my initial rectangular bar shapes came out wonky and the glaze was cracking and cookie crumbs sticking everywhere (can you tell I'm a bit of a perfectionist?)
Finally, though I wanted to throw them all in the trash with a dramatic flourish, I cut the bigger bars into smaller pieces and as I used the knife to transport the bites to a plate (disclaimer: don't try this at home) I thought it looked kinda cool; so I left them there. I didn't quite realize just how violent the photo really looks until I started editing the images.
Whoops.
Needless to say and despite how these images make them seem, these cheesecake bars are really quite sweet, creamy and smooth and much easier to prepare than your typical cheesecake. The filling is little more than cream cheese, sweetened condensed milk, and peanut butter. It was a little greasier in the end than I might have liked (I started having flashbacks to the peanut butter white chocolate fiasco), but you can barely tell in the final product other than the glaze is a bit reluctant to stick. Still, if you're looking for an easy and impressive dessert, this is just the ticket.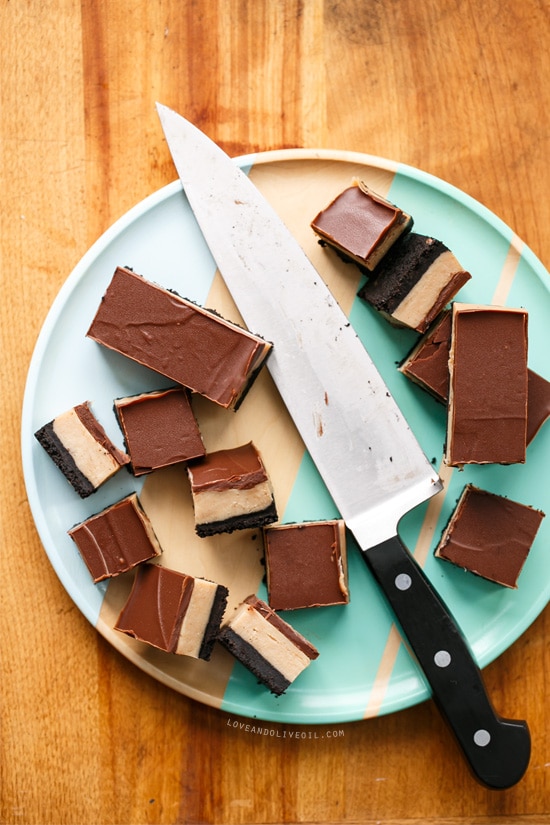 This recipe comes from The Local Palate, a gorgeous magazine celebrating the Southern food culture and on whose blog we are featured as their blogger of the month (stay tuned for our post on Nashville sweet spots!) While I was tempted to make the Pad Thai Creme Brulee (equal parts intrigued and repulsed, I think, haha), I ultimately landed on this peanut butter cheesecake bar recipe from Bakehouse bakery in Charleston, South Carolina.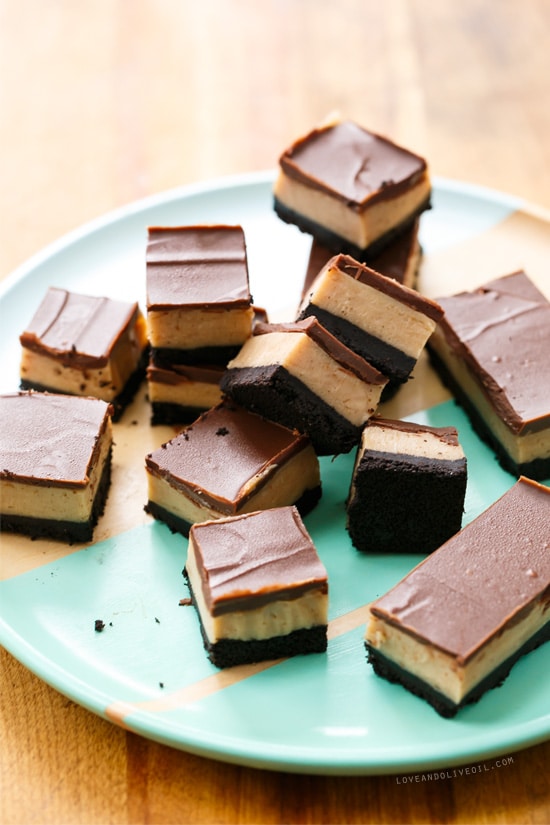 I used milk chocolate for the glaze, but you could certainly use dark chocolate if you preferred that instead. And I halved the recipe, feeling an 8-by-8-inch pan was more than enough rich cheesecake bites for two people to reasonably consume. The original claims a 13-by-9-inch pan makes 12 servings: apparently someone has quite the appetite. I found one or two of the mini bites was more than enough to satisfy, making an 8-by-8-inch pan easily serve 16.
Bakehouse Peanut Butter Cheesecake Bars
Ingredients:
For Crust:
9 ounces chocolate wafer cookies or chocolate sandwich cookies
6 tablespoons (3/4 stick) unsalted butter, softened
For Filling:
6 ounces cream cheese, room temperature
1 cup (10.5 ounces) sweetened condensed milk
1/3 cup creamy peanut butter
1/2 teaspoon vanilla extract
pinch fine sea salt
For Chocolate Glaze:
5 ounces dark or milk chocolate
1/4 cup (1/2 stick) unsalted butter
Directions:
Preheat oven to 350 degrees F. Line an 8-by-8-inch baking pan with parchment paper or aluminum foil and set aside.
Process cookies in a food processor and until finely ground. Add softened butter and pulse until evenly incorporated. Press into prepared baking pan.
In a large mixing bowl or the bowl of a stand mixer, beat cream cheese, sweetened condensed milk, and peanut butter with paddle attachment until smooth. Mix in vanilla and salt. Pour into crust, spreading into an even layer.
Bake for 15 to 18 minutes or until set; remove from oven a place on a cooling rack and allow to cool completely.
For glaze, in a double boiler set over medium heat, melt butter and chocolate until smooth. Pour over cooled cheesecake and refrigerate until set.
Did you make this recipe?
Let us know what you think!
Leave a Comment below or share a photo and tag me on Instagram with the hashtag #loveandoliveoil.