This rustic Italian pasta-and-bean soup is oh-so-satisfying on a cold day (but just as enjoyable on a warm one).
Pasta e fagioli is an Italian pasta and bean stew with a tomato-based broth, small pasta, and white beans such as cannellini. It's one of our favorite quick and easy dinner recipes, made with mostly pantry ingredients you already have on hand.
When the stars make you drool, just like pasta fazool, that's amore.
And in truth, this soup is most definitely a thing of true love.
Pasta e fagioli, or pasta and beans, is an Italian peasant soup made with (you guessed it) pasta and white beans. In the United States it is often called pasta fazool, like the song, fazool derived from the Neapolitan word for beans, fasule.
Whatever you call it, there's no denying it is incredibly hearty and delicious.
The variations of such a dish are myriad, some more soupy, some more saucy, some with nary a tomato in sight.
I imagine Italian grannies everywhere each have their own signature version, with the only common thread between them being the presence of pasta and beans in some form or another.
Our version is most definitely a tomato-centric soup, hearty and flavorful with the addition of Italian sausage and fresh fennel. We also like to mash some of the beans, which add a lovely thickness and silky texture to the broth.
The recipe itself is quite similar to our pasta e ceci, or pasta and chickpeas, although we use Italian sausage and fennel here, and add wilted bitter greens to the other.
And truly, you could really take this recipe (or that one) in any number of directions, omitting the sausage or adding greens or using chickpeas instead of white beans, etc etc.
The thick and silky texture of the broth is part of what makes this recipe so lovely (our first version of this soup was watery and ever so sad). This silky texture comes primarily from the beans, some of which we mash to form a smooth, starchy paste that thickens the liquid around it.
The bean liquid is also used for additional thickening, so don't drain or rinse the beans (I know sometimes this is habit but you definitely want to keep that liquid, just dump it into the pot along with all the beans). If you cook your beans from dried instead, reserve the cooking liquid too (it's good stuff, don't waste it!) You'll need about 1 cup of cooking liquid total to equal the amount in two cans of beans.
If you find the final soup too thick for your tastes (the pasta will absorb a surprising amount of liquid as it cooks), you can always add a bit more broth or water as needed.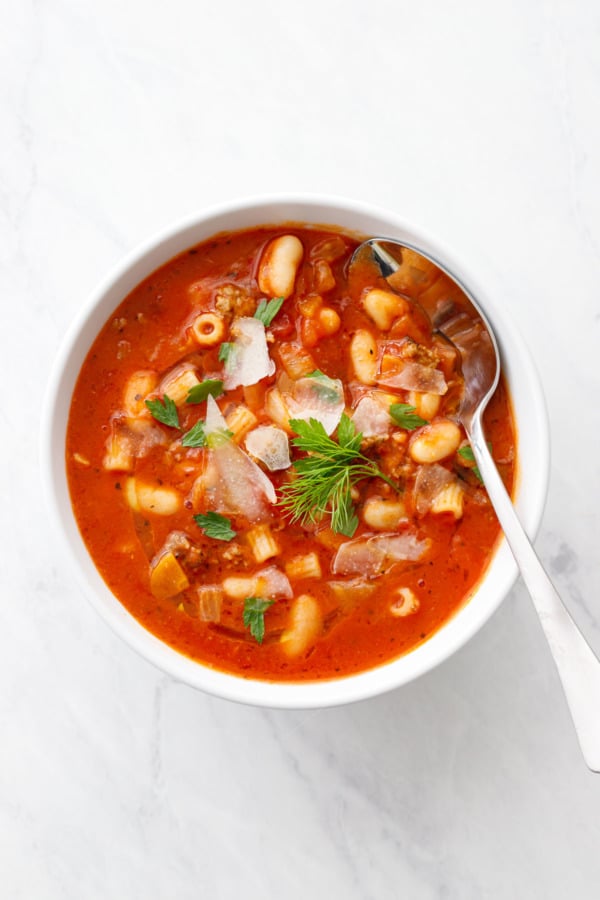 While you could use any small-shaped pasta here, ditalini is our favorite, as it best matches the size and consistency of the beans themselves. You'll only need about a cup of pasta for this recipe, resist the urge to use the entire bag (which would result in far too much pasta and not nearly enough broth). We love Delallo's ditalini (related: their cannelinni beans are the best, as are their canned chickpeas).
The pasta will absorb a lot of the liquid, especially if reheated for leftovers the next day, so you may want to add another splash or two of broth or water after reheating to thin it out again.
While pasta e fagioli is a great freezer-friendly soup, because of the nature of the pasta you may opt to save and freeze the soup base without the pasta. Then, when you're reheating the soup, bring it to a boil and then add your pasta. This will ensure your pasta is perfectly al dente every time (otherwise, if chilled/frozen and then reheated, the pasta will lose its bite).
We finished our soup with a sprinkle of fresh parsley and some shaved parmesan cheese. Fennel fronds make a pretty and flavorful garnish too (I find their flavor somewhere in between a verdant parsley and licoricey fennel). Sometimes a drizzle of good quality olive oil and a pinch of flake sea salt, not to mention some slices of freshly baked crusty bread, prove the perfect accompaniment.
Pasta e Fagioli
Pasta e fagioli is an Italian pasta and bean stew with a tomato-based broth, small pasta, and white beans such as cannellini. It's one of our favorite quick and easy dinner recipes, made with mostly pantry ingredients you already have on hand.
Ingredients:
1/2 lb bulk Italian sausage (or use sausage links, casings removed)
1 small fennel bulb, cored and chopped (about 1 cup chopped)
2 medium carrots, chopped (about 3/4 cup chopped)
3 cloves garlic, minced
1 teaspoon dried Italian seasoning
1 28-oz can crushed tomatoes
2 14-oz cans cannellini beans and their liquid
4 cups chicken broth
1 cup dried ditalini pasta
fresh parsley, for topping
shaved parmesan, for topping
Directions:
Spoon about 1/2 cup of beans into a small bowl and mash with a fork or potato masher until smooth. Set aside.
Heat a medium heavyweight saucepan or Dutch oven over medium-high heat. Add sausage, breaking up the meat with a spoon while it cooks. Cook until sausage is browned, 10-15 minutes, Using a slotted spoon, transfer meat to a bowl, leaving the residual fat in the pan.
Add fennel and carrot and sauté until softened and translucent, about 5 minutes. Add garlic and Italian herbs and stir until fragrant, 1 to 2 minutes.
Add crushed tomatoes and stir until starting to simmer, about 5 minutes. Add beans and reserved liquid, mashed beans, chicken broth, and sausage. Bring to a simmer for 10 minutes to allow the flavors to develop and the broth to thicken slightly.
Add ditalini pasta and simmer for about 8 minutes or until almost al-dente. Season to taste with salt and pepper (if your broth/tomatoes were salted you probably won't need any additional salt, taste it first and decide).
Spoon into serving bowls. Top generously with fresh parsley and parmesan cheese and serve hot.
Did you make this recipe?
Let us know what you think!
Leave a Comment below or share a photo and tag me on Instagram with the hashtag #loveandoliveoil.