Falling somewhere between a brothy stew and a saucy tomato pasta dish, Pasta e Ceci (pasta and chickpeas) is Italian comfort food at its finest.
With a tomato based broth, chickpeas, ditalini pasta, and wilted escarole, this one-pot vegetarian stew is a hearty and satisfying meal in and of itself. Don't forget to top it with a pile of shaved pecorino cheese!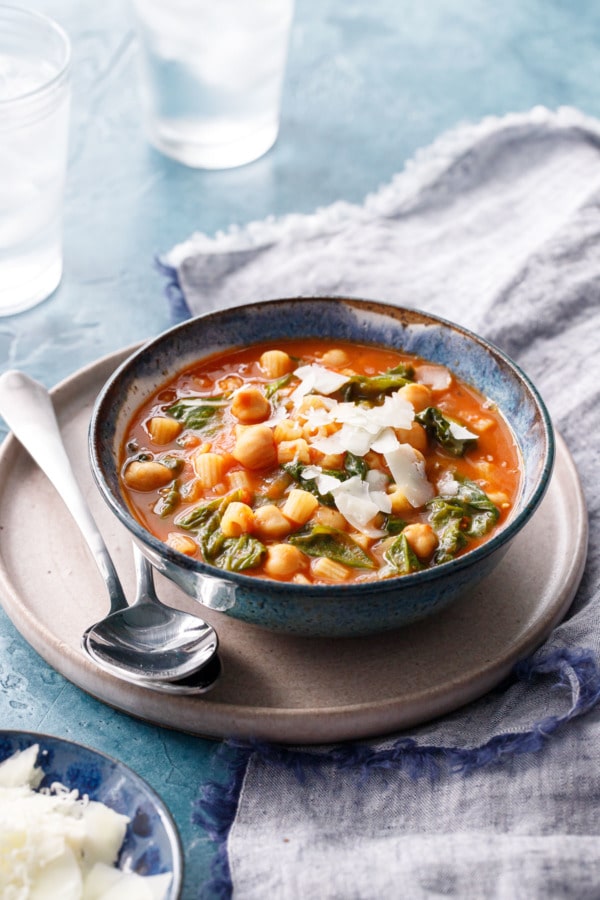 Look, I know it's officially summer and here I am posting a hearty stew recipe. We've been making this pasta e ceci stew or variations of it since March to use up all those canned beans in our pantry, and have finally perfected it to a point where it's too good not to share. And who says you can't eat stew in the summer? I mean, I certainly enjoy a nice scoop of ice cream no matter how cold it is, so why should hot stew be any different?
This classic Roman recipe falls somewhere in between a stew and a saucy tomato pasta, with a thick, saucy broth and satisfying bites of ditalini pasta and protein-rich chickpeas.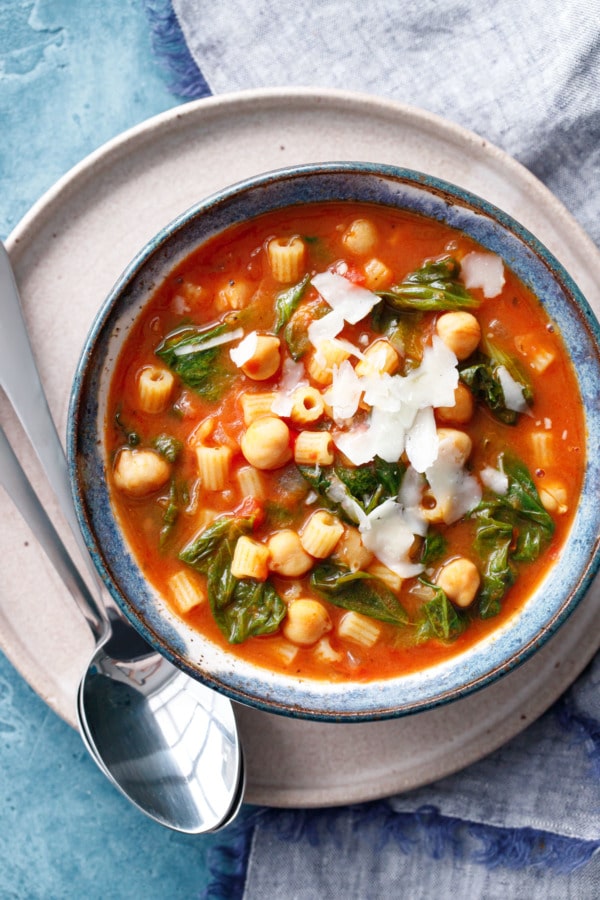 While the roots of this recipe can be traced to a Roman peasant dish, there are myriad variations out there, the only thing they have in common is that they all have pasta and chickpeas (obviously). Some versions are more soup-like, some more tomato-heavy than others, and some feature heartier additions like greens or meat.
We loosely based our version on this recipe from Colu Henry (her book, Back Pocket Pasta, is one of our all-time favorite cookbooks).
We wanted a stew with enough liquid to fill your spoon but with a thick and velvety mouthfeel, not watery in the least. We ultimately achieved this texture by using crushed tomatoes (rather than diced), and by blending 1/4 cup of the chickpeas along with their liquid to make a thickening slurry of sorts.
The final bit of thickening magic comes from the pasta itself.
The stew may seem watery at first, but you'd be surprised at how much of that liquid the pasta absorbs. Different shaped pastas may behave differently, so feel free to add more or less broth as needed. The stew will also thicken more as it sits and the pasta continues to absorb liquid, so if you save leftovers for the next day you may want to add a splash of broth when you reheat it.
Escarole is a bitter leafy green from the chicory family; it's heartier than lettuce, which means that escarole holds its own in this filling stew, whereas more delicate lettuces would fall apart. It's one of those greens that's too bitter to eat raw in a salad (for me at least), but, when wilted down in a rich, brothy stew, it becomes the perfect foil for the acidity of the tomato and the starchy chickpeas and pasta.
That said, escarole isn't exactly common, it's not something I see in our grocery store with any regularity. We've were lucky to receive it in our last few CSA deliveries from Caney Fork Farms and have been enjoying experimenting with this new-to-us green. Frisée would be the the closest substitute, but you could also use kale (give it a few minutes longer to soften), as well as arugula or even spinach if that's all you can find.
Pasta e ceci literally translates to pasta and chickpeas. You might be more familiar with the more common dish known as pasta e fagioli, or pasta and beans, which is a similar thick stew featuring pasta and, you guessed it, beans, usually soft white beans like cannelini beans.
And in fact, this recipe can easily be made with canned white beans instead of chickpeas. The exact same process works for both kinds of legumes, though white beans are soft enough you can mash a few of them by hand into a smooth slurry instead of having to use a blender.
We've also made versions of this dish adding both minced pancetta as well as Italian sausage with fabulous results.
Pasta e Ceci
This classic Roman recipe falls somewhere in between a stew and a saucy tomato pasta, with a thick, saucy broth and satisfying bites of ditalini pasta and protein-rich chickpeas.
Ingredients:
1 (14oz) can chickpeas
2 tablespoons extra virgin olive oil
1 medium onion, chopped (about 1 cup chopped)
3 garlic cloves, minced
1 teaspoon dried Italian herbs
1/4 teaspoon red pepper flakes, 1/2 teaspoon if you like a kick
1 (14oz) can crushed tomatoes (1 3/4 cup)
2 1/2 cups vegetable broth
3/4 cup (3oz) ditalini or other small-shaped pasta
3 loose cups (about 2oz) escarole, roughly torn into pieces
shaved pecorino cheese, for topping
Directions:
Drain chickpeas, reserving liquid, and blend liquid and about 1/4 cup of chickpeas on low speed until smooth (don't puree it too much or it'll be too frothy).
Heat olive oil in a medium heavyweight saucepan over medium-high heat. Add onion and sauté until softened and transluscent, about 5 minutes. Add garlic, Italian herbs and red pepper flakes and stir until fragrant, 1 to 2 minutes.
Add crushed tomatoes and stir until starting to bubble, about 2 minutes, then add blended chickpea liquid, remaining chickpeas, and vegetable broth and bring to a simmer for 10 minutes to allow the flavors to develop and the broth to thicken slightly.
Add ditalini pasta and simmer for about 8 minutes or until almost al-dente (double check package instructions if using a different kind of pasta – it'll likely take a minute or two longer than the package says in this case). About 2 minutes before the pasta is done, add escarole and stir into hot liquid until wilted.
Spoon into serving bowls. Top generously with pecorino cheese and serve hot.
Did you make this recipe?
Let us know what you think!
Leave a Comment below or share a photo and tag me on Instagram with the hashtag #loveandoliveoil.