Luxuriously rich and velvety, this creamy carrot soup is topped with a tangy pesto made from the carrot tops and served with crusty grilled baguette spears.
Don't let those carrot tops go to waste: turn them into a bright and flavorful pesto to drizzle on top of this creamiest of carrot soups.
This recipe was created in partnership with La Brea Bakery, purveyor of fine artisan breads (now available in your neighborhood Kroger!)
Soup de do, it's soup weather, y'all!
And this creamiest of carrot soups is hitting all the right notes.
It's hard to believe that something this flavorful and creamy can be made from little more than carrots, vegetable stock and a splash of cream (ok, a pat of butter too).
We topped it with a tangy carrot top pesto because we're all about producing less food waste in the New Year. (You know how chefs love to brag about whole-hog cooking, well, this is whole-veg cooking.) The carrot tops have a parsley-like flavor, and when paired with good olive oil, toasted pistachios and a splash of lemon juice, create the perfect counterbalance for the rich and creamy soup.
Let's face it, as lovely as this soup is on its own, it's even better when served with grilled crusty bread.
I mean, you really don't even need a spoon to eat it, just dip and scoop with your bread (the soup is so thick it's almost like a dip) and go to town.
To accompany this perfectly velvety soup, we grilled off some slices of lovely French baguette from La Brea Bakery, the Los Angeles-based bakery founded in 1989 by the queen of sourdough herself, Nancy Silverton. Which is why I was excited to hear that you can now find La Brea Bakery breads in Kroger stores nationwide (find it now at a store near you!)
I'll admit while I've been baking loaves of sourdough bread from scratch regularly for the past two years, I've yet to tackle baguettes, mainly because the shaping is such tricky business. Baking a good baguette is no easy feat, I'll say that much.
One day I'll feel adventurous enough to try, and when I do I'll certainly aim to produce a baguette as perfect as La Brea's, with a thin, crispy crust and a soft chewy center that toasts up perfectly light and crisp. There's a fine line between a good crusty bread and bread that's so crusty it hurts your mouth to eat, and La Brea manages that balance perfectly. It's the ideal bread for sandwiches or soups, in this case brushed with olive oil and quickly grilled for a rustic appearance and slightly charred flavor that compliments the ultra-creamy nature of this soup.
I think you could easily veganize this soup as well by replacing the cream and butter with either coconut cream or even cashew cream if you like. Most of the creaminess here comes from the carrots themselves, the splash of cream at the end is just the icing on the cake, if you will.
I will note that the vegetable broth is the primary source of flavor here, so you definitely want a good tasting stock. Look for one that's deep orange in color and mostly opaque—if you can see through it, it's probably lacking in the flavor department too. Different brands will have different sodium levels too, so you may need to adjust the seasoning at the very end depending on your personal tastes.
Or better yet, make your own homemade vegetable stock! Not only is it delicious, it's also an excellent way to use up vegetable and herb scraps from other recipes.


Slicing the bread diagonally gives you long, pointy spears of bread, which will will be easier to grill than dozens of smaller round slices. The longer pieces are also perfectly shaped for dipping (and let's face it, soup really isn't that exciting on its own without some crusty bread to dip in it).
Slice the baguette on a strong diagonal, in the opposite direction as the slits on the top of the baguette. You want the slices fairly thin, about 3/8-inch or so ideally, then brush them generously with olive oil.
We actually grilled our bread inside with a cast iron grill pan (though you can certainly grill it on a charcoal or gas grill if the weather allows!)
But if using a grill pan, here's the secret to perfect grills marks: place a heavy pan or skillet on top of the bread slices. This will press them down into the grill pan and give you nicely defined grill marks.
If you want to grill the second side you can (brush it with oil before you flip it), but I like the combination of crispy bits on the grilled side and the softer areas on the other side.
This recipe makes 3 generous servings, though you can easily stretch that to 4 with enough bread on the side. ;)
You can also very easily double the recipe, though know it might need a bit more time to reduce. Whatever you don't eat right away can also be frozen for up to 1 month.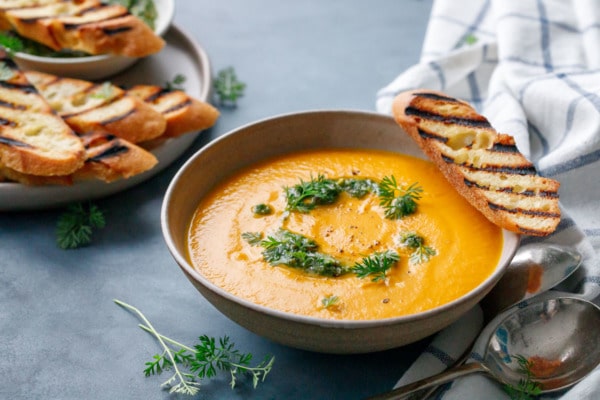 Carrot Soup with Carrot Top Pesto
Luxuriously rich and velvety, this creamy carrot soup is topped with a tangy pesto made from the carrot tops and served with crusty grilled baguette spears.
Ingredients:
For Carrot Soup:
1/4 cup extra virgin olive oil
4 large carrots (about 1 pound), chopped (removed and reserve carrot tops for pesto)
1 medium shallot, minced (about 2 tablespoons minced)
4 cups vegetable stock
1 bay leaf
1/2 cup heavy cream
2 tablespoons unsalted butter, cut into pieces
salt and freshly ground black pepper, to taste
For Carrot Top Pesto:
2 cups ( 1.25 ounces) loosely packed carrot tops, rinsed well
1/2 cup extra virgin olive oil
2 tablespoons toasted shelled pistachios
1 tablespoon freshly squeezed lemon juice
1/4 teaspoon red pepper flakes
1/4 teaspoon fine sea salt (slightly less if using salted pistachios)
1/4 teaspoon freshly ground black pepper
For Grilled Bread:
1 La Brea Bakery French Baguette
olive oil, for brushing
Directions:
Heat olive oil in a large saucepan or Dutch oven over medium-high heat. Add carrot to hot oil; season with a generous pinch of salt and pepper and sauté until starting to soften, about 6 to 8 minutes. Add shallots and cook until translucent, another 5 minutes or so.
Add vegetable stock and bay leaf and bring to a simmer. Reduce heat to low and continue to gently simmer, stirring occasionally, until broth is noticeably reduced and carrots are very soft, about 30 minutes. Remove bay leaf.
Carefully transfer soup to a blender and puree until smooth (take care blending hot liquids, work in batches if you need to).
Return pureed soup to saucepan and set over low heat to keep warm. Stir in cream and butter and stir until melted and smooth. Taste and add additional salt and pepper as necessary (you may need more or less depending on the saltiness of your stock).
For pesto, while soup is simmering, combine carrot tops, olive oil, pistachios, lemon juice, red pepper flakes, salt and pepper in the bowl of a food processor. Pulse until smooth. Taste, then add additional salt and pepper as needed. You can also add more olive oil as desired for a thinner, more 'drizzle-able' consistency if you prefer.
For grilled bread, heat a grill pan over medium-high heat. Slice baguette diagonally into 3/8-inch thick slices. Brush one side of slices generously with olive oil. Place bread slices, oil side down, onto grill pan, lining up the grill ridges so the marks will run diagonally across the pieces of bread.
Place a heavy skillet on top of bread slices to press them deeper into the grill pan, which will result in better defined grill marks. Let sit for about 2 minutes or until grill marks are very dark brown and crispy. If you want to grill both sides, brush the tops with more olive oil then flip slices over and repeat on second side.
To serve, ladle soup into warm bowls. Top with a drizzle of pesto and a sprinkle of flake sea salt and finely ground black pepper. Serve with still-warm grilled bread and enjoy!
Did you make this recipe?
Let us know what you think!
Leave a Comment below or share a photo and tag me on Instagram with the hashtag #loveandoliveoil.
Disclosure: This post was created in partnership with La Brea Bakery. As always, all opinions written are purely our own. We're incredibly grateful for opportunities like these that allow us to continue sharing delicious recipes with you, so thank you for supporting us and the brands we love.