There are few things more comforting than a bowl of this thick and hearty split pea soup, rich and velvety and topped with smokey bits of crisp bacon.
Simple ingredient list, complex flavor. Flavored simply with bacon, onion, chicken broth and a smidge of thyme, you'll be surprised at the sheer amount of flavor from such a limited ingredient list.
Split pea soup is one of those recipes that gets a bad wrap. Or no wrap, actually, since it's regularly overlooked and downright omitted from the soup lexicon in lieu of more ubiquitous options like chicken noodle and tomato the like. I mean, when was the last time you actually saw pea soup on a restaurant menu (when you weren't driving through Buellton, California, that is)? Pea soup is more often used as a less-than-appetizing descriptor of thick, murky fog than actual soup.
I fully admit that split pea soup was so far outside my mind it was never something I even thought of until I found myself with a random bag of split peas, an impulse buy if you will (Get it? impulse? because peas are pulses? I'm so punny).
In reality, split pea soup is actually quite wonderful. There's a reason this recipe has stood the test of time (and in fact, split pea soup or something quite like it, can be dated back to medieval Europe).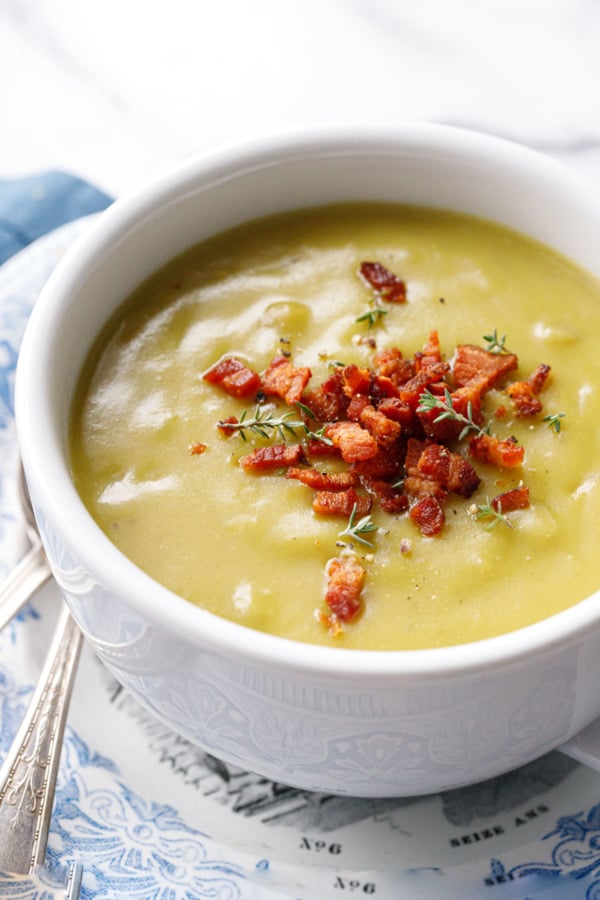 What is a split pea anyway?
Well, it's actually the same as a regular field pea, the green kind you probably hated as a kid. They're just dried and peeled and split in half down their natural seam to expedite cooking.
These protein and fiber-packed legumes are commonly available in both green and yellow colors, the yellow version making a regular appearance in regional dishes throughout the world (they are very similar and often interchangeable to lentils or daals, though technically a different species of legume).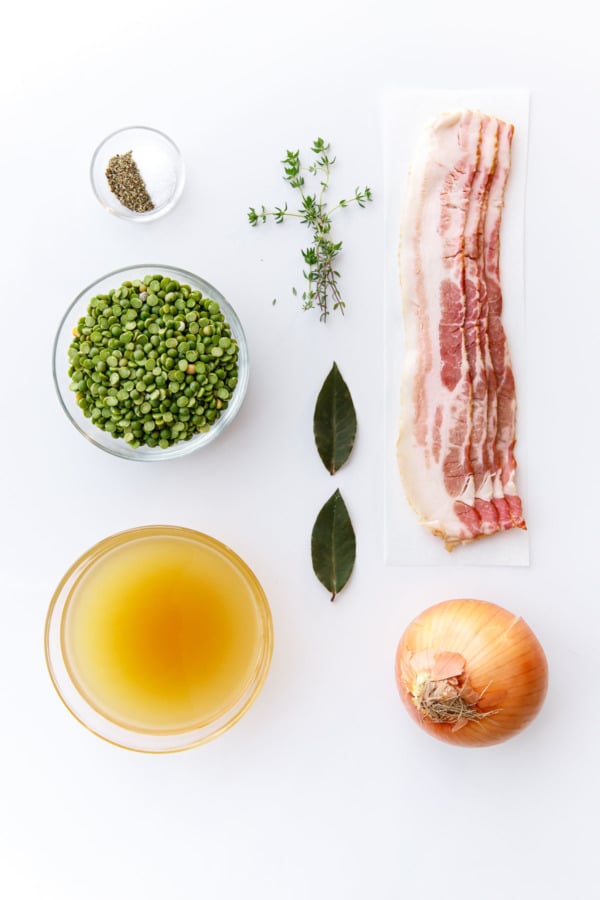 Our version, like most European-style split pea soup recipes, is surprisingly minimal, with an uncanny amount of flavor coming from a few simple ingredients.
Most split pea soups use some sort of pork in one form another, most commonly ham hock, to flavor the soup. We opt to crisp up some bacon, saving the crispy bits of bacon for a crunchy topping, and then using the flavorful bacon fat as the base to sweat the vegetables.
We also finished our soup with a splash of sherry vinegar, that tiny bit of extra acid serving to brighten the rest of the flavors.
While the recipe isn't necessarily quick (the peas take about an hour to fully soften), it's very easy and hands-off for most of that time.
You could also speed up the process a bit by pre-soaking the peas in cool water overnight, although I personally feel the slightly longer simmer makes the soup all the more flavorful.
This recipe makes a small batch (approximately 3 servings), but can easily be doubled or even tripled if you've got a big enough pot. And you may as well, since the soup freezes beautifully, it'd be a great meal-prep option for weeks when you know you won't have time to cook.
Texturally, split pea soup can be as smooth or chunky as you like it. The peas break down quite a bit as they cook, so if you like roughly textured soups you are good to go as is. You can also blend it fully for a silky smooth texture.
In our case, we're split down the middle, pardon the pun, with myself preferring smoother soups and Taylor on Team Chunky. So we compromised, blending half of the soup and mixing it in for a perfectly balanced smooth-and-chunky texture. The best of both worlds, if you will.
I like to serve this soup with slices of lightly toasted sourdough bread, or sprinkled with some oyster crackers or homemade croutons for crunch (because textural contrast just makes it that much more appealing to eat).
Split Pea Soup
This recipe makes a small batch (approximately 3 servings), but can easily be doubled or even tripled (it freezes beautifully!)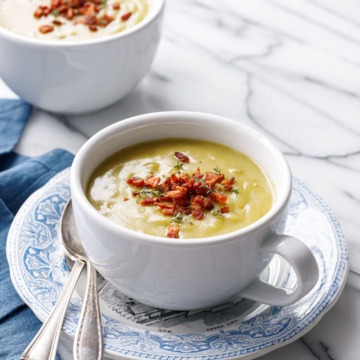 Ingredients:
4 slices bacon (90g), coarsely chopped
1 medium onion, chopped (1 cup chopped)
1 cup (260g) green split peas
4 cups chicken stock
1 cup water, or more as needed
1 bay leaf
1 teaspoon chopped fresh thyme or 1/2 teaspoon dried thyme
1/2 teaspoon salt, or to taste
1/2 teaspoon freshly ground black pepper, or to taste
1 teaspoon sherry vinegar
Directions:
Heat a large heavy saucepan or Dutch oven over medium high heat. Add bacon pieces and cook, stirring occasionally, until crisp. Remove bacon with a slotted spoon and transfer to a paper towel-lined plate.
Remove all but 2 tablespoons of bacon fat (you can save it for another use) and return saucepan to medium heat.
Add onions and sauté 5 minutes until soft.
Add dried split peas and cook for 1 to 2 minutes until coated with fat. Add chicken stock, 1 cup of water, thyme, and bay leaf and bring to a simmer. Continue to cook, partially covered, for 50 to 60 minutes or until peas are very soft and falling apart.
Optionally, blend all or half of the soup (use caution when blending hot liquids) and return to saucepan. Add a bit of additional water or broth for a thinner consistency if desired. Season with salt and pepper and stir in vinegar to taste. Serve warm, topped with bacon bits and a sprinkle of fresh thyme (if desired).
Did you make this recipe?
Let us know what you think!
Leave a Comment below or share a photo and tag me on Instagram with the hashtag #loveandoliveoil.