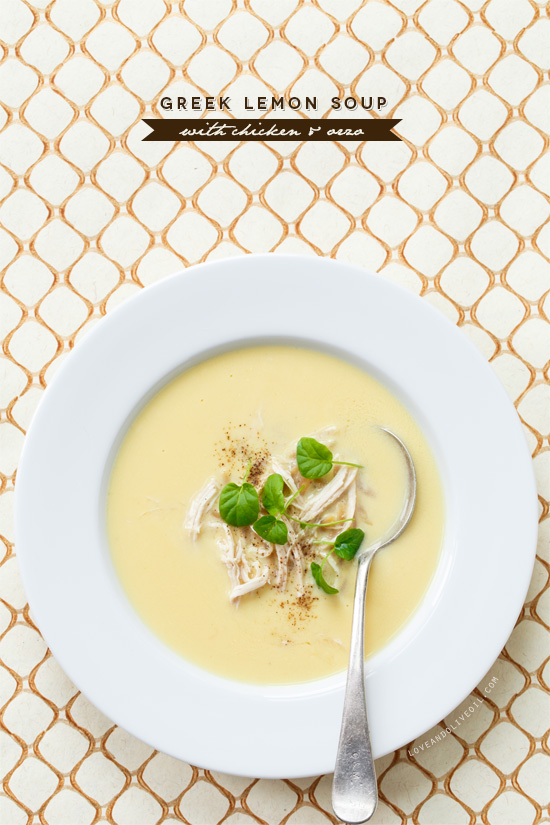 When you first see the recipe for this soup, you may think it sounds weird. After all, egg yolks aren't exactly a typical ingredient in soup.
And let me assure you the resulting soup isn't 'eggy' tasting at all. Rather, the acidic lemon cuts through the rich yolks and savory broth, making for a perfectly balanced, and perfectly creamy soup.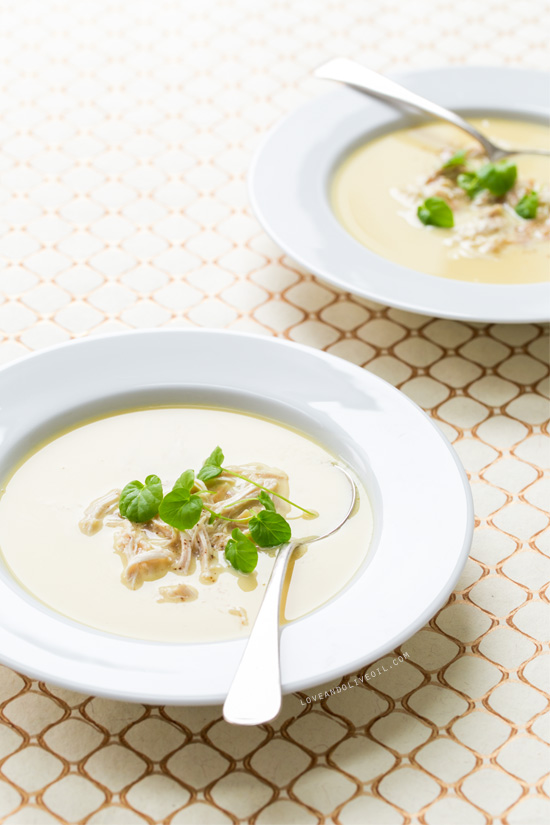 It's not a soup that cries out for a lot of stuff either. In fact, the watercress on top was just an afterthought here (we had some left over from a shoot earlier in the week), but I thought the radish-like spiciness was the perfect complement to the creamy yellow base.
We preferred the slightly sweeter Meyer lemon in this recipe; when we made it with regular lemon the result was slightly metallic tasting, almost too tart to be enjoyable. So if you do use regular lemon, unless you are a die-hard lemon lover, you may want to reduce the lemon juice just a squidge.
Greek Lemon Soup with Chicken and Orzo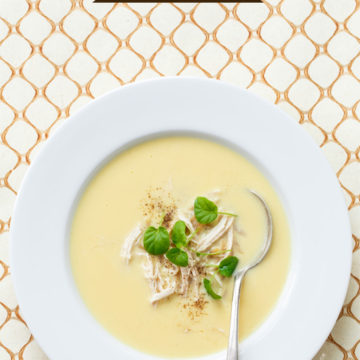 Ingredients:
6 cups low-sodium chicken broth
1/2 cup orzo
6 large egg yolks
1 1/2 cups shredded rotisserie chicken
1/4 cup fresh Meyer lemon juice
kosher salt and black pepper
Directions:
In a large saucepan set over medium-high heat, bring the broth to a boil. Add the orzo and boil until just tender, about 7 minutes (1 to 2 minutes less than the package directions).
In a large bowl, beat the egg yolks until lightened in color. Slowly drizzle in 1 cup of the hot broth, whisking vigorously, until egg mixture is hot to the touch. Take your time, you want to temper the egg yolks here rather than cook them. Add the egg mixture to the saucepan, reduce heat to medium, and cook, whisking occasionally, until thickened to the consistency of heavy cream, about 5 to 7 minutes. Stir in lemon juice.
Add the chicken and cook for another minute or two until chicken is heated through. Season with salt and pepper to taste.
Did you make this recipe?
Let us know what you think!
Leave a Comment below or share a photo and tag me on Instagram with the hashtag #loveandoliveoil.