The ultimate in winter comfort: this ultra creamy tomato soup is made from canned tomatoes and dried spices, all ingredients you should already have in your pantry!
Tomato season never quite aligns with tomato soup season, those wintry days when you're craving a big old bowl of comfort. In fact, it's completely opposite. Which is why when winter comes around, canned tomatoes are the key to this comfort food classic.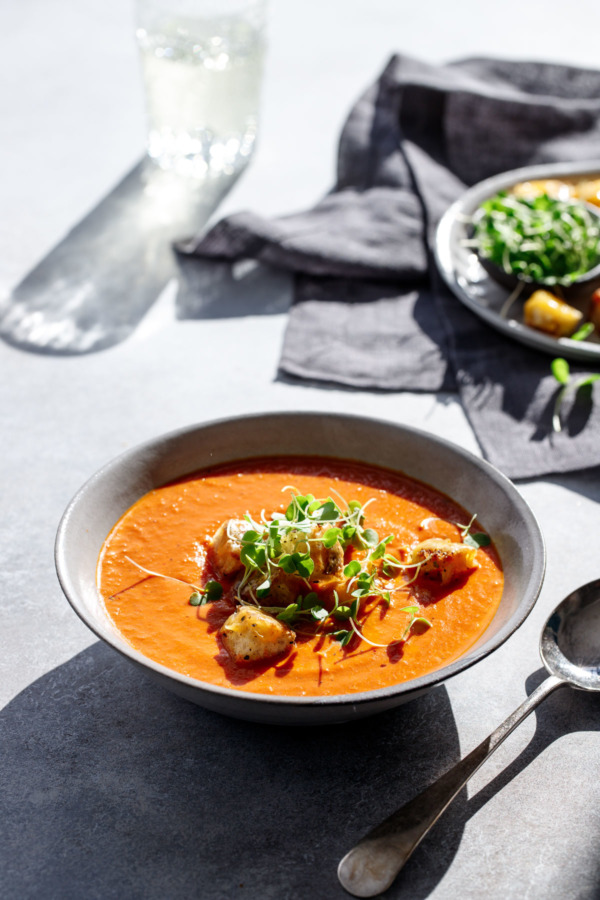 We've already shared our favorite summer tomato soup recipe, packed with vine-ripened heirloom tomatoes. There are few things better than a perfectly ripe summer tomato, and this soup showcases that summer sweetness perfectly (the finishing dollop of mascarpone doesn't hurt, either).
But why shouldn't you be able to enjoy comforting tomato soup year round, and not just in July and August when the tomatoes are at their peak. I mean, chilly January days are when I really crave the comfort and warmth of a big bowl of tomato soup, so we set out to make a off-season version using canned tomatoes and dried spices.
When tomatoes aren't in season, you're better off buying canned anyway, as they are going to be much more robust and flavorful than those pale, flavorless things in the market this time of year. Just say no to winter tomatoes.
Our favorite canned tomatoes are San Marzanos, imported from Italy and used for pizza and pasta sauces by chefs worldwide. Our second favorite are the canned Jersey tomatoes we picked up from our neighborhood pasta shop, Lazzaroli (New Jerseyans are damn proud of their tomatoes and won't hesitate to proclaim their superiority).
But really, anything works here. Use your favorite brand. Whole, diced, crushed… whatever. :)
We spice it up with a bit of Italian seasoning, red pepper flakes, and a pinch of saffron for a little something different.


As for the croutons… well, let's all just go ahead and admit that this soup's sole purpose is to provide a vehicle for these crunchy, cheesy croutons (basically grilled cheese in bite-sized format).
Now, hear me out, because I know the process to make the cheese croutons might seem a bit weird and tedious (you basically put a tiny slice of cheese on top of each individual cube of bread). The more obvious way might be to sprinkle a bunch of shredded cheese on top of the pan of croutons, but that results in more wasted cheese crusted onto the pan itself and less cheese on the actual bread.
After much trial and error, we found that slicing the cheese, then cutting the slices into roughly 1-inch pieces, and placing one slice on each bread cube resulted in the best cheese-to-bread ratio.
Worth it.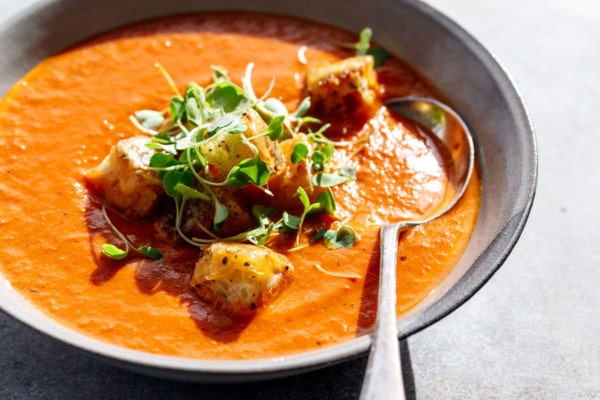 Winter Tomato Soup with Cheesy Croutons
This ultra creamy winter tomato soup is made from canned tomatoes and dried spices, and topped with crispy cheesy croutons (dare we say they are the best part?)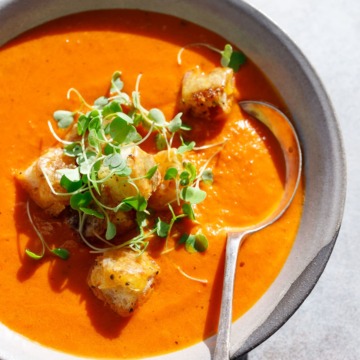 Ingredients:
For Tomato Soup:
2 tablespoons olive oil
2 tablespoons unsalted butter
1 large onion, chopped
1 large carrot, chopped
4 garlic cloves, minced
1 teaspoon Italian seasoning
1/4 to 1/2 teaspoon red pepper flakes (to taste)
6 saffron threads
1 bay leaf
1 28oz can San Marzano or whole Jersey tomatoes
2 cups low sodium chicken or vegetable broth
1/4 cup heavy cream
salt and freshly ground black pepper, to taste
For Cheese Croutons:
4 1-inch thick slices French or Italian bread, cut into 1-inch cubes
3 tablespoons olive oil
1 teaspoon dried Italian seasoning
1/2 teaspoon garlic powder
1/4 teaspoon each salt and pepper
2 ounces cheddar cheese, thinly sliced
Directions:
Heat olive oil and butter in a large saucepan or heavy Dutch oven over medium heat. When butter is melted and sizzling, add onion and carrot and cook until softened, about 10 minutes. Add garlic, Italian seasoning, red pepper flakes, saffron and a generous pinch of salt and pepper; stir to coat and sauté until fragrant, about 2 minutes.
Add bay leaf, entire can of tomato (with juices) and chicken broth. Bring to a simmer then reduce heat to medium. Gently simmer, stirring occasionally, for 20 minutes. Remove bay leaf.
Transfer soup to a blender (be very careful when blending hot liquids) or use an immersion blender to blend soup until smooth. Return to saucepan over medium-low heat. Stir in cream. Taste, then season with salt and pepper as needed.
While soup is simmering, prepare your croutons. Preheat oven to 375 degrees F. Line a sheet pan with aluminum foil and spray lightly with cooking spray. toss bread cubes in a bowl with olive oil, Italian seasoning, garlic powder, salt and pepper. Add the olive oil a little bit at a time, tossing well to ensure the bread cubes are evenly coated.
Spread bread cubes in a single layer on prepared sheet pan. Bake for 5 minutes, then toss, and bake for 3 to 4 minutes more or until bread is crispy and golden brown.
Slice cheese into thin slices, then cut slices into 1-inch squares. Arrange the squares of cheese individually on top of each crouton (it's a bit tedious I know, but this will result in more cheese staying on the bread and less burnt to the baking pan than if you used shredded cheese).
Bake for 2 to 4 minutes or until cheese is melted and bubbly.
To serve, ladle soup into serving bowls. Top with a few cheese croutons (continue to add fresh croutons to your soup as you eat as they will get soggy pretty quickly) along with a sprinkle of black pepper and torn fresh basil leaves or microgreens if desired.
Did you make this recipe?
Let us know what you think!
Leave a Comment below or share a photo and tag me on Instagram with the hashtag #loveandoliveoil.