An ultra-creamy, deep dish quiche made with caramelized onions, melty cheese, and a crispy phyllo crust for a brunch delight you'll simply adore!
Quiche is a satisfying meal whether enjoyed for brunch, lunch, or even dinner (seriously, you know our feelings on breakfast for dinner so this should be no surprise). This vegetarian cheese & caramelized onion version hits all the right notes.
This recipe was created in partnership with Roth Cheese, award-winning cheeses made in Wisconsin with milk from local family farms. Now available at a store near you!
When it comes to brunch, I used to be all about the sweet. From pancakes to waffles to syrup-slathered French toast, I always gravitated towards the sugar-filled dishes on the menu.
But lately (lately as in 10 months ago when we still went out for brunch… ah the good old days) I've been finding myself coveting Taylor's savory selections more and more.
Does this mean I'm actually becoming a grown up? Not sure how I feel about that idea.
Still, the concept of a savory egg dish for brunch is quite appealing to me now, and this cheesy onion quiche seriously hit the spot (although I have to say after 4 back to back quiches, French toast is sounding awfully good at the moment… and yes, it really did take us 4 tries to nail this recipe because I'm apparently becoming more of a recipe perfectionist in my old[er] age as well.)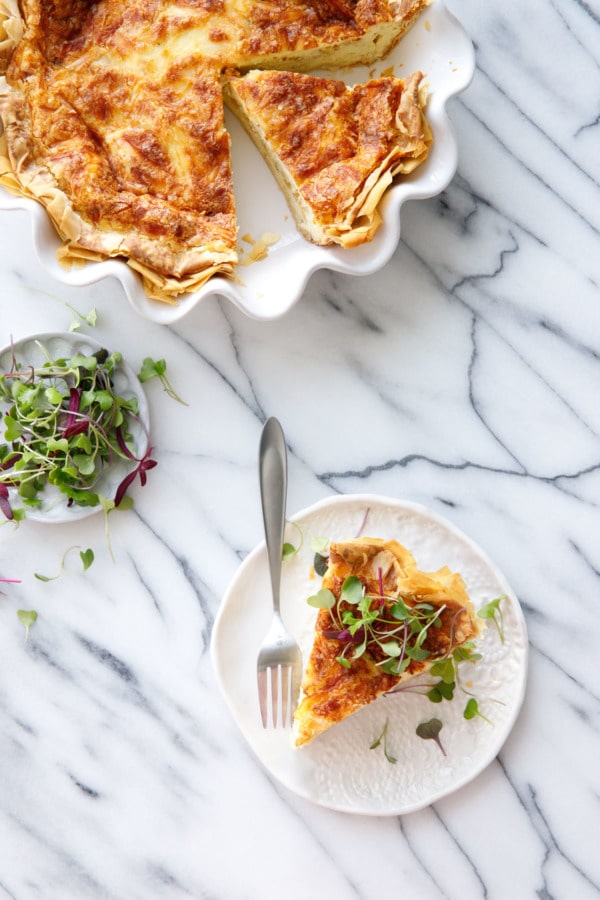 The flavor combination of this quiche pairs golden brown caramelized onions with melty, nutty cheese and an ultra-flaky phyllo dough crust. Sort of like how the best part of French onion soup is the melted cheese on top? Same general flavor combination going on here.
We love the mild nuttiness of the Roth Grand Cru Alpine-style cheese in this recipe—it perfectly compliments the caramelized onions and the rich creaminess of the quiche itself. The cheese is no bully: its mellow flavor won't force itself to the forefront of your tastebuds; rather, it's more of a blank canvas that lifts up the other flavors rather than overpowering them. It's really one of our favorite cheeses for that reason.
The original version is aged 4 months for a mellow, nutty flavor, but Roth also has a 6 month Reserve version and the 9 month Surchoix, which almost takes on a Parmesan-like character.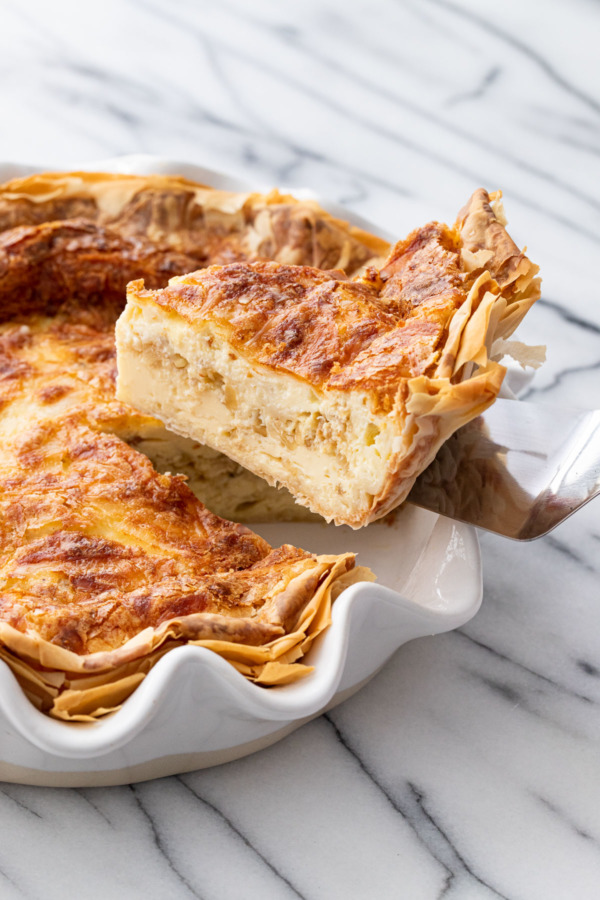 Most quiche recipes use a ratio of about 1/2 cup dairy per egg. We found these proportions too rich for our tastes, so our quiche has a slightly more egg-heavy ratio of just under 1/3 cup dairy per egg.
We used a mix of milk and heavy cream, and also swapped out part of the cream for crème fraîche, which adds a lovely creaminess and tang to the final dish. It's worth the extra effort to track it down. That said, you can also replace it with more heavy cream if you like.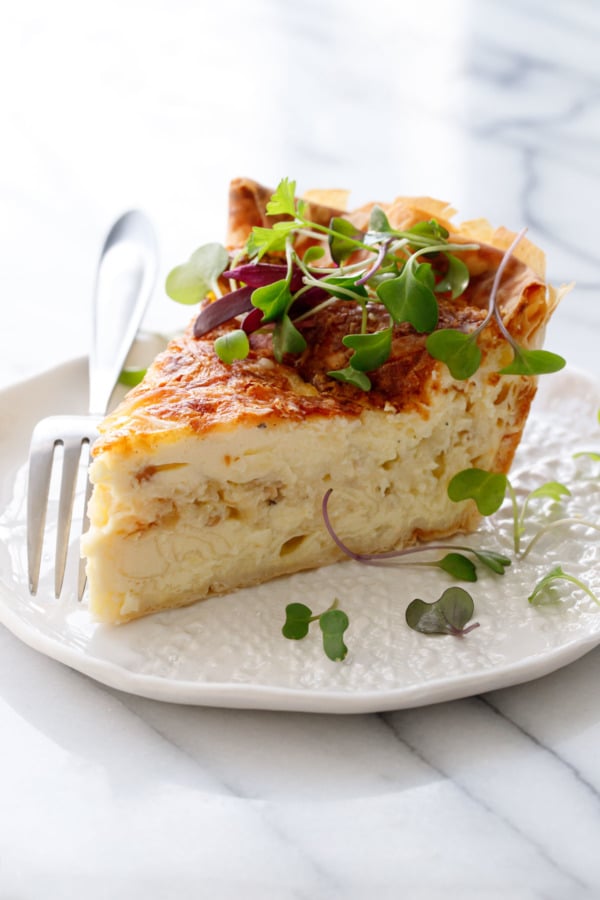 When baking quiche, I find it interesting that so many recipes call for high temperatures. I haven't really played with the idea of cooking it slow and slow, or even in water bath, but seeing as it's basically a custard, I feel like treating it like creme brulee would really make for a lovely texture.
This one cooks at 350ºF, and will take about 45 to 55 minutes. How do you know it's done? The edges should be puffed and browned, and the center will still have a slightly jiggle to it (but should not look liquidy). Stick a paring knife in the center and it should come out clean. You can also use a digital thermometer to test that the internal temperature has reached 165 to ensure your quiche is properly set.
I also recommend allowing at least a few hours for the quiche to cool; it'll slice up much nicer if allowed to properly set. If you can wait to dig in, that is!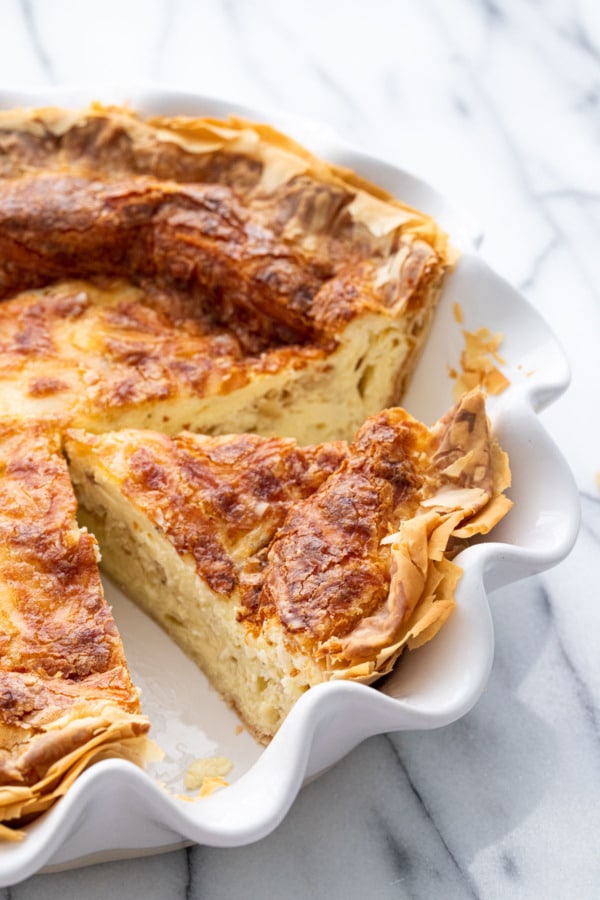 Phyllo makes my favorite crust when I'm making mini quiches, so I figured it'd be the same for a full size as well! Despite the fact that phyllo can be a bit fragile and finicky, I find it much easier to manage than traditional pie crust. No worries about par-baking and shrinkage and all of that. And yes, phyllo is a bit fragile, but since you're building 8-10 layers in the pie pan it really doesn't matter if they tear.




Brush a light layer of melted ghee or clarified butter between each layer, focusing more on the sides and edges (the butter will run down to the bottom anyway so keep the brushing really light there).
I did par bake, or partially bake, the phyllo crust for just a few minutes to help it crisp up. It will puff slightly, so I set a small aluminum pie pan in the middle to keep it from puffing too much. You don't have to worry about the sides shrinking though, so no need to do the whole parchment and pie weights with this crust.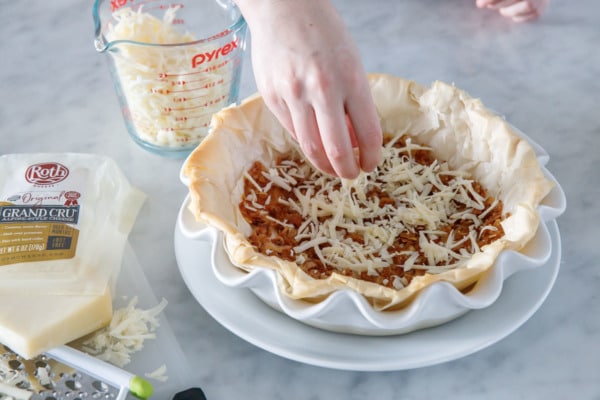 After baking, the bottom isn't quite as crispy as the edges (as the quiche cools the steam that builds in the bottom of the pan tends to soften it). In this respect, the phyllo crust actually gets better when reheated: I recommend slicing the quiche and placing the slices on a baking sheet. Warm in a 350ºF oven for 5 to 10 minutes or until heated through. The baking sheet will help re-crisp the crust better when free of the steamy confines of the pie dish.
Could you use a standard pie crust here? Of course, just swap in your favorite pâte brisée crust recipe (keep in mind a deep dish pie will require slightly more dough, so I recommend doing 1.5 times your normal recipe… if you have leftover dough you can always make pie crust crackers!)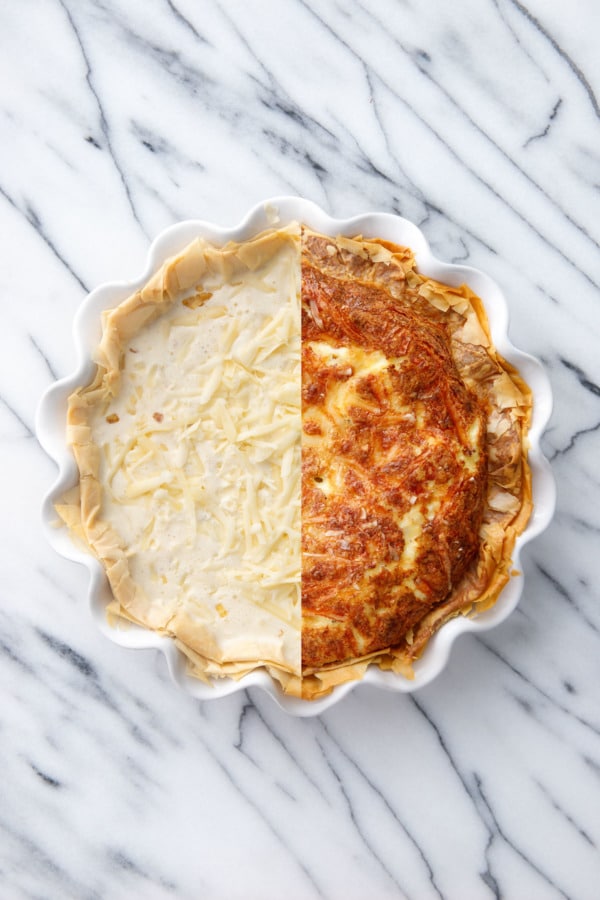 The fact that quiches, especially this one, are arguably better reheated makes them a perfect make-ahead recipe for your next brunch! Make and bake the quiche the afternoon before, let it cool completely to room temperature (this will take upwards of 1-2 hours), then chill overnight. The next day, slice the quiche (it slices beautifully when chilled!), and rewarm the individual slices in the oven.
This recipe makes one deep dish quiche. This is the exact pie dish I used, but something like this would work as well. If you're using a standard depth pie pan, halve the filling recipe and reduce the baking time to 30 to 40 minutes. Whatever size pan you use, just be sure you don't fill it too full, leave a good 3/4-inch of space above the filling to account for puffage (that's totally a word).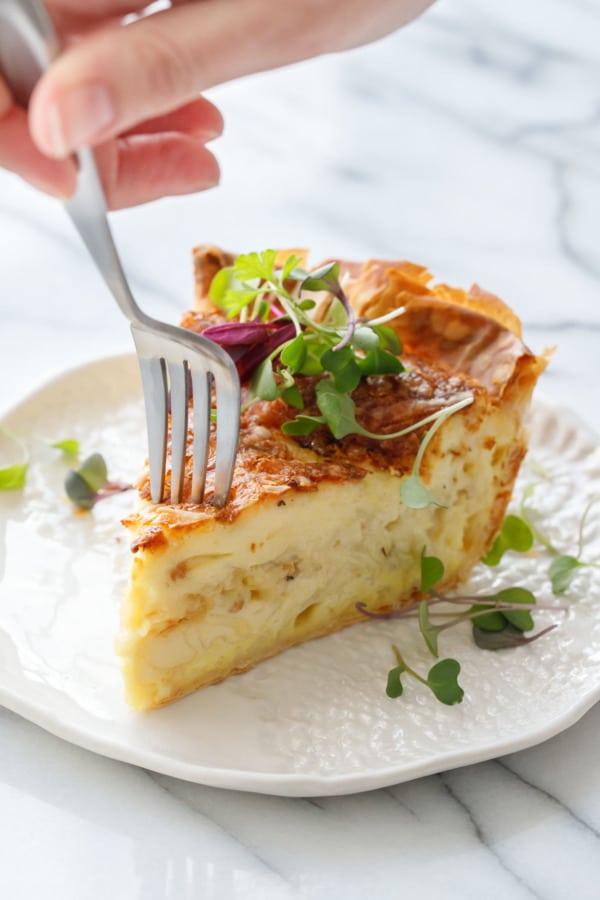 Roth cheeses, including the Grand Cru we used in this recipe, are now available in stores nationwide (find one near you!)
Cheese & Caramelized Onion Quiche
An ultra-creamy, deep dish quiche made with caramelized onions, melty cheese, and a crispy phyllo crust for a brunch delight you'll simply adore!
Ingredients:
Caramelized Onions:
1 large onion, chopped (about 1 1/2 cups chopped)
1 tablespoon unsalted butter
1 tablespoon olive oil
1/4 teaspoon kosher salt
Quiche:
8 (9-by-13-inch) sheets phyllo dough (if your package has the larger 13-by-18-inch size sheets, cut them in half first)
¼ cup melted ghee or clarified butter*
6 large eggs
¾ cup whole milk
½ cup heavy cream
½ cup crème fraîche
½ teaspoon kosher salt
¼ teaspoon freshly ground black pepper
¼ teaspoon freshly ground nutmeg
4½ oz Roth Grand Cru cheese, shredded (about 1½ cups shredded)
Directions:
For caramelized onions, melt butter with olive oil in a large skillet. Add onions and cook over medium-low heat, stirring occasionally, until onions are light golden brown, about 40 to 50 minutes (it really does take this long – if your onions are browning after 10 minutes your heat it too high). Caramelized onions can be made ahead of time; refrigerate until ready to use.
Arrange oven rack in the bottom 1/3 of oven. Place a baking stone or metal baking sheet on the rack; preheat oven to 375 degrees F.
Lightly brush a 10-inch deep dish pie pan with melted ghee. Drape one sheet of phyllo dough into the pie pan. Brush lightly with melted ghee, focusing more on getting an even layer on the sides and edges, and just a super thin layer on the bottom. As you are working, keep the rest of the phyllo dough covered (I cover it with a layer of plastic wrap topped with a slightly damp kitchen towel—phyllo will dry out quickly so it's important to keep it covered).
Repeat with remaining phyllo sheets, rotating the angle as you drape in subsequent sheets to ensure even coverage over the entire pie pan.
Brush the last sheet with a thin layer of ghee. Gently fold over the edges so they are flush with the top of the pie pan. Brush folded edges with a bit more ghee.
Place a light weight in the bottom of the crust. I used a 7-inch aluminum pie pan. You could also use a round of parchment with a few pie weights or a pie chain would be perfect. You just need a little weight on the bottom of the crust, no need to fill the entire dish full with weights like you would a standard pie crust.
Place pie pan on the preheated stone or baking sheet, and bake for 10 minutes or until edges are just starting to color. Remove weight, and bake for 2-3 minutes more to dry out the bottom. Let cool slightly while you prepare the filling.
Reduce oven temperature to 350 degrees F.
Combine eggs, milk, cream, and crème fraîche in a blender. Mix on low speed until smooth. Mix in salt, pepper, and nutmeg. (You can also use a whisk to mix the ingredients by hand, just make sure you get it completely smooth).
Scatter caramelized onions in the bottom of the par-baked crust, followed by about 1¼ cups of the cheese. Gently pour egg mixture over top, then scatter with remaining cheese.
Bake quiche for 45 to 55 minutes or until edges are browned and puffed and center is just barely still jiggly. A paring knife inserted near the center should come out cleanly. Check it after 30 or 40 minutes, if the edges of the crust are starting to get too brown, cover with a ring of foil.
Remove from oven and set on a wire rack to cool completely to room temperature, about 1 to 2 hours. Ideally you'd refrigerate it (covered) for a few more hours or even overnight to fully set the quiche before slicing.
Re-warm the quiche by placing slices on on a baking sheet; bake at 350 degrees F for 5 to 10 minutes or until filling is heated through and crust is extra crispy.
*Clarified butter or ghee can be made by simply melting butter in a small saucepan until the white solids settle to the bottom. Spoon off the clear butter from the top, leaving the solids behind.
Did you make this recipe?
Let us know what you think!
Leave a Comment below or share a photo and tag me on Instagram with the hashtag #loveandoliveoil.
Disclosure: This post was created in partnership with Roth Cheese. As always, all opinions written are purely our own. We're incredibly grateful for opportunities like these that allow us to continue sharing delicious recipes with you, so thank you for supporting us and the brands we love.