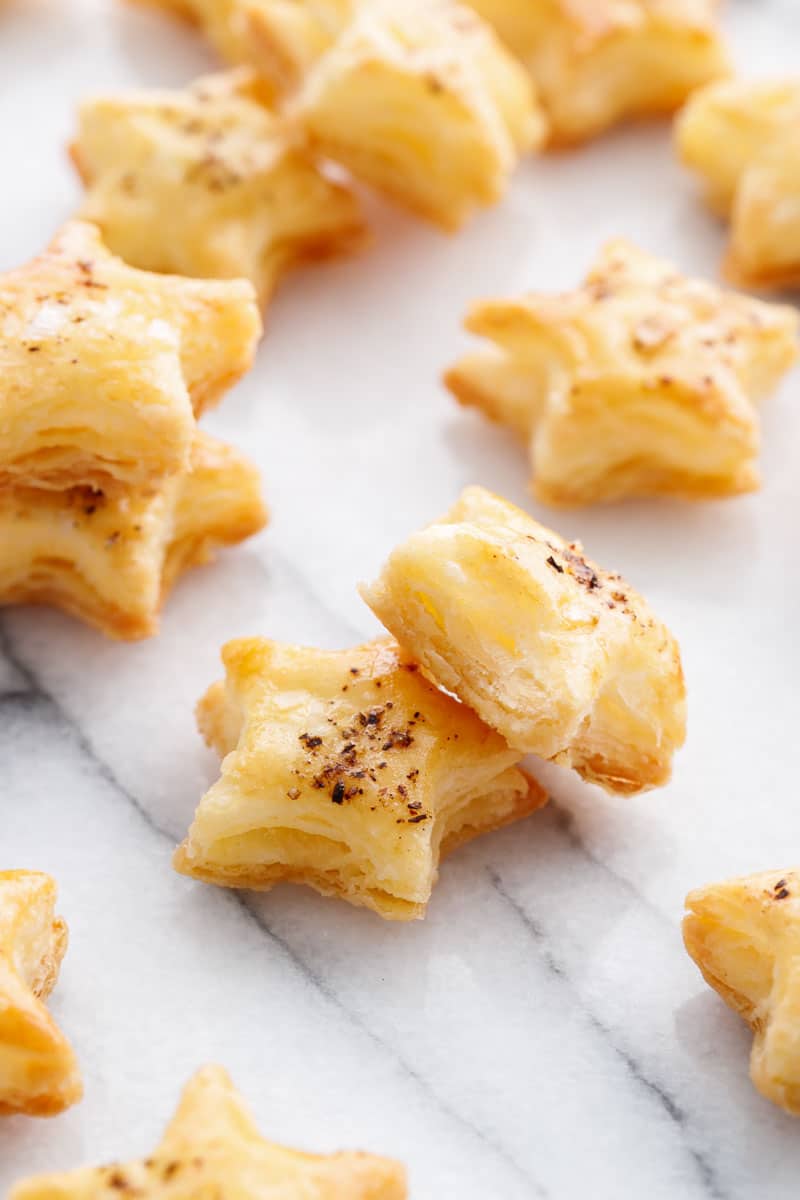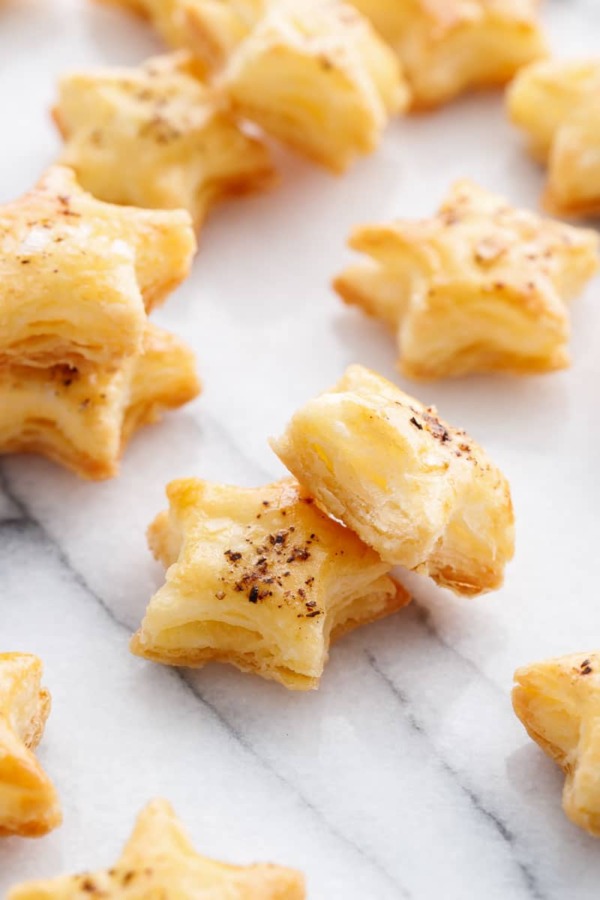 I mentioned in my Chicken Pot Pie Soup recipe earlier this week that, when it comes to pot pie, the crust is honestly the best part (I'm sure you don't disagree). And since a soup doesn't have crust, well, I need to be sure I got that buttery flaky element into the recipe somehow.
So…
I whipped up a half batch of my favorite pie crust and cut it into cute little star shapes. Brushed with egg wash and sprinkled with flake sea salt and freshly cracked black pepper, I popped them in the oven, expecting a salty cracker something like a cheese-less cheezit.
When they came out of the oven looking like THIS though, it was heart eyes from here to Timbuktu. I mean, just look at those layers!!
While the star-shaped crackers I made for the chicken pot pie soup were simply (and perfectly) seasoned with salt and pepper, you could take this same cracker concept in a myriad of different directions, both sweet and savory.
Flavor Variations:
Salt & Pepper: sprinkle crackers with a bit of flake sea salt and coarsely ground black pepper. These happen to be my favorites especially for topping on soups like this one.
Garlic & Herb: sprinkle with garlic salt and Italian herb seasoning.
Cinnamon Sugar: mix 1 tablespoon sugar and 1 teaspoon ground cinnamon in a small dish and then sprinkle over crackers. This sweet variation would be great served with ice cream. If you want, you can also add a tablespoon of sugar to the dough itself to make it even sweeter.
That's only the beginning, I'm sure… you only have to look in your spice cabinet/drawer/rack for inspiration.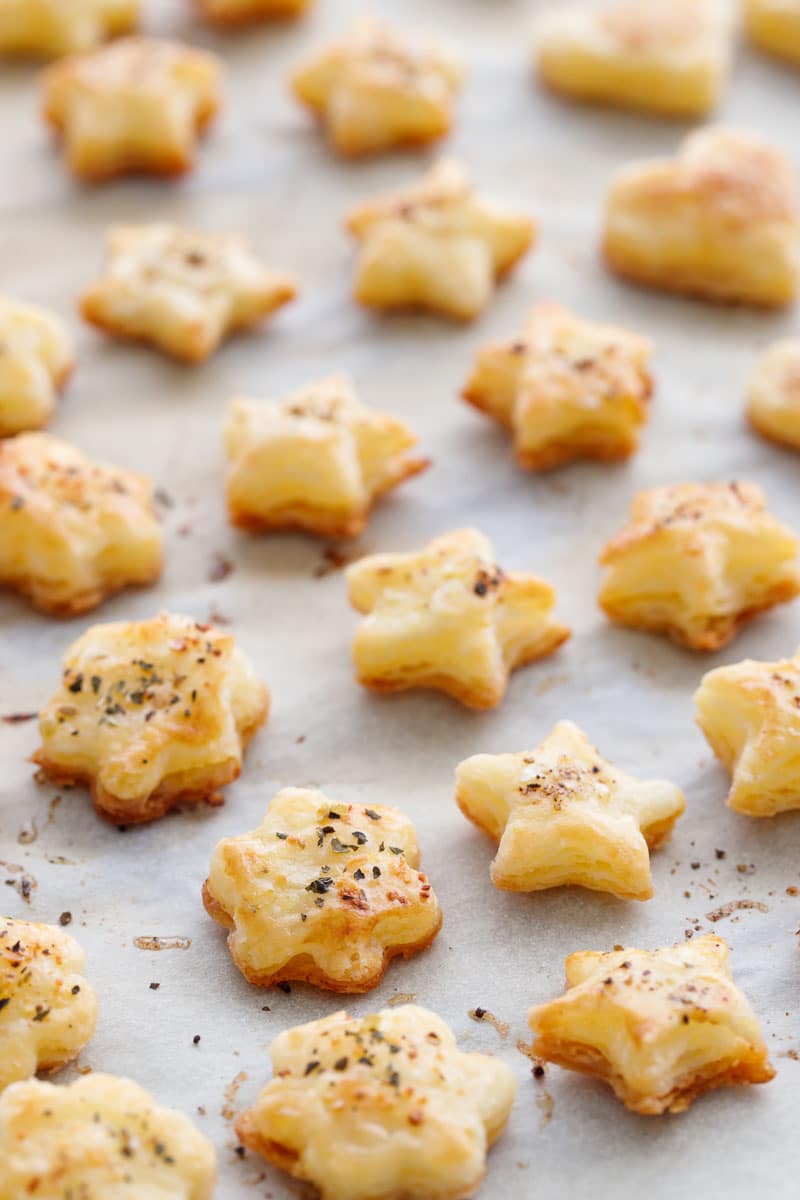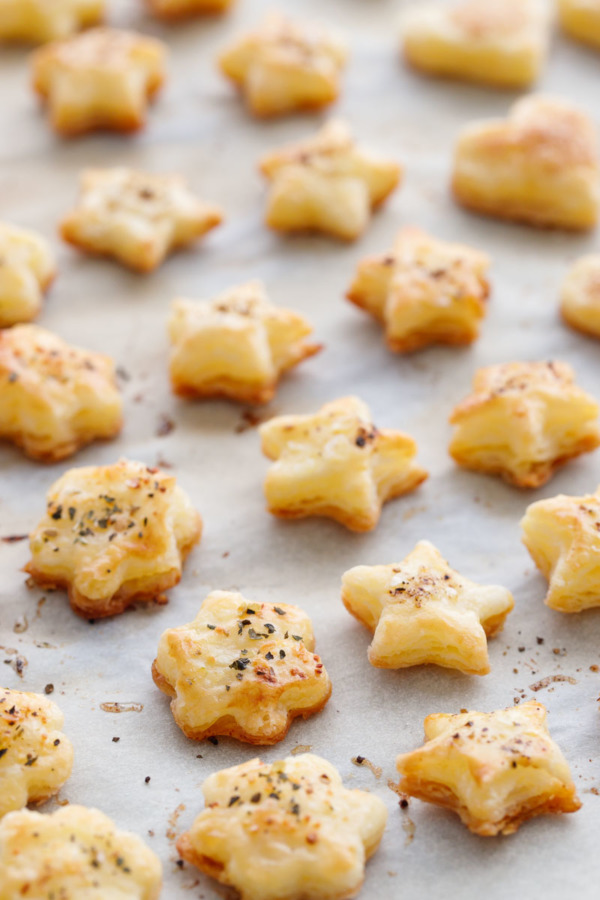 To preemptively answer your question: yes, you can use whatever pie crust recipe you favor and even store-bought pie crust if you must, but just know your crackers won't be quite as towering with all those luscious layers. Something about this particular recipe, perhaps the addition of a touch of baking powder, really makes them bake up sky high and flaky as heck.
This particular crust recipe can be made in the stand mixer, food processor, or by hand using a pastry cutter. Honestly doing it by hand isn't that much harder, especially for a small batch of dough like this one. The time spend washing out the darn food processor probably takes longer. Still, choose your weapon.
When cutting the butter into the crust you want chickpea-sized pieces. Literally, balls of butter the size of a chickpea. Some will be smaller, sure, but any larger pieces you want to smash with your fingers to make a big buttery flake. From there you use a fork to barely mix in the vinegar and water, until the dough just comes together into a flaky ball. You should still be able to see big chunks/flakes of butter here – that's what makes the flakiness in the final pastry.
Wrap the dough tightly in plastic wrap and chill for at least 30 minutes. This allows the flour to hydrate and the gluten to relax so you'll actually be able to roll out the pie crust without much effort. You can also make this a day ahead of time and chill overnight, or even freeze it for pie crust crackers in an instant (well, not instant, you still have to let it thaw out in the fridge overnight before rolling).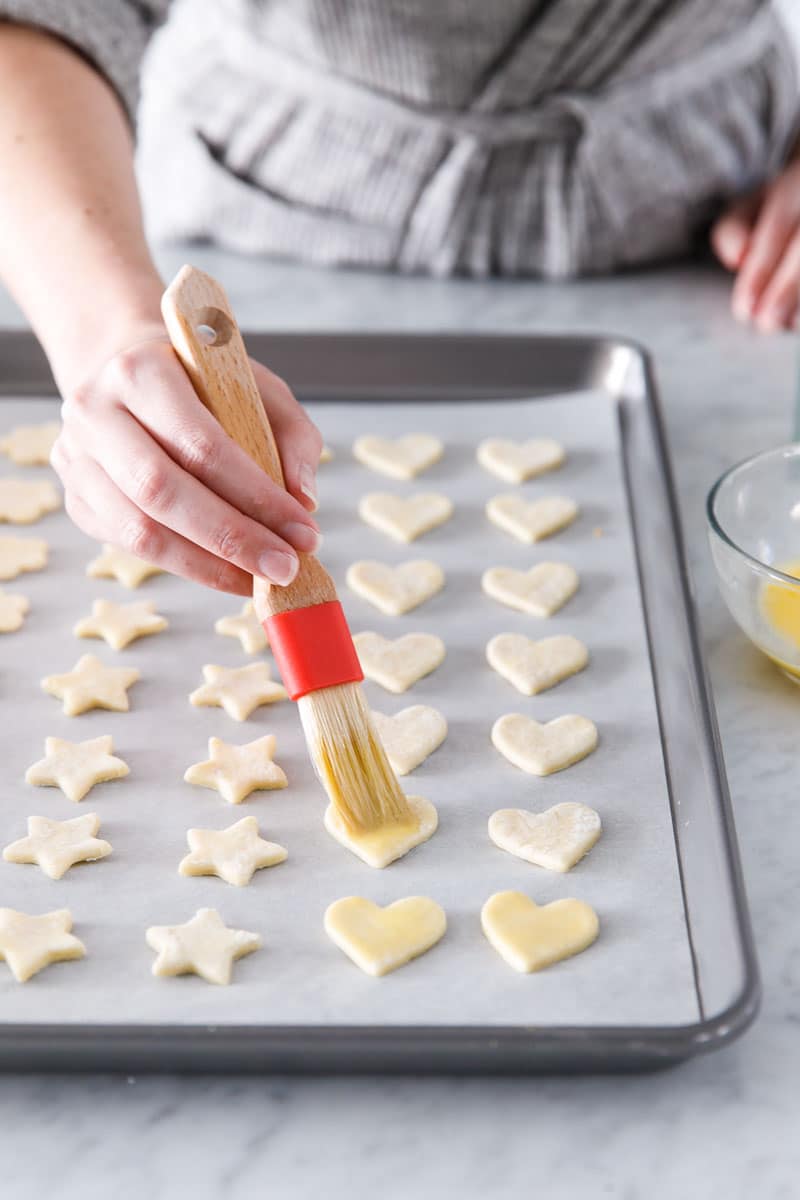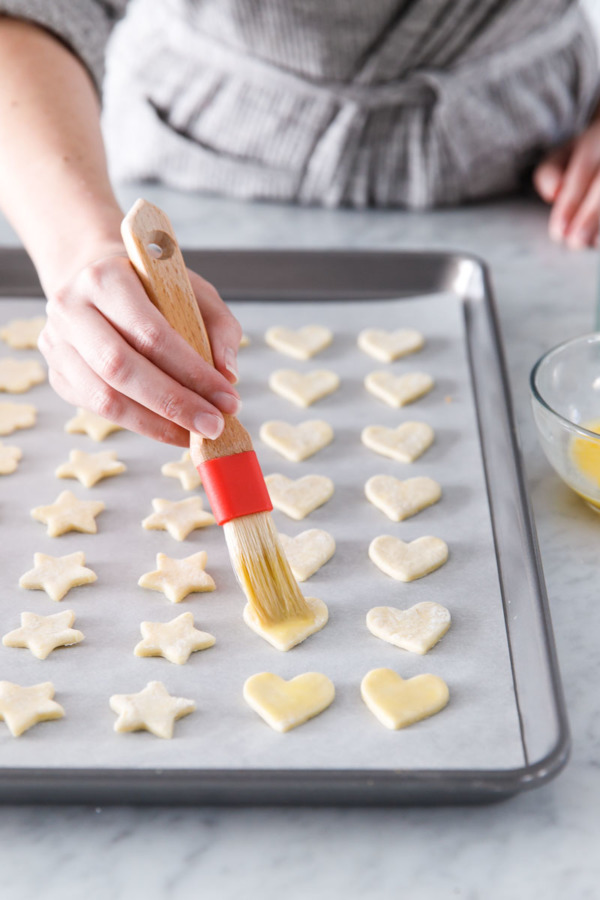 It's a widely known fact that I battle with pie crust; but when you're making crackers you really don't have to worry about rolling it out into a perfect circle. It's ok if it breaks and cracks – it's not the end of the world (and your crackers will be even flakier as a result). Since I wasn't worried about having a super workable dough I probably mixed it less, used less water and left bigger chunks of butter: resulting in super light and flaky layers. Also, there was no heavy pie filling weighing them down, also a factor. :)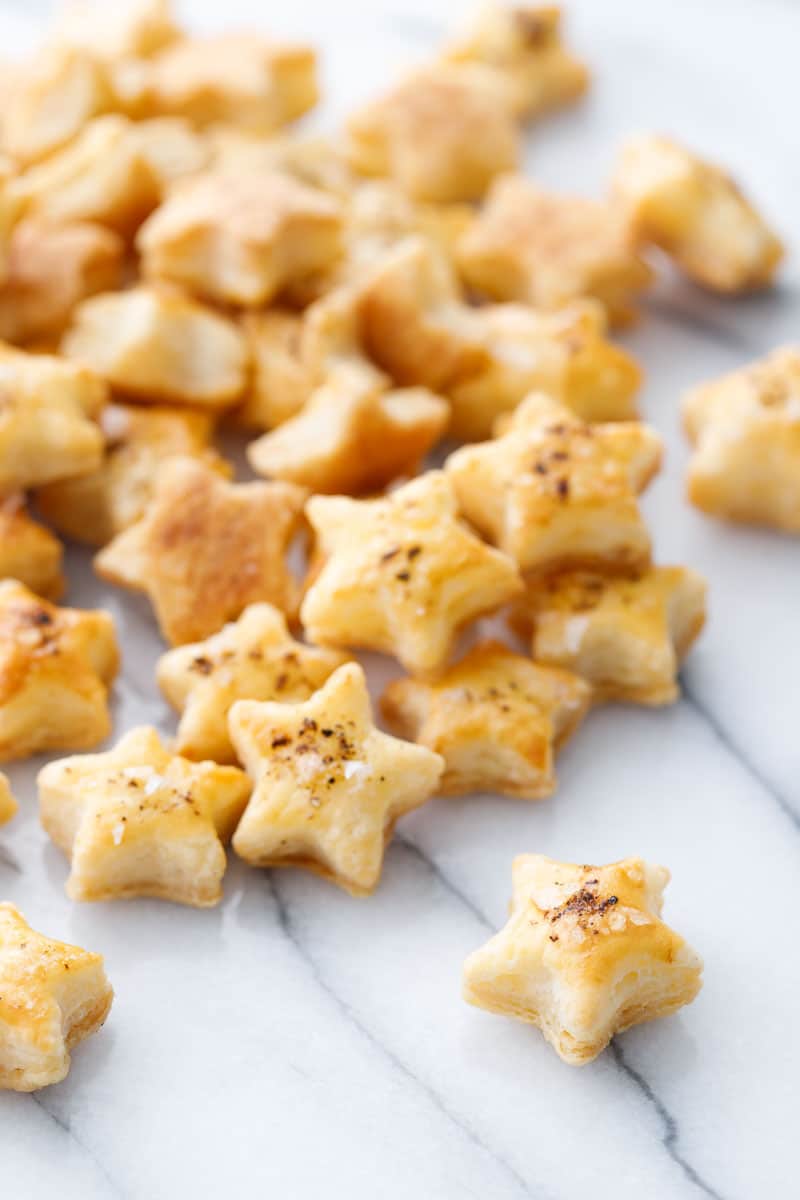 If you use a cookie cutter like I did, you can reroll the scraps up to 2 more times, just know the subsequent rolls won't produce quite as defined layers. Or you can use a rotary cutter to cut your dough into rough squares or rectangles and not have to worry about rerolling at all (but, let's face it, the stars are freaking adorable). You can arrange the crackers pretty tightly on the baking sheet – with all those pent-up layers they'll actually shrink in size when they bake (not spread like cookies).
I might also recommend sticking to one shape per cookie sheet. My hearts were quite a bit bigger than the stars and flowers and cooked at a slower rate than the rest. They could have ultimately used another minute or two, but that would have fried the stars.
Pie Crust Crackers
Homemade pie crust crackers are the perfect topping for soups, stews, dipping or snacking! You can top them with whatever spice/seasoning blend you choose.
Ingredients:
1 1/3 cups (6 ounces/170 grams) all-purpose flour
1/4 teaspoon kosher salt
1/8 teaspoon baking powder
1/2 cup (1 stick) cold unsalted butter, cut into cubes
1 1/2 teaspoons apple cider vinegar
3 to 5 tablespoons ice water, as needed
1 egg
1 tablespoon milk or cream
spices and seasonings for topping, as desired (see above for flavor ideas)
Directions:
In a bowl, whisk together flour, salt and baking powder. If it is particularly warm in your kitchen, put the whole bowl in the fridge or freezer for a few minutes.
Sprinkle butter cubes over flour, then work into dough using your hands or a pastry cutter until it forms pea-sized crumbs. Any larger pieces of butter that might still remain you can flatten out into butter flakes using cool hands.
Sprinkle cider vinegar over top of dough. Sprinkle over 1 tablespoon of water at a time, working in with a fork, until incorporated and dough sticks together when pinched. Knead into a rough ball, sprinkling a little bit more water in the bottom of the bowl if any dry flour remains. The dough will be very shaggy at this point but it will hold together in a ball.
Place ball on a piece of plastic wrap and flatten into a disk; wrap tightly in 2 layers of plastic wrap. Chill for at least 1 hour or overnight (let come to room temperature before rolling).
Preheat oven to 400 degrees F.
On a lightly floured surface or pastry cloth, roll dough to 1/4-inch thick. Thicker dough will bake up taller with more layers than thinner dough will.
Cut out shapes as desired and arrange on a parchment or silicone-lined baking sheet, leaving 1/2 inch of space between them (they will actually shrink some when they bake).
In a small bowl, whisk egg with milk or cream until uniform.
Brush crackers lightly with egg wash, then sprinkle with salt and pepper or the seasoning of your choice.
Bake for 10 to 12 minutes (more or less depending on the size/thickness of your crackers – watch them carefully as they will burn quickly) until golden brown and flaky. Remove from oven and let cool for at least 10 minutes.
Gather up dough scraps and re-roll up to 2 more times as needed (the subsequent rolls won't be quite as flaky as the first one).
Crackers will keep in an airtight container for up to 3 days; re-crisp if desired by baking at 350 degrees for 3 to 5 minutes until warm.
Did you make this recipe?
Let us know what you think!
Leave a Comment below or share a photo and tag me on Instagram with the hashtag #loveandoliveoil.