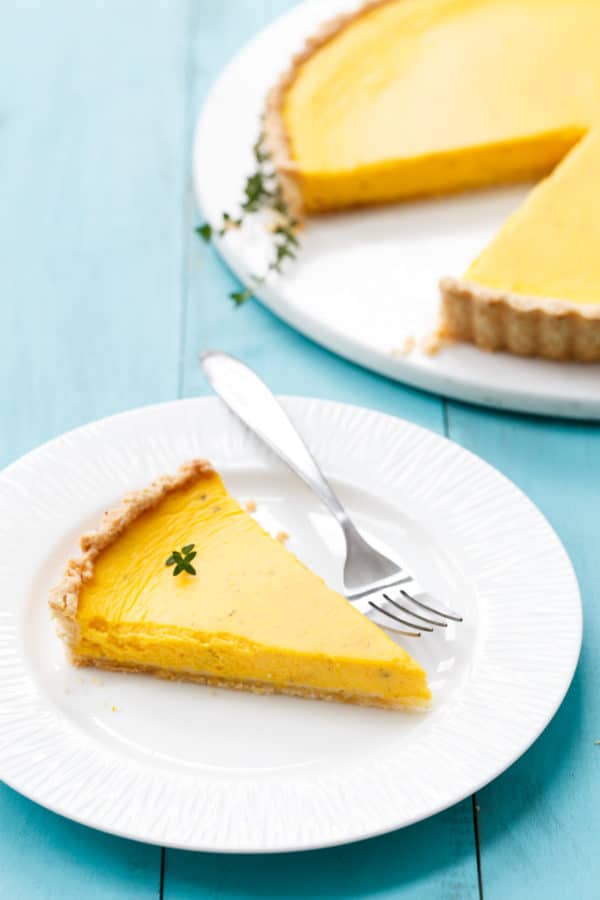 If pumpkin pie had a savory cousin, this would be it.
Wait, don't go, I promise it's a good thing!
Normally I'm not one for savory versions of sweet things either (my attempt at a savory cheesecake was somewhat of a disappointment) but this one is an exception. I'm calling it a quiche because it seems more fitting, though savory pie would be apt as well. It's the same texture as a pumpkin pie, a rich custard with plenty of eggs, cream, and silky smooth squash puree, but instead of sugar and molasses and maple syrup you get savory notes of goat cheese, black pepper, and fresh thyme.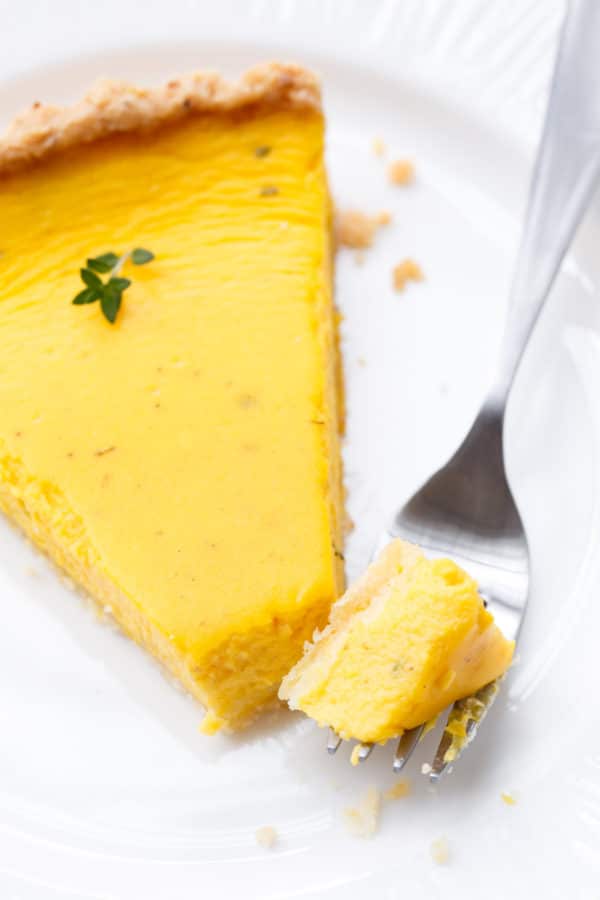 I could see this being served for brunch on Thanksgiving morning, or even a day or two after when you're sick to death of turkey and still have some lingering leftover squash puree in the fridge.
I used a new-to-me squash variety called a banana squash, a huge hunk of a thing nearly the size of Kalypso (our chubbiest cat). So big, in fact, that I was worried it wouldn't fit in our oven. (Spoiler: it did. And if you're stuck in the same boat, here's the best way to make your own squash puree and preserve it for later use).
Anyway, this Jumbo Sweet Banana Squash (so called by the farmer from whom we purchased it for a whopping $3) falls somewhere in between an acorn and a butternut in terms of sweetness and flavor. But really, any fall squash would work here, including pumpkin, fresh or puree from a can. Canned will obviously give you a stronger squash flavor and a darker color, while freshly pureed squash is much lighter and more delicate in flavor and color.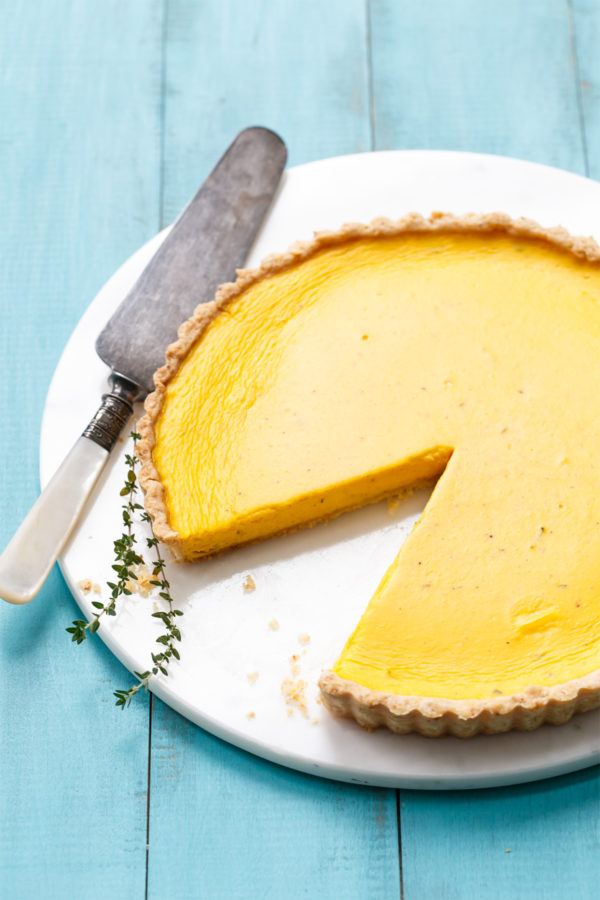 I used a cornmeal crust here, which is basically a simple shortcrust (distinguished by the addition of egg vs a regular pie crust) with a few tablespoons of coarse cornmeal mixed in. The cornmeal is optional, but I found it gave the crust a nice texture and crunch.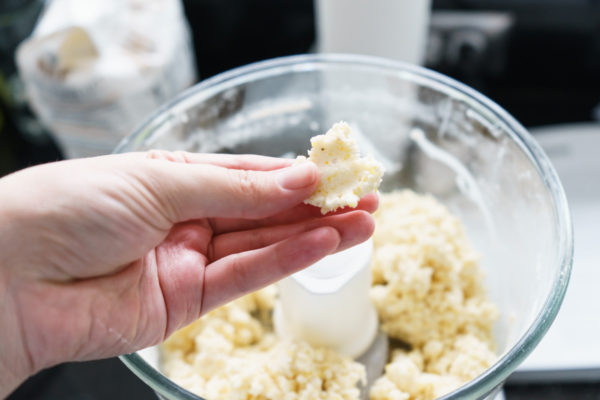 The crust may look crumbly at first, but if you can pinch it together between your thumb and forefinger and it holds together, it's ready. It'll absorb more moisture as it chills and is actually one of the easier crusts I've worked with (and that means a lot coming from me, who has had more than my fair share of pie crust battles).
I'd also recommend investing in a good set of pie weights. They're invaluable for dishes like this where the crust needs to be par (or blind) baked beforehand. The weights keep the crust from shrinking (another pie crust plague along with with toughness and crumbliness). No weights? Use a bag of dried beans.
I'll admit, it looks a bit like cheesy broccoli soup, but it tastes nothing like it (I promise). I think this tart would also be lovely (and slightly more quiche-like) with some chunks of fresh squash as well. Lightly cooked, then spread in the bottom of the crust before pouring in the filling. While the custardy texture is lovely, it is a bit unnerving when your brain is saying Pie! Pie! Pie! but your tastebuds are screaming Savory!
I feel like I've fully embraced fall, what with all the squash and sweet potato I've been using lately, and I love that there are some equally comforting alternatives to the ubiquitous pumpkin. That said, I do have some pumpkin treats and eats in the works for you, because it really wouldn't be fall if I didn't post at least one pumpkin recipe. It may not be exactly what you expect though. :) Stay tuned!
Savory Squash Quiche
If pumpkin pie had a savory cousin, this would be it, made with goat cheese and herbs and a creamy dreamy texture.
Ingredients:
For Crust:
1 cup all-purpose flour
1/4 cup coarse cornmeal
1/2 teaspoon granulated sugar
1/2 teaspoon kosher salt
1/2 cup (1 stick) cold unsalted butter, cut into cubes
2-3 tablespoons ice water, as needed
For Filling:
3 large eggs
1/4 cup (2 oz) fresh goat cheese, softened
1/2 cup whole milk
1 cup squash puree (use pumpkin or butternut or fresh squash,  your choice)
1 teaspoon chopped fresh thyme
1/2 teaspoon kosher salt
1/4 teaspoon freshly ground black pepper
1/8 teaspoon freshly ground nutmeg
Directions:
To prepare crust, combine flour, cornmeal, sugar, and salt in the bowl of a food processor (or a large mixing bowl if mixing by hand). Pulse to combine. Add cubes of butter and pulse 3-5 times until butter is broken up into lentil-sized pieces. Drizzle in 2 tablespoons of ice water and pulse a few times until dough starts to clump. If necessary, add an additional tablespoon of water until dough comes together. The dough will still appear slightly crumbly, but should hold together when pressed between your thumb and forefinger.
Form dough into a ball then flatten slightly into a disk. Wrap tightly in plastic wrap and chill for at least 1 hour.
Preheat oven to 375 degrees F.
Remove dough from fridge. If it has been chilling longer than an hour you may want to let it sit at room temperature for a few minutes so it is workable.
On a lightly floured surface, roll dough to a 12-inch round. You can also roll the dough between two (lightly floured) sheets of parchment or waxed paper to make for an easy transfer.
Carefully ease dough into a 9-inch tart pan with removable bottom, taking care not to stretch the dough. Trim edges. Line with parchment paper and fill with pie weights. Place tart pan on a baking sheet (sometimes a bit of butter leaks out the bottom) and bake for 20 to 25 minutes or until bottom is set. Remove parchment and weights and bake for another 5 minutes or until bottom is dry and edges are slightly golden. Remove from oven and let cool slightly.
Meanwhile, to prepare the filling, combine eggs and softened goat cheese in a mixing bowl. Whisk well until smooth and no lumps remain. Add squash puree and milk, along with salt, pepper, and nutmeg and whisk to incorporate. Pour into lukewarm crust and bake for 20 to 30 minutes or until center is just barely jiggly and edges appear slightly puffed. Place on a wire rack and let cool for at least 15 minutes before slicing. Serve slightly warm or at room temperature.
Did you make this recipe?
Let us know what you think!
Leave a Comment below or share a photo and tag me on Instagram with the hashtag #loveandoliveoil.