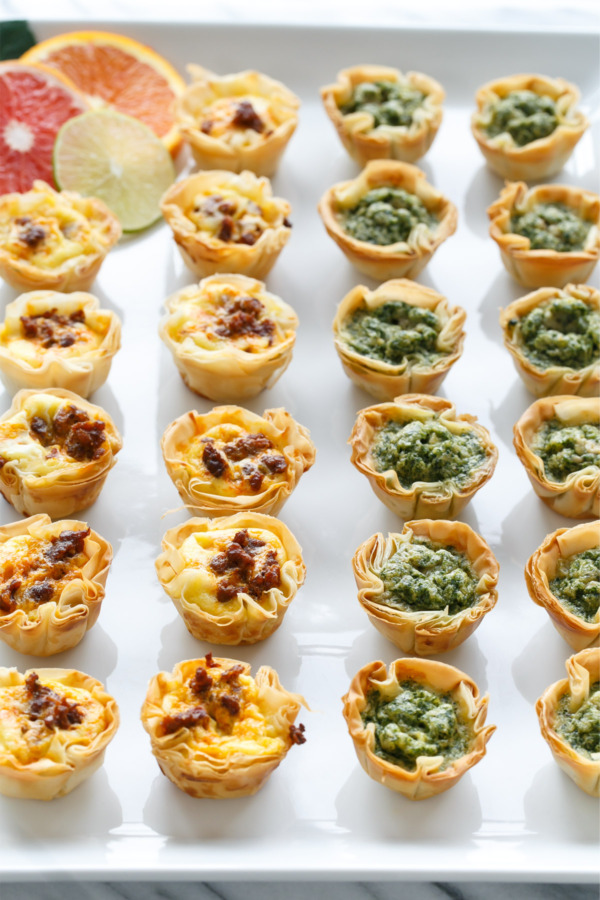 Let's admit it: when it comes to quiche, the crust is the best part.
It's also the most time-consuming part.
Most bite-sized quiches are crustless for this very reason. Which is fine and dandy (and certainly convenient), but really, it's basically a fritatta. Quiche = flaky crust, fritatta = no crust. Please call them what they are.
For these mini quiches (NOT fritattas), I used phyllo dough, layered with melted butter and formed in mini-muffin cups, to make a supremely flaky crust with crispy paper thin layers and a perfect crunch. No, phyllo isn't as easy to work with as, say, puff pastry, but it's certainly preferable dealing with the tedium of making homemade pie crust into itty bitty shells (which I've done before and while there's no denying it's good, it borders on maddening).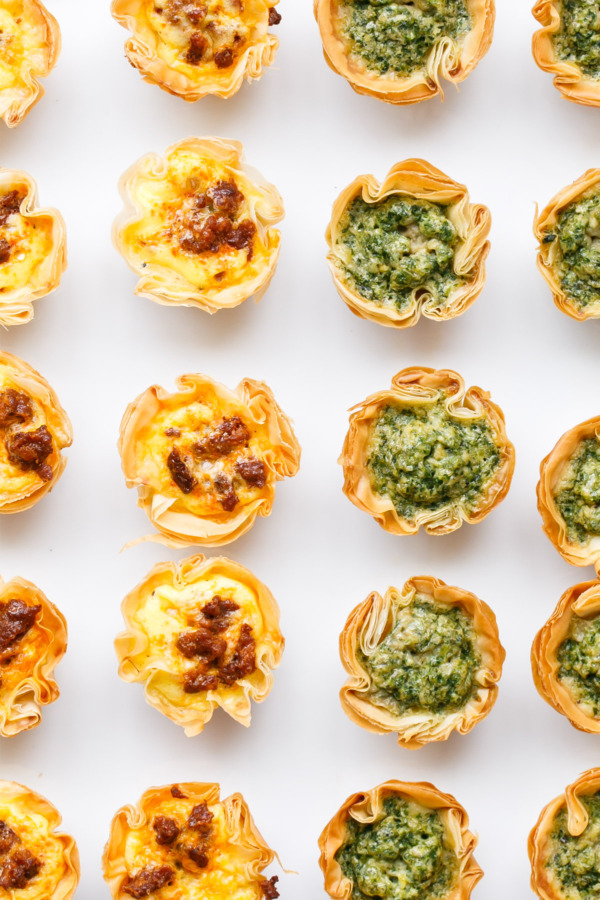 These mini quiches are based on a recipe from our cookbook, Breakfast for Dinner (because really, you could eat them any time of day!) In the book we added some sauteed garlic zucchini to the pesto egg mixture, but here we opted to go for just plain pesto (mainly out of time constraints with all the other things we were preparing).
To serve as a nice compliment to the veggie-based pesto quiches, we also did a version with spicy chorizo as well to satisfy the meat eaters (and frankly, after that chorizo queso I made a few weeks back I'm tempted to put chorizo in everything!)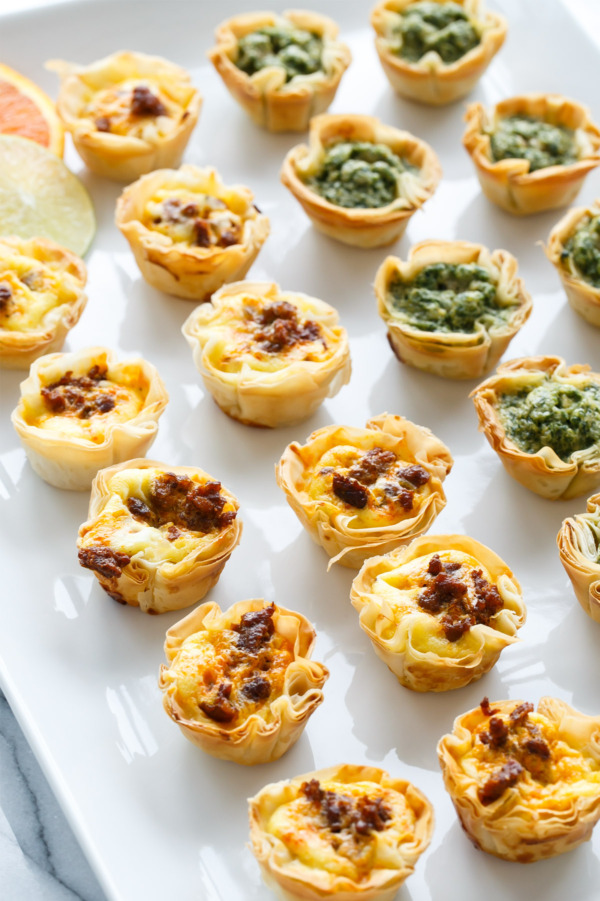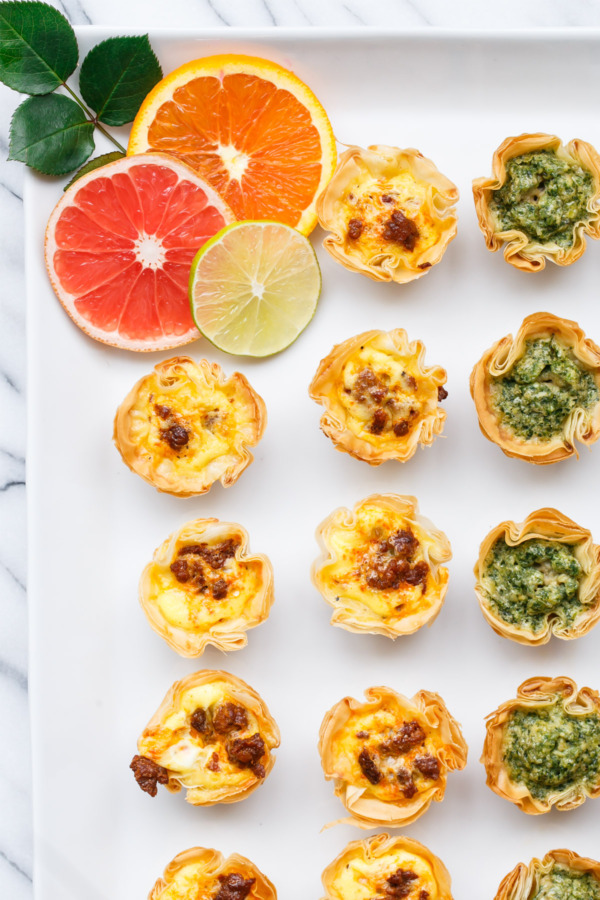 When it comes to pesto, I used a batch of my favorite homemade pesto that I'd frozen back in September before the cold killed off my basil plant. I'm thanking my past self for that now. While homemade pesto is my preference, you can certainly use your favorite brand of store bought here as well.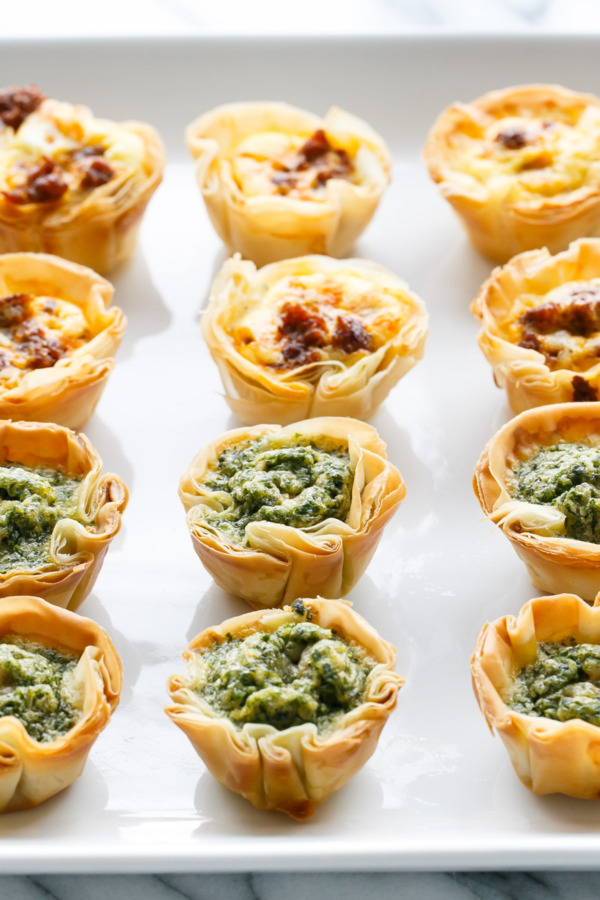 The phyllo shells can be prepared a day ahead of time. I made 48 quiches total, in 2 mini muffin tins, and simply stored them in the (cooled) oven overnight (because cats). The morning of our brunch party, we simply whisked up the egg mixture, poured it into the crusts, and baked off the quiches fresh just before serving.
I'll also add that the baked quiches freeze quite well if you really wanted to make them ahead of time, though you want to treat them gently (so maybe store them in a plastic container instead of jumbled in a zip top bag) lest the phyllo crusts crumble.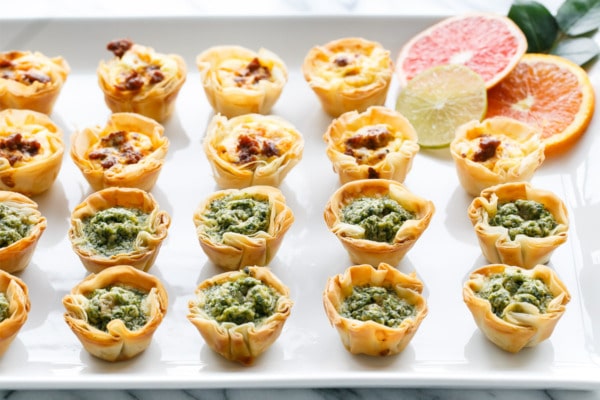 Mini Quiche Bites with Phyllo Crust
A perfect bite-sized appetizer, with a creamy egg filling (flavored with basil pesto or spicy chorizo) nestled inside a crispy phyllo shell.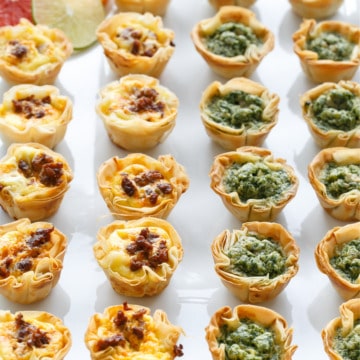 Ingredients:
For Phyllo Crust:
15 sheets (1/2 package) phyllo dough
6 tablespoons butter, melted
cooking spray
For Quiche:
4 eggs
1/2 cup heavy cream
salt and pepper, to taste
Add-Ins:
1/2 pound raw chorizo, cooked until browned and broken up into small bits (for chorizo quiche)
or
1/2 cup basil pesto, homemade or store-bought (for pesto quiche)
Directions:
Preheat oven to 375ºF. Lightly spray a mini muffin tin with cooking spray.
Lay one sheet of phyllo dough on a flat surface. Keep remaining dough covered with plastic wrap and/or a clean, damp dish towel to prevent the dough from drying out. Brush with a thin layer of melted butter, then top with a second layer of phyllo dough. Brush with more butter and repeat, until you have a stack of phyllo five sheets thick.
Cut out 3 1/2-inch squares or rounds using a circle cutter; you should be able to get about 8 rounds from your stack. Gently ease each round into a mini muffin tin.
Repeat with remaining dough, layering 5 sheets of phyllo dough alternately with melted butter. Cut into rounds; you should end up with a total of 24 mini cups.
Bake cups for 8 to 10 minutes or until edges are lightly golden and bottoms are puffed. Cool completely before using (shells can be made a day ahead of time and stored in the muffin tins–so they don't break–in a cool, dry place).
Preheat oven to 400ºF. Prepare pesto (if making homemade). For chorizo quiches, cook chorizo until browned and crispy, breaking up any large chunks. Drop a few pieces of chorizo into the bottom of each phyllo shell.
In a bowl, whisk together eggs, cream, salt, and pepper. For pesto quiches, whisk in prepared pesto.
Pour egg mixture into each phyllo cup until just barely full to the top (quiches will puff when baking). Bake for 13 to 15 minutes or until tops are puffed and just starting to brown. Let cool slightly then remove from muffin tins. Serve warm or at room temperature.
* Make ahead: These mini quiches are a perfect make-ahead appetizer: simply freeze fully cooled quiches in a zip-top bag. Reheat in a 350ºF oven for 10 to 12 minutes or until heated through.
Did you make this recipe?
Let us know what you think!
Leave a Comment below or share a photo and tag me on Instagram with the hashtag #loveandoliveoil.