Peach and bourbon come together in this delightfully tipsy drunken peach jam. With ripe summer peaches, a splash of lemon juice and more than a splash of bourbon, this might just be your new summer jam.
Homemade jam is a perfect way to preserve the best of summer peaches to enjoy throughout the year. I mean, what's better than a spoonful of sunshine in the dead of winter? How about a boozy spoonful of sunshine (indeed!)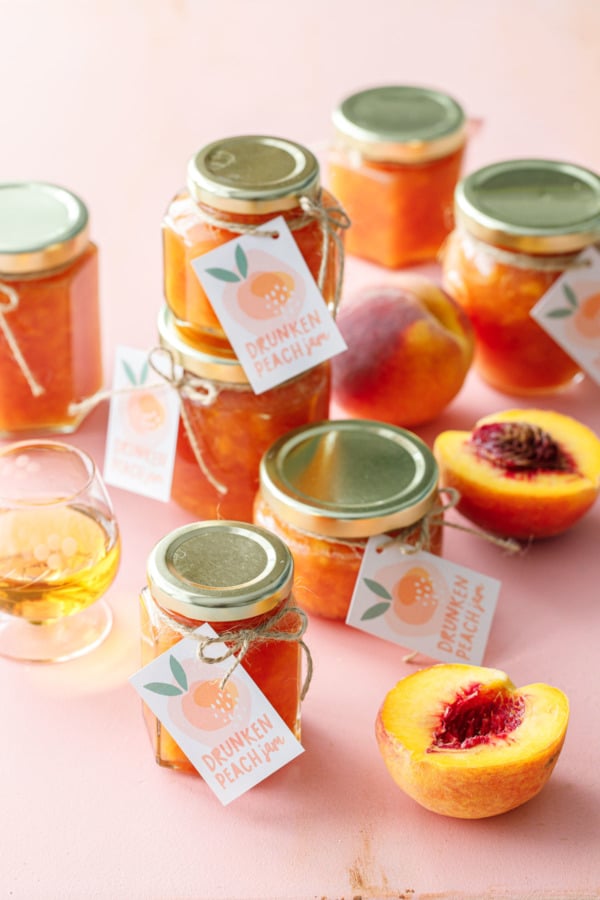 Peach season is far too short, if you ask me.
May is really too early, even if you see peaches starting to pop up at the markets they are usually not the best, having been picked prematurely.
June is when the peaches really start to shine, and by July, when the heat of summer has infused the fruit with liquid sunshine and sugar, well, that's your cue to eat all the peaches your stomach can handle.
But for the rest… the extra peaches sitting on the countertop, starting to soften and wrinkle… why not turn those peaches into homemade jam so you can enjoy them all year round?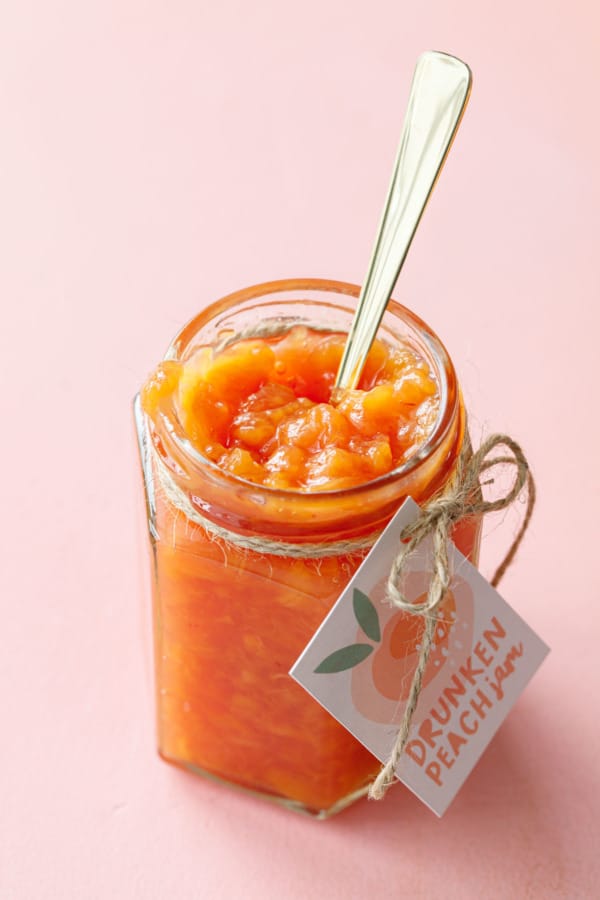 I really haven't felt like making much jam lately. Let's just say I'm all jammed out. Which, if you count just how many jars of jam I've made over the past few years, sort of makes sense.
But… when faced with a giant box of seconds peaches, ripe and juicy and just begging to be used, I simply couldn't resist getting out my canning pot, gathering a mishmash of random leftover jars, and diving right in to a big bubbling batch of this beautiful boozy jam.
Seconds are a great option if you're willing to accept a few bumps and bruises. But for jam, since you're peeling and processing the fruit anyway, it's really not a problem (just cut out any bruised areas and make sure the fruit hasn't gone rotten, otherwise it doesn't matter what the peach looks like as long as it's ripe and juicy!)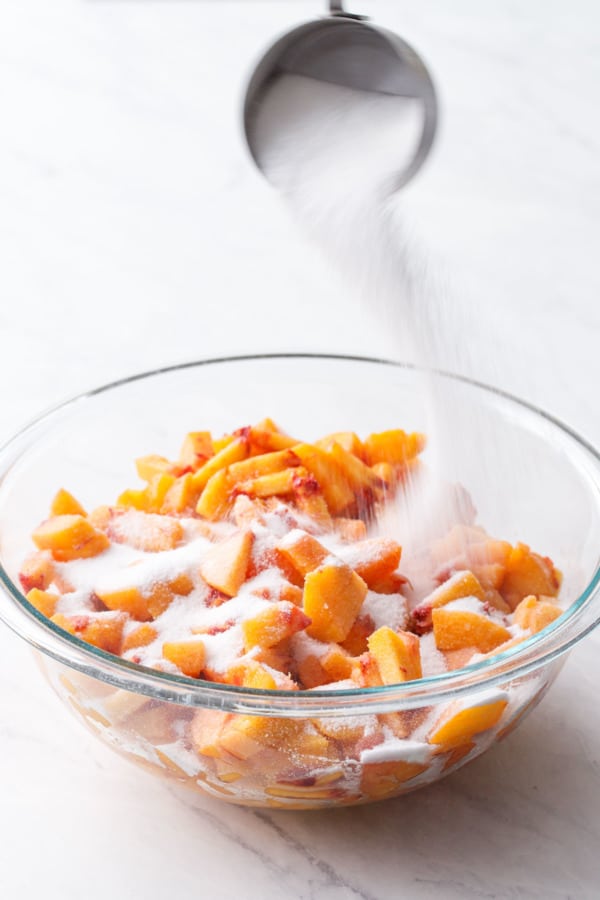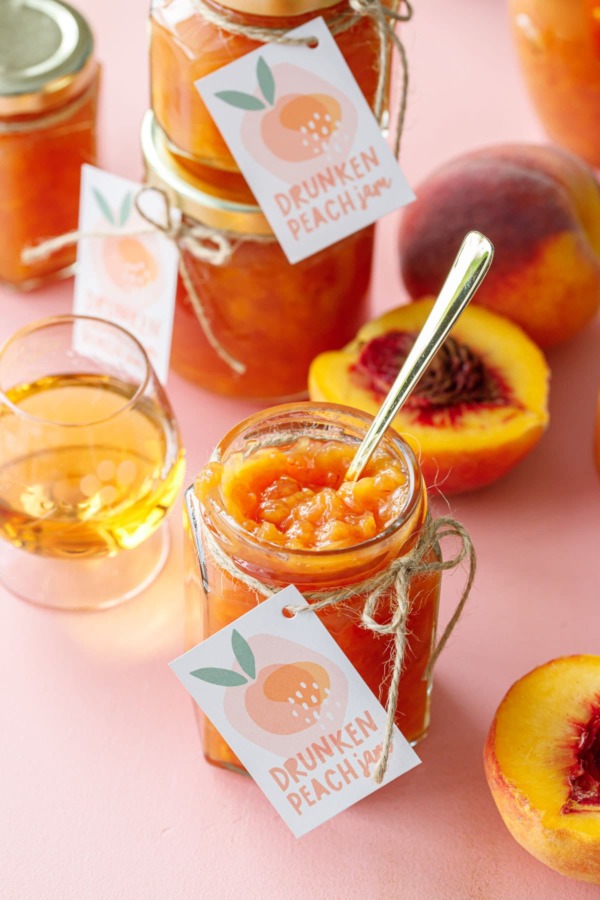 This isn't plain ass peach jam.
No, this jam is something else entirely.
A jam to end all jams.
It's certainly not the first time I've added booze to my jam (see: strawberry margarita, damson plum & gin, fig & rosé, strawberry limoncello… not to mention the four boozy jam recipes you can find in my canning ebook series). It certainly won't be my last. Needless to say I like canning with booze, almost as much as I like baking with it.
Fun fact (or, not so fun depending on how you look at it) I don't actually drink. I'm some sort of freakish super-lightweight, and even a couple sips of a fancy cocktail make me want to go to sleep. But the thing is, I really like the creativity of cocktails and the flavors that go into them. So maybe my boozy baking and tipsy jam making are my way of getting creative with booze in a way that I can actually enjoy it!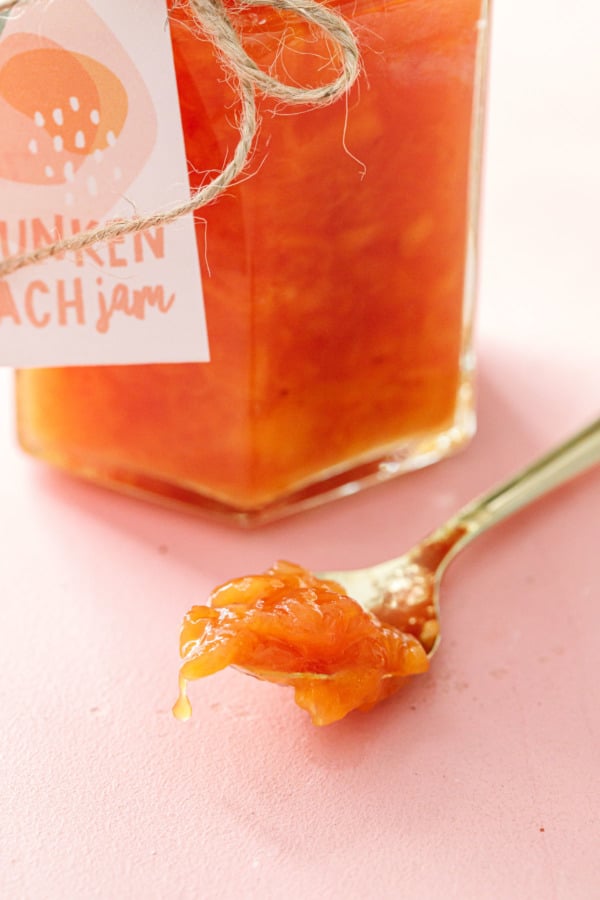 Peach and bourbon are a perfect combination, one I've taken advantage of multiple times before.
You might wonder if you can actually taste the bourbon, since the high-heat involved with canning pretty much guarantees most of the alcohol gets cooked off.
The answer is: yes. Most definitely.
I mean, there's a full 1/2 cup of it in this jam, so it really does come through in the final product.
I added some of the bourbon early in the jam process, and that definitely gets cooked out, but I also reserved a few tablespoons to stir in at the very end, to hopefully preserve some of that boozy bite.
While I used bourbon here, you could really drown these peaches drunk in just about anything… maybe brandy, spiced rum, or amaretto perhaps? I think all would work quite well in this recipe.
And aside from slathering it on toast or serving it on a fancy cheese plate, I also think this jam would be fabulous mixed in to a cocktail: a spoonful replacing the sugar in an old fashioned recipe, for instance, or stirred with a shot of bourbon and a splash of bubbly ginger beer.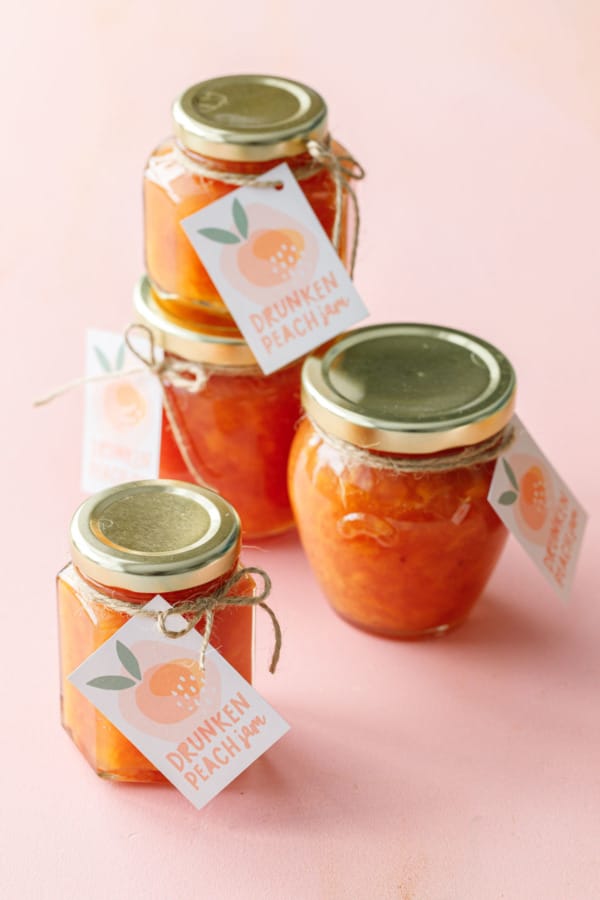 When it comes to peaches, the specific ripeness can vary quite a lot, and that effects the amount of natural pectin in the fruit. Peaches in general don't really have enough natural pectin to make an old-fashioned, pectin-free jam, unless you're willing to add a ton of sugar and let it cook for a really long time… and even then you're still going to end up with a looser set.
Personally, I didn't feel like slaving over the stove for hours in this heat, so I opted to use a low sugar pectin to make the whole process go much quicker.
My peaches were ripe but not overly so, so they still had a good amount of natural pectin. I also tend to prefer looser jams, so I cut back on the amount of added pectin here, lower than Pomona's official recommendations (I tested it both ways, and using the full recommended amount resulted in a jam that was stiffer than I like it).
That said, if your peaches are extra ripe, or if you prefer a firmer jam, you can up the pectin to 3 teaspoons and the calcium water to 4 teaspoons.
If you opt to substitute a different brand of pectin in place of the Pomona's, I always suggest to follow the instructions on your package insert. Look for the basic peach jam recipe there and follow that as far as quantities of fruit, sugar, and pectin; then add your bourbon to that.
Drunken Peach Jam
Peach and bourbon come together in this delightfully tipsy drunken peach jam. With ripe summer peaches, a splash of lemon juice and more than a splash of bourbon, this might just become a new favorite.
Ingredients:
3 pounds ripe peaches (about 6-8)
2 cups (400g) granulated sugar, divided
6 tablespoons lemon juice (from 2-3 lemons), divided
2 teaspoons Pomona's Universal Pectin
1 1/2 teaspoons calcium water*
1/2 cup bourbon, divided
Directions:
Bring a saucepan of water to a boil. Cut a shallow X in the bottom of each peach; blanch for 30 seconds. Transfer with a slotted spoon to an ice bath to stop the cooking process. Once cool enough to handle, you should be able to peel the peaches very easily. Cut in half and remove pits, then chop the rest of the peaches into roughly 1/2-inch pieces. You should have about 5 cups of chopped fruit.
Toss chopped peaches with 3 tablespoons of lemon juice and 1 cup of sugar. Cover tightly and refrigerate for a few hours or overnight, stirring once or twice to keep the peaches coated with their own juice (this will keep them from oxidizing).
Fill a large stock pot or canning pot 2/3 full with water; place a rack of some sort in the bottom and place over medium-high heat. Wash/sterilize your jars and submerge in water bath as it heats. The pot should be just about boiling by the time the jam is ready to go. Keep jars in hot (not boiling) water until ready to use.
In a bowl, whisk together remaining 1 cup sugar and pectin until evenly incorporated.
Pour prepared fruit and all of the juices into a large, heavy saucepan. Bring to a simmer and cook for 10 to 15 minutes, mashing the fruit as it softens using a potato masher or by pressing the chunks of fruit against the side of the pan with a spoon or spatula. Softer, more ripe peaches won't need quite as long here. Ideally you're looking for roughly mashed fruit rather than cleanly cut chunks, which will make for an ideal jam texture.
Add remaining 3 tablespoons lemon juice and calcium water, along with 6 tablespoons (about 2/3) of the bourbon. Bring to a full rolling boil, stirring occasionally.
Whisk in sugar/pectin mixture, stirring continuously until mixture returns to a full rolling boil. Stir in remaining 2 tablespoons bourbon, then remove from heat. Ladle jam into hot jars, leaving 1/4-inch of head space. Wipe jar rims and screw on lids. Process in boiling water for 10 minutes, then transfer to a wire rack to cool completely. Check seals. Any unsealed jars should be refrigerated and used within 3 weeks.
* Calcium powder to make calcium water is included with the Pomona's brand pectin.
** This recipe requires a low sugar pectin. If using a brand other than Pomona's, please follow the basic peach jam recipe and instructions inside your pectin package (adding in the bourbon as outlined here), paying attention to the order in which the ingredients are added and the proportion of fruit to sweetener recommended.
Did you make this recipe?
Let us know what you think!
Leave a Comment below or share a photo and tag me on Instagram with the hashtag #loveandoliveoil.
Bonus Printable Labels
Dare I say these are some of my favorite labels yet?
Since I used a random assortment of jars that I happened to have on hand, I went with hang tags instead of my typical sticker labels. The two-sided design is meant to be printed front and back on cardstock, though you could also have a double hang tag as well if your printer doesn't do well at lining things up. You can also print the design onto full-sheet sticker paper and stick them to the side of larger smooth-sided jars.
The downloadable PDF file contains 15 front and back tags per page, the back labels including space to write in made/opened dates and the batch number.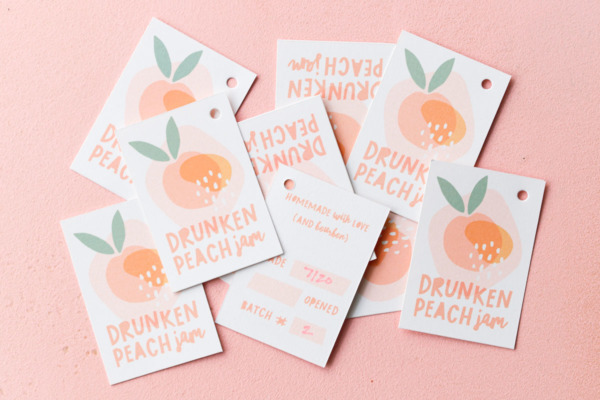 To use, simply download the printable file by completing the form below. Print your labels onto white cardstock, cut out shapes with scissors or an xacto knife, punch the corner with an 1/8-inch hole punch, and tie onto your finished jars with decorative jute twine.