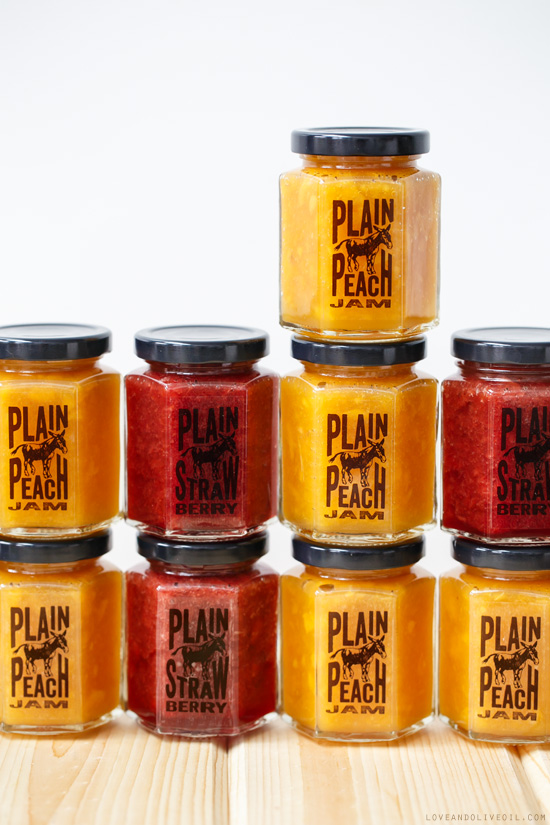 As a food blogger, I'm always trying to give things a new and unique twist, much to the chagrin of my husband, who would much rather just have something basic.
"Honey dearest, what kind of jam should I make with all these peaches/strawberries?"
"Just plain peach/strawberry. Don't do anything weird."
"Please, you know I'm not going to make you plain ass jam."
"Grumble grumble grumble."
Pardon my language, but I swear, all he ever wants is plain ass this and plain ass that (at least when it comes to jam and cake, which he argues don't need any weird flavor additions/combinations.) If I always listened to his ideas (or lack thereof) I wouldn't have very many exciting things to post, that's for sure.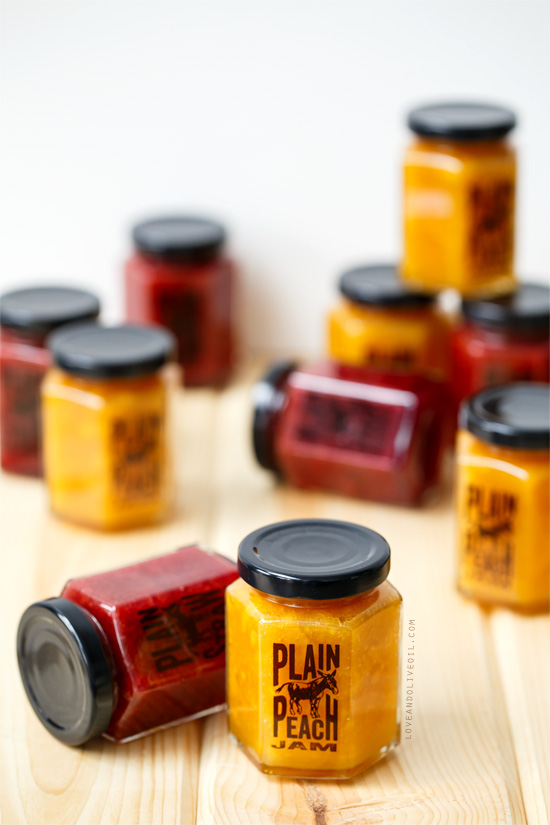 But… I finally gave in this year, making a single batch of plain strawberry and plain peach to appease his requests.
HOWEVER.
Not being one to give in entirely, I designed some labels for his plain ass jam. Tongue-and-cheek, if you will, my "take that" to him for his boring requests. Because I'm not one to do anything half-assed. Even if it is plain ass jam.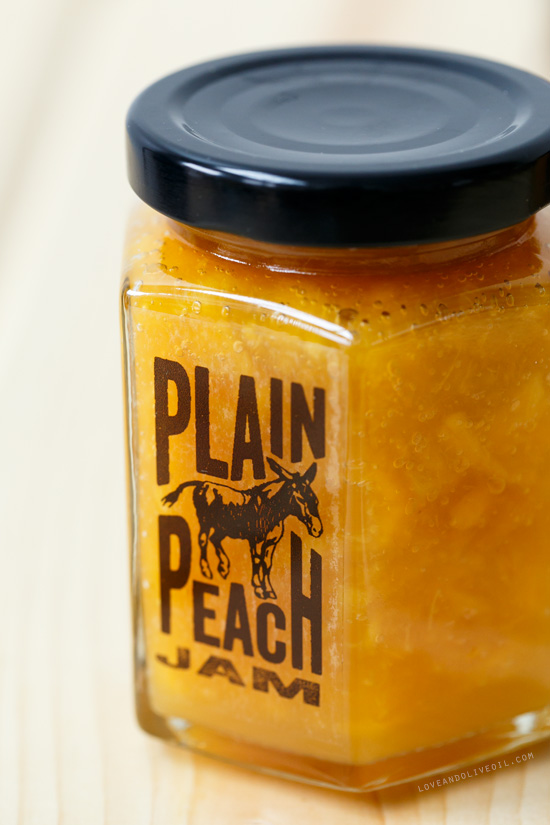 I will admit that, as much as love unique flavor combinations like strawberry jalapeño and peach passion fruit, a basic recipe like this one has its merits. Use it as a starting point for your own creative jams (if your husband lets you, that is). As long as the ratios of fruit to sugar remain relatively the same, and you stick to high-acid fruits (go bananas, but don't use bananas, essentially). You can play with flavors and mix fruits to your hearts desire.
Of course, if it really just is plain ass jam you want, it's plain ass jam you will get.
Labels and all.
Basic Peach & Strawberry Jam
Ingredients:
4 cups chopped fruit*
1/4 cup lemon juice
1 1/2 – 2 cups granulated sugar
3 teaspoons Pomona's Universal Pectin
4 teaspoons calcium water (included with the pectin)
Directions:
Prepare canner and wash/sterilize 5 half-pint mason (or equivalent) jars. Keep jars in hot (not boiling) water until ready to use. Warm lids in hot (not boiling) water to sterilize and soften seal.
Pour fruit into a large, heavy saucepan with lemon juice, and calcium water. Bring to a full rolling boil, stirring occasionally.
Whisk together pectin and sugar until evenly incorporated. Whisk in to fruit, stirring vigorously until completely dissolved. Continue to stir until mixture returns to a full rolling boil. Remove from heat and let sit for 5 minutes, skimming off any foam that may have formed.
Ladle jam into jars, leaving 1/4-inch of headspace. Wipe jar rims and threads. Screw on lids and rings. Process in a boiling water bath for 10 minutes. Remove from water and let cool completely, 12 to 24 hours. Check seals. Any unsealed jars should be refrigerated and used within 3 weeks.
*To prepare peaches, peel, pit, and coarsely chop. For strawberries, remove hulls. Pulse fruit in a food processor until coarsely chopped; do not liquefy as you still want chunks of fruit in your final jam. Approximately 2 1/2 pounds of peaches or strawberries should yield 4 cups of fruit.
Did you make this recipe?
Let us know what you think!
Leave a Comment below or share a photo and tag me on Instagram with the hashtag #loveandoliveoil.
Bonus Printable Labels
Even plain ass jam doesn't have to be boring. At least when it comes to the jar. Perfect for canners with a sense of humor who like to gift their jams to an equally appreciative crowd. Sure, some may not get it (in which case they may wonder why in the world there's a donkey on their jam jar), but it's the thought that counts, right? Right.
The downloadable PDF file includes two dozen 1.25-by-2.25-inch rectangle labels, half peach and half strawberry, designed to perfectly fit my 6oz hex jars, but would also fit nicely on the side of just about any smooth-sided jar. I used some awesome clear gloss labels (inkjet friendly!) for these, but you could certainly print them on white, kraft, or colored labels as well.
To use, simply download the printable file by completing the form below. Print your labels onto full-sheet sticker paper, cut out, and apply directly to the the finished jars.