This Strawberry Margarita jam recipe is summer in a jar: all bright fruit and tart lime and a hint of booze that can only mean good times ahead.
It's your favorite summertime cocktail-turned-jam, made with fresh ripe strawberries, tangy lime, organic agave, and a splash of silver tequila and Grand Marnier to finish it off.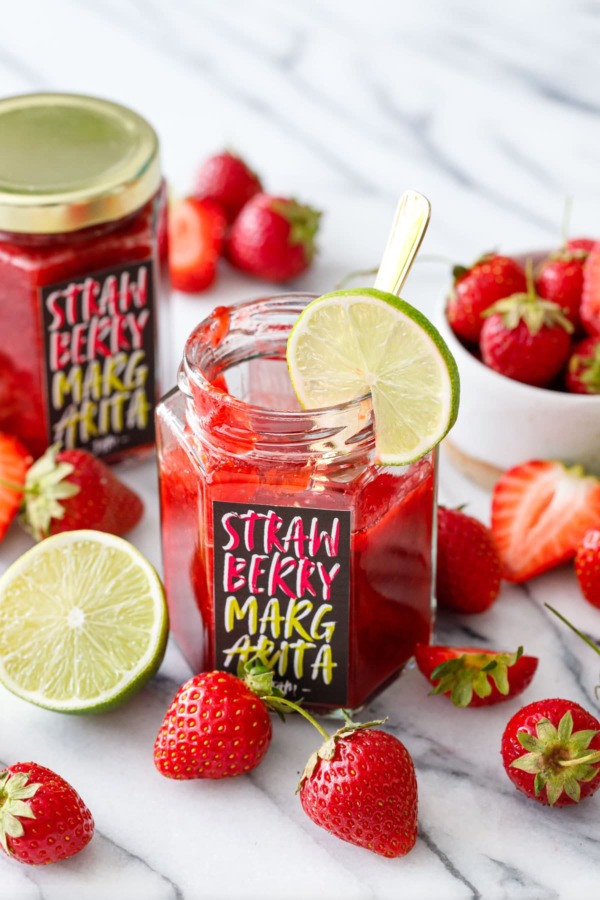 This recipe was created in partnership with Agave In The Raw®, our go-to brand for all-natural and organic sweeteners.
When Agave In The Raw® first reached out to me about working together, it should come as no surprise that my mind immediately went to jam.
I've made a number of jams in the past with honey and maple syrup, but I had never used agave nectar, so I was excited at the prospect of something a little bit different.
Agave nectar is made from the blue agave plant, the same magical succulent from which tequila is made.
Strawberry. Agave. Tequila.
You see where I'm going with this?
I've known for a while that jam makes great cocktails (I've got a recipe for a Jam Rickey in the bonus edition of my jam ebook series that's to die for).
But this recipe is further proof that cocktails also make great jam. In this case, a strawberry margarita, heavy on the strawberry with a hint of lime and liquor.
The resulting jam is not overly boozy; most of the alcohol evaporates in the cooking process, leaving behind just a hint of flavor. This is first and foremost a strawberry jam, with a pop of lime and a hint of tequila that teases at the essence of a margarita rather than forcing itself upon your palate.
(And if you like my jars, be sure to click through/scroll to the bottom to download these free printable labels for yourself!)
One of the benefits to my low-sugar jam method is that it works just as well with liquid sweeteners like agave (traditional jams require large quantities of sugar to set properly – my recipes don't). This particular jam is sweetened with organic Agave In The Raw® for a unique flavor and balanced sweetness that perfectly compliments the tequila.
Agave nectar is about 25% sweeter than granulated sugar, so a little goes a long way: only 1/3 cup is enough to sweeten this entire batch of jam (if you like your jams on the sweeter side, you can increase the agave to 1/2 cup; conversely, reduce to 1/4 cup if you prefer things less sweet).


Using a liquid sweetener in jam is a bit trickier than granulated sugar, as you need to whisk the powdered pectin into the nectar before adding it to your boiling jam. Be sure you whisk it in completely: any lumps of pectin will not properly dissolve and could affect the set of your jam.
(Pro tip: I find that the plunger-style measuring cups are by far the easiest way to accurately measure sticky syrups like agave).
Like all jam recipes, the flavor of the final jam hinges on the quality of the fruit. The redder and riper your berries, the more intensely strawberry your jam will be. This time of year you should be able to find fresh local berries at your local farmers market, that sun-ripened fruit that tastes the best is going to make the best jam. (Bonus points if you pick your own.)
Frozen fruit works here as well, and is vastly preferable to the crunchy, flavorless out of season berries you see in the store the rest of the year. If your berries don't taste good, your jam won't either.
Or, even better, stock up on local fruit while it's available and freeze what you can't eat or preserve right away (this method for freezing blueberries works for strawberries too, wash and hull your berries then freeze them whole). Then, once your freezer is adequately stocked, you can whip up a batch of jam whenever you please, any time of year, without having to worry about whether strawberries are still in season.


Once you've made this spiked jam, how should you use it?
Well, this jam swings both ways: sweet or savory. It'd be perfect on a cheese plate, as an extra special touch in a grilled cheese, or a note of sweetness to mellow out the spicy salsa on a mountain of nachos. Serve it with yogurt in the morning or ice cream at night, or in the center of a lime-scented thumbprint cookie.
Or turn this strawberry margarita jam into an actual strawberry margarita, stirring a spoonful of this sweet goodness into a glass with a splash of tequila and lime juice, maybe a bit of soda water to make it go a bit further.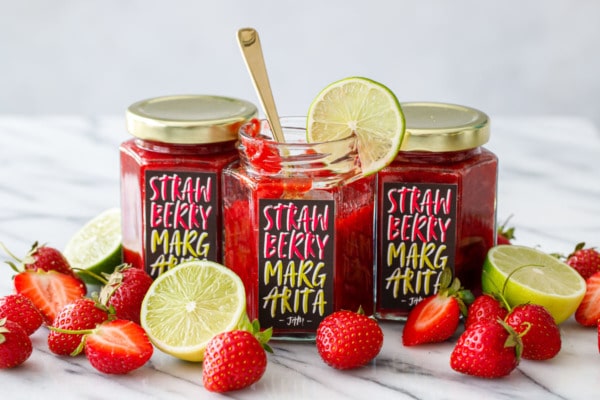 Strawberry Margarita Jam
Your favorite strawberry margarita cocktail in jam form, made with fresh ripe strawberries, tangy lime, organic agave, and a splash of tequila and Grand Marnier.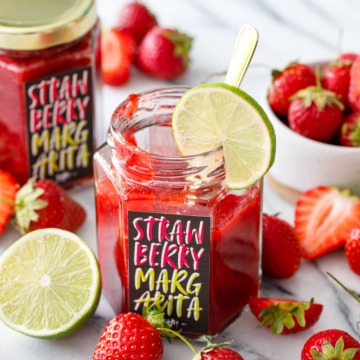 Ingredients:
28 oz (794g) fresh or frozen strawberries, hulled and coarsely chopped
1/3 cup (110g) Agave In The Raw® organic agave nectar
1 1/2 teaspoons Pomona's Universal Pectin
1/4 cup lime juice (from about 3 limes)
1 teaspoon finely grated lime zest
1 1/2 teaspoons calcium water*
2 tablespoon silver tequila
1 tablespoon triple sec or Grand Marnier
pinch salt
Directions:
Fill a large stock pot or canning pot 2/3 full with water; place a rack of some sort in the bottom and place over medium-high heat. Wash/sterilize your jars and submerge in water bath as it heats. The pot should be just about boiling by the time the jam is ready to go. Keep jars in hot (not boiling) water until ready to use.
To prepare fruit, lightly mash strawberries in a bowl or saucepan. Measure out 3 cups of mashed fruit.
In a bowl, whisk together agave and pectin until completely dissolved (there should be no lumps of pectin visible).
Pour prepared fruit into a large, heavy saucepan along with lime juice, zest, and calcium water. Add tequila and triple sec and bring to a full rolling boil, stirring occasionally.
Whisk in agave/pectin mixture, stirring continuously until mixture returns to a full rolling boil. Remove from heat and ladle jam into hot jars, leaving 1/4-inch of head space. Wipe jar rims and screw on lids. Process in boiling water for 10 minutes, then transfer to a wire rack to cool completely. Check seals. Any unsealed jars should be refrigerated and used within 3 weeks.
* Calcium powder to make calcium water is included with the Pomona's brand pectin.
** This recipe requires a low sugar pectin. If using a brand other than Pomona's, please follow the basic strawberry jam recipe and instructions inside your pectin package (adding in the lime juice and liquors as outlined here), paying attention to the order in which the ingredients are added and the proportion of fruit to sweetener recommended.
Did you make this recipe?
Let us know what you think!
Leave a Comment below or share a photo and tag me on Instagram with the hashtag #loveandoliveoil.
Bonus Printable Labels
Your sweetener might be In The Raw… but your jars certainly shouldn't be!
I designed these rectangle labels (with space to fill in the made/opened dates) for both front and back of these 6oz hex jars, but they'd also work on smooth-sided mason jars as well.
The downloadable PDF file contains 10 front and back labels per page, the back labels including space to write in made/opened dates, batch number, and net weight.
To use, simply download the printable file by completing the form below. Print your labels onto full-sheet sticker paper (I love this weatherproof matte label paper), cut out shapes, and apply directly to the (canned and cooled) jars.
Disclosure: This post was created in partnership with In The Raw. As always, all opinions written are purely our own. We're incredibly grateful for opportunities like these that allow us to continue sharing delicious recipes with you, so thank you for supporting us and the brands we love.