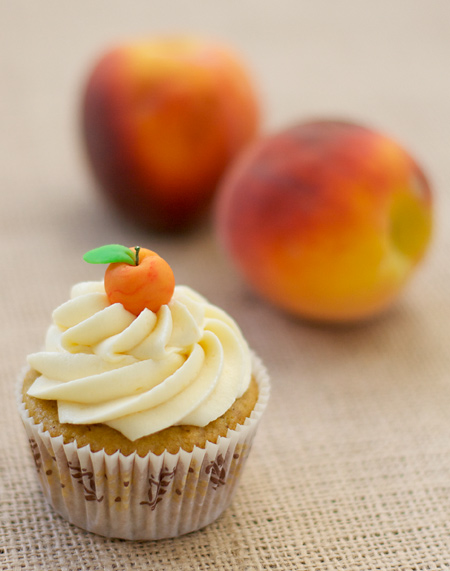 I'm delivering on my promise for MORE CUPCAKES! :) And these ones, if you're as excited as me about peach season every year, you will love these dearly. It's my new favorite cupcake outside of chocolate. They don't scream peach, they whisper. Soft notes of bright peach and sultry bourbon float throughout both the cake and the buttercream. Not too sweet, extra moist, and perfectly delicious.
I topped them with marzipan fruit (peaches are almost identical in shape to cherries, I simply adjusted the coloring and the length of the stem). I know some people like to go crazy with elaborate flowers and decorations, but I like my cupcakes to look like what they taste like. And since a whole peach wouldn't exactly work on top (can you say, cupcake and the giant peach?) I did a miniature version instead.
If you want a more in your face peach flavor, I'd try filling them with peach puree or peach preserves of some sort. But it's really not necessary. At first I thought that the peach was too subtle; but after eating a few more I realized that no, it was just right. Too much peach and the frosting would go to mush. Too much peach and you might lose the hint of bourbon behind all that fruit.
I've been baking half a dozen cupcakes at a time recently. Especially as I try out new flavors, some of which fail miserably, and if they do, I only have to throw out a few cupcakes rather than a whole tray. But I really wish I had made a full dozen of these. Between my taste test, and our dinner guest enthusiastically helping himself to seconds, they were gone by the next day. But I guess that means I did good?
Peach Bourbon Cupcakes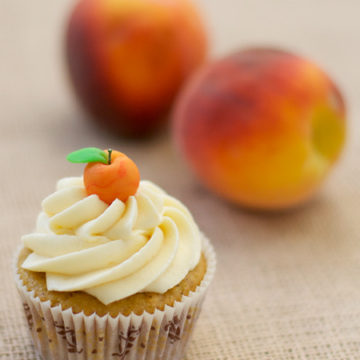 Ingredients:
Cupcakes:
1 cup all-purpose flour
1/4 cup almond meal
1 teaspoon baking powder
1/4 teaspoon baking soda
1/2 teaspoon salt
1/2 cup coconut milk
1/2 cup fresh peach puree (about 2 large peaches)
3/4 cup granulated sugar
1/3 cup oil
1/2 teaspoon vanilla extract
1 tablespoon bourbon
Frosting:
1/2 cup (1 stick) butter or margarine, room temperature
3-4 cups confectioners' sugar
1/4 cup fresh peach puree (about 1 large peach)
1 teaspoon bourbon
Directions:
Preheat oven to 350 degrees F.
In a large bowl, sift together flour, almond meal, baking powder, baking soda, and salt.
Whisk together coconut milk, peach puree, sugar, oil, vanilla, and bourbon. Make a well in the center of the dry ingredients and pour in the wet ingredients. Mix until relatively smooth. Fill cupcake liners with a scant 3 Tablespoons of batter (cups should be just under 2/3 of the way full). Bake for 20-22 minutes or until lightly golden, and toothpick inserted in the center comes out clean. Transfer to cooling rack and allow to cool completely.
For frosting, cream butter in electric mixer for 1-2 minutes until fluffy. Slowly add half of the sugar, 1/2 cup at a time, and beat until smooth. Add peach puree and mix until combined. Add remaining confectioners' sugar, 1/2 cup at a time, and beat until well incorporated. Add bourbon and mix at medium-high speed until light and fluffy (2-3 minutes). Add more sugar as necessary to achieve proper consistency. Pipe or spread onto cooled cupcakes.
Did you make this recipe?
Let us know what you think!
Leave a Comment below or share a photo and tag me on Instagram with the hashtag #loveandoliveoil.