It's summer in a tart shell: with creamy basil goat cheese and juicy vine-ripe heirloom tomatoes nestled in a savory parmesan shortcrust.
Peak tomato season is officially here! Make the most of it with this gorgeous (and delicious) goat cheese and tomato tart, with fresh heirloom tomatoes rather than roasted to really showcase their bright flavor and gorgeous colors.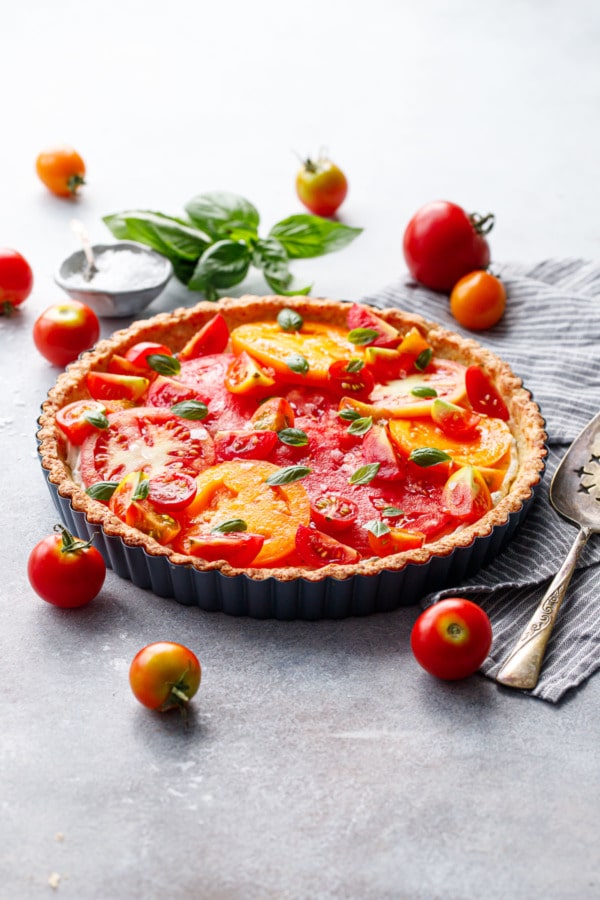 This is the first week we've gotten tomatoes with our CSA, and this tart was the first thing on my list to make (along with some caprese, of course, and luckily we have more than enough tomatoes for both).
We first made this tart last summer after a particularly successful farmers market haul left us with a stunning assortment of heirloom tomatoes.
We had planned to make two meals out of it, considering the recipe yields a full 9-inch tart. But the two of us devoured the entire thing in a single sitting. That's how good it is.
What differentiates this tart from the countless other tomato tart recipes out there is this one is unbaked, leaving the tomatoes fresh and juicy and brightly flavored. Sure, baked tomatoes have their place, but when your vine-ripe summer tomatoes are this good, it's a shame to subject them to heat.
The crust is also simply spectacular, adding grated parmesan to a standard shortcrust for an extra savory twist. Not to mention it's dead simple, you don't even have to roll it out (just dump the crumb mixture into your tart pan and press it into the bottom and up the sides).
This recipe comes from Ashley of Not Without Salt's cookbook, Let's Eat In. Her Blue Ribbon Tomato Tart, as she calls it, certainly lives up to the hype.
While the recipe calls for goat cheese and fresh basil in the filling, I do think it'd adapt well to any other soft cheese such ricotta or mascarpone, or even feta (though if you do feta you'll probably want to pulse it in a food processor rather than mixing it by hand to ensure a smooth, creamy base).
And likewise, the basil could easily be supplemented/replaced with other savory summer herbs like oregano, thyme and/or parsley.
Although tomato and basil is such a classic combination (for good reason), you really can't go wrong.
When par-baking the crust, wile you can use rice or beans or pie weights, it turns out granulated sugar is possibly the best natural pie weight there is; the fine grains allow it to settle into the corners and really hold the crust in place.
I like to crumple up a thin piece of parchment paper before lining the crust, crumpling allows it to more flexibly nestle into the nooks and crannies of the crust.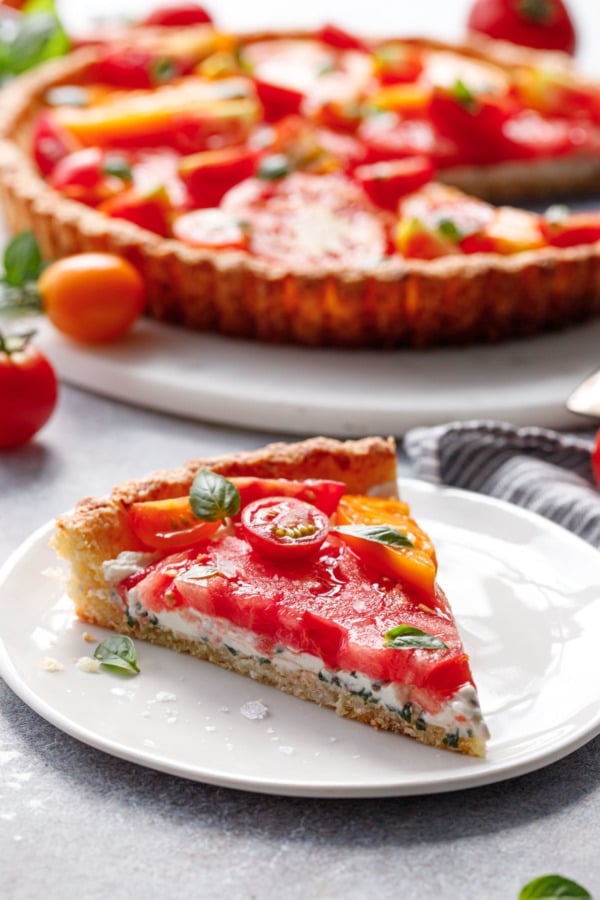 Because the tomatoes in this tart are fresh, it's really best served immediately after it is fully assembled. After it sits for a while the tomatoes will start to weep a bit and the crust will start to get soggy underneath the layer of goat cheese.
That said, if you want to do some prep ahead of time, you can make the crust dough, press it into the tart pan, and freeze the crust overnight, then bake it a few hours before you plan to serve it as it needs to cool completely.
You can also easily mix up the goat cheese mixture a day ahead of time too, just remember to let the mixture come to room temperature before assembling so it's easy to spread into the crust.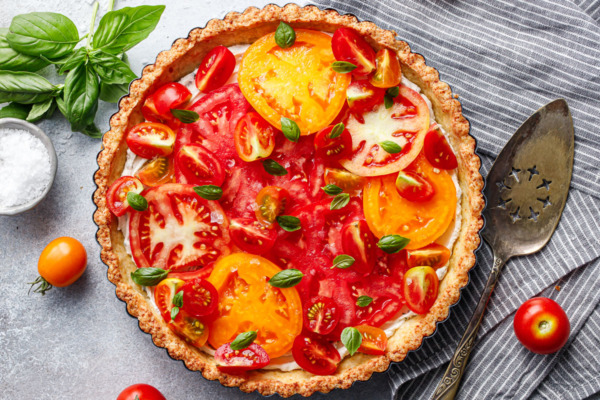 Goat Cheese & Heirloom Tomato Tart
This savory tomato tart features a parmesan shortcrust, basil and goat cheese filling, and slices of ripe heirloom tomatoes. Perfect for summer!
Ingredients:
For Parmesan Crust:
1 cup (125g) unbleached all-purpose flour
3/4 cup (75g) finely grated Parmesan
1 teaspoon fine sea salt
1/2 cup (113g) unsalted butter, cold and cut into cubes
4 – 5 tablespoons ice water
2 cups granulated sugar (for blind baking)
For Goat Cheese Filling:
6 oz (170g) mild goat cheese, at room temperature
1/4 cup (50g) heavy cream
1/2 cup fresh basil leaves, finely chopped
pinch sea salt
For Assembly:
3 or 4 medium heirloom tomatoes, thinly sliced
1 handful cherry tomatoes, halved or quartered if large
small fresh basil leaves, for garnish
flake sea salt, for finishing
Directions:
Preheat oven to 400 degrees F. Get out a 9-inch tart pan with removable bottom.
Combine flour, salt, and grated cheese in the bowl of a food processor. Pulse a few times to combine.
Sprinkle the cubes of butter over the flour and pulse a few more times until the mixture is mostly fine crumbs with scattered pea size pieces of butter remaining. Drizzle in a few tablespoons of water then pulse. Continue adding water, 1 tablespoon at a time, until the dough holds together when you squeeze. Take care here to not add too much water, it shouldn't be sticky or form a ball in the food processor.
Dump the crumbly dough into your tart pan and press evenly into the bottom and up the sides. Place in the freezer for 15 minutes until firm. Crumple up a piece of parchment paper and lay it inside the crust, then fill with sugar, easing the parchment and sugar into all the edges.
Bake for 10 to 15 minutes or until the edges start to darken. Carefully lift out the parchment with the sugar (save the now deliciously toasted sugar for another purpose!) then return the crust to the oven for another 10 to 15 minutes or until golden brown. Remove from oven and let cool completely.
While the tart cools, mix the goat cheese and heavy cream in a bowl and stir well to combine, then stir in basil and salt. Spread into cooled tart shell.
Just before serving, arrange tomato slices on top of goat cheese. Sprinkle with flake salt and garnish with basil. Serve immediately at room temperature.
Did you make this recipe?
Let us know what you think!
Leave a Comment below or share a photo and tag me on Instagram with the hashtag #loveandoliveoil.