You better believe it, these beyond perfect chocolate chip cookies are made with olive oil instead of butter!
Bright and fruity extra virgin olive oil makes for a uniquely delicious chocolate chip cookie, paired with two kinds of bittersweet dark chocolate and a pinch of flaky sea salt on top.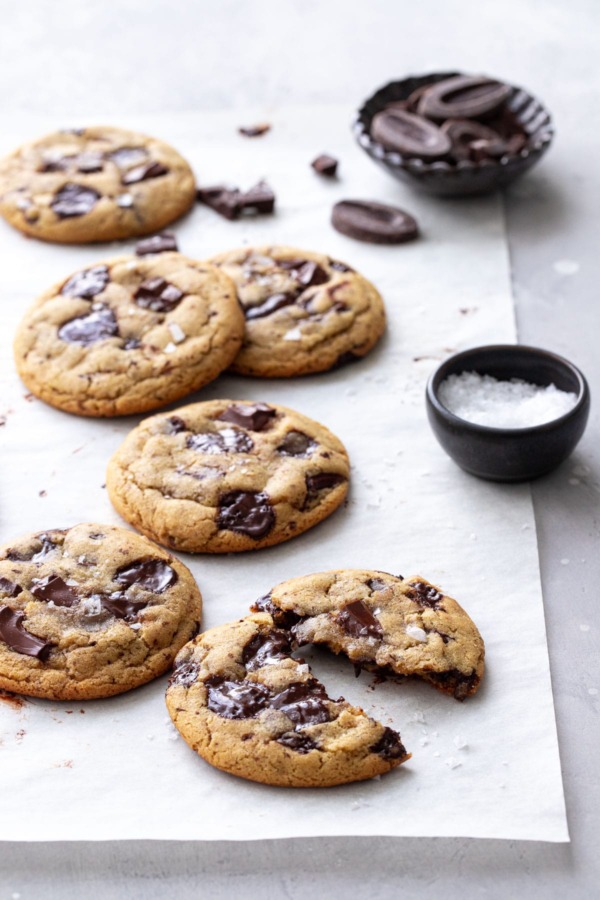 Not just for savory cooking, olive oil is an underrated ingredient when it comes to baking.
From brownies to rice krispie treats, swapping olive oil for butter makes for a uniquely-flavored dessert that's naturally dairy free and downright tasty.
Like these chocolate chip cookies, for instance, which are made with extra virgin olive oil in place of the typical butter. The result is surprising, a little different than your typical chocolate chip cookie, sure, but undeniably delicious.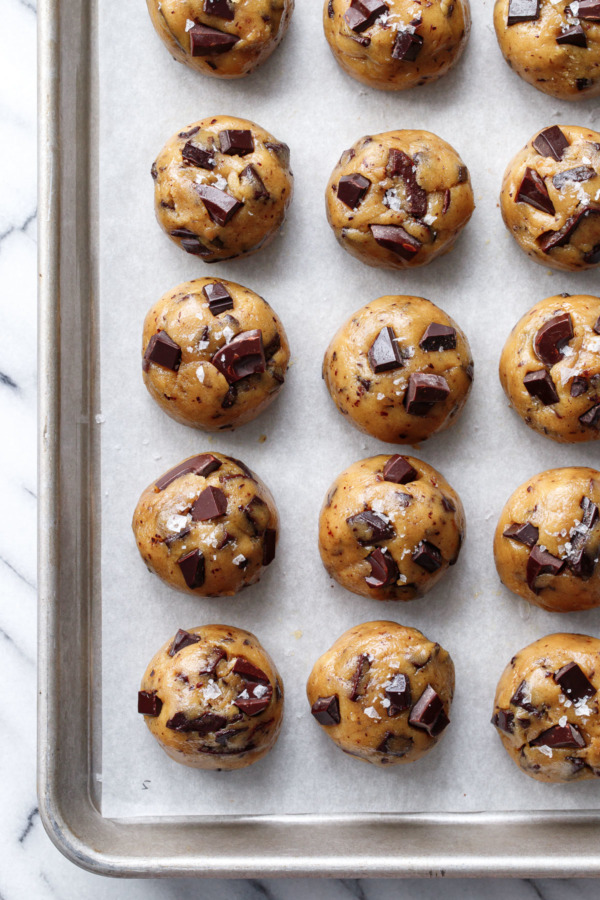 This recipe is based on my ganache-stuffed chocolate chip cookies, which use melted butter anyway, so the swap to olive oil was quite straighforward (it's harder to substitute when a recipe relies on creamed butter versus melted).
I did add an egg yolk for richness, and slightly more flour to account for the extra liquid, but otherwise the recipes are very similar overall.
But despite the similarities in the recipe itself, the results are surprisingly different. Not that these cookies taste strongly of olive oil (you probably wouldn't know if I didn't tell you), but there is definitely a unique flavor to these cookies when compared to all-butter cookies. Dare I say, sharper? Spicier, although not in the sense of chili spice. I guess it'd greatly depend on what olive oil you use too, whatever fruit/spicy/nutty flavors are in your oil will likely get passed on to the baked cookie.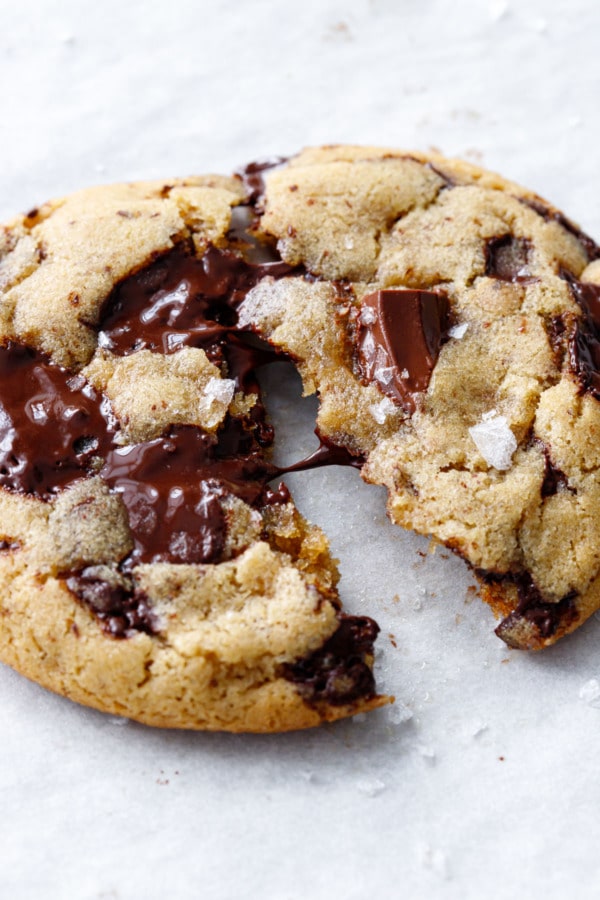 They might just be the perfect cookie: with delicately crispy edges and soft and chewy centers, with an ideal proportion of chocolate mixed right in (too many cookie recipes skimp on the chocolate, which is a darn shame).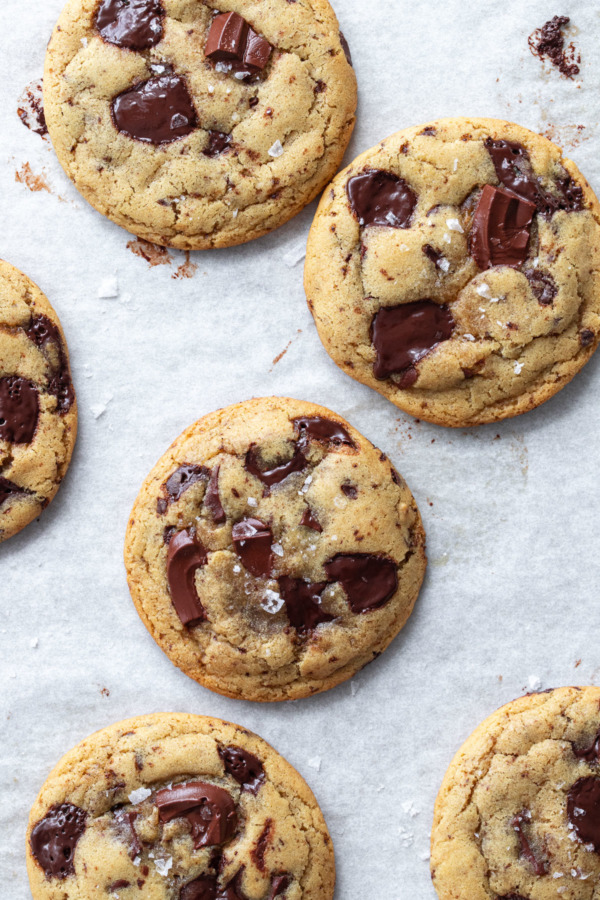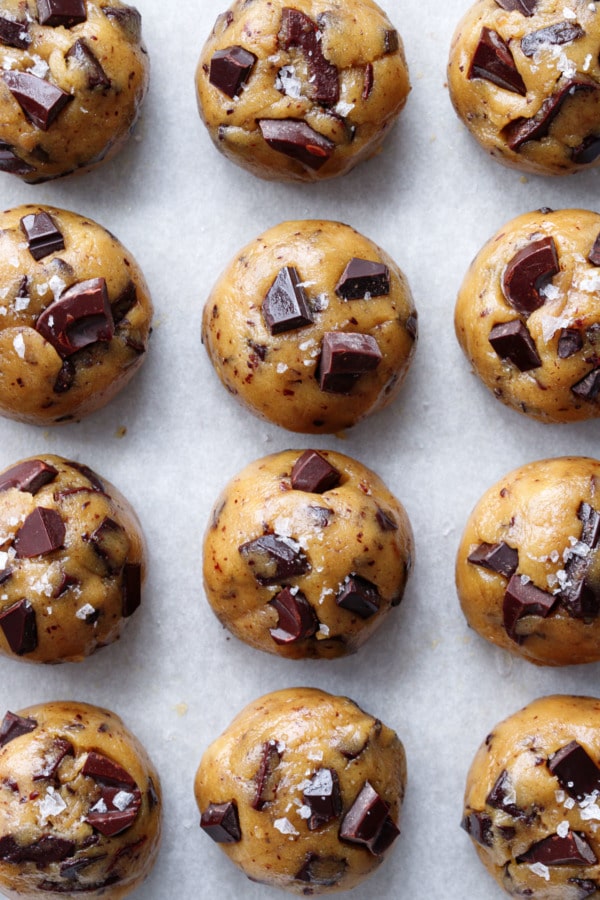 As far as chocolate goes, I think olive oil pairs extra well with bitter dark chocolate, so instead of your typical semisweet chips (which are usually around 50-60% cacao) I used a mix of dark chocolates ranging from 66% to 80%, including some broken up Valrhona feves and a bar of good quality dark chocolate that I chopped into rough chunks.
The mix of the two chocolates makes for a more interesting look as well as taste, since the different kinds of chocolate melt differently when baked (the chopped up bar melted into puddles, while the feves held their shape better). I tend to prefer chocolate chunks in my cookies over chips anyway, their rustic shapes making for a much more unique and interesting appearance.
Instead of shopping for your chocolate in the baking aisle, hop over to the chocolate section and pick out a few mid-range chocolate bars in various percentages. You'll find the quality is overall much better than standard chocolate chips for not all that much more money. Trust me, quality chocolate makes a huge difference in a cookie like this one.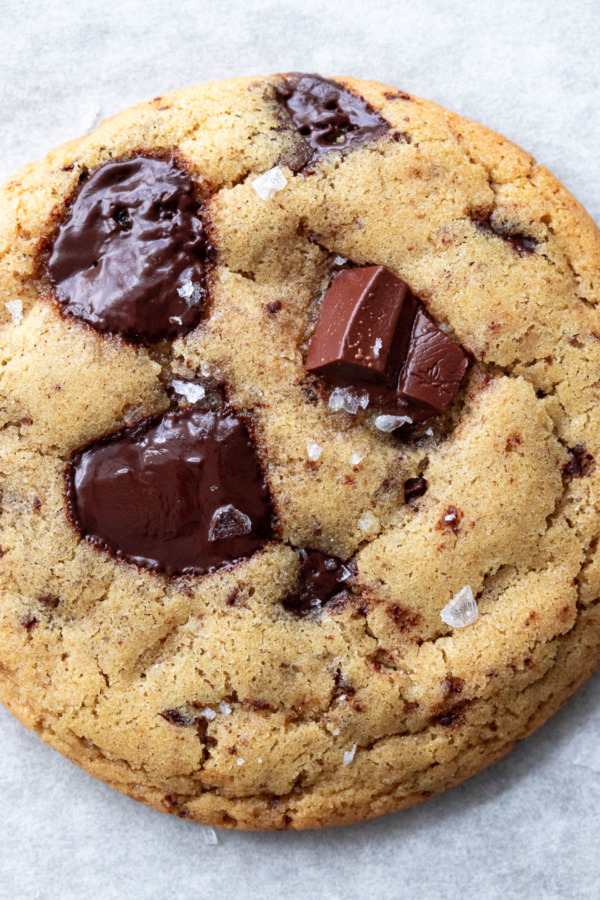 One of my favorite cookie baking tricks is to hand place a few chunks of chocolate on top of the balls of cookie dough right before baking, so don't forget to set aside a small handful of chocolate pieces and don't stir all of them into the dough. These extra pieces will float on top of the cookie as it bakes, giving you those picture-perfect puddles right out of the oven.
I also topped my cookies with a sprinkle of flake sea salt, my favorite trick for making ordinary cookies pop. That extra hit of salt brings out the flavors and amplifies the richness of the cookie and the depth of the dark chocolate.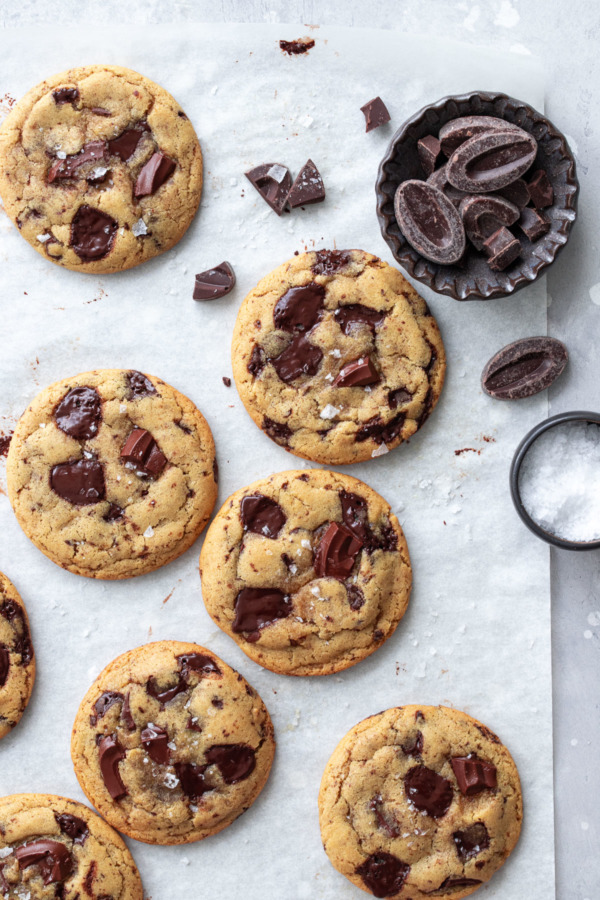 Now, what kind of olive oil should you use in this recipe, you ask?
I'd suggest a decent everyday olive oil, extra virgin for sure, but one that leans more buttery/nutty as opposed to spicy/fruity.
Since this recipe uses a full 1/2 cup of olive oil you probably don't want to use your really good stuff, save that for dipping bread and finishing salads, situations where the delicate flavors are really highlighted.
You may notice that the dough feels a bit greasier than your typical chocolate chip cookie dough, and that's just the nature of using olive oil. You may find it easier to sort of 'squeeze' the dough into balls rather than rolling it in your palms, which sometimes tends to make the dough ball split and the chocolate pieces slip right out.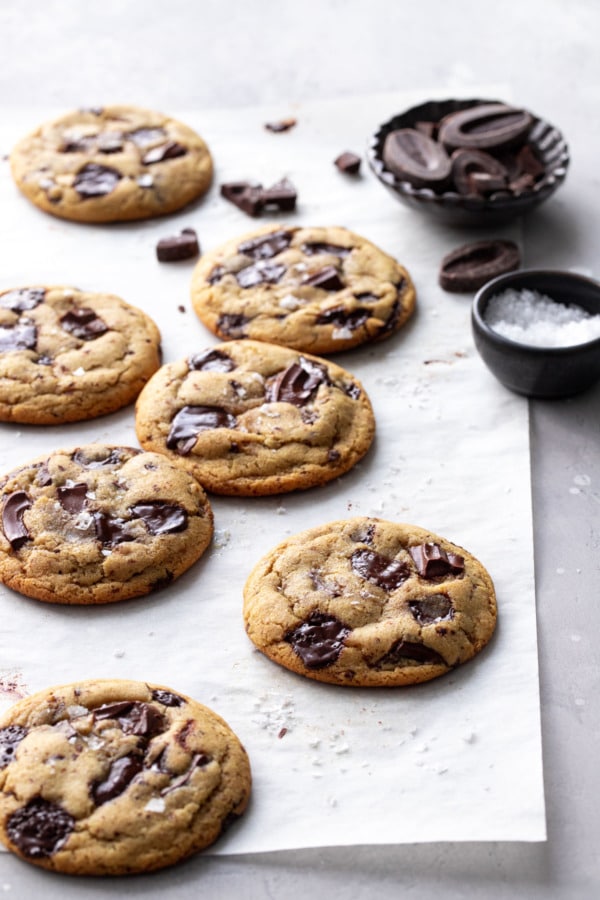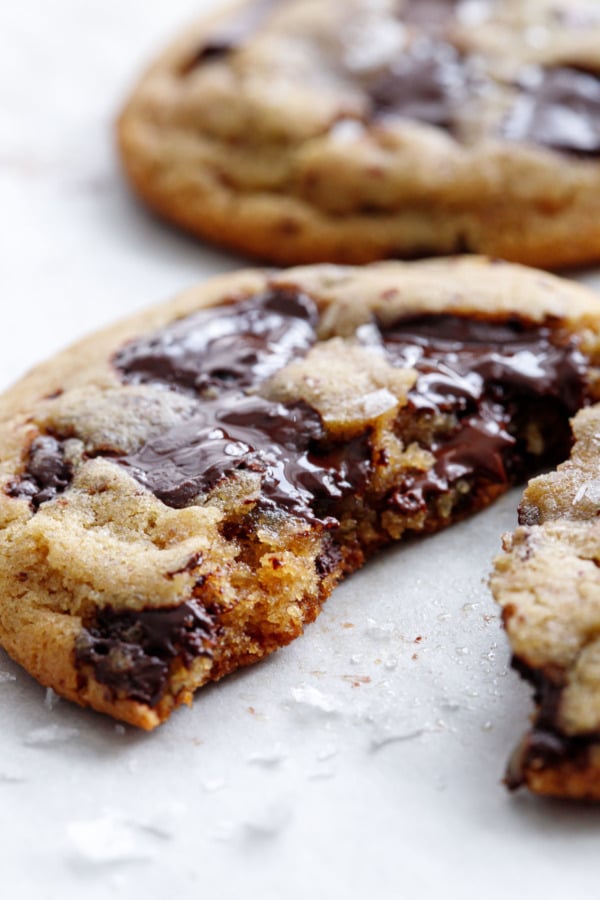 The raw dough balls can also be frozen, simply shape them and line them up on a parchment-lined baking sheet, then freeze overnight. Once frozen the dough should be transferred to a bag or airtight container (be sure to label it with the recipe name, date, and baking temperature and time), and stored in the freezer for up to a month.
You can bake frozen cookie dough straight from the freezer, just place the frozen balls on your cookie sheet and pop them right in the oven. I find they typically take a few minutes longer to bake, so just keep an eye on them the first time and then you'll know exactly how long to bake them in the future.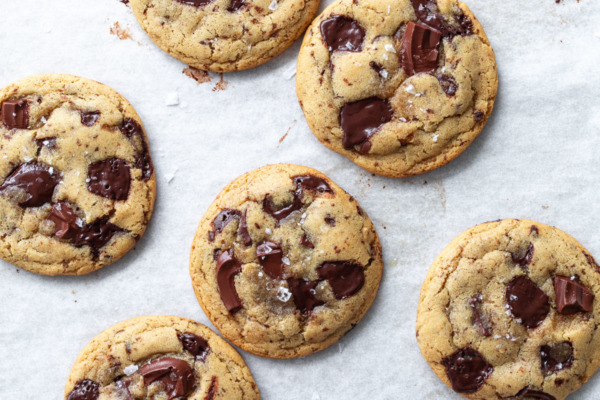 Olive Oil Chocolate Chip Cookies
Perfectly chewy chocolate chip cookies made with olive oil instead of butter (believe it!) with two kinds of bittersweet chocolate and a sprinkle of flaky sea salt on top.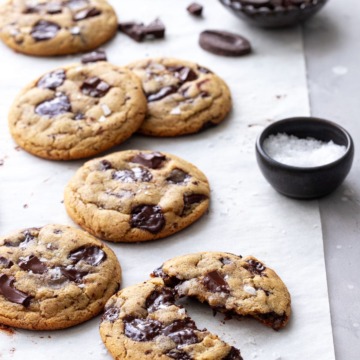 Ingredients:
1 ¾ cup plus 2 tablespoons (230g) all-purpose flour*
1 teaspoon baking soda
½ teaspoon kosher salt
½ cup (100g) extra virgin olive oil
¾ cup (175g) packed light brown sugar
¼ cup (50g) granulated sugar
1 large egg, at room temperature
1 large egg yolk, at room temperature
1 ½ teaspoons vanilla extract
1 cup (150g) roughly chopped dark chocolate (60-80% recommended, you can also use a mix of multiple chocolates here too)
Maldon flake sea salt, for topping (optional)
Directions:
In a bowl, whisk together flour, baking soda and salt and set aside.
In a mixing bowl or the bowl of a stand mixer fitted with the paddle attachment, mix together olive oil, brown sugar and sugar until evenly moistened. Add egg and egg yolk and beat on high speed for 30-60 seconds until smooth. Mix in vanilla.
Dump in dry ingredients and mix on low speed until almost incorporated. Add chopped chocolate (reserve a small handful for topping, if desired), and fold with a spatula until chocolate is evenly distributed throughout.
Cover tightly with plastic wrap and chill for at least 30 minutes until it can be rolled, or overnight for the best flavor.
Preheat oven to 350 degrees F. Line a heavyweight baking sheet with parchment paper.
Scoop dough into balls (I use a medium #40 cookie scoop which is just under 2 tablespoons of dough) and shape into smooth balls. Because of the oiliness of the dough, I find that 'pressing' the dough into balls is a better technique than 'rolling' it. Arrange on parchment-lined baking sheet, leaving at least 2 inches of space between cookies. If desired, press a few chunks of chocolate into the top of each dough ball for a prettier baked cookie. Sprinkle with flake sea salt. At this point you can also freeze the dough balls to bake later (freeze overnight on the cookie sheet, then transfer to a bag or airtight container to store for up to 1 month).
Bake for 9 to 11 minutes or until tops are puffed and edges are golden brown (add an additional 2 minutes of bake time if baking dough directly from frozen). Before removing from the oven, give them a good smack on the baking rack (drop the pan from a few inches down on the rack) – this will help deflate any puffiness on top. Let cool on cookie sheets for 15 minutes, then transfer to a wire rack to cool completely. Enjoy warm, or store in an airtight container for up to 3 days.
*This recipe is very sensitive to over-measuring flour. Even 20g additional flour can result in a dough that's dry and crumbly and cookies that don't spread. We highly recommend weighing your flour in this recipe! Please see our post on measuring flour for more info.
Did you make this recipe?
Let us know what you think!
Leave a Comment below or share a photo and tag me on Instagram with the hashtag #loveandoliveoil.